10 GREAT GLEN HELEN NATIONAL PHOTOS BY DEBBI TAMIETTI
Click on images to enlarge
This a view of turn two that few people got to see, as all the spectators were on the opposite side, but Debbi climbed around back and caught Eli Tomac and Weston Peick in traffic.
There were lots of lines, but most of them were rough. Here, Jason Anderson powers through Blake Baggett's roost on his way to the the second moto victory.
This section of Glen Helen is called "The Canyon." It is giant U-turn that is surrounded by vertical walls and, thanks to the winter rains, green scrub brush. It also has a massive tabletop that you downside directly into a banked downhill corner. Jerry Robin (558) takes the high route.

When the track comes back from its brief sortie on the REM track, this tabletop looks like a typical six-foot tall tabletop — that is until you get up in the air and realize that it drops off 40-feet on the the other side. Eli Tomac tries to lose a little distance in front of Cody Cooper (121) and Broc Tickle (20).
Glen Helen has the fairest start on the Natioal circuit. There are no bad gates on a start that goes straight as an arrow for 150 yards before hitting the steeply banked Talladega first turn. Note that four riders have manage to get a full bike-length lead in the first 100 feet.
Losing concentration in Glen Helen's rutted corners often leads to Laugh-In style tip overs. Cody Williams demonstrates.

Christian Craig (48) is Ken Roczen's fill-in rider. Frerik Noren (40) used to be Team Honda's fill-inb rider for Trey Canard. Craig was 12th overall after crashing in moto two while running in the top five. Noren finished 15th.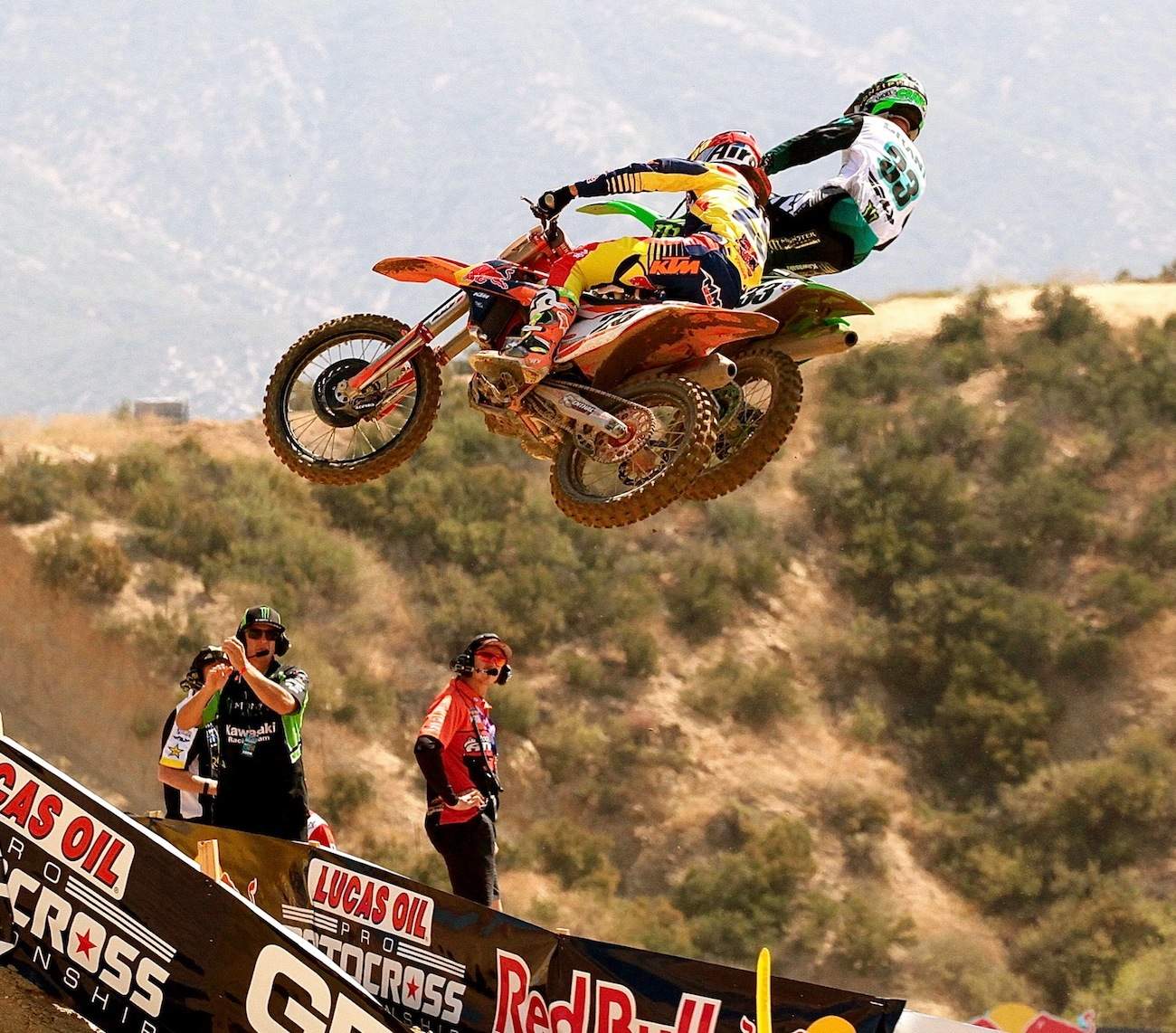 Marvin Muquin (25) and Josh Grant (33) fly in unison past a Team Kawasaki spotter at the top of the hip jump.
If you watched the race on television you have no idea of how steep or long Glen Helen's hills are. This photo of Jeremy Martin jumping downhill with the Mt. St. Helen uphill in the background gives a better sense of the lay of the land.
Dylan Ferrandis has to learn every track on the National circuit for the first time. He did ride Glen Helen when it was a Grand Prix track, but this year's National track layout was quite a bit different. All the riders came two weeks earlier to ride at Glen Helen, but when they came back for the AMA National, everything was different.