10 THINGS YOU NEED TO KNOW ABOUT THE ATLANTA II SUPERCROSS
Less is better and the Supercross promoters had gotten carried away with their fireworks show. It's better with less.
By Jody Weisel
(1) TIGHTER IS BETTER: Wasn't it obvious that Atlanta II's tighter corners and slower section produced better racing than the typical jump-on/jump-off rhythm sections of a regular Supercross track. Critics have been saying for years that the wide open layout that the Supercross track crew builds are wrong…and now the Supercross track crew is proving their critics' point. Supercross needs to slow down, keep the wheels on the ground longer, add better sand sections (like Oakland and Atlanta II) and use wall jumps more frequently. How do we know that the Supercross tracks have become cookie cutter? When the track crew does something right, it stands out like a sore thumb. If they had put a wall jump at Atlanta II the track would have been even better for the fans.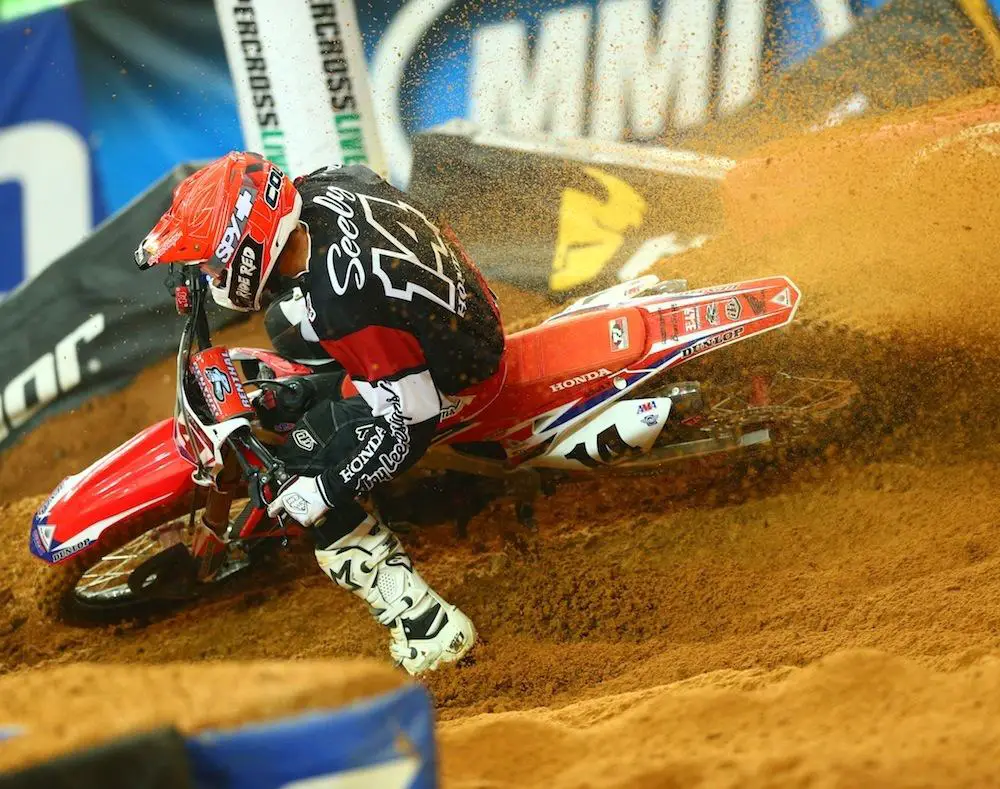 We all like jumps, but we don't like 50 jumps a whole lot more than 15 jumps. The fans want to see bar-to-bar racing and that requires that the wheels be on the ground. Cole Seely demonstrates in Atlanta's sand section.
(2) LOOSER IS BETTER: The Atlanta II track design was good, but it is becoming obvious that the methods used to prep AMA Supercross tracks have resulted in the same dirt at every venue. The battle cry of "I can't wait to get back to East Coast dirt," has been nullified by the simple fact that every track so far has had SoCal dirt. No matter what soil composition the track crew starts with, they turn it into Anaheim by night's end. Every "East" track has been described by the riders as hard and slippery—just like Anaheim. At Atlanta II, Ryan Dungey said that he gave up turning the throttle on hard because the track was so slippery that it was best to just roll it on out of the turns. Luckily, the next round of the series is Daytona. It won't necessary be East Coast dirt either, but it will be beach sand.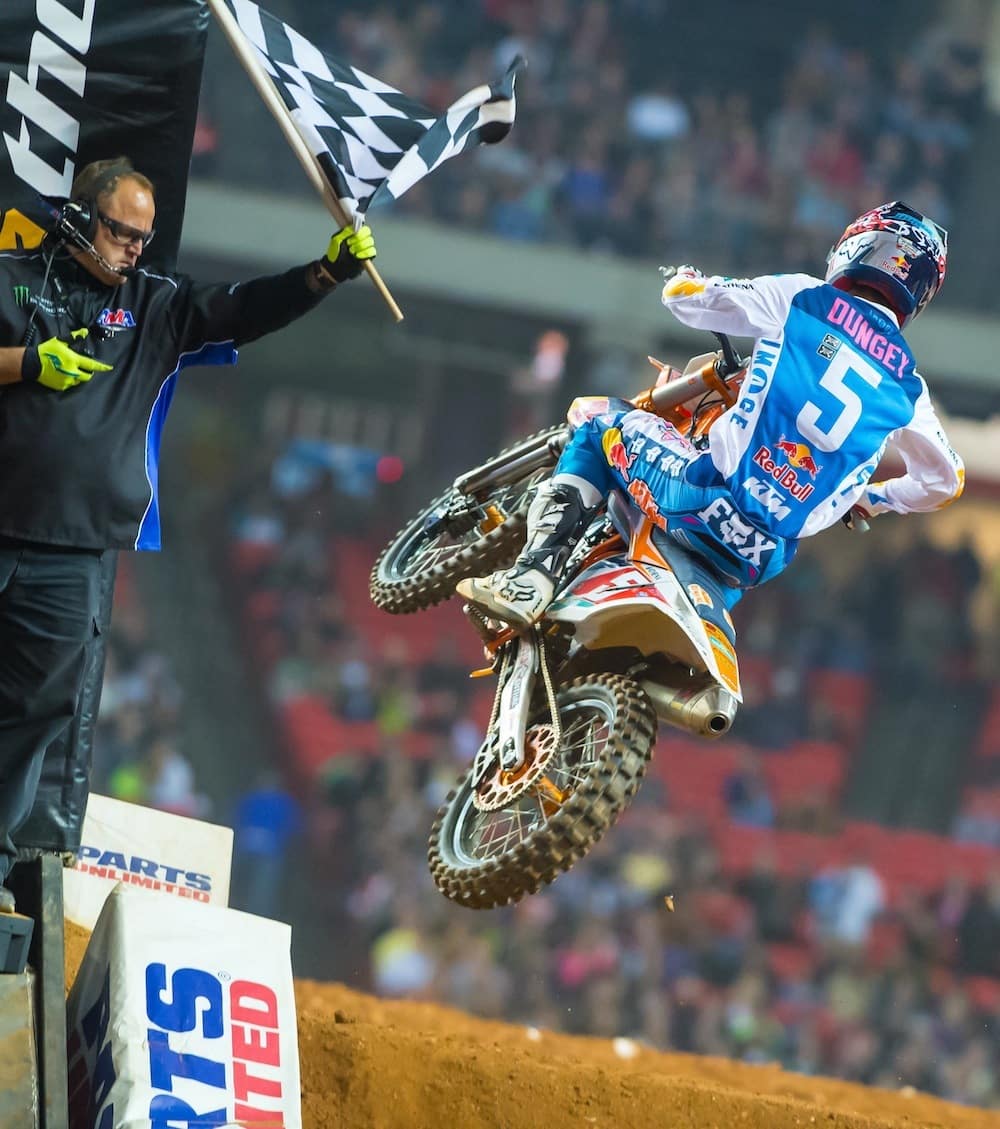 Ryan Dungey won his third 450 Supercross of the 2015 season and the 17th of his career. 
(3) A NEW SUPERCROSS RECORD: Have you seen the Toyota TV ad where Justin Barcia runs out of gas and Weston Peick drives up in a Toyota truck to rescue him? Sure you have, and you have, and you have, and you have. In what must be a Supercross TV commercial record, that Toyota spot ran 9 times on Fox Sports 2. Much like the "Rocky Horror Picture Show," fans at home where able to memorize the dialogue and say it along with Justin and Weston by the time the night was over. We are pretty sure that Toyota has more than one TV commercial in their vault, but since they don't pay for the television commercials on the Supercross show (it is given to them as a series sponsor), some ad agency drone rubber-stamped that commercial for Saturday night. It made for a very long night and turned the viewers off.
Atlanta II was retro night, but not everyone participated. JGR made special red and white Yamahas. Very clean machines. This is Phil Nicoletti's bike. He used it to qualify for the 450 main event twice in one night.

Big news! Eli Tomac didn't fall down this week. He was happy about that and even happier to be on the second step of the podium.
(4) THE HAPS: There were lots of highlights at Atlanta II. The only thing missing was a red flag red start. Here is a quick list: (1) Geico Honda's Jordan Smith made his twice aborted Supercross debut in the 250 class. He was about to transfer to the main when he made a mistake. Now, he will have to wait another week for his chance to make his 250 East main event debut. (2) The new KTM Factory Editions have Launch Control built into their maps, but, according to KTM, Ryan Dungey and Marvin Musquin do not use Launch Control on the starts. (3) Ken Roczen pulled off the track during timed qualifying with terrible pain in his left ankle — from his crash last week into and under the speaker platform. He came back to transfer directly out of his heat race, but obviously suffered in the 450 Main. Kenny salvaged an 8th place finish, but lost 12 more points to Ryan Dungey and is now 43 points out of first place. (4) Weston Peick and Jason Anderson are fighters. Peick got the hoelshot and didn't want to give it up. He passed and repassed Chad Reed, then fought consecutively with Dungey, Canard and Tomac. Weston gave no quarter and looked a lot like what a motocross racer should look like — someone who doesn't give up places easily. Unfortunately for Weston, Jason Anderson is a fighter also and in his haste to make up ground quickly he straight-lined a corner and cleaned Weston Peick out (and took himself out in the process). They both went backwards, out of the top ten, but fought their way back in by the checkered flag. (5) Phil Nicoletti transferred to the 450 main from Semi 2, but was penalized two spots for jumping on the Red Cross flag. He was guilty. Phil came back to win the Last Chance race and went on to finish 17th in the main. (6) Swiss rider Arnaud Tonus  showed real promise in ATL before it all went away. Tonus ran in second place for a few laps, then got passed by Martin and Bogle. Arnaud stayed in fourth for a few more laps and then his tongue started to get stuck in his spokes as Savatgy pushed him back to fifth. Finally, in the last half of the final lap, Jimmy Decotis and Martin Davalos blew by him. Tonus ended up 7th, but it was obvious that the stress of being up front fried him. (7)  Atlanta II was retro night. Well, it was sort-of retro night with some teams and riders going all-in and others doing nothing. What we have here is a failure to communicate. If Feld wants these special events to come off successfully, they need to make sure that everyone is on board — and most certainly the major teams.  (8) The TV announcing crew never noticed that Eli Tomac had passed Trey Canard and was running in second place. They kept merrily announcing the running order as Dungey, Canard and Tomac — even though the couch potatoes couldn't see Canard on their screens and the results scroll had Tomac in second. They did finally notice their faux pas on the final lap and tried to pass it off as a recent move. (9) By the way, the results scroll on the left side of the TV screen is awful. Horrible is a better word. It is confusing, misleading and plain hard to decipher. Whatever genius thought that mess up has a future working for Toyota's ad agency.
Marvin Musquin's heel clicker makes Roger DeCoster (right) amused, but Geico Honda's Mike LaRocco wasn't impressed.
(5) HATS OFF RULE: Josh Hill was pulled off the starting line of his heat race when an AMA official realized that Josh didn't have a Hats Off device in his helmet. Hill thought that the quick release devices in his Bell helmet were good enough to meet the AMA's helmet rule — it wasn't. Virtually every high-end helmet has quick release pads that allow ambulance personnel to remove a rider's helmet without inflicting more damage at the crash site. But, the AMA only recognizes the Hats Off device, which is an air bladder that sits inside the top of the helmet and can be pumped up to lift the helmet away from the rider's head without the EMT's having to tug on it. Why has the AMA handed a monopoly to one device? They don't want the ambulance guys to have to guess which type of device is in which rider's helmet. Thus, every rider at an AMA National or Supercross must use Hats Off. Since the Hats Off device requires a special air pump to inflate it — it doesn't work very well at local tracks where the EMTs aren't equipped with the pump. But, the Supercross medical crew has the pump and doesn't need to guess. Josh was allowed to start in the semi, once he put the proper helmet removal device in his liner. He finished 13th in the 450 main.
Broc Tickle has become a player at the front of the 450 pack, but we have to wonder about a factory Suzuki rider wearing a retro-Honda red, white and blue jersey.
(6) QUALIFYING NEWS: Mitchell Oldenburg crashed in 250 practice and suffered a concussion. He had managed to ride enough laps before he crashed to qualify 11th of the 250 East, but because he was knocked out he was not allowed to race and had to give up his spot in the heat races. The 41st qualifier was Italian rider Andrea Winkler and he got to race — finishing 14th in the 250 LCQ. In the 450 class only 46 riders showed up for 40 spots in the night program. That is a far cry from the 62 450 riders that started the season at A1. Perhaps the bad weather kept a lot of privateers from making the drive, but we probably haven't seen the last of the freezing temps for this year. Supercross has often flirted with the danger of not filling the gates with 40 riders (and in the past even offered money to East/West riders to ride the 450 class on the same night). The fastest 450 rider in timed qualifying was KTM's Ryan Dungey at 53.42 seconds. Dungey, Tomac and Canard all broke the 54-second barrier, while Roczen, Anderson, Tickle, Seely and Reed were in the 54-second range. The fastest time in the 250 East was set by KTM's Marvin Musquin (55.125) with a time that would have made him 10th in the 450 class. Martin, Bogle, Davalos and Savatgy rounded out the 250 top five. Heat race positions are alternated from timed qualifying with the fastest rider, 3rd fastest, 5th fastest, 7th fastest and so on going into Heat Two and the 2nd, 4th, 6th, 8th, 10th, et al, fastest riders going into Heat One.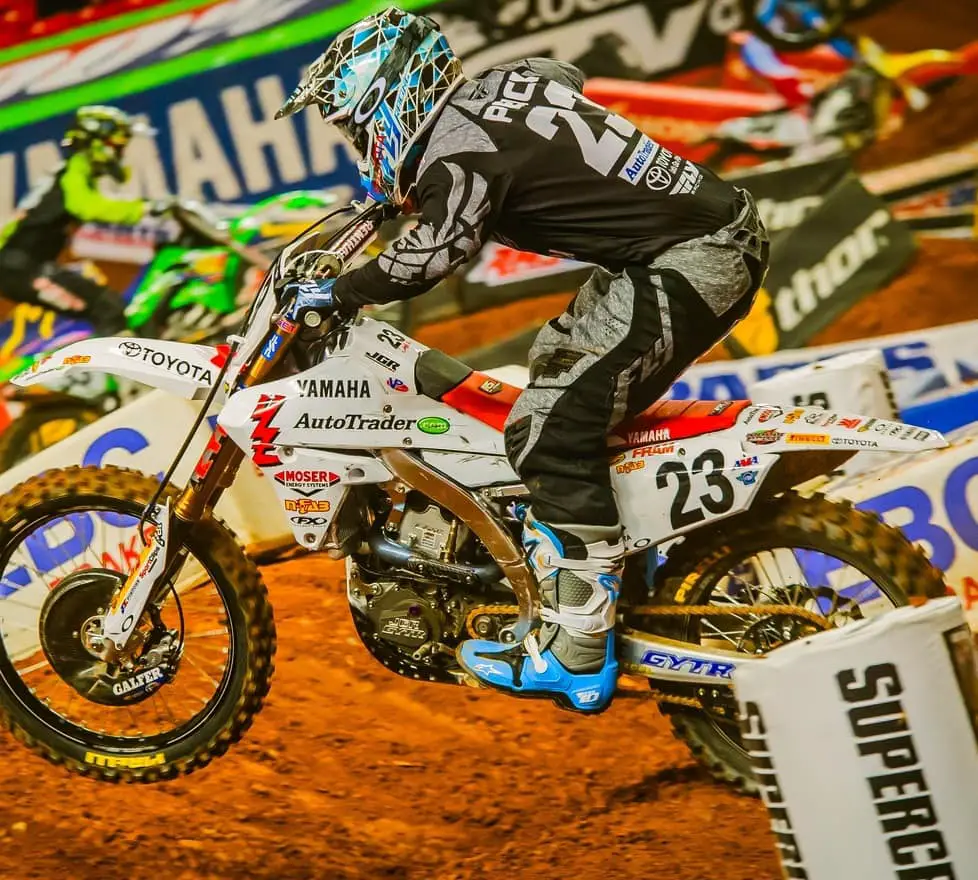 All hail Weston Peick. True, he only finished 10th, but what a glorious 10th.
(7) PLAYING THE CARDS: Holding two Atlanta Supercrosses in the same year didn't seem like much of gamble originally. After all, 70,000 fans had packed Atlanta every year, so it was only logical to give it a double-header (albeit 7 days apart). Okay, it didn't work out as well as they planned. The two weekend attendance was way down and they came no where near max capacity on either night. With today's ticket prices, that's a lot of money to leave on the table. It should be noted that attendance rarely improves as the series goes back to the same place in the same year. Through the years the two-race towns have been Houston, Pontiac, New Orleans, Seattle, Philadelphia, Tempe, Los Angeles, Anaheim and Atlanta. The worst of all of the dual races was the 1980 back-to-back events at the L.A. Coliseum. The second day at the L.A.Coliseum drew a meager 14,000 people.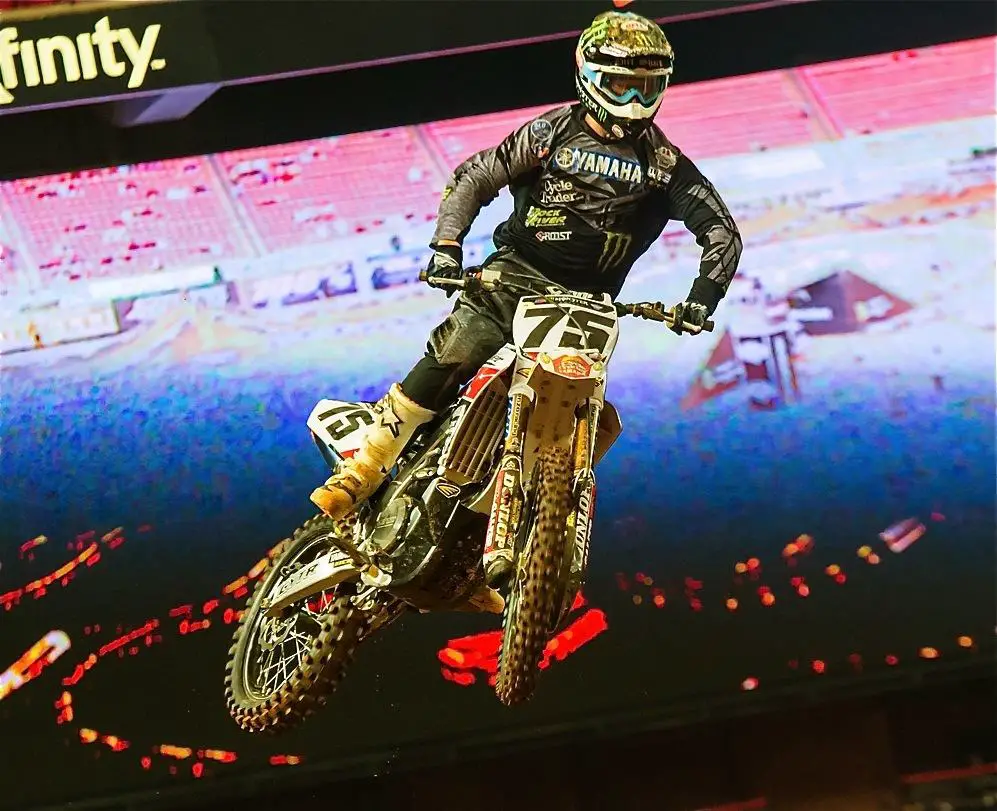 Josh Hill is thinking about reading the AMA rule book before next weekend.

(8) SKIPPY TRIVIA: Chad Reed's win last week in Atlanta put him back in the spotlight. Here are the reasons why? (1) It was his 44th career win in the premier class. Chad is 4 wins behind Ricky Carmichael (who is third on the all-time-winner list). (2) Chad became the second oldest rider to win a premier AMA Supercross at 32 years, 11 months old. Mike LaRocco is the oldest at 33 years and 1 month. (3) Atlanta was Reed's 146th top five finish — tieing Mike LaRocco. He didn't get number 147 at Atlanta II. (4) By winning the 2015 Atlanta I race, it was the 11th year that Reed has won at least one Supercross. (5) Reed coulda, shoulda, woulda, mighta won  at Atlanata II because just like last week he got to the lead on lap one, but Weston Peick took it away from him and in a haste-makes-waste move, Chad made a 180-degree bowl turn into a 280-degree corner. That was all she wrote for the fairy tale ending. Chad ended up 7th.
Chad has 44 wins and appears to have the speed to get a few more in 2015, especially now that the Championship is out of reach and he doesn't have to count points. He'll be 33 years old on March 15.
ALL-TIME SUPERCROSS WINNERS
1. Jeremy McGrath…72
2. James Stewart…50
3. Ricky Carmichael…48
4. Chad Reed…44
5. Ryan Villopoto…42
6. Ricky Johnson…28
7. Bob Hannah…27
8. Jeff Ward…20
9. Damon Bradshaw…19
10. Kevin Windham…18
A proud papa and his two sons.
(9) THE HOLESHOT WAR: In the eight races leading up to Atlanta 2, eight different 450 riders have earned holeshots. Atlanta II extended that string to nine different riders in nine races as Weston Peick got the holeshot (and got to lead his first-ever Supercross lap). In the 250 class, there have be 5 different holeshot winners, but since the 250 class is divided between two regional championships, West riders Jessy Nelson, Zach Osborne and Zach Bell couldn't holeshot in Atanta. The most notable fact is that of the nine 250 East/West races so far, every holeshot has been earned with a KTM 250SXF engine (albeit in a Husqvarna 5 times). At Atlanta II, Marvin Musquin sealed the deal for the 250SXF engine once again.
Ken Roczen needs a week off to let the ligaments in his left ankle heal. He'll get that week off  in one month (April 4). Until then, he has to make do. 
(10) THE TALLY: There are still 8 races left in the series, but Ryan Dungey has begun to knock people out of contention. He has a 30-point lead on Trey Canard, 43-point lead on Ken Roczen, 62-point lead on Eli Tomac and a 73-point lead on Jason Anderson. After Anderson, every other rider is at least three full races behind Dungey. A rider can earn 25 points by winning an AMA Supercross, thus anyone who is 75 points back would have to win three races, while the men in front of him would have to DNS three races. Chad Reed, Blake Baggett and Andrew Short are three races adrift. If you are 100 points back, you would need disaster to hit the whole pack for four races. Broc Tickle and Davi Millsaps are four races behind. Just for giggles, Justin Barcia, Jake Weimer, Weston Peick and Josh Grant are five full races out of first place.
Jason Anderson wants to be on the podium, but mistakes have kept him off of it since Anaheim I. He rushed it at Atlanta. He has the speed, but his crash with Weston Peick negated all the work that both of them had put in up to that point.
ATLANTA II RESULTS: 450 CLASS
1. Ryan Dungey …KTM
2. Eli Tomac …Hon
3. Trey Canard …Hon
4. Broc Tickle …Suz
5. Blake Baggett …Suz
6. Josh Grant …Kaw
7. Chad Reed …Kaw
8. Ken Roczen …Suz
9. Jason Anderson …Hus
10. Weston Peick …Yam
Other notables: 11. Davi Millsaps; 12. Cole Seely; 13. Josh Hill; 15. Andrew Short; 20. Jake Weimer.
Arnaud Tonus (200) is in his grace period. Mitch Payton doesn't care how he does as long as he stays healthy long enough to race the AMA 250 Nationals. Tonus has only raced three AMA Supercrosses in his life, but has acquitted himself well.
ATLANTA II RESULTS: 250 EAST
1. Marvin Musquin …KTM
2. Jeremy Martin …Yam
3. Justin Bogle …Hon
4. Joey Savatgy …Kaw
5. James Decotis …Hon
6. Martin Davalos …Hus
7. Arnaud Tonus …Kaw
8. Anthony Rodriguez …Yam
9. R.J. Hampshire …Hon
10. Luke Renzland …Yam
Other notables: 11.Kyle Peters; 12. Matt Lemoine; 15. Kyle Cunningham; 19. Jace Owen; 21. Bryce Stewart.
2015 AMA 450 SUPERCROSS POINTS STANDINGS
(After 9 of 17 races)
1. Ryan Dungey…199
2. Trey Canard…169
3. Ken Roczen…156
4. Eli Tomac…137
5. Jason Anderson…126
6. Chad Reed…124
7. Cole Seely…120
8. Blake Baggett…115
9. Andrew Short…100
10. Broc Tickle…96
2015 AMA 250 EAST SUPERCROSS POINTS STANDINGS
(After 3 of 8 races)
1. Marvin Musquin…72
2. Jeremy Martin…65
3. Justin Bogle…62
4. Joey Savatgy…54
5. Martin Davalos…45
6. Matt Lemoine…39
7. Vince Friese…38
8. Arnaud Tonus…38
9. R.J. Hampshire…38
10. Anthony Rodriquez…34
Photos by Brian Converse, Travis Fant, KTM, Troy Lee Designs. Pro Circuit