10 THINGS YOU NEED TO KNOW ABOUT THE DALLAS SUPERCROSS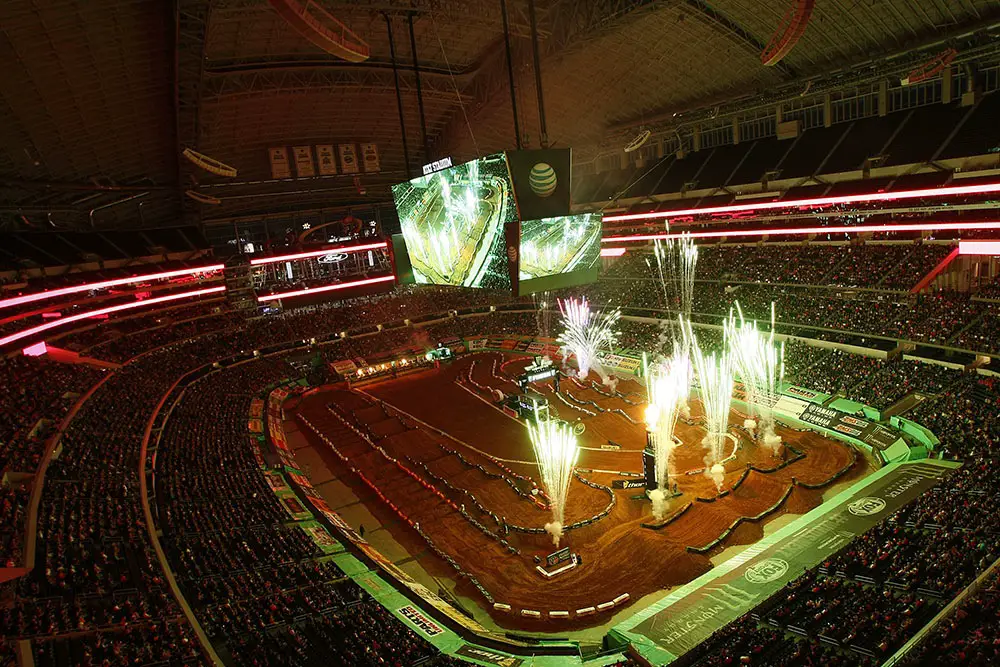 Although a simple design, the Dallas track had more than its fair share of crashes as the dirt got skatey as the night wore on.
By Jody Weisel with photos by John Basher (except where noted)
(1) CAN'T WAIT TO GET BACK EAST: There are some obvious flaws in the logic that Dallas represented the watermark shift back "East" — where it is insinuated that the dirt will be different, the tracks better and the racing will more focused. First, there isn't a Texan alive who thinks that Texas is part of the "The East." As much disdain as the East Coast has for the West Coast, Texans have for both coasts. Second, weatherwise, Dallas was 78 degrees on Saturday. If we know anything about this winter…everything that is held sacred as "East Coast" is frozen tundra in the winter of 2015. Dallas' mild 78 degree temps in February scream SoCal. Third, geographically, nothing on the left side of the Mississippi River is East of anything in the USA. Texas is the Southwest. Fourth, if the Dallas track and dirt resembled anything it was a slick, but deceptively tacky looking Anaheim Stadium track. Pure California dirt. Good looking dirt. Good dirt during practice. But, as for race-time dirt — not so good.
Just another racer. Photo: Supercross Online
(2) THE VICKI GOLDEN STORY: First and foremost, every rider who receives an AMA license should be given the opportunity to enter and race an AMA race. Thus, Vicki Golden may represent womenkind to many people, but she was really just one of 56 racers trying to qualify for the 250 East in Dallas. Her best time in practice was 1 minute and 1 second (1:01.009). Vicki needed a 57:203 lap in timed qualify to make the "Fast 40." She wasn't the only rider to fail to make the night show—just one of 16. And historically, she is not the first women to fail to make the night show—thus, she didn't set any records or make any Supercross history. However, there is another race next week.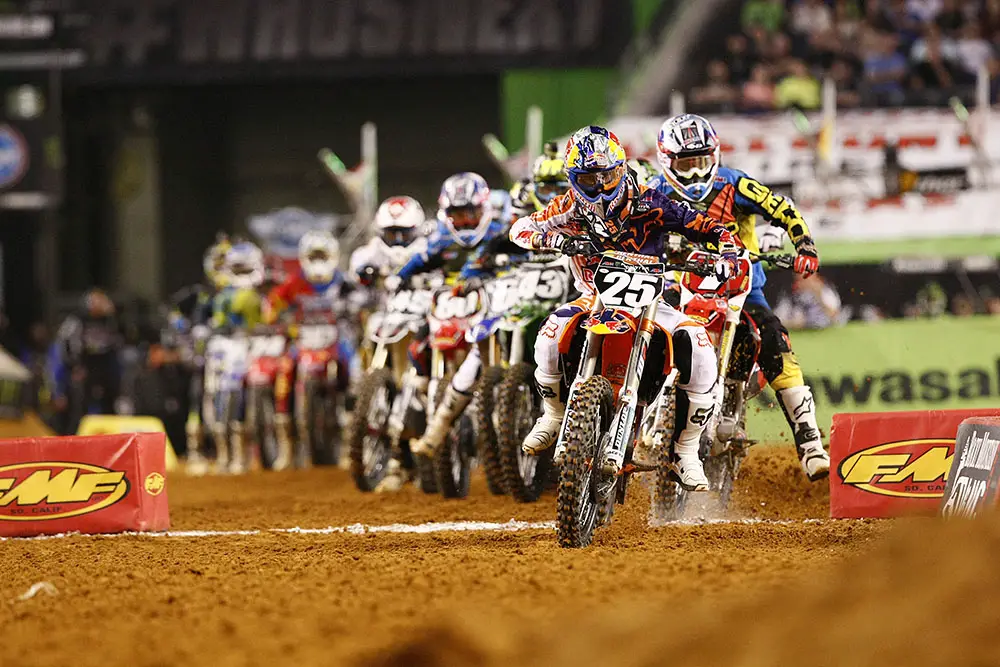 What a staggered start looks like from this end of the line.
(3) RED SKY AT NIGHT, SAILOR'S DELIGHT. Red Flag in Supercross, not so nice. Supercross went decades without ever having to "Red Flag" a race. They protected fallen riders with flagmen, Tuff Blox barricade walls and stern warnings about what would happened to any rider who raced through a Red Cross area (and occasionally enforced this rule, although not against factory stars). Suddenly in the past flew years, and maybe for the better, the AMA has decided to throw the Red Flag (which requires the race to be restarted). At Anaheim III there was a Red Flag after Zach Osborne's starting gate malfunctioned. It took 6 laps for the AMA to act, but they brought everybody back to the starting gate and re-racked them. Under AMA rules, if there is a starting gate malfunction, the race must be restarted and run its full distance (which meant that at A3 the 250 riders eventually put in 21 laps for the evening). This weekend, there were two Red Flags. The first was in the first 450 heat race for Sean Hackley. Sean crashed hard and required medical attention on the track. The second Red Flag was in the 250 Main event for Kyle Cunningham, who was knocked unconscious and lay motionless on the track. Under AMA rules, a race that is Red Flagged when fewer than 3 laps have been complete gets the pack sent back behind the starting line and started over as though the first start never happened. This is what happened in the Hackley incident. A race that is Red Flagged after 3 laps are completed is restarted with a staggered start, based on the rider's position on the lap before the Red Flag (and the laps before the Red Flag count and the staggered start is a continuation of the existing race). This is what happened in the Cunningham incident. There is one other Red Flag rule — any race that is 90% completed at the point when the Red Flag comes out is considered over and the checkered flag is waved. Just for giggles, tell us what 90% of a 6-lap heat race is? Mathematically, at Dallas, it would have been five laps and 20 seconds into the race.
Marvin Musquin has been waiting to win again. Dallas was the place.
At Dallas these engines holeshot both classes and, in the 250 class, they have never been topped to the first turn.

(4) HOLESHOT KING: No, we aren't talking about Mike Alessi or Andrew Short. We are talking about the KTM 250SXF engine. They come in two kinds and on two brands, but they have holeshot every 250 East/West main event this year. The Troy Lee KTM team uses the all-new KTM Factory Edition engine in Jessy Nelson's machine. The Rockstar Husqvarna team uses the existing old school KTM engine (only the KTM version of the Factory Edition engine was homologated, so Husky can't run the Factory Edition powerplant). But, it hasn't made any difference which engine is in the bikes—as Zach Osborne and Zach Bell have done well with the old iron. In Dallas, Marvin Musquin continued the streak—making it 7 out of 7.
Zach Osborne has the most 250 East West holeshots, but his coast is off for two months. Can Marvin Musquin (25) catch up to Zach.
250 EAST/WEST HOLESHOTS
Anaheim I…Jessy Nelson (KTM)
Phoenix…Zach Osborne (Hus)
Anaheim II…Zach Osborne (Hus)
Oakland…Zach Bell (Hus)
Anaheim III…Jessy Nelson (KTM)
San Diego… Zach Osborne (Hus)
Dallas…Marvin Musquin (KTM)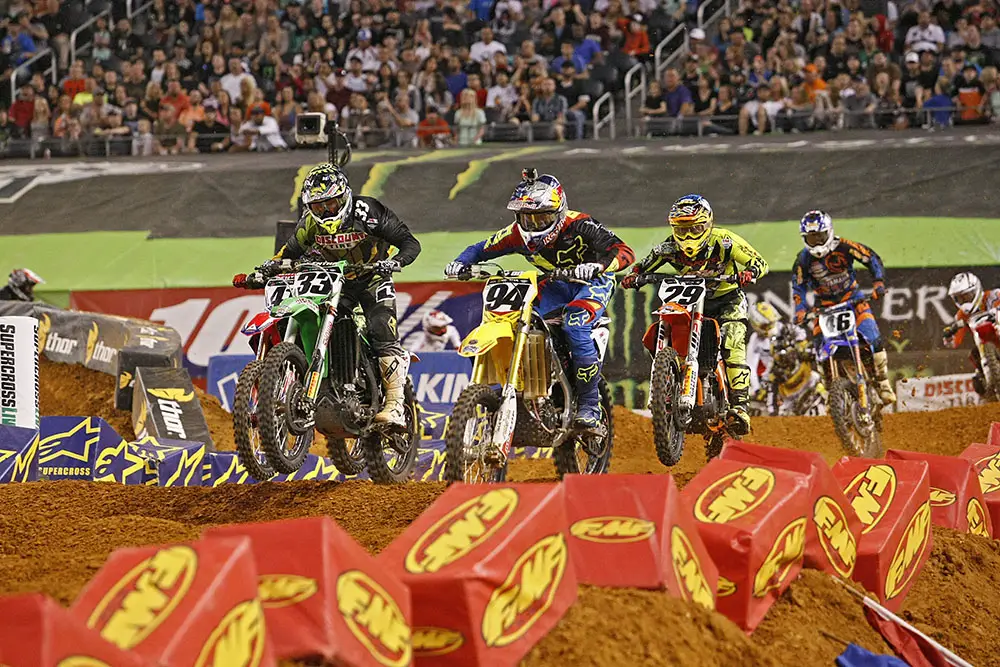 Canard (41), Grant (33), Roczen (94), Short (29) and Nicoletti (46) are all in different spots on the track and in the points.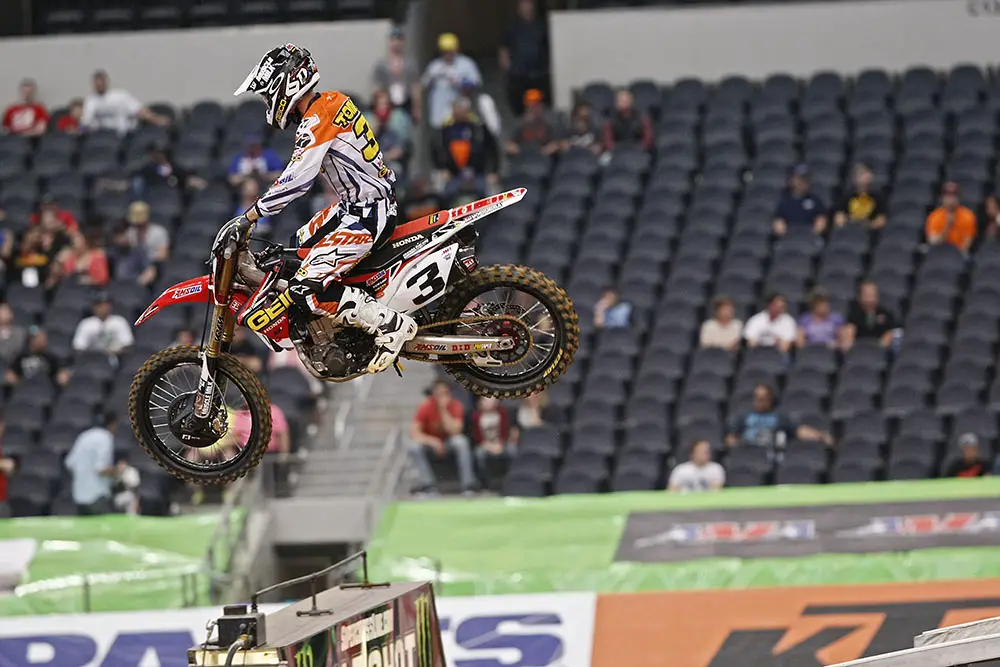 Eli Tomac would be much closer in the points battle if he could stay up for all 20 laps.
(5) BAD DAY AT BIG D: Obviously, the men on the podium (Dungey, Roczen and Canard) can leave Dallas on an upbeat note; they either gained a little or lost a little, but it wasn't a bad night when you collect top-three bonus money from your factory. However, it was a terrible night for Davi Millsaps. Actually it was the best night of the 2015 season for Davi (performance-wise), but it all went bad on the wall jump. It didn't look that steep from the stands, but the backside of the four-foot high wall was close to vertical and, with Trey Canard pressuring him for third (Trey says that his front wheel touch Davi's rear wheel), Davi caught traction down the back side. Instant loop out! He called it a night and was scored in 20th. Next on the bad night list was Weston Peick. He came off the injured-reserve list, after breaking a bone in his foot way back in Phoenix. In Dallas Weston had a massive high-side in the first turn of the 450 main. Weston augured into the ground head first and that was the end of his night. He was scored as 22nd place. Jake Weimer was caught up in the Peick incident, but eventually worked up to 14th. That may seem like a terrible results, but in 4 of the 7 races so far this year, Jake has finished 14th or worse. His best finish (and only top ten) was a 9th in Phoenix. Chad Reed was a distant 11th after Eli Tomac got under him on the high line of the big bowl turn and gave him a love tap. Reed tried to ride on the sides of the Tuff Blox, but they failed to hold him up. This was Chad's fourth finish outside of the top ten (counting his black flag at A2). When he isn't finishing mid-pack, he's averaged a 4th place finish. Added all together he's got a 9th place average and given that he's 8th in 450 points, he's up one spot. It's hard to say that a guy who finished 7th in a 450 Supercross had a bad night, but when you have won a race and wear the mantle of the next big thing — 7th is not good. Eli Tomac's scores look really good on paper. He had a bad opening round, but has gone 20-1-3-4-3-5-7 in 2015. Apart from the podium spost, the 4th, 5th and 7th are all a result of falling down. Good results, but the three guys in front of him in points have been better.

DALLAS 450 MAIN HIGHLIGHTS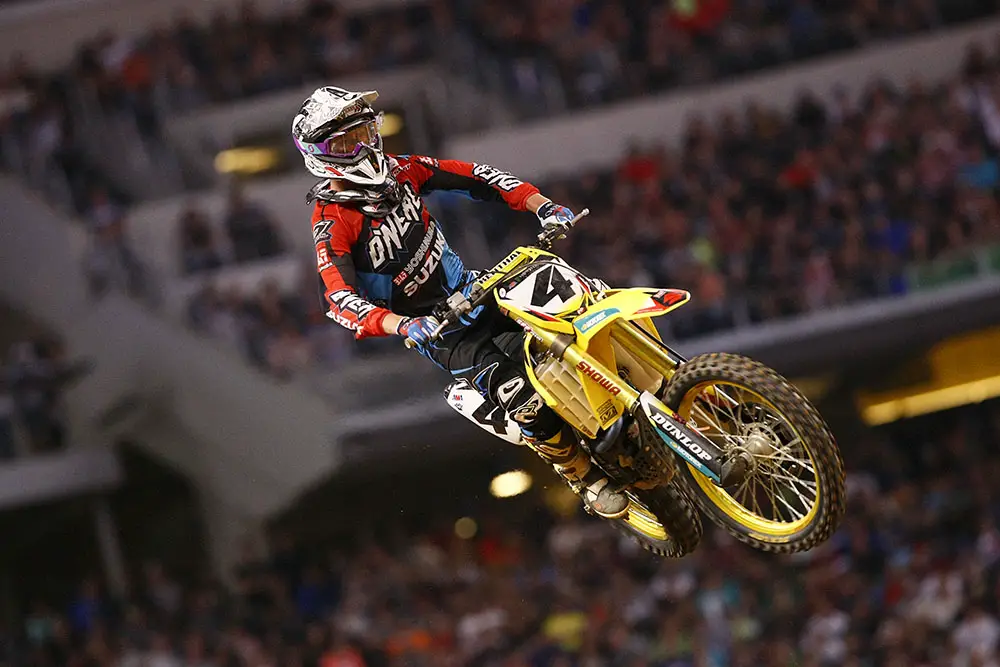 Blake Baggett (4) is improving every week. A fourth in Dallas is the same as a win against the Dungey, Roczen and Canard trio.
(6) WHO'S BEEN ELIMINATED? Nobody yet. There are 250 points still on the table (25 points x 10 rounds) and neither Dungey, Roczen or Canard have earned 250 points yet. But let's assume that if you are 100 points back, you might as well start working on your outdoor setup right away. Who's 100 points (four full event) back? Brett Metcalfe (who's pulled out to get ready to go to Canada), Weston Peick (that happens when you miss four races and crash out of a fifth one), Mike Alessi (you can be forgiven for thinking that Mike was doing well before he took one weekend off for knee surgery, but his 9-18-19-DNS-17-13-18 scores prove otherwise), Josh Grant (he finally cracked the top ten at the Dallas round, but he's already 122 points behind the leader), Kyle Chisholm (Kyle missed the first two rounds and got blown out of the last corner of the Last Chance in Dallas by Nick Wey to fail to make the main, but he's only 2 points back from Grant), Josh Hill (Josh made the main in Dallas—only the third time this season and has a grand total of 25 points so far) and Nick Schmidt (any privateer who makes a 450 main has talent, but that means that Nick Schmidt was uber-talented in 2014, when he made 12 out of 17 main events. This year Schmidt has only made two mains and in both of them he finished in the "gimme spots" outside of the top 20. Schmidt is 150 points behind the points leader, which means he is 6 races behind Dungey after 7 races).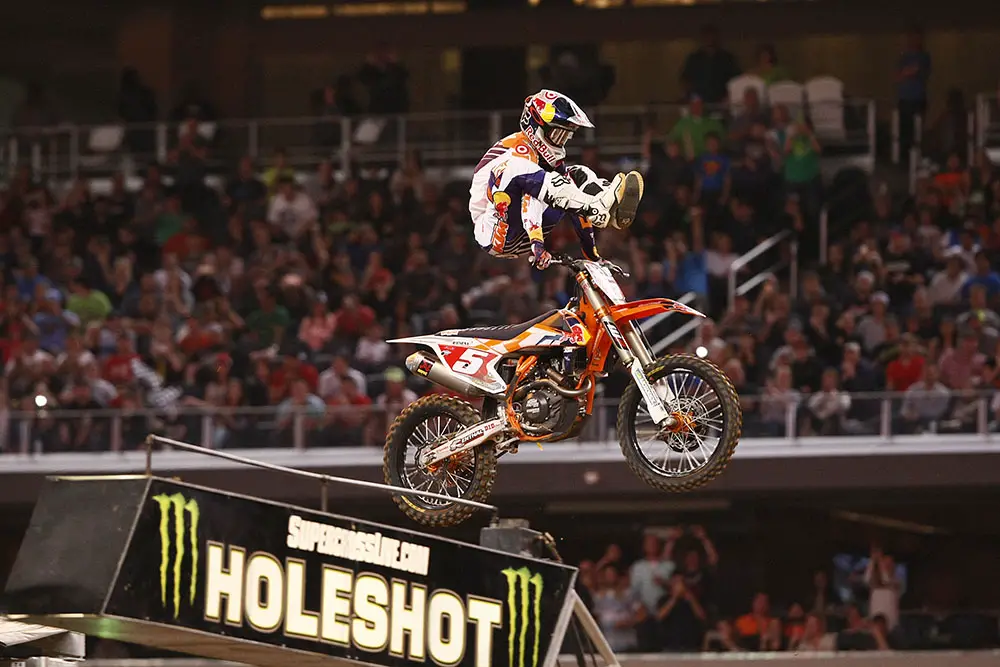 Is the heel clicker back in fashion? Ryan Dungey copies Marvin Musquin's victory celebration and both of them copy inventor Gordon Ward.
(7) DUNGEY'S SETUP: Whatever advice Ryan Dungey has gotten about setting up his bike for this year were the greatest pearls of wisdom that anyone ever dropped on him. In the past he looked like a bobble head on a tricycle going through the whoops. Oh, he went through them fast, but if his insurance agent had been watching he would have canceled Ryan's policy. Suddenly, Ryan's KTM is on rails. He turns inside, he turns outside, he tracks straight through the whoops and he hasn't had to say, "We missed the setup" in post-race interviews yet this year. There is no doubt that KTM's willingness to design and build next year's bike eight months before the other brands, all legal as long as they make and offer to sell 400 units to the public, gives Ryan not just a technological advantage, but also a mental one. The Factory Edition is a big step forward for KTM and it shows—not just on the dyno, but in Ryan's head.
Cole Seely has been hot over the last few races, but he cooled off in Dallas. Cole (14) had to go to the Last Chance to make the main, where he overcame a terrible gate pick to get 10th.
(8) LAST CHANCE ANTICS: The 450 Last Chance used to be a bore. A quick look down the entry list was all a savvy fan needed to be able to predict who was going to transfer to the main and who wasn't. But, with the advent of the recently-added 22-man main event field—the Last Chance has become "WWE Smackdown" on bikes. The difference is that now four riders transfer out of the LCQ instead of two and the battles for the fourth spot have become both epic and violent. This week, Cole Seely, Kyle Partridge, Josh Hill, Nick Wey, Ben Lamay, Kyle Chisholm and Killy Rusk were relegated to the do-or-die race. True to form, Cole Seely won by 3 seconds over Kyle Partridge, but behind them it was bar-banging and motorized mayhem. Josh Hill and Ben Lamay have something to prove to each other, because Hill took Lamay's ride on the CycleTrader team last week (and while neither of them are having stellar years, Lamay wanted to beat Hill and make the main). Hill wanted..well, the same thing. Tightly packed together, the battle for third and fourth swirled around Josh Hill, Kyle Chisholm, Nick Wey and Ben Lamay. Hill was the first to shake free from the four-man tussle and ensconce himself in third. Lamay was the first to lose contact with the group and fade back out of contention (although 5 seconds ahead of the nearest chaser). That left Kyle Chisholm in fourth (with a ticket to the main event) and Nick Wey a reasonable distance behind in fifth. But down the final straight, leading to the last passing chance before the finish line, Nick Wey turn his KX450F to stun and left it on. Chisholm defended brilliantly against a normal pass, but Wey was like a Rhinoceros Beetle headed for destiny with the windshield of Chisholm's car. As Chisholm tucked in tight, Wey hit him hard. Chisholm wobbled, but kept turning towards the finish line, still a half wheel ahead of Wey. So, Wey plowed into Chisholm a second time. Again, Chisholm was staggered, but kept coming forward. Wey finally delivered the coup de grace by riding Chisholm off the track. Wey got fourth and the undying respect of spree killers nation wide.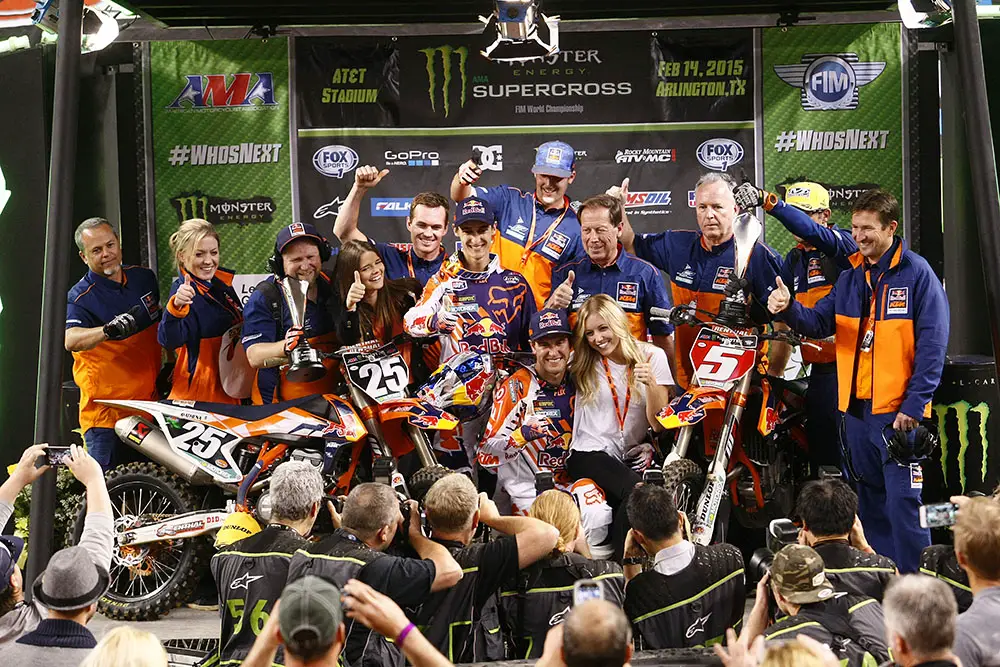 When you sweep both classes on the same night you get to hold a giant party on the podium.
(9) ROAD TO PROFITS: It's interesting to note that the "Ricky Carmichael Road to Supercross" is something that Ricky Carmichael never had to do—and probably would have pulled strings to avoid doing. In fact, under AMA rules, if you know somebody important, they can get you in…no sweat. We are not quite sure how riding timed practice on a postage-stamp Arenacross track, held on a hockey rink, prepares anyone for the Jumbotron world of AMA Supercross—especially given that the world is littered with full-size supercross practice tracks at are ten times closer to reality.  Worse yet, as of late, some enterprising riders are riding timed qualifying, just to make the required 30-man Arenacross program and then skipping the race. Word on the street is that the AMA will come up with a new rule that requires riders who make the top 30 in Arenacross qualifying to stay around for both nights of racing next year. Which will just lead to riders, who had to travel halfway across the country just to get 1 of the 3 points they need, going to the starting line and pulling out on lap one with clutch problems. The "Road to Supercross" is another one of those "have versus have-not" race scenarios that have made amateur racing into a giant keeping-up-with-the-Jones' motorhome convention. To be allowed to enter a 250 East/West Supercross event you have earn points in at least three separate Arenacross "cities." Even though there are two Arenacross races on each weekend, those only count as one "city." You must travel to three cities, during the school year, in the middle of winter and get 30th in timed practice at all of them. A close look at a map of the USA reveals that the vast majority of these races are a long way away from any given location. If you live in Montana, the next closest one is in Washington state. If you live in Florida, they have one in Tampa, but the next two closest ones are in Tennessee and Mississippi. If you live in New York, there is one in Pennsylvania, but the next closest one is 700 miles away. If you live in California, and can't afford to go to Cincinnati, Des Moines, Nashville, Tampa, Kansas City or New Orleans, you will get your shot in Fresno and Las Vegas, but those are the last two rounds of the Arenacross series and you'll still need a third city. The closest one is Tacoma, Washington—which is 1110 miles away. Thus a poor kid, who is blazing fast, but can't afford to travel across the country will get his entry rejected when the Supercross series comes to his town. Yet, the AMA will sell the kid an AMA Pro license and hold the race with only 56 riders instead of the 80 that the rules allow for. It seems logical that the AMA should develop an "alternate list" of rejected riders—then, when the AMA can't fill the 80 spots at a given event, those local alternates could step in to fill the gates during 250 Supercross timed practice. And, if one of these alternates makes the night program, he should be considered eligible to enter future Supercrosses without being rejected.
DALLAS 250 EAST MAIN HIGHLIGHTS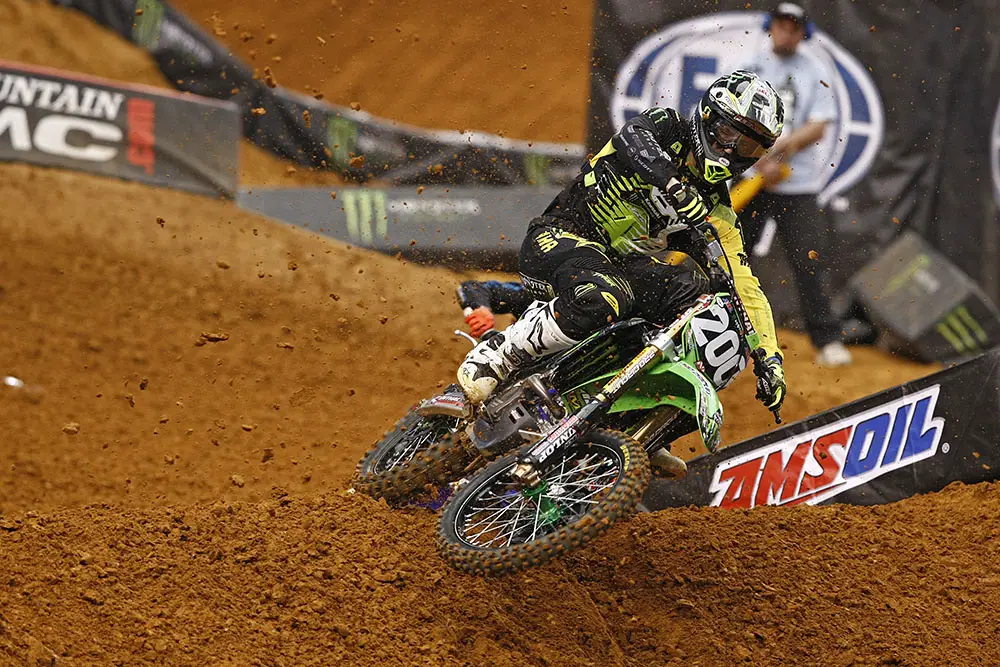 Arnaud Tonus (200) did very well and his eighth place does not reveal how good he could be, but for now, Mitch Payton just wants him to survive.
(10) THE SWISS MISS-STERY: Swiss racer Arnaud Tonus decided to quit the FIM GP series and move to America for 2015. He got a gig on the Pro Circuit team and you don't need to have a degree in rocket science to realize that Mitch Payton hired Arnaud Tonus for the 2015 AMA 250 Nationals—not the 250 East Supercross series. He didn't need Tonus for the 250 East, Mitch had Adam Cianciarulo ready to clean house, as he had done last year before hurting his shoulder and having to sit out the rest of the year. Tonus was suppose to feather bedder in Supercross — just ride along in the back and learn the ins-and-outs of the stadiums. Then, Cianciarulo decided to make a little extra cash by racing a European Supercross — what a colossal miscalcuation (career-wise and money-wise). Cianciarulo crashed, hurt the exact same shoulder and is sitting out the 250 East. The pittance he earned in Euroland is lost tenfold by sitting on the couch now. Thus, Arnaud Tonus became more than the caboose on the Pro Circuit train—he was elevated to the locomotive. It is true that a quick look at the Dallas results will reveal that Arnaud Tonus finished 8th. Not bad—not good. Respectable enough for a feather bedder. But, Tonus is no longer flying under the radar. He has been elevated in importance and guess what? If Dallas is an indication, Tonus will rise to the occasion, even with Mitch reminding him not to take any chances because his real job doesn't start until the AMA Nationals in May. Tonus qualified second fastest behind Musquin, was caught up in the Davalos crash in the second turn and was forced to start near the back during the staggered restart—thus 8th is just a teaser of things to come.
Trey Canard was third. He had a shot at Dungey and Roczen, but he couldn't maintain their pace. Eventually, Roczen couldn't maintain Dungey's pace.

DALLAS SUPERCROSS RESULTS: 450 CLASS
1. Ryan Dungey…KTM
2. Ken Roczen…Suz
3. Trey Canard…Hon
4. Blake Baggett…Suz
5. Andrew Short…KTM
6. Jason Anderson…Hus
7. Eli Tomac…Hon
8. Josh Grant…Kaw
9. Broc Tickle…Suz
10. Cole Seely…Hon
Other notables: 11. Chad Reed; 12. Josh Hill; 14. Jake Weimer; 18. Mike Alessi; 20. Davi Millsaps; 22. Weston Peick.
Joey Savatgy has been at this game a long time, but he looked sharp on his way to a podium finish.
2015 AMA 450 SUPERCROSS POINTS STANDINGS
(After 7 of 17 races)
1. Ryan Dungey…152
2. Ken Roczen…140
3. Trey Canard…129
4. Eli Tomac…114
5. Jason Anderson…100
6. Cole Seely…93
7. Blake Baggett…86
8. Chad Reed…85
9. Andrew Short…82
10. Justin Barcia…71
Justin Bogle isn't wearing the number 1 plate because he's a slouch. He wants to keep it for 2015, but the red part will be on Musquin's KTM next weekend in Atlanta.
DALLAS SUPERCROSS RESULTS: 250 EAST
1. Marvin Musquin…KTM
2. Justin Bogle…Hon
3. Joey Savatgy…Kaw
4. Jeremy Martin…Yam
5. Matt Lemoine…Kaw
6. Vince Friese…Hon
7. R.J. Hampshire…Hon
8. Arnaud Tonus…Kaw
9. Martin Davalos…Hus
10. Kyle Peters…Kaw
Other notables: 11. Colt Nichols; 13. Anthony Rodriquez; 14. Justin Starling; 16. Jimmy Decotis; 19. A.J. Cantazaro; 22. Kyle Cunningham.
Imagine the pressure that Cooper Webb's strong performances in the 250 West have put on Jeremy Martin (6) in the 250 East.
2015 AMA 250 EAST SUPERCROSS POINTS STANDINGS
(After 1 of 8 races)
1. Marvin Musquin…25
2. Justin Bogle…22
3. Joey Savatgy…20
4. Jeremy Martin…18
5. Matt Lemoine…16
6. Vince Friese…15
7. R.J. Hampshire…14
8. Arnaud Tonus…13
9. Martin Davalos…12
10. Kyle Peters…11


Click here to subscribe to MXA: https://hi-torque.com/motocrossaction