10 THINGS YOU NEED TO KNOW ABOUT THE DAYTONA SUPERCROSS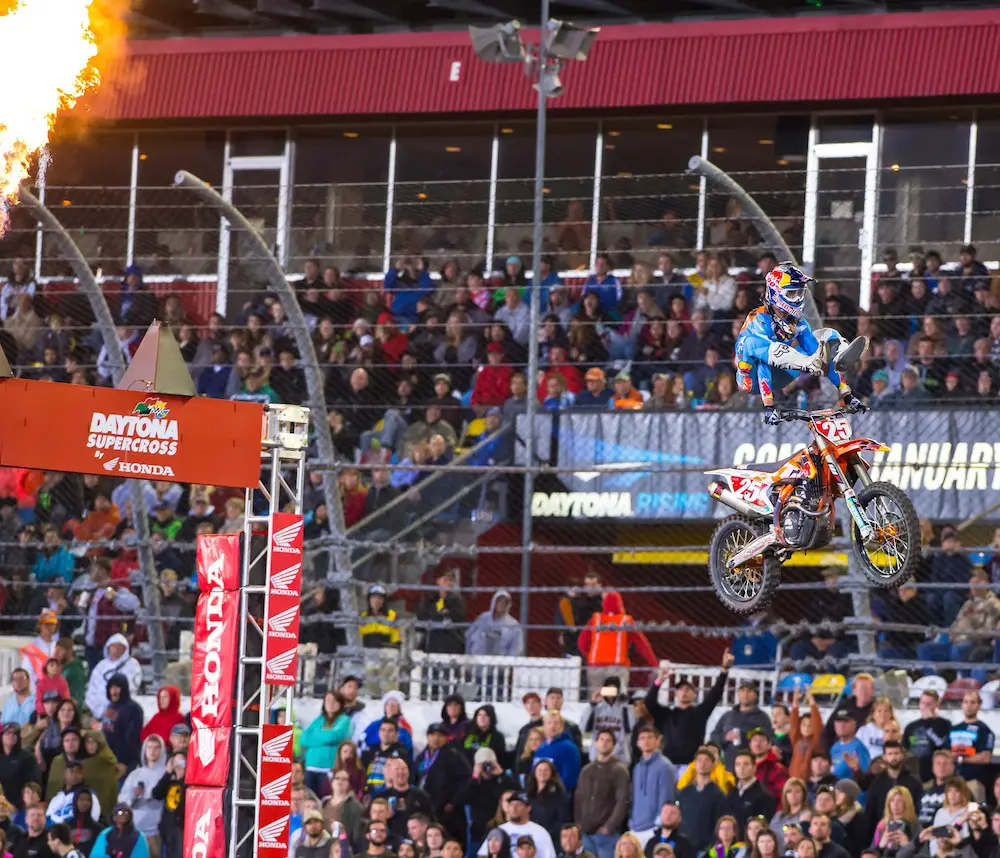 Marvin Musquin has brought the heel clicker back. Too bad that Gordon Ward isn't getting royalties for inventing it decades ago.
(1) A SPECIAL PLACE: Nobody in the sport wants Daytona to become just another Supercross on the 17-race schedule. We have way too many cookie cutter tracks already during the 2015 Supercross season. As the bureaucrats have begun to rule the world of high-stakes sports, they have federalized, governmentized and Ophra-ized motocross with shorter motos, one size fits all track designs, too many rhythm sections and overt catering to the power players. Daytona, albeit a stand-alone event thrust into the Feld circus, is not immune, but its deserves to be different. Need proof? (1) The Daytona Supercross used to be a Friday day race, but it became a Saturday night race. It was exponentially tougher to race in the Florida sun than in the cool of the night. (2) Daytona was such a powerhouse event as a road race, that the Supercross was a step-child held on Friday to keep the Bike Week crowds busy before the important 200-mile road race on Sunday. But, Supercross proved to be the most powerful draw of the weekend — especially as the AMA and DMG joined forces to ruin American road racing. Today, the Daytona 200-mile road race is a shadow of its former self. But, the Daytona Supercross is the premier Supercross of the 17-round race series. My how the tables have turned. (3) Daytona has always been the precursor of the AMA National series. Whoever does well at Daytona is tabbed to be the main contender for the 450 outdoor crown. And that fact is still undeniable. Daytona, old or new, is tough. Much tougher than a normal Supercross by leap and bounds. (4) Daytona was originally part of the AMA National Championship series…a big part. But when Supercross came into being in 1974, it was moved to that division. It's uniqueness as an open-air and non-stadium event was not considered so unusual back in the 1970s because the sport sought out places like Daytona, Talladega and Road Atlanta to try to be where the people were. Today it is the only Supercross of its kind and, paradoxically, it is more motocross-like than the only other big-name race held at an automobile racetrack. Why? Because the Miller Motorsports AMA National in Utah is a wanna-be Supercross race, while Daytona is a rough, tough AMA National disguised as a Supercross. We should make a trade. (5) The old Daytona Supercross had a 30-man main event and one look at Saturday night's ultra-wide Daytona starting gate—especially when narrowed down for today's 22-man field — shows the change in scale. (6) When Ricky Carmichael won the Daytona Supercross back in 2003, his fastest laps were in the 1 minute, 21 second range (1:21). That 2003 main event was 27 minutes long. Saturday night's main event had 1 minute, 6 second lap times (1:06) and was 22 minutes long. That extra five minutes in the broiling sun, with a track that was dug down to the white sand underneath (as opposed to dirt plopped on top like now) was the supreme test of moto-manhood.

(2) ROCZEN'S ANKLE: Last week, after Atlanta II, we said, "Ken Roczen needs a week off to let the ligaments in his left ankle heal. He'll get that week off in one month (April 4). Until then, he has to make do." We were wrong. Ken decided to take some weeks off starting at Daytona when he hit his foot in practice and pulled off in pain. "It's kind of hard when you want to race, but can't put your foot down," said Kenny. Roczen lost 25 more points to Dungey at Daytona and is now 68 points back with 7 races to go. Depending on the extent of the injury and the steps needed to make it better, even if Kenny comes back next week, which we doubt, he will be a shadow of his former self if he has to ride in fear of putting his foot down. There are three straight weeks of racing coming up (Indy, Detroit and St. Louis) before the schedule takes a one-week break. RCH Suzuki might be smart, depending on the doctor's report, to have Kenny wait until Houston before coming back. If Kenny misses one or more races — his focus will shift to defending his AMA 450 National Championship—which starts on May 16 (about two months from now).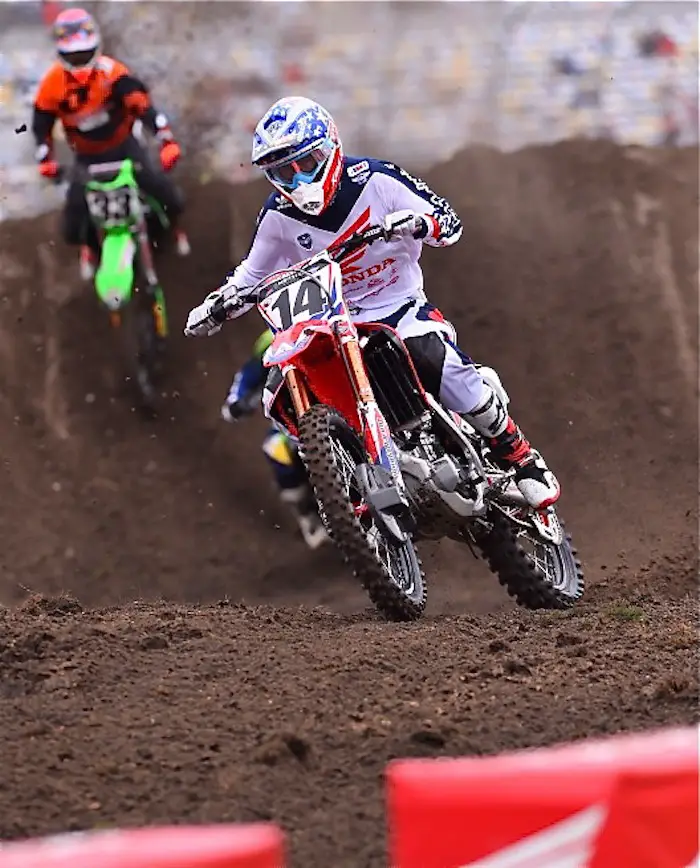 Cole Seely.
(3) RED FLAG ERA OVER: Supercross went decades without ever having to "Red Flag" a race. They protected fallen riders with flagmen, Tuff Blox barricade walls and stern warnings about what would happened to any rider who raced through a Red Cross area (and occasionally enforced this rule, although not against factory stars). Suddenly in the past flew years, and especially in 2015, the AMA started throwing the Red Flag (which requires the race to be restarted) like it was a normal thing to do. At Anaheim III they had to Red Flag the 250 main when Zach Osborne's starting gate malfunctioned. At Dallas, they threw the Red Flag twice in the same night. The first for Sean Hackley and the second for Kyle Cunningham. The safety of the riders is paramount—especially if they are in harm's way. In these cases the Red Flag offers a downed rider salvation in the form of immediate medical attention. So, at Daytona when Mike Alessi took a big digger in the middle of the straight after the two walls jumps, it seemed inevitable that the Red Flag would fly. It didn't. The AMA brought out the Red Cross flags, placed a Tuff Block in front of Mike and waved yellows to force the riders slow down. And, even though the riders were going by on both sides of the medical crew, the race continued. Good call.
MIKE'S CRASH FROM MIKE'S POINT OF VIEW

Conservative? Not in the last few weeks. Ryan has been kicking out the jams. He now has four wins in 2015.
(4) DON'T MAKE ME ANGRY: In the aftermath of Mike Alessi's crash, the front of the 450 pack came onto the scene where the Red Cross flag was flying. This flag means slow down, don't jump anything and hold your position. Andrew Short was leading Ryan Dungey (who had been hounding him for 7 laps), with Weston Peick and Blake Baggett right behind them. Short and Dungey seemed confused about what to do  — since there were no doubles not to jump. Peick was not indecisive and closed the gap on Dungey. When Ryan had his left leg fly off coming out of the rut after the Red Cross area, Peick tried to squeeze his way by the KTM rider. This seemed to wake Ryan Dungey up because down the next straight he made up 75 feet on Andrew Short and passed him in the next turn. From that point on Dungey rode away to the victory. As for Weston Peick, who was aggressive and fast, he ran as high as second place up until lap 13. Then, on laps 16 through 20, he lost one to two places every circuit to finished a disappointing 8th. A year ago an 8th would have been a happy occasion for Weston. He has set his sights higher in 2015.
Eli Tomac (3) came from a medicore start to get third by the checkers.
(5) JEREMY MARTIN'S TEAROFF FETISH: While sitting on the starting line waiting for the 250 main event to begin, Jeremy Martin reached up and pulled a tear-off from his goggles. A second later, he pulled a second laminated tear-off away. Then, like a tear-off machine gun he fired through four tear-offs in rapid succession — Bang! Bang! Bang! Bang! Before the race even started Jeremy had used up 6 tear-offs. Since laminated tear-offs typically come in 7-packs, which is also true for Jeremy's 100% goggles, he now had one tear-off left for the main event. And sure enough, a couple laps into the race Jeremy reached up and pulled that tear-off away.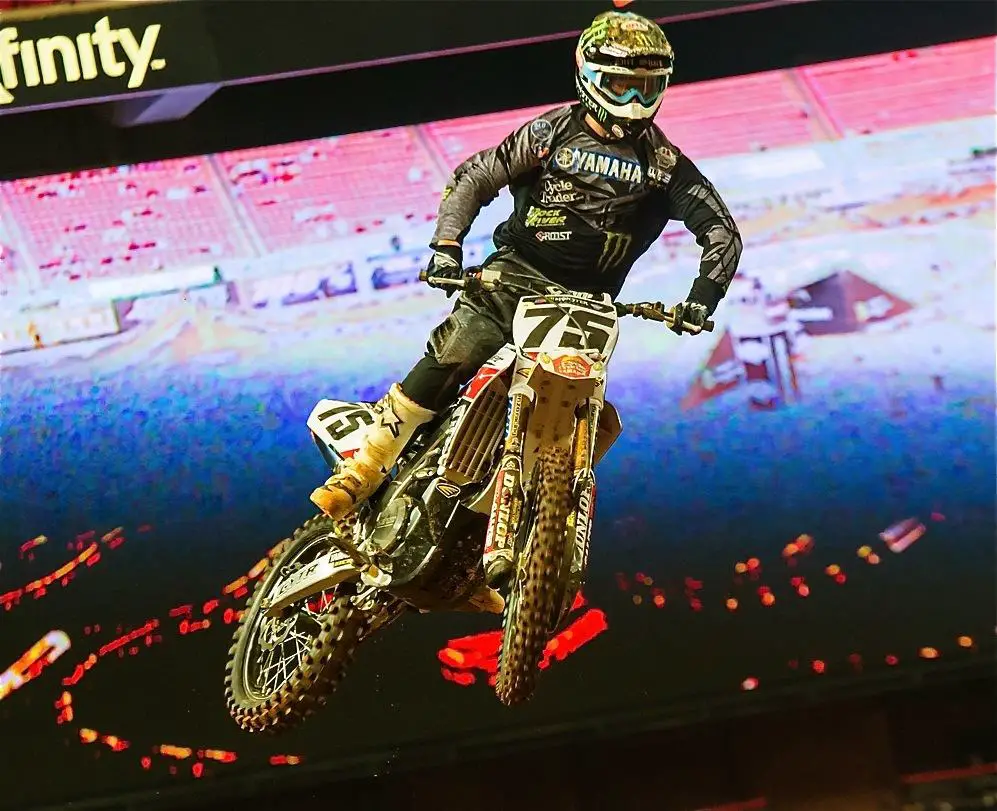 Josh Hill was getting back on track over the last few weeks, but now he is injured. We wish him the best.
(6) THE MISSING: Obviously, the loss of Ken Roczen in practice was the subject of much discussion, but also missing from Daytona were Josh Hill, Matt Lemoine and Arnaud Tonus. Josh Hill 's 2015 season is over. Josh crashed in practice and early reports from the stadium said that he broke, in no particular order, his femur, humerus (upper arm) or/and pelvis, but  the true extent of his injuries was a broken collarbone, partially collapsed lung and rib injuries. Josh was transported to the hospital. Josh was 15th in 450 Supercross points before Daytona and is now 19th, but it matters little at this point.. Matt Lemoine raced last week with a broken finger and reportedly had a practice crash this week. Matt tried to ride the first practice session at Daytona, but pulled out. Matt said, "It just wasn't gonna happen." Matt was 6th in 250 East points after Atlanta II, but is now 11th. Last week Swiss rider Arnaud Tonus ran out of energy in the last few laps and lost several places. He reportedly is suffering from low blood sugar and is hypoglycemic. He came to Daytona feeling under the weather and required fluids via an IV and it was decided that he shouldn't race. Arnaud was 8th in 250 East points before Daytona and is now 12th.
Even though 2015 has been winnowed down to a Dungey versus Canard battle, Blake Baggett (above), Cole Seely, Jason Anderson, Weston Peick and Eli Tomac have made it interesting.
(7) WHAT'S IN A NAME: When Ryan Dungey pulled off the track to a crowd of happy KTM team personnel, TV announcer Jeff Emig blurted out, "There's the suspension guy from White Power right there." Historically correct. Politically incorrect. But, in Emig's defense, it was accurate on his version of the time/space continuum. Many people new to motocross may have been confused by Emig's White Power shout-out, but it was a harmless mistake. White Power was the original brand name of WP suspension components. There is nothing racial implied in the name, at least not in WP's home country of Holland. It turns out that when WP founder Wim Peters started the company he had his shock springs powder-coated by a company that painted hospital beds — thus white was the cheapest and easiest color for Peters to use. Additionally, the white shock springs stood out from the crowd of red, black, yellow and blue springs of the era. With the White Brothers being the American importer of White Power suspension, there was strong brand recognition with the word "white," but even Tom White admits that there were tense moments when the White Power truck drove through the South on its way to Daytona with "White Power" painted in big letters on its sides. The lily-white Dutch never thought about American racial tensions when the named their company, but in 1991 they changed the name to the acronym WP. They now claim that WP stands for the initials of Wim Peters. And, not every WP spring is white anymore as KTM has used orange springs on occasion. WP moved from Holland to Austria in 2001.
Chad wishes that he could have two turns as do-overs from his last 40 laps. He is now officially the Spin Out King.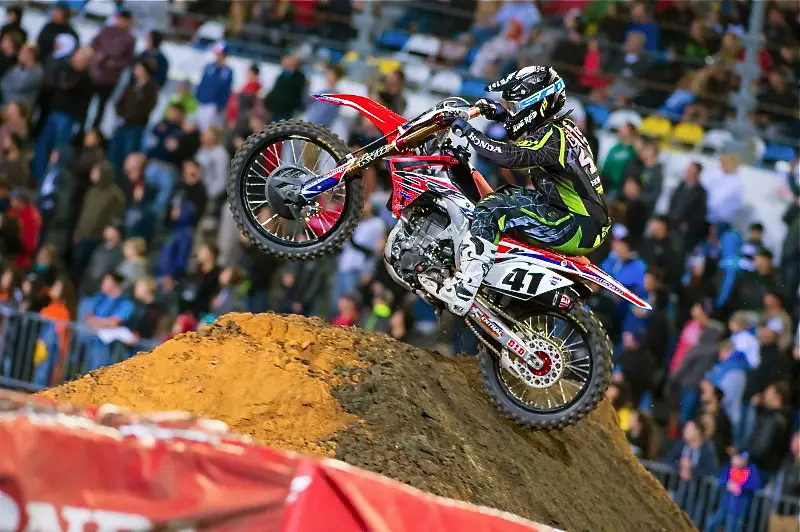 Trey has to start winning and hope that Ryan Dungey has some issues in the next seven races. Trey is 40 points off the lead.

(8) THE HAPS AT THE BEACH: Chad Reed did the exactly same thing at Daytona that he did last week at Atlanta. He spun out and careened into the infield. At Atlanta the cause was his over-exuberance and slick dirt. At Daytona it was his over-exurberance and the potting soil berm that he hit. Chad was fourth at the time and dropped back to 9th, but came back to 5th. Blake Baggett got the first podium of his career in his tenth-ever 450 race. If Blake hadn't scored 12th, 13th, 10th and 9th finishes in the first four races of the season, he would be a lot better than 8th overall in the points standings. Blake's last four races have been 4th, 8th, 5th and 3rd. In the battle for a top five finish for the season, Reed, Anderson, Seely and Baggett are within 5 points of each other (with Reed and Anderson tied at 140 apiece, Seely at 138 and Baggett at 135). Ken Roczen is only 16 points in front of them in fourth place. Davi Millsaps has fallen out of the top ten in points again. Davi's best finish this year was a fifth at Phoenix. Davi has not had a podium yet and has finished out of the top ten 6 times. Justin Barcia doesn't appear to be coming back anytime soon from his cracked pelvis. Justin doesn't have a time table, but he hasn't ridden since Anaheim III and probably won't return until the last three rounds. At this point in the season, the 450 Championship has boiled own to a battle royale between Ryan Dungey and Trey Canard. Eli Tomac has slipped, and "slipped" is the proper word, to 65 points back. Every rider after Ken Roczen is at least three motos behind the points leader.
Jason Anderson wants to be in the top five before the year ends. No problem, he just has to knock off Chad Reed, Blake Baggett and Cole Seely.
(9) DUNGEY MOVES ON UP: Ryan Dungey's win at Daytona was his first-ever at the fabled track. It gave him a 40-point lead over second place. It was his fourth victory in 2015. And it moved him into a tie for 10th on the all-time Supercross win list with Kevin Windham.
ALL-TIME SUPERCROSS WIN LIST
1. Jeremy McGrath…72
2. James Stewart…50
3. Ricky Carmichael…48
4. Chad Reed…44
5. Ryan Villopoto…42
6. Ricky Johnson…28
7. Bob Hannah…27
8. Jeff Ward…20
9. Damon Bradshaw…19
10. Kevin Windham…18
10. Ryan Dungey…18
R.J. HAMPSHIRE'S DAYTONA PRACTICE CRASH…WITH SCREAMING

(10) THE HOLESHOT WAR: In the nine races leading up to Daytona, KTM 250SXF engines (whether in a Husqvarna or a KTM) have holeshot every 250 East or 250 West main event in 2015. It is a streak that is destined to be broken by a Geico Honda, Pro Circuit Kawasaki or Star Yamaha sooner or later. And when Marvin Musquin failed to holeshot the Daytona 250 East race it looked like KTM's phenomenal streak was over. It turned out that Dakota Alix, who started from the outside, got to the white line first and was credited with the holeshot. Alix was immediately caught up in a first turn crash and would end up finishing 18th. The kicker? Dakota Alix races a KTM 250SXF for the Orange Brigade. The KTM engineers are now 10 for 10.
Baggett, Dungey and Tomac on the 450 podium.
DAYTONA RESULTS: 450 CLASS
1. Ryan Dungey …KTM
2. Eli Tomac …Hon
3. Blake Baggett …Suz
4. Cole Seely…Hon
5. Chad Reed …Kaw
6. Trey Canard …Hon
7. Jason Anderson …Hus
8. Weston Peick …Yam
9. Davi Millsaps …Kaw
10. Broc Tickle …Suz
Other notables: 11. Josh Grant; 12. Andrew Short; 13. Kyle Chisholm; 15. Nick Wey; 20. Jake Weimer; 22. Mike Alessi; Ken Roczen did not race Daytona after re-hurting his ankle in practice.
Martin, Musquin and Bogle on the 250 podium.
DAYTONA RESULTS: 250 EAST CLASS
1. Marvin Musquin …KTM
2. Justin Bogle …Hon
3. Jeremy Martin …Yam
4. Joey Savatgy …Kaw
5. R.J. Hampshire …Hon
6. James Decotis …Hon
7. Kyle Peters …Hon
8. Anthony Rodriguez …Yam
9. Mitchell Oldenburg…Yam
10. Martin Davalos …Hus
Other notables: 11. Kyle Cunningham; 12. Jordan Smith; 14. Luke Renzland; 19. Jace Owen; 20. A.J. Cantazaro.
2015 AMA 450 SUPERCROSS POINTS STANDINGS
(After 10 of 17 races)
1. Ryan Dungey…224
2. Trey Canard…184
3. Eli Tomac…159
4. Ken Roczen…156
5. Chad Reed…140
6. Jason Anderson…140
7. Cole Seely…138
8. Blake Baggett…135
9. Andrew Short…109
10. Broc Tickle…107
2015 AMA 250 EAST SUPERCROSS POINTS STANDINGS
(After 4 of 8 races)
1. Marvin Musquin…97
2. Jeremy Martin…85
3. Justin Bogle…84
4. Joey Savatgy…72
5. Martin Davalos…56
6. R.J. Hampshire…38
7. Anthony Rodriquez…34
8. Vince Friese…38
9. Kyle Peters…43
10. Jimmy Decotis…42
Photos by KTM, Travis Fant,  Husqvarna, Troy Lee Designs, Geico Honda, Yoshimura Suzuki, Honda