10 THINGS YOU NEED TO KNOW ABOUT PHOENIX
Eli Tomac owned the night and a gracious Ken Roczen congratulated him afterwards.
(1) The dominant one: After the first Anaheim everybody thought, and rightly so, that Ken Roczen was going to run away with the 2015 Supercross Championship. Then, when he immediately got to the front of the pack in Phoenix, the writing was on the wall. But, as dominant as Roczen was at A1, Eli Tomac was in Phoenix. Tomac struggled for a lap or two before rocketing up to Kenny's rear wheel. The two riders engaged in a brilliant side-by-side duel for position, with each one getting to the inside of the next turn in the nick of time to stop the advance of the other one. Finally, Tomac pushed through and got the lead. And that was it for Kenny. He couldn't maintain Tomac's pace and Eli stretched it out to a seven-second lead by the flag.
HOW COOPER WEBB WON THE 250 WEST IN PHOENIX

(2) No more WWE: After last week's steel cage showdown with everybody and their brother ramming someone out of the way, this week's action was of the civilized, Marquess of Queensberry, no-contact variety. There was even super clean racing between Tyler Bowers, who everyone assumed was going to be the second coming of Tyler Evans, and Justin Hill. They both had their dirty riding opportunities and they both stayed on the good side of the ledger.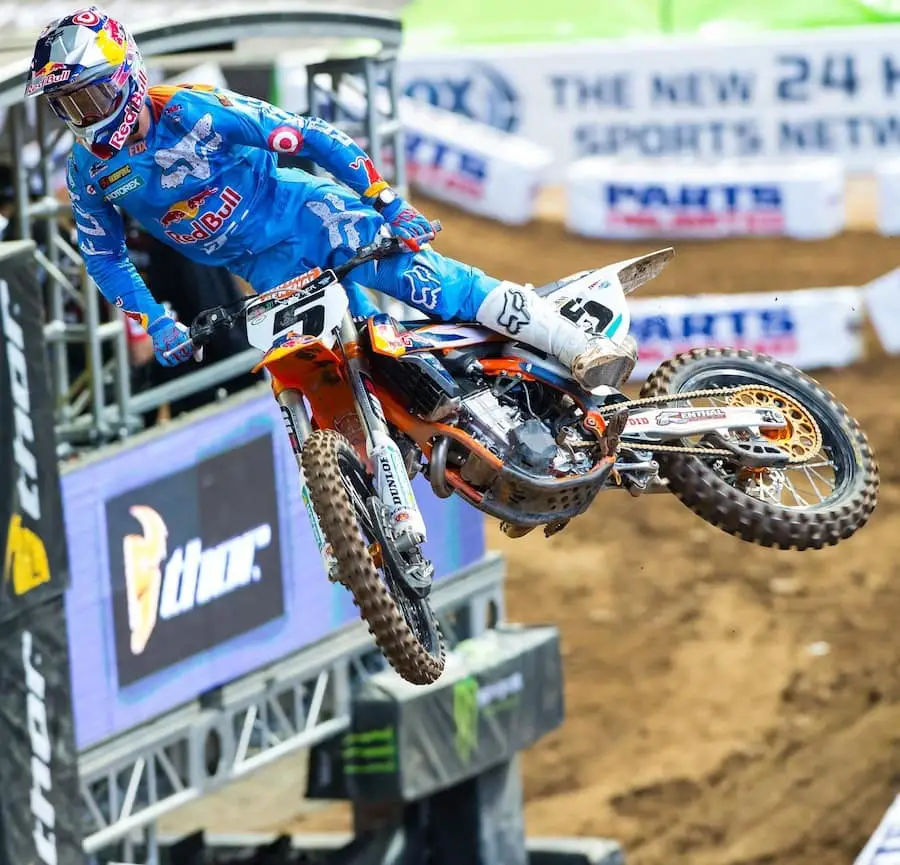 It's tempting to find Ryan Dungey's safety-first race strategy boring, but after two races he's second overall in points and laying in wait.
(3) Tuff Enuff: Tuff Blocks have always been an issue in Supercross because the lightweight foam track markers go flying when tapped. At Phoenix, the pinched-down entrance to the first turn was lined with Tuff Blocks that often made it through the first turn before the pack did. Riders coming up the inside of the start would get booted off the track and, instead of backing off, they would play lawn bowling with the Tuff Blocks. The most noteworthy of these incidents involved Ken Roczen in his heat race. A Tuff Block got hooked on his footpeg (after the rider behind him punted it up in front of Kenny). Ken had to play choo-choo train with the Tuff Block all the way around the first turn and ended up 13th by the time the Tuff Block came loose. The outcome was that Roczen didn't qualify from his heat and had to go to the Semi. First-turn barricades have to be more substantial than big blocks of marshmallows. At the very least, the Tuff Blocks in the first turn should be tethered down to avoid the first turn looking like a freeway "cone zone." And while we're on the the subject of Tuff Blocks—there are too many of them on the track. Feld could lose at least 30 percent of the Tuff Blocks—which would leave room for errant riders to reenter the track and clean up the look of the track, which is more bumper pool than dirt bike racing.
Andrew Short was the crowd favorite last week in Anaheim. This week was a lot quieter for Short, but he backed up last week's good result with a seventh in Phoenix.
(4) Chad's back: Actually the full sentence should read "Chad's back is against the wall." Betting against Chad Reed making a comeback is a fool's bet, but former National Champions rarely stay around when they can't make the top ten (or struggle mightily to inch into it). Chad still has it, as he showed in his heat race. For that race Chad was making moves, cutting back, swinging wide and positioning himself in the perfect place to make passes (and was rewarded with a third place and a ticket to the main). Once in the main, Chad was like one of those paddle ball thingies where a rubber ball is bounced back and forth on an elastic band. Chad went forward, then backward, then forward and then backward. But, and this is the big but, those fore/aft movements were back in 9th, 10th and 11th place. In the end, Chad got tenth for the night. Don't worry Skippy, San Diego is coming up soon. You own that place.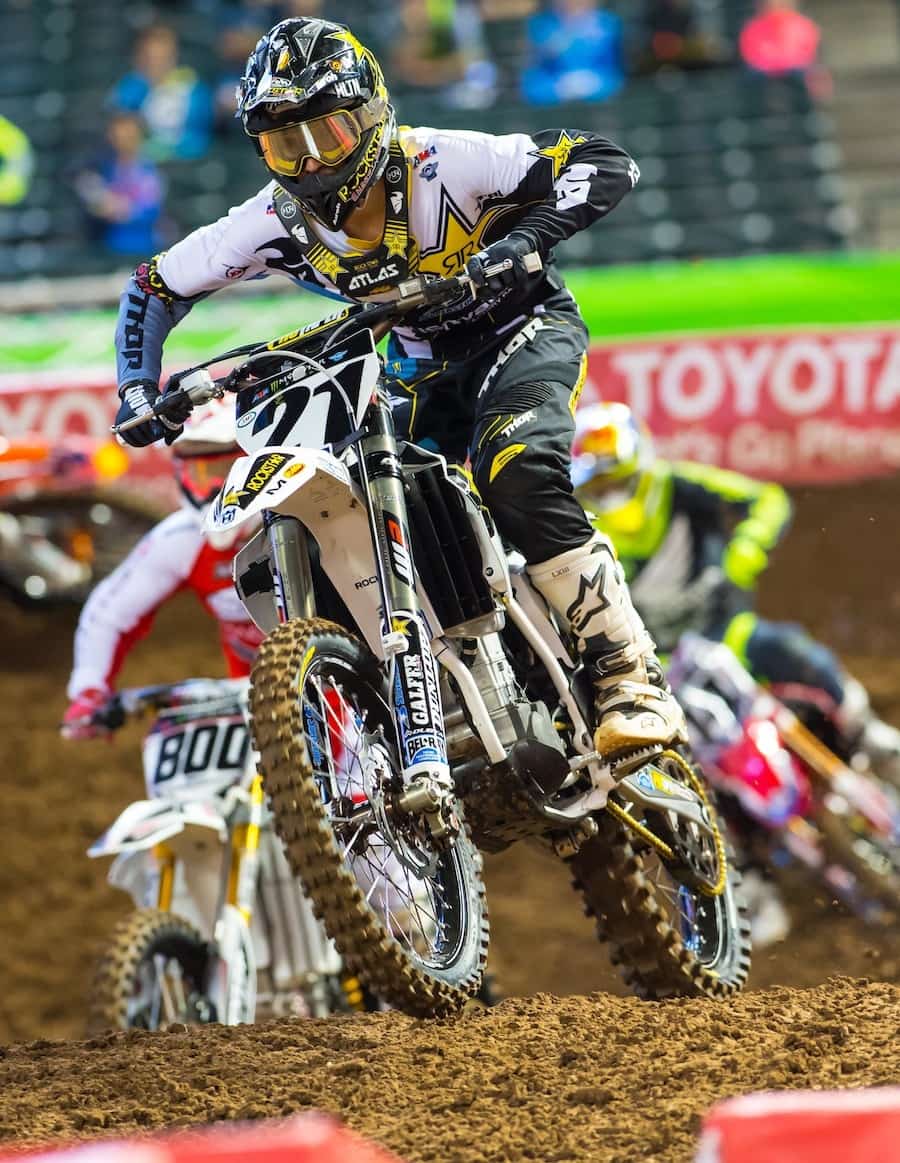 It wasn't Jason Anderson's night, as he fought his way to sixth by the checkered flag, but he's third in 450 Supercross points.
(5) Counting coup: Winning Championships is all about collecting points. After only two rounds of the 17-round 450 Supercross title chase, everyone but the top eight has fallen one full race behind in points. When you are 25 points behind after only 50 points have been handed out, you are looking at a long season (or for lightning to strike).  The big names who have fallen back are Broc Tickle, Jake Weimer, Chad Reed, Davi Millsaps, Blake Baggett, Mike Alessi, Justin Brayton, Cole Seely, Dean Wilson, Brett Metcalfe, Josh Hill and Josh Grant. Even worse, Nick Wey has scored no points in rounds one and two. That is a big list of super-talented riders who need to stop the skid next weekend or learn to say, "I can't wait for the Nationals to start."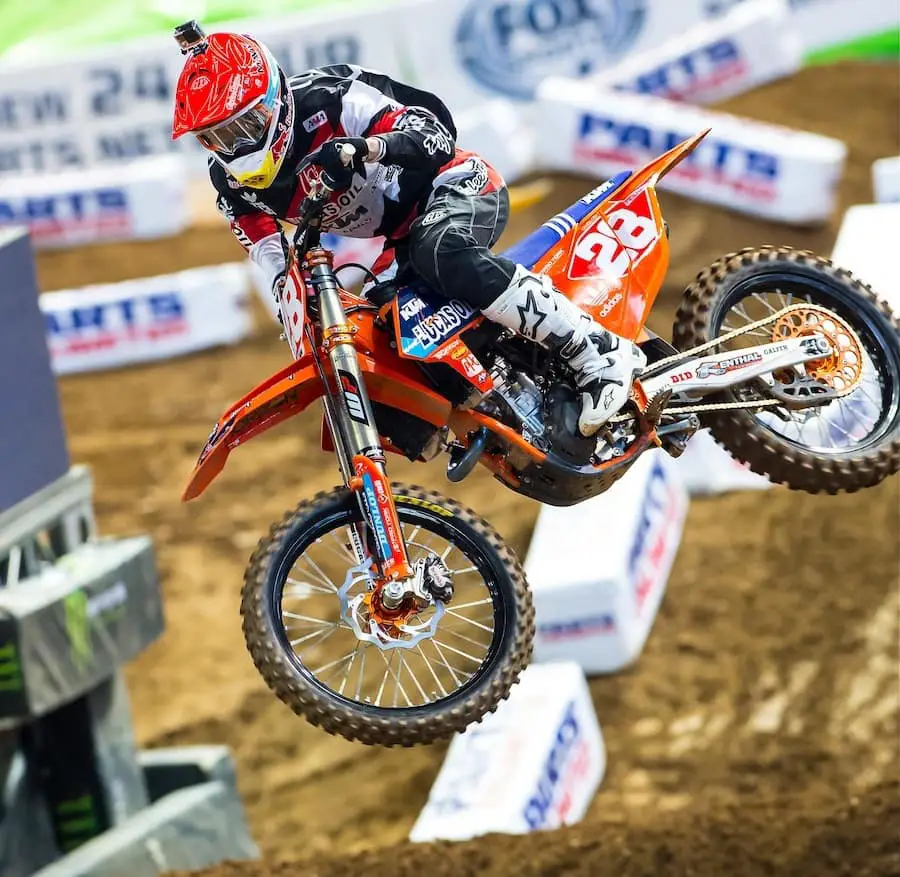 Jessy Nelson may well be the fastest rider in the 250 West, but if you add in whoops his lap times go way up. The whoops were Jessy's Achilles heel in Phoenix.
(6) Lining their pockets. Feld owns both Supercross and Arenacross, so you don't have to dig deep to understand why they want every young rider to race the AMA Arenacross series before they can gain entry into the AMA Supercross series. As the rules are written, to race the 250 East or 250 West a rider has to earn points in at least three separate Arenacross cities. Perhaps Feld has never looked at the Arenacross schedule, but the vast majority of these race are 1500 miles away from Anaheim Stadium. The closest California Arenacross is in Fresno and it is the second-to-last round on the schedule. This means that an up-and-coming kid from Burbank would have to travel to Cincinnati, Des Moines, Nashville, Tampa, Kansas City or New Orleans in order to get the third race he needs (assuming he earns a point there) and then pair that race with the Fresno and/or Vegas Arenacross rounds. Only then would his entry be accepted. In the meantime, the AMA is rejecting entries to the 250 West and having less than 80 riders show up for the Day Qualifiers. In fact, the 250 West only had 67 riders at A1 and 58 riders at Phoenix—yet they still rejected decent Pro racers. It seems logical that the AMA should develop an "alternate list" of rejected riders—then, when the AMA can't fill the 80 spots at a given event, those alternates could step in to fill the gates. And, if one of these alternates makes the night program, he should be considered eligible to enter future Supercrosses without being rejected.
ZACH OSBORNE CRASHES INTO ANOTHER CRASH

(7) Skin in the game: As important as it is to qualify for the main events, it is even more important not to be one of the guys who doesn't qualify. As much as the fans like to say that every rider that signs up for a Supercross is a hero — they don't mean it. So, who didn't qualify in Phoenix? There are two levels of not qualifying — Dante would approve. First, you have to make the Top 40 in timed qualifying to get into the night's heat races. In the 450 class, David Pulley, Scotty Wennerstrom, Deven Raper, Mark Weishar and Swedes Robert Lind and Filip Thuresson were among the unlucky 18 who had to sit it out. In the 250 class, Swede Kris Palm, Connor Stouff, Travis Bannister, Todd Bannister, Scott Agostini, Broc Shoemaker and Cheyenne Harmon were among the 18 riders who didn't make the daytime cut. The next way not to qualify is to fail to make the top four in the Last Chance. In the 450 class this list included some big players, including Nick Wey, Kyle Chisholm, Killy Rusk, Matt Moss, Ben Lamay, Josh Hill, Justin Sipes, Austin Howell, Fredrik Noren and Nick Schmidt. As for the 250 West list, it had Ryan Breece, Blake Lilly, Mitch Van de Mortel, Colton Aeck, Rhett Urseth, Jean Ramos and Johnny Jelderda on it.
Weston Peick came oh-so-close to making the podium for JGR, but Dungey stalked him throughout the whole race and then took the final step away. It was still a career high for Weston.
(8) Down Under Thunder: The Aussies have had a good run in America. But, it seems as though they don't have the firepower that they had a decade ago — and, in fact, they are depending on the old timers like Reed and Metcalfe to keep the green and yellow alive in the States. Phoenix had four Aussies: Chad Reed, Brett Metcalfe, Matt Moss and Jackson Richardson. Ancient Mariner Chad Reed was the highest placing Aussie with a 10th, Metcalfe was 16th and Moss didn't qualify for the main. Jackson Richardson was 18th in the 250 West.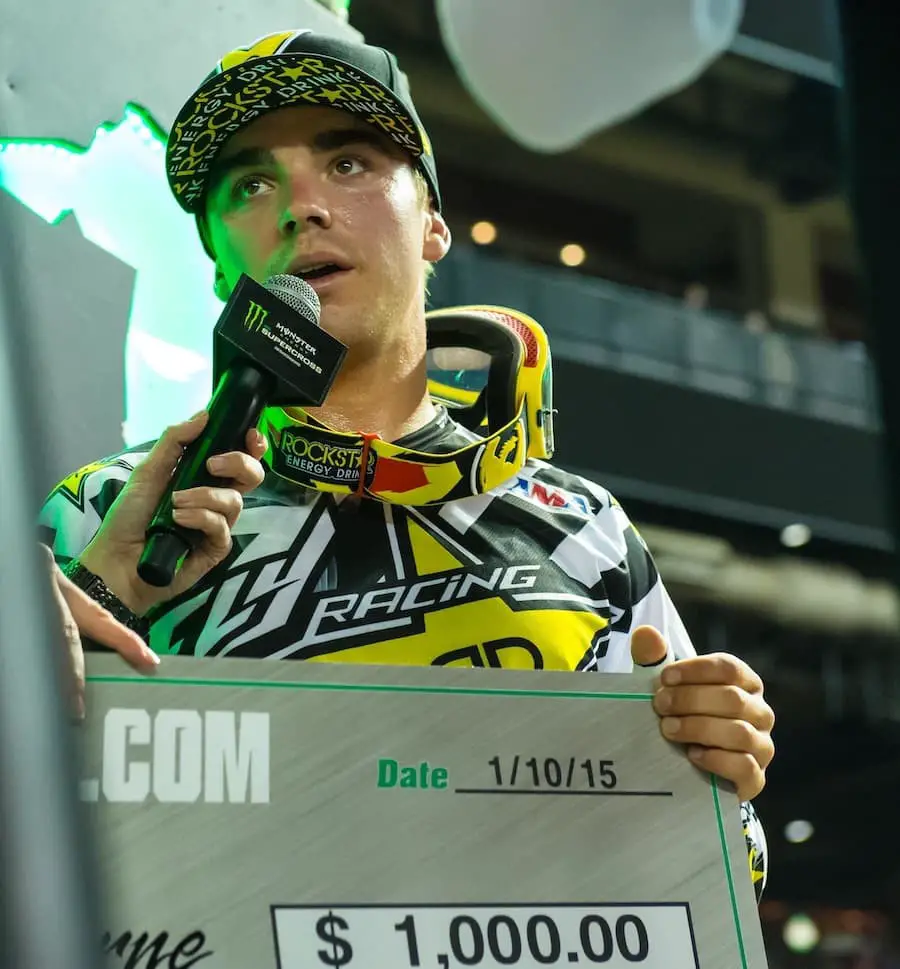 Zach Osborne is taking a beating this season (which is only two races old), but he did holeshot the 250 West main and pick up the giant check (giant in size, not in amount). His thumb is taped up from last week's run-in with Tyler Bowers.
(9) Slip of the tongue: While talking about the terrible injuries that Wil Hahn suffered at Anaheim 1, color commentator Ricky Carmichael was as colorful as always when he said of Hahn's injuries, "It couldn't happen to a nicer guy." That phrase is commonly used colloquially as sarcasm. As in, "Did you hear that Charles Manson's parole was revoked?" with the reply, "It couldn't happen to a nicer guy." Ricky obviously meant it as a compliment. He wanted to say, "It's sad that it happened to such a nice guy," but when the cameras are on and the lips are loose anything can come out.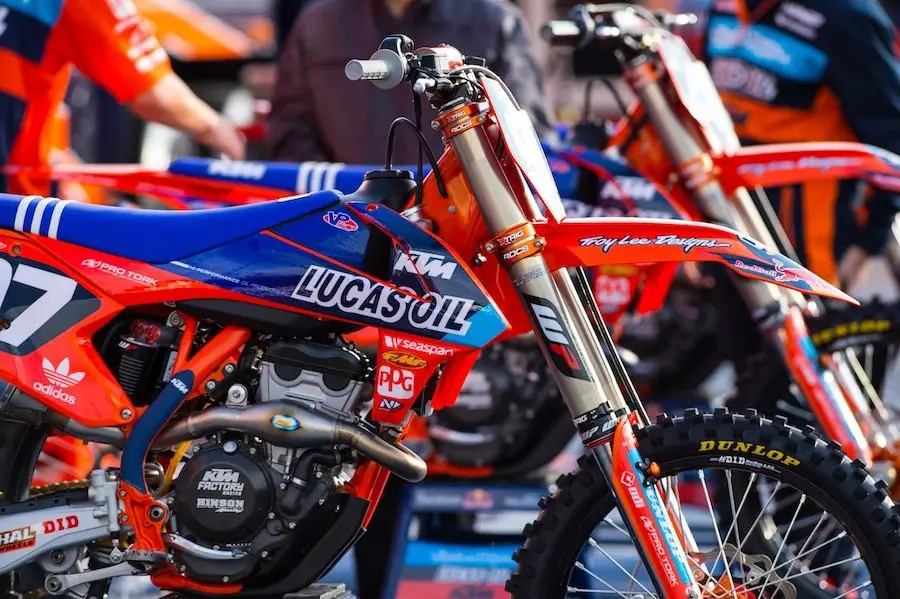 Lovely to look at, the Troy Lee Design team is the biggest proponent of the 250 West-only strategy.

(10) The 250 West-only strategy: The cheapest way to race the AMA Supercross series is to race the nine-race 250 West series. An enterprising privateer could do most of it in a pickup truck. Because of the three Anaheims, plus Phoenix, San Diego, Oakland, Santa Clara and Las Vegas, 8 of the nine races are within a couple hours drive of most west coast-based racers (only Houston in April is a stretch). Making the 250 West even easier to do is the fact that a racer can crank off five 250 West races in five weeks and then take two months off to prep for the Nationals or go to Hawaii. Even an East Coast guy could come to California and stay with friends or family and do the Supercross series on the cheap. Even the factory-backed teams like the idea. Roger DeCoster tried to do the 250 West-only strategy a couple years ago when Roczen and Musquin were just starting out. But Roczen got hurt early on and had to move to the 250 East. The Troy Lee Designs team has been the biggest proponent of west-only racing. Troy believes that the best exposure comes early in the season because of media interest in the opening rounds. That interest fades as the series drags on.
PHOENIX SUPERCROSS RESULTS: 450 CLASS
1. Eli Tomac
2. Ken Roczen
3. Ryan Dungey
4. Weston Peick
5. Davi Millsaps
6. Jason Anderson
7. Andrew Short
8. Trey Canard
9. Jake Weimer
10. Chad Reed
Other notables: 11. Justin Barcia; 13. Blake Baggett; 14. Cole Seely; 16. Brett Metcalfe; 17. Dean Wilson; 18. Mike Alessi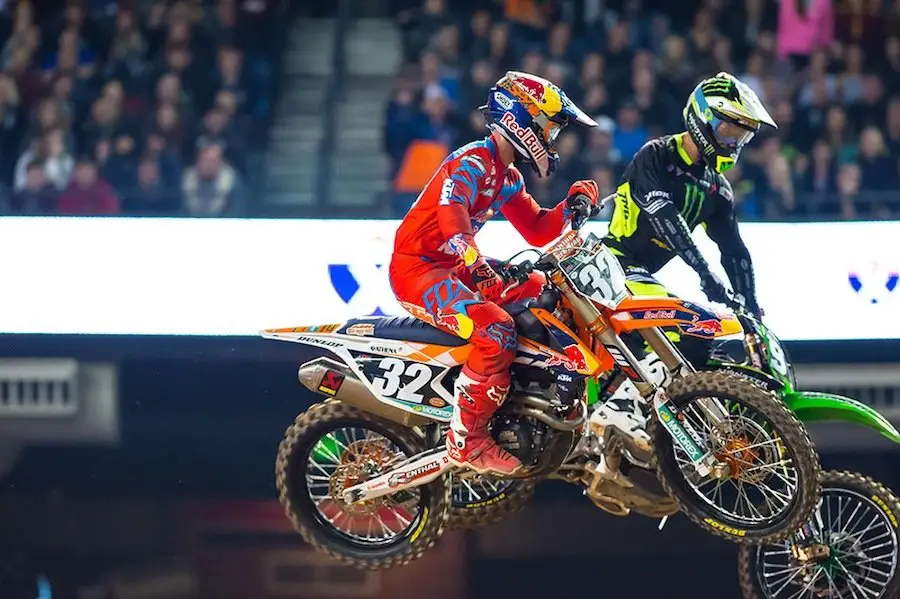 Everyone is waiting for wins from Justin Hill (32) and Tyler Bowers. They have both been on the top step of the 250 West before. But, they weren't on any steps in Phoenix.
PHOENIX SUPERCROSS RESULTS: 250 WEST CLASS
1. Cooper Webb
2. Malcolm Stewart
3. Jessy Nelson
4. Tyler Bowers
5. Aaron Plessinger
6. Justin Hill
7. Zach Osborne
8. Shane McElrath
9. Zach Bell
10. Tommy Hahn
Other notables: 11. Matt Biscelgia; 13. Josh Hansen; 18. Jackson Richardson; 20. Alex Martin; 21. Nico Izzi; 22. Austin Politelli
Davi Millsaps got a fifth in Phoenix, but is still out of the top ten in points.
AMA 450 SUPERCROSS POINTS STANDINGS
(After 2 of 17 races)
1. Ken Roczen…47
2. Ryan Dungey…38
3. Jason Anderson…37
4. Trey Canard…33
5. Weston Peick…32
6. Andrew Short…30
7. Eli Tomac…26
8. Justin Barcia…25
9. Broc Tickle…22
10. Jake Weimer…22
Other notables: 11. Chad Reed; 12. Davi Millsaps; 13. Blake Baggett; 16. Cole Seely; 17. Dean Wilson; 18. Brett Metcalfe.
AMA 250 WEST SUPERCROSS POINTS STANDINGS
(After 2 of 9 races)
1. Jessy Nelson
2. Cooper Webb
3. Tyler Bowers
4. Zach Osborne
5. Justin Hill
6. Aaron Plessinger
7. Shane McElrath
8. Malcolm Stewart
9. Zach Bell
10. Tommy Hahn
Other notables: 11. Michael Lieb; 12. Tommy Hahn; 13. Alex Martin; 18. Chris Alldredge; 19. Nico Izzi; 20. Zach Freeberg.
Photos: Travis Fant, KTM, Husqvarna, Geico Honda.