10 THINGS YOU NEED TO KNOW ABOUT THE NEW YORK SUPERCROSS
Cole Seely getting ready for opening ceremonies.
(1) THE THREE AMIGOS: It became obvious after the loss of Trey Canard and Ken Roczen that what had started out as a phenomenally competitive group of 5 riders, was now winnowed down to two (Dungey and Roczen). Then, out of the blue, Cole Seely appeared on the scene to make it the Three Musketeers in the 450 class. Seely's arrival was the added dose of tension that a rather dull second half of the season needed — especially in light of Ryan Dungey's total dominance (and eventual clinching of the 450 crown with three races to go). Without Seely, the whole show would have been Dungey versus Tomac. In the past a two-man battle has been more than enough. Think back to Bailey versus Johnson, Hannah versus Howerton or Damon Bradshaw versus Damon Bradshaw. But, with Ryan Dungey holding a massive three-race lead in points, he didn't really have to engage with Tomac … and the smart thing was not to. The title is all that matters in the big picture — for the manufacturer and for the rider's bank account. Thus, Tomac versus Dungey would have been about as exciting as a tax accountant convention. The scenario would go like this: Dungey would get the start, because if he couldn't beat Eli Tomac to the first turn he should be required to turn in his multi-colored boots. Then, Tomac would mount a charge from mid-pack and catch up to Dungey. Dungey would rise to the occasion and match Eli's pace, but if it got too hot, Dungey would just go wide in a turn and let Eli by. No risk, and no major loss. The actual loss would only be 3 points and he had 85 to give. Snore. But, Seely brought a new winner and a new front runner to the dyad by making it a triad. In New York Seely started fast and pulled away. He created electricity in the air as Dungey and Tomac chased him. Yes, they got him, but that was not as much of a foregone conclusion as it would have been had someone else been out front. Seely had run away from them before – and that meant that he could do it again. Okay, he didn't, but for awhile it looked like he would. Seely's turn-around in the second half of the season, earned him a win, 5 podiums and third overall in the points. And, it made him a contender for 2016.

 2015 SUPERCROSS PODIUMS
1. Ryan Dungey…15
2. Eli Tomac…10
3. Trey Canard…7
4. Ken Roczen…5
5. Cole Seely…5
6. Chad Reed…2
7. Jason Anderson…2
8. Blake Baggett…1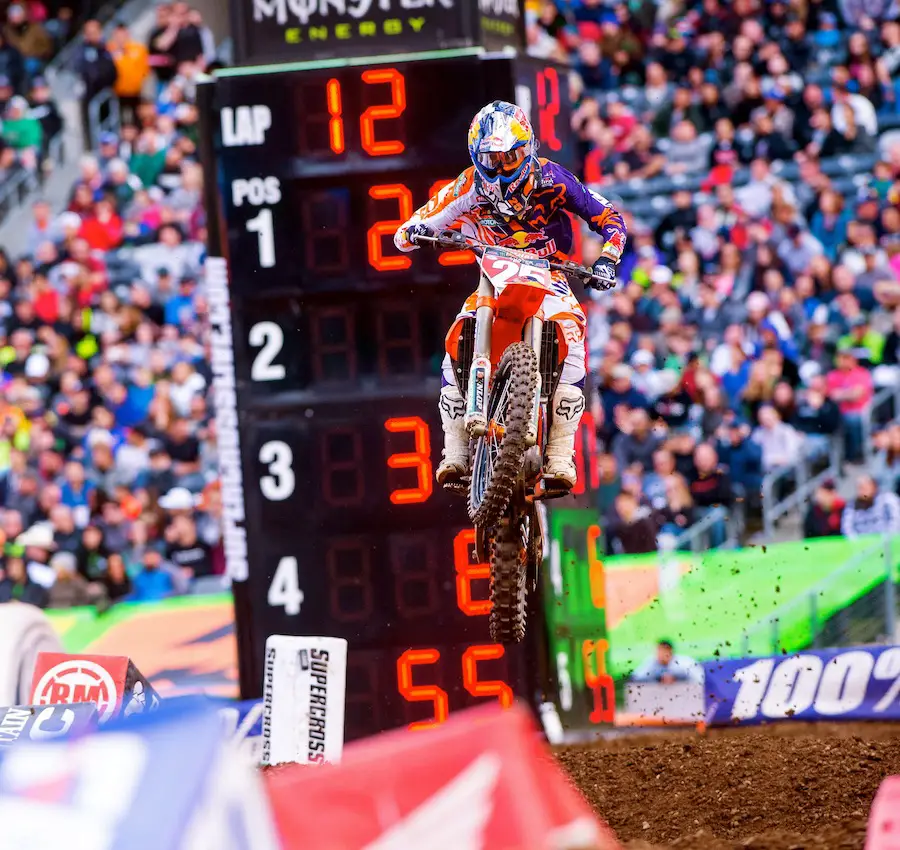 The pylon says it all. Marvin Musquin is on top.
(2) MOVIN MARV MOVES UP: Marvin Musquin dominated the 250 East. He was never off of the podium. Heck, he was never lower than the second step on the podium and stood on the top step 6 out of 8 times. As his reward, Marvin won his first-ever American title, and even though it is only a regional Supercross crown, it is the stepping stone that he needs to launch himself into the Big Show. And he has been launched! Immediately after the New York race KTM announced that it has signed Musquin to a two-year deal (2016-2017) to race the 450 Supercross and 450 Nationals starting in '16. Marvin's next goal is to win the 2015 AMA 250 National Championship this summer. Marvin said, "KTM is my family. It feels like home under the Red Bull KTM tent as we've spent almost 7 years together already. I know how much effort they have put into R&D to give us the best KTM race bikes and I believe in them just as they believe in me. I'm looking forward to even more success with my team." It should be noted that Justin Bogle, who was the 2014 250 East Supercoess Champion, was no slouch in 2015. Justin made 7 out of 8 podiums (and his worst finished was a fourth). He won the Detroit round and had a slim hope going into New York, but it looked like Musquin was toying with him. Bogle got the holeshot and opened up a gap, which Marvin would quickly close, only to let Bogle open up another gap, then close it again. On the third time, Musquin went by and never looked back.

Justin Bogle will meet Marvin Musquin again in the 250 Nationals in one month and then they will line up against each other in the 450 class in 2016.
(3) NEW VENUES: Which stadiums are getting the ax? It was announced that next year's Supercross series will be returning to Massachusetts, Arizona and Canada. The Foxboro, Glendale and Toronto rounds mean that three current events will be dropped from the schedule. Will it be the poorest performing events or one of the multiple events (like Anaheim or Atlanta)? All will be revealed in the next episode of "How the Series Turns" on Saturday. Of course we are on pins and needles because the 2016 Supercross series starts in only 9 months and much like Apple Watch buyers we just gotten be the first to know. Okay, maybe we could all take a relaxed approach to something that doesn't really happen until next January. The exceptions to this are the people whose Supercrosses are going to be surgically removed from the schedule — they have some serious internet complaining to do. Get on it. Now!

(4) NO SKIPPY: Skippy skipped New York after trying to ride practice. He was a longshot to finish third for the year, but his no-score insured Cole Seely of the third spot and moved Blake Baggett to within 4 points of Chad heading into the final Las Vegas round. We are pretty sure that if Chad can't be in the top three, he doesn't care where he finishes.

JUSTIN BARCIA'S CRASH

(5) THE HAPS OF NEW YORK (NEE' NEW JERSEY): Here is what you missed in MetLife Stadium. (1) As day races go, New York had one of the better tracks. The dirt composition was soft enough that it didn't get hard and slippery, and there was only one minor spot of dust all day long. Good work, but let's not do it again. Supercross doesn't look the same in the day time. (2) There was a massive crowd. Although we've learned long ago not to believe official crowd numbers, we are sure that all of Passaic and half of Trenton were in MetLife Stadium. (3) For the third time this season Ryan Zimmer was on the verge of busting big on his Blue Buffalo bike. He was leading the 250 Last Chance and was only three turns from taking the checkered flag when he fell and got passed by Kyle Cunningham. Not only did Cunningham get by him, but he lost all four qualifying spots and had to sit out the main. So close and yet so far…again. (4) If Weston Peick never sees MetLife stadium again it will be too soon. He was a fish out of water in New York. The lack of a syncopated rhythm bit him over and over again. He just couldn't get the beat right and always hit a clinker to come up short when it counted. Riding hard wasn't the answer to New York's jump combinations. Weston Peick salvaged a 10th, but his chances of making the top ten for the series are slim. (5) Joey Savatgy and Jeremy Martin have some unfinished business. Savatgy fought hard for his podium spot, but in the process lost the right to ever complain about what another rider does to him on the track in the future—especially if that rider is Jeremy Martin (who he knocked into the giggle weeds). It wasn't a proud third, but it was a third. (6) In what will someday be taught in physics classes at major universities, Black Baggett's front wheel touched Justin Barcia's rear wheel sending Barcia YZ450F downward and Barcia's body upwards. Eventually the two came back together in a cosmic collision of tender nether region and spinning rubber. Not pretty, but pretty painful. Barcia had an equally acrobatic crash earlier in the day in practice. When Justin gets to Las Vegas he should stay away from the tables because his run of luck has gone sour — maybe he should stay away from Vegas and get ready for the AMA Nationals. (7) Justin Brayton didn't make it very far in New York. His throttle cable broke on lap one. (8) Justin Bogle was the first person to shake Marvin Musquin's hand after Marv's victory. Nobody doesn't like Marvin — even his fiercest competitors. (9) Andrew Short broke his knee cap on the last lap while still finishing fifth. He will miss Vegas for sure and the start of the Nationals is iffy.

The only way Joey Savatgy (right) is going to get into this podium photo is if he does to the Monster girl what he did to Jeremy Martin in the race.
(6) GENDER DISCRIMINATION: Early in the Vicki Golden saga, most people began to see it as a "hype machine" by the race promoters. Motocross is one of the most gender neutral sports on the planet, and while it offers classes based on age, gender, displacement and any other grouping that can scrape up enough riders to have their own class, any rider is free to earn an AMA Pro license and race Supercross or the AMA Nationals. Our sport does not discriminate on any level (save for factory riders over privateers). Women have been racing in AMA Pro racing dating back to Kerry Kleid in the early 1970s. And while women have had their own gender-specific Championship for decades, much as Vets, minicyles and Pee-Wees have, they have also been afforded the opportunity to have their own Championship series combined into the AMA National program (along with TV coverage of their own). Thus, motocross can be proud of its open arms approach to womens racing — not just racing against against themselves, but in the big arena as well. So, the Supercross promoters can be forgiven for glomming onto the idea of a women making the "Fast 40" — at least while they still have 40 riders signing up for the 250 class. It would have been newsworthy and historic on a "Trivia Pursuit" level, but Vicki Golden wasn't the women for the job in 2015. She was a non-starter, and was the dead last qualifier for the 250 East out of 49 riders who signed up in New York. This despite the fact that she was given ultra-special treatment by the AMA — treatment that an aspiring male rider would never have gotten. She was allowed special practice sessions and given the opportunity to practice at 250 West races—even though 250 East riders are not allowed to be on the track at 250 West rounds and vice versa. We applaud the effort to perk up media interest (especially as it began to fade once the media lost interest in her) and we can understand Feld Motorsports' motivation, but fairness cuts both ways. No rider in the age-limited FIM 250 Grand Prix class in Europe was happy to discovered that women racers were not bound by the same "23-years-old-and-out" clause that they were subject to and no right-minded racer thinks that the special treatment that Vicki Golden got was fair. There is nothing in the dynamics of motocross that stops a women from excelling against the men — but let's do it right. 


KTM has raised the bar with double Championships for the dynamic duo of Ryan Dungey and Marvin Musquin in 2015.
(7) THE BIG APPLE: Supercross has been to New York (or within sight of New York) seven times—starting back in 1987. This was the seventh time the gate dropped for a 450 Supercross in the New York area. The first five times were in Giants Stadium (with the last race held there in 1991). New York was not on the schedule from 1992-to 2014 when the series returned to MetLife Stadium which was built next to the old Giants Stadium. Why the big gap? The strong unions of New York made the race very expensive to hold. New York winners included Ricky Johnson (twice), Jeff Stanton (twice), Jean-Michel Bayle and Ryan Villopoto. Now, Eli Tomac joins the ranks.
The only reason that Ryan Dungey is getting the holeshot in this heat race in New York is because Andrew Short was in the other heat race.
(8) HOLESHOTS: With the exception of Andrew Short's dominance in this category, 11 different riders have holeshot 16 main events in the 450 class. For comparison, only 5 riders have set fast time in qualifying and only 6 have won 450 mains. Andrew Short is the holeshot king and in New York he managed to holeshot his heat race, semi and main event. Andrew is the only rider with more than a single holeshot all season long.
HOLESHOT STATS
1. Andrew Short…6
2. Mike Alessi…1
3. Eli Tomac…1
4. Jimmy Albertson…1
5. Blake Baggett…1
6. Ken Roczen…1
7. Ryan Dungey…1
8. Chad Reed…1
9. Weston Peick…1
10. Cole Seely…1
11. Justin Barcia…1
Troy Lee Designs let Shane McElrath race the 450 class this weekend. Shane would have qualified out of his heat but he fell and had to go all the way through to the Last Chance. He finished tenth in his first-ever 450 Supercross.
(9) LAST CHANCE QUALIFIERS: Although announcer Ralph Sheheen is always proudly announcing that this is "Jake Weimer's first Last Chance win of the season," being the Last Chance winner isn't really resume material. The reward is that you squeaked into the 450 main (which is resume material), but you had to race a heat, semi and LCQ to get there. However, the most relieved man in the stadium (and sometimes the happiest privateers) are found in the LCQs. These are the men who dodged a bullet in 2015. Shane McElrath became the 12th rider in 16 events to make Ralph Sheheen's day.
LCQ WINNERS
1. Jake Weimer…2
2. Phil Nicoletti…2
3. Killy Rusk…2
4. Nick Schmidt…2
5. Dean Wilson…1
6. A.J. Catanzaro…1
7.  Andrew Short…1
8. Josh Grant…1
9. Cole Seely…1
10. Nick Wey…1
11. Kyle Partridge…1
12. Shane McElrath…1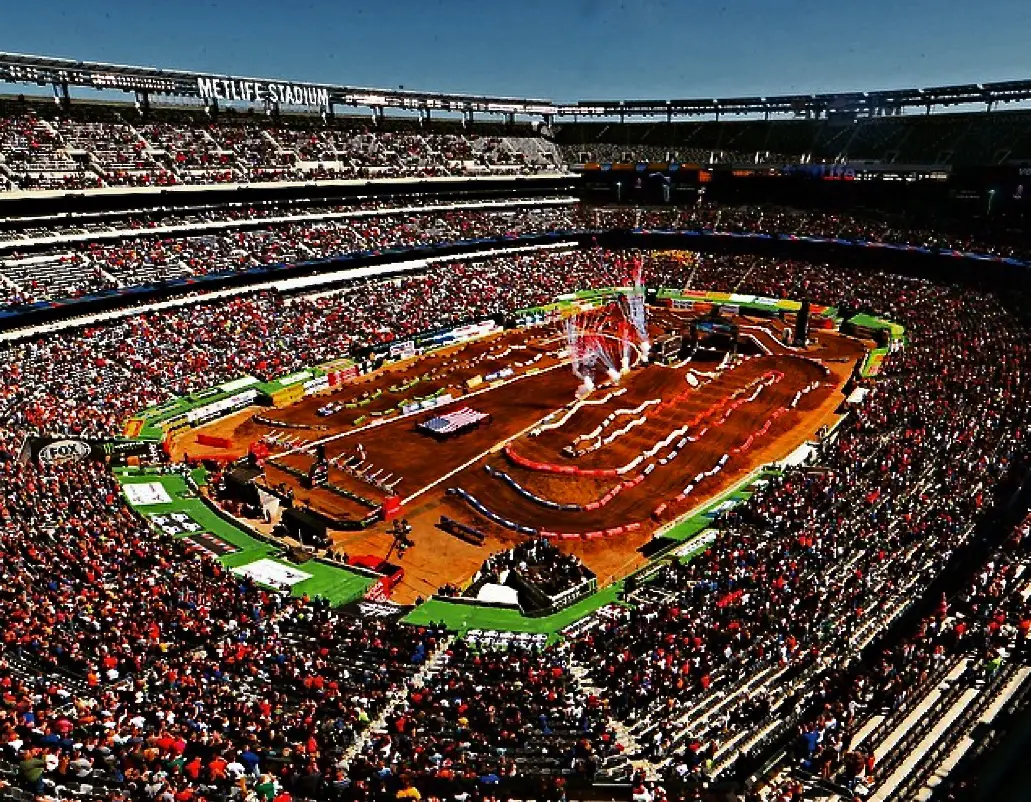 This place is big. That is a healthy crowd.
(10) OFFICIAL COUNT: The AMA is getting very sneaky. On its official press release regarding the entries for the New York Supercross, they listed 43 riders in the 450 class. Included on the list were Dean Wilson, Davi Millsaps, Ken Roczen and Mike Alessi. Come on, you would hardly be an in-the-know AMA official if you didn't know that Dean is out for all of the 2015 season after ACL/MCL surgery or that Davi got fired from Kawasaki last week or that Kenny isn't racing any more Supercrosses this year or that Mike Alessi has been MIA since his Daytona crash (and was racing at REM Glen Helen on the day of the New York Supercross). But, it isn't that they aren't in the know, they just don't want you to know that only 39 riders showed up for the "Fast 40" spots in New York. At what point will we be changing the name to the "Fast 35?" There was a time in Supercross when they had four heats of 20 riders and over 100 entries trying to get into in the premier class field. Now, they have two heats of 20 and can't get 40 riders to show up. Next week can we expect Jimmy Hoffa and Judge Crater to appear on the pre-entry list?
ELI TOMAC ON THE PODIUM

NEW YORK RESULTS: 450 CLASS
1. Eli Tomac…Hon
2. Ryan Dungey…KTM
3. Cole Seely…Hon
4. Blake Baggett…Suz
5. Andrew Short…KTM
6. Broc Tickle…Suz
7. Josh Grant…Kaw
8. Kyle Chisholm…Kaw
9. Jason Anderson…Hus
10. Weston Peick…Yam
Other notables: 11. Shane McElrath; 12. Nick Wey; 20. Justin Barcia; 22. Justin Brayton; DNS: Chad Reed.
JOEY SAVATGY ON THE PODIUM

NEW YORK RESULTS: 250 EAST CLASS
1. Marvin Musquin…KTM
2. Justin Bogle…Hon
3. Joey Savatgy…Kaw
4. Jeremy Martin…Yam
5. R.J. Hampshire…Hon
6. Kyle Peters…Hon
7. Anthony Rodriquez…Yam
8. Mitch Oldenburg…Yam
9. Kyle Cunningham……Hon
10. Luke Renzland…Yam
Other notables: 11. Jace Owen; 13. A.J. Cantazaro; 15. Preston Mull; 16. Levi Kilbarger; 18. Jimmy Decotis.
2015 AMA 450 SUPERCROSS POINTS STANDINGS
(After 16 of 17 races)
1. Ryan Dungey…365
2. Eli Tomac…283
3. Cole Seely…259
4. Chad Reed…212
5. Blake Baggett…208
6. Trey Canard…204
7. Jason Anderson…200
8. Broc Tickle…183
9. Andrew Short…180
10. Ken Roczen…156
FINAL 2015 AMA 250 WEST SUPERCROSS POINTS STANDINGS
1. Cooper Webb…186
2. Shane McElrath…124
3. Zach Osborne…117
4. Justin Hill…116
5. Aaron Plessinger…113
6. Alex Martin…111
7. Malcolm Stewart…107
8. Jessy  Nelson…106
9. Tyler Bowers…105
10. Josh Hansen…91
FINAL 2015 AMA 250 EAST SUPERCROSS POINTS STANDINGS
1. Marvin Musquin…194
2. Justin Bogle…171
3. Jeremy Martin…143
4. Joey Savatgy…133
5. R.J. Hampshire…100
6. Anthony Rodriquez…98
7. Kyle Peters…91
8. Jimmy Decotis…87
9. Kyle Cunningham…72
10. Martin Davalos…63
REMAINING SUPERCROSS RACES
May 2…………………..Las Vegas, NV
Photos by KTM, Troy Lee Designs, Chad Reed, Andrew Short, Geico Honda, Supercross Live