MXA INTERVIEW: SEAN CANTRELL TALKS OUTDOORS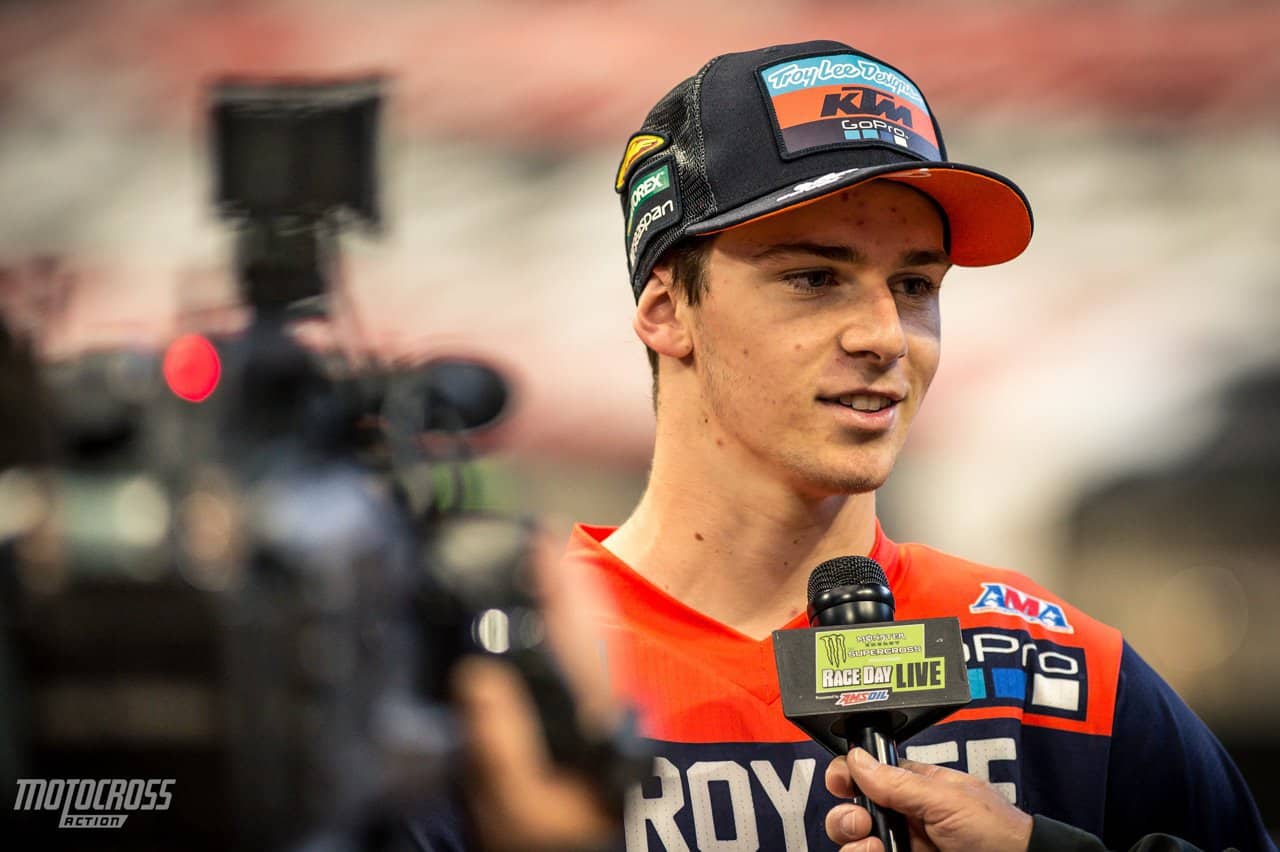 It was almost a year ago that TLD/KTM/Red Bull rider Sean Cantrell made his pro debut in the Lucas Oil Motocross Championships at the Hangtown opener. Moto one saw the pro first timer run near the front of the pack, leading to many spectators to look through their programs to see who #129 was. Eventually Sean would drop back to tenth place, still a very legit finish for any rookie. Cantrell would have a season of fast rides, along with rookie mistakes, ultimately finishing 14th overall. 2018 was then Cantrell's rookie season in Supercross, as he lined up for the 250 East Coast Championship. With one Supercross left, we caught up with the 18 year old who is currently seventh in AMA East Coast Points.
BY JIM KIMBALL
SEAN LETS HEAR ABOUT YOUR ROOKIE SUPERCROSS SEASON. I feel good. We are just trying to implement what we learn each weekend, and bring it to the next weekend. That is the main goal of this whole series. I have had a lot of ups and downs, and I feel that everyone has in both 250 and 450 this season. We have one more round left to go, so I'll try to finish off strong, and on a positive note going into outdoors.
I have had a lot of ups and downs, and I feel that everyone has in both 250 and 450 this season. 
YOU MENTIONED UPS AND DOWNS, I KNOW IN ONE OF THE EARLY EAST COAST ROUNDS YOU WERE RUNNING UP FRONT; THAT HAD TO BE COOL. Yes, racing your first Supercross race is every kid's dream to be battling up front, and I did just that. Fortunately, for me not all the big names were there, and it was just RJ (Hampshire), and I going for the lead. It was super cool for me, and a really great learning experience. I have been trying to get back to that point all season. Hopefully the final Supercross will be good to me. I am going to try to have some fun, and do what I know how to do.
I WAS VERY IMPRESSED WITH YOUR SEVENTH AT DAYTONA. Yeah, I was able to train with the guys (Shane McElrath, Jordan Smith), and the Baker's Factory leading up to Daytona and all that training definitely did me well. I feel like I was able to open up, and ride like I am able to ride. Daytona was good to me and I keep having these little tiny sparks of greatness, so I just have to get the job done and continue to find that at every race.
WHERE DO YOU NORMALLY TRAIN? I train with John Wessling. I do not train at the Baker's Factory. I was only there for that one week, just because Daytona is a very unique track. The Troy Lee Team wanted all of us guys to train on the same track and get some good testing in. I have been at Baggett's all the Supercross season, and I have been training with John Wessling, like I said, and I am loving the training with John. This is my first year with him. The first couple of months I already see some big improvements with myself, and on the bike, so hopefully I can actually show you guys what we have been working on here pretty soon.
I IMAGINE YOU GUYS JUST POUNDING LAPS ALL DAY! It is Blake's home place. It is the El Chupacabra Ranch and we are just out there grinding every day. Obviously, everyone knows who Bagget is and he is a great mentor for me and it is cool to train with one of the best guys and off the bike he is one of the coolest dudes, so it is good on the track, and off the track training.
EVEN THOUGH THIS IS YOUR ROOKIE SUPERCROSS SEASON WITH TLD KTM, YOU HAVE BEEN WITH THE TEAM FOR SOME YEARS RIGHT? Yes, this is my fourth year on the team. They picked me up ever since I was an intermediate rider back when I was 15 years old. They brought me out and groomed me to where I am now. I cannot thank them enough for all they have done for me, as far as with the bike, all the mentors, from mechanics to riders, and team manager Tyler Keefe, have all just been great to me, so life is good. I cannot express how grateful I am to be on this team, and it is every 18-year-old kids dream to be on a factory motocross team, so it is great.
ANY GENERAL THOUGHTS ON THE UPCOMING OUTDOOR SERIES SEAN? I am really excited for Outdoors. I feel like I gel better with Outdoors. I love Supercross, don't get me wrong, but Outdoors is more my style so far. I have done a couple of weeks of Outdoor training recently, just really looking forward to that, and just a change of pace. Hopefully, I can go out to Blake's as he always kills it in Outdoors. Hopefully I can be around him and all of his success and it will wear off on me. But getting back to Supercross, we had a little bit of greatness here and there, but it was my rookie season, so I cannot expect the world yet. I just want to consistently show greatness.  That is the plan, and the goal. We are coming up on the second year of Outdoors for me and I am excited all around.