250 GP RESULTS: 2018 MXGP OF INDONESIA (PANGKAL PINANG)
South African Calvin Vlaanderen took his Honda to a 3-1 victory in Indonesia. It was his first-ever GP win and the first South African GP winner since Greg Albertyn.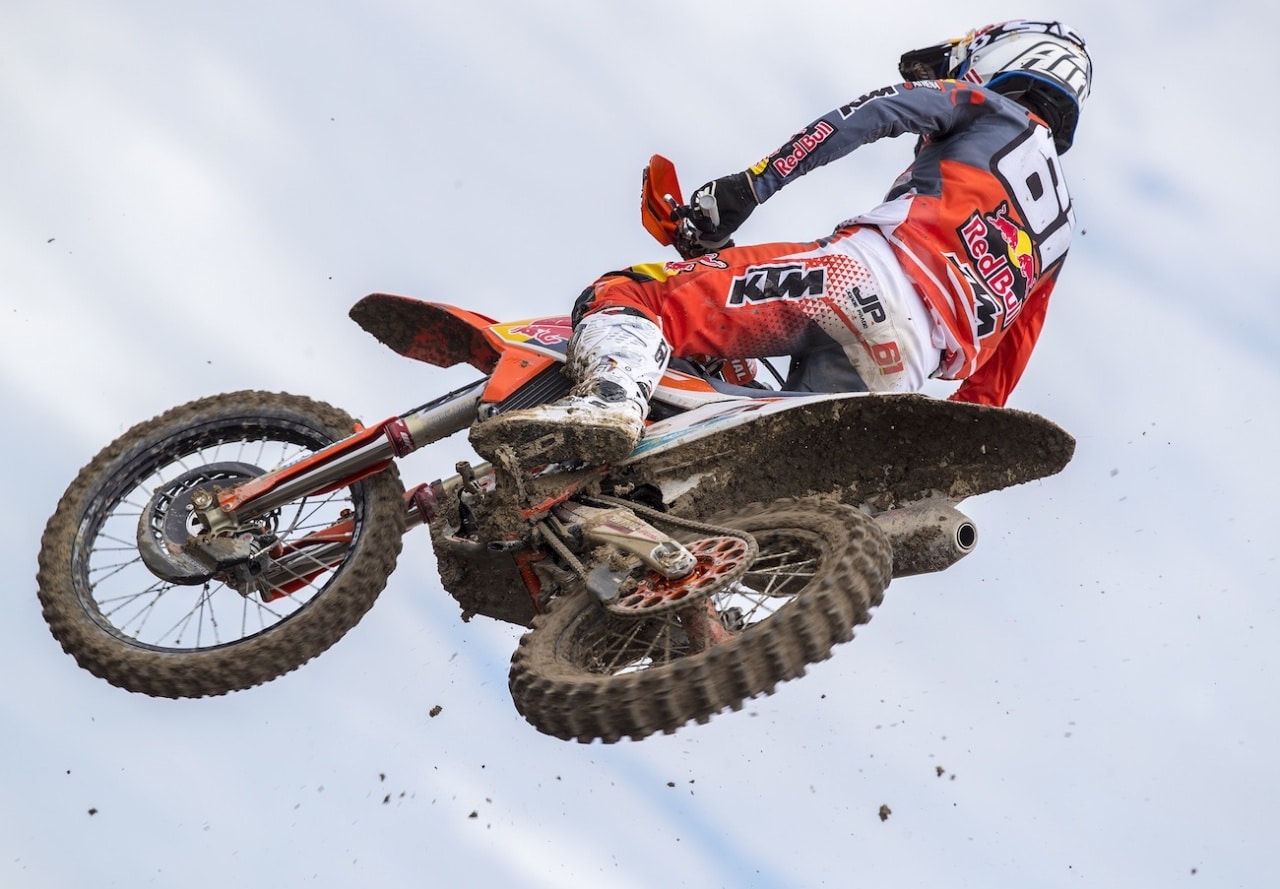 Jorge Prado closed the gap on Pauls Jonass down to 7 points with eight rounds to go.
250 CLASS: MXGP OF INDONESIA RESULT
1. Calvin Vlaanderen (Hon)….3-1
2. Thomas Covington (Hus)…1-4
3. Jorge Prado (KTM)…4-3
4. Ben Watson (Yam)…6-2
5. Pauls Jonass (KTM)…2-7
6. Jago Geerts (Yam)…7-6
7. Thomas Kjer Olsen (Hus)…5-9
8. Davy Pootjes (KTM)…10-5
9. Michele Cervellin (Yam)…9-10
10. Henry Jacobi (Hus)…11-8
Thomas Covington won the first moto, but his 4th in moto two cost him the win.
Prado (61) and Jonass (1) are on the same team, but their battles for the 2018 FIM 250 World Championship are intense.
Calvin Vlaanderen (10) got good starts and turned those into good finishes—good enough for the top step of the podium.
2018 250 GRAND PRIX POINTS
(After 12 of 20 rounds)
1. Pauls Jonass (KTM)…510
2. Jorge Prado (KTM)…503
3. Thomas Kjer Olsen (Hus)…394
4. Ben Watson (Yam)…376
5. Calvin Vlaanderen (Hon)….331
6. Thomas Covington (Hus)…297
7. Jago Geerts (Yam)…275
8. Michele Cervellin (Yam)…230
9. Henry Jacobi (Hus)…223
10. Davy Pootjes (KTM)…218
Photos: Ray Archer, KTM & Honda