15 FAST FACTS YOU NEED TO KNOW | 2018 DAYTONA SUPERCROSS
450 SUPERCROSS CLASS: DAYTONA BEACH RECAP
Justin Brayton is now the oldest rider to win a Supercross race. 
(1) Justin Brayton became the oldest winner in the history of Supercross by earning his first ever victory only a few days away from his 34th birthday. Mike LaRocco previously held the record from his 2004 Indianapolis win when he was a month past his 33rd birthday. Brayton's 131 career starts are the most ever for a rider to compile before his first win.
(2) Brayton's victory was his 100th top-10 finish. Brayton and Jason Anderson are the only riders with a top-10 in every race this season.
(3) Brayton is the 61st different winner in 450SX Class history and 31st different rider to win on a Honda. He is also the 30th rider to earn his first win on a Honda and only the second rider to earn his first win on a Honda in Daytona (Rick Ryan 1987). Nobody had earned their first victory in Daytona since Ricky Carmichael in 2000 before Brayton.
(4) Brayton will be looking to tie Tim Ferry for 11th on the all-time starts list with 132 in St. Louis.
Justin Brayton is looking to tie Tim Ferry for 11th on the all-time starts list in St. Louis.
(5) Eli Tomac came from dead last to finish second place in Daytona, his sixth podium of the season. The podium was also the 36th of his career which moves him into 16th on the all-time 450SX Class podiums list.
(6) Cooper Webb earned his second career podium with a third place finish. He is currently on a career best four race top-10 streak.
(7) Christian Craig rode to a career best finish with a fourth in Daytona. It was his second career top five finish in four career 450SX Class starts, both coming in the last two races.
Daytona would be Eli Tomac's sixth podium this season. 
(8) Jason Anderson finished outside the top four for the first time this season with a seventh place finish. He is looking to make his 60th career start in St. Louis.
(9) Broc Tickle made his 90th career start and rode to his 53rd career top-10 finish with a 10th.
(10) Chad Reed made his 130th career start. He leads all riders with a 45 consecutive starts streak dating back to 2015.
250 SUPERCROSS CLASS: DAYTONA BEACH RECAP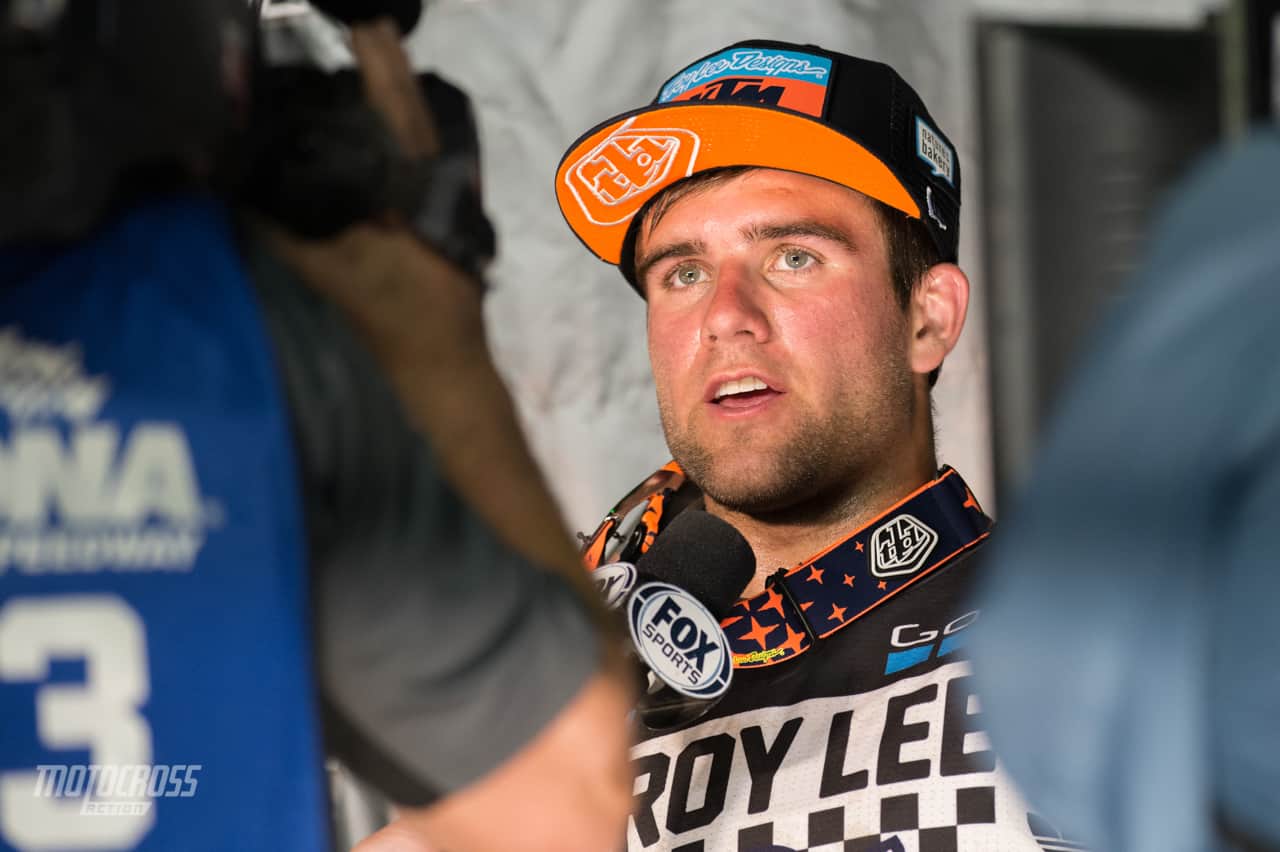 Jordon Smith won his first ever Daytona Supercross last weekend.
(11) Jordon Smith earned his third career 250SX Class victory and first of the season in Daytona. He is looking to make his 25th career start in St. Louis.
(12) Jeremy Martin rode to his first podium of the season and 13th of his 36 race career.
(13) Austin Forkner moved into a tie with Zach Osborne for the points lead with a third place finish. It was his fifth career podium in 12 starts.
Zach Osborne will be sharing the red plate with Austin Forkner the next round. 
(14) Zack Osborne rode to his worst finish of the season with a fourth. It was his 60th career 250SX Class start.
(15) Kyle Peters made his 40th career start in Daytona and finished a season's best sixth place. It was his 24th career top-10 finish.