18-YEAR-OLD JETT LAWRENCE CLAIMS 250 EAST TITLE // 2022 FOXBOROUGH SUPERCROSS THE AFTERMATH

JETT LAWRENCE CLINCHES 250 EAST TITLE // 2022 FOXBOROUGH SUPERCROSS THE AFTERMATH
The Foxborough round was one to have everyone on the edge of their seats as the possibility of having not just one, but two championships claimed two rounds before the season was over was very likely. In the 250 class, Jett Lawrence had dominated the points from the very beginning with the only true competitor being Cameron McAdoo taking the red plate for a couple of rounds. Unfortunately for the championship race, Cameron was injured on press day for St. Louis and would sit the remainder of the season out. We saw Rj Hampshire come to compete when the secret formula for the next-gen Husky was discovered, but it was too late in the season to make any real move for the top box in the points. With only one goal in mind, Jett made sure he was going to have plenty of points by the end of the season to tackle his first Supercross championship, and he would do it in Foxborough.
In the 450 class, Eli Tomac was in similar position but all of that would change as the Main Event gate dropped and the racing commenced. Scroll down below to find out what happened after the riders qualified for the night show in MXA's The Aftermath.
Photos by Brian Converse
Fun Facts by Ben Bridges
---
AND THE 250 EAST CHAMPIONSHIP GOES TO…..
Jett Lawrence!
Jett Lawrence's road to the championship was filled with many factors. It all started when the switch to the East Coast was necessary after being injured just days before the Supercross season even started. After healing up fairly quickly, Jett had plenty of time to master the next-gen Honda 250 and his Supercross skills, looking very prepared at the start of the Eastern races. When the time came to race, only a handful of riders would be capable of staying on two wheels, Jett being one of them. The 2022 Supercross season was plagued with injuries, and the West Coast was a prime example. Big names like Justin Cooper, Jeremy Martin, Jett Reynolds, Levi Kitchen, Max Vohland, Stilez Robertson, and more would be a handful that would fail to compete due to injury or getting taken out extremely early on in the season, making it easy pickings for the Honda rider.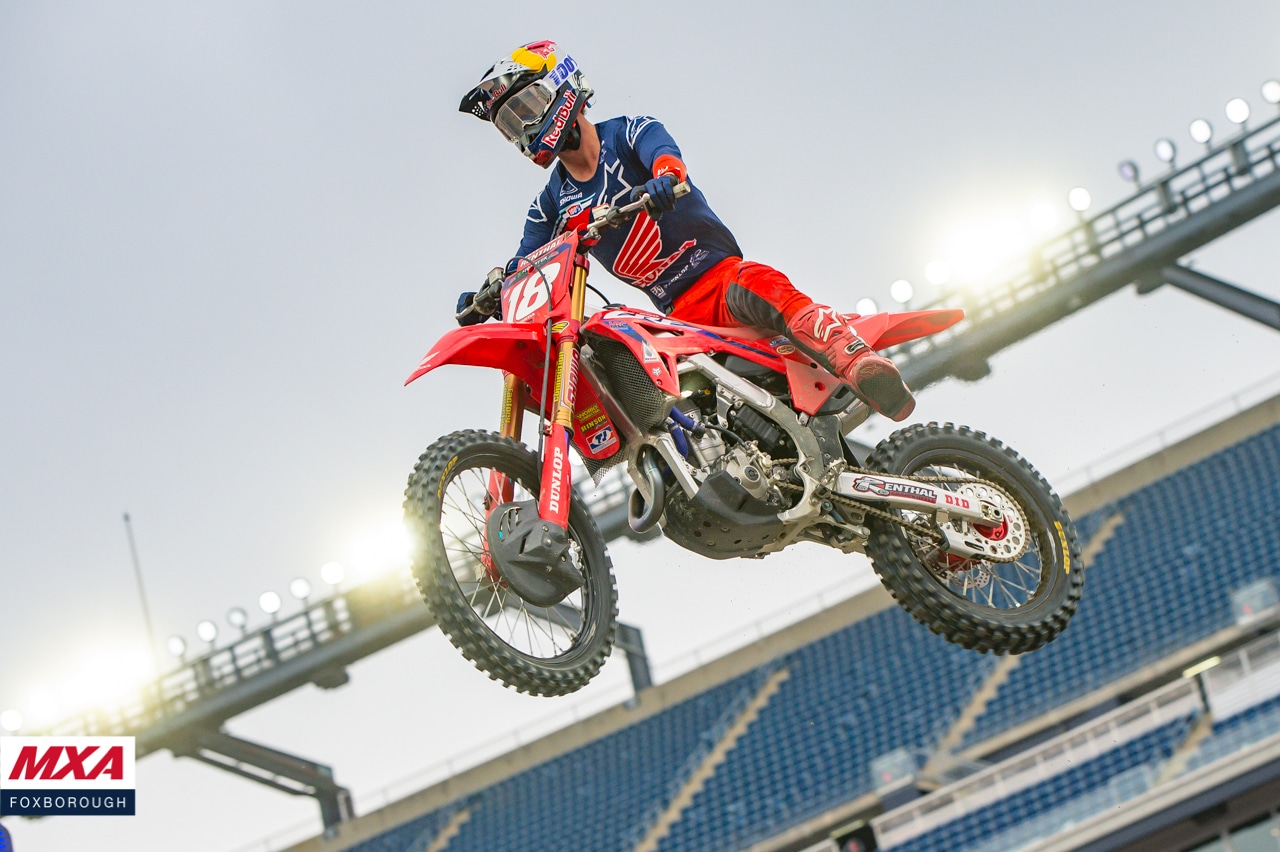 But we also have to mention that exemplary riding that Jett showed off during the season.
It's easy to say that Jett and a couple of other riders had zero competition, but how many times does Jett need to prove that the hype is real. Coming back from dead last on multiple occasions to a step on the podium is ridiculously impressive. The fight for the championship was very real and Jett made sure that it would be his by obtaining more than a 52-point lead in the championship before heading to Salt Lake City, clinching the championship in Foxborough.
This is also Jett's second AMA Championship. Last year he won the 2021 250MX National Championship, and now he's the 2022 250SX East Coast regional Champion.
450 SX CLASS REVIEW // JASON ANDERSON GOES BACK-TO-BACK
Jason Anderson helped bring the 450SX title fight to Round 16 in Denver.
The fight for the championship may be taken by Eli Tomac but the battle for second is still very much alive. We figured Eli Tomac would be playing it fairly safe but that wasn't the case when it came to the 450 Main Event. Cooper Webb would lead the pack around Foxborough with Eli Tomac just behind, but not for long. Jason Anderson snuck up the inside of Eli which would result in Eli stalling his Yamaha. After making his way around Cooper, Jason would lead the remainder of the Main Event and take home yet another win in the 2022 season. We figure Jason would be closer in the championship point standings had it not been for a couple of disastrous rounds as the rider new to Team Green would prove he has what it takes to win.
Jason Anderson gets 5th win of the season and puts Tomac's chances to clench on hold.
Jason Anderson now has 8 podiums for the season.
When Anderson won the title in 2018 he had just 4 wins.

Jason's bike was getting a little smokey by the end of his burnout.
Anderson's 5 wins this season is the most for him in a season.
If it wasn't for a 21st place in Detroit, Anderson could very well be much closer in points.
KAW now has 174 wins.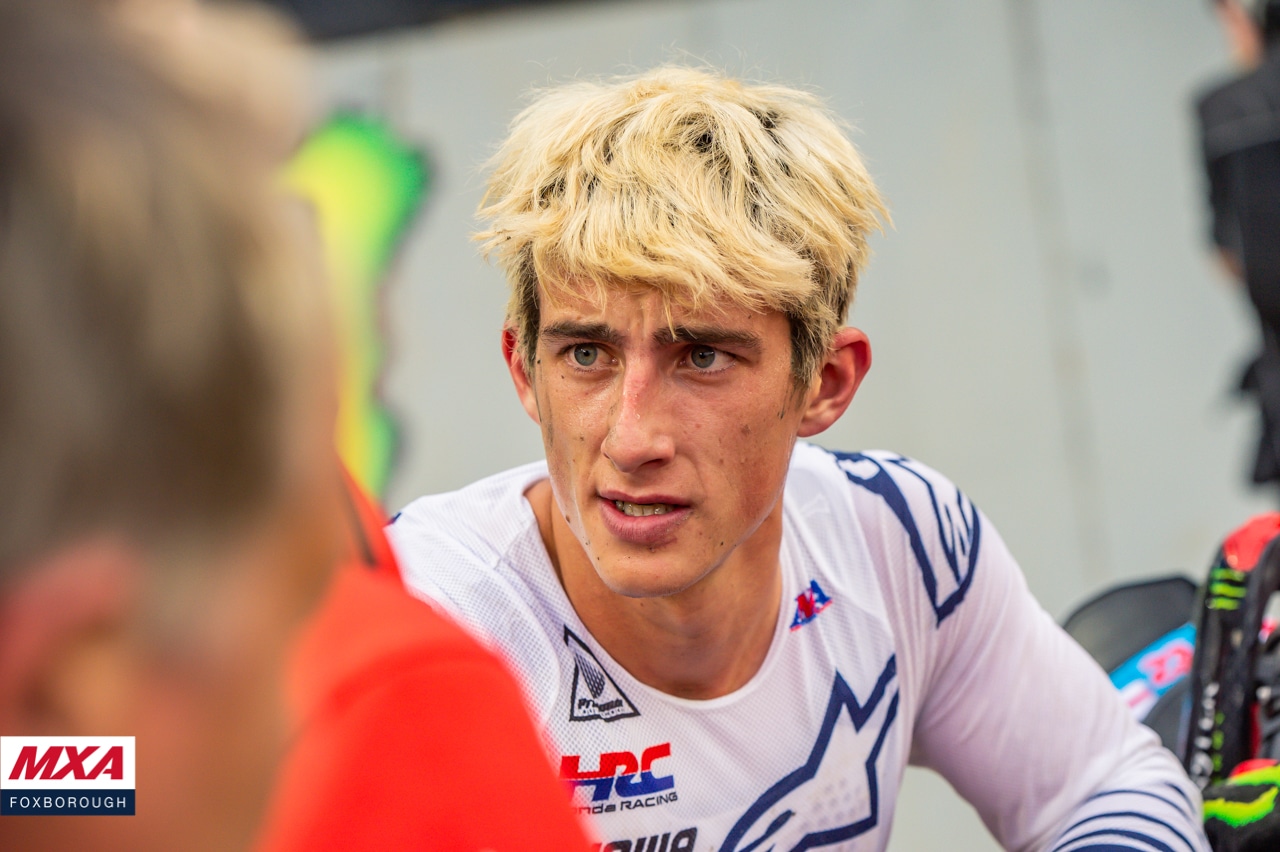 Chase Sexton would have a successful day in Foxborough finishing in second after getting an incredible qualifying time.
Chase Sexton gets 2nd place, his 7th podium of the season.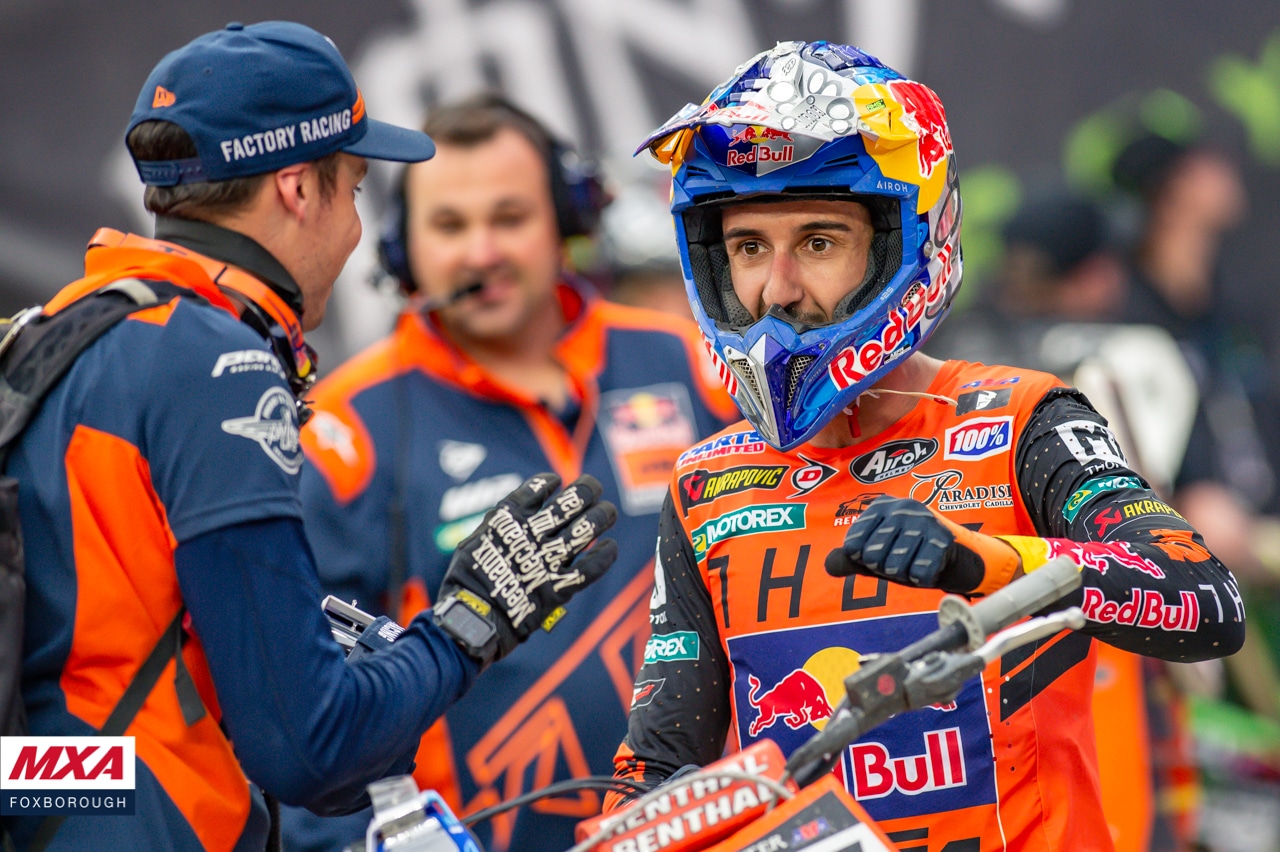 With the uncertainty of his future in racing, Marvin is proving he still has what it takes to be a podium guy. 
Marvin Musquin takes 3rd place, his 5th podium of the season.
Malcolm Stewart's favorite position must be 4th place. We've said it once and we'll say it again, you can't beat the consistency of Malcolm Stewart.
Malcolm Stewart gets 4th place.  It was his 11th Top 5.  He is only 3 points out of 3rd place.
The battle for third place is getting interesting as both Justin Barcia and Malcolm Stewart are ridiculously close in the points.
 Justin Barcia took 5th.  It was his 10th Top 5 this season.
Eli Tomac on the charge.
Where was the championship leader? Well after getting passed by Jason Anderson for second place, Eli Tomac realized there was too much on the line to get risky. When Jason made the pass, Eli stalled his bike leading to multiple riders getting around the number 3. Eli played it smart and it'll be even more exciting when he takes the next round to his home state of Colorado.
Eli Tomac was 7th, his worst finish of the season.  He still has a 43-point lead over Anderson.
450 SUPERCROSS POINT STANDINGS (AFTER ROUND 15 OF 17) – RACE RESULTS
Eli will be taking home the championship in Colorado.
| | | | |
| --- | --- | --- | --- |
| POS. | # | NAME | Total Points |
| 1 | 3 | Eli Tomac | 341 |
| 2 | 21 | Jason Anderson | 298 |
| 3 | 51 | Justin Barcia | 275 |
| 4 | 27 | Malcolm Stewart | 272 |
| 5 | 25 | Marvin Musquin | 266 |
| 6 | 23 | Chase Sexton | 250 |
| 7 | 1 | Cooper Webb | 244 |
| 8 | 15 | Dean Wilson | 152 |
| 9 | 41 | Brandon Hartranft | 151 |
| 10 | 10 | Justin Brayton | 145 |
250 SX CLASS REVIEW // FORKNER WINS AFTER HIATUS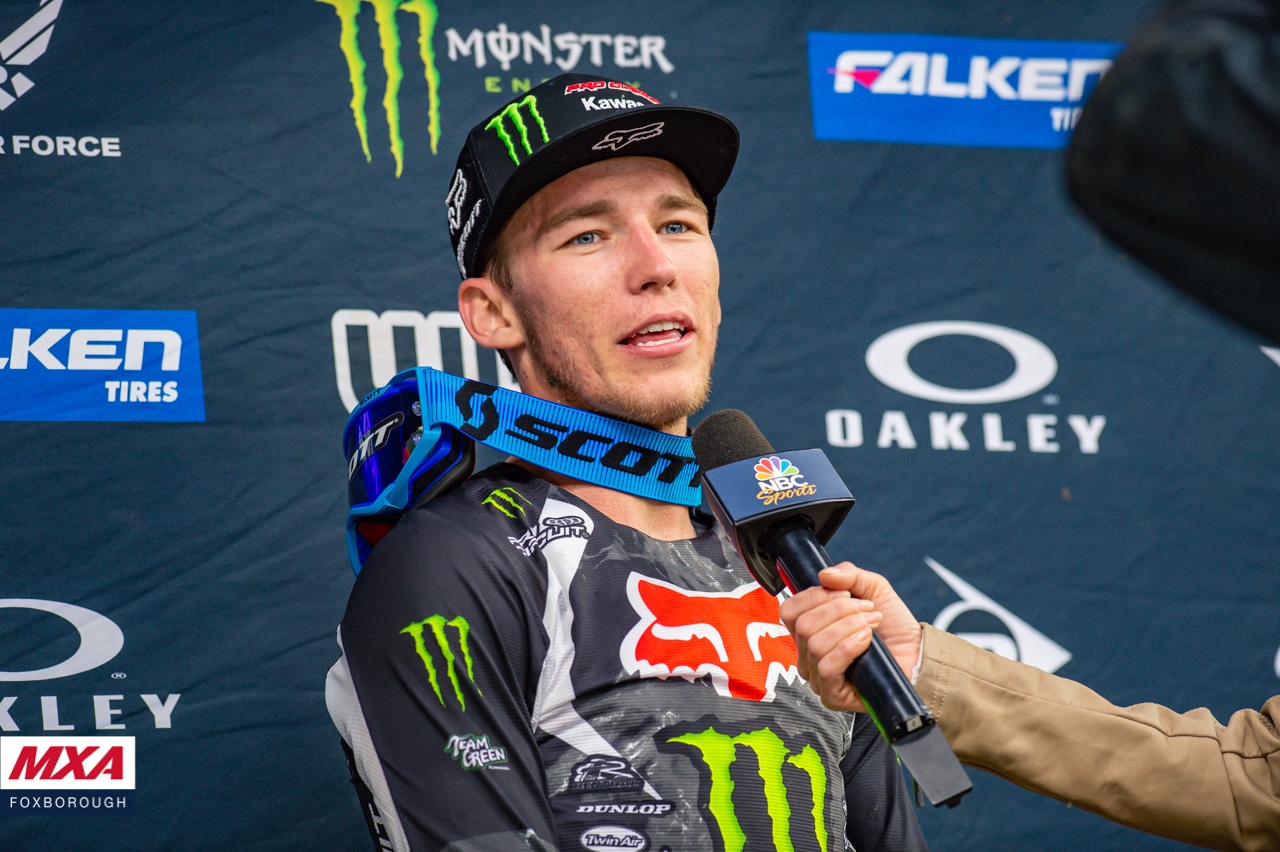 He may have won the battle, but Jett won the war. After getting a fairly bad start sitting back in eighth place, Austin Forkner would maneuver his way through the pack to eventually catch up to Pierce Brown who was having an awesome ride. Austin took the lead with over a minute and a half left and would win the Main Event.
Austin Forkner gets 1st win of the season, his 12th career win.
Kawasaki now has 187 wins.
In similar fashion to Austin Forkner, Jett Lawrence would also get a terrible start sitting back around 11th place. However, this isn't his first rodeo as he did the exact same thing in his Heat race and would still finish in second. When it came to the Main Event, he made it look easy as he weaved through the 250 field and eventually into second place where he would finish. 
Jett Lawrence takes 2nd place and keeps his podium streak alive.
J. Lawrence wins 250 East SX title.  He is the 11th foreign rider to win a 250 SX title.
After leading the majority of the race, Pierce Brown would finish in third place. Austin Forkner, Jett Lawrence, and Rj Hampshire would be the only riders to challenge his spot with Austin and Jett being the only ones successful. Rj Hampshire and Pierce Brown's line out of a corner would come together resulting in Rj snagging the rear end of Pierce and go down. 
SOMETHING FEELS OFF
Weren't at the race? Then you may have noticed something.
After a successful season, we were anticipating the excitement that was to come with Jett grabbing the championship, but something strange happened when the broadcast returned after its commercial break. The entire TV broadcast was completely silent (except for the in-stadium microphones). There was no Ricky Carmichael giving the play-by-play action, just the sound of dirt bikes. Thankfully the audio came back for the TV interviews.
TIME TO RISK IT ALL
One crazy racing incident in the final moments of the second 250 Heat Race.
With just two turns left in the second 250 Heat Race, both Austin Forkner and Joshua Varize would go down in spectacular fashion as they both intended on making a pass of their own. Austin would triple into the corner while Josh Varize would roll the last section in hopes of catching Kyle Chisholm. How did this end? Well not very good since the two were in transfer positions and very well could have been thrown into the LCQ had they not gotten back up in time.
250 EAST SUPERCROSS POINT STANDINGS – RACE RESULTS
Even though the battle for first may be over, the battle for second is very much alive as there are only 11 points between Rj Hampshire and Pierce Brown.
| | | | |
| --- | --- | --- | --- |
| POS. | # | NAME | Total Points |
| 1 | 18 | Jett Lawrence | 192 |
| 2 | 24 | Rj Hampshire | 139 |
| 3 | 44 | Pierce Brown | 128 |
| 4 | 54 | Mitchell Oldenburg | 122 |
| 5 | 80 | Enzo Lopes | 116 |
| 6 | 48 | Cameron McAdoo | 114 |
| 7 | 90 | Jordon Smith | 104 |
| 8 | 81 | Jace Owen | 90 |
| 9 | 33 | Austin Forkner | 81 |
| 10 | 331 | Derek Drake | 79 |
FOXBOROUGH SX CAPTURED
Here are some of our favorite moments from the day in Foxborough. Supercross may be fun from the other side of the TV but it's a thousand times better in person. Captured by Brian Converse.