CLASSIC MOTOCROSS IRON: 1976 PUCH MC250 TWIN-CARB HARRY EVERTS REPLICA
BY TOM WHITE
The Puch company was founded as a bicycle manufacturer by Austrian Johann Puch in 1903. By 1952 the company was building motor scooters, and in 1957 starting selling Puchs in the USA under the Allstate and Sears names, including the Sears 250 SGS Twingle. In the early 1970s, Californian Ted Lapadakis became the importer of the all-new Puch 125/175cc machines that were purpose-built for motocross and offroad.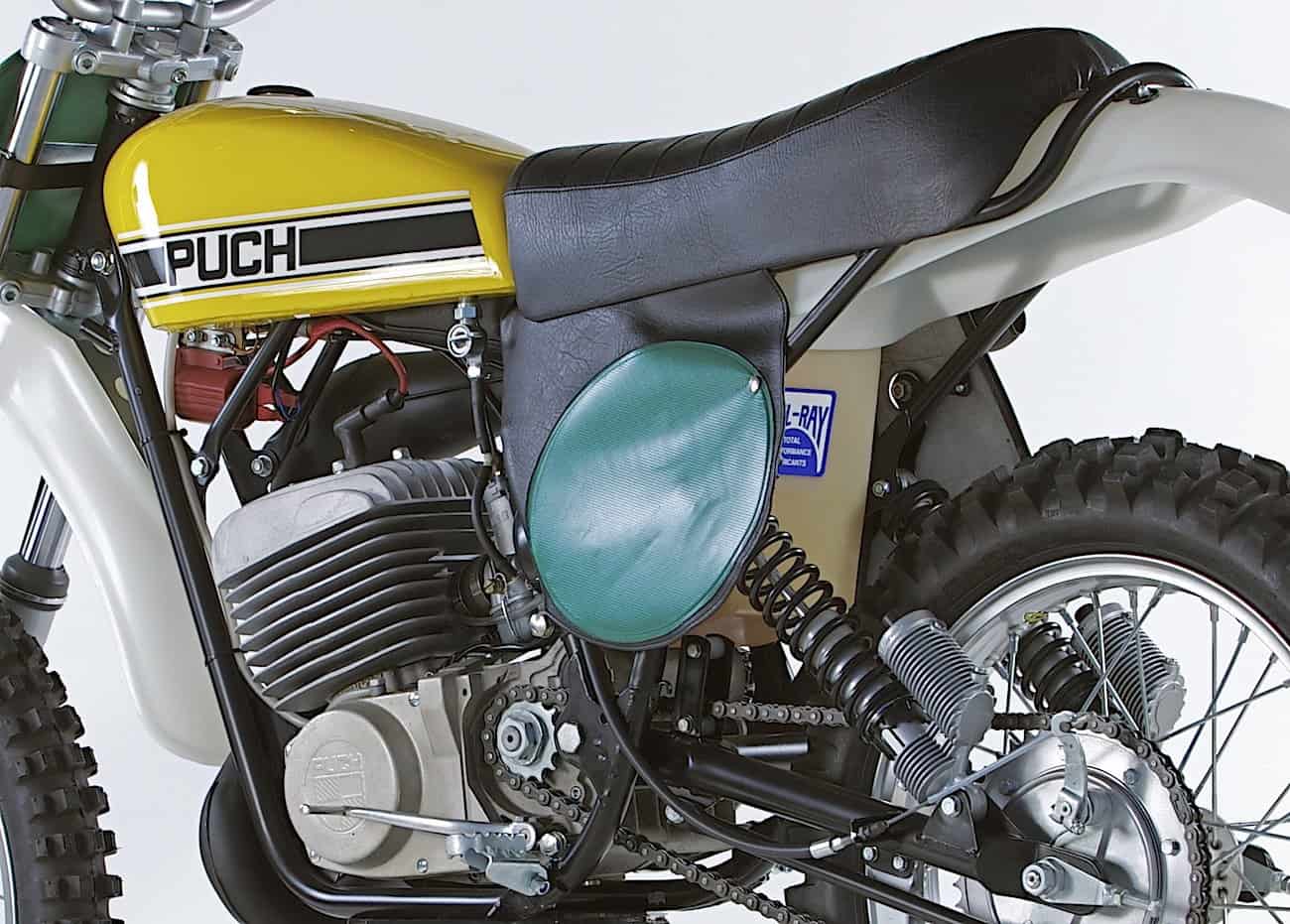 In a huge leap, Puch hired Belgian motocross rider Harry Everts to race the 1974 250 World Championships on a new machine. Everts finished third in Puch's first year, and the factory responded with a much-improved machine for 1975. Everts then promptly rewarded Puch with its first World Championship in motocross.
It was no small feat for a new company to win the World Championship in its second year of competition. Everts' 1975 Puch was a spectacular machine. The 70mm x 64mm engine was cutting edge, with its magnesium cases and twin 32mm Bing carbs (one in the traditional piston port position and the second carb feeding a rotary valve in the cases). Not only was the engine magnesium, but so were the hubs and Marzocchi forks.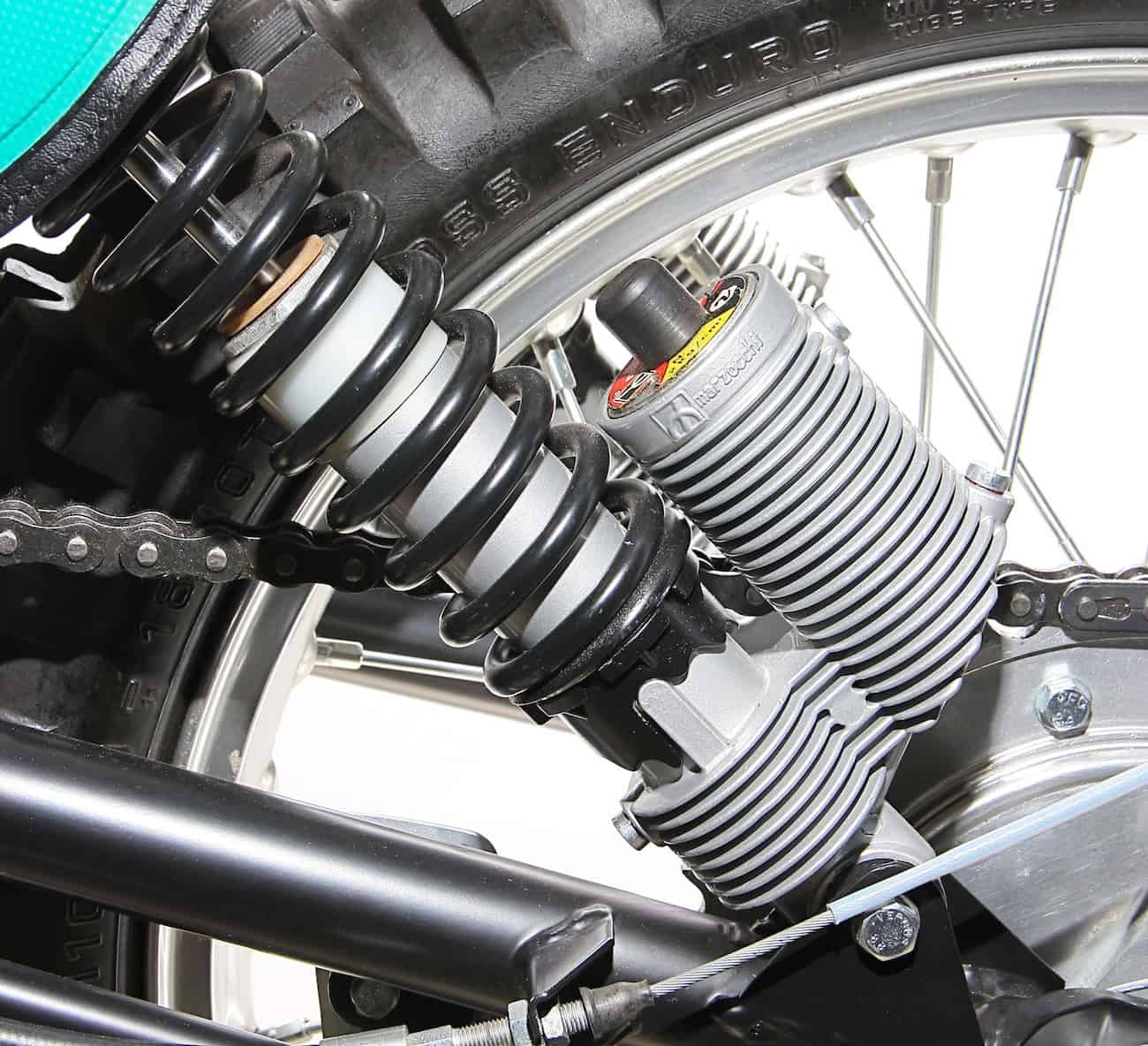 For 1976 Puch built 97 exact Harry Everts replica twin-carb Puch MC250s. Two machines were sent to American importer Ted Lapadakis for evaluation. "I was super excited when I received these machines," said Ted. "The power hit so hard that many riders found the machine almost unrideable, but the expert riders loved it. I placed my order with the Puch factory and got a message that they were no longer going to be in the motocross business. I should have never returned the test bikes."
Puch was successful in the moped business until 1987 when it was bought by Vespa, who continued to sell mopeds under the Puch brand name.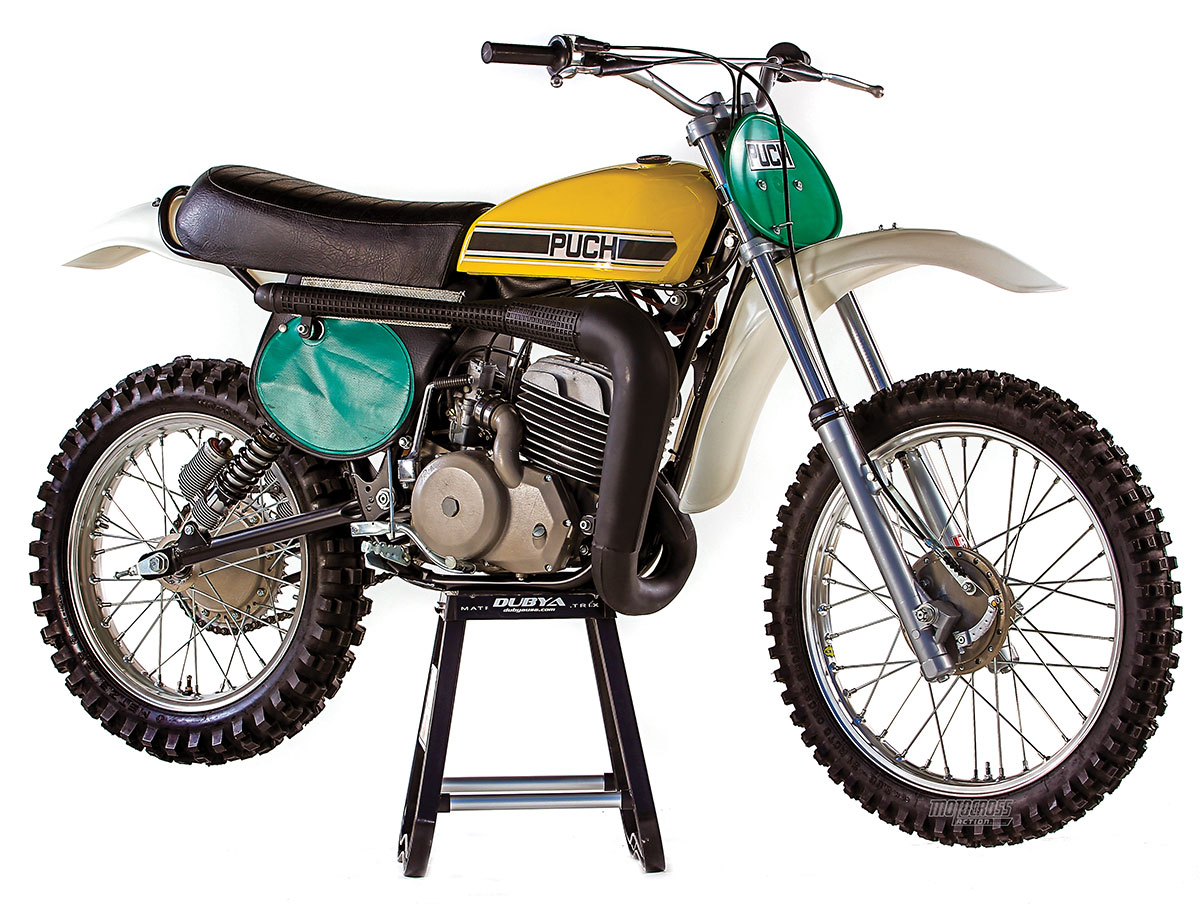 THE TWIN'S EVEN RARER BROTHER
There were two Puch motocross bikes in 1976—the MC250 Twin Carb and the MC400. The 400cc production run was only eight bikes, and they had a single Bing carb. The MC400 was raced by Herbert Schmitz and was the last bike that Joel Robert raced. The Puch MC250 Twin Carb is very easy to identify—two carbs, Marzocchi suspension, a generous use of magnesium and Metzeler tires. If it only has one carb and a big barrel, buy it; it's the very rare 400 model.
A price was never established in America, as the MC250s were never formally imported from Austria. The rumored price was around $3000, which was about double that of a Japanese machine. Our featured MC250 was purchased by the Early Years of Motocross Museum from Dutch restorer Fran Munsters. This one is in perfect condition and valued at $30,000.
TOM WHITE TALKS ABOUT THE 1976 PUCH MX250

For more info go to the Early Years of Motocross Museum site at www.earlyyearsofmx.com