20 GREAT CHRISTMAS GIFT IDEAS FOR THE ONE YOU LOVE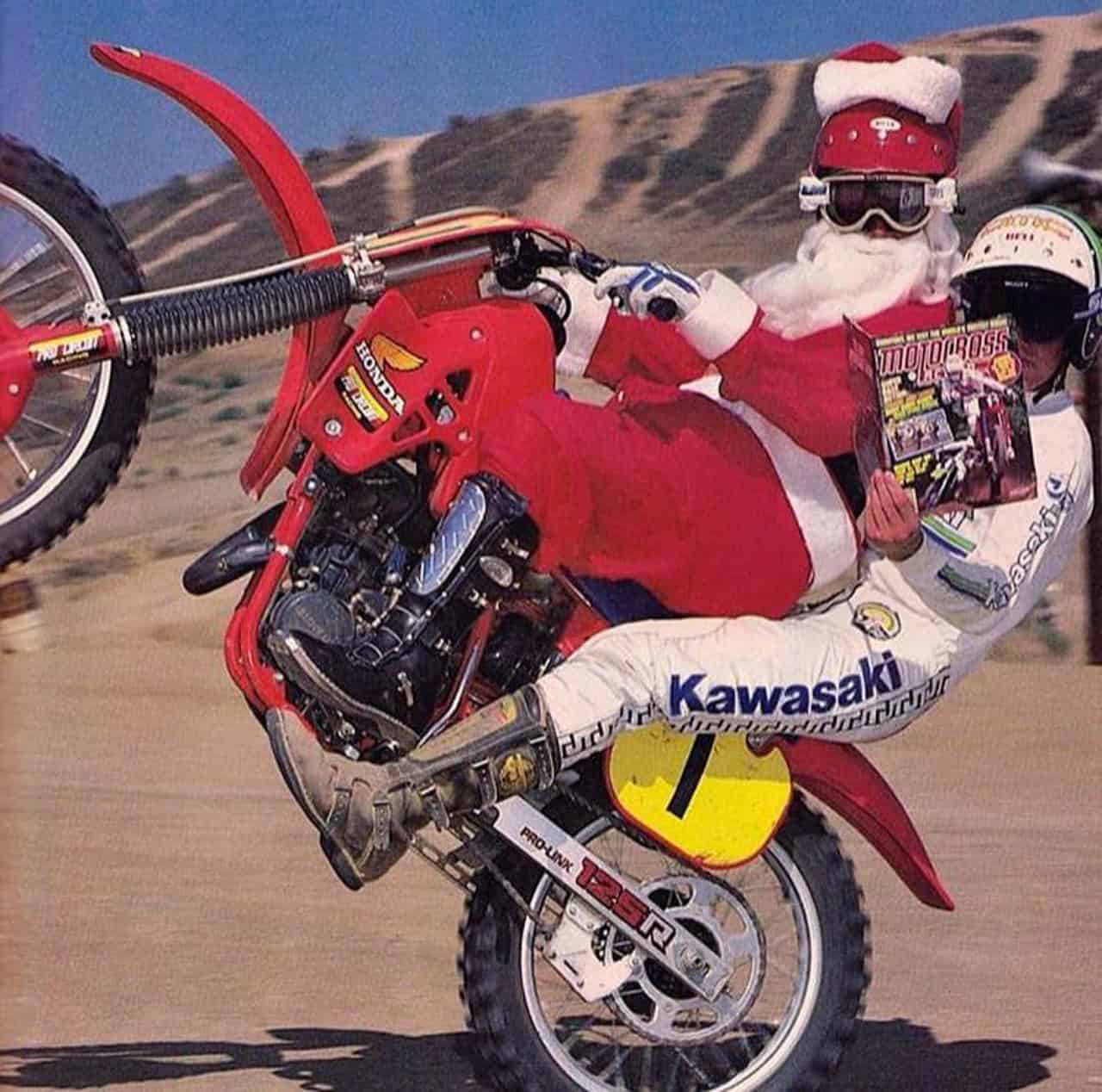 The perfect Christmas gift for your friends (and yourself) would be a subscription of Motocross Action. Not only does MXA have a special Christmas gift offer, but with every subscription you get a $25 Chaparral gift card. You can order a sub by clicking the box at the bottom of this page.
And when it comes to motocross stuff, the person you love the most is yourself. So whether you plan to be generous to yourself or your friends this Holiday season, the MXA wrecking crew wants to share the small handful of concepts, ideas and visions that were creative enough to make our list of must-have products. Of the thousands of products on sale, here is the MXA wrecking crew's list of must-haves.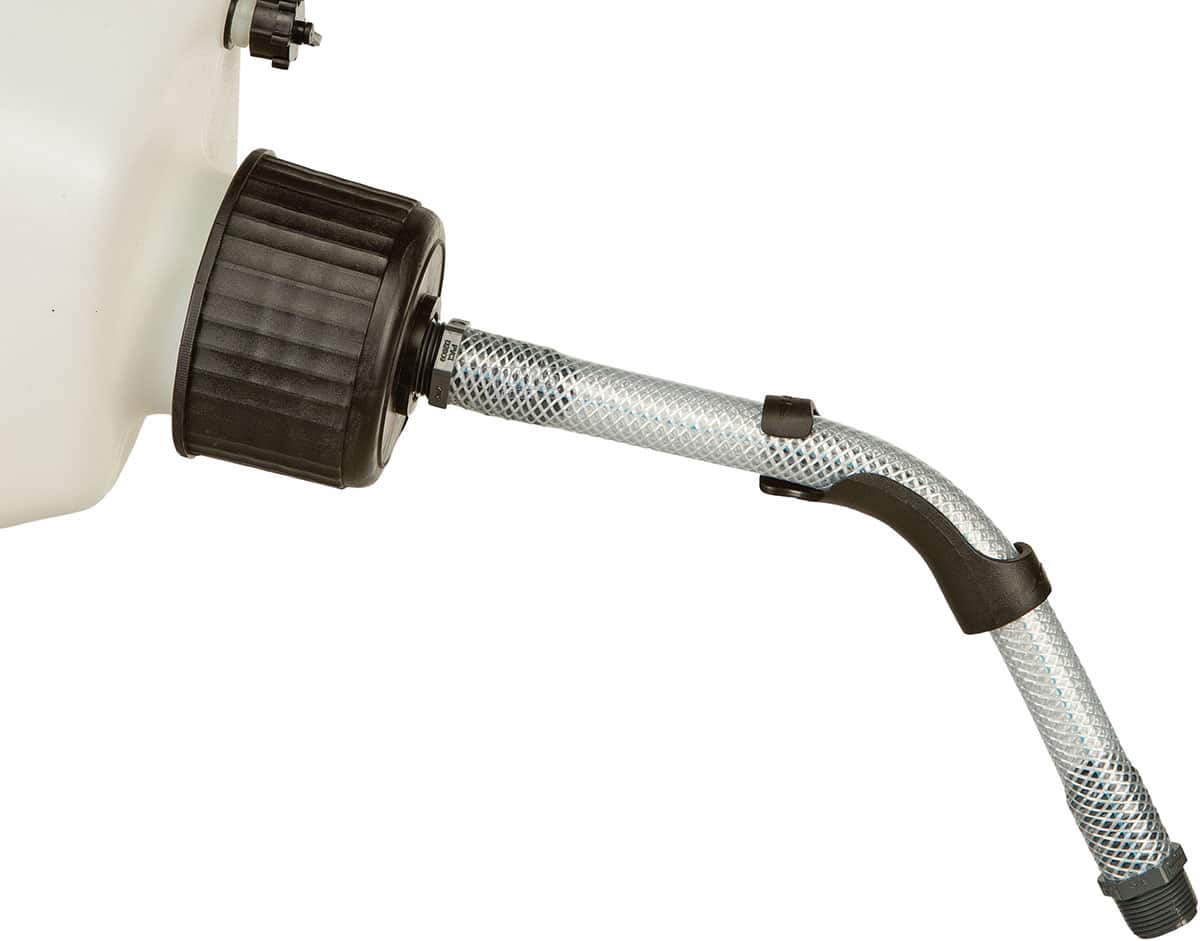 FLY RACING HOSE BENDER
The Fly Racing Hose Bender is designed to make filling the fuel tank of your bike easier, reduce spilling and angle the gas can hose towards the bike. This is such a simple idea that it's amazing no one thought of it 30 years ago. The Fly Racing Hose Bender is a thick ABS plastic hook that you clip onto the filler hose on your gas can. The plastic attachment forces the flexible filler hose to bend downward at a 30-degree angle.
 We love the Fly Hose Bender, and we think that every motocross racer will love it too. It is the cheapest performance product we have ever tested—and perhaps the most useful. 
$4.95—www.flyracing.com.
STEAHLY OFFROAD  FLYWHEEL WEIGHT
Steahly's flywheel weights are designed to harness the power of all current motocross bikes. Steahly CNC machines their weights from sold billets of steel to the closest possible tolerance,
With a Steahly-modified flywheel, most engines pull smoother and gain traction in places where the rear wheel would previously spin. The power is more usable, and the chassis likes the more planted feel. The extra inertia of the heavier flywheel not only resists speeding up, it also resists slowing down. This makes for a smoother transition from full-speed to full-stop. And, it reduces the chance of flame-out.
$129.95—www.steahlyoffroad.com.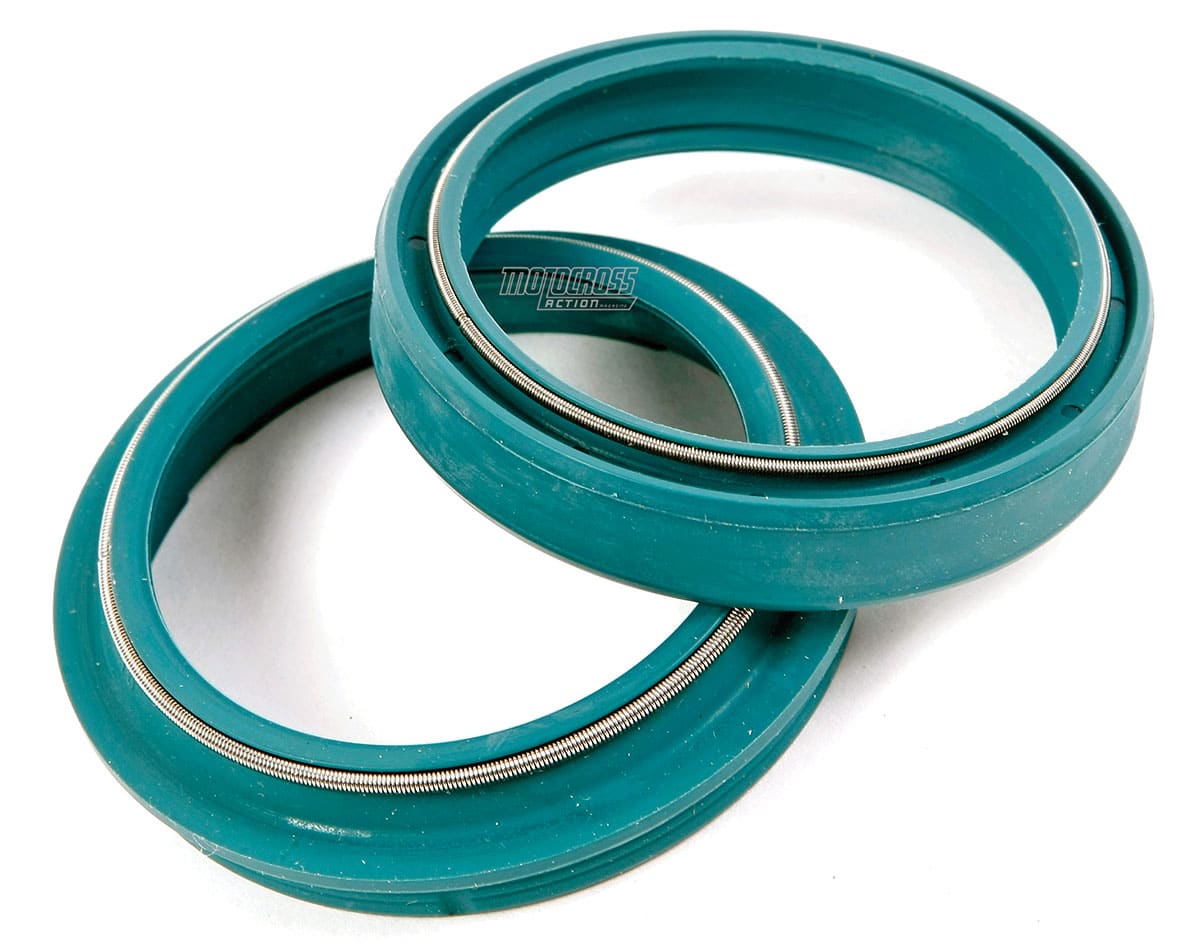 SKF FORK SEALS/DUST WIPERS
SKF seal kits consist of a new oil seal and a new dust wiper. SKF's self-lubricating rubber compound not only enables the seals to keep the oil in but to reduce static friction (stiction) by a significant amount.
Nothing is more frustrating than looking down at your fork leg and seeing oil oozing towards your front brake rotor. A modern upside-down fork requires complete disassembly to replace a fork seal. In MXA's opinion, modern fork seals are light years better than seals from a few years ago, and SKF seals are better than any other modern seals. 
$36.99 (one seal and wiper)— www.innteck-usa.com.
DeCAL WORKS SEMI-CUSTOM GRAPHICS KIT
DeCal Works offers a dozen different graphic styles for seven motorcycle brands (Cobra is number 7). Best of all, DeCal Works has an interactive website that allows you to mix and match colors to your heart's content. It's fun.
At $270, the semi-custom graphics kit is not cheap, but DeCal Works graphics have stood the test of time with the MXA wrecking crew. If you care about how your bike looks, DeCal Works is a one-stop shop for creative fulfillment. 

$269.90 (complete kit); $199.95 (full kit)—www.decalmx.com.
TUSK IMPACT WHEELSET
The Tusk Impact wheelset is the least expensive high-performance wheelset that MXA has ever successfully tested—and been willing to use. At $499.99 for a complete set of front and rear wheels, you couldn't buy one aftermarket wheel, let alone two. The more time we put on the Tusk Impact wheels, the more comfortable we became with them. They are heavier than other wheelsets, but they are also more affordable.
$549.99 (front/rear wheelset), $299.99 (rear wheel), $269.95 (front wheel)—www.rockymountainatvmc.com.
TM DESIGNWORKS FACTORY EDITION SX CHAINGUIDE
It's no secret that if you start with a five-star design and keep refining it, you will eventually achieve perfection. The TM Designworks Factory Edition SX guide has been narrowed and ground clearance has increased. It has been imbued with an oil additive that reduces friction, and the chain wear blocks are longer and sleeker. Plus, you don't have to break the chain to install it.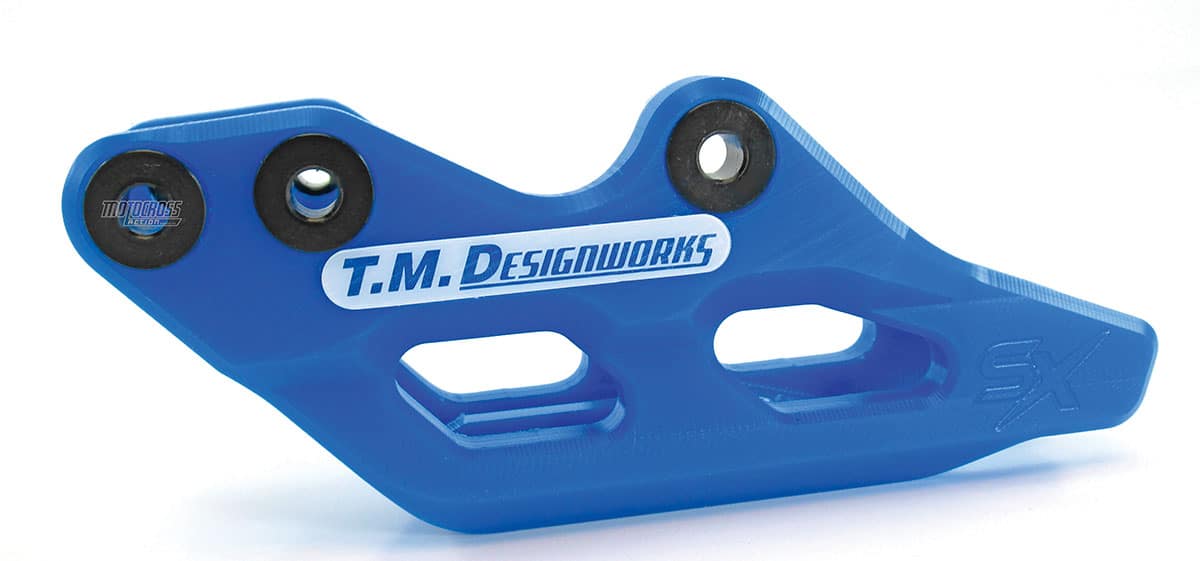 The MXA wrecking crew has eaten through so many Kawasaki and Suzuki chainguides that we don't wait for them to wear out anymore. We replace them with a TM Designworks unit.
$79.95 (CRF, YZ, RM-Z, KX-F), $89.95 (KTM/Husky)—www.tmdesignworks.com.
HARDLINE TREAD DOCTOR SNIPER KIT
The Tread Doctor is a heated tire-cutting tool that can cut new edges on the face of knobs or be used as a grooving tool. 
This is a five-star product for a backyard engineer who loves to fine-tune his bike. For MXA's tastes, grooving is a better alternative than vertical cutting. Grooves provide extra edges for acceleration and braking. The Sniper kit does a great job.
$59.99 (Tread Doctor with Sniper kit), $49.99 (Tread Doctor without Sniper kit)—
www.hardlineproducts.com.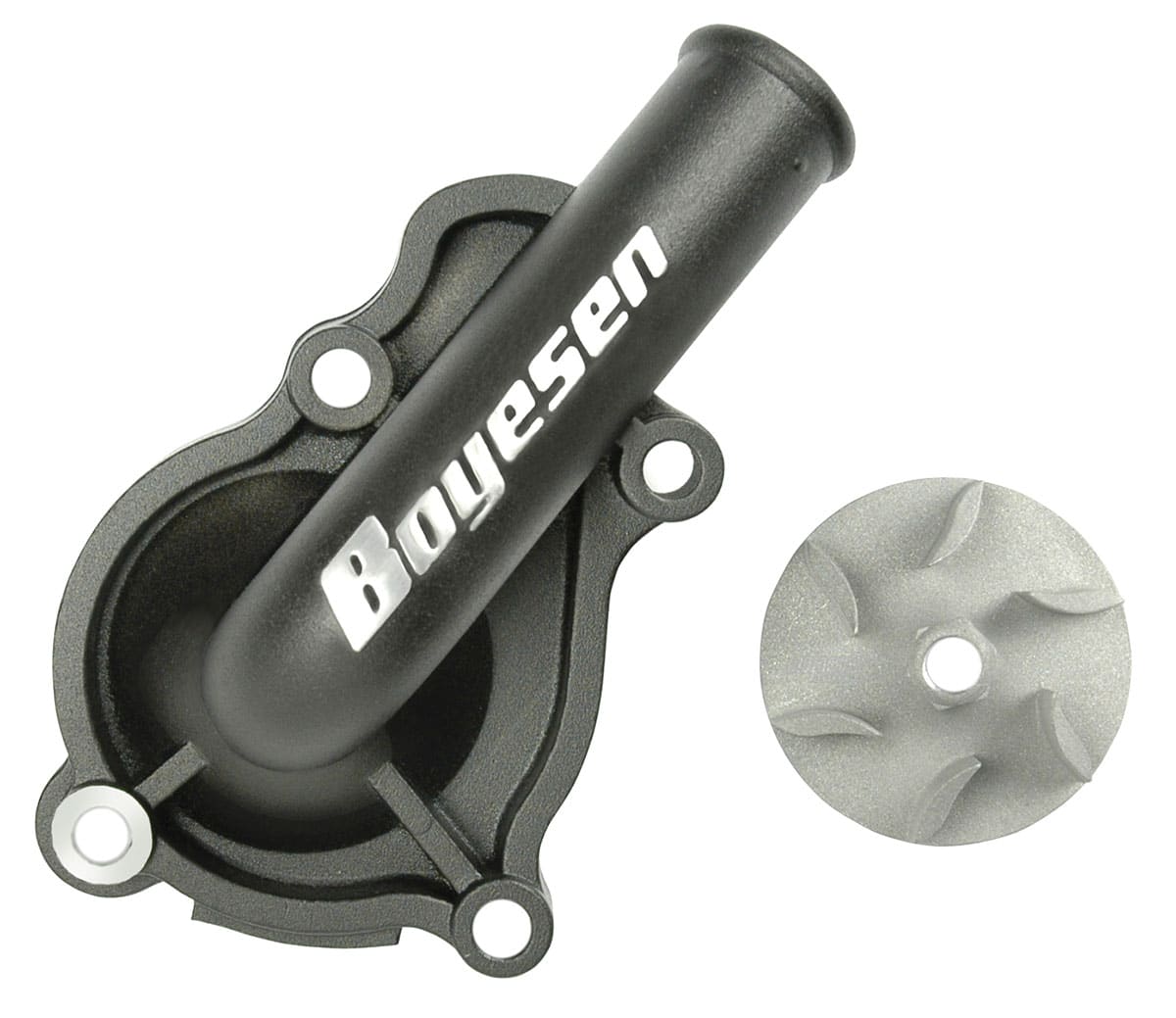 BOYESEN SPECTRA SUPERCOOLER
Stock water pumps aren't very hydrodynamic. Their internal shape and impeller create excessive air bubbles in the water. Air bubbles, created by cavitation, hamper not only water flow but the amount of water per cubic gallon pumped. The Supercooler's smooth interior surfaces eliminate coolant pinch points, resulting in a hydrodynamically efficient interior that increases fluid-flow re-entry rates into your bike's engine. 
Boyesen's larger impeller design is 25 percent more efficient at moving water than the stocker. This is a serious product for a rider who races long motos, not so much for a three-laps-and-a-cloud-of-dust racer.
$195.95—www.boyesen.com.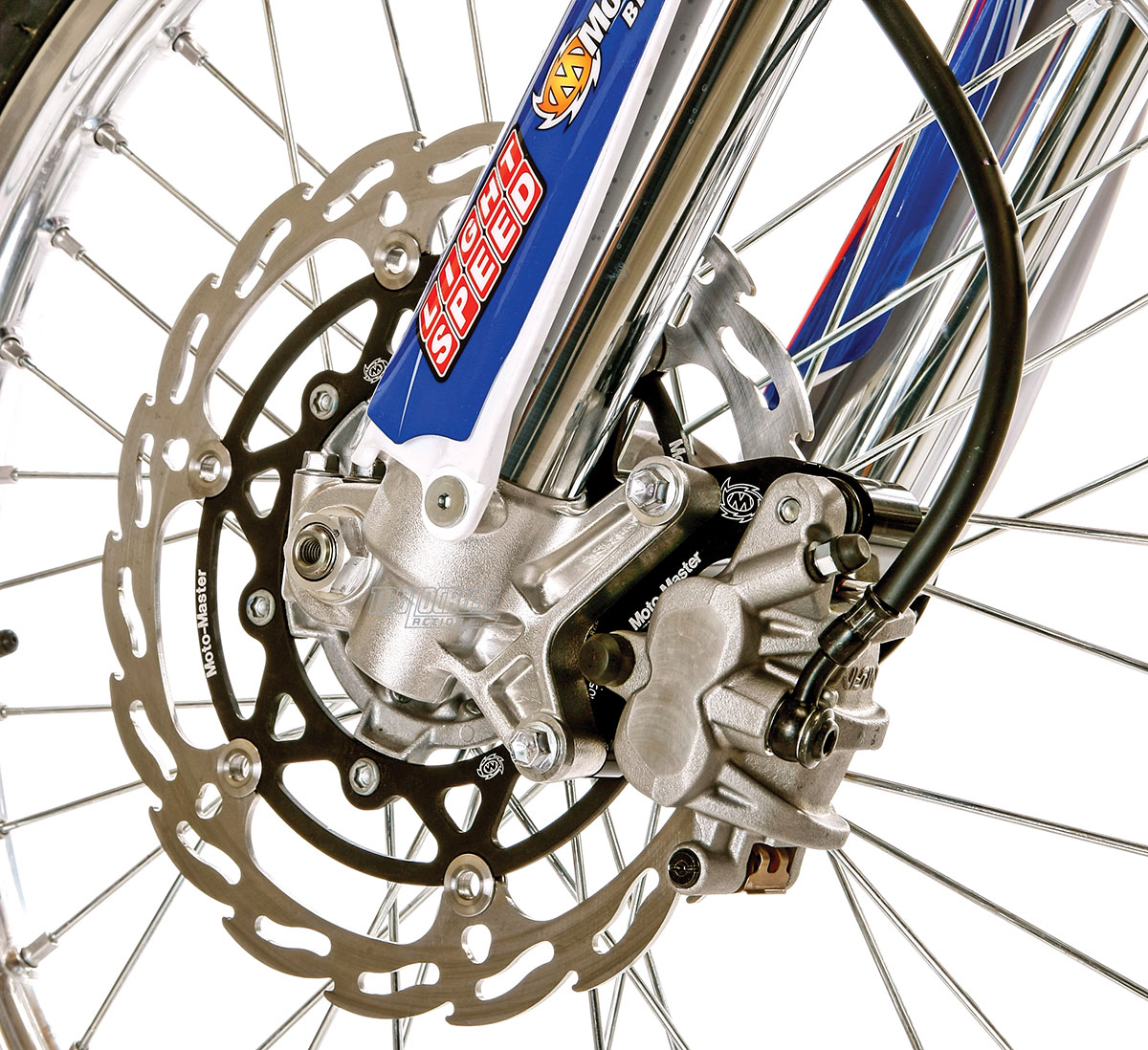 MOTO-MASTER FLAME BRAKE ROTORS
The hardened stainless steel Flame rotors are laser-cut and surface-machined to perfect flatness, and they come in 260mm and 270mm diameters. The stopping power is impressive, and the modulation at the lever is much improved. As an added bonus, the Flame design makes your bike look faster.
$269.95 (oversized rotor/bracket kit)—www.moto-masterusa.com.
JGRMX ADJUSTABLE LINKAGE PULL-RODS
The JGRMX adjustable shock linkage system not only lowers the rear of most modern motocross bikes, but, as with all links, it stiffens the initial part of the shock's stroke while lowering the seat height. The JGRMX shock linkage allows the rear of a bike to be lowered in four increments up to 23mm.
Most MXA test riders ran the link at 2mm longer. By lowering the rear, we lessened the stinkbug stance. As the bike gets lower, it corners better. 
 $279.99—www.jgrmx.com.
CYCRA FULL ARMOR YZ450F SKID PLATE
MXA has suffered both case and water hose damage on Yamahas in the past. Yamahas come stock with a small plastic guard for the water pump, but it is only sturdy enough to ward off roost. The benefits of Cycra's plastic skid plate are that it is full-coverage, color-matched and flexible enough not to drastically stiffen a bike's frame.
Colors include blue and gold for Yamahas (black and gray are also available for all Full Armor skid plates), green for Kawasakis, blue and yellow for Husqvarnas, yellow for Suzukis, red for Hondas and orange for KTMs. 
$89.95—www.cycraracing.com.
TWIN AIR 2018-2019 YAMAHA YZ450F AIR FILTER
The 2018-19 YZ450F airbox, because of its location, doesn't have room for a traditional dome-shaped foam filter and cage. Thus, Yamaha uses a 15mm-thick flat foam air filter that is held in place by an external cage. Because of the flat filter, the center of the stock YZ450F air filter vibrates against the backfire screen to shake dirt and filter oil through the stock air filter.
Twin Air uses a central grommet to space the air filter 11mm away from the wire screen, which stops the dirt from shaking dirt through the foam. It's a must-have.
$30.95 (dry air filter), $33.95 (pre-oiled air filter)—www.twinair.com.
MAXIMA SC-1 SILICONE DETAILER
When your bike is new, every part sparkles and shines. Unfortunately, that new-bike look only lasts about 13 minutes. The solution? Spray it with Maxima SC-1 Silicone Detailer.
MXA's test bikes can't look drab and dingy. Maxima SC-1 saves us time and money. It even works on the sidewalls of our tires. SC-1 sprays out in a fine mist that covers a large area, and one aerosol can will last for 10 or more washings. 
$10.50 (12-ounce can)—www.maximausa.com.
MOTOOL SLACKER DIGITAL SAG SCALE
The MXA wrecking crew uses the Slacker Digital Sag Scale to check the free sag and race sag on our fleet of test bikes. We go so far as to drill small pilot holes in the rear fender of each bike to hook the retractable cable to. The Slacker takes the guesswork out of checking sag—and has a new setting that remembers where the zero setting was so you can check sag without having to put the bike on a stand.
You can buy a lot of tape measures for $149, but we found the Slacker Digital Sag Scale to be easy to use, accurate and fun to play with. 
$149.99—www.motool.co.
HINSON KTM 450SXF CLUTCH UPGRADE
Hinson inner hub and pressure plates are made from T-6 aircraft-quality aluminum and are hard-coated to resist wear. The tolerances are tighter than stock, which pays dividends by increasing the lifespan of the KTM 450SXF's rubber bumpers. Hinson produces its own clutch plates and sells a complete kit for the 450SXF that doesn't just include the fiber drive plates and metal driven plates but a stiffer Belleville washer as well. 
With the Hinson parts, the KTM clutch engages quicker, hooks up better and modulates with less effort. 
$519.99 (inner hub and pressure plate)—www.hinsonracing.com.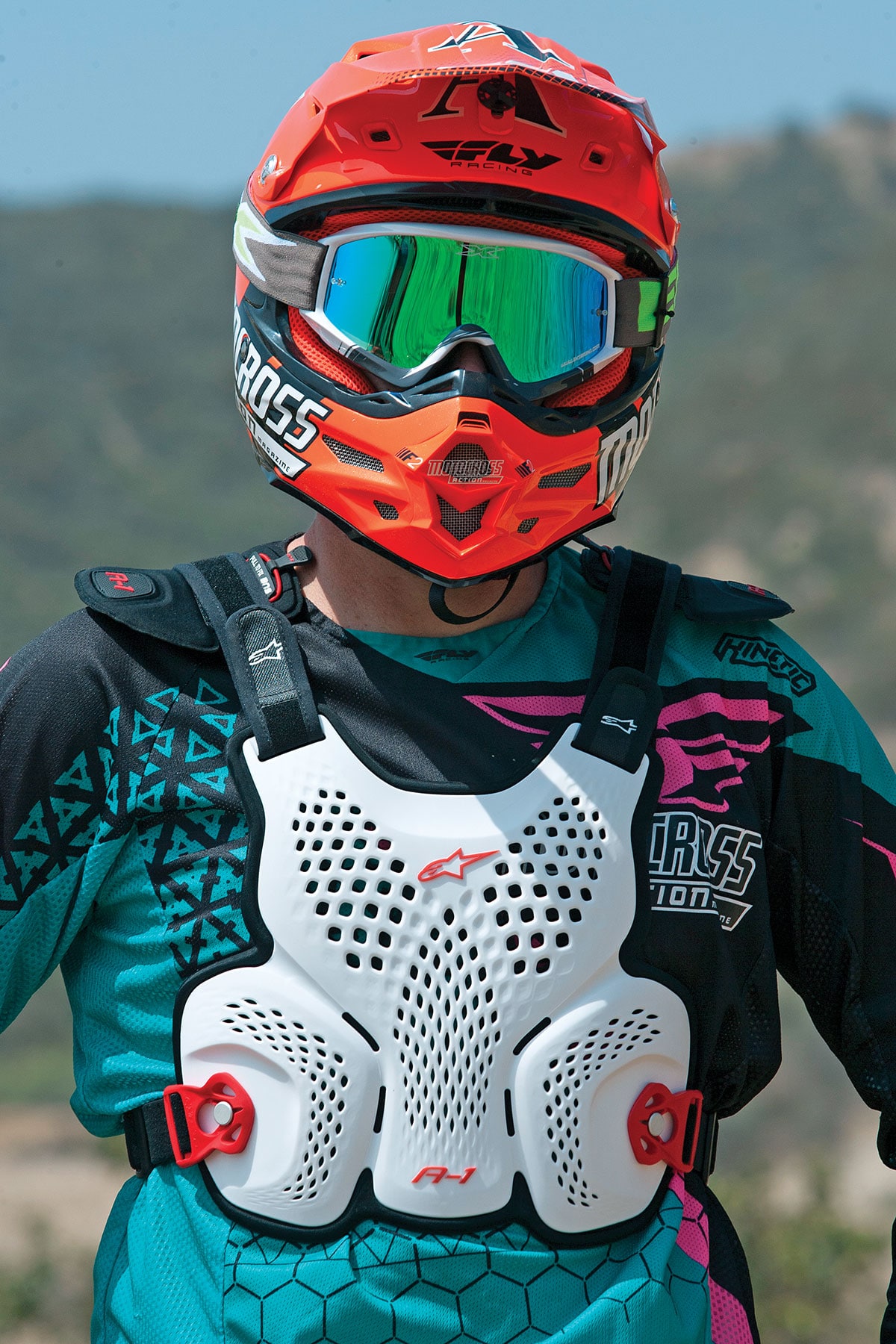 ALPINESTARS A1 ROOST GUARD
If you want plastic impact protection (front and rear), you have to accept some added girth. Of all the roost guards we have tested, the Alpinestars A1 is the least obtrusive. Plus, it is CE-certified, has a modular design that allows you to remove the back protector and is perforated for ventilation.
The Alpinestars A1 roost guard is the minimum that a rider can wear and still believe he is wearing protection. 
$119.95—www.alpinestars.com.
WORKS CONNECTION NO AIR LOSS ADAPTOR
Works Connection's No Air Loss Adaptor ensures the air pressure you set in your air forks is the air pressure you get. When you set the air pressure on your Kayaba, WP or Showa air forks, there is always the possibility of losing air when you disconnect the pump. Works Connection's No Air Loss Adaptor has a rubber seal inside that ensures that the adaptor does not lose contact with the Schrader valve until its plunger is completely extended. We leave the No Air Loss adaptor attached to our fork pump at all times.
$29.95—www.worksconnection.com.
FMF 4.1 SINGLE-SIDED 2018 HONDA CRF450 EXHAUST
 The FMF 4.1 RCT Honda CRF450 single-sided exhaust replaces Honda's twin-pipe design with a single exhaust that is lighter, cheaper to repack and makes more power.
The FMF single produced 2 horsepower more at 5000 rpm, matched the CRF's twin from 7000 to 9000 rpm, made two more horses at peak and 3.5 horsepower more by sign-off. As a bonus, it revved through the power faster. The FMF singe-sided CRF450 exhaust pipe is a no-brainer.
$774.99 (stainless tubing, aluminum canister, carbon end cap)—www.fmfracing.com.
ARAI VX-PRO4 HELMET
Every MXA test rider admires Arai's adherence to a strict design philosophy that is based on the belief that the safest helmet is roundish, perfectly smooth and devoid of ridges. Arai refuses to put fad designs ahead of safety.
Let's not beat around the bush. We love this helmet. We don't love its price, looks or weight, but we believe it to be one of the best-made and safest helmets in the sport. 
$609.95 (solids), $739.95 to $749.95 (graphics)—www.araiamericas.com.
MOBIUS X8 WRIST BRACE
The Mobius wrist brace is used by the biggest names in the sport, most notably Ken Roczen. It effectively limits the range of motion for riders who have suffered wrist injuries or wrist fusions, riders who have range-of-motion issues from being in a cast for months, or those who have any of a wide range of injuries that require some limit on the vertical flexion of the wrist joint.
Think of the Mobius X8 wrist brace as a knee brace for your wrist. The extension stop can be adjusted from 10 to 70 degrees of motion by turning an Allen screw. It works; we know.
$199.95—www.mobiusbrace.com.
ALPINESTARS TECH 1 BOOT
The Alpinestars Tech 1 boot is an amazing entry-level boot that offers some of the same features as Alpinestars' high-end boots at a great price. The Tech 1 retails for $199.95 compared to the $269.95 Tech 5; $369.95 Tech 7; $499.95 Tech 8; or $599.95 Tech 10.
We have had MXA test riders who prefer the feel of the Tech 1 over their ultra-expensive race boots. It is the perfect boot for a kid who is big enough for full-size boots, but not through growing yet. Even though it is not a bootie boot, it hugged our feet in a warm embrace. It made us feel more planted on the footpegs compared to wider and heavier boots. There were no hot spots, and break-in was seamless. With only three buckles, we made sure to tighten them extra snug.
$199.95—www.alpinestars.com.