2003 KX125, 2019 CRF250 FIRST RIDE & MORE | MID-WEEK REPORT

#WHIPITWEDNESDAY
Rider: Josh Mosiman
Bike: 2019 Honda CRF250
Focal length: 300
Exposure: 1/1600 sec
F-stop: f/6.3
ISO: 320
Photographer: Daryl Ecklund
TWO-STROKE SPOTLIGHT: ZACH MORRIS' 2002 CR250 & 2010 YZ250
"Here it is! My 2000/2002 CR250. I purchased this bike a year ago as one of my next two-stroke rebuild bikes, over the past several years that's become a hobby, and unfortunately, I spend more time rebuilding than I do riding bikes.
"This bike started out as a hamburgered 2002 CR 250, with a cracked exhaust bridge, worn out clutch, and rusty bearings. Every bearing in the chassis was replaced, the suspension was rebuilt front and rear with springs that matched my weight, a full bottom and top-end rebuild was completed with a repaired and Nikasil'ed cylinder.
"When I was done I had a bike that handled wonderfully, but still had the dreaded RC valve engine. Prior to this I had rebuilt a 2010 YZ250 two-stroke that I couldn't keep my buddy from buying off me, I was in search of another bike that could rival the engine of that YZ. After a few minor mods the CR ran better, but still had a mid-range only engine that went waa-waa-waa on the bottom just as described by MXA back in the day.
"I decided to try another avenue and was able to sell the rebuilt engine online, the same day it sold I came upon a 2000 engine needing rebuilt that had a Eric Gorr 265 top end that hadn't been run.
"It was a fairly simple swap, and with the 2000 CR engine, the bike rips! We're heading out this weekend to compare it to the 2010 YZ as well as an older generation KX250. All three bikes are off of fresh rebuilds and it should be a fun comparison. Previously that YZ was unmatched and my brothers 1999 KX had preferable power when compared to the CR, at this point I think the CR will be on par with the YZ engine, may have an edge in handling and only be giving up some very minor suspension advantages to the Yamaha.
Long live the 2 strokes!" –Zach Morris
EDITORS NOTE: Please keep those submissions coming. If you would like your bike to be featured in the "Two-Stroke or Four-Stroke Spotlight," please email me at [email protected]. All I ask is that you give a breakdown of your bike and a detailed description of the build. Please also send a few photos of your steed. By submitting your bike, you agree to release all ownership rights to the images and copy to MXA. Please don't email me spam or try selling me Taylor Swift concert tickets or email me spam. I already celebrate T-Swizzle's entire collective, and there will be "bad blood" if you send me junk mail. See what I did there? Happy submitting your smoker.
6TH ANNUAL KURT CASELLI RIDE DAY

Press Release: Join Us At Fox Raceway To Remember Kurt Caselli & Support The Kurt Caselli Foundation. On Saturday, December 1st, the industry will once again join together in remembrance of Kurt Caselli at Fox Raceway in Pala, California for the 6th Annual Kurt Caselli Ride Day presented by Rocky Mountain ATV/MC. The event is open to the public, with all ages in mind. Saturday night camping will be available and can be reserved when you pre-register for the event. All proceeds will benefit the Kurt Caselli Foundation and help fund the growing list of safety initiatives and projects to protect and support the lives of off-road riders. Check out the 2018 budget and list of projects at https://www.kurtcaselli.com/programs. Pre-register now at https://give.classy.org/kc66rideday to save time with our special VIP entrance line and score a free commemorative event t-shirt!
What: The 6th Annual Kurt Caselli Ride Day presented by Rocky Mountain ATV/MC
When: Saturday, December 1st, 2018 | Gates open at 8:00 AM, Riding: 9:00 AM to 4:00 PM
Where: Fox Raceway | 12799 California Highway 76, Pala, CA 92059
Tickets: $25/person, Kids 12 & Under: Free | Get tickets here!
What You Get By Registering Early:
VIP Entrance
Free Commemorative Event T-Shirt (for each paid admission registrant)

Festivities include:
Riding open from 9 am to 4 pm.
Main Track
Vet Track
Off-Road Loop
Kids-Only Track
Kids-Only Practice Session On The Vet Track
Stacyc Learn To Ride demos for the kids!
Food, Music, Vendor Row & more!
The Caselli Team Challenge (your chance to team up with a Pro and compete!)
Presentation of the Kurt Caselli Scholarship Winner
Great Raffle Prizes & Giveaways including the Custom 2019 KTM 300 TPI Motorcycle
Silent Auction
Visit www.KurtCaselli.com for more information and to get tickets now!

CHECK OUT THE FXR DIGITAL CATALOG
MXA | MOTO | TRIVIA
Who is this rider.
WHAT THE MXA WRECKING CREW IS UP TO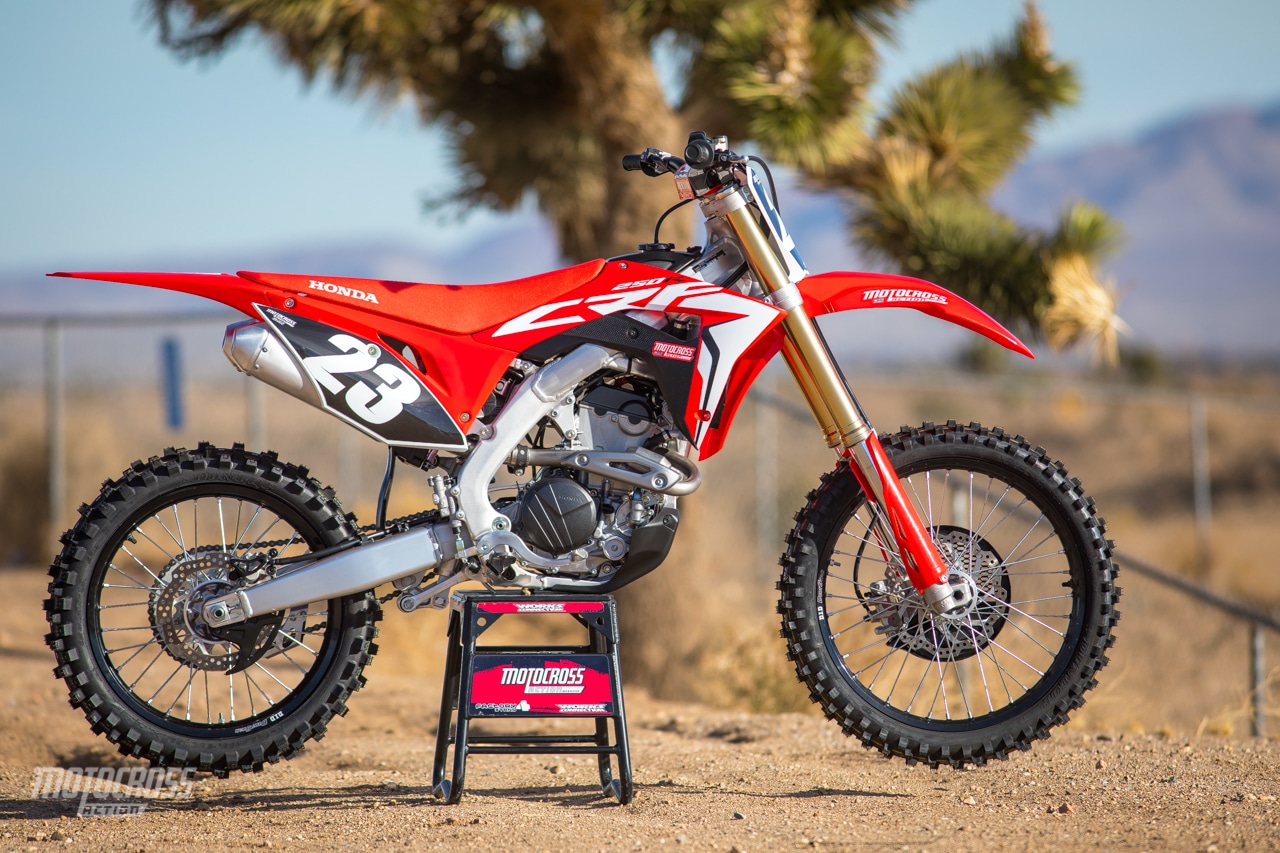 The MXA wrecking crew got our hands on the 2019 Honda CRF250 and brought it out to Competitive Edge. For complete details of the updates click HERE. 
The bike still offers dual exhaust and a high revving engine.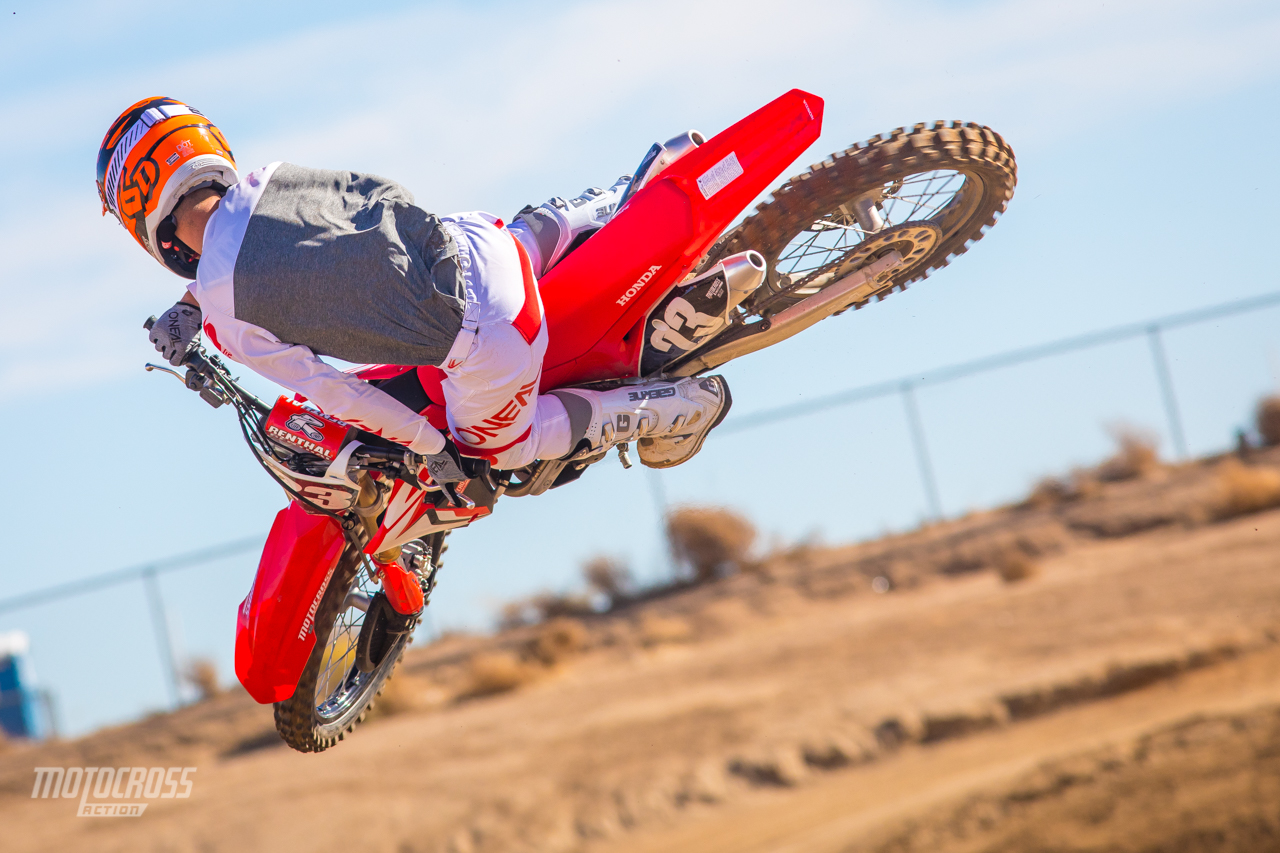 We had MXA's very own Josh Mosiman test it for the first of many test rides.
He really had to work the bike to get over the big jumps.
The bike does have a very light feel in the air for being one of the heavier bikes in its class. 
This is Managing Editor, Daryl Ecklund's personal 2003 KX125. When he bought it, is was just a box of parts. With the help of Jay Clark (Jay did all the work) it was transformed into this beautiful machine. 
Since Daryl is injured and on the sidelines, Josh Mosiman got to break in the renovated bike.
It might not be the fastest thing on two-wheels, but it sure is fun. 

AME AMATEUR MINICROSS ROUND 4  
Round 4 of the AME Amateur SX rolled into Milestone MX park this holiday weekend and action was packed as usual. The star of the weekend had to be north west mini star Kayden Smith who scored wins in three different classes including the 85cc 9-14 class the 85 Open and the Supermini divisions.
His strongest opposition came from ASV support rider Dane Morales in the Supermini race. Morales fought off numerous pass attempts from Smith over the course of the seven lap main event only to be passed by Smith in the final two feet of the race. Smith made the pass stick by launching his KTM off an inside roller just before the finish line to edge out Morales by a knobby length.
Former AMA 51cc champion Wyatt Thurman was put to the test in 4 different classes today. Thurman breezed to victory in both 51cc Open and 65cc7-9 classes but found the Catalina kid Jaxson Butte to be more than a handful in the 65cc Open class and had to settle for a distant podium position. Thurman also threw his name in the hat in the 85cc Novice class. Thurman at age seven surprised the older kids with another podium in the big boy class.
Josh Varize piloted his Milestone Pro shop backed KTM to wins in both 250 Non-Pro and Amateur All Star A/B classes. Although Varize kept the 250 Non-Pro class main event win in doubt after a first turn crash the So Cal kid picked himself off the ground and charged straight to the overall victory in convincing style.
SUBSCRIBE TO MXA & GET A $25 CHAPARRAL GIFT CARD—YOU MAKE A PROFIT BY READING MXA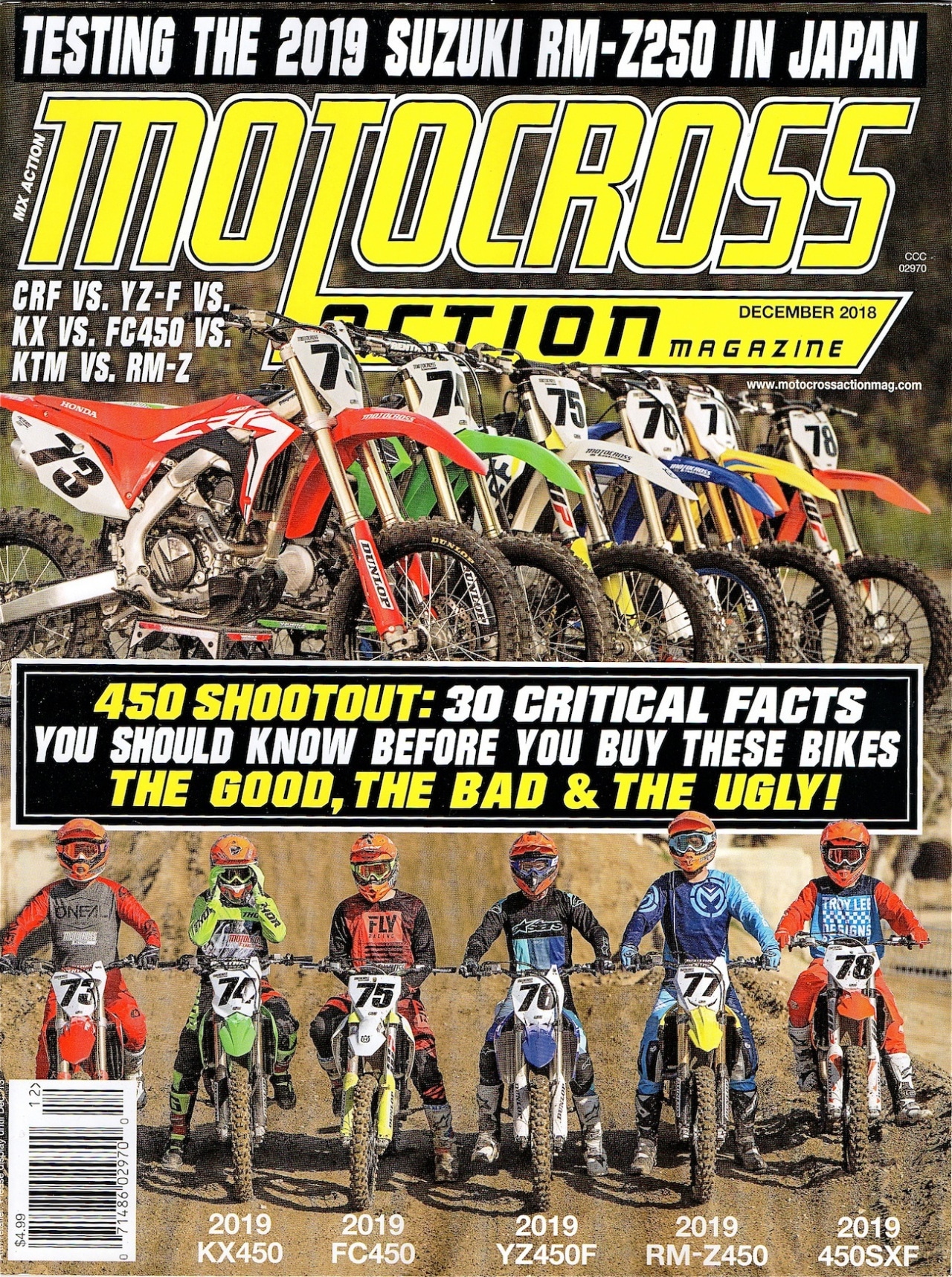 If you had subscribed to Motocross Action, the December 2018 issue of MXA have been in your mailbox, computer or iPhone for quite some time already. This is the 2019 MXA 450 Shootout issue. It is jam-packed with facts and data that will allow you to choose which bike is best for you — and if your confused, we tell you which bike was the best for us. Plus, we test the 2019 Kawasaki KX250, 2019 KTM 250SX two-stroke and fly to Japan to ride the 2019 Suzuki RM-Z250. Plus much, much more.

Do you subscribe to MXA? You should. We know that you think that print magazines are dead and that the internet will fill the void, but most of the stuff in the current issue of MXA won't appear on the web for several months, if at all. Luckily, you can get all of MXA on your iPhone, iPad, Kindle or Android by going to the Apple Store, Amazon or Google Play or in a digital version. Even better you can subscribe to Motocross Action and get a $25 Chaparral gift card to spend on whatever motorcycle parts or products you need. You can call (800) 767-0345 or go to www.hi-torque.com/product/motocross-action or click on the box at the bottom of this page.

WATCH CHAD REED DOMINATE THE AUCKLAND SUPERCROSS
LOST BUT NOT FORGOTTEN | 1987 WORKS BENELLI 125BX
Benelli ran TM engines and WP suspension.
WESTON PEICK'S INJURY UPDATE & ROAD TO RECOVERY FUND | Update 11/25/18
Weston Peick is recovering nicely at Hôpital Pitié-Salpêtrière after a seven hour surgery to address his multiple facial fractures that concluded late yesterday evening. This surgery went longer than expected due to the extensive trauma to and around his eyes and nose. According to Peick's doctors his second surgery was a success. They were able to repair all the damage he sustained and expect to remove his tracheostomy tube as early as Tuesday, November 27th. With a possible release date as early as Friday, November 30th if he meets all release requirements.
Due to the successfully second surgery that had no complications and the proficient surgically staff, once the tracheostomy tube is removed Peick will be cleared for non-medical assisted air transport. He will be required to have non-assisted commercial air transport but that will be a fraction of the expected cost. Peick will have a long road to a full recovery once he's back in California. According to his Paris surgeons, the damage he sustained to his right eye will require treatment from a specialist and he will need another less invasive nose surgery once the swelling has gone down.
Peick has had some of the best care possible during this trying time mainly due to the fast response of Eric Peronnard and everyone involved with the Paris Supercross. Louie Peick, Weston's father and fiancé Kelly would like to thank everyone that has donated to his cause and have sent positive messages and prayers. With this support for Weston, its one less thing that they will have to focus on.
To support Weston go to: https://road2recovery.com/cause-view/weston-peick/

MOOSE RACING FAST REAR WHEEL SPACERS
Press Release: Easier wheel installation and longer bearing life? The all-new Moose Racing Fast Rear Wheel Spacers can help with both. Constructed of aircraft grade aluminum and anodized to match each OEM, the Fast Rear Wheel Spacers tapered design prevents the spacer from catching on the swingarm during wheel installation. The unique design of the Fast Rear Wheel Spacers cover the
dust seal and bearing when installed, protecting them from dust and mud. Available for a variety of makes and models, check out moosracing.com for additional information and a complete application list.
For more information visit us at
www.mooseracing.com. Follow us on Instagram and Facebook
@OfficialMooseRacing and Twitter @MooseRacing.
2019 HONDA TALON 1000R & TALON 1000X
It looks like Honda has come out swinging with the announcement of two versions of their long awaited Talon 1000R SXS. Pricing will be available in January with an early Spring on sale date. Honda tells us they will be competitively priced with other normally aspirated SXS's in the market so expect them to be around $20,000. For more information on the Talon 1000R SXS.
TALK MOTO WITH MOTO MINDED PEOPLE. JOIN MXA'S FACEBOOK GROUP CHAT

We love everything moto and want to bring all moto junkies together into one place to share their two cents, ideas, photos, bike fixes, bike problems and much more. To check it out first you must need to or already have a Facebook account. If you don't, it isn't much work and you could even have an alias so nobody knows it is you. To join click HERE. After you request to join we will accept your request shortly after.

JOIN MXA'S SNAP CHAT FEED
If you are a Snap Chat user then add us to your stories. Get sneak peaks of everything moto. Our Snap Chat name is motocrossaction. Or just take a Snap of the picture above and it will add MXA automatically to your feed.
CLASSIC MXA PHOTOS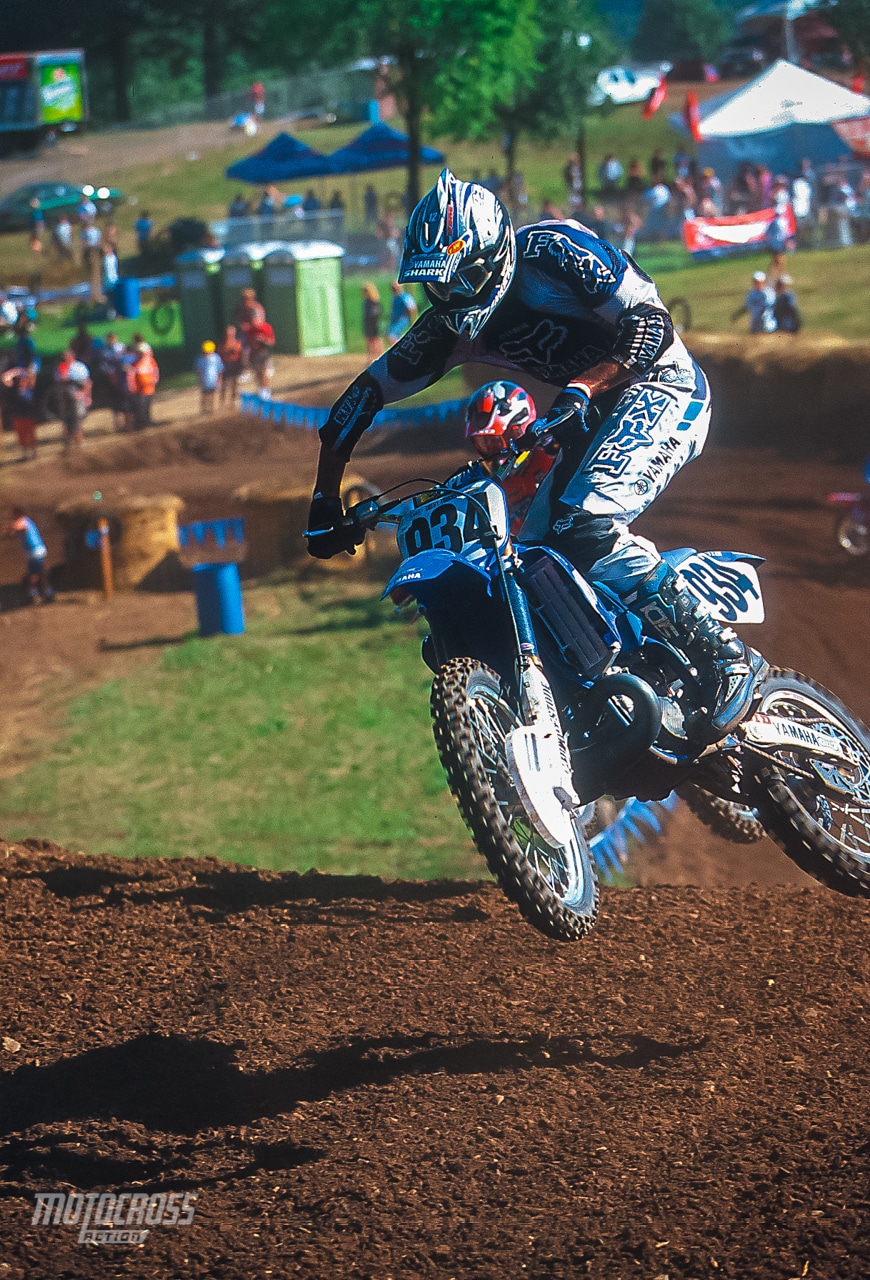 "The Cobra" David Vuillemin back in 2000.
MXA QUESTION OF THE WEEK WINNER
This Honda is a 1987 CR125. The winner of the FXR swag is Chris Brown. 

---
Moto Trivia answer: Kyle Lewis.