2008 RACE TEST YAMAHA YZ125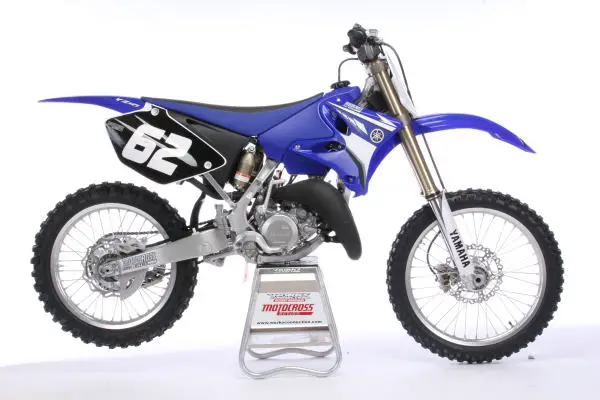 There will come a time when every manufacturer, race promoter, rider and AMA functionary will rue the day that the AMA allowed 250cc four-strokes to compete against 125cc two-strokes (not to mention the stupid unleaded gas rule that administered the coup de grace to the 125 two-stroke on the AMA circuit). We will all miss the 125 two-stroke when it's gone. And, unless you are a uniquely independent individual, you probably have no intention of buying a 2008 Yamaha YZ125.
You may think that the MXA wrecking crew is being melodramatic, but listen to our reasoning for mourning the passing of the 125 two-stroke:
(1) Cost. With very few moving parts, a two-stroke is cheaper to build and to maintain than a thumper.
(2) Weight. At under 200 pounds, a 125 two-stroke is easily manageable by pubescent teenagers fresh out of the 85cc class (not so with a 217-pound four-stroke).
(3) Entry-level. Not every person riding a motorcycle needs or wants a complex, heavy and expensive starter machine. With the 125cc two-stroke gone, the number of people who can easily gain admission to the sport will be reduced.
(4) Rules. No matter what the AMA does in 2008, 2009 or 2010 to help the two-stroke, they can never undo the damage they did by refusing to act when it was obvious that their two-versus-four formula was way out of whack.
If AMA rules can't save the 125 two-stroke, what can? Sadly, mournfully, regretfully, nothing short of a human wave of buyers storming Yamaha dealerships can stave off the inevitable.
Thankfully, Yamaha is fighting the good fight. They can do no more than build it and wait for buyers to come.
Q:WHAT ARE THE BUZZ-WORTHY ADDITIONS TO THE 2008 YZ125?
A:That depends on whether you are easily buzzed.
(1) The front brake caliper is 220 grams lighter than last year.
(2) The wave-style brake rotors are 140 grams lighter than the 2007 rotors.
(3) The fork stanchion tubes have been thinned for less rigidity, and there is a 200-gram weight savings.
(4) The fork springs have been upped from 0.41 to 0.42 kg/mm, and the fork stanchions are 4mm shorter. The damping has been affected by changes to the compression valve port, oil lock and slide clearance.
(5) The lower fork bracket and fork guard are lighter. The brake caliper, fork stanchion and lower fork bracket are directly off the YZ250F.
(6) A new reed valve spacer improves fuel velocity.
(7) The new YZ125 chain guide is straight off of the YZ250F.
(8) The front master cylinder piston is 1.48mm smaller for more braking power, while the brake lever is positioned higher on the master cylinder (to mimic the current trend towards higher lever positions). Additionally, the brake lever has been moved 9mm farther from the bar at both its minimum and maximum adjustment.
Q:IS THE 2008 YZ125 FASTER THAN THE 2007 MODEL?
A:How sensitive is the seat of your pants? The real answer is no.
Q:HOW GOOD IS THE 2008 YAMAHA YZ125?
A:The MXA wrecking crew loves this bike, but it's hard to ride with a tear in your eye. The Yamaha YZ125 and KTM 125SX are the only 125cc two-stroke motocross bikes offered for sale in 2008. This is a shame, because this is as close to a perfect motorcycle as any bike has ever come. Unfortunately, the politics of racing forced 125 two-strokes to go head-to-head with 250cc four-strokes. The outcome was no different than at Little Big Horn. The 125 two-stroke couldn't compete against a four-stroke force that was twice its size. Even though some local promoters and AMA Districts offer 125 two-stroke classes, the consumer has voted with his pocketbook (by not opening it up for a 125 two-stroke).
Q:CAN YOU BEAT A 250 FOUR-STROKE ON A YZ125?
A:Suspend reality for a second and imagine that you are lined up on a YZ125 right next to an identical clone of you on a YZ250F. Who would win? Two-stroke-you or four-stroke-you? As much as we hate to say it, the YZ125 lacks the torque, hookup, breadth and overrev to run with the much larger four-stroke engine. Four-stroke-you would romp two-stroke-you.
Most MXA test riders believe that they could win on the YZ125 as long as the track didn't have a long start, hardpack dirt, big hills, off-camber corners, concrete start, fast sweepers or smallish whoops. Those are situations where a four-stroke excels.

Q:WHO SHOULD BUY A YZ125?

A:While it is true that we are living in a four-stroke world, there are skills that can be learned on a two-stroke that a younger rider will never master on a four-stroke. These skills are worthwhile bits of knowledge that will make any rider better. Thus, a bucks-up mini parent would be wise to put Junior on a 125cc two-stroke for a season before letting him loose on a KX-F, YZ-F, CRF, RM-Z or SXF. What Junior learns by riding his two-stroke hard and putting it away wet he will retain for life.
Q:WHAT DOES A 125 TWO-STROKE DO BETTER THAN A FOUR-STROKE?
A:Here is MXA's list of positive attributes:
(1) Your kid can pick it up by himself. It's a feather compared to the bulky 250F.
(2) With one-tenth the moving parts, you can rebuild a YZ125 four times for the cost of one 250 four-stroke rebuild.
(3) The light front end and snappy engine of a 125 two-stroke allow it to skim across the top of big whoops without dropping in?-the bigger the whoops the better a two-stroke is.
(4) Steep jumps favor the light weight and flickability of a two-stroke.
(5) You haven't lived until you've gone full-tilt-boogie on a 125. When you do it right, nothing compares to the screaming rpm and light weight.
Q:WHAT IS THE CHEAPEST YZ125 HOP-UP MOD?
A:Before you buy a pipe, port the engine or slip in aftermarket reeds, gear it down. Adding one tooth will perk up second gear, get you to third gear sooner and make the overall ratios between the six gears more user friendly.

Q:WHAT IS THE BEST YZ125 HOP-UP?
A: Bore it out. In the good old days, the most popular big-bore kit was MaxPower's 139cc kit. It uses a 57mm piston, costs about $995, and is good for about three more horsepower. MXA's favorite big-bore kit is MaxPower's 151cc engine. It has a 57mm bore by 59mm stroke and pumps up the volume by four horsepower. It retails for $1930. If you want to go for the gusto, MaxPower offers a 167cc kit that goes to 60mm on the piston with the 151's 59mm stroke. Expect about six horses more. MaxPower can be reached at (608) 224-2524.
Q:ARE THESE BIG-BORE ENGINE KITS LEGAL?
A:Yes. In the murky world of AMA Amateur rules, big-bore 125s are legal to race against 250cc four-stroke in every class except the Stock class. Last year only 151cc engines were legal, but for 2008 the rules have changed drastically.
Q:WHAT ABOUT THE JETTING?
A:Other than air screw and clip position changes, the MXA test crew had no problems with the YZ125's stock jetting.
Here are the stock YZ125 jetting specs:
Main Jet: 410
Pilot Jet: 40
Needle: 6BFY42-74
Clip: Third from top
Air screw: 2-1/4 turns out
Note: Yamaha delivers every YZ125 with an optional 6BFY43-79 needle and two extra main jets (420 and 430).
Q:HOW GOOD IS THE YZ125'S KAYABA SSS SUSPENSION?
A:This is works stuff when compared to the other brand's components. It is awesome. Yamaha's test department is the best in the business when it comes to spring rates, damping and overall suspension feel. Give them a raise.
Q:WHAT WAS OUR BEST FORK SETTING?
A:For hardcore racing we recommend this fork setup:
Spring rate: 0.42 kg/mm
Oil height: 340cc
Compression: 11 clicks out
Rebound: Six clicks out
Fork leg height: 5mm up
Notes: The stiffer fork spring isn't necessarily stiffer, because last year's spring was on the soft side.
Q:WHAT WAS OUR BEST SHOCK SETTING?

A:For hard-core racing we recommend this shock setup:
Spring rate: 4.7 kg/mm
Race sag: 98mm
High-compression: 1-1/2 turns out
Low-compression: 13 clicks
Rebound: Ten clicks
Notes: Make small (about 1/8th turn) adjustments to the high-speed compression clicker to adjust the attitude of the chassis at speed. Yamaha's high-speed compression clicker (the large dial) is very sensitive to adjustment.

Q:WHAT DID WE HATE?
A:The hate list:
(1) Brake hose clamp. It looks like plumbing off of a Russian submarine.
(2) Sneakers. Love the Dunlop 756 rear. Could live without the Dunlop 742FA front.

Q:WHAT DID WE LIKE?

A:The like list:
(1) Weight. Someday they will build a 250 four-stroke that is under 200 pounds, but until then the 125 two-stroke is the only bike that can make that claim.
(2) Suspension. We love Yamaha's SSS settings.
(3) Handlebars. Who can complain about oversize ProTaper Contour bars?
(4) Frame. We wish that the Yamaha four-strokes turned their frames inside-out like the YZ125 and YZ250. It looks cooler.
Q:WHAT DO WE REALLY THINK?
A:This is the best 125cc motocross bike made. Paradoxically, the 2008 YZ125 will soon become the Beta, Walkman, Atari, carbon paper, typewriter, flash cube, eight-track tape and lava lamp of motocross bikes. o