2010 MXA GRAND NATIONAL MOTOCROSS CHAMPIONSHIP: THE TRUE-TO-LIFE POINTS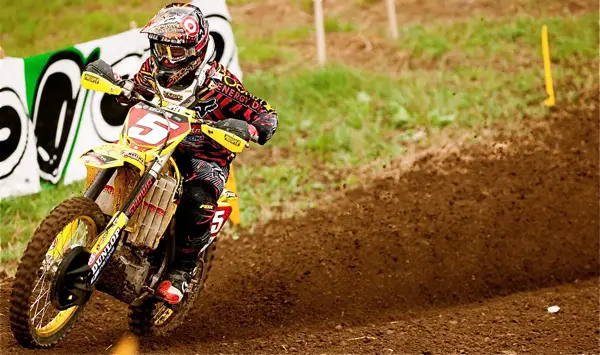 Ryan Dungey is the 2010 MXA Grand National Champion.

In 1983 Wrangler Jeans sponsored an AMA Grand National Championship that combined points from the AMA Supercross series and the AMA National series to hand out a special blue-and-yellow number one plate to the rider who earned the most points in the sport. David Bailey won the first two blue plates, but when Wrangler left the series, the AMA dropped the Grand National Championship idea.
The MXA test crew felt that the idea of a Grand National Championship for the sport was a good idea. We pitched it to the powers-that-be. We don't know why they weren't interested, but we almost always assume that if they can't make a buck off of something, then it isn't worth it to them. So, three years ago, MXA resurrected the Grand National system by combining 450 Supercross points with 250 and 450 AMA National points. This was the system used in the original Wrangler AMA Grand National Championship in the 1980s. Sadly, 250 Supercross points cannot be counted because the East/West 250 titles are considered regional crowns and the riders on each coast only race against limited fields.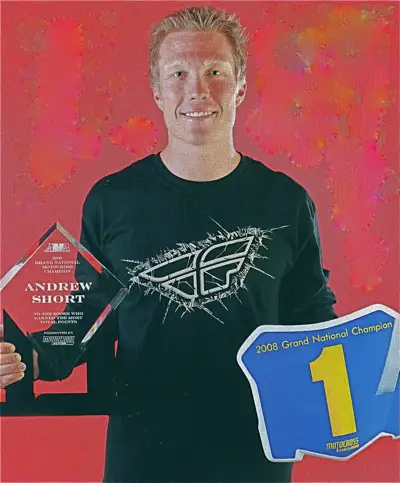 Andrew Short's 2008 trophy.

In 2009 Team Honda's Andrew Short took the number plate and the trophy. For 2009 Chad Reed won it. And Ryan Dungey is the new 2010 MXA Grand National Championship.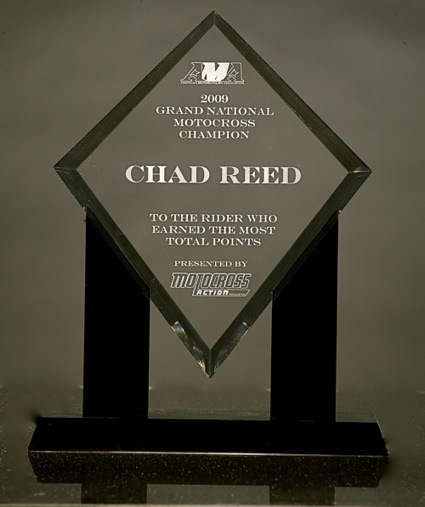 Chad Reed's 2009 trophy.
This award honors riders who race both the Nationals and the Supercrosses?not just one series. It is the best overall expression of the strength, determination and will power of the riders on the list. They persevered through injury, long weekends and bike problems. These are the best all-around riders in the USA?and the AMA Supercross, 450 National and 250 National Champions are one-two on the list.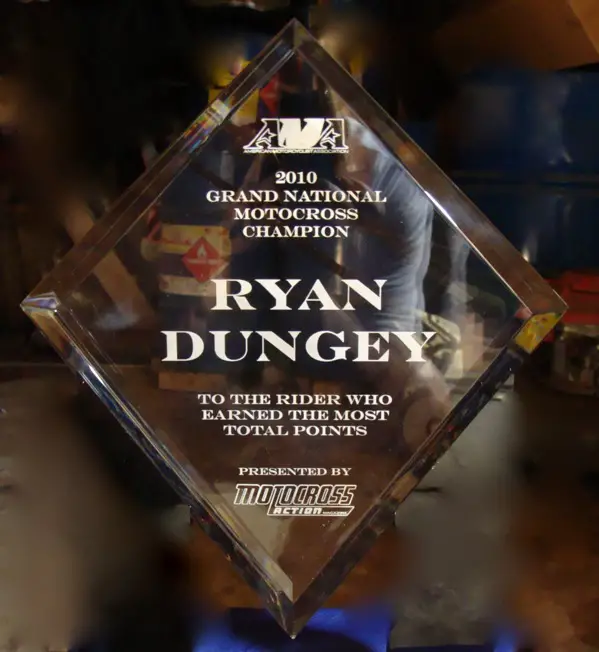 FINAL 2010 MXA GRAND NATIONAL POINTS STANDINGS
(after 17 Supercrosses and 12 Nationals)
Rider SX… Nats…Total
1. Ryan Dungey……………363…543…….906
2. Trey Canard…………….103….474…….577
3. Andrew Short…………..150…393……..543
4. Kevin Windham………..293…180…….473
5. Tyla Rattray………………0…….446…….446
6. Christophe Pourcel…….0……443…….443
7. Kyle Chisholm………….177….266…….443
8. Justin Brayton………….238….200…….438
9. Dean Wilson……………..0…….437…….437
10. Nick Wey………………..197….223…….420
11. Brett Metcalfe…………..0…….398…….398
12. Tommy Hahn…………186….193……..379
13. Justin Barcia……………0…….348…….348
14. Davi Millsaps………….268….76………344
15. Eli Tomac…………………0…….327……327
16. Ben Townley……………0…….324…….324
17. Mike Alessi……………..0…….314…….314
18. Broc Tickle………………0…….276……287
19. Blake Wharton…………0……..285……285
20. Chad Reed…………….73……..204…..277