2011 KTM 150SX MOTOCROSS TEST: PERHAPS THE BEST BIKE FOR RIDERS LOOKING TO MAXIMIZE THE FUN OF RACING


Q: FIRST AND FOREMOST, IS THE 2011 KTM 150SX BETTER THAN THE 2010 KTM 150SX?

A: Yes. KTM continues to refine its two-strokes, in spite of what the other manufacturers do. The traditional KTM practice of including the 150SX in all the common changes and then throwing in a few model-specific refinements still applies?although 150-specific updates are minimal this year.


Q: WHAT WERE THE KTM 150SX UPDATES FOR 2011?
A: There were eight refinements.
(1) Frame. Last year, KTM made the head angle half a degree steeper to sharpen up the handling. This year, they focused on the frame's flex characteristics. The goal was to achieve more torsional rigidity and less longitudinal rigidity to aid the rear suspension. The SXF and SX models received similar frame changes. The major difference between the SXF and SX models is shock mount placement. The SX uses a modernized version of the original no-link PDS suspension. The shock mount is positioned to tilt the shock further forward than last year.
(2) Swingarm. Swingarm updates were made possible by an updated manufacturing process called "single component casting," which eliminates welding. Additionally, KTM refined the swingarm's flex properties and its shock mounting position.

(3) Shock. The shock position is laid down (more horizontal). Overall suspension travel is unchanged, but the rising rate has been changed with an 11mm-longer shock shaft that delivers 5mm more shaft travel. The KTM also comes equipped with a new nylon preload adjuster ring.

(4) Suspension settings. Accompanying the chassis changes were minor valving adjustments.

(5) Bodywork. KTM takes pride in having Stefan Everts in their corner to provide input. Stefan helped in the bodywork department with ergonomic suggestions. He is personally responsible for the wider and longer rear fender. Creating a handhold to lift the bike onto a stand was also part of the strategy.
(6) Airbox. Last year, KTM redesigned the airbox to help keep water and debris off the filter, but this year's changes achieved two goals. One, to optimize airflow through the intake by redesigning the air boot and airbox. Second, to fit the new frame and shock position.
(7) Wheels. The rims are now silver instead of black; there are new Zinc/nickel-coated spokes and new aluminum spoke nipples.

(8) Silencer mount. The silencer has a plastic cradle instead of traditional metal brackets. Two-stroke silencers run at lower temperatures than four-stroke mufflers and are able to get away with this design. The mount fits better, and it definitely looks cool.


2011 KTM 150SX: If you are thinking of buying a 125cc two-stroke, don't. It is pointless given the current class structures. KTM's 150SX makes more sense and has more power.
Q: WHAT HAPPENED TO THE 144SX AND THE 125SX?
A: Two years ago, the 144SX outsold the 125SX by a big enough margin that it was clear to KTM what their U.S. market demanded. They stopped importing the 125SX in 2010. As for the previous 144SX, it is, in fact, just an earlier version of the 150SX. The 144SX became the 150SX when KTM made a lot of changes and wanted to set the bike apart. Ironically, none of those changes were to the engine displacement. For 2011, the bike still has the same 143.6 cubic centimeters as the 150SX last year and the 144SX before that.

Q: WHO IS BEST SUITED TO RIDE A 150SX?
A: This is a young man's bike. It works best in the hands of a young, exuberant racer who goes out in every practice session and uses his machine to the fullest. He is most likely still in school or in the early, lower paying stage of his career, thus he wants to be able to put in more laps on a tighter budget. Luckily, two-stokes are cheaper to buy and easier to maintain. A young racer is also improving at a rapid rate and trying to get fast enough to move up a class. We're not saying that you can't teach an old dog new tricks, but Vet racers are generally more concerned about getting old enough to race the next age group than with trying to break bad habits ingrained from decades of riding. For a greenhorn who is honing his technique, nothing is better than a small-displacement two-stroke. A two-stroke forces the rider to develop the ability to shift at precise points, control the extra wheelspin of a hard-hitting powerband, carry more speed into turns, choose better lines through corners, read the terrain for better acceleration, and brake later going into turns. After being assigned to race a two-stroke for a couple weeks, MXA test riders come off of a concrete start better and pick up speed on whatever four-stroke they hop onto.

Whip it: The KTM 150SX weighs under 200 pounds.

Q: HOW FAST IS THE 2011 KTM 150SX?

A: KTM's intake changes may help, but the 2011's power delivery is essentially the same as the 2010's. No complaints though, the 150SX is a rocket ship. If you are just hopping off a 250F, you may be inclined to let the rpm drop on the 150SX. Big mistake! Low-to-mid power is like a needle in a haystack; don't bother looking for it. If you can keep the 150SX on the pipe, it will give 250Fs a run for their money. MXA has spent considerable time going back and forth between the stock KTM 150SX and a 250F with an aftermarket pipe. The 150SX was faster at peak, and when we focused on carrying speed and staying on the pipe, the 150 was great. Unfortunately, when we bogged or spun coming out of turns, we lost a stretch of ground.

Q: HOW WAS THE GEARING?
A: The six-speed tranny is a good idea for the 150SX, even if you never make it to sixth gear. Like last year, the 150SX comes with one more tooth on the countershaft sprocket than the 125SX. We didn't like this gearing. KTM tends to over-gear their machines from the factory. Adding one tooth to the rear (from a 50-tooth rear sprocket to a 51) saves some clutch feathering and makes more sense for all but the fastest tracks and riders.

Cost: Two-strokes are easier to repair and rebuild.
Strange fact: Keihin carbs got replaced with EFI because of a few poorly jetted examples. The KTM 150SX isn't one of them.

Q: WHAT WERE OUR BEST JETTING SPECS?
A: Here's what we ran with the 38mm PWK Keihin carb (stock jets are in parentheses):
Main: 185 or 190(182)
Pilot: 40
Needle: NOZI
Clip: 3rd clip from top (2nd)
Air Screw: 1-1/2 turns out
Notes: Last year we kept the stock mainjet and went to a 42 pilot, but we felt the need to go a lot richer on the main this year.

Q: HOW GOOD WERE THE WP FORKS?
A: At first, the lightweight 150SX seems to float over bumps compared to a 250F, but it didn't take long for us to think about doing some work on the forks to maximize performance. KTM made only slight valving changes this year. For an entry-level bike, the forks are on the soft side.
Q: WHAT ARE MXA'S RECOMMENDED FORK SETTINGS?
A: Here is what we ran in our 2011 KTM 150SX (stock setting in parentheses):
Spring rate: 0.42 kg/mm
Oil height: 350cc
Compression: 6 clicks out (12 clicks out)
Rebound: 10 clicks out (12 clicks out)
Notes: These forks are very soft, but given the target weight of the typical 150cc two-stroke rider, we think this is the proper choice. Faster or heavier riders will need 0.44 fork springs.


Q: WHERE IS THE MISSING LINK?
A: KTM finally bit the bullet and embraced linkage on the four-stroke production bikes, but not on the two-stroke or enduro bikes. EXCs (off-road models) and SXs (two-strokes) get a revised version of the old no-link suspension system (called PDS). Whether the PDS is better or the two-strokes are getting left behind can be debated, but if you appreciate the simple, lightweight, easy-to-maintain, high-ground-clearance design of a two-stroke enough to buy one, you will surely appreciate those same qualities in their PDS shock.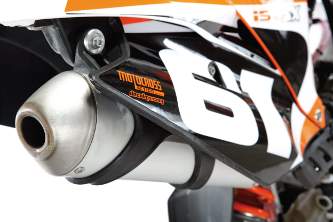 Hanger: The plastic silencer bracket is simple and sweet.

Q: HOW GOOD WAS THE KTM 150SX'S PDS REAR SUSPENSION?
A: The goal of KTM's longer shock and laid-down position is to make the suspension feel softer initially and stiffer later. This was a worthwhile effort, but we really didn't feel much difference between the 2011 shock layout and last year's more upright setup.
KTM's no-link shock systems have always been spring-rate sensitive. They work great when you have the proper spring for your weight and riding style. Until then, they are choppy.
Q: WHAT ARE MXA'S RECOMMENDED SHOCK SETTINGS?
A: Here is what we ran in our 2011 KTM 150SX shock (stock setting in parentheses):
Spring rate: 6.3 kg/mm
Race Sag: 105mm
Hi-compression: 1-1/4 turns out (1-1/2 turns out)
Lo-compression: 10 clicks out (15 clicks out)
Rebound: 14 clicks out (22 clicks out)
Notes: Most MXA test riders feel that the 150SX shock is very spring-rate sensitive. The best tip is to check the free sag (after setting your race sag at 105mm). If the free sag is more than 35mm, consider changing shock springs. KTM offers springs from 6.0 kg/mm to 7.2 kg/mm.

Q: HOW DID THE 150SX HANDLE?
A: Heed this warning: Never play chicken with someone on a KTM 150. It can turn or stop on a dime. Truly, any corner with good dirt or a rut is the little two-stroke's time to shine. Graced with KTM's oversized 260mm front brake, a 150SX rider can wait until the bitter end to get on the binders and lay it into a turn. The high ground clearance enables steep lean angles in ruts for those so inclined, while the two-stroke hit makes dirt fly.

Q: WHAT DID WE HATE?
A: The hate list:
(1) Preload ring. We love the clamp versus the lock ring, but last year's aluminum design was better than the nylon unit on the 2011 model. PDS-equipped KTMs really need to have proper sag to handle at their best.

(2) Carburetor. We don't have a grudge against the Keihin carb; it works well and is pretty well jetted stock. But, we know that KTM has a fuel-injected two-stroke in the works that can help bring the ring-dings back from the brink.
(3) Rear brake. It functions well enough, but it chirps sometimes. This can be very annoying.
(4) Gas cap. The two things that we dislike about KTM's quarter-turn gas cap are its locking feature and the lipless orifice. The former because it takes two hands to remove the cap and the latter because dirt can fall into the tank.
(5) Bolts. Watch the rear sprocket bolts, shift lever bolt and top shock bolt with an eagle eye.
(6) Jetting. If you hear pinging, go big on the main immediately.
Q: WHAT DID WE LIKE?
A: The like list:
(1) Ergos. Aside from the low bar bend, the bike is slim, easy to squeeze and a breeze to move around on.
(2) Durability. In some cases, we love KTM's heavy offroad heritage, because high-wear parts are usually high-quality with Katoom. We used to have issues with crank failures and cylinder heads cracking on the 144SX, but that is all in the past.
(3) Design. Thumbs up for the in-mold graphics, body cladding-style plastic, Regina chain, nylon chain guide and flatter profile.
(4) Clutch. A 150 two-stroke racer must become one with his clutch. The 150SX's Magura hydraulic actuation is Zen.
(5) Weight. Even though it requires a more active riding style and lots of rider input, a 150SX doesn't make the rider fight the weight of the bike to get the job done. This is an under-200 pound race bike.
(6) Bodywork. Because we sympathize with the two-stroke rebellion, we tip our hats to guys who choose to ride old CR, KX, YZ or RM two-strokes. But if they chose a KTM, they would get a bike with modern aesthetics.


Q: WHAT DO WE REALLY THINK?
A: When an MXA test rider has a friend whose kid is moving up from 80cc bikes, we rarely recommend a 250cc four-stroke. For learning the ropes, doing maintenance or just having fun, a two-stroke can't be beat. The 2011 KTM 150SX is more than competitive on overall horsepower. It can beat a 250F on it own merits. Yes, Virginia, it does take talent to ride it fast, but talent is what this sport is all about.