2011 MOTOCROSS SIGNING NEWS: YVES DEMARIA TO MANAGE THE KAWASAKI GP TEAM OF BOOG, BARRAGAN AND POURCEL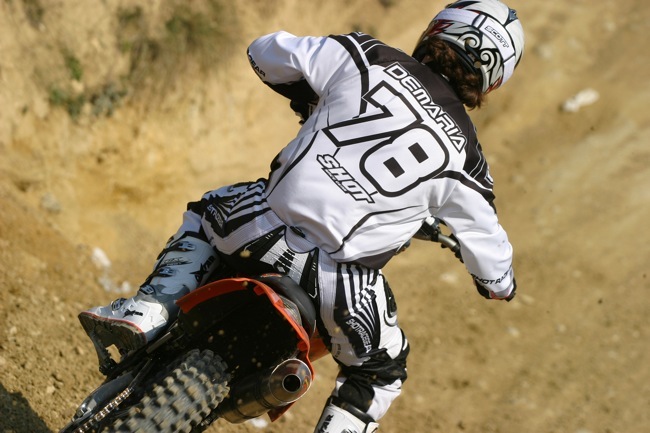 Yves had a successful Grand Prix career.                                                                  Photo: Ray Archer
French hero Yves Demaria, a three-time MX3 World Motocross Champion, who retired from active competition just three years ago and will bring all his experience and knowledge to assist Jonathan Barragan, Xavier Boog and Sebastien Pourcel in their quest for glory for Kawasaki at the KRT team. the KRT team is run by, Thierry Chizat Suzoni and Roger Pourcel.
Things have been harder than expected for KRT, mainly due to rider injuries. "It's frustrating when your riders got injured, but we've both been in this sport for long enough to know that injuries are part of motocross. We have had time to think about the future of the team, and together we have decided to make another step by signing Yves Demaria as Sport Manager. Yves has a wealth of experience from his own racing career, and he has already proved, not only in motocross, but also in MotoGP where he has assisted Randy De Puniet, how much he can bring to a rider. He will help our riders on their training programme, but will also give them advice at the races," explained Roger Pourcel.
After a long riding career in motocross which saw him race factory bikes for all of the main brands, Yves Demaria retired three years ago after scoring a total of 37 Grand Prix wins in all the classes, with three MX3 World titles and a Motocross of Nations victory in 2001. Since his retirement from active competition Yves Demaria has successfully coached several riders; he worked with Christophe Charlier on his way to the 2009 European 250 championship title, and experienced some great moments alongside MotoGP rider Randy De Puniet during the last twelve months.
But Yves' heart is in motocross, so when he was approached by the KRT owners he immediately jumped at the opportunity to return to motocross. "The Kawasaki Racing Team have offered me a great opportunity to start a new challenge, and I'm excited to be joining one of the most prestigious squads in motocross. My goal is to bring all the experience I have gained over the years and play my part in helping the team return to the very top. We all want to see Jonathan, Xavier or Sebastien back on the top of the podium; I'm convinced that the team has everything which is needed to win races, and the goal is to give the riders the best possible advice and opportunity," explained Yves.