2011 YAMAHA YZ125 MOTOCROSS TEST: THE $6000 BIKE THAT THE SPORT NEEDS MORE TODAY THAN IT EVER DID
Q: FIRST AND FOREMOST, IS THE 2011 YAMAHA YZ125 BETTER THAN THE 2010 YZ125?
A: No.
Q: HOW OLD IS THE TECHNOLOGY OF THE 2011 YZ125, AND IS IT OUTDATED?
A: It's old, but the amazing technology is far from outdated. Yamaha was the first manufacturer to achieve success with their power valve system. The YPVS (Yamaha Power Valve System) transformed pipey, top-end-only two-strokes into manageable bikes. Fast forward to 2005?which was the last all-new YZ125, which the 2011 is still based on. For 2005, the bike also got an aluminum frame, new engine and a six-speed transmission (that lets racers get the most out of the small engine while making the bike versatile for other types of riding).
Yamaha claims that the 2011 YZ125 is the lightest bike Yamaha has ever produced, including race bikes of the 1990s and 2000s. The factory bikes had some lighter components, but the overall weight was more than the current bike sitting on the showroom floor. A 125cc engine (half the size of its four-stroke competition) is so tiny, the piston could be used as a key chain. A bike with such an enormous displacement disadvantage still holds its own because of a long history of development. It's pretty amazing.

Child's play: The world is a playground on a YZ125. You'll never come into a turn faster or hold the throttle on longer.
Q: IS THE 2011 YZ125 THE SAME AS LAST YEAR'S MODEL?
A: Yes and no. Confused? It's common for OEMs to equip a certain model bike with different specifications depending on the country it's sold in. In general, there have been European-spec bikes with different suspension settings, spring rates, jetting, tires and exhaust systems. For 2011, YZ125s will no longer be offered in different specs to different markets. There will only be one global-spec bike, which has the same specs as the one sold in Europe in 2010. So, the YZ125 available for purchase in the USA gets some changes, although it's really just Yamaha making things easier for themselves.

Q: WHAT'S THE DIFFERENCE BETWEEN THE 2010 U.S. SPEC YZ125 AND THE 2011 GLOBAL-SPEC BIKE?
A: The global-spec bike is tuned to meet the FIM's sound requirement, which means a new silencer and new jetting to match the new silencer. Don't be fooled, though; it takes a lot of tuning to quiet a bike without losing any horsepower. The silencer is 75mm longer, its core diameter has been increased from 27 to 30mm, and the packing volume has been increased by 71.5 percent. Meanwhile, the carb gets a new needle and mainjet.


Q: IS THE BIKE SLOWER BECAUSE OF THE NEW SILENCER?
A: Slightly, but not at peak. Yamaha claims that compared to last year's bike, there is a small dip in midrange power, but the peak horsepower is the same. This is logical, since longer systems generally don't hurt top end as much as low end.

Q: HOW EASY IS IT TO GET MORE POWER FROM A YZ125?
A: It's as easy as pie. The first thing MXA did was add a tooth to the rear sprocket. Aftermarket porting, pipes and reeds all work great, but horsepower-per-dollar, nothing competes with a big-bore kit. Last year, we ran the Athena 144cc cylinder out of Yamaha's GYTR catalog. It was fast, but installation of the kit proved to be more trouble than we had hoped (we had to split the cases). Other aftermarket cylinders are available, along with boring and resleeving or Nikasil plating services. L.A. Sleeve, for example, offers a 144 kit. They will resleeve your cylinder and send it back with a Wossner piston, top-end gaskets and top-end bearing for $550 (not including shipping).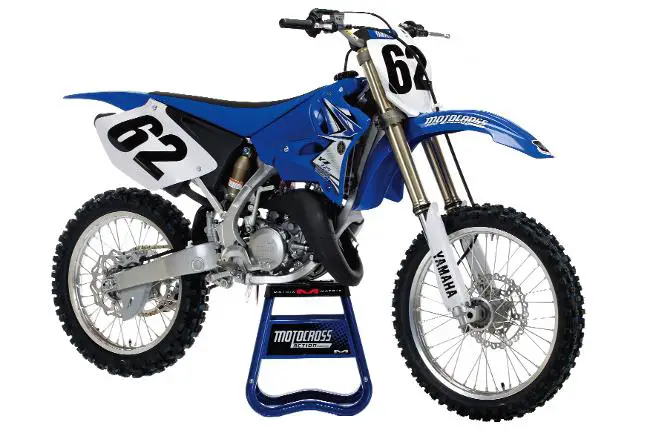 2011 Yamaha YZ125: The 2011 YZ125 is built to 2010 European specifications and meets the AMA and FIM decibel sound limits. Now, there's only a global-spec YZ125.
Q: WHAT ARE THE THINGS YOU NEED TO DO TO YOUR YZ125?
A: Now that four-strokes and four-stroke habits are prevalent, a YZ125 owner must be sure not to get stuck in the thumper mindset.
Rear tire. Do not mistakenly put the same 110-80 rear that you run on your 250F on the YZ125?unless you have substantially increased the power, are riding a hardpack track or racing an enduro. A bigger footprint and more grip on the rear will prevent the rear wheel from spinning?in a bad way. It will cause bogging and make it difficult to turn.
Handling. With modern 250Fs, there is always the temptation to go looking for handling and suspension improvements. Don't worry about shock linkage, triple-clamp offset or major suspension changes to fix the handling of the YZ; it's ready to carve. What was once considered a middle-of-the-road-handling two-stroke chassis now feels like being in the movie "Tron" compared to four-strokes.
Front brake. Do you love the feather-touch braking of an oversized rotor? Think twice about putting one on the YZ125; the bike is a lot lighter and likes to come in hot. The extra power will cause too much fork dive?if not send you over the bars.
Pump gas. Have you gotten used to gas coming straight from the pump? Don't forget that this engine needs two-stroke oil.

Featherweight: This is the lightest YZ125 ever built by Yamaha, and that includes their factory race bikes of the 1990s. It practically floats off the ground.

Q: HOW GOOD ARE THE YZ125'S NEW JETTING SPECS?
A: Yamaha has their jetting down, and the 2011 YZ125 ran clean. Here are the new global jetting specs with last year's specs in parentheses.
Mainjet: 430 (410)
Pilot jet: 40
Needle: 6BFY43-3 (6BFY42-3)
Clip: 3rd from top
Air screw: 2-1/4 turns out
Note: The new mainjet and needle were supplied with the bike last year; now they come installed. Yamaha is thoughtful enough to include one richer (440) and one leaner mainjet (420) with the bike. The new needle is a half-clip richer than last year's needle.

Q: HOW GOOD IS THE YZ125 SUSPENSION?
A: Stupendous. Yamaha's Kayaba SSS settings are excellent in their own right. The YZ450F stuff is great, but when the same design is attached to a very lightweight and relatively underpowered machine, it makes you think it's works suspension.

Q: WHAT WAS OUR BEST FORK SETTING?
A: Here is what the MXA wrecking crew ran for hardcore racing.
Spring rate: 0.42 kg/mm
Oil height: 340cc
Compression: 11 clicks out
Rebound: 6 clicks out
Fork leg height: 5mm up
Notes: In 2007, the YZ125 came with lighter 0.40 kg/mm fork springs, which are better for many riders under the 150-pound mark.

| | |
| --- | --- |
| Fun factor: If this engine had four cycles it would be a play bike at best, but with two cycles it's amazing. | War horse: The Mikuni gets a new needle and mainjet. It runs crisp from the get-go. |
Q: WHAT WAS OUR BEST SHOCK SETTING?
A: For hardcore racing, we recommend this shock setup.
Spring rate: 4.7 kg/mm
Race sag: 98mm
Hi-compression: 1-1/2 turns out
Lo-compression: 13 clicks out
Rebound: 10 clicks out
Notes: The high-speed compression adjuster is sensitive, so make small (1/8 turn) changes. It's also a very important adjustment for keeping that rear wheel settled and for controlling wheelspin on hard, choppy terrain.

Q: WHAT DID WE HATE?
A: The hate list:

(1) Front tire. If the Dunlop 742FAL were our next door neighbor, we'd move. We don't get along.

(2) Decibel level. There are two reasons why we don't think the YZ125 should be shushed any further. First, two-stroke noise doesn't reverberate through the countryside half as far as a four-stroke sound does. Four-strokes can always be heard from farther away. Second, the world needs more "braap," not less.

(3) Cosmetics. We aren't really huge fans of the latest YZ250F "arrow" fenders and shrouds, which look like tools out of a Swiss Army knife, but at least they look modern. We could go for some bold new plastics on our two-smokers.

Q: WHAT DID WE LIKE?
A: The like list:
(1) Cost. The YZ250F costs $7150, while the 2011 YZ125 is only $6250. You save $900 and lots more when you start to buy parts. The 125 needs fewer parts, and the ones it does need are cheaper.

(2) Hero status. The YZ125 is the only full-size motocross bike sold that will make you a hero with just a bit of soft dirt. You will pin it way longer, go into turns way deeper, throw the bike around more and smile bigger than on anything else.

(3) Weight. You don't have to be a kid graduating from minicycles or a newbie to appreciate the 18-pound weight savings over a 250F. Not only that, but the YZ125 starts easier and feels like a feather on the track. For some, this aspect could mean the difference between being able to pick it up, start it and keep going late in a moto. Did we mention the thing practically floats onto the bike stand and into the truck?

Good vibrations: If you've been on the cam awhile, it's great to get back on a two-stroke.
Q: WHAT DO WE REALLY THINK?
A: First and foremost, MXA is a race magazine, and the hard truth is that after years of four-stroke development and AMA political maneuvering, the old 125's power output isn't close to being competitive with any Big Five 250F. In a class where horsepower is of chief importance, the 125 is at too big of a cubic centimeter disadvantage. We are just the messengers of this bad news…and have been asking Yamaha to up the displacement to 150cc for the last four years. A YZ150 would join forces with the KTM 150SX, Husqvarna CR150 and TM MX150 to produce a whole new class of machinery.
That being said, the YZ125 has a whole lot going for it?it's inexpensive, lightweight, well refined and well put together. The full "like" list is a mile long. In a sport where most pundits agree that victory is 90 percent rider and only 10 percent equipment, you really have to take a good, hard look at the amazing YZ125 when it comes time for a new bike for Junior or for maximum play riding fun.