2011 YAMAHA YZ250 MOTOCROSS TEST: THE BIKE WE'D ALL BE RIDING IF THE AMA DIDN'T FAVOR FOUR-STROKES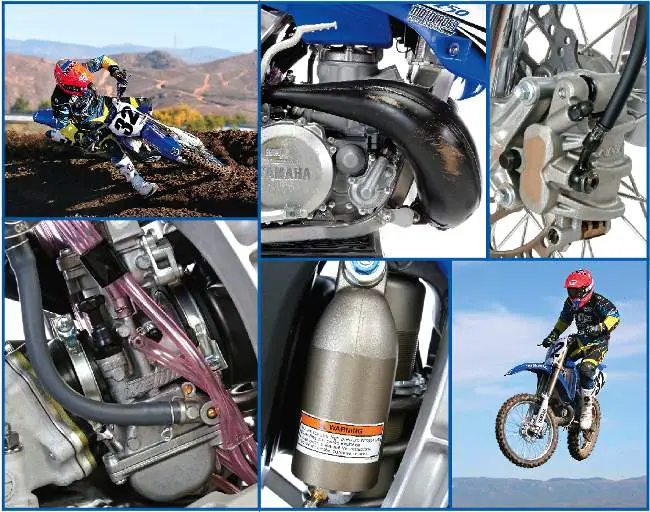 Q: FIRST AND FOREMOST, IS THE 2011 YAMAHA YZ250 BETTER THAN THE 2010 YZ250?
A: No. Although the 2011 YZ250 did get a few changes over the previous year, most of those changes were made to make it possible for Yamaha to sell the same bike in France that they do in Virginia. In the past, there have been Euro-spec and American-spec models that differ in jetting, compression and sometimes spring rates.
Q: WHAT DID YAMAHA CHANGE FOR 2011?
A: There were three changes from the 2010 Yamaha YZ250:
(1) Silencer. For 2011, the YZ250 gets the Euro-spec silencer. It is 75mm longer; the perforated core has been increased in diameter from 27mm to 30mm; and the packing volume has been increased by 66 percent. This is a two-meter-max legal silencer.
(2) Cylinder head. The compression ratio has been reduced from 10.9:1 to 10.6:1. This was achieved by increasing the volume of the combustion chamber by 0.5cc. By lowering the compression, Yamaha enables the YZ250 to run a wider range of fuels available in both the USA and Europe.

(3) Neutral switch. Yamaha's American specifications never mentioned the new "neutral ignition switch," but a quick glance under the shifter will reveal it. The neutral ignition switch informs the black box when the bike is in neutral, so that the black box can retard the ignition. If you wonder why a bike would want to retard the ignition while sitting still, you need to know that the AMA and FIM sound tests are conducted in neutral. This switch makes the bike quieter at sound test levels.
Q: WHAT ARE THE MOST SIGNIFICANT CHANGES FROM 2005 TO 2011?
A: Here's the list (in chronological order).
(1) 2005 aluminum frame. The creative sandwich design saved four pounds over the previous chromoly steel frame. The complete 2005 bike was 7.5 pounds lighter than the 2004 YZ250.

(2) 2005 brake hose routing. In 2005, Yamaha no longer feared Honda's patent on routing the front brake hose directly to the caliper. The patent expired in 2004, so Yamaha dropped its looped brake hose for 2005.
(3) 2005 Renthal handlebars. Yamaha first spec'ed Renthal aluminum bars in 2005. The 7/8-inch aluminum bars were swapped for 1-1/8 Pro Taper bars in 2007.
(4) 2006 rear brake caliper. The large rear brake caliper from 2005 was replaced with a smaller rear brake caliper that was lower for more clearance against the silencer. The brake pad material and bleed screw were also updated.
(5) 2006 Ti shock spring. All 2006 YZs were equipped with high-tech titanium shock springs. The lightweight spring saved over a pound of weight (half of it unsprung).
(6) 2006 SSS suspension. In 2006, Yamaha had Kayaba equip the YZ250 with SSS (Speed Sensitive System) components. The 2006 Kayaba SSS forks were 90-percent speed-sensitive, while the 2005 AOSS forks were 30-percent speed-sensitive. Speed-sensitive damping gets its name because the damping rate is determined by the speed at which the piston moves though the cartridge rod. In 2007, the thickness of the inner and outer fork tubes was changed to feed more flex into the front end of the 2007 YZ250. Additionally, there were damping changes to improve the feel and lower the overall weight of the fork.
(7) 2007 N3EW needle. To resolve pinging issues, the 2007 and up YZ250s got the N3EW needle. It delivered a big improvement in bottom-end and midrange response from the 38mm Keihin PWK carburetor.

(8) 2008 front brake caliper. The front brake caliper was downsized in 2008, and wave-style rotors were added.
(9) 2009 front brake hose clamp. In 2009, Yamaha finally drop-kicked its massive steel front brake hose clamp for a smaller and lighter aluminum clamp. The DR.D-style clamps saved 32 grams (a little more than one ounce).
 
Pucker: The light weight of the YZ250 helps the brakes

, but we would like a little more oomph.

 

Working class hero: Don't discount the fact that a monkey with a nutcracker could work on a two-stroke. That's a plus.
Q: WHAT INEXPENSIVE CHANGES COULD YAMAHA MAKE TO IMPROVE THE 2011 YZ250?
A: The YZ250 doesn't always get the same upgrades that the YZ-F four-strokes get. There are four YZ450F/YZ250F parts that could easily be applied to the YZ250 two-stroke:
(1) Handlebar mounts. The four-stroke top triple clamps have four optional handlebar mounting positions (thanks to two holes in the top of the clamps). The YZ250 two-stroke still has the same top clamp that was used on the 2008 four-stroke (with one mounting hole).

(2) Axle size. The four-strokes use a 25mm rear axle and compatible hub for more rigidity. The 2011 YZ250 still has the old-school 22mm axle and hub.
(3) Swingarm. The YZ-F four-strokes use a new-style swingarm that feeds in more vertical and twist flex. The four-stroke swingarm is four-percent less rigid vertically and five-percent less rigid in twist. Conversely, it is 8-percent more rigid horizontally. Yamaha's engineers designed the new swingarm to be more forgiving, not only in bumps, but also towards the kind of forces that are exerted on the chassis when it is forced into a corner or through the whoops. The increase in twisting flex allows the four-strokes to bend into corners with more side load before fighting back. The four-stroke swingarm is three-quarters of a pound lighter than the two-stroke swingarm (and all of that weight is unsprung).
(4) Low-slung linkage. The 2011 Yamaha YZ250 shock linkage is mounted via a bolt that runs through the side profile of the swingarm. The four-strokes use low-slung linkage that simplifies swingarm construction and saves even more unsprung weight. Although the shock is different, largely in its clevis design, it uses the same damping as previous shocks.
These four changes are virtually plug-and-play changes that wouldn't cost Yamaha an arm and a leg?and in fact might be cheaper in terms of parts sharing. The swingarm, linkage, shock, hub and axle would bolt right on. The upper triple clamp would have to be machined to fit the YZ250's offset.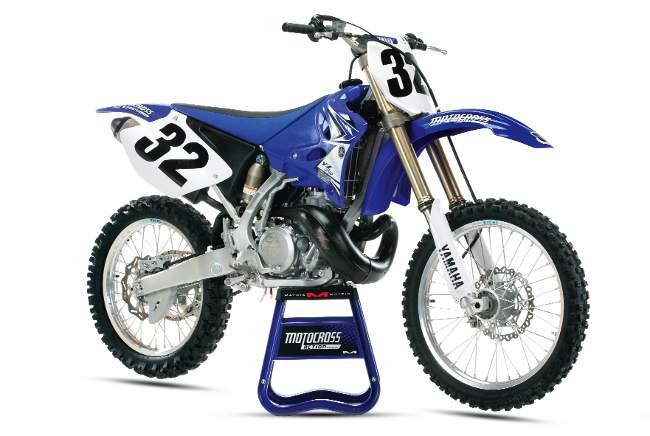 2011 Yamaha YZ250: Critics might scoff at the 2011 Yamaha YZ250 because it isn't a new design, but it is most certainly a proven design. There are no surprises hiding in the YZ250 package.

Q: WHAT CHANGES WOULD MXA LIKE TO SEE YAMAHA MAKE TO THE YZ250 TWO-STROKE?

A: Here is the short list:
(1) Plastic. A graphics designer with a hand crank computer could upgrade the look of the 2011 YZ250 two-stroke to mimic the modern look of the YZ250F and YZ450F. The YZ250's plastic hasn't seen an update since 2006?and it shows.
(2) Power. KTM's 250SX two-stroke blows the doors off the YZ250 on sheer horsepower. The 2011 Yamaha YZ250 has a nice powerband with decent ponies, but in a two-horse race, it's last. Amazingly, the reduction in the compression ratio for 2011 actually increased the YZ250's horsepower on the dyno. The lower compression allowed the engine to rev freer.

(3) Weight. Even if Yamaha only transplanted the rear wheel, rear axle, swingarm, hub, shock and linkage from the four-stroke models, it would be 1.3 pounds lighter. We think there are about five additional pounds of blubber that could get the YZ250 down to 217 pounds.
Q: HOW DOES THE 2011 YZ250 RUN?
A: You could walk into a Yamaha showroom at 8:00 a.m. and be racing the bike by 9:00 a.m. This is the perfect showroom stock machine. It is race ready. The power delivery is quick and lively. The jetting is close enough for most situations (thanks to the lower compression). If you want to make the YZ250 even better, we suggest these four changes:
(1) Moto Tassinari reeds. The Moto Tassinari reeds are a simple modification that makes a noticeable difference in midrange power. Moto Tassinari's phone number is (603) 298-6646.

(2) Gearing. Every MXA test rider adds one tooth to the rear sprocket. If you are new to two-strokes (something we never thought we would say), you might want to ride the bike with the stock gearing until you adapt to the snappy throttle response of a two-stroke. But, once you have a handle on the power, you will want to gear it down to get to third gear sooner. The lower gearing makes the bike accelerate quicker.
(3) Exhaust pipe. You can gain two horsepower with an FMF or Pro Circuit pipe. Although you might think that this will help close the gap with the more powerful KTM 250SX, that is only true if the KTM rider doesn't install a pipe.
(4) Flywheel weight. We, and most of the AMA National riders who raced YZ250s in the past, prefer the power delivery with a flywheel weight. MXA uses Steahly nine-ounce weight. It is an easy bolt-on. www.steahlyoffroad.com

Giggle machine: It's hard to ride a two-stroke and then get back on a four-stroke without missing the fun factor.
Q: HOW DOES THE 2011 YAMAHA YZ250 HANDLE?
A: There was a time when MXA test riders were iffy on YZ250 handling. Back in the heyday of two-stroke machinery, the YZ250's handling was always a little stodgy. Yamaha stayed in the middle of the road with a bike that wasn't too twitchy or too stable. Playing it safe didn't win them any superlatives, but it didn't get them panned either.
My, how the times have changed. Compared to a four-stroke, the YZ250 handles like it's on rails. The neutral input gives the rider a stable platform to work from, which is a good thing, because a two-stroke moves around more than a four-stroke, which is why it feels so cool.
Q: HOW IS THE STOCK JETTING?

A: Since engine R&D was frozen in place back in 2006, the jetting has had a long development period to iron out the kinks. MXA's recommended jetting is as follows:
   Main jet: 178
   Pilot jet: 50
   Needle: N3EW
   Clip: 2nd from top
   Air screw: 1 turn stock
   Notes: The air screw is very sensitive from 1/2 turn to 1 turn out. In function, it doesn't seem to be as critical after one turn out. If you switch to an aftermarket pipe, you should go up one on the mainjet.
Q: WHAT WAS OUR BEST FORK SETTING?
A: These are awesome forks. Yamaha's speed-sensitive damping is terrific, but made all that more terrific by the light feel and snappy input of the two-stroke. For hardcore racing, these are MXA's recommended 2011 Yamaha YZ250 fork settings:
   Spring rate: 0.43 kg/mm
   Oil height: 330cc
   Compression: 13 clicks out
   Rebound: 14 clicks out
   Fork leg height: 5mm up
   Notes: On Yamaha's SSS forks, there is some crossover between the rebound damping and compression damping, which means that turning the rebound in will make the forks not only slower on rebound, but stiffer in compression.
Q: WHAT ABOUT THE REAR SUSPENSION?
A: Compared to what comes on every other bike sold, the YZ250 has a works shock. Not only does it have a jumbo-sized 18mm shock shaft, Kashima-coated internals and SSS damping, but it comes stock with a $650 titanium shock spring. For hardcore racing, these are MXA's recommended 2011 Yamaha YZ250 settings:
   Spring rate: 4.9 kg/mm
   Race sag: 100mm
   Hi-compression: 1-3/4 turns out (1-1/2 stock)
   Lo-compression: 8 clicks out (13 stock)
   Rebound: 8 clicks out (12 stock)
   Notes: Yamaha's high-speed compression clicker (the large dial) is very sensitive to adjustment. Make small (1/8th turn) changes. Use the high-speed adjuster to set the bike's fore/aft bias at speed. National speed riders and heavyweight contenders will need to move up to a 5.0 kg/mm spring.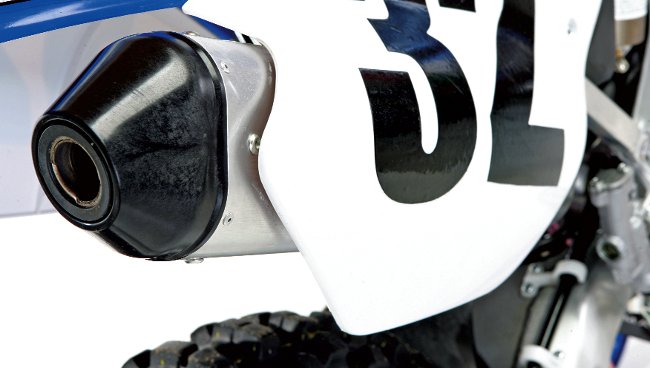 Shhh: A longer muffler tones down the bark to FIM levels.
Q: WHY SHOULD YOU BUY A TWO-STROKE?
A: Face it, you started racing motorcycles because it was fun. It was also the cheapest Grand Prix-level motorsport that you could compete in. Then, suddenly, it started to become less fun and more expensive. Why? Four-strokes. Racing four-strokes is more akin to racing cars than lightweight dirt motorcycles. The typical 450cc four-stroke weighs over 240 pounds and costs over $9000 out the door. The better option? A two-stroke. Here are four good reasons to buy a two-stroke:
(1) Price. A brand-new two-stroke costs $1000 less than its four-stroke brethren. That is enough money to pay a $35 entry fee for 28 straight races. How often did you race last year?

(2) Maintenance. You can rebuild a YZ250 top-end (piston, rings, circlips and wrist pin) for what it costs to buy one cam for a four-stroke. Plus, you can do it yourself…in the garage…in one hour….with the kid whining and the wife asking you to take her to the mall.
(3) Weight. No contest. A YZ250 comes in 12 pounds lighter than a YZ450F. That amount of weight would cost you about $5000 to lose on a four-stroke.
(4) Fun. A two-stroke wheelies, spins, roosts and rockets around the track?even if you're going slow. Fun is the reason why we all started racing in the first place.
Q: WHAT DID WE HATE?
A: The hate list:
(1) The AMA. If the AMA would take the unfair advantage they gave to four-strokes away in AMA Pro racing, the true benefits of a two-smoker would become evident.
(2) Updates. Yes, Yamaha did make some changes for 2011, but those weren't to make a better bike?just to have a better bottom line. If Yamaha insists on selling 2006 technology, they should charge 2006 prices ($6199 instead of $7150).
Q: WHAT DID WE LIKE?
A: The like list:
(1) Titanium shock spring. Yamaha took the Ti shock spring off its four-stroke line several years ago, but the YZ250 still has the high-tech titanium shock spring. It would cost $650 to buy this spring from your dealer.
(2) Suspension. You gotta love Yamaha's SSS suspension?it is almost perfect right off the showroom floor.
(3) Costs. The YZ250 could blow up four times before you'd spend as much money as one explosion would cost on a four-stroke. No one expects you to know how to rebuild a complex four-stroke engine, but a third grader could rebuild a two-stroke.
Q: WHAT DO WE REALLY THINK?

A: The 2011 Yamaha YZ250 two-stroke is like an IQ test for the motorcycle buying public. Are you smart enough to buy a bike that costs less, weighs less, makes more horsepower per cubic centimeter, can be rebuilt for recycled aluminum can money and is giggle inducing? It is hard to believe that the American riding public flunks this test en masse. How stupid are you?