MXA BUILDS A KTM 300SX TWO-STROKE KIT BIKE
Q: IS THERE REALLY SUCH A THING AS A KTM 300SX?
A: No. Although KTM makes a 300XC cross-country bike, they have not made a motocross version of the 300SX in many years. If you want a 300cc KTM motocross bike, you have two choices: (1) Buy a KTM 300XC and convert it to motocross spec. (2) Buy a KTM 250SX and add a 300cc kit to the engine.
Q: WHY NOT START WITH A KTM 300XC?
A: We don't recommend buying a 300XC and converting it for motocross. It is a pure cross-country bike and little or no thought was put into making it into a motocross bike at the factory. How do we know? We built a 300XC-based 300SX in 2012, and the result was complicated, expensive and compromised.
Not the least of the concerns is that the KTM 300XC is expensive. The 300XC retails for $8500, while the 2014 250SX only costs $7200. Why does the 300XC cost so much? The extra price of the 300XC versus the 250SX is because the XC comes with value added in the form of the 300cc engine kit; wide-ratio, six-speed transmission; larger, 2.6-gallon gas tank; 18-inch rear wheel; kickstand; heavier flywheel; soft enduro suspension; and electric starter. All nice touches, but none of them add anything to the motocross side of the package. Plus, the MXA wrecking crew spent lots of time and money undoing all the great stuff that KTM had done on the offroad side of the equation to turn the bike into a motocross bike.
Q: WHY DO WE RECOMMEND STARTING WITH A KTM 250SX?
A: Simple Simon. The KTM 250SX comes ready for motocross. It has stiffer suspension; a smaller, 1.98-gallon gas tank; a close-ratio, five-speed gearbox; 19-inch rear wheel and lighter overall weight. It also doesn't have the unnecessary kickstand or electric starter. Sadly, the one thing that the 250SX doesn't have that the 300XC does have is the 300cc engine. But, that is easily remedied.
Q: HOW DO YOU TURN A KTM 250SX INTO A KTM 300SX?
A: MXA turned its 250SX into a 300SX by going to the bank and withdrawing $950 to buy KTM's PowerParts 300cc cylinder kit.
The PowerParts 300 kit includes a new cylinder, head, piston, rings, wrist pin, gaskets, clips, O-rings, power-valve parts and black box. Every part comes directly out of the KTM parts bin and is high quality.
There are two PowerParts 300cc kits: enduro and motocross. We have experience with the 300cc enduro kit also, and with its lower compression and a different black-box map, it is smoother and easier to ride. But, for our purposes, we opted for the motocross version.
Q: HOW HARD IS THE 300 KIT TO INSTALL ON A KTM 250SX?
A: For the most part, it is no more difficult than doing a top-end job. You remove your old 250cc top end intact. You won't be using any of the top-end parts, so they don't have to be disassembled after they are removed. This is cool, because it means that you will have a spare top-end (head, cylinder, piston, rings, power valve and black box) sitting on the shelf ready to go should you need it or want to sell your trusty KTM 250SX and buy a new one to put the 300 kit on.
Q: WHAT IS THE MOST CRITICAL STEP IN TURNING A 250SX INTO A 300SX?
A: Since the 300cc cylinder has a 72mm bore, the 250 power valve will not fit into the big jug. This is good, because it allows you to keep your old 250cc top-end in ready-to-use condition. KTM supplies an upsized flapper valve and power-valve mechanism with the 300 kit, but it has to be assembled. Luckily, you will have your old 250cc cylinder to look at if you get confused, but for anyone with a modicum of mechanical skill, the power-valve mechanism goes together without any brainteasers.
Of course, you have to adjust the power-valve height by adjusting the linkage mechanism. We did this by measuring with a micrometer from the top edge of the cylinder to the bottom of the flapper. The measurement must be 48.5mm. We got it right with only one adjustment.

Q: WHAT IS THE SECOND-MOST CRITICAL STEP?
A: To get the piston located properly in the cylinder, you have to measure the deck height.
Luckily for the home mechanic, KTM has a very simple method of setting the proper deck height. It requires no milling or mechanical work. The KTM 300cc PowerParts kit comes with five different thicknesses of base gaskets. These base gaskets can be used individually or stacked together to create a panoply of different deck heights.
To check the deck height, install a base gasket under the cylinder and then tighten it down without the cylinder head in place. Then, place a straightedge across the top of the cylinder and bring the piston up to top dead center. If the deck height is perfect, the top of the piston will barely kiss the bottom of the straightedge. If it comes up too high, remove the cylinder and install the next thickest base gasket. If it doesn't come up high enough, install the next thinnest base gasket. In our case, we started with the stock 0.6mm base gasket and the deck height was perfect.
Just to double-check, we borrowed a special deck-height dial gauge from KTM and used its dial to check the accuracy of our work. It confirmed that we were spot on. KTM sells this deck-height dial gauge from the PowerParts catalog, but it isn't really necessary.

Q: WHAT ABOUT THE EXHAUST PIPE?
A: On our 2012 300SX, we ran Pro Circuit's 300XC exhaust system with a Pro Circuit KTM 250SX R-304 shorty silencer. But, since that was on the KTM 300XC engine, we decided to thoroughly test several different pipe options. So, we put the stock KTM 250SX exhaust pipe, a Pro Circuit 250SX exhaust, and a Pro Circuit 300XC pipe through the wringer. In all three cases, we ran the pipes with the R-304 shorty muffler because we had previously found this silencer to be superior to the stock silencer.
Q: WHICH PIPE MADE THE MOST HORSEPOWER? WHICH PIPE DID THE TEST RIDERS LIKE?
A: For background info, our KTM 250SX made 49.10 horsepower on the dyno before we put the 300cc kit on. Here are what the three pipes did on the dyno and on the track.
Pro Circuit 300XC pipe. Peak horsepower with this pipe was upped to 51.26 horsepower. More significant, at 7000 rpm, the pipe produced the most horsepower of any pipe we tested (5.5 horsepower more than a stock 250SX engine at seven grand). It was also the most effective at taking the dip out of the powerband where the power valve opened. It also had the most over-rev on top. This was the pipe of choice for every Novice and Vet test rider.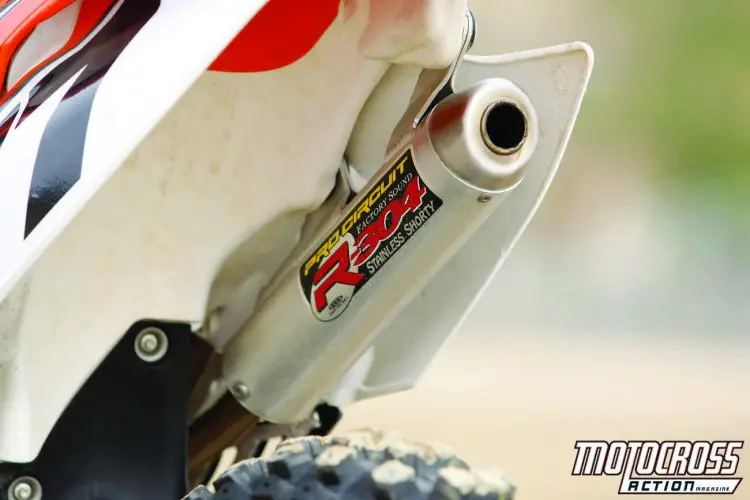 Pro Circuit 250SX pipe. Peak horsepower with this pipe was boosted to 50.48 horsepower. It made the smallest peak power gains of the three pipes we tested but still made 4.8-horsepower more than a stock 250SX engine at seven grand. None of the test riders liked this pipe on our 300SX kit engine because it had a big dip at the power-valve opening and fell off on top. It felt very pipey.
Stock KTM 250SX exhaust. Peak horsepower with the stock pipe was a massive 52.21 horsepower, but at 7000 rpm, the stock pipe gave up one horse to the Pro Circuit 300XC pipe while still making 4.3 more horsepower than the stock 250SX engine. Strangely, the effect of less horsepower at 7000 rpm and amazing peak horsepower at 8200 rpm resulted in a pipe that MXA's AMA National Pro test riders loved. It hit the hardest of all three pipes, and that hit was exaggerated by the fact that it came out of nowhere. However, our Novice and Vet test riders hated this pipe because it was hard to keep on the pipe, and when it hit, it induced lots of wheelies and wheelspin.
Pro Circuit 304 long silencer. As a final test, we mounted Pro Circuit's long 300XC 304 silencer on the 300XC pipe. It made 49.76 horsepower at peak, which wasn't very good, but even worse, it peaked 300 rpm sooner and fell off at 8000 rpm, whereas the shorter R-304 silencer didn't start to lose significant over-rev until 8700 rpm. The long silencer was a buzzkill. We would never run it for motocross. Oddly, Pro Circuit does not list the R-304 shorty silencer as a 300XC part, but it fits and works.
Q: WHAT ELSE DID WE DO TO OUR 300SX ENGINE?
A: We ran a 9-ounce Steahly flywheel weight. This was another part that the AMA Pro riders thought was unnecessary but the Novice and Vet riders loved. Steahly also makes an 11-ounce flywheel weight for this bike.
Q: WHAT JETTING DID WE RUN?
A: KTM has made last year's richer N1EH needle stock, made the N1EI the optional lean needle, and added an even richer optional N1EG needle. KTM also raised the needle one clip position (from the 3rd to the 4th clip from the top). If you ride in cool weather, consider going to a 160 mainjet and N1EG needle. We also swapped out the stock 42 pilot jet for the leaner 40.
Here are MXA's recommended jetting specs for the 36mm Keihin PWK carb (when changed, stock specs are in parentheses):
Main: 158
Pilot: 40 (42)
Needle: N1EH
Clip: 4th clip from top (3rd from top)
Air screw: 1-1/2 turns out
Notes: We found the stock 250SX jetting to be in the ballpark, but as with all of our two-strokes, we spiced up our 91-octane pump gas with a splash of VP C-12 just to ensure fuel quality.
Q: HOW FAST IS THE 2014 KTM 300SX?
A: The one thing we didn't want was lots of power mated to a brutal hit and an arm-jerking rush. Okay, our AMA National test riders did want that, but the mere-mortal test riders found that the smoother we made the powerband the more effectively they could use the added horsepower and torque, which went up from 32.19 foot-pounds to 34.31 foot-pounds with the Pro Circuit 300XC pipe.
Don't get too enamored with building a fire-breathing KTM 300SX. You don't have to. With just the addition of the PowerParts 300 cylinder kit, the Pro Circuit 300XC pipe and the R-304 shorty silencer, we gained 2.0 horsepower at 5000 rpm, 2.7 horsepower at 6000 rpm, 5.5 horsepower at 7000 rpm, 2.4 horsepower at 8000 rpm and 2.2 horsepower at peak.
It's no secret that two-strokes are cheaper to buy, less expensive to maintain, simpler to work on, 20 pounds lighter and more powerful per cubic centimeter than four-strokes. In fact, it was possible for us to get our KTM 300SX kit bike to make more peak horsepower than a Honda CRF450.
Q: WHAT DID IT COST?
A: To replicate our 300SX engine package, it would cost $1440. That is $950 for the PowerParts kit, $250 for the exhaust pipe, $120 for the silencer and $120 for the flywheel weight. The total cost, including a brand-new KTM 250SX, would be approximately $8540. Now, you might be tempted to think that it would be cheaper to buy the $8500 KTM 300XC, but to duplicate our 250SX-based machine, you would need to have the forks and shock re-valved, buy the smaller gas tank, relace the rear wheel to 19-inches, and you would still have to buy the exhaust parts. Even then, you would be hampered by an extra 15 pounds of weight and a wide-ratio, six-speed gearbox that doesn't work very well in motocross.
Q: WHAT DO WE REALLY THINK?
A: If you own a KTM 250SX that you'd like to get more power out of (or just freshen up), we'd seriously consider turning it into a 300SX. It will make more horsepower than any mod you could ever make to your stock 250cc engine, and you will still come in under budget.
For more info on the parts we used you can go to KTM, Pro Circuit, and Steahly Offroad.