MXA TEST: 2014 YAMAHA YZ125 TWO-STROKE
FIRST AND FOREMOST, IS THE 2014 YAMAHA YZ125 BETTER THAN THE 2013 YZ125?
A: No. Since 2006, when Yamaha dropped the 2005 Showa forks and switched to Kayaba SSS forks, the changes to the YZ125 have been minimal. The changes to Pro Taper bars (2007), stiffer forks springs (2008), lighter brake hose clamp (2009), longer silencer (2011), richer jetting (2011) and a white rear fender (2013) are not a ton of changes over an eight-year span.
Q: ISN'T YAMAHA SAVING R&D MONEY BY NOT MAKING CHANGES TO THE YZ125?
A: No. They are losing money. As KTM pumps out all-new 125cc, 150cc, 250cc and 300cc two-strokes at regular intervals (and will add Husqvarna two-strokes to the mix this year), Yamaha has frozen itself in 2006. This dormant YZ125 strategy is a loser on three fronts.
(1) Comparison. Every time KTM comes out with an upgraded two-stroke model, the Yamaha two-strokes look more old-fashioned. Over time, the once-venerable YZ125 and YZ250 have been overshadowed by KTM's aggressive new-model program. Today, KTM is the leader in two-strokes and Yamaha is the follower.
(2) Choice. Because Yamaha has made so few changes to the YZ125 over the last eight years, the consumer doesn't feel compelled to buy the newest, latest version. They know that they can buy a used 2008 YZ125 and a top-end kit and end up with the same bike. They have no need to spend $6290 for a 2014 model, because Yamaha hasn't given them a reason. There is no doubt that two-stroke sales are brisk, but in Yamaha's case, it is the sale of used YZs, not new bikes. Not so for KTM. The old KTMs look old and don't have the latest parts. That is an important aspect of new bike sales—you gotta create demand for new bikes by adding newness.
(3) Reputation. Yamaha gets the respect of two-stroke aficionados for still making two-strokes, but they lose face by just going through the motions. Without R&D, advertising or marketing, Yamaha could probably drop the YZ125 and YZ250 from their product lines without protest from the marketplace. That's a sad scenario.
Q: WHAT ARE THE PERTINENT SPECS ON THE 2014 YAMAHA YZ125?
A: The technical specs are as follows:
Displacement: 124cc.
Bore and stroke: 54mm by 54.5mm.
Transmission: Six-speed.
Gearing: 13/50.
Carburetor: 38mm Mikuni TMX.
Frame: Cast, forged and extruded plug-and-play aluminum chassis.
Head angle: 25 degrees (65 degrees).
Brakes: 250 (front), 245mm (rear); Nissin master cylinders.
Clutch: Six-spring, cast-aluminum basket with aluminum drive plates.
Q: WHY SHOULD ANYONE CARE ABOUT 125 TWO-STROKES?
A: Although no one in the motorcycle industry seems to recognize the fact, the sport has become top-heavy with expensive four-strokes that cost more than the average family can afford to spend on an entry-level motorcycle. We need low-cost 125cc two-strokes for the health of the sport. They are the perfect bikes for inexperienced riders to start on. Not just because they are $1200 cheaper than a four-stroke, but because they are lighter, easier to work on and can be rebuilt for a couple hundred dollars. When the sport turned its back on affordable 125cc two-strokes, it turned its back on its future. As with all sports, the higher the cost of entry, the lower the number of aspirants.
Q: IS THE 2014 YZ125 FASTER THAN THE 2013 YZ125?
A: Let's not waste time answering that question.
The YZ125 is unchanged from last year. The real question is whether the 2014 YZ125 is faster than the 2014 KTM 125SX. And, the answer is, maybe not faster but certainly as fast. At 34.01 horsepower, the YZ125 is only six-tenths of a horsepower off of the KTM 125SX, which peaks at 34.66 at 11,200 rpm.
Surprisingly, for an engine that hasn't seen a serious mod in eight years, the YZ125 holds its own. It never beats the 2014 KTM 125SX at any point on the dyno curve (and actually gives up several horsepower to the KTM in the middle—from 6000 rpm to 8400 rpm), but it sticks with it on top.
Q: HOW FAST IS THE YZ125 WITH A YZ144 KIT INSTALLED?

A: With GYTR's YZ144 kit installed, the YZ125 gains two more horsepower in the middle and doesn't lose any top-end power. The GYTR YZ144 kit for the Yamaha costs $859.95 and fits all 2005 through 2014 Yamaha YZ125 models. The downside of the YZ144 kit is that while it makes the YZ more competitive against the YZ125 and KTM 125SX, it still can't match the output of the KTM 150SX.
Q: WHAT MODS SHOULD EVERY YAMAHA YZ125 RACER MAKE?
A: Here is a quick list of things that YZ125 owners can do to make their bikes more competitive.
Reeds. We run a Boyesen RAD valve to broaden the power. The $179.95 RAD valve is a complete replacement reed block and valve assembly. Boyesen can be reached at www.boyesen.com or at (800) 441-1177.
Porting. A ported YZ125 (with head mods) is a potent high-rpm weapon. The cost to port the cylinder and mill the head is typically around $329.95. Contact Pro Circuit at www.procircuit.com.

Gearing. Before you buy a pipe, port the engine or slip on aftermarket reeds, gear the YZ125 down. Adding one tooth will perk up second gear, get you to third gear sooner and make the overall ratios between the six gears more user-friendly.
Pipe. Exhaust pipes are an easy way to add power. They add about 2 horsepower to a 125 and cost one-third of what four-stroke exhaust systems cost. FMF and Pro Circuit YZ125 pipes cost less than $250.
Q: WHAT DID WE HATE?
A: The hate list:
(1) Look. We don't mind giving up horsepower, speed or technology to the other guys on the starting line, but why does our brand-new $6200 bike look eight years old?
(2) Gearing. Gear it down. Now!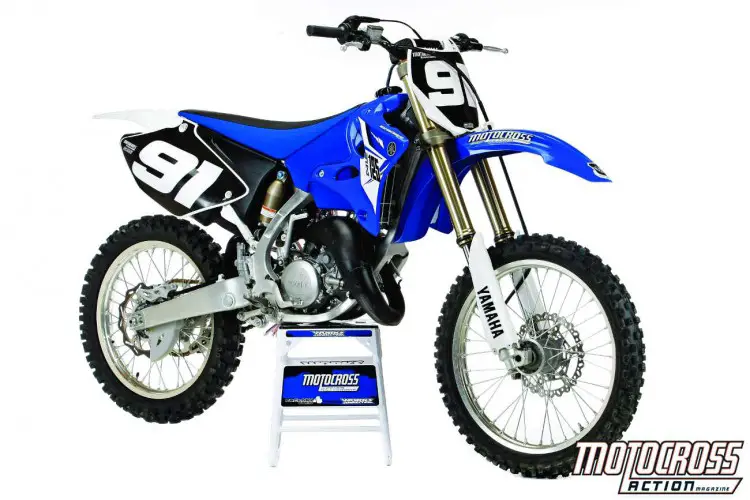 Q: WHAT DID WE LIKE?
A: The like list:
(1) Price. At $6290, the YZ125 is $160 cheaper than the KTM 125SX ($6450) and $1200 cheaper than a 2014 Yamaha YZ250F ($7490).
(2) Suspension. We absolutely love Yamaha's SSS settings.
(3) Weight. At under 200 pounds, the YZ125 is 23 pounds lighter than a CRF250 and 25 pounds lighter than a KX250F. Weight is important to consider when many young riders aren't strong enough to lift their own body weight.
(4) Repair costs. A top-end kit from Wiseco (piston, rings, gaskets, piston pin, wrist pins and clips) costs $165.
(5) History. It's a shame that Yamaha doesn't see the value in retaining its connection to the heritage, legends, traditions and lifestyle of Yamaha's racing reputation. Dropping their primary link to motocross racing and stagnating on two-stroke development doesn't build consumer support. If we expect the sport to grow by selling heavier, complicated and expensive four-strokes, we are going to learn a sad lesson in marketing 101.
Q: WHAT DO WE REALLY THINK?
A: If it's worth doing, isn't it worth doing right? We appreciate that Yamaha still makes 125cc two-strokes, but we can't help but wonder how great the YZ125 would be if it hadn't suffered eight years of benign neglect.
MXA YAMAHA YZ125 SETUP SPECS
This is how we set up our Yamaha YZ125 for racing. We offer it as a guide to help you find your own sweet spot.
KAYABA SSS FORK SETTINGS
The YZ125 has benefited from the advances that Kayaba has made on the YZ250F forks over the years. Plus, the Kayaba SSS suspension works significantly better on the 199-pound YZ125 than on the 221-pound YZ250F. Here is what the MXA wrecking crew ran for hardcore racing.
Spring rate: 0.42 kg/mm
Oil height: 340cc
Compression: 11 clicks out
Rebound: 6 clicks out
Fork-leg height: 5mm up
Notes: In 2007, the YZ125 came with lighter, 0.41 kg/mm fork springs, which are better for many riders under the 150-pound mark.
KAYABA SSS SHOCK SETTINGS
For hardcore racing, we recommend this shock setup.
Spring rate: 4.7 kg/mm
Race sag: 98mm
Hi-compression: 1-1/2 turns out
Lo-compression: 13 clicks out
Rebound: 10 clicks out
Notes: The high-speed compression adjuster is sensitive, so make small, 1/8-turn changes. It's also a very important adjustment for keeping that rear wheel settled and for controlling wheelspin on hard, choppy terrain.
MIKUNI TMX JETTING SPECS
Yamaha has its jetting down, and our 2014 YZ125 ran clean. Here are the 38mm Mikuni TMX jetting specs:
Mainjet: 430
Pilot: 40
Needle: 6BFY43-3
Clip: 3rd from top
Air screw: 2-1/4 turns out
Notes: Yamaha includes one richer (440) and one leaner mainjet (420) with the bike. The current 6BFY43-3 needle is a half-clip richer than the old 6BFY42-3 needle used before the global spec came into play. If you port the engine or add an aftermarket exhaust system, consider going up on the mainjet (440) or even adding a touch of VP C-12 to every 5 gallons of gas for safety's sake.