FIRST LOOK! 15 ALL-NEW CHANGES TO THE 2015 HUSQVARNAS
2015 HUSQVARNA FC250
Now in the second year under KTM's guardianship, Husqvarnas  2015 model line has been expanded rom 10 to 14 models. All new to the American market are the FC350 four-stroke motocross bike, TE125 two-stroke off-road bike and two street-legal dual-sport motorcycles – the FE350S and FE501S. Additionally, in 2015 Husqvarna will return to the AMA Supercross and Motocross series with teams in boith the 250 and 450 classes.
2015 HUSQVARNA FC350
1. New 4CS fork: Four-chamber fork specifically designed for motocross with improved damping and lighter weight. Clicker settings can be easily adjusted without tools via dials on top of the fork tubes (rebound on the right side, compression on the left).
2015 HUSQVARNA FC450
2. Seat cover: Improved seat features new seat cover material for improved grip and durability. The sturdy material is also harder, making the entire seat firmer than before.
2015 HUSQVARNA TC85 TWO-STROKE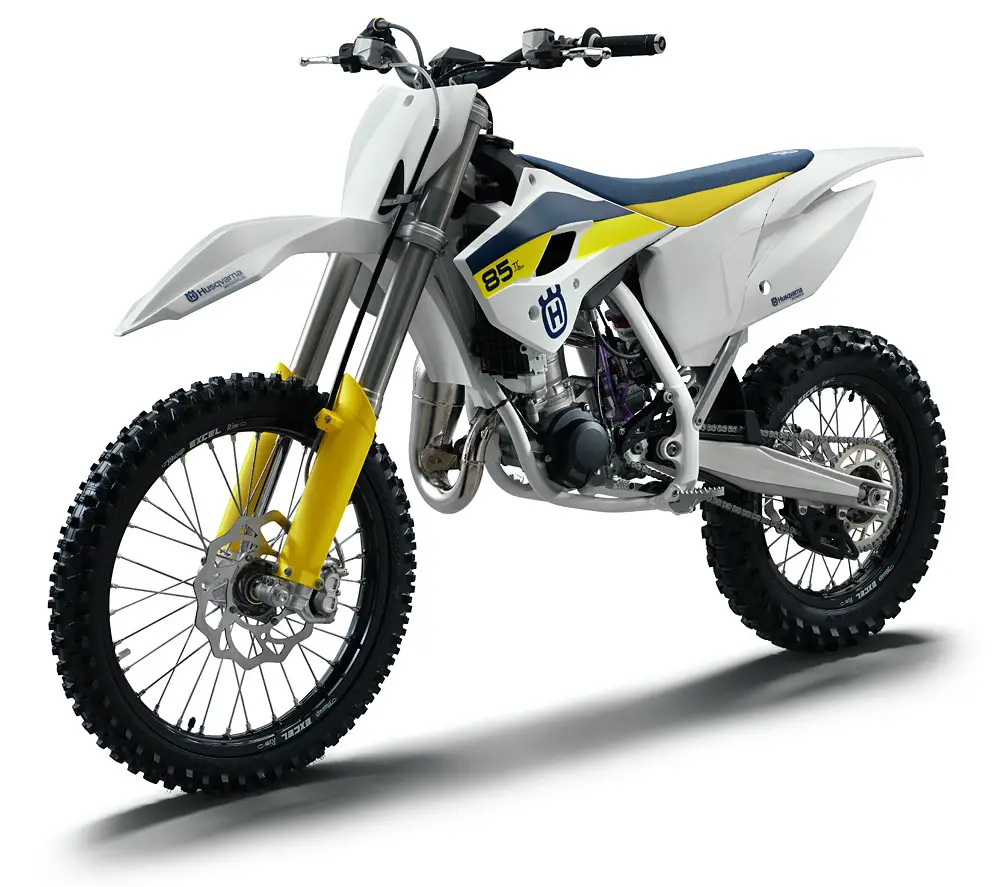 3. TC85 Swingarm: The single-component cast swingarm has been redesigned for 2015 on the TC85. It is now 0.5kg lighter while maintaining the same structural characteristics. The new swingarm also
features a redesigned chain guide, chain slider and brake hose bracket that optimize safety and performance.
2015 HUSQVARNA TC125 TWO-STROKE
4. New graphics: Signature blue and yellow look of Husqvarna evolves with edgy new graphics.
2015 HUSQVARNA TC250 TWO-STROKE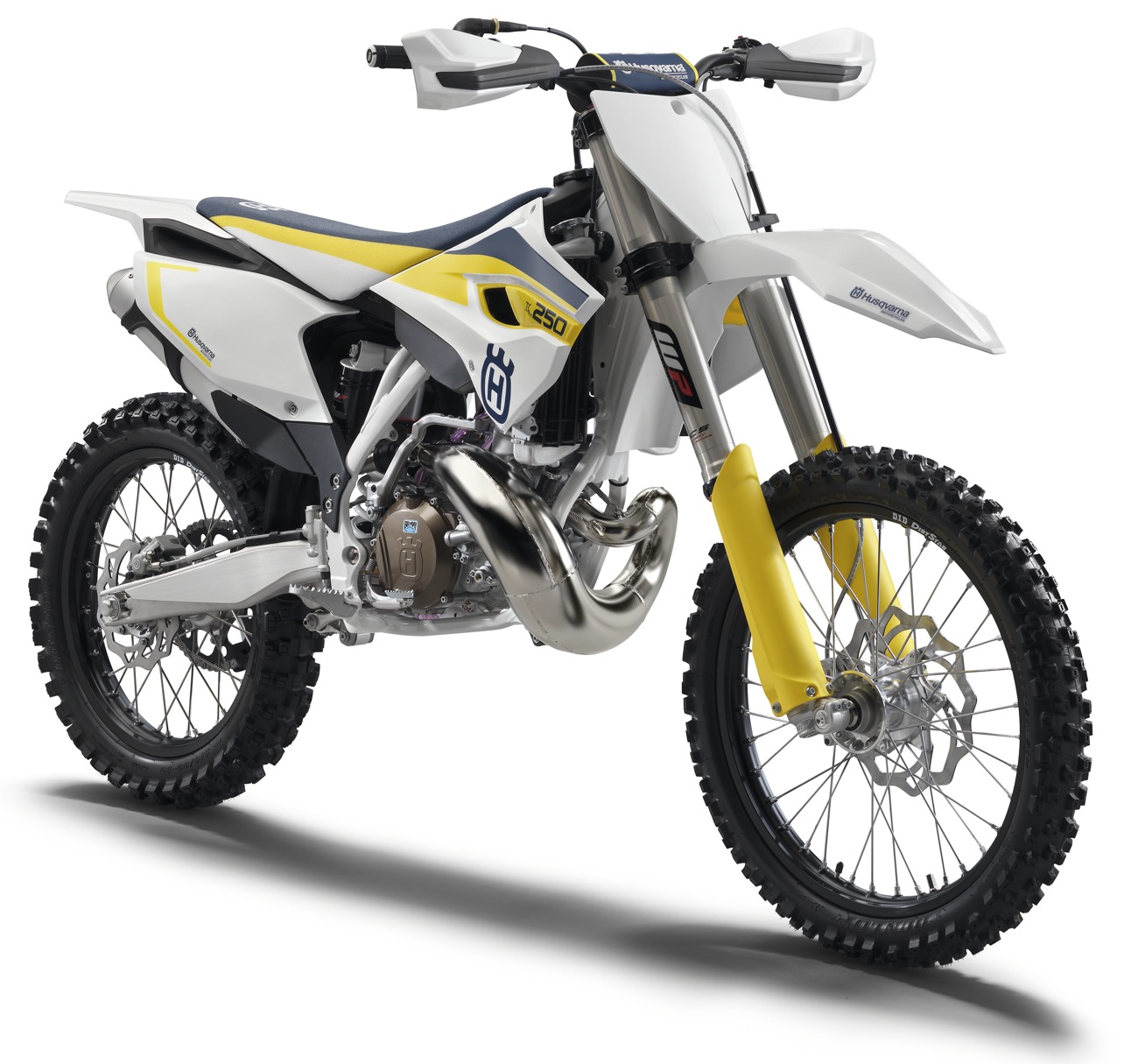 5. Dunlop Geomax MX52: Lightweight wheels carry new Dunlop MX52 tires featuring "block-within-a-block" design.
6. Handlebar: New Neken handlebar (same bend as previous model year).

7. Improved hand guards: Husqvarna motocross bikes come standard with hand guards, which are stronger and have better impact resistance thanks to a new compound.

8. New fork protectors: Distinctive yellow fork protectors are redesigned, and no longer wrap all the way around the fork leg. The new design allows easier access to the fork leg.
2015 HUSQVARNA STRIPPED DOWN CHASSIS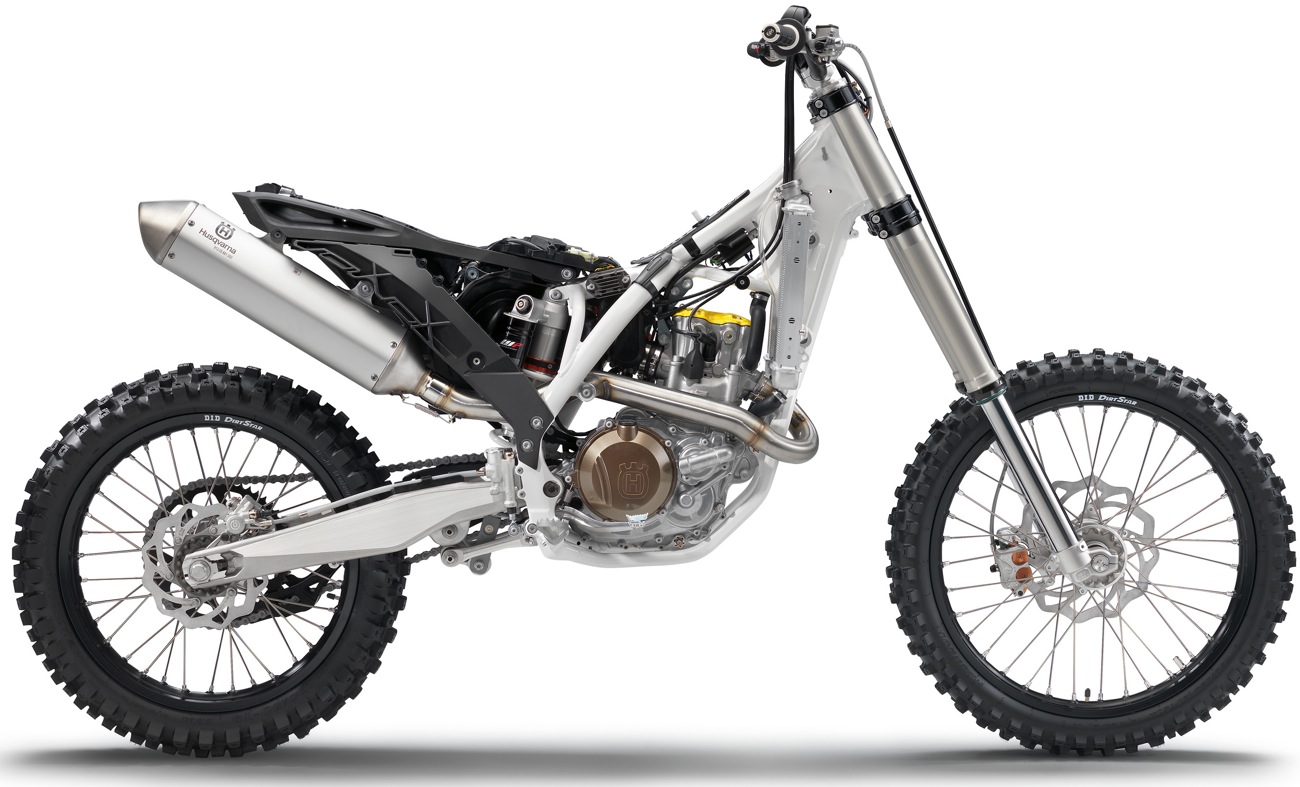 2015 HUSQVARNA WP 4CS FORK
9. New 22mm front axle: Lighter weight 22mm front axle – replacing previous 25mm axle. Axle clamps have 2mm shorter offset and increased trail for a better front-end feel.
2015 HUSQVARNA RADIATORS
10. CSS Clutch: CSS (coil steel spring) clutch (on the FC250/350) is updated with redesigned one-piece machined steel clutch basket. New unit integrates the primary gear for maximum strength and reliability. Clutch springs are also upgraded with new material that ensures more consistent performance.
2015 HUSQVARNA POLYMIDE SUBFRAME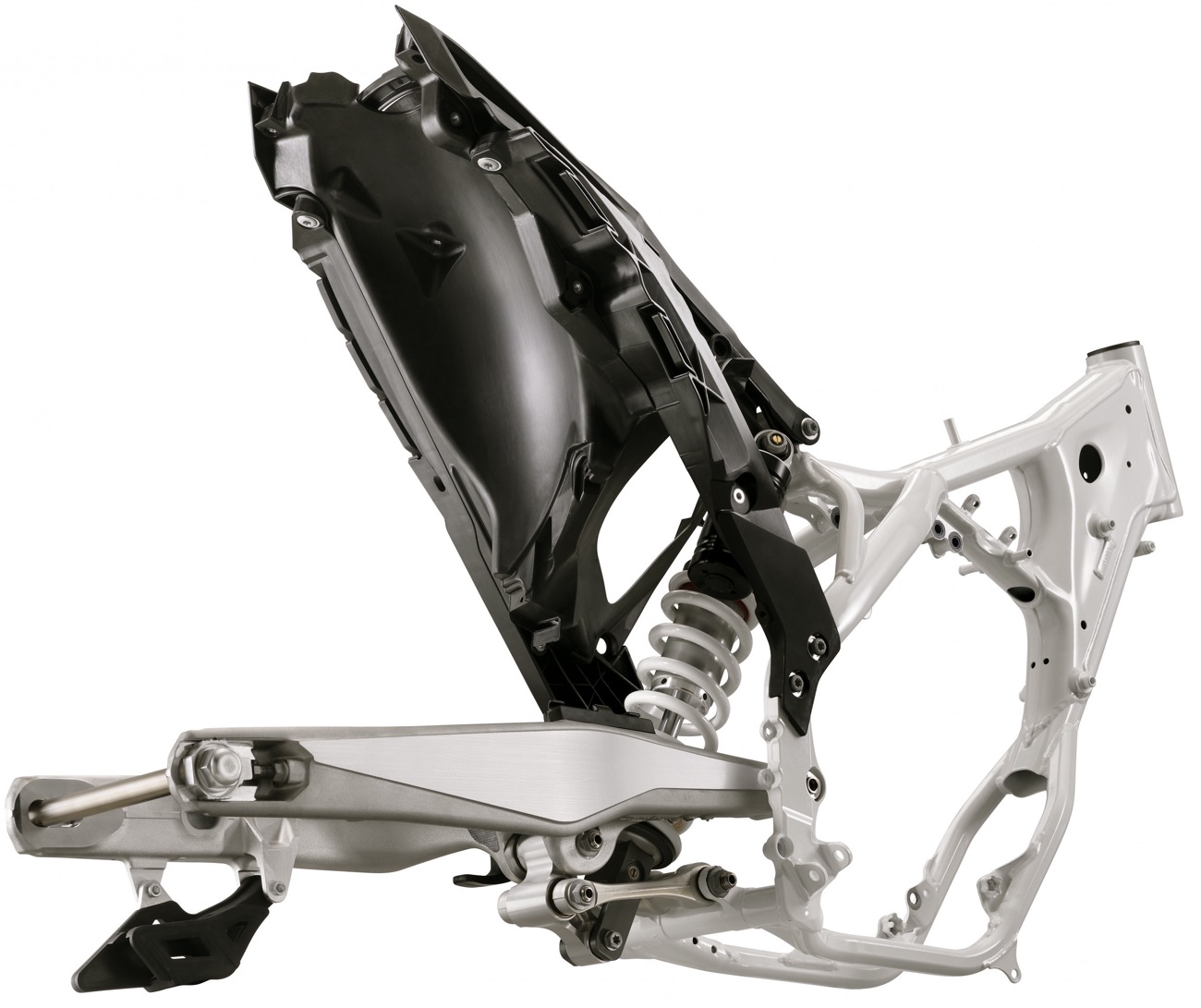 11. WP rear shock: Husqvarna's DCC (Dual Compression Control) shock made by WP features new valving and a 4mm increase in stroke. Slightly longer stroke complements the new link geometry without changing the rear wheel travel.
12. New shock linkage: The 2.5mm longerd linkage features new geometry for improved handling and shock performance. The optimized rising rate offers a less progressive curve for better overall control and a more positive feel throughout the entire stroke of the shock. Advancements in production techniques of the triangle and pull rod result in improved quality and an overall weight savings of 40 grams.
13. Subframe: Exclusive to the North American market, the 2015 Husqvarna FC 250 and FC 450 feature a carbon-fiber-reinforced polyamide subframe. Constructed through an advanced injection-molding technique, which integrates carbon fiber into the polyamide composite for an exceptionally durable and lightweight compound.
14. Subframe reinforcement: Lightweight subframe is reinforced with an additional screw on the left side that improves fitment and airbox seal.
2015 HUSQVARNA FC250/350 ENGINE
15. Oil pump: The 2015 Husqvarna four-stroke engines receive new O-rings for increased durability under extreme conditions and over time.
2015 HUSQVARNA ONE-PIECE SWINGARM
2015 HUSQVARNA AIRBOX