2017 WORLD VET MOTOCROSS CHAMPIONSHIP RESULTS & PHOTOS
Glen Helen's steeply banked first turn just may be the safest first turn in the sport. Although it is a right-hand turn and riders approach it at 60 mph, it's 45-degree banking and elliptical-shape mean that there is plenty of room and no need to brake.
With riders from 20 countries, a massive turnout, changing weather conditions and a tough track, the 2017 Dubya World Vet Championsip proved to be one of the most competitive ever. Brett Metcalfe took the Over-30 win with two powerful motos. Mike Brown won the Over-40 Pro Class on Saturday and came back Sunday to finish second in the Over-30 Class behind Brett Metcalfe. In what was no surprise, Doug Dubach won his 26th World Vet Championship title, with strong competition coming from Kurt Nicoll, Keith Bowen, John Grewe, Ron Lechien, Kevin Foley, Pete Murray, Kevin Barda, Ed Foedish and Steve Machado, Jr. (whose father won the Over-70 World Championship). In the Over-60 Class, Canadian Pete De Graaf took his sixth World Vet Championship title (four in the Over-50s and two in the Over-60s).
Team Mexico  came in full team uniforms to jon riders from the USA, France, England, Ireland, Germany, Spain, Portugal, Norway, Sweden, Tahiti, Japan, New Zealand, Australia, Brazil, Costa Rica, Holland, Italy, Canada, South Africa, Denmark and virtually every state.
The World Vet Championship may be a competitive event with riders from around the world vying for coveted titles in age groups ranging from 25 to 70 years old, but mostly it is a down home get-together that harks back to the early days of the sport. That atmosphere spreads throughout the event—with former factory stars rubbing elbows with riders born as far back as 1940. The track was three-minutes long with difficult hills, off camber turns, a sand section, just enough jumps to offer thrills galore and a surprise rain storm on Sunday morning.
A freak rain storm poured heavy rain during the first Over-30 Pro moto. Many riders threw their goggles away early in the race, like Brett Metcalfe. Metty managed to see the checkered flag, but had trouble seeing anything else after pulling off the track. He recovered by the dry second moto.
A cloud hung over the 2017 edition as World Vet founder Tom White had succumb to cancer on the eve of the event. White started the race 33 years ago because he felt that Vet riders were unappreciated in the motorcycle world. Tom's vision came to fruition over the years as riders over the age of 30 have been the economic engine that drives motorcycle sales today.
This Mexico versus England battle was a common theme over the World Vet weekend, but the countries differed in every case.
Take a photo journey to Glen Helen Raceway to see the sights and sounds of the 2017 Dubya USA World Vet Motocross Championship. Tom would have been proud,
Jason Potter was the surprise of the Over-30 Pro race as his 5-3 gave him the third spot on the podium.
Denmark's Tonni Anderson had third in the bag, but faltered late in the second Over-30 Pro race to lose one spot. That one spot cost him third overall as his 3-5 was nipped by Potter's 5-3.
Mike Brown (3) raced four motos at the World Vet and every one of them started with the same holeshot.
We don't know the brand, but this is but far the most creative motocross gear we've ever seen.
Jim O'Neal tests his products on the track. The 2016 Over-70 World Champion finished second in the 2017 event.
MXA's favorite doctor, Kim Sunol, made a house call on the arm that Jody Weisel broke last weekend—then he borrowed a helmet and bike and raced the World Vet. No big deal, except that Dr. Sunol came all the way from Barcelona, Spain. Does your doctor race?
Before he passed away, Tom White gave Mike Marion his Yz250 for free. To honor Tom, Mike turned the YZ250 into a silver 1974 Yamaha YZ250A replica—with Tom White's number 80 on it.
Sergey Costa (front) and Logan Fout are practicing for when they can take their daddies place on the racetrack.
There was only one Maico on the track. It was super competitive in the hands of Alan Bott.
The Over-30 Pro podium — Mike Brown, Brett Metcalfe and Jason Potter.
2017 DUBYA WORLD VET CHAMPIONSHIP RESULTS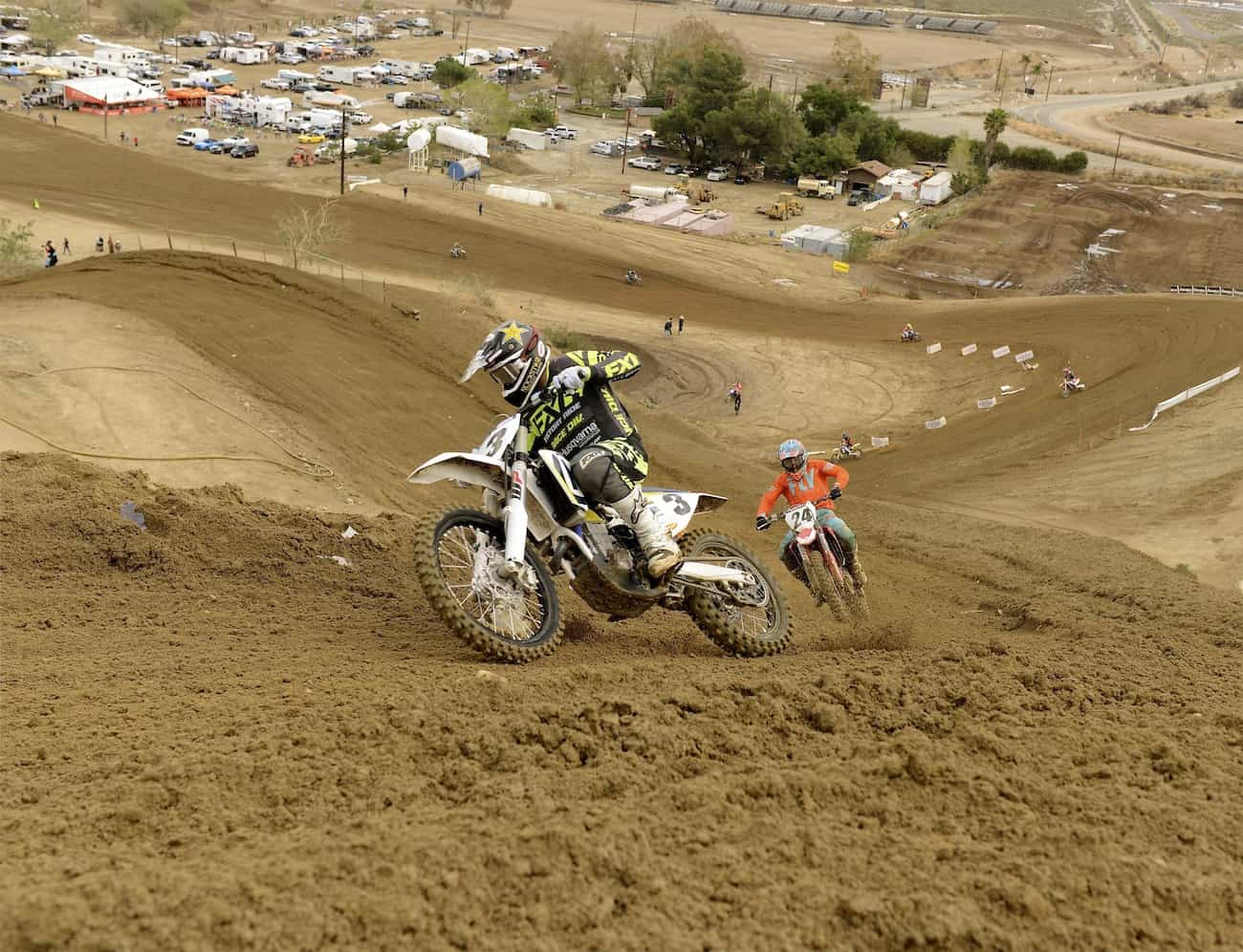 Mike Brown got out front in both of Sunday's motos, but couldn't keep Brett Metcalfe at bay. Metcalfe was untouchable.

OVER-30 PRO CLASS
1. Brett Metcalfe (Kaw) 1-1
2. Mike Brown (Hus) 2-2
3. Jason Potter (Hon) 5-3
4. Tonni Anderson (KTM) 3-5
5. Mike Sleeter (KTM) 6-4
6. Benny Breck (Hon) 4-7
7. Arik Swan (Yam) 7-6
8. Kenjiro Tsuji (Yam) 9-8
9. Matt Smith (Kaw) 10-9
10. Jason Thomas (Hon) 8-11
Todd DeHoop finished 8th in the Over-40 Pro class, but did get to style for awhile out front.
OVER-40 PRO CLASS
1. Mike Brown (Hus)…1-1
2. Doug Dubach (Yam)…2-2
3. Kenjiro Tsuji (Yam)…4-3
4. Kurt Nicoll (KTM)…3-4
5. John Grewe (Kaw)…5-5
6. Jeremy Chaussee (Kaw)…7-6
7. Brian Wheeler (Kaw)…8-7
8. Todd DeHoop (Hon)…6-9
9. Matt Karlsen (Suz)…9-8
10. Julien Cerny (Kaw)…11-10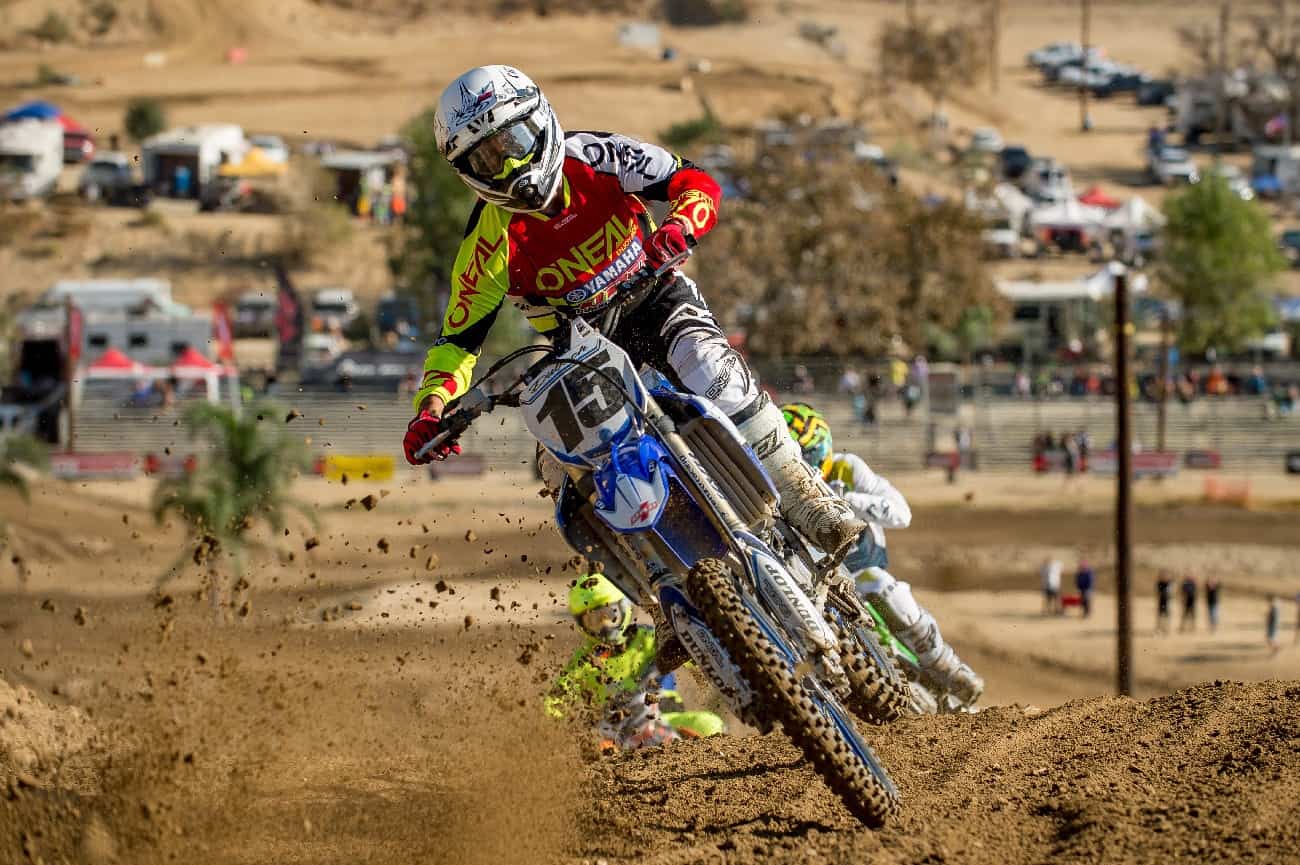 Doug Dubach was second behind Mike Brown in Saturday's Over-40 Pro class and came back on Sunday to sweep both motos of the Over-50 Pros. The win was Doug's 26th (spread between the 30, 40 and 50 classes)
OVER-50 PRO CLASS
1. Doug Dubach (Yam)…1-1
2. Kurt Nicoll (KTM)…2-2
3. Keith Bowen (Hon)…3-4
4. John Grewe (Kaw)…5-3
5. Ron Lechien (Kaw)…4-5
6. Kevin Foley (Suz)…7-6
7. Pete Murray (Yam)…6-7
8. Kevin Barda (Suz)…8-8
9. Ed Foedish (Hus)…11-9
10. Steve Machado, Jr. (Yam)…9-11
Former AMA National Champion Chuck Sun doesn't have any pre-race jitters, Chuck was second in the Over-60 Pro class behind the incredible Pete DeGraaf (who won his 6th World Vet title).
OVER-60 PRO CLASS
1. Pete DeGraaf (KTM)…2-1
2. Chuck Sun (KTM)…3-2
3. Tony Cooksley (Yam)…4-3
4. Val Tamietti (Yam)…5-4
5. Trey Jorski (KTM)…6-5
6. Jim Latendresse (Hus)…7-7
7. Jay Miglioire (Hon)…8-8
8. Bob Rutten (KTM)…10-10
9. George Ellinger (KTM)…9-11
10. Bill Nolan (Yam)…12-9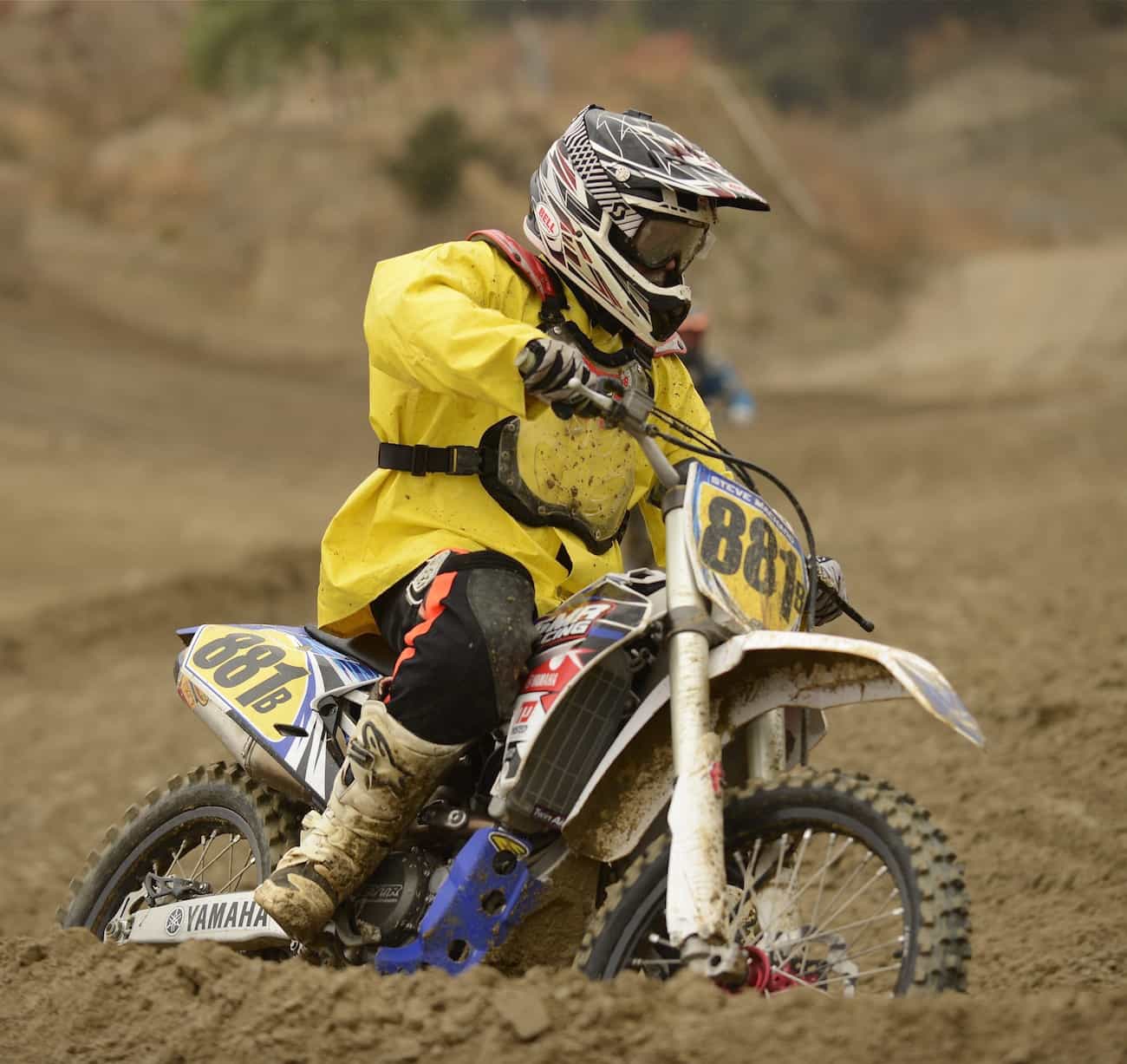 Steve  Machado used a 2-1 to defeat reigning champ Jim O'Neal in the Over-70 Pro class.
OVER-70 EXPERT CLASS
1. Steve Machado (Yam)…2-1
2. Jim O'Neal (Hus)…1-3
3. Claes Elmgrei (Hus)…4-2
4. Barg Kellogg (KTM)…3-4
5. Ernie Cabral (Other)…5-5
6. Gary Anderson (Hon)…6-6
Photos by Dan Alamangos, Kyoshi Becker, Debbi Tamietti
Click on images to enlarge