2018-1/2 HUSQVARNA FC450 ROCKSTAR EDITION FIRST LOOK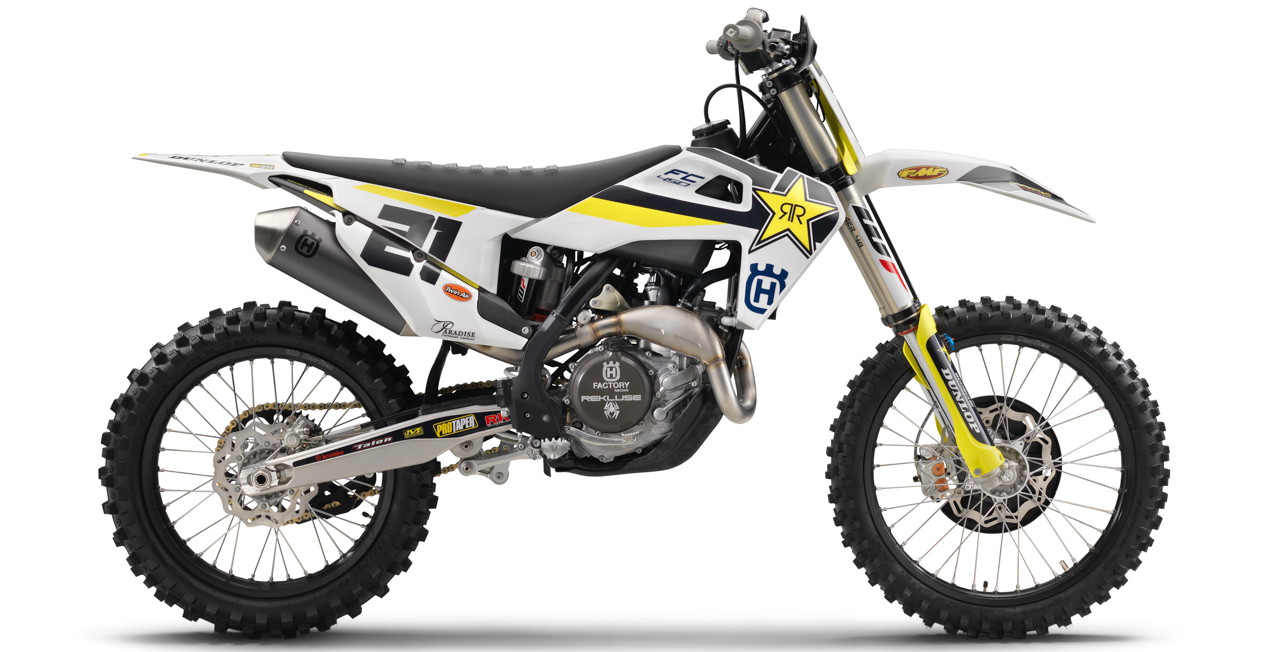 The 2018-1/2 Husqvarna FC450 Rockstar Edition.
Collaboration with Rockstar Energy has helped Husqvarna Motorcycles enjoy a wealth of success during the last two seasons. From Zach Osborne securing both the 2017 AMA 250SX East Championship and AMA 250MX Championship, to Jason Anderson claiming three 450SX class victories, added to European-based 450 and 250 riders consistently battling for victories in the FIM Motocross World Championship, success has been plentiful.
Husqvarna's new FC450 Rockstar Edition is a bike built to perform at the highest level, manufactured in limited number. Embracing the highly successful collaboration between Rockstar Energy and Husqvarna, this exciting new model will form the basis of the official Rockstar Energy Husqvarna Factory Racing machine that Jason Anderson and Dean Wilson will compete on during the 2018 AMA Supercross Championship.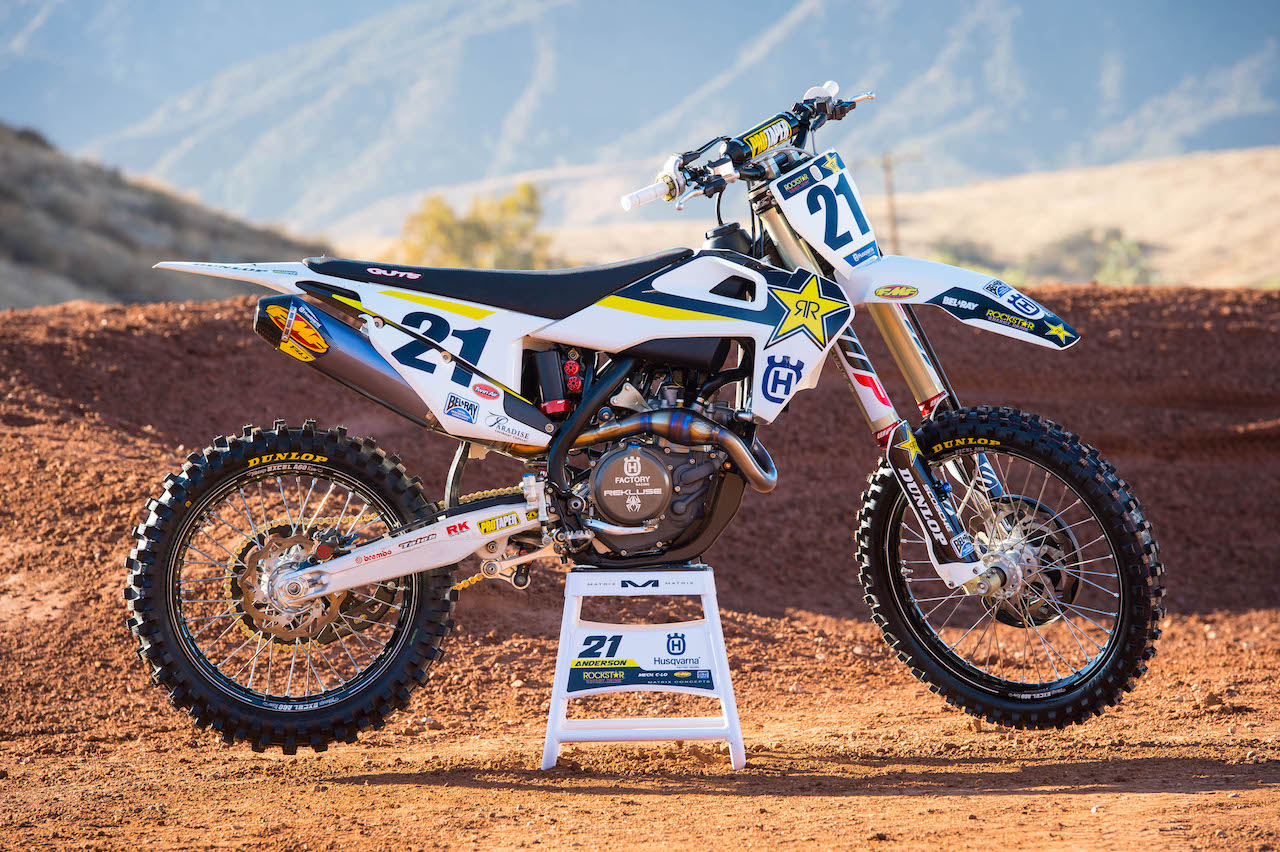 Here is a factory 2018-1/2 Husqvarna FC450 Rockstar Edition that both Jason Anderson and Dean Wilson will race in the 2018 Supercross season. 
The FC450 Rockstar Edition features further engine and chassis advances and a redesigned bodywork, the all-new machine sets the benchmark in terms of handling, weight and aesthetics.
Amongst a series of vital engine upgrades, a more compact SOHC cylinder head brings a significant reduction in the external dimensions and the overall weight of the four-stroke power-plant. Continuing to set the standards in the 450cc class, the engine features an updated cooling system and a new exhaust system. 
We have to say that the body work makes the bike look a lot more bulky than its brother the KTM 450SXF Factory Edition. 
Designed to offer increased rigidity, the frame works in collaboration with a 0.5 lb. (250 g) lighter subframe and a stiffer upper triple clamp. With a series of special parts such as the carbon fiber skid plate, the billet clutch cover and the standard holeshot device strengthening the link to the team's machines, the new FC450 Rockstar Edition offers race-winning performance and aesthetics straight out of the showroom.
FC450 ROCKSTAR EDITION UPGRADE HIGHLIGHTS
Frame offering increased longitudinal rigidity
Carbon fiber reinforced skid pate
New 2-piece subframe design (0.5 lb lighter)
Chain adjustment length increased by 5 mm
Mechanical holeshot device offered as standard
Stiffer upper triple clamp
Triple clamp protector integrated into the front number plate
WP DCC rear shock featuring new piston and updated setting
260 mm floating front disc with standard front disc protector
ProTaper handlebar with new bend
New flow-designed resonance chamber
Shorter and more compact silencer
New generation Li-Ion 2.0 Ah battery
Updated cooling system featuring new center tube
External fuel line moved inward for added protection
More compact SOHC cylinder head (15 mm lower & 1 lb lighter)
Gearbox produced by Pankl Racing Systems
Billet Rekluse clutch cover
Redesigned bodywork
FC 450 ROCKSTAR EDITION – UPGRADES IN DETAIL
Combining cutting-edge technology with a series of specific, race-orientated engine and chassis upgrades, Husqvarna Motorcycles' engineers have ensured that the FC450 Rockstar Edition sets the benchmark in terms of handling, power, weight and aesthetics.
FRAME
The hydro-formed, laser-cut and robot-welded frame is expertly crafted by WP Performance Systems. Constructed with specifically calculated parameters of longitudinal and torsional flex, the FC450 Rockstar Edition frame features an increase in longitudinal rigidity resulting in improved rider feedback, energy absorption and stability. The frame is finished off in a premium black powder coating. A carbon fiber reinforced skid plate and frame protectors guarantee superior protection and durability.
Increased longitudinal rigidity → improved feedback, energy absorption and stability
Produced by WP Performance Systems → highest quality standards
Durable finish with standard skid plate and frame protectors
COMPOSITE CARBON FIBER SUBFRAME
Showcasing pioneering technologies and innovation the composite subframe is a design unique to Husqvarna Motorcycles. Using 70% polyamide and 30% carbon fiber, the new 2-piece subframe design saves 0.5 lb (250 g) for a total weight of just over 2.2 lbs (1 kg). Apart from being robust, specific care is taken to create the perfect rigidity for optimal handling and rider comfort.
New 2-piece subframe → 0.5 lb / 250 g saving
Carbon fiber composite construction → lightweight and robust
Specific rigidity → improved handling and comfort
SWINGARM
The hollow, cast aluminum swingarm is designed to offer optimal stiffness and reliability at the lowest possible weight. The chain adjustment length has increased by 5mm extending the total wheelbase range for improved straight line stability on rough tracks and whoops. The machining on the side by Husqvarna Motorcycles engineers is a mark of premium quality that perfectly demonstrates attention to detail and superior craftsmanship.
Optimal stiffness and reliability in a lightweight construction
Extended adjustment range → improved straight-line stability

WP AER 48 FRONT FORK
The 48 mm split air fork features a capsuled air spring and pressurized oil chamber for progressive and consistent damping. Damping is easily adjusted via the single air pressure valve for pre-load (on the left) as well as easy access clickers adjusting damping with 30 clicks (on the right). Additionally, the air pump needed to adjust the air pressure in the fork is provided as standard. Standard on the FC450 Rockstar Edition, the mechanical holeshot device compresses the front forks and decreases front wheel lift right off the start.
Precision engineering by WP Performance Systems → highest performance levels
Capsuled air spring and pressurized oil chamber → progressive and consistent damping
Easy access clicker dials → simple and fast clicker settings
Mechanical holeshot device standard on the FC450 Rockstar Edition
CNC-MACHINED TRIPLE CLAMPS
The 22 mm offset CNC-machined triple clamps feature an integrated rubber damping system that reduces vibration and increases rider comfort. Due to the increased longitudinal rigidity of the main frame, the upper triple clamp is now stiffer.  A 3-way handlebar adjustment is standard and allows for customizable ergonomics. Additionally, the front number plate integrates a triple clamp protector which covers the lower triple clamp and protects it from wear.
Rubber damping on top clamp → reduced vibrations, increased comfort
CNC aluminum → finest quality and reliability
Stiffer upper triple clamp
Adjustable handlebar position → adjustable ergonomics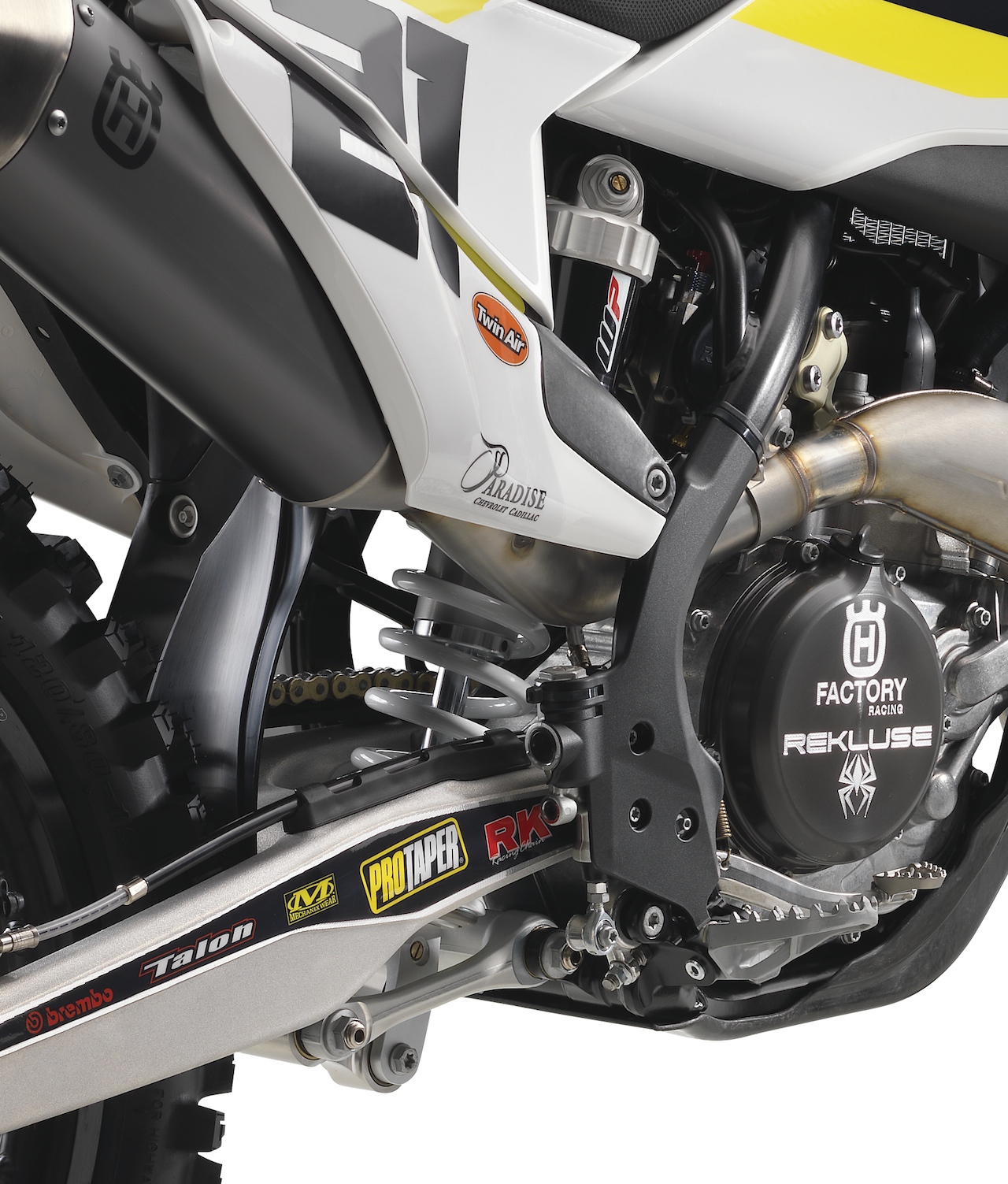 WP REAR SHOCK
Featuring a new main piston and updated setting, the WP DCC is further perfected to provide advanced damping characteristics while keeping a compact and lightweight design. With a pressure balance inside the shock offering consistent damping the end result is superior rider comfort and handling. Fully adjustable and matched to a linkage system with a specific geometry the system delivers the greatest possible traction and absorption. The rear wheel travel is 300 mm.
Lightweight and compact
Pressure balance → consistent damping
Linkage system → specific geometry for superior damping and absorption.
300 mm wheel travel
BRAKES
The highest level of quality is guaranteed with class-leading Brembo calipers and levers. The 260 mm floating front and 220 mm solid rear discs deliver superior stopping power instilling confidence in any condition. A standard front disc protector is fitted as standard.
Brembo brake calipers and high-performance discs → superior stopping power with greater control and confidence
PROTAPER HANDLEBAR
The ProTaper handlebar is second to none for function and style. Manufactured to exacting standards, it features class-leading fatigue resistance while adding minimal weight. A new bend further increases comfort by improving the pressure point on the rider's hands, while the standard handguards offer maximum roost protection.
ProTaper handlebar → class-leading function and style
New bend for improved comfort → pressure point on rider's hands
44 MM THROTTLE BODY
The FC450 Rockstar Edition features a 44 mm Keihin throttle body. The injector is positioned accordingly to offer the most efficient flow into the combustion chamber. To ensure optimal throttle response the throttle cable is mounted directly and without a throttle linkage. This set-up provides more immediate throttle response and feeling. A new throttle cable routing eases maintenance allowing the cable to be removed more seamlessly.
44 mm throttle body → injector positioned for optimal flow
Direct cable mounting → more immediate throttle response
EXHAUST SYSTEM
The exhaust system is expertly designed to deliver the best possible performance while adhering to competition noise limits. The header pipe features a new flow-designed resonance chamber that is integrated into the header pipe. The new header pipe also features a new joining position allowing it to be removed without removing the rear shock. The new silencer is shorter and more compact while delivering the same damping volume and noise level. The unit is crafted from lightweight aluminum and is stylishly finished off in a new coating that proudly carries the Husqvarna Motorcycles logo.
Exhausts → light-weight, optimal performance
New header joining position → easy removal without taking out the rear shock
ELECTRIC START & NEW LI-ION BATTERY
Along with the benefit of an easy electric starting system, a new generation Li-Ion 2.0 Ah battery is fitted to the FC 450 ROCKSTAR EDITION. The Li-Ion battery weighs approximately 2.2 lbs (1 kg) less than a conventional lead battery. Offering the convenience of electric starting, overall weight is being kept to a minimum.
Electric starter → easy starting when time is critical
Li-Ion battery → lightweight, 2.2 lbs / 1 kg lighter than a conventional battery
INTEGRATED COOLING SYSTEM & RADIATORS
The radiators are expertly crafted by WP Performance Systems using high-strength aluminum. CFD (computational fluid dynamics) technology is used to channel air through the radiators more efficiently and provide optimal cooling in any condition. The cooling system is integrated into the frame. Channeling coolant through the frame allows for improved cooling, with the application eliminating the need for additional hoses. New to the system is a larger center tube that runs through the frame. The new tube reduces the pressure at this point in the system allowing for a more consistent coolant flow.

Integrated cooling → maximum efficiency in minimum space
WP radiators → offering optimal cooling
New central tube → more consistent coolant flow
FUEL TANK
The 1.85 gallon (7 liter) polythene fuel tanks incorporate a threaded filler cap and an integrated fuel pump. The fuel pump is optimized with a new internal line that routes directly from the pump to the flange for improved fuel flow. Additionally, the external fuel line has moved inward making it less exposed and susceptible to damage.
7 liter polythene fuel tanks → large capacity for extended running times
New fuel line routing → improved flow and reliability
WHEELS
Black high-strength alloy rims by D.I.D are coupled to CNC-machined hubs using lightweight spokes and silver anodized aluminum nipples. The nipples have a new design reducing the frequency of checks or tightening.
Lightweight but strong and reliable construction → minimum unsprung weight
BODYWORK
The FC 450 Rockstar Edition features fresh bodywork. The new bodywork clearly showcases Husqvarna Motorcycles' pioneering design direction in motocross motorcycles. Apart from the Swedish inspired design, the ergonomics are specifically tailored to deliver greater comfort and control, enabling riders to perform at the highest level for extended periods of time. After numerous tests, the contact points have been slimmed down making movement between riding positions seamless. Additionally, the new seat line and high grip seat cover deliver superior comfort and control in all conditions.
New bodywork → distinctive looks, modern design and graphics
Ergonomics → confidence-inspiring riding position in all riding situations
Seat → improved comfort with superior control in all conditions
CYLINDER HEAD
The new SOHC cylinder head is now even more compact while being 15 mm lower and 1 lb (500 g) lighter. As a result of the more compact design, the camshaft is now closer to the center of gravity significantly improving handling. Shorter valve timing improves bottom end performance and responsiveness. The new camshaft features an improved cam surface and actuates four lightweight titanium valves. The diameter of the intake valves is 40 mm, with the exhaust valves featuring a diameter of 33 mm. Low-friction DLC coating on the rocker arm and low-friction chain guides offer optimum efficiency and reliability.
New SOHC → more compact design, camshaft closer to center of gravity (1 lb / 500 g lighter)
New camshaft → improved cam surface
DLC coating & optimized chain guides → reduced friction
GEARBOX
The lightweight 5-speed gearbox is now produced by Pankl Racing Systems ensuring the highest level of durability and reliability. The gear lever features a design that prevents dirt build-up and keeps the lever tip in its original position even in the toughest conditions. An advanced gear sensor selects a specific engine map tailored for each gear.
5-speed gearbox → smooth and precise shifting
Integrated gear sensor → specific engine maps for each gear
DDS CLUTCH
The FC450 Rockstar Edition features a DDS (Dampened Diaphragm Steel) clutch. The exclusive characteristics of this system include a single diaphragm steel pressure plate instead of traditional coil springs. It integrates a damping system for better traction and durability. The clutch basket is a single-piece CNC-machined steel component that allows the use of thin steel liners and contributes to the compact design of the engine. The billet clutch cover is exactly the same as the one used by the Rockstar Energy Husqvarna Factory Racing team and delivers that unmistakable factory look while also being lightweight and robust.
DDS clutch → lighter with better modulation and improved durability
Magura hydraulic system → perfect clutch modulation
FC 450 ROCKSTAR EDITION GENERAL FEATURES & BENEFITS
FOOTPEG MOUNT
The Husqvarna frame features an innovative, self -cleaning footpeg mount which prevents the build-up of dirt collected through deep ruts or muddy terrain. As a result, the footpeg will spring back into its original position even in the toughest conditions. For riders who prefer a higher footpeg set-up, enduro footpegs can be fitted raising the position by 6 mm.
Footpeg mount → prevents mud and dirt build-up allowing footpeg to spring back into position
Large footpegs → perfect grip and control.
MAGURA HYDRAULIC CLUTCH
The reliable, high quality, German-made clutch system guarantees even wear, near maintenance-free operation and perfect modulation in every condition. Clutch play is constantly compensated so that the pressure point and function of the clutch remain identical in cold or hot conditions, as well as over time.
Magura hydraulic clutch → perfect modulation in every condition
GRIPS & THROTTLE ASSEMBLY
The ODI lock-on grip on the left side does not require gluing, while on the right, the vulcanized grip features an innovative integrated throttle mechanism. The assembly has easy free-play adjustment and, by changing a cam, throttle progression can be altered.
Throttle assembly and ODI grips → adjustable throttle progression and easy grip mounting
MAP SWTICH & LAUNCH CONTROL
Optimized for easy operation the map switch offers the possibility to change between two different engine maps and activates launch control. With the engine at idle, launch control is engaged by pressing both TC and MAP buttons simultaneously for about two seconds. The LED lamp will blink continuously meaning the system is active. This function limits the amount of power to the rear wheel, improving traction and preventing loss of control under hard acceleration.
Standard handlebar map switch → alter engine characteristics according to conditions and rider preference
Launch control → maximum traction for perfect starts
TRACTION CONTROL
Traction control can be selected to an on or off position from the switch. It functions by analyzing throttle input from the rider and the rate at which RPM increases in the engine. If the RPM increases too quickly, the EMS registers a loss of grip and reduces the amount of power to the rear wheel ensuring maximum traction. This can be a distinct advantage in wet or muddy conditions.
Traction control → optimal traction in all conditions
ENGINE MANAGEMENT SYSTEM (EMS)
The Keihin EMS is specifically designed to be small, light and fast at processing data. It integrates launch control for perfect starts, selectable engine maps via the switch on the handlebar as well as traction control. Combined with the gear sensor, power delivery is tailored for each gear.
Keihin EMS → small, light and fast at processing engine data for the best efficiency of the engine management
Gear sensor → specific engine maps for each gear
AIRBOX & TOOL-LESS AIR FILTER ACCESS
The airbox is designed with precisely positioned inlet ducts that prevent air deformation and ensure maximum airflow and maximum filter protection. The air filter is accessed easily and without tools by removing the left side panel. Easy maintenance is guaranteed by the Twin Air filter and filter cage design that features a simple fail proof mounting system for safe and accurate filter installation.
Airbox → maximum air flow and filter protection
Filter mounting system → safe and accurate protection against dirt
Tool-less filter access → easy and fast maintenance
TIRES
Fitted as standard are Dunlop MX3S Motocross tires that feature the proven 'block-within-a-block' design for more progressive cornering and superior grip.
Developed in top-level AMA SX and MX → enhanced handling, cornering and steering feel
ENGINE
The SOHC engine is the perfect example of the advanced engineering techniques used by Husqvarna Motorcycles. It delivers a peak power of 63 hp at an overall weight of just 60.2 lb (27.3 kg). Mass-centralization is key in the engine design, enabling chassis engineers to position the engine closer to the center of gravity for greatly improved handling and maneuverability.
Mass centralization → improved handling and reliability
Performance → 63 hp and only 60.2 lb / 27.3 kg
CYLINDER & PISTON
The lightweight aluminum cylinder is an engineering masterpiece. It features a 95 mm bore and a CP bridge-box-type piston which weighs only 320 g. The compression ratio is 12.6:1 for an impressive peak output of 63 hp.
Lightweight aluminum cylinder → 95 mm bore
Lightweight CP forged bridged-box-type piston → high performance, reduced oscillating masses
CRANKSHAFT
The inertia produced by the crankshaft has been carefully calculated to deliver optimal traction and rideability from the powerful 450cc powerplant. The crankshaft is specifically positioned to harness the rotating mass in the ideal center of gravity resulting in a lightweight and agile handling feel. A plain big end bearing comprising of two force-fitted bearing shells ensures maximum reliability and durability, guaranteeing long service intervals of 100 hours.
Crankshaft position → ideal center of gravity, improved handling
Plain big end bearing and force-fitted bearing shells → increased durability and service intervals
CRANKCASES
The crankcases are designed to house the shaft arrangements and internals of the engine in the position that offers the best possible handling. Additionally, the position of the clutch shaft keeps the clutch above the oil level resulting in decreased friction and increased efficiency.  High-pressure die cast production processes keep the overall weight to a minimum. The end result is thin wall thickness with similarly high levels of reliability.
Design → optimized mass-centralization, increased efficiency
High pressure die cast built process → reduced weight with similar strength