250 MAIN EVENT RESULTS | 2018 FOXBOROUGH SUPERCROSS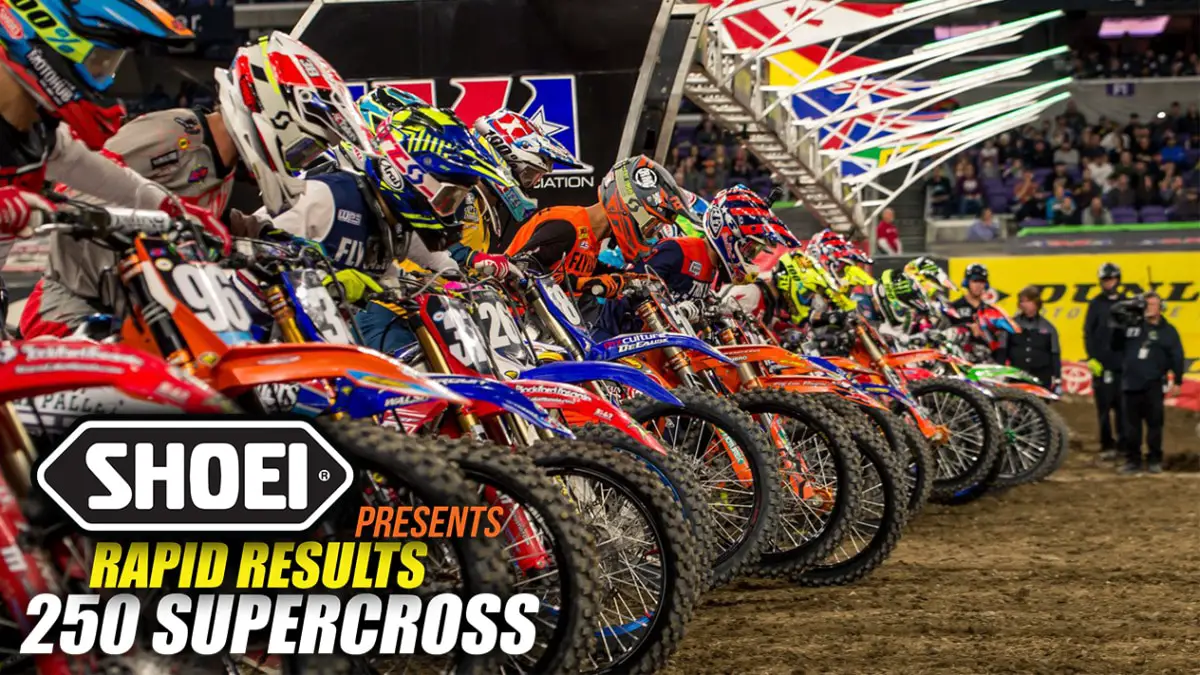 Tonight marks the eighth round in the 250 East run of the 2018 Monster Energy Supercross season. With many of the top riders out, the door was open to many new names–as well as championship contenders to mark their place in the Gillett Stadium history books. The track was rough, and everyone was on their "A" game.
250 MAIN EVENT RESULTS
Zach Osborne (Hus)
Jordon Smith (KTM)
Kyle Peters (Suz)
Jeremy Martin (Hon)
Sean Cantrell (KTM)
Joshua Osby (KTM)
Brandon Hartranft (Yam)
Anthony Rodriguez (KTM)
Luke Renzland (Yam)
Thomas Ramette (Yam)
Jacob Williamson (Hon)
Lorenzo Locurcio (Hon)
John Short (Yam)
Nick Gaines (Yam)
Joshua Cartwright (Kaw)
Wilson Fleming (Yam)
Vann Martin (Hon)
Cody Vanbuskirk (KTM)
Keith Tucker (Yam)
Tanner Basso (Yam) 
Michael Mosiman (Hus)
Ramyller Alves (Yam)
This was the very first race that Zach Osborne has straight up lead, and won this season (most of his wins have been a come from behind situation). He conquered the rough after track in Gillett Stadium, and put in the work for a great ride.
Jordon Smith has been awfully concistent these past few weekends. He nailed a perfect start, and executed a smooth ride all 15 minutes plus 2 laps. 
And to round out the 250 podium here in Foxborough, Kyle Peters takes a third. It was unsure if he would even be here racing due to a torn ACL that was injured last weekend slipping on ice. He put that aside, and scored. He is the story today, no doubt.
250 POINT STANDINGS (ROUND 8 OF 9)
Zach Osborne–180
Jordan Smith–165
Jeremy Martin–

157

Austin Forkner–

137

Luke Renzland–

109

Kyle Peters–

107

Sean Cantrell–

96

Brandon Hartranft–

89

Anthony Rodriguez–

72

John Short–

58
250 LCQ RESULTS (TOP 4 QUALIFY)
Kyle Peters (Suz)
Wilson Fleming (Yam)
Cody Vanbuskirk (KTM)
Tanner Basso (Yam) 
250 HEAT 2 RESULTS (TOP 9 QUALIFY)
Jeremy Martin (Hon)
Anthony Rodriguez (KTM)
Jordon Smith (KTM)
Brandon Hartranft (Yam)
Jacob Williamson (Hon)
Joshua Osby (KTM)
Lorenzo Locurcio (Hon)
Vann Martin (Hon)
John Short (Yam)
250 HEAT 1 RESULTS (TOP 9 QUALIFY)
Zach Osborne (Hus)
Thomas Ramette (Yam)
Sean Cantrell (KTM)
Nick Gaines (Yam)
Michael Mosiman (Hus)
Luke Renzland (Yam)
Keith Tucker (Yam)
Joshua Cartwright (Kaw)
Ramyller Alves (Yam)