2018 ASIA MXGP | MXGP QUALIFYING RACE RESULTS
Jeremy Herlings and Honda's Tim Gajser went 1-2 in Saturday qualifying at the Asia MXGP.
The 13th round of the MXGP World Championships is held in Indonesia for the second weekend in a row. The race is, however, located at a different track in than last weekend. This weekend they are calling it the Asia MXGP. In the MXGP class in Saturday qualifying there were only 23 riders that lined the 40 man gate. On the same weekend at the Red Bud National in the 450 class 87 pro riders signed up to race.
In the MXGP qualifying race it was Factory KTM's Jeffrey Herlings that took the win. He is riding amazing for  breaking his collarbone less than a month ago. Honda's Tim Gajser placed second and Jeremy Seewer rounded off the podium.
MXGP QUALIFYING RACE RESULTS | ASIA
Jeffrey Herlings (KTM)
Tim Gajser (Hon)
Jeremy Seewer (Yam)
Romain Febvre (Yam)
Antonio Cairoli (KTM)
Clement Desalle (Kaw)
Gautier Paulin (Hus)
Jeremy Van Horebeek (Yam)
Max Anstie (Hus)
Alessandro Lupino (Kaw)
Glenn Coldenhoff (KTM)
Max Nagl (TM)
Valentin Guillod (KTM)
Todd Waters (Hon)
Lewis Stewart (Hus)
Ricky Hanif Kusparwanto (Hus)
Farhan Hendro (Hus)
Andre Sondakh (KTM)
Evgeny Bobryshev (Suz)
Aldi Lazaroni (Hus)
Julien Lieber (Kaw)
Tommy Searle (Kaw)
Kevin Strijbos (KTM)
Jeremy Seewer finished third.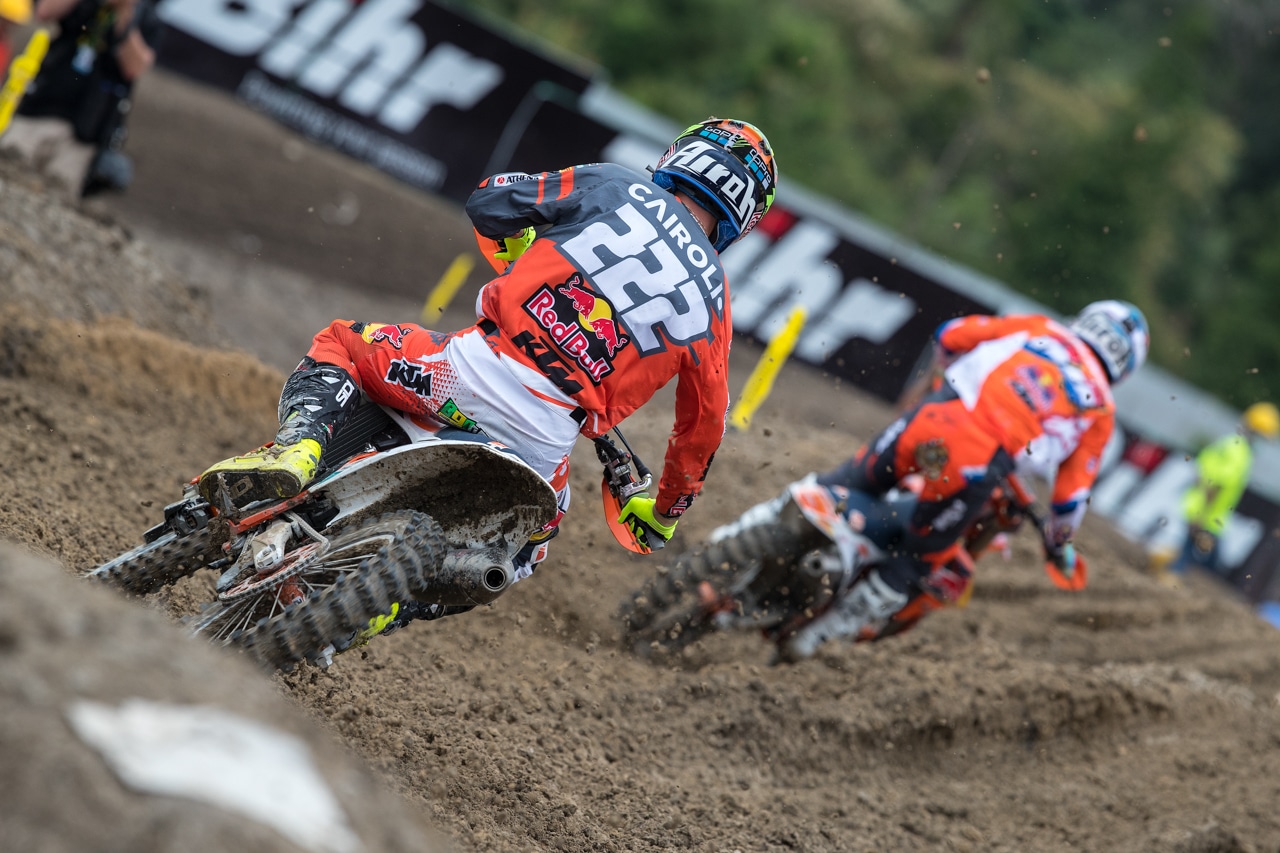 Antonio Cairoli was fifth. 
ASIA MXGP QUALIFYING RACE REPORT
MXGP's Qualifying race was led off of the start by Red Bull KTM Factory Racing's Jeffrey Herlingsafter he lined up third from the inside gate. Lining up to his inside on the long left hand start was the only two riders faster in Time Practice, Monster Energy Yamaha Factory MXGP's Romain Febvre and Team HRC's Tim Gajser.
Gajser came out of the start in 2nd behind Herlings but just ahead of Wilvo Yamaha Official MXGP's Jeremy Seewer. Febvre was 4th with fellow Frenchman, Rockstar Energy Husqvarna Factory Racing's Gautier Paulin in 5th. Herlings championship rival and Red Bull KTM Factory Racing Teammate Antonio Cairoli was 6th.
While Herlings led he came under pressure from Gajser who charged early in the race to battle for the win. Gajser showed Herlings a wheel on many occasions but Herlings responded every time. As Gajser tried to match the pace of Herlings for the lead Febvre was urgently looking to pass Seewer for third. The pressure from Febvre increased as Herlings and Gajser pulled a slight gap on the pair of Yamaha's but to no success. Seewer responded to the charge of Febvre by catching Gajser.
Cairoli meanwhile had fought his way back into 6th after briefly being passed by Monster Energy Kawasaki Racing Team's Clement Desalle. The lead four had separated themselves from the rest of the field early and Cairoli was left fighting for 5th with Paulin. On lap 10 of 12 Paulin's fight for the spot was lost when he fell on the entry to a corner. The mistake from the #21 allowed both Cairoli and Desalle to move forward a position. At the finish Herlings topped Gajser by over 4 seconds with Seewer 3rd, Febvre 4th, and Cairoli 5th.
BOS GP's Evgeny Bobryshev and Monster Energy Kawasaki Racing Team's Julien Lieber both crashed separately during the race but Bobryshev was unable to rejoin the race while Lieber got back up in 13th. Leiber eventually finished 21st however after being penalized along with Bike It DRT Kawasaki's Tommy Searle in 22nd and Standing Construct KTM's Kevin Strijbos in 23rd. Also notable was the absence of the 2017 MXGP of Indonesia winner, Wilvo Yamaha Official MXGP's Shaun Simpson.
Jeffrey Herlings: "I am feeling better every day I am riding. It was a good day, qualifying first I think the inside gate will be best even though today I started from gate three. We will see how it goes tomorrow, I think the start will be really important but I think the track is absolutely awesome."
Red Bull KTM Factory Racing's Glenn Coldenhoff took 11th and later said: "Today I didn't have a good start, I didn't do well in Time Practice so I was very far outside on the gate. Overall though my feeling is good here, it is a beautiful track."