2018 DAYTONA SUPERCROSS | THE AFTERMATH
Photos by Brian Converse.
There is simply no question that the Daytona Supercross is by far one of the most iconic and most unique layouts on the circuit. Over the years, we've seen some of the best racing come from the Daytona International Speedway. And, on Saturday March 10th, the racing was unlike anything we have seen so far in 2018.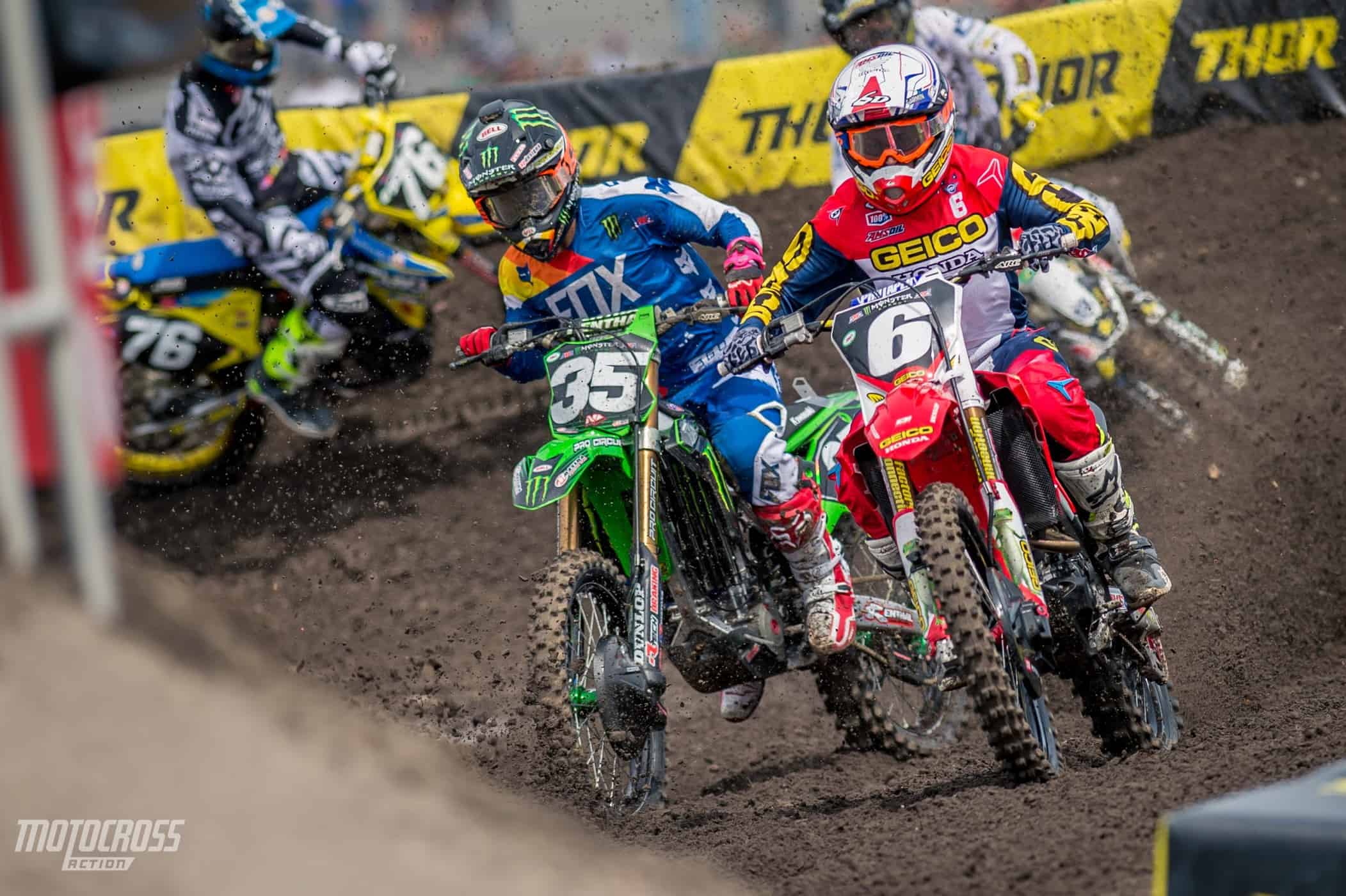 To start off the day, Austin Forkner clocked in the fastest 250 time of the day, and set the bar high coming into the night show.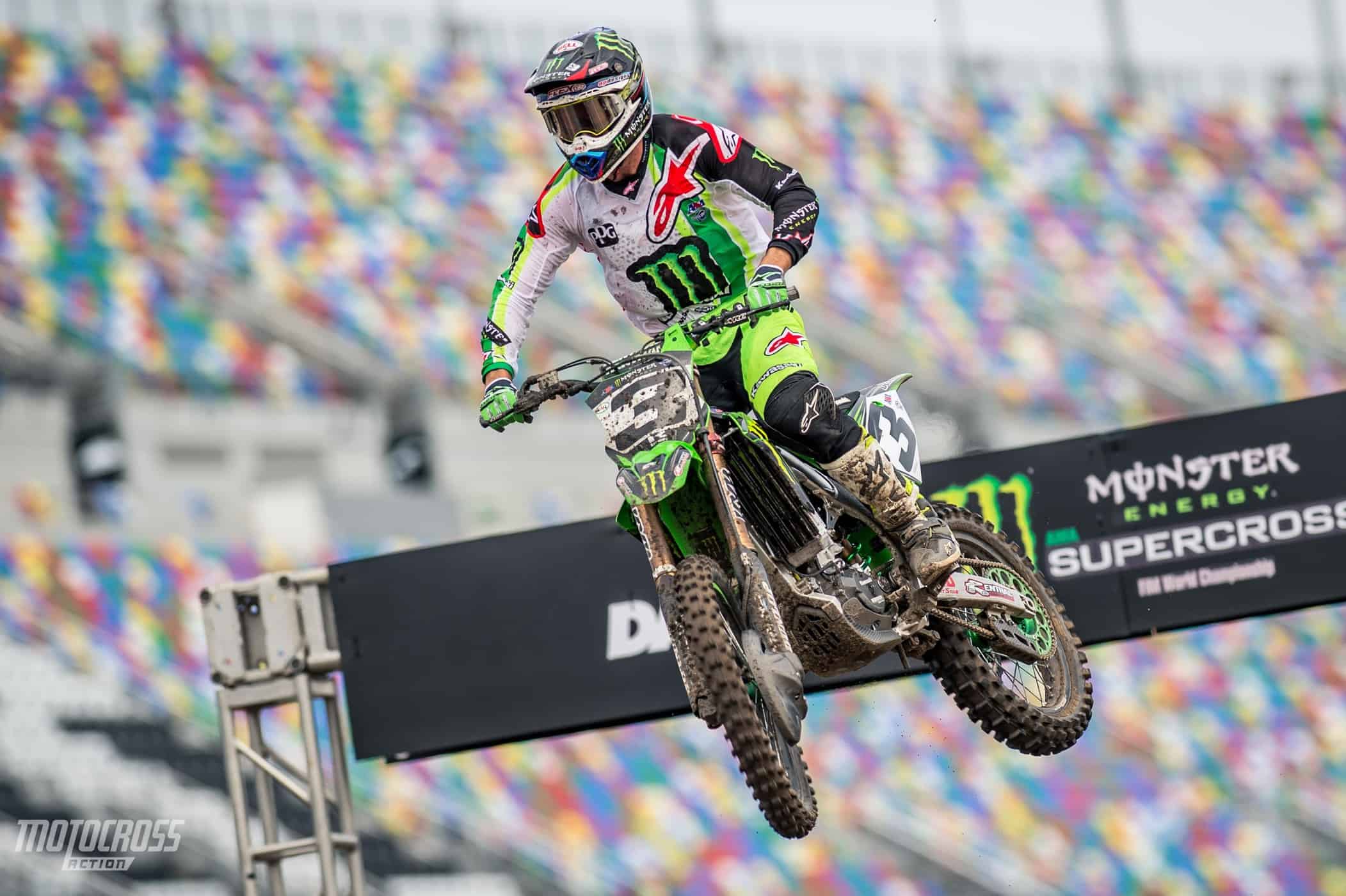 And Eli Tomac did the same in the 450 division. Its safe to say, Eli was the fan favorite to win here on this night in Daytona as he won in 2016 and 2017.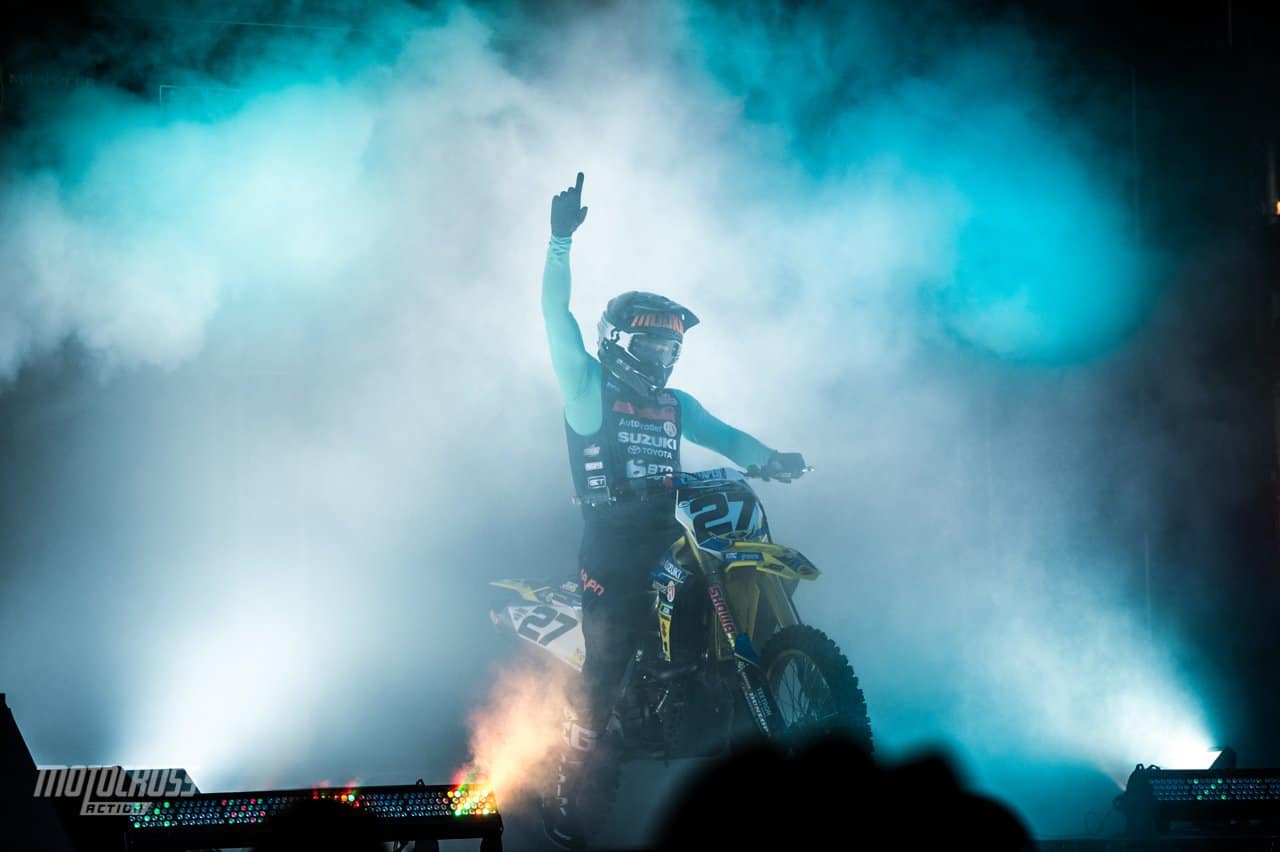 Fast forward to 6:30 pm Eastern time, the Daytona International Speedway lights came to a dim, and It was time to kick off opening ceremonies. "Hometown Hero" Malcolm Stewart was welcomed to the Florida fans first.
Chad Reed knows how to rowdy up a crowd.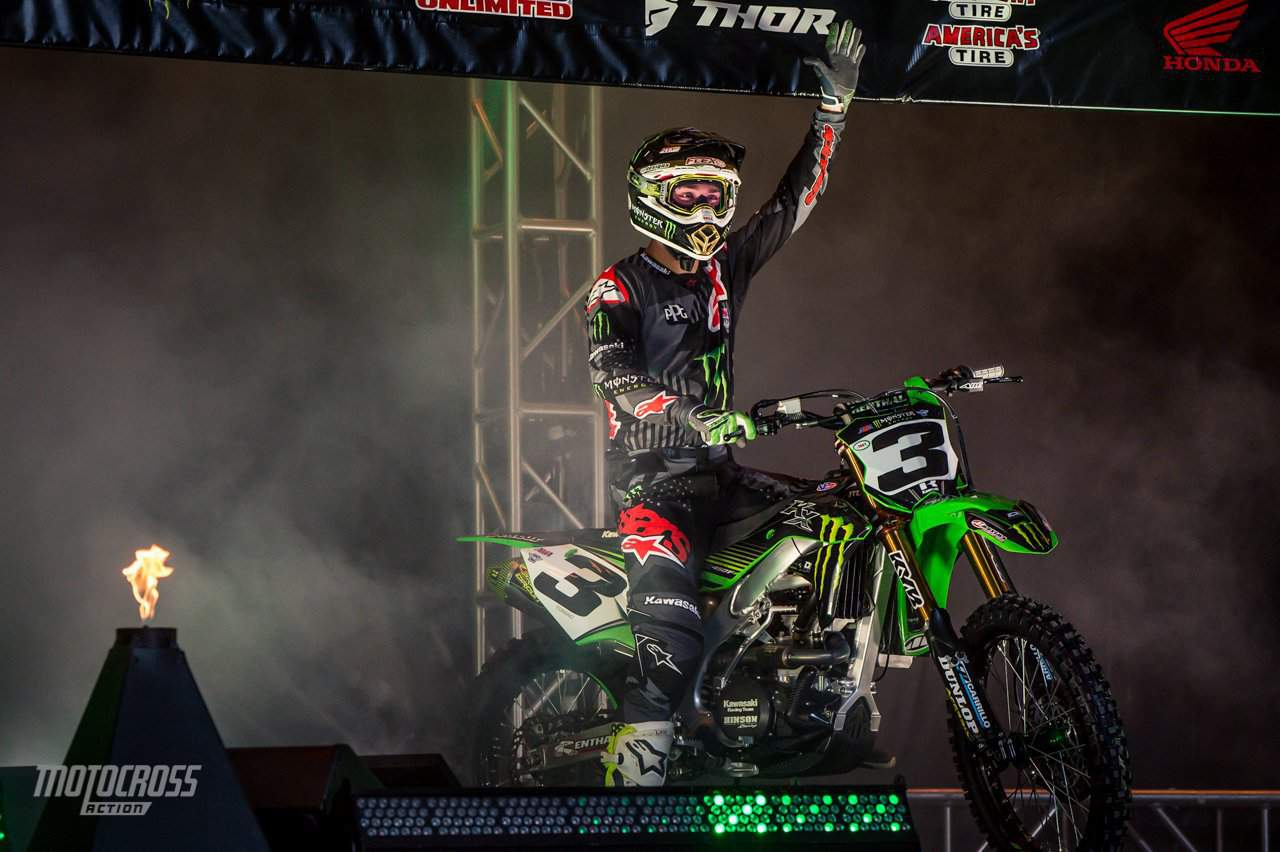 Eli Tomac entered with confidence, as he has won this event the past two years.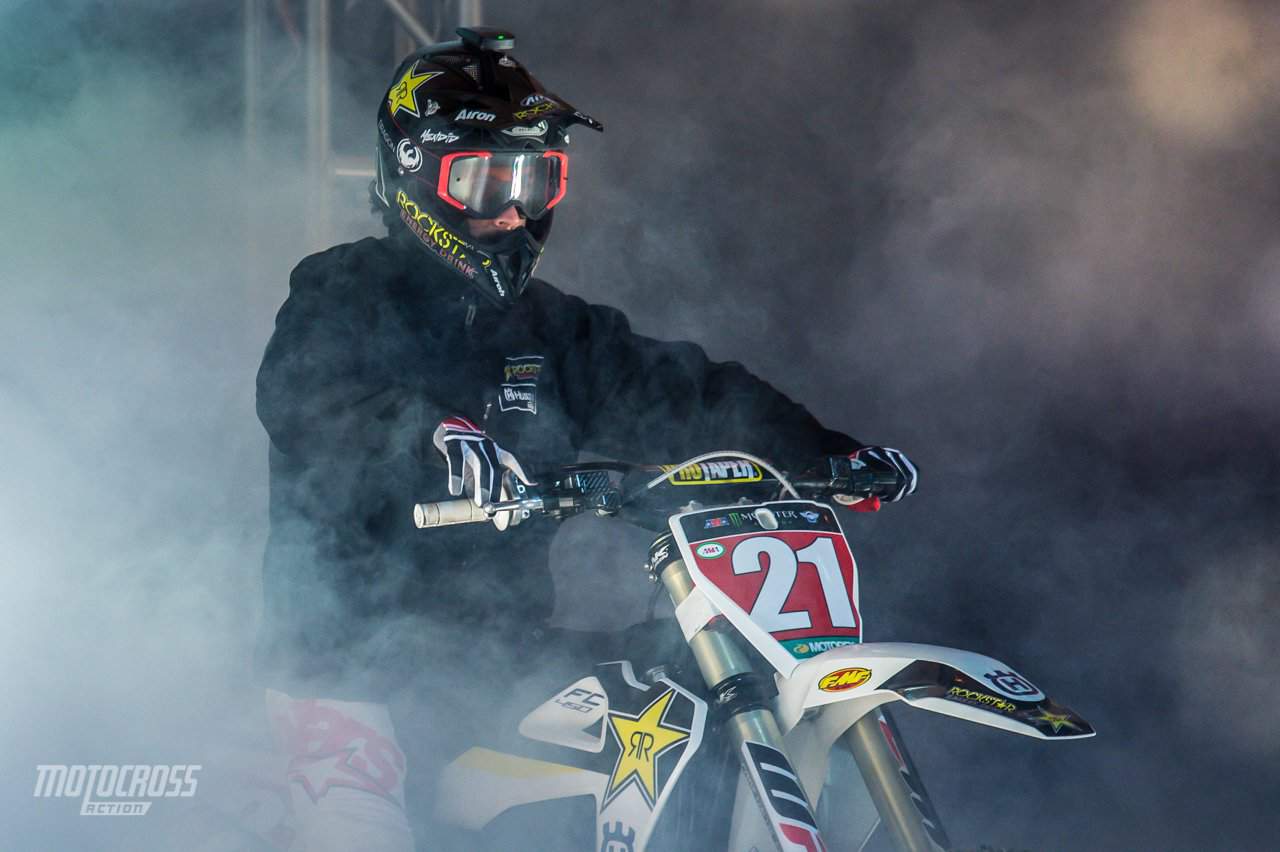 Current points leader, Jason Anderson has never won at Daytona. But on this night, his chances were looking good.
As usual, after the stadium lights came to rise and the pro smoke cleared the Florida air it was time to drop the gate for the first two gate drops of the night. 250 heat one, and 250 heat two.
After about 2-3 laps, the first 250 Heat was red flagged due to a big crash by Rj Hampshire who was running in second. Once Rj was removed from the track, the race resumed and Zach Osborne ran away with the win. Following behind him was rookie Michael Mosiman, and Luke Renzland.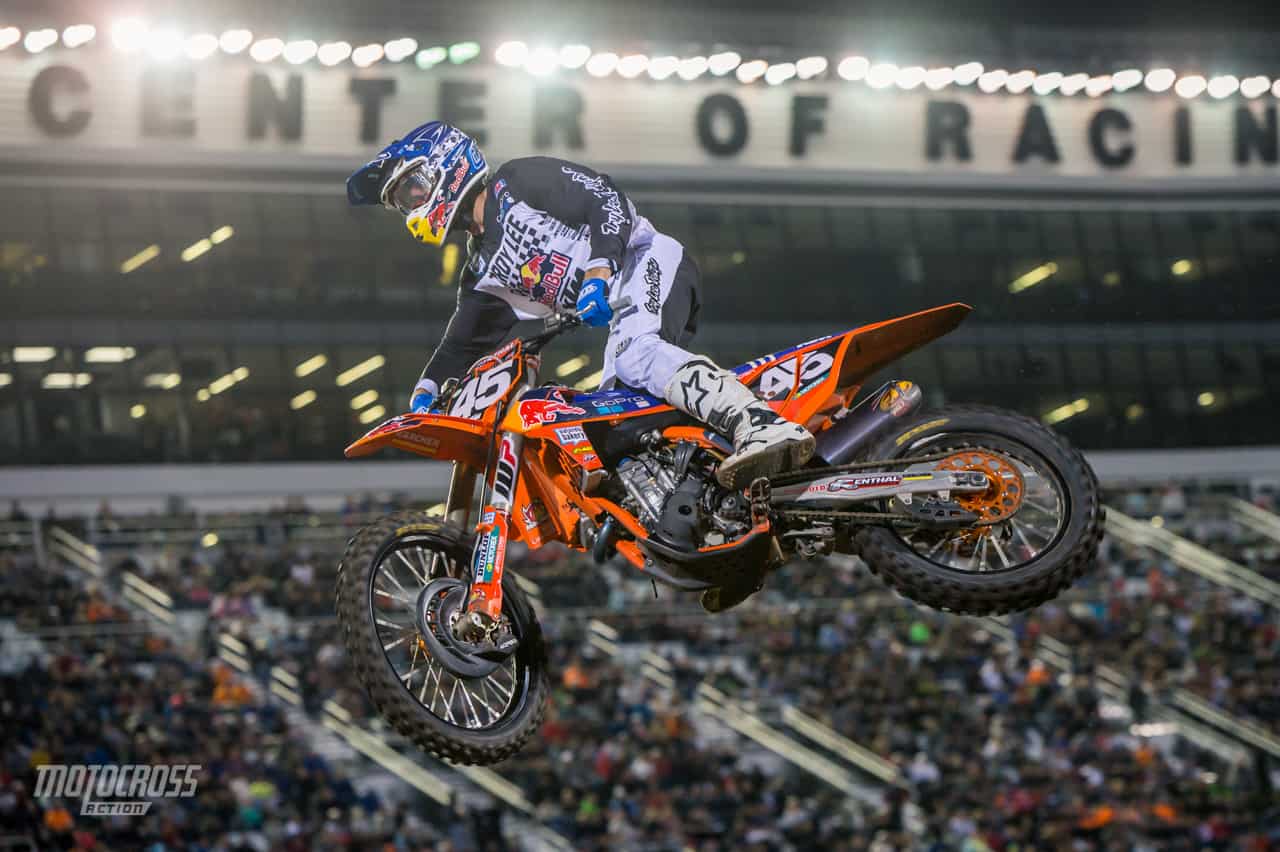 In 250 heat 2, Jordan Smith opened up a huge gap between him and the pack and rode smooth and consistent the entire time. Eventually he would cross the line in first followed by Martin Davalos and his teammate Austin Forkner. But don't worry, things get more exciting from here.
What follows the 250 class? You got it, the 450s. Here's how their first two gate drops shook down.
Right off the start, Justin Brayton made it known that it was time for him to be out front. He checked out, and eventually clocked in another heat race win followed by Marvin Musquin and Weston Peick. But, little did they know that all the action was happening behind them. Current points leader Jason Anderson went down in the first section after the start. He was sitting dead last, and was forced to work harder and harder to get into a transfer position. As the checkered flags waved, he made it to ninth and qualified.
This is the heat race that got the fans on their feet. Now, it didn't start out this way. But, Cooper Webb jumped to the early lead followed by Christian Craig and Eli Tomac. After about a lap or so Tomac made the move on Craig moving him up to second, and began to make a run at Webb for the lead. In the process Tomac came up high on Webb that would take them both down together. After the checkers waved, Christian Craig was the man on top followed by Dean Wilson and Blake Baggett.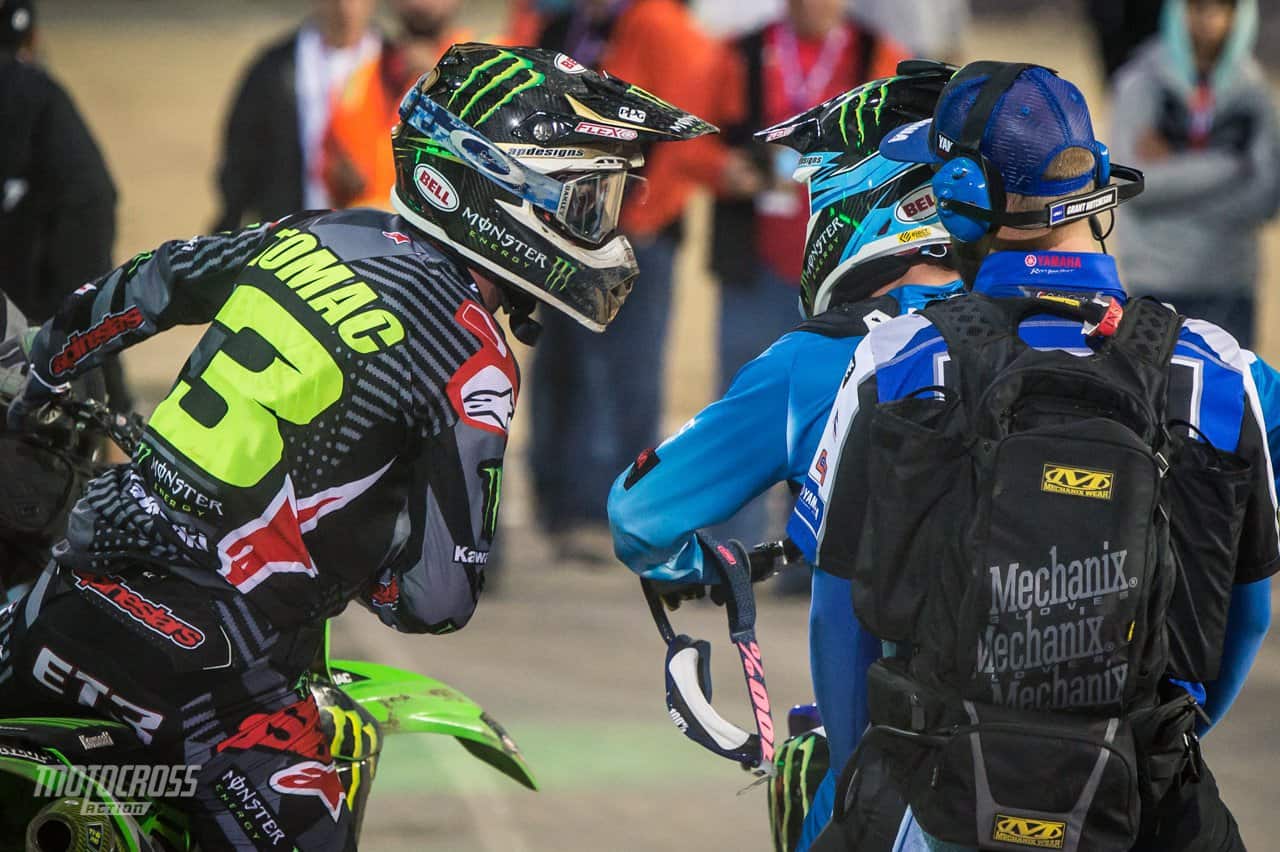 Cooper Webb and Eli Tomac had some harsh words to say afterwords. Webb finished fourth and Tomac finished sixth in 250 heat two.
The 250 LCQ's were up next. This one would be a big one for quite a few racers. Like we said above, Daytona is quite an iconic race. So if you race, win, and conquer it, your name goes down into its history books. Richard Jackson took the win followed by Logan Karnow (featured above), Wilson Fleming and Samuel Redman. This was Redman's first main event transfer.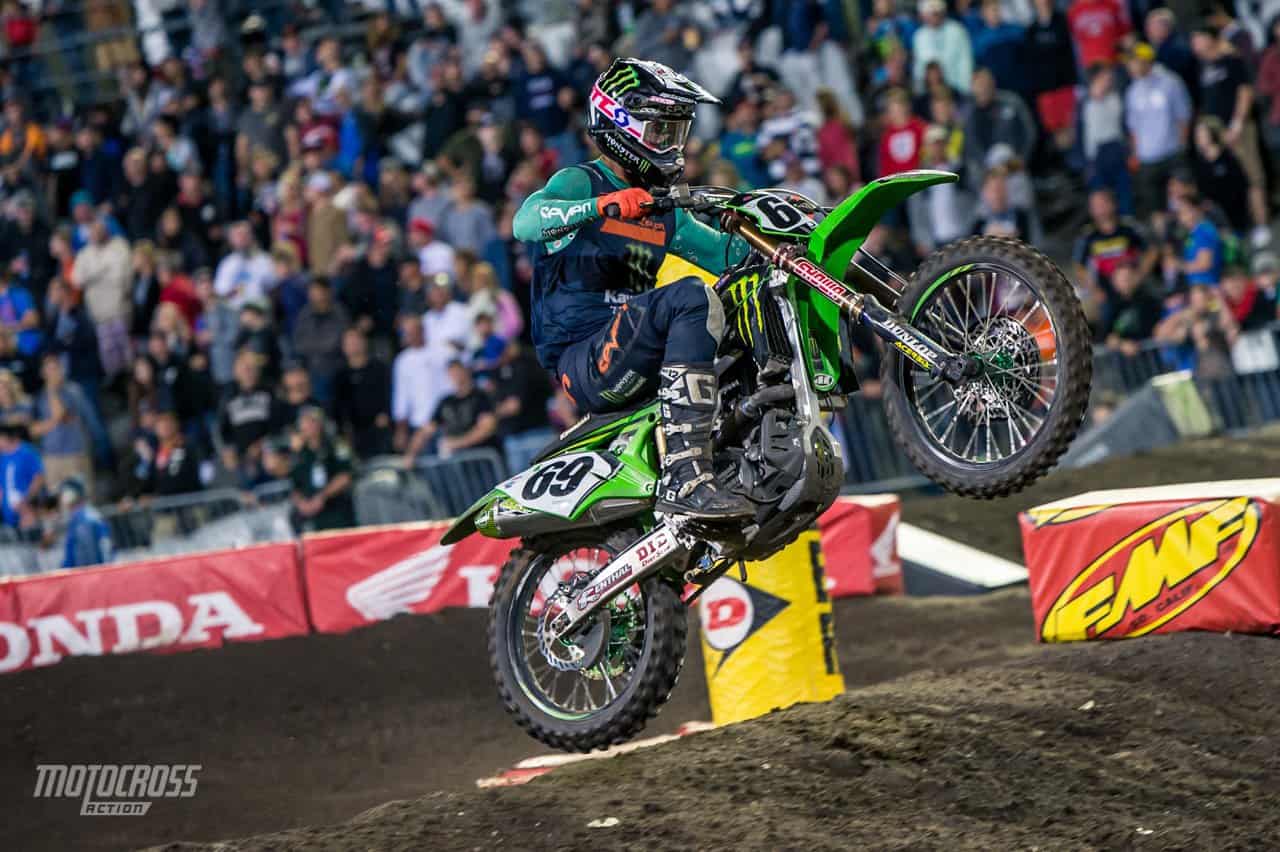 In the 450 class, we saw Tyler Bowers run up front due to a crash in his heat. He would take the win followed by Carlen Gardner, Dakota Tedder and Ben Lamay. This was a big night for Carlen Gardner as this was his very first transfer to the main event.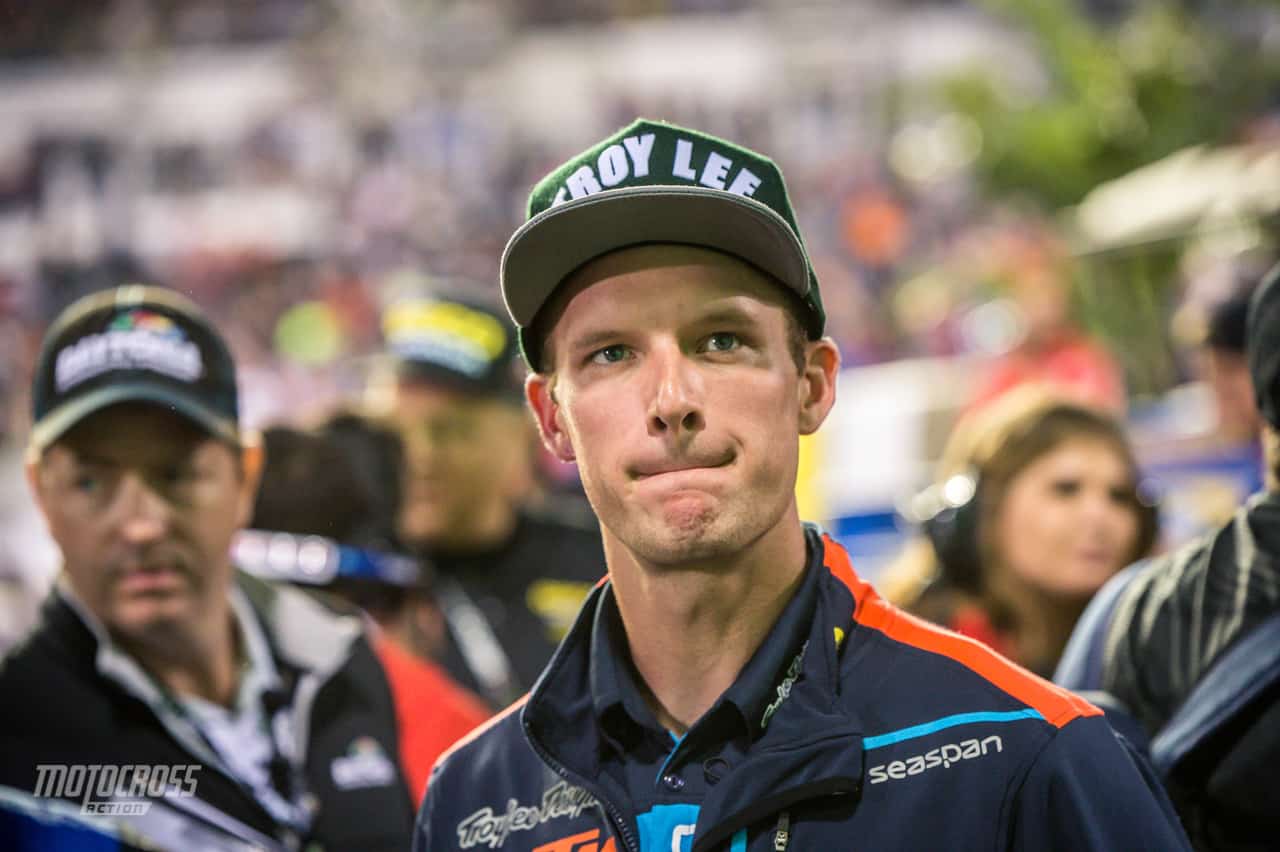 After all the qualifying was said and done, it was time for the two final races of the evening. The Main Events! Beforehand, it was nice seeing Shane McElrath standing by to cheer his TLD teammates on in their main event.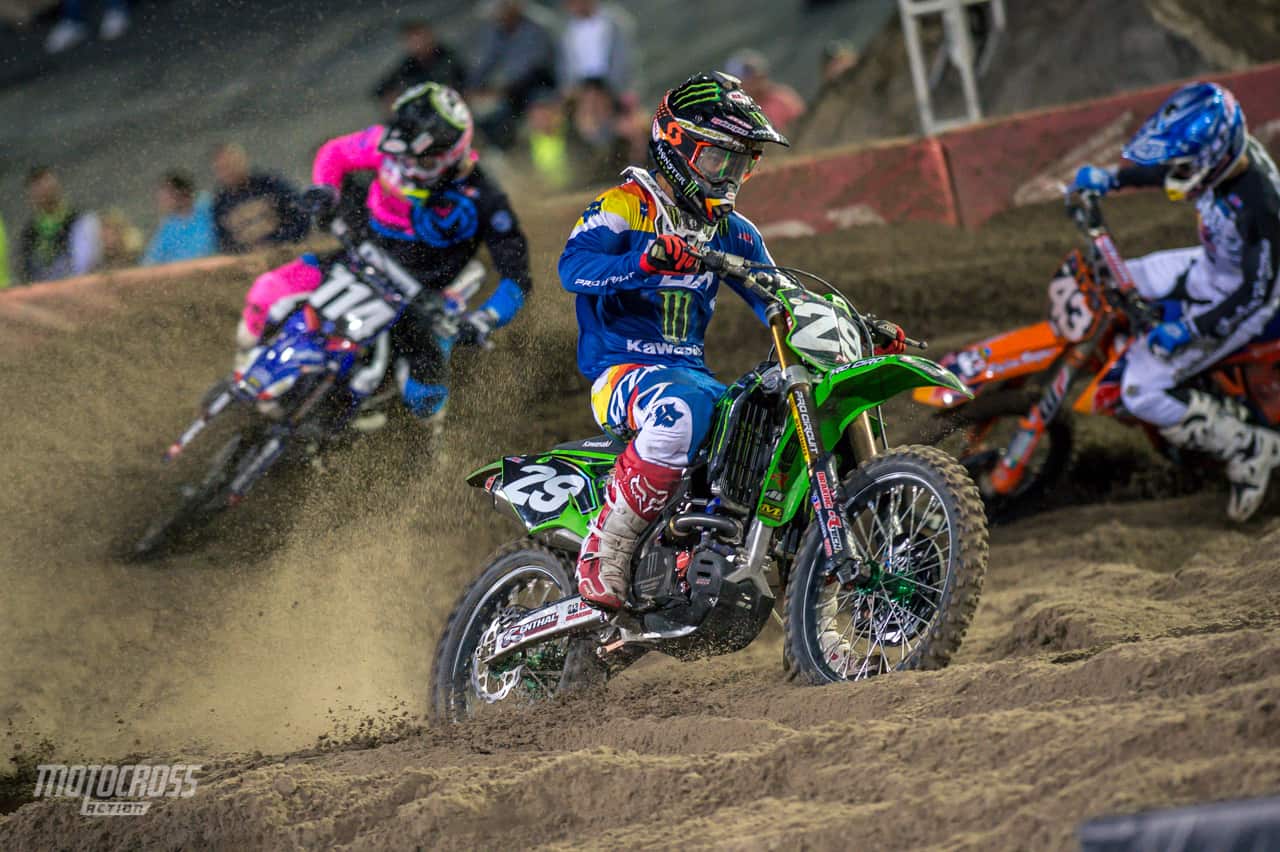 The 250 class veteran, Martin Davalos didn't have the easiest of times in Daytona. He didn't get much seat time during the week due to his crash in Atlanta, so he would have to settle with a fifth in the 250 main.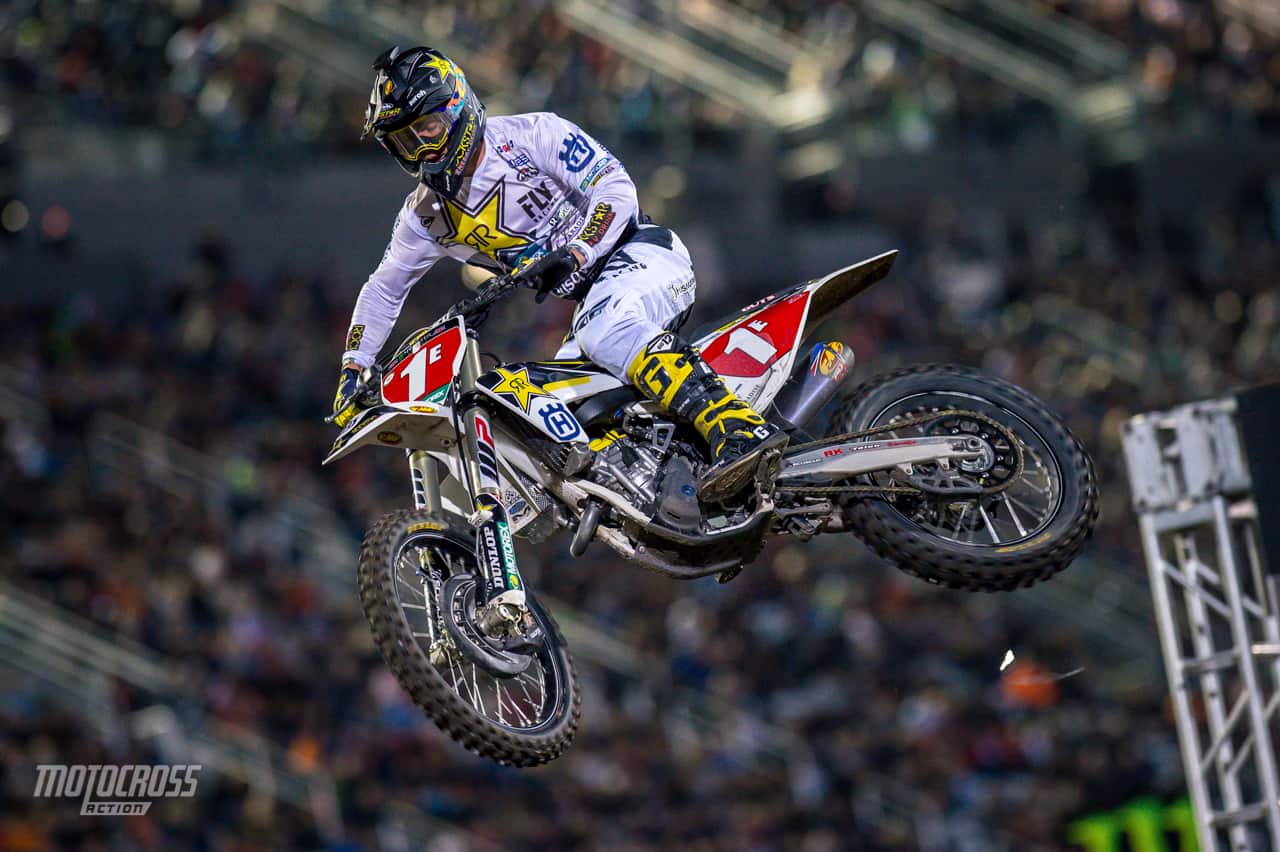 Another rider that hopped aboard the struggle bus was Zach Osborne. Austin Forkner edged him off out of the first turn after gate drop, and made a few other little mistakes and had his work cut out for him. He managed to work his way up from around seventeenth to fourth.
Austin Forkner didn't have the best of starts, but he made his moves early on in the main. He put  himself in third when the race came to a close. But, he didn't let up on Jeremy Martin for second. This is Austin's third week in a row on the podium. After Daytona, he will be sharing the points lead with Zach Osborne.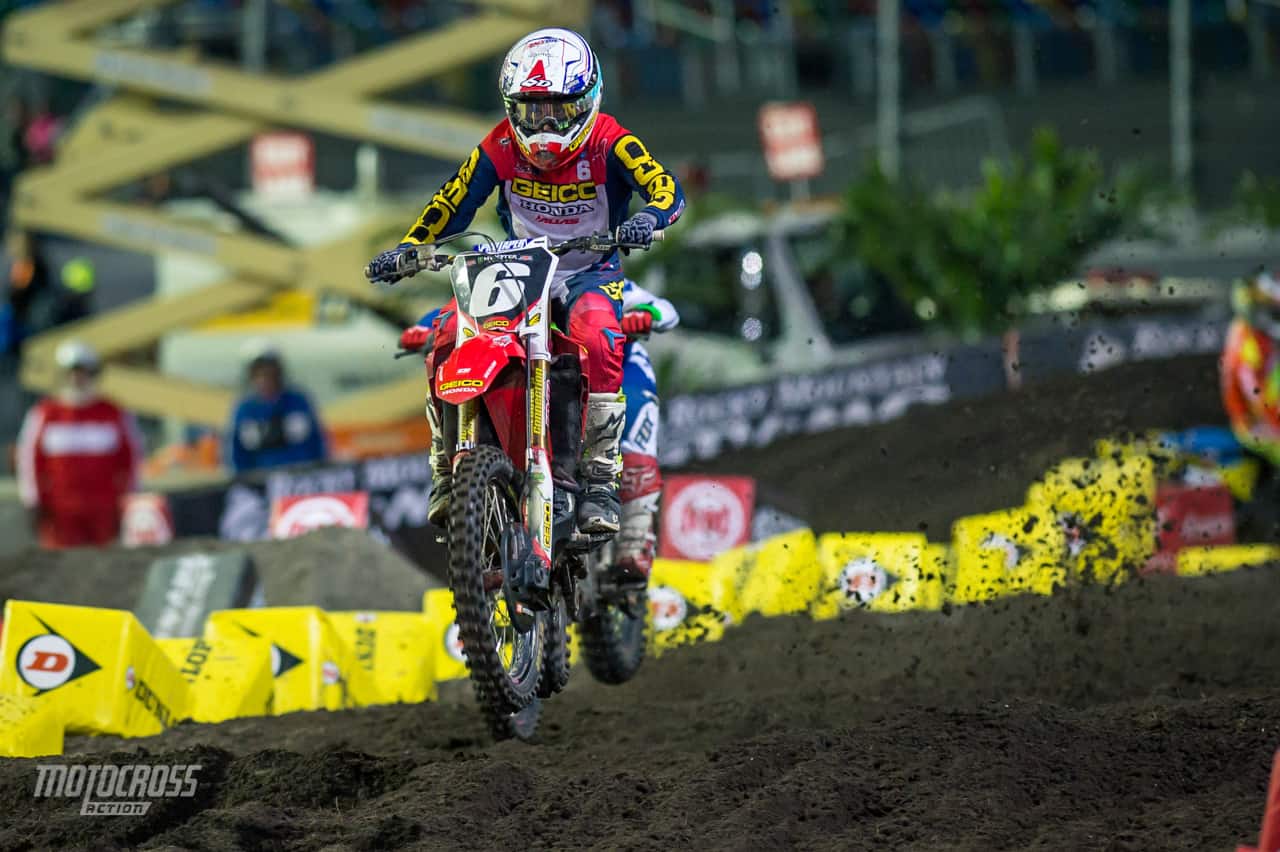 Jeremy Martin had a rough start to the 250 East campaign. But the past few weekends have been seeming to get better and better for J-Mart. He managed to hold off Forkner for second place, and put himself on the podium when the checkered flags waved.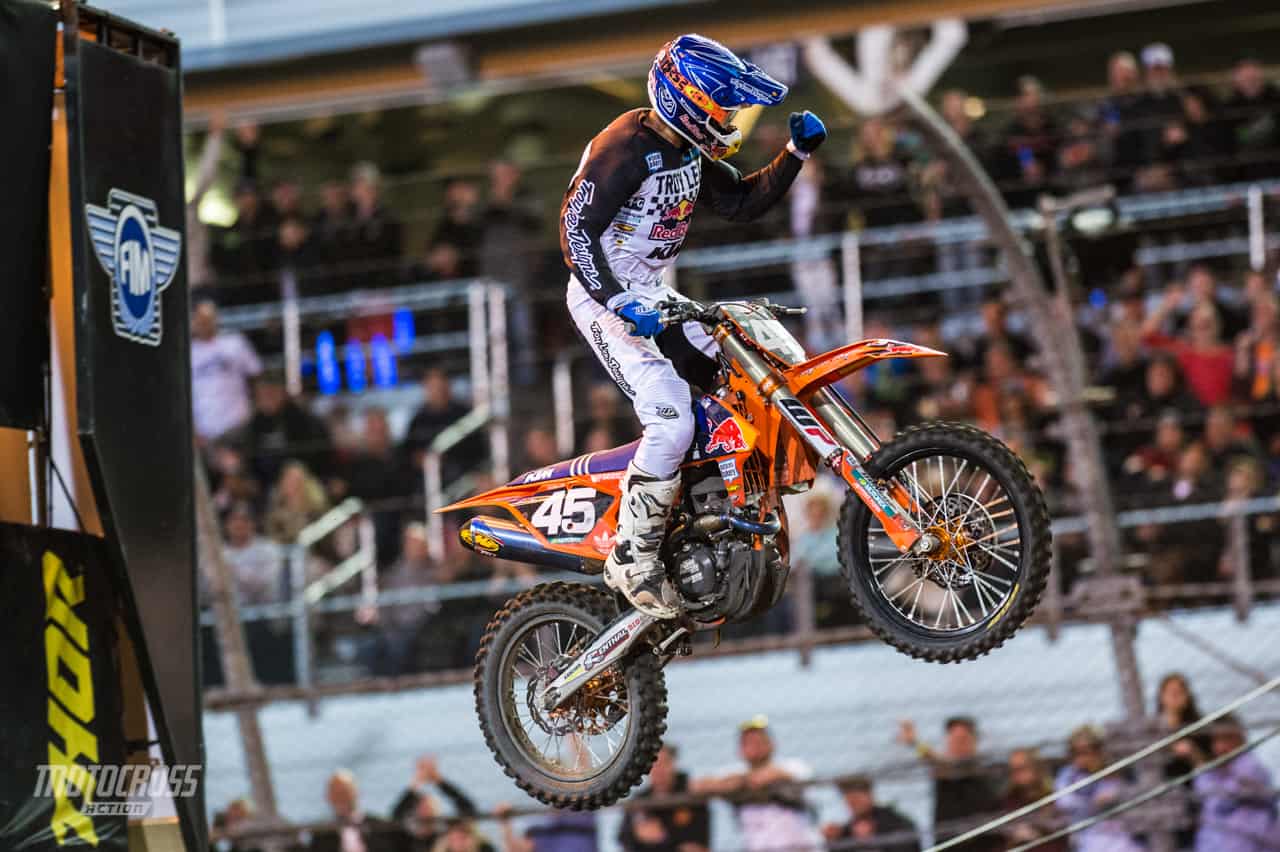 Another rider that has had a rough start to the season is Jordon Smith. No matter where he seems to be, he seems to run into trouble. But in recent weeks, the number 45 has been on the gas, and has proved to the field and himself that he is more than capable of being up front. Daytona was his night, and he took the win!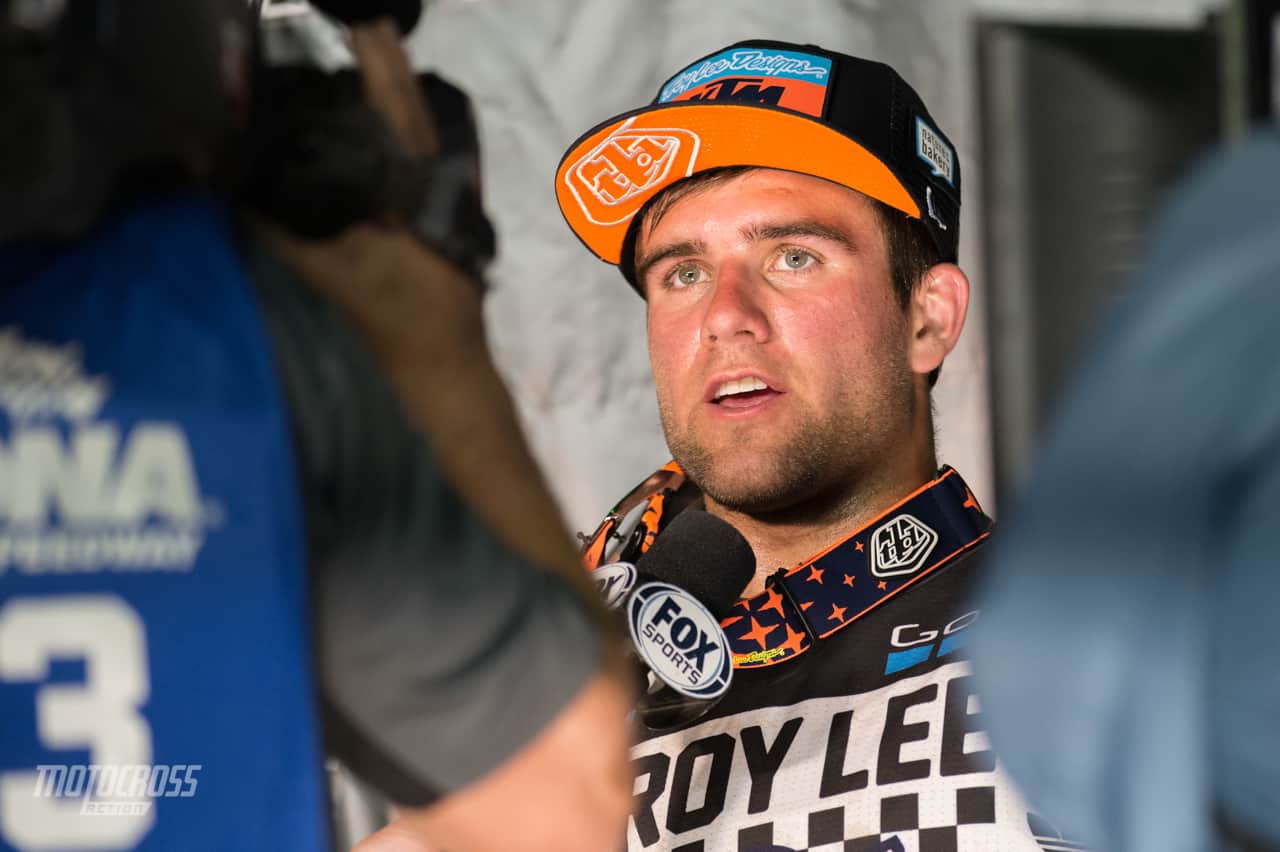 Official results: Jordon Smith (1st), Jeremy Martin (2nd), Austin Forkner (3rd).
250 EAST COAST SX POINT STANDINGS (ROUND 4 OF 9)
Austin Forkner (Kaw)-89
Zach Osborne (Hus)-89
Jordon Smith (KTM)-81
Jeremy Martin (Hon)-70
Rj Hampshire (Hon)-57
Luke Renzland (Yam)-55
Colt Nichols (Yam)-54
Martin Davalos (Kaw)-52
Kyle Peters (Suz)-51
James Decotis (Suz)-49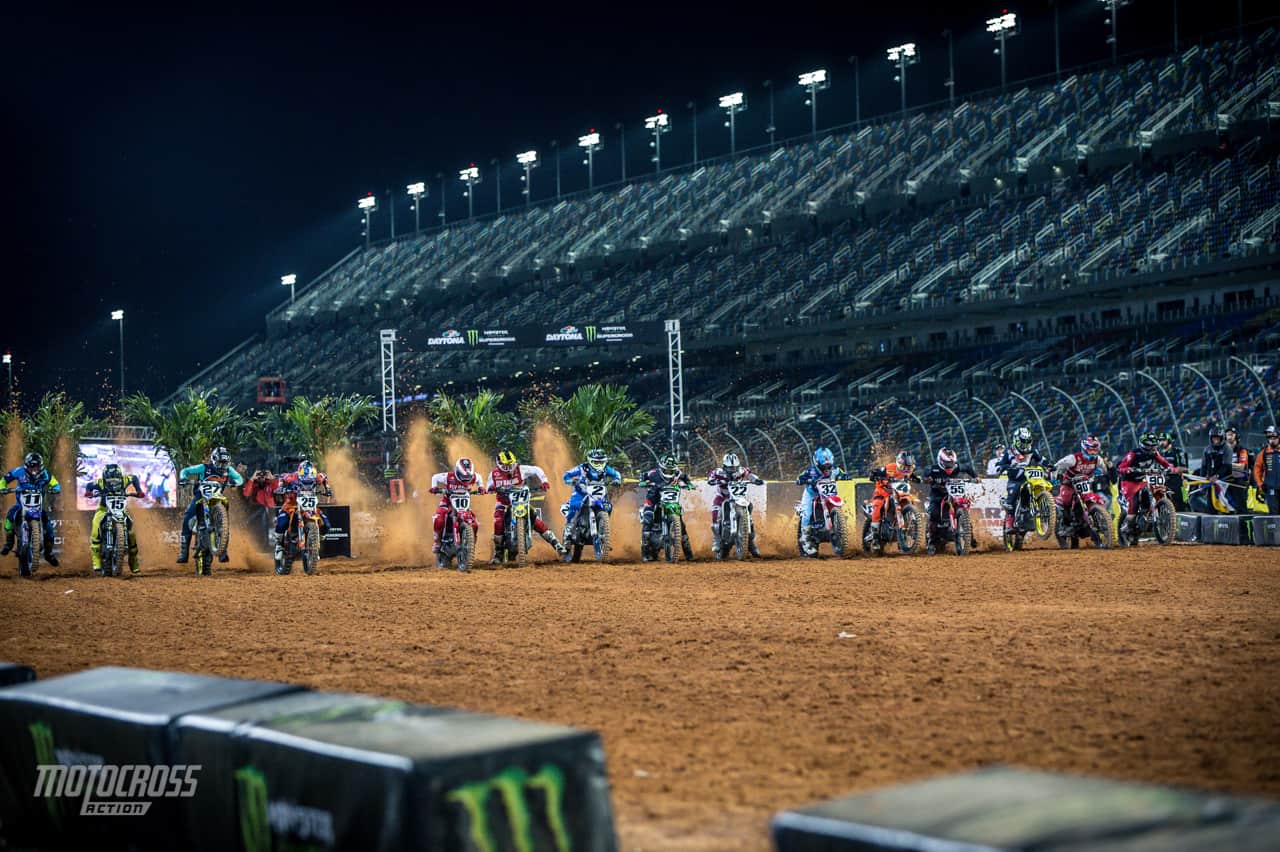 After the cameras were done capturing the 250 podium, it was time to point those lenses at the final 450 race of the night here in Florida.
Marvin Musquin had the description of a  "tough night" in Daytona. He grabbed a solid start, and managed to run behind Justin Brayton who was leading. After a few laps, Marvin made the pass on Justin and stole the lead. No more than two corners after, Musquin over jumped a double and crashed right into the mechanics area. He managed to get right back up, and finished fifth in the main.
HRC's factory fill in rider, Christian Craig has been showing that a 450 suits his style. In Daytona, he accomplished a fourth and truly stunned the field.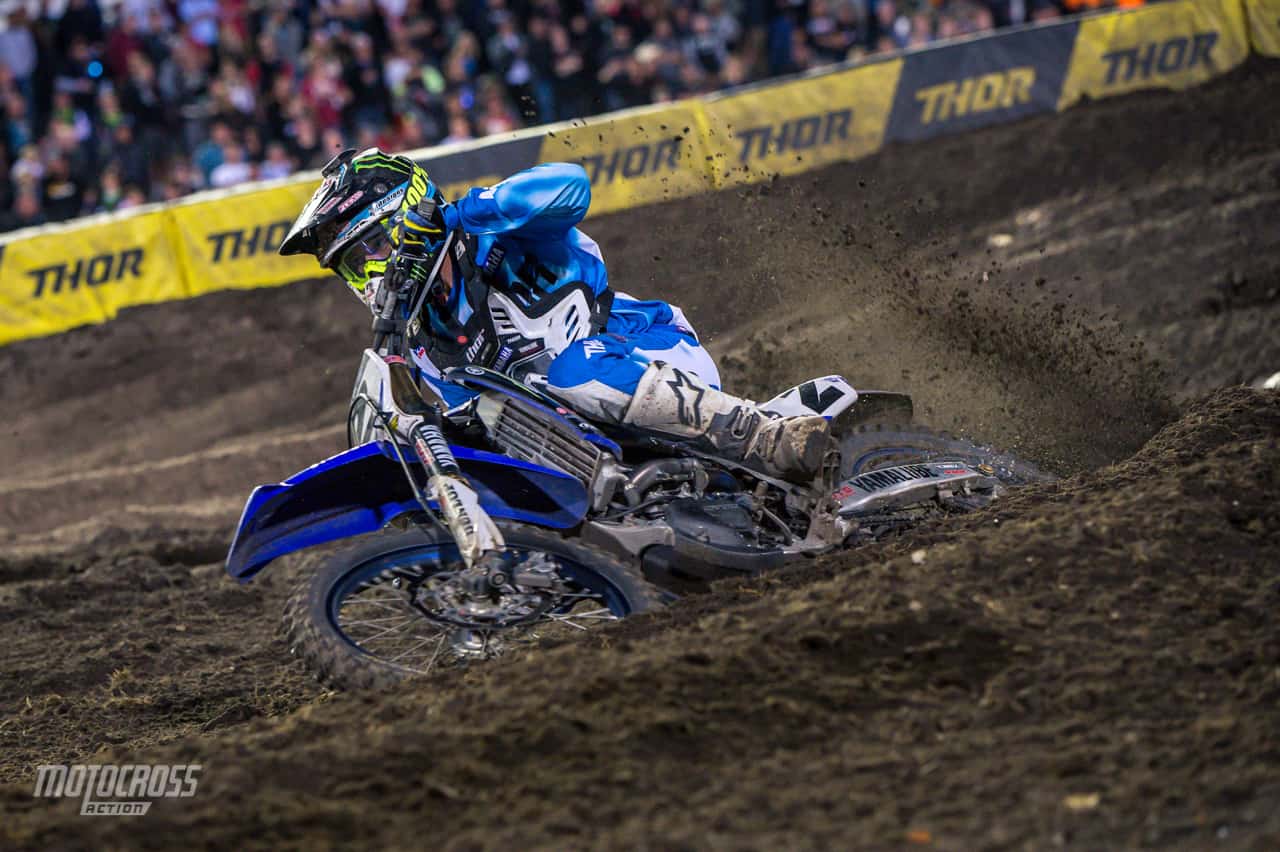 After a frustrating end result in his heat, Cooper Webb wanted redemption in the main. And he did just that. He capitalized on others mistakes and managed to cross the line in third.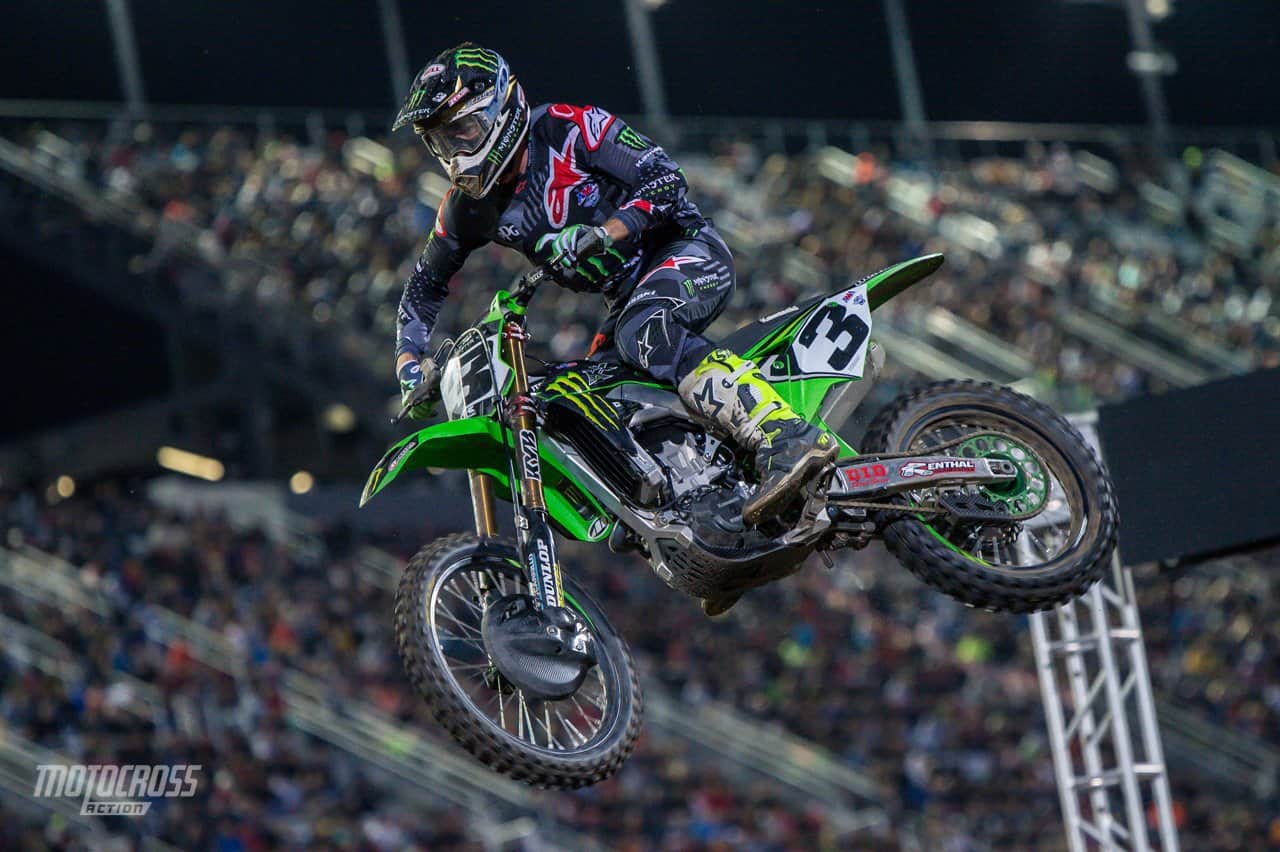 Although he didn't win, Eli Tomac still lit the Daytona ground on fire. He started the main off rough. He made multiple mistakes, and was dead last at one point. But in pure ET3 fashion he made it work. He pushed, shoved and rode all the way up to second place. If he just had another lap he could've taken the win.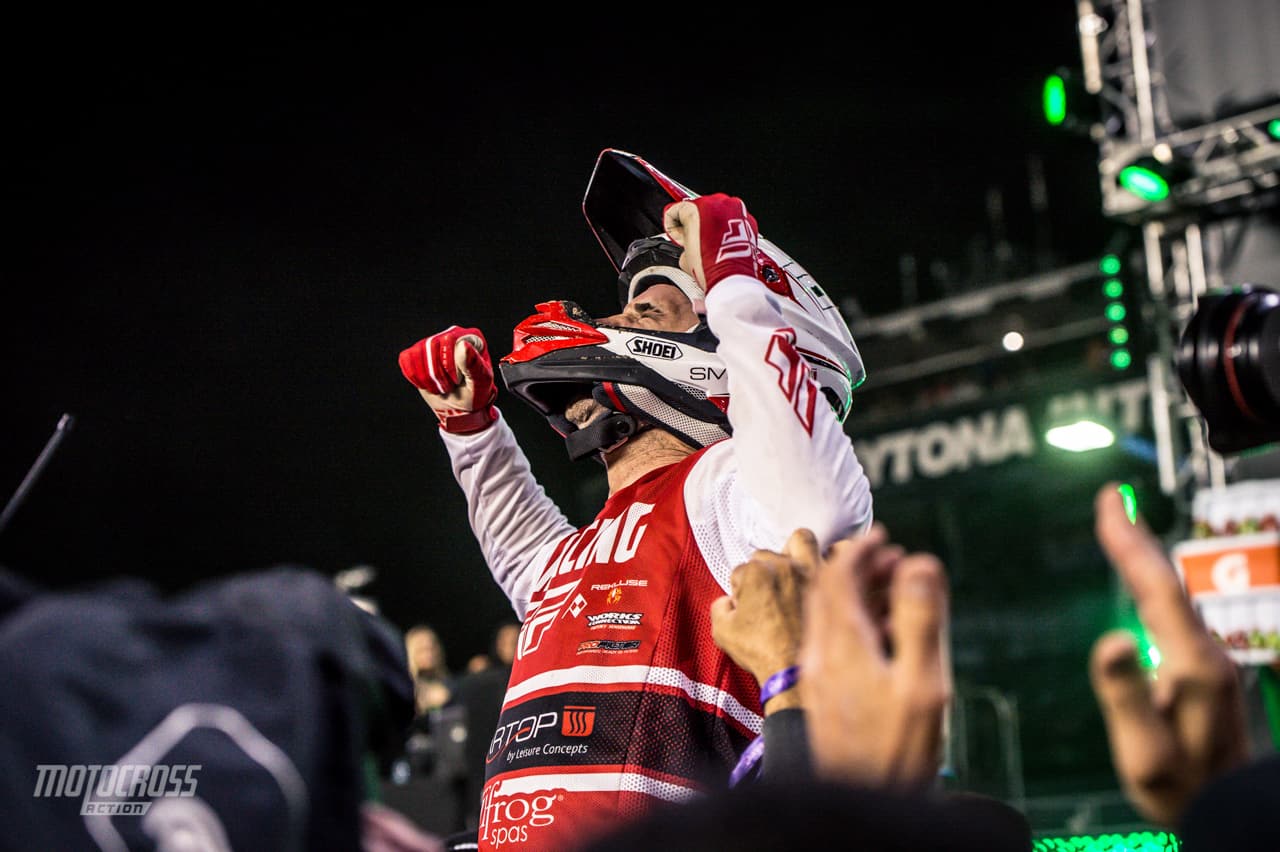 This was the story that topped all the other craziness that Daytona brought to its feet. Justin Brayton completely dominated the 450 main event. Although he had a challenge from Musquin and managed to hold Tomac off, the night was all about him. He now holds the record for the oldest rider to win a main.
Official Results: Justin Brayton (1st), Eli Tomac (2nd), Cooper Webb (3rd).
450 SUPERCROSS POINTS STANDING (ROUND 10 OF 17)
Jason Anderson–223
Marvin Musquin–183
Justin Brayton–170
Blake Baggett–164
Eli Tomac-160
Weston Peick–153
Cooper Webb-146
Broc Tickle–131
Cole Seely–124
Justin Barcia-113
_____________________________________
TOP NEWS AFTER DAYTONA:
Rj Hampshire's crash during the Daytona Supercross did not look pretty. After following behind Osborne in his heat, he did a endo into the ground leaving him battered and bruised.
Rj Commented: Good news all around. No surgeries needed, a few fractures and small punctures/lacerations to the lungs but everything looks good. Gives me some time to rest up and be ready for the start of outdoors 👊🏼👍🏼 Thanks for all the prayers and checking in. Your boys gonna be alright" #partofit
It was a big night for Logan Karnow, as this was the night he finally managed to qualify for the 250 main event in Daytona. The emotions shown above are pure, and moving. The privateer journey is not an easy one to pursue.
Logan Commented: "Last night was one to remember… The emotions were real dude… It's so rad seeing the hard work payoff and getting my best Main Event finish with a 15th!!"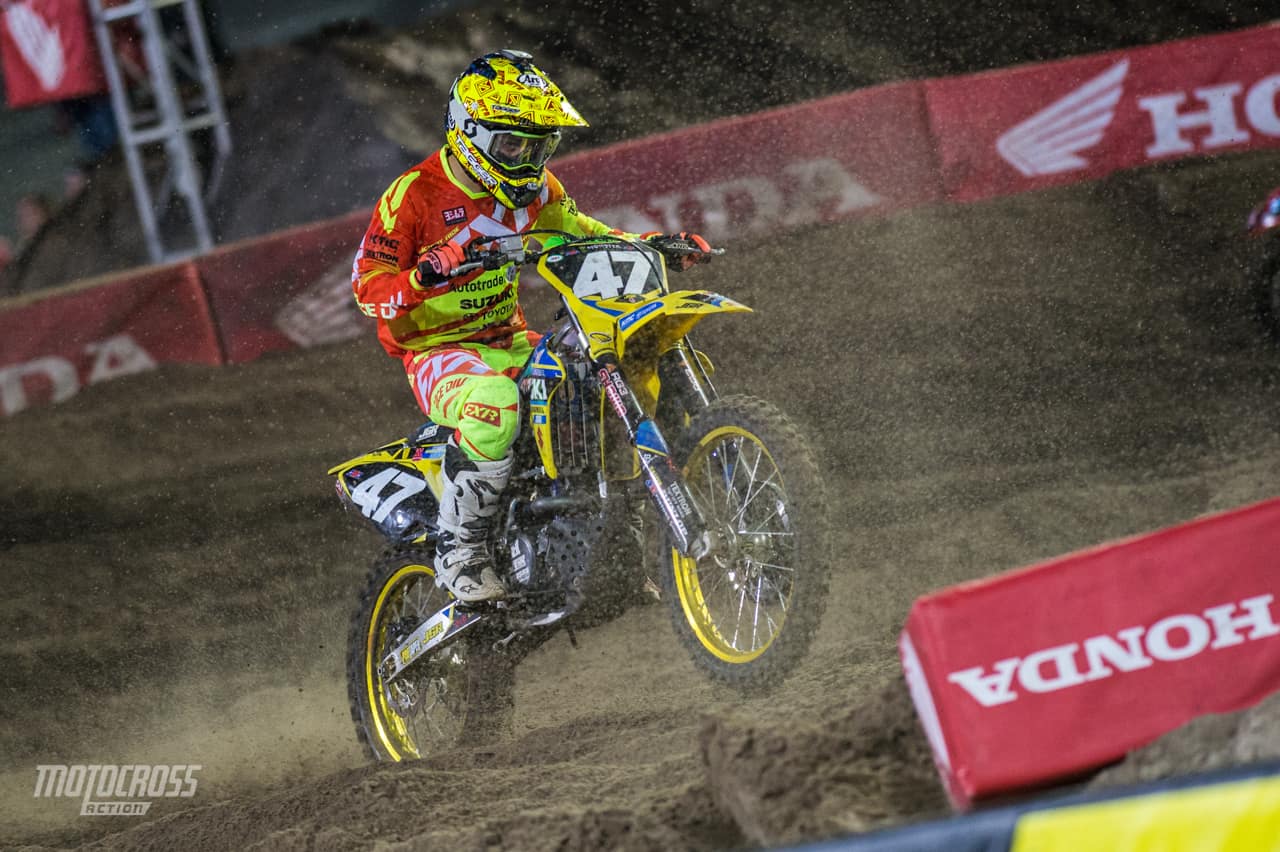 Another one bites the dust. Jimmy Decotis had a big crash right before the finish line in the 250 main causing him to DNF on the night.
Jimmy Commented: "Not the way I wanted to end my night. I Had a big crash before the finish line. I'm thankful to be walking. Couple fractures in the L2 and L3 and some broken ribs. Back injuries are scary so I feel I'm truly blessed with the outcome. Thank you so much @ichorsportsmedicine, Doc Bodner and everyone at the medical unit. You guys are the true heroes of this sport and it's so awesome to see a friendly face when you are laid up on the ground. I'm extremely bummed right now, I love racing my dirt bike and these next few weeks will be tough. I'm going to see a specialist on Tuesday when I arrive back in Charlotte. I will update everyone on my return as I learn more…thank you @jamieroutley93 and my whole fam for being there for me and the whole @jgrmx team and sponsors. The Rippa will be back don't you worry…." #swagonfleek