2018 ERZBERG RODEO | OVERALL RESULTS
The 2018 Erzberg Rodeo was won by Husky's Graham Jarvis. Jonny Walker finished second and Manuel Lettenbichler finished third.
Rockstar Energy Husqvarna Factory Racing's Graham Jarvis has claimed victory at here in Austria for the Erzberg Rodeo Hare Scramble. In what was a dramatic, action-packed and unpredictable race, Jarvis put on a late race charge to take the win by just 41 seconds from Red Bull KTM Factory Racing's Jonny Walker with early pace setter Manuel Lettenbichler finishing third.
2018 ERZBERG RODEO TOP TEN RESULTS
1. Graham Jarvis (Husqvarna) 2:05:59
2. Jonny Walker (KTM) +00:41
3. Manuel Lettenbichler (KTM) +03:03
4. Wade Young (Sherco) +15:45
5. Billy Bolt (Husqvarna) +24:04
6. Travis Teasdale (Beta) +32:50
7. Paul Bolton (KTM) +33:41
8. Taddy Blazusiak (KTM) +35:52
9. Pol Tarres (Husqvarna) +48:41
10. Mario Roman (Sherco) +52:58
RACE REPORT
American Colton Haaker won the prologue but didn't fare well in the Hare Scramble. 
Under sunny skies and hot temperatures, the 24th edition of the Erzbergrodeo Red Bull Hare Scramble saw the 500 qualified riders blast off the start line at 14.30 hours. With all the main contenders in this year's WESS securing a front row start during qualification, it was Taddy Blazusiak who made his move early, taking the lead. But with Walker hot on his heels, plus WESS round one winner Bill Bolt (Husqvarna – GB) and Lettenbichler right in contention, any hopes of breaking away from the chasing field were quickly ended.
During one of the early technical woodland sections, the young guns of Lettenbichler and Bolt moved past both Blazusiak and Walker to take up the lead. At Checkpoint 15 of 25, Lettenbichler and Bolt had built up a lead of one-minute over Walker while Sherco Factory Racing's Wade Young overtook Blazusiak for fourth. However, with Checkpoint 19 forming the formidable Carl's Dinner boulder garden, the race was anything but over. After a bad start, Jarvis was beginning to cut his way through the pack and was closing on the leaders.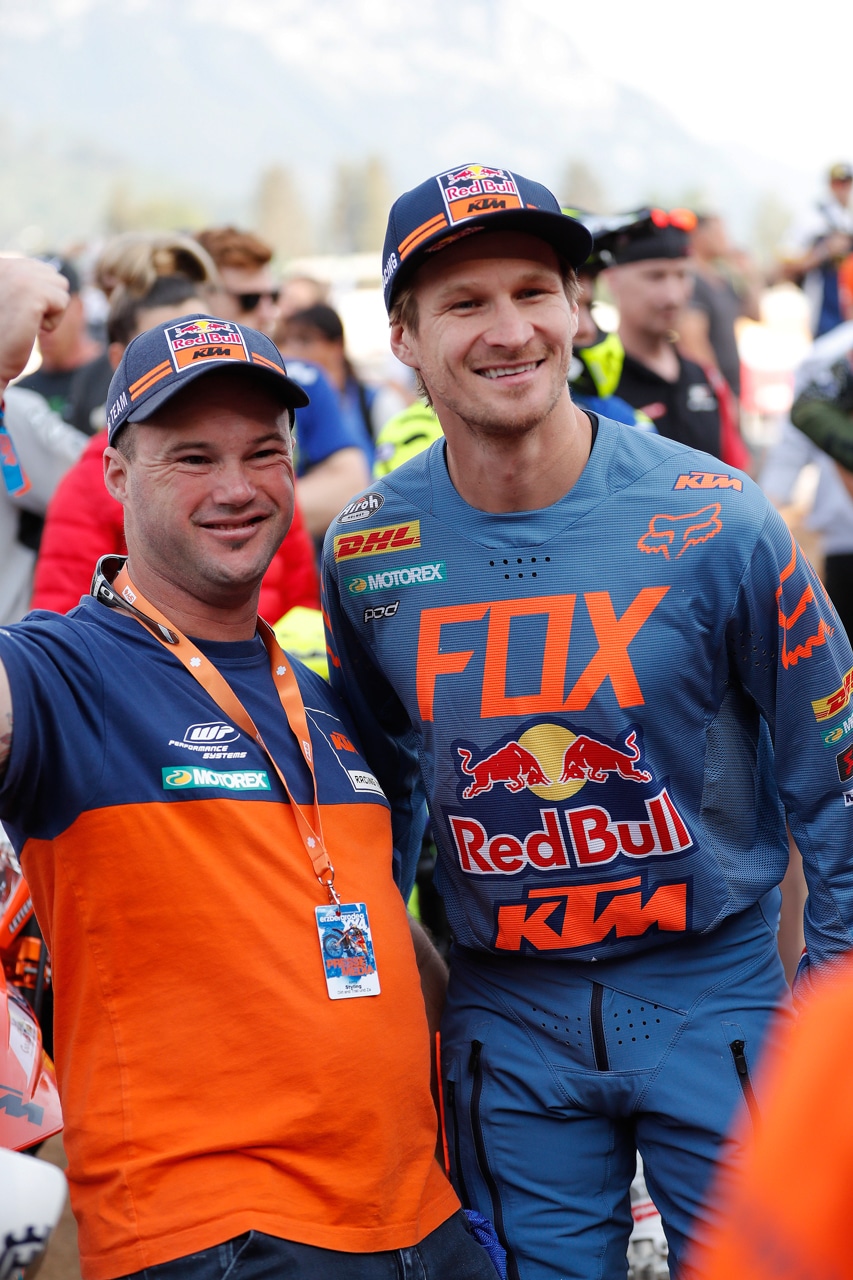 Past Erzberg Rodeo past champ, Taddy Blazusiak lead for a while at the start of the race. 
At Checkpoint 21 – Green Hell – the race took another dramatic twist as both Lettenbichler and Bolt became stuck on the near-vertical woodland climb. Jarvis, now in third, heroically pushed his way past the stricken duo to the top and took the race lead. Walker, following suit, tried to apply pressure to the Husqvarna rider during the final two signature sections Dynamite and Lazy Noon but Jarvis kept his cool to cross the finish line in an astonishing time of two hours, five minutes and 59 seconds.
Winner of round two of the World Enduro Super Series, Jarvis also secured his fourth Erzbergrodeo Red Bull Hare Scramble victory. Finishing just 41 seconds behind, Walker claimed the runner-up result and in turn took control of the WESS championship standings.
Regrouping after the punishing Green Hell section, Lettenbichler was able to cross the finish line three minutes behind Jarvis in third, with Young coming home in fourth. Bolt, seeing his chance of winning lost in Green Hell, completed the top five. Passing both Blazusiak and Mario Roman (Sherco – Spain) in Green Hell, Beta Factory Racing's Travis Teasdale (RSA) finished sixth with Paul Bolton (KTM – GB) seventh.
USA's Cody Webb was unable to race as he got injured during the prologue event breaking his foot and finger. 
After a promising start, Blazusiak eventually ended his race in eighth. Spain's Pol Tarres (Husqvarna) took ninth with Roman dropping back to 10th in the closing stages of the race. In total 23 riders completed this year's Erzbergrodeo Red Bull Hare Scramble within the four-hour allotted race time.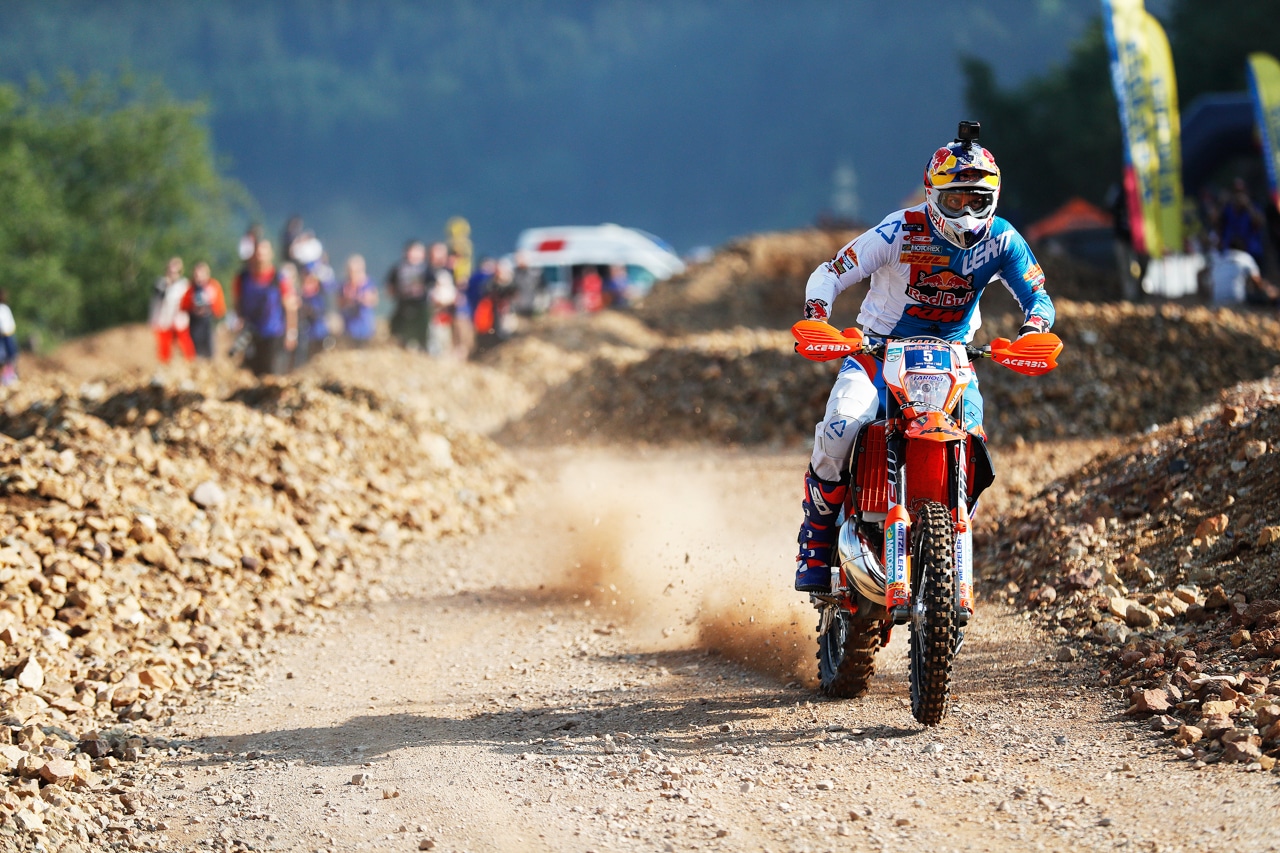 England's Johnny Walker finished second. 
Graham Jarvis: "It's always special to win here, but to do it like I did, that ranks as one of my best victories. I had a really bad start getting stuck on the very first climb out of the quarry and I lost so many places. Also, with the dust it was really difficult to overtake on the first couple of sections. It wasn't until Checkpoint 15 that I got up to about sixth, but I knew Carl's Dinner would be decisive. I made a lot of time up there. When I got to Green Hell I wasn't quite sure what was happening but I saw Billy and Manni stuck. I got up so far and then was able to push the rest. That for me was where the race was won, but with Jonny chasing me home I couldn't relax until the chequered flag."
Jonny Walker: "That was a tough race but I am happy to finish second and importantly take the lead in the WESS standings. Taddy made a mistake and I got out in front, but then Manni and Billy passed me on a hill when I messed up a little. Their speed was way too quick and I knew I had to pace myself a little. Carl's Dinner was tiring, but I kept up a steady rhythm and tried to minimise any mistakes. I managed to clear Green Hell and came out of there in second. The rest of the race from then on was less tricky and I pushed on as hard as I could but couldn't quite catch Graham before the finish. I'm happy with second and although it would have been nice to take the win, it's great to be leading the championship."
Manuel Lettenbichler (KTM – GER): "I gave it everything I had, I wanted to win so badly but just lost out towards the end. I had a really great ride up until Green Hell. Billy and myself were pushing the pace a lot and we had built up a gap on the others. I wasn't my best in Carl's Dinner and was still in contention. Unfortunately, things went wrong in Green Hell and Graham came past us. But this is my debut podium at the Erzbergrodeo Red Bull Hare Scramble, so it is something to celebrate. Third in Extreme XL Lagares and now third here is a very strong start to WESS too."