2018 FOXBOROUGH SUPERCROSS | THE AFTERMATH
Photos by Jim McMillian
Round 15 of the 2018 Monster Energy Supercross series kicked off in the sunny afternoon in Foxborough, Massachusetts where Gillett Stadium was host to one of the craziest races we've seen all year. Each and every weekend, the plot thickens in both classifications while with riders on their championship hunt. In the 250 class, Zach Osborne looked to capitalize on the injury of Austin Forkner–and in the 450 Class, Jason Anderson looked to extend his points lead even further away from Marvin Musquin. Here's how it panned out.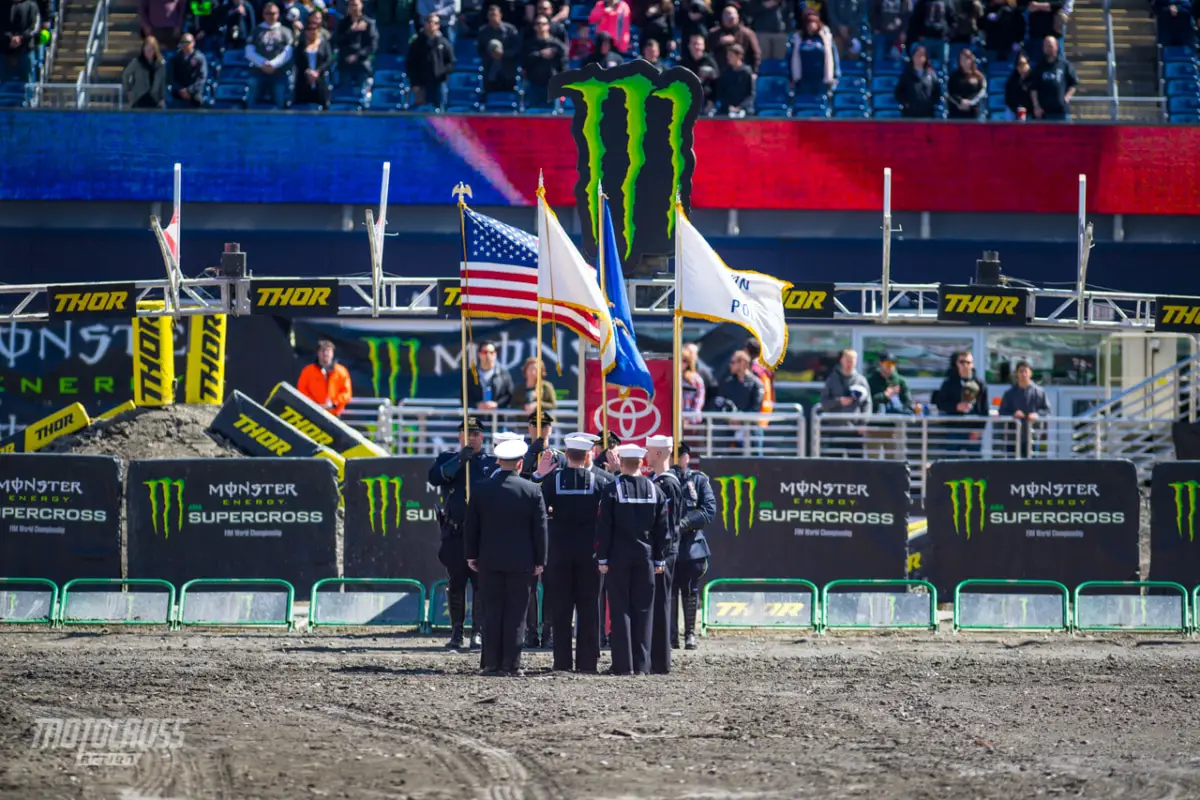 On this day, the racing would start much earlier in the afternoon as opposed to the usual night schedule.  It was quite a site to see opening ceremonies in the light.
After opening ceremonies came to a close and the fans returned to their seats, it was time to lift the 30 second board and drop the gate.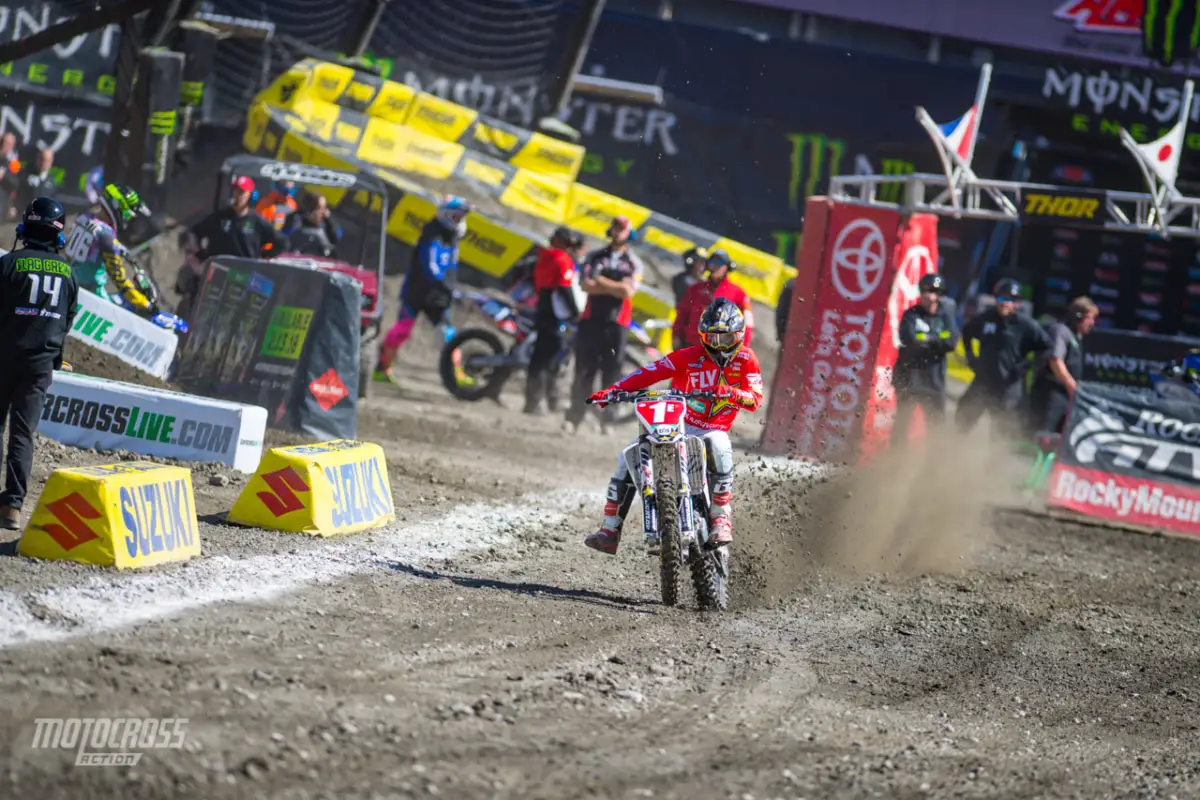 Current Points leader and defending 250 East champion Zach Osborne dominated 250 heat number one to start off the afternoon. Followed behind him was Star Racing's "fill in" Thomas Rammette in second, and Troy Lee Designs' Red Bull KTM's rookie competitor Sean Cantrell in third.
Jeremy Martin started the season off slow, but won last weekend in Minneapolis. He came into Foxborough with confidence and the favorite to win. He showed the field what he was made of in his heat by taking the win. Behind him was RM ATVMC KTM's Anthony Rodriguez in second, and Troy Lee Designs' Red Bull KTM's Jordon Smith in third.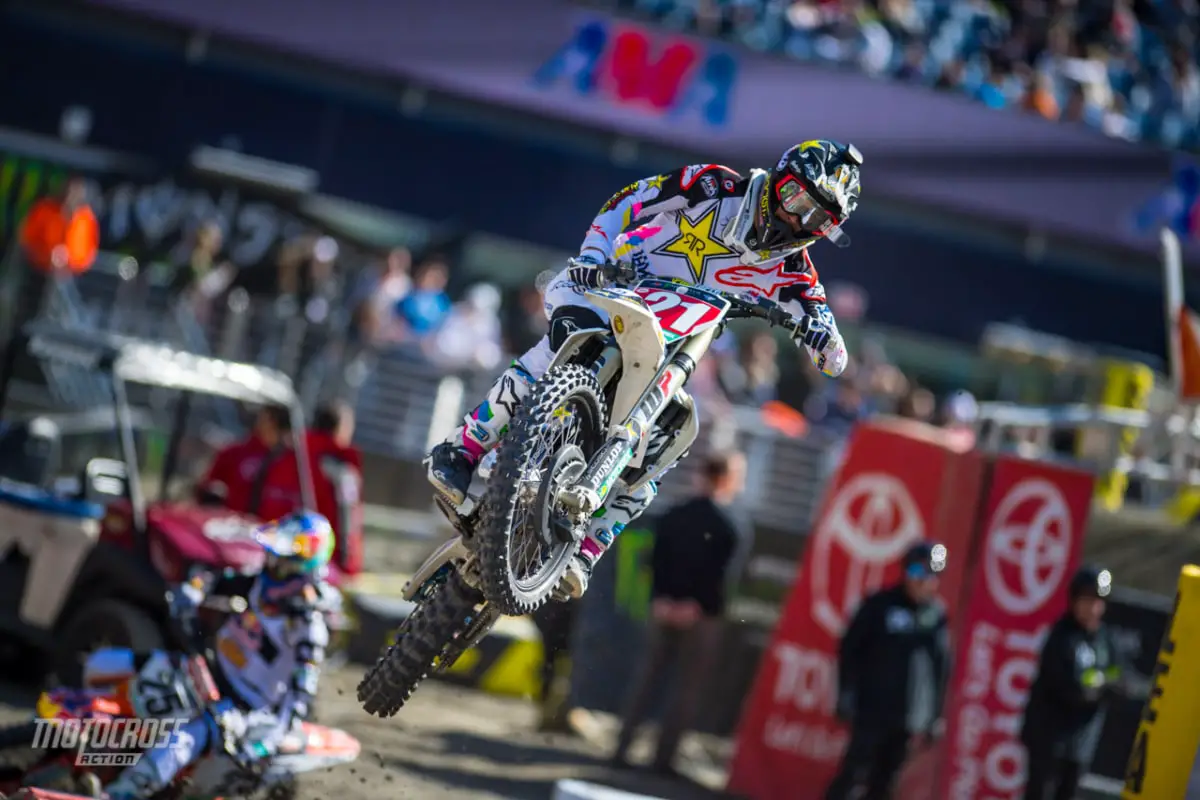 Next up, the big bikes. In 450 heat one, it was all about Jason Anderson. Jason had an up and down first part of the day in Foxborough. He mentioned that he felt smooth in different places of the track, but the surface and soil was a challenge coming into the afternoon program. Behind him fell Red Bull KTM's Marvin Musquin, and fan favorite (Yoshimura JGRMX Suzuki's) Malcolm Stewart in third.
The return of Justin Barcia had the fans on their feet. Barcia has been a fan favorite ever since he hit the scene. He made his return to racing from an injury last weekend in Minneapolis, and scored a fifth overall on the night. In Foxborough, the East Coast native showed his true speed and raw talent by clinching 450 heat number two. Followed closely behind him was Monster Energy Kawasaki's Eli Tomac in second, and RM ATVMC KTM's Blake Baggett in third.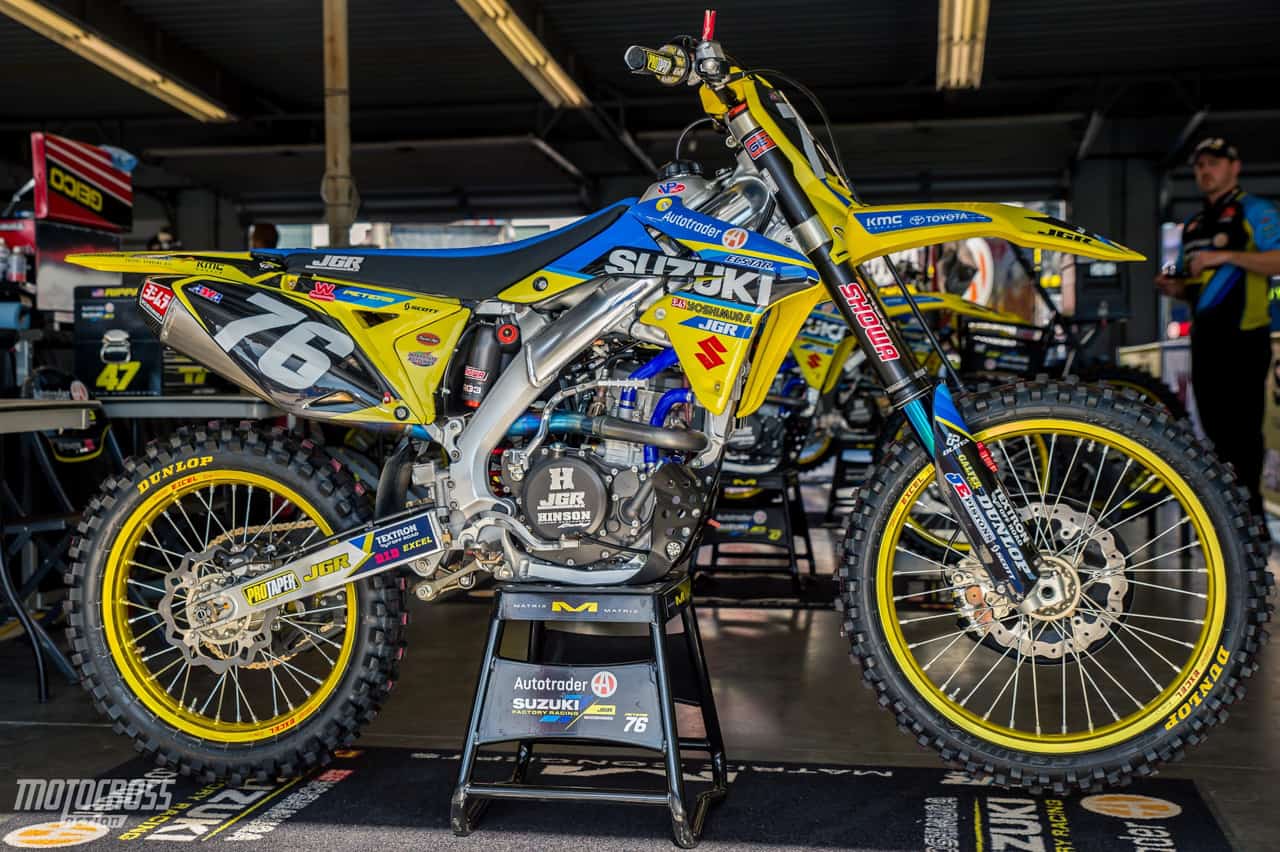 Next up, the LCQ's. In the 250 LCQ, it was all about Kyle Peters. Yoshimura JGRMX Suzuki released a press release last week stating that Kyle sustained a torn ACL just from riding in the pits and slipping last weekend in the icey conditions of Minneapolis. But, he showed up to Foxborough and rode his heart out. He crashed out of his heat, so he got transferred straight to the 250 LCQ (of which he would win). Behind him fell privateer's Wilson Fleming, Cody Vanbuskirk and Tanner Basso.
As always, the 450 LCQ did not disappoint. Kyle Cunningham made a come from behind victory, and put the entire crowed on their feet. Followed behind him was Alex Ray, Aj Catanzaro and Dustin Pipes.
Alright, now its time for what you really want to know. What went down in the main's.
Rookie, Sean Cantrell has been really putting in the work lately. He finished in 5th in the 250 main event.
For Jeremy Martin, things did not go his way. He crashed on the first lap, and was forced to push hard. In the end, he worked his way up from dead last to fourth.

As we said a few photos ago, it was an amazing night for Kyle Peter's. Although he wasn't at his potential, he made it work–and it paid off. He clinched a third on the podium.
This picture pretty much sums up the rest. Jordon Smith followed right behind in second, while Zach Osborne took the win by a landslide. We love the positive sportsmanship.
Zach Osborne (Hus)
Jordon Smith (KTM)
Kyle Peters (Suz)
Jeremy Martin (Hon)
Sean Cantrell (KTM)
Joshua Osby (KTM)
Brandon Hartranft (Yam)
Anthony Rodriguez (KTM)
Luke Renzland (Yam)
Thomas Ramette (Yam)
Jacob Williamson (Hon)
Lorenzo Locurcio (Hon)
John Short (Yam)
Nick Gaines (Yam)
Joshua Cartwright (Kaw)
Wilson Fleming (Yam)
Vann Martin (Hon)
Cody Vanbuskirk (KTM)
Keith Tucker (Yam)
Tanner Basso (Yam) 
Michael Mosiman (Hus)
Ramyller Alves (Yam)
250 POINT STANDINGS (ROUND 8 OF 9)
Zach Osborne–180
Jordan Smith–165
Jeremy Martin–157
Austin Forkner–137
Luke Renzland–109
Kyle Peters–107
Sean Cantrell–96
Brandon Hartranft–89
Anthony Rodriguez–72
John Short–58
Now this you don't want to miss. The 450's were intense.
It was a hard charge by the number 4 of Blake Baggett. Ironically, he finished fourth in Foxborough.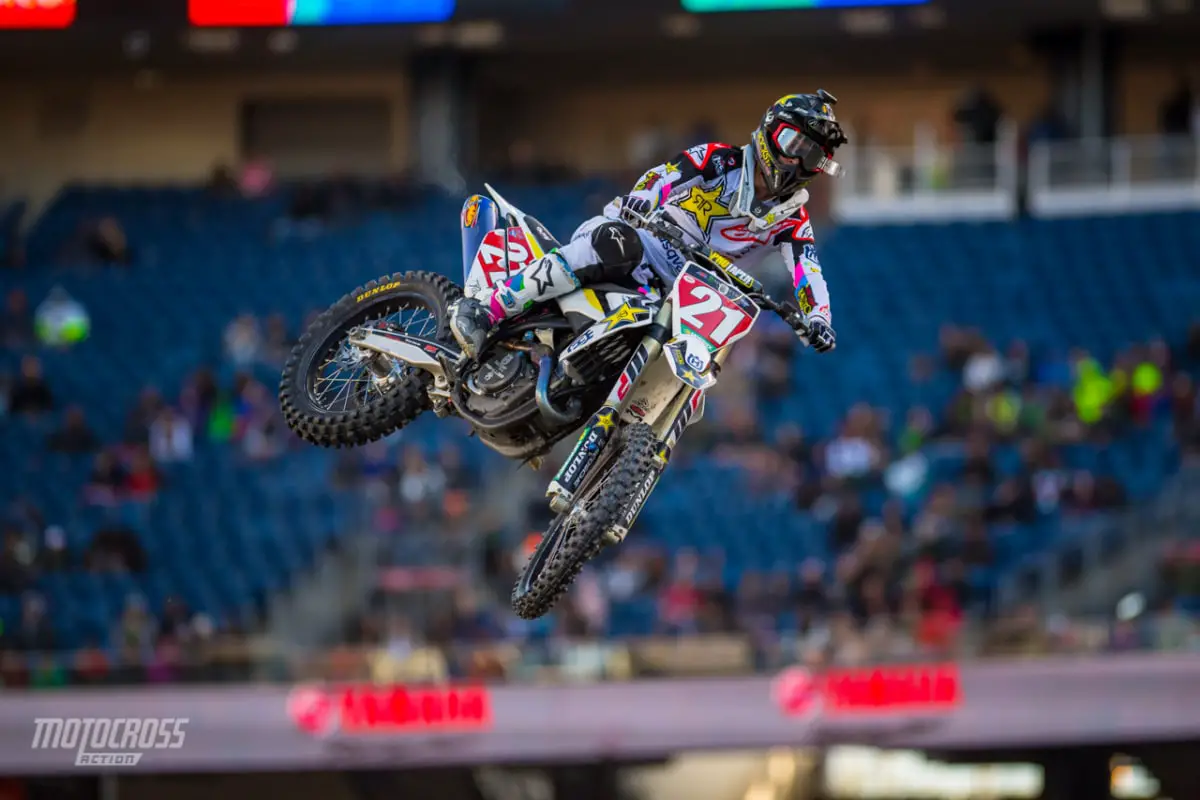 Current Points leader Jason Anderson really gave it all he had in the rough afternoon conditions that Gillett Stadium had to offer. He played it smart, and rode smooth. But most importantly, he didn't push himself too hard. He grabbed third.
Now this is where things get interesting. Eli Tomac stayed in second for most of the race, but wasn't far behind. After Marvin made a mistake, he flipped on his "beast mode" switch and charged for the lead. As the white flag waved, he was looking to be the winner. But, Musquin made a very questionable pass for the lead. In the end, Tomac still managed to finish in second.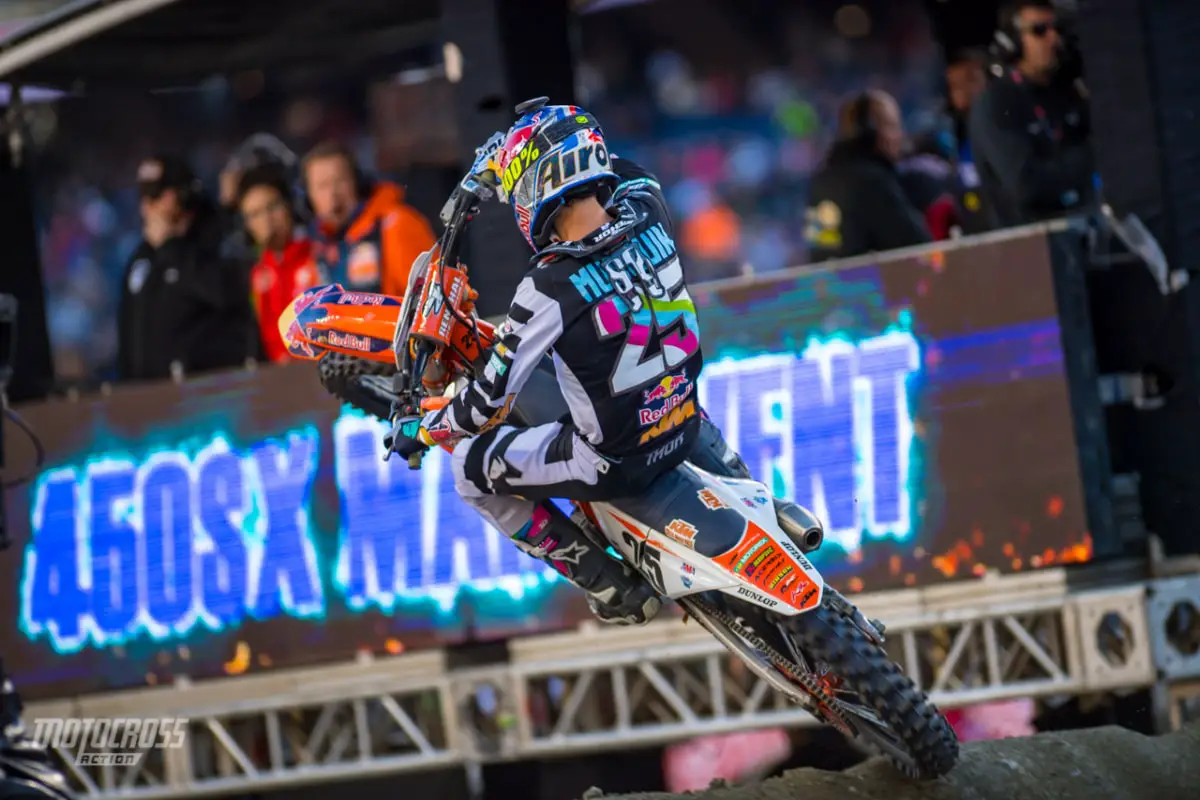 Marvin Musquin made an early jump to the lead, and stayed up front for almost the entire 20 minutes. The lap before the last lap, he made a small mistake in the whoops leaving the door open for Eli. Tomac of course took it, and Marvin was left with second at the time. But coming into the final three sections of the track, he put what appeared to be a straight take out move on the number 3 and took the win. Crazy right?
Marvin Musquin (KTM)
Eli Tomac (Kaw)
Jason Anderson (Hus)
Blake Baggett (KTM)
Dean Wilson (Hus)
Weston Peick (Suz)
Malcolm Stewart (Suz)
Justin Brayton (Hon)
Justin Barcia (Yam)
Chad Reed (Hus)
Christian Craig (Hon)
Vince Friese (Hon)
Tyler Bowers (Kaw)
Benny Bloss (KTM)
Cedric Soubeyras (Suz)
Henry Miller (Suz)
Brandon Scherer (Yam)
Alex Ray (Yam)
Devon Rapper (Kaw)
AJ Catanzaro (Kaw)
Dustin pipes (Suz)
Kyle Cunningham (Suz)
450 SUPERCROSS POINTS STANDINGS
Jason Anderson–332
Marvin Musquin–298
Eli Tomac–269
Justin Brayton–247
Blake Baggett–243
Weston Peick–219
Broc Tickle–184
Dean Wilson–183
Cooper Webb-181
Malcolm Stewart–150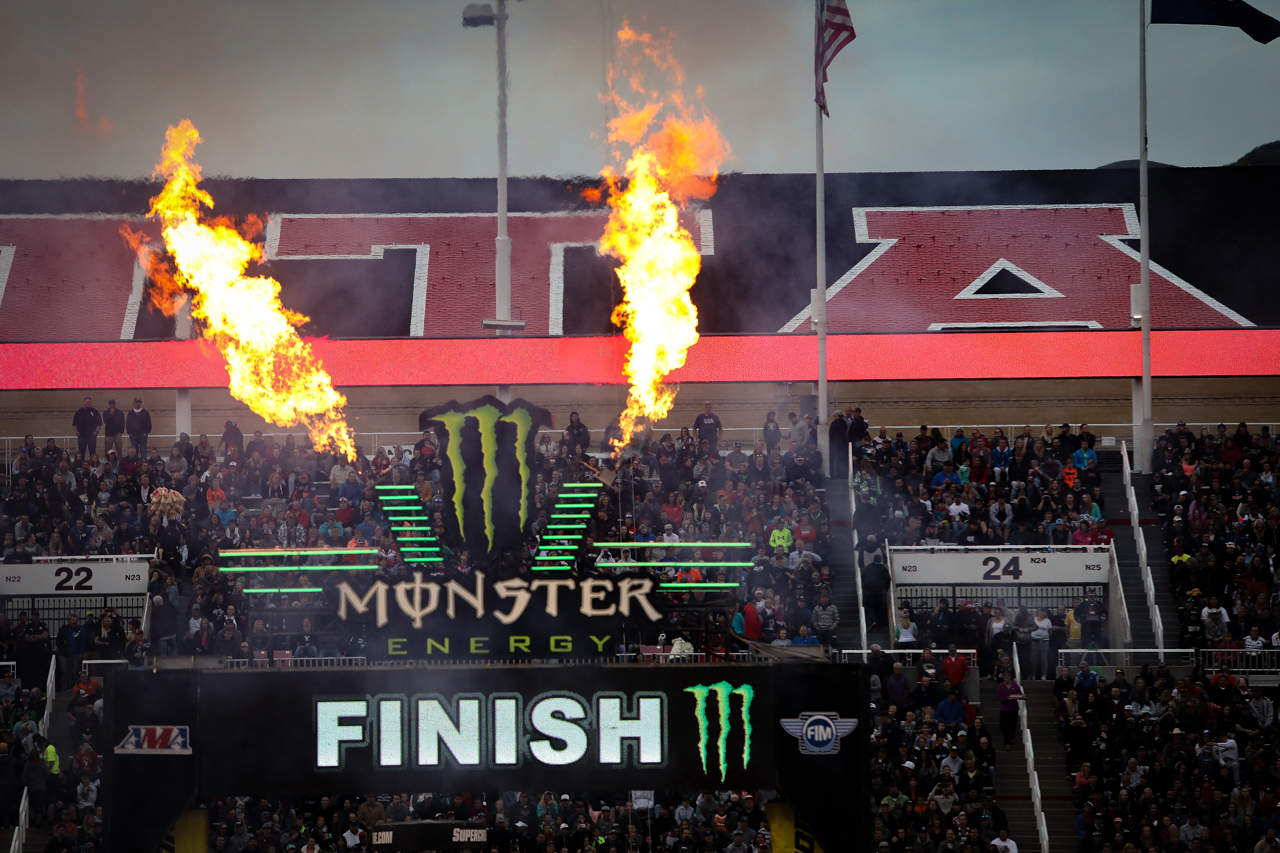 Well, thats how things panned out in Foxborough for Round 15 of the 2018 Monster Energy Supercross series. We will see you next weekend in Salt Lake, City.