2018 GLEN HELEN NATIONAL | 250 OVERALL QUALIFYING TIMES
Justin Cooper set the fastest lap of qualifying in the 250 class in session one. 
The morning of round two for the 2018 Glen Helen National the weather is overcast with a light drizzle that is keeping the track wet. The first session of 250 qualifying, is was Justin Cooper who set the fastest time by more than two full seconds over the field. In session two, Justin's time in the first session was good enough to keep him on the pole. Geico Honda's Jeremy Martin was second and Joey Savatgy was third.
250 OVERALL QUALIFYING TIMES | GLEN HELEN
Justin Cooper (Yam)–2:37.337
Jeremy Martin (Hon)–2:38.552
Joey Savatgy (Kaw)–2:39.684
Zach Osborne (Hus)–2:40.473
Shane McElrath (KTM)–2:40.862
Alex Martin (KTM)–2:41.154
RJ Hampshire (Hon)–2:41.458
Austin Forkner (Kaw)–2:41.478
Aaron Plessinger (Yam)–2.41.611
Garrett Marchbanks (Kaw)–2:41.619
Chase Sexton (Hon)–2:42.113
Jordan Smith (KTM)–2:42.170
Justin Hill (Suz)–2:42.339
Michael Mosiman (Hus)–2:42.795
Jordan Bailey (Hus)–2:43.645
Brandon Hartranft (Yam)–2:44.207
Dakota Alix (KTM)–2:45.750
Martin Castelo (Yam)–2:45.846
Enzo Lopes (Suz)–2:46.244
Gage Schehr (KTM)–2:46.806
Challenge Tennant (Yam)–2.46.887
Sean Cantrell (KTM)–2:47.176
Deegan Vonlossberg (Yam)–2:49.226
Ramyller Alves (Yam)–2:49.905
Ryan Surratt (KTM)–2:50.259
Chase Felong (Yam)–2:50.512
Gustavo De Souza (Hon)–2:51.070
Yusuke Watanabe (Yam)–2:51.137
Austin Root (Hus)–2:51.269
Tyler Rosa (Yam)–2:52.739
Vand Martin (Hon)–2:52.963
Blaine Silveira (Hon)–2:53.012
Carson Carr (Yam)–2:53.057
Cody Williams (Hon)–2:53.334
Jeffrey Walker (Hon)–2:53.646
Tyler McCoy (Yam)–2:54.107
TOP 36 RIDERS QUALIFY
James Weeks (Yam)–2:54.235
Kevin Moranz (KTM)–2:54.644
McCoy Brough (Hon)–2:55.720
Dylan Summerlin (Hus)–2:56.254
Luc Snatos (Hus)–2:65.390
Mason Wharton (Kaw)–2:56.751
Brian Medeiros (Yam)–2:57.093
Renton Minuto (Yam)–2:58.194
Chance Blackburn (KTM)–2:58.400
Garret Loppolo (Yam)–3:02.643
Jacob Bork (Yam)–3:04.757
Phillipp Klakow (Hus)–3:06.689
Joshua Berchem (KTM)–3:08.269
Anthony Roth (Hon)–3:10.531
Jeremy Martin sits in second in qualifying. He was more than a full second off Justin Cooper's pace.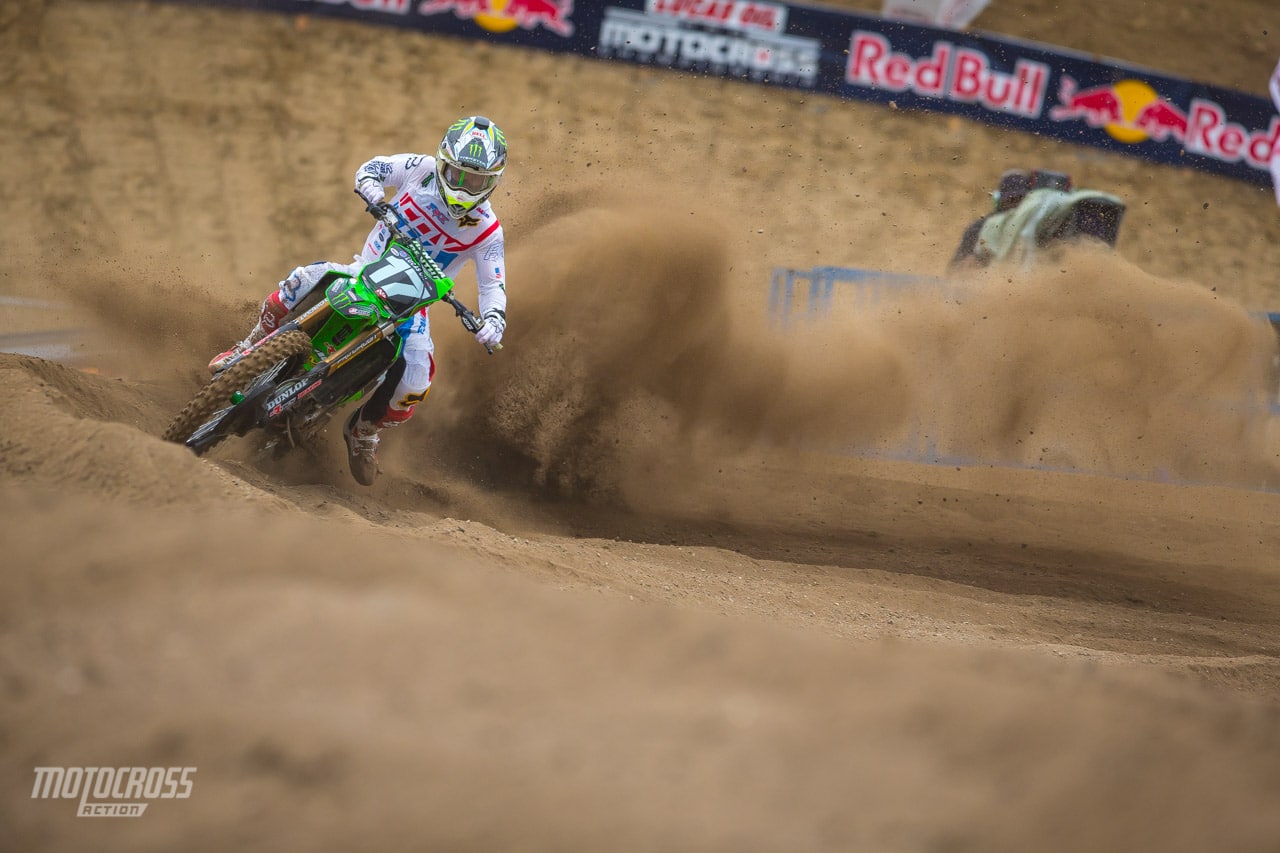 Joey Savatgy sand blasting a berm on his way to third overall in 250 qualifying. 
250 points leader Zach Osborne qualified forth.