2018 INDIANAPOLIS SUPERCROSS | THE AFTERMATH
Photos by Brian Converse.
Any given year, A1, Daytona and Las Vegas are by the far most exciting and most anticipated races of the Supercross season. In 2018, the fans added Indianapolis to that list. Why? Because for the first time ever, FELD Entertainment (the promoters of Monster Energy Supercross) decided to put not one, but two East/West showdowns in the running this season. And the first one just happened to fall and land in Indianapolis. Not the mention the chaos in the 450 class with big crashes, broken bones and first time winners. On this night, the fans were revved up inside Lucas Oil Stadium for the 12th round of the 2018 Supercross series. 
To start off the day in qualifying, the 250 class was divided up into two groups. East and West. For the East, Jeremy Martin clocked in the fastest time.
And in the 250 West, it was all about Joey Savatgy in qualifying.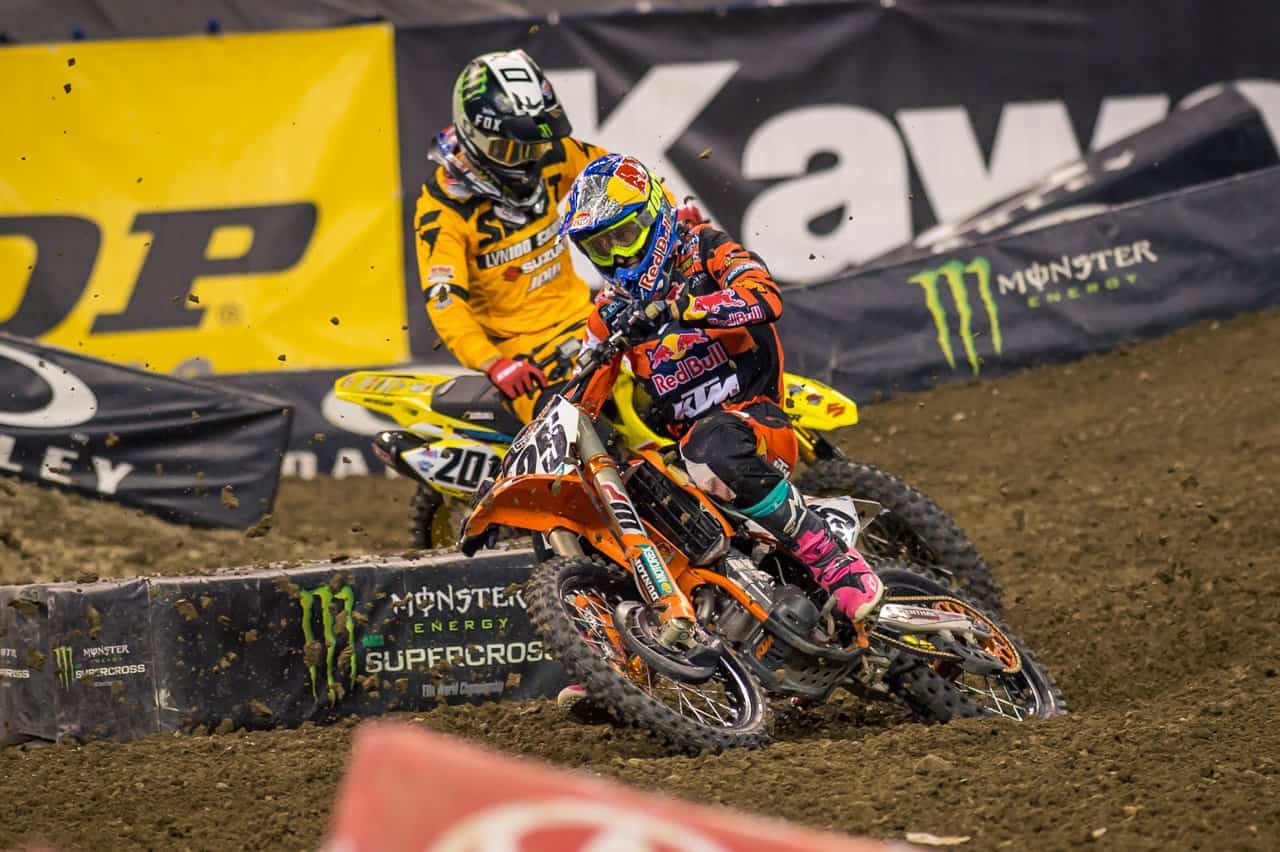 In the 450 class, it was no surprise that Marvin Musquin clocked in the fastest time in the big bike class.
After qualifying, Indiana fans gathered into the famous "Lucas Oil Stadium" in Indianapolis for the opening ceremony festivities. We're 99.9% sure the fans loved all the fire that was launched in the stadium to warm them up from the snow storm outside. 
Does anybody not like Marvin Musquin? We think not.
Justin Brayton welcomes the fans to the night show with a fist pump.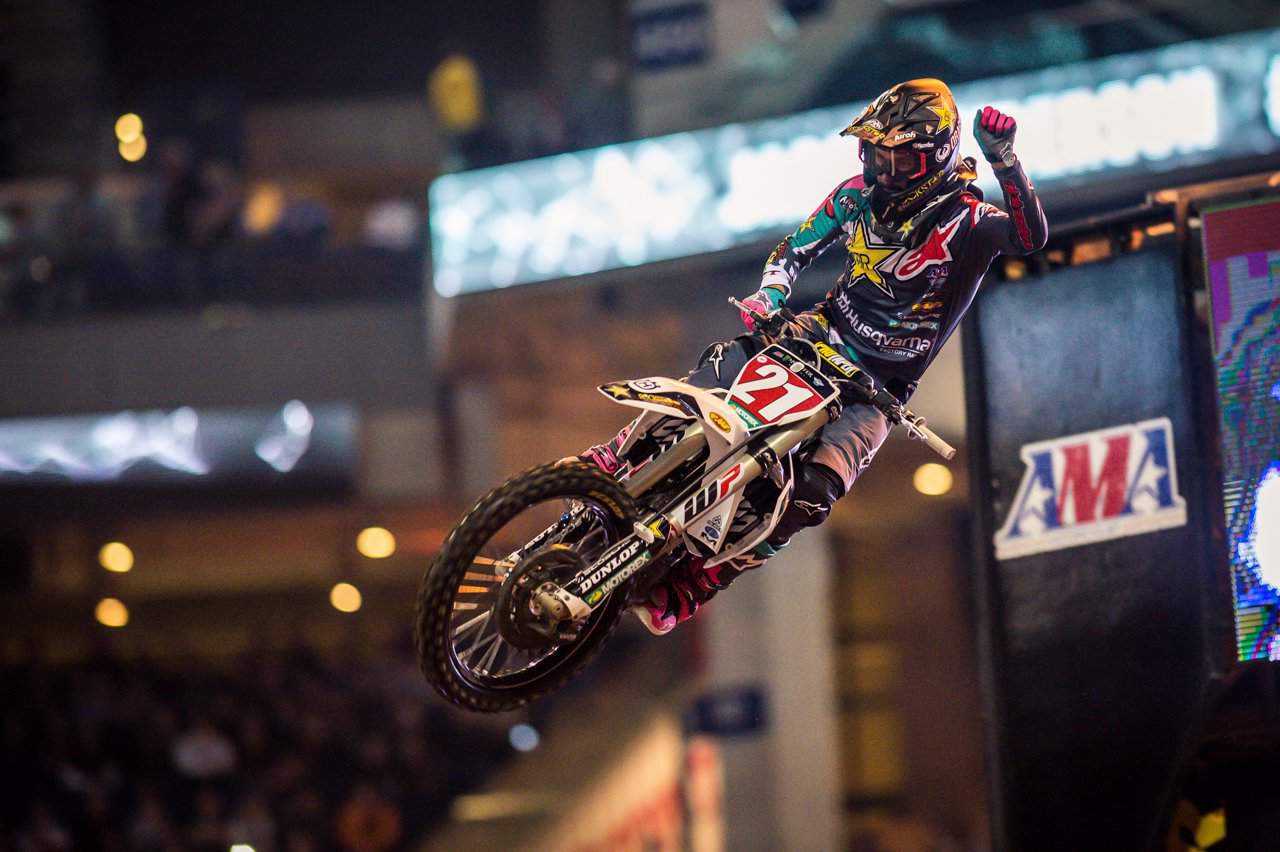 Current points leader Jason Anderson was all smiles under the helmet.
 After the pyro cleared the Indianapolis air and all the tee shirts were given out, it was time to drop the gate. First up, the 250 West guys.
Adam Cianciarulo clinched this one. He was on fire right off the gate, made a few passes and was the man to beat going into the East/West shootout. Followed behind him was Shane McElrath in second, and Aaron Plessinger in third.
Next up, it was time to see what the 250 East guys had to bring.
This race would belong to yet another Monster Energy Pro Circuit rider, Austin Forkner. After a rough weekend in St. Louis, he wanted to come into Indy and retaliate on Zach Osborne. Although, in their heat, Osborne was really giving Forkner some pressure. But Austin hung strong, and clinched the win. Followed behind him was Zach Osborne, and Jeremy Martin to round off the podium.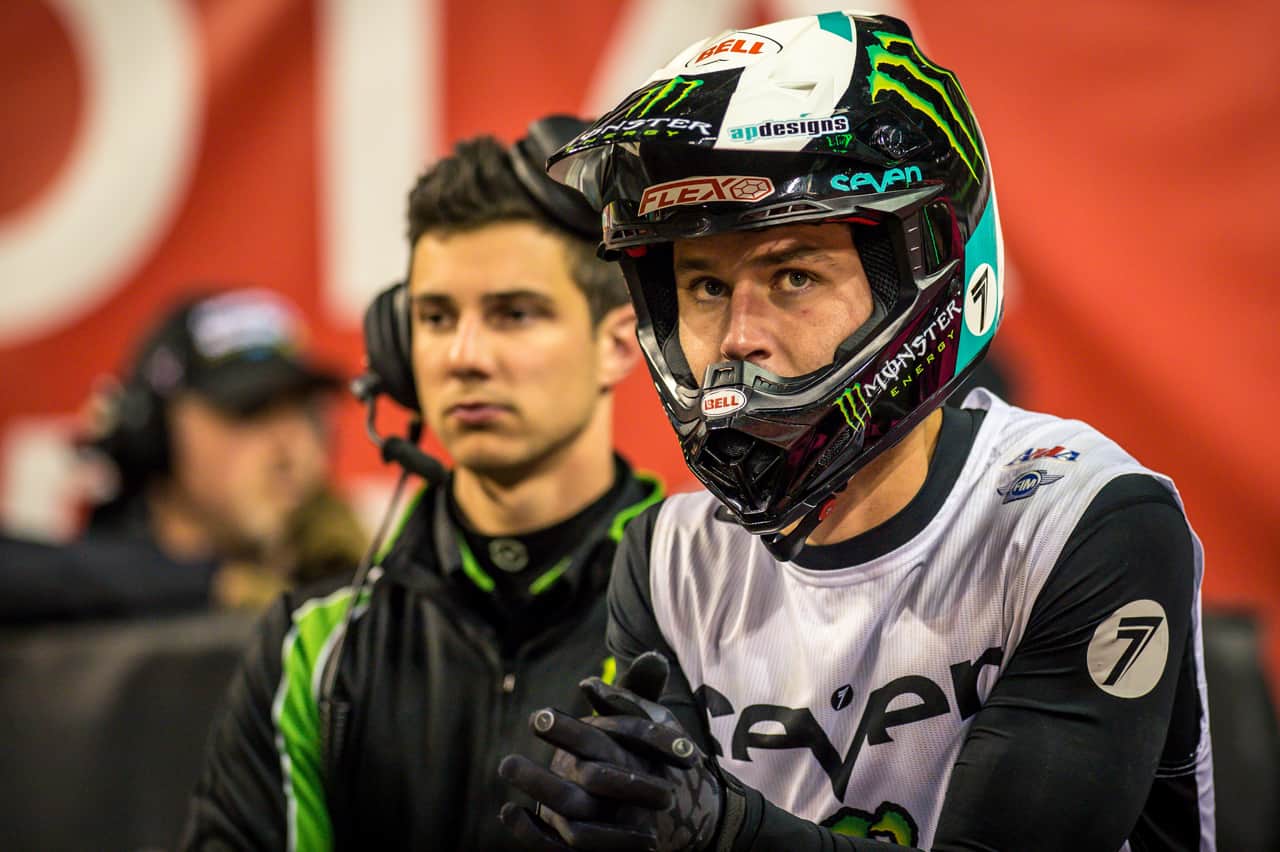 Tyler Bowers was on the line watching the 250 guys before his first first 450 Heat. 
Eli Tomac pulled out front in the first 450 Heat, and dominated. Not much went down in this race, other than Tomac gaining confidence going into the Main. Behind him fell Christian Craig in second and Broc Tickle in third.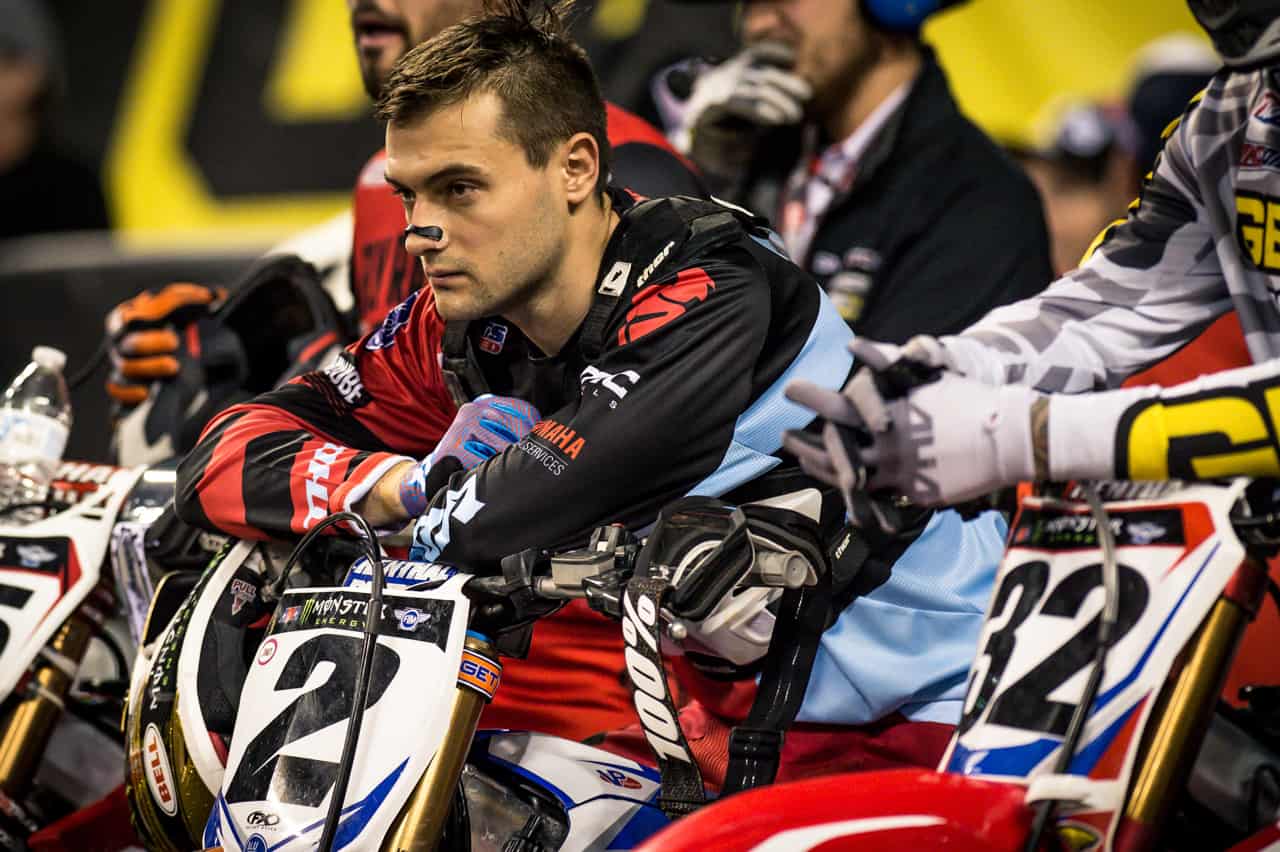 We were excited to see Cooper Webb back in action in 450 Heat two.
In this one, Justin Brayton managed to finagel his way up front. But it didn't come easy. He had the likes of Jason Anderson and Blake Baggett behind him in second and third.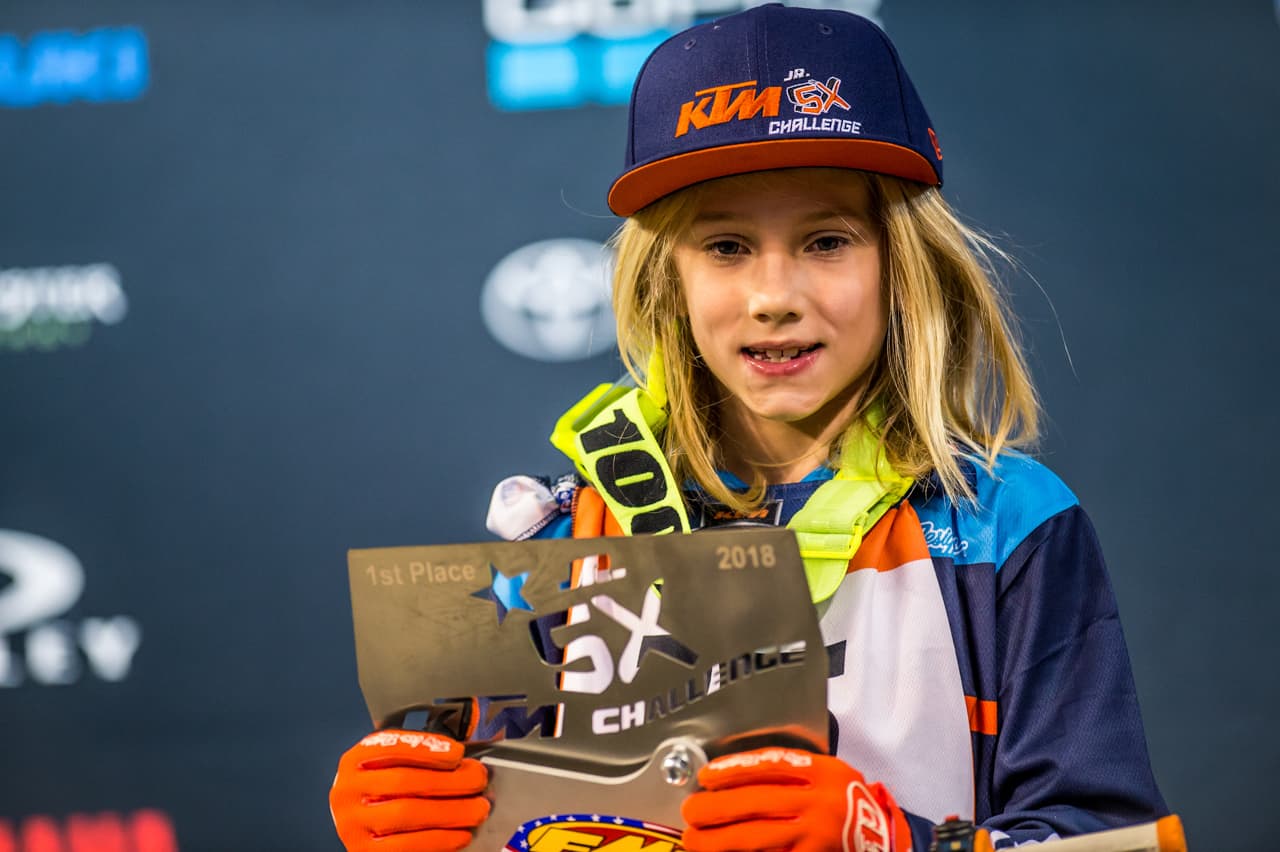 During halftime it was time for the kids to get their 15 minutes of fame. In this weekends KTM Junior Challenge, it was all about Mikey Sandidge!
Free tee shirts anyone?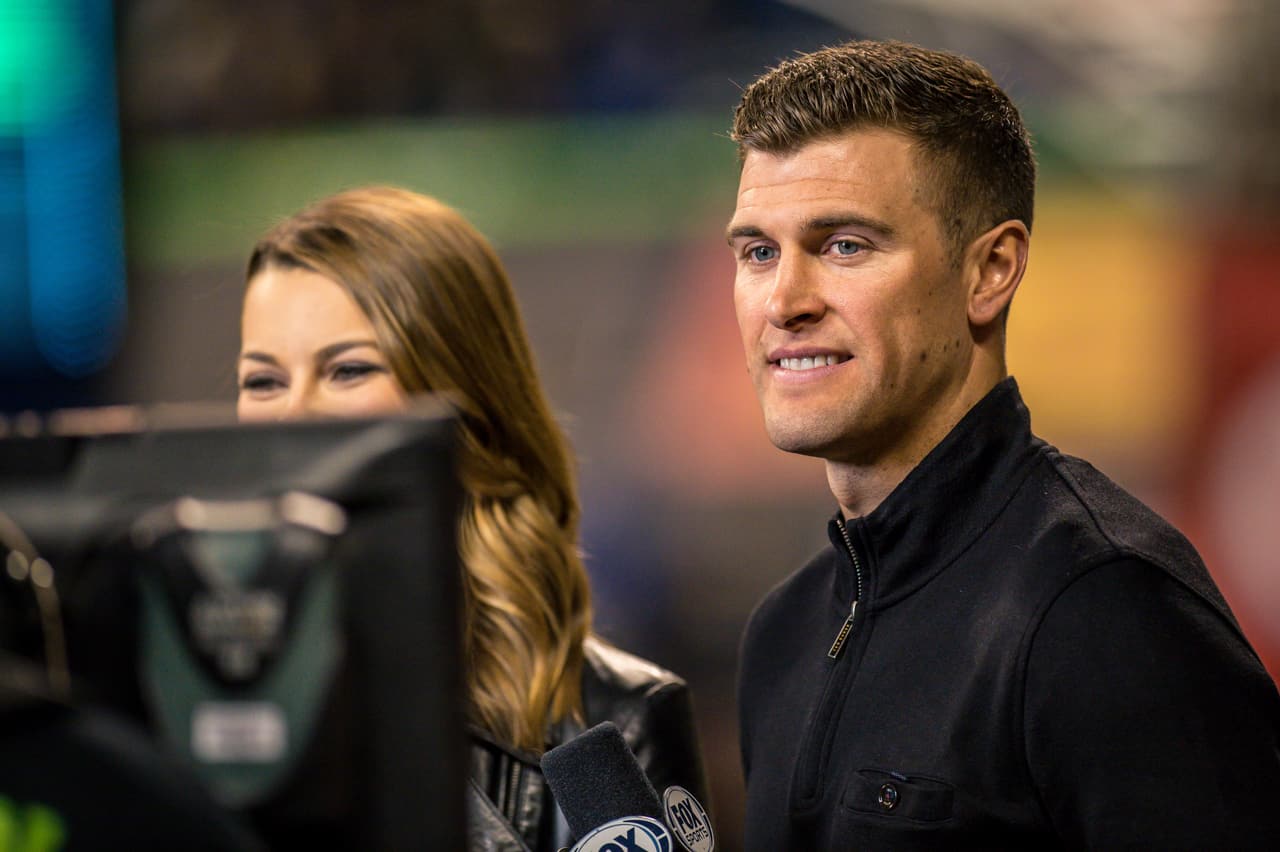 Behind the scenes, Ryan Dungey was on hand with FOX Sports 1's Jenny Taft.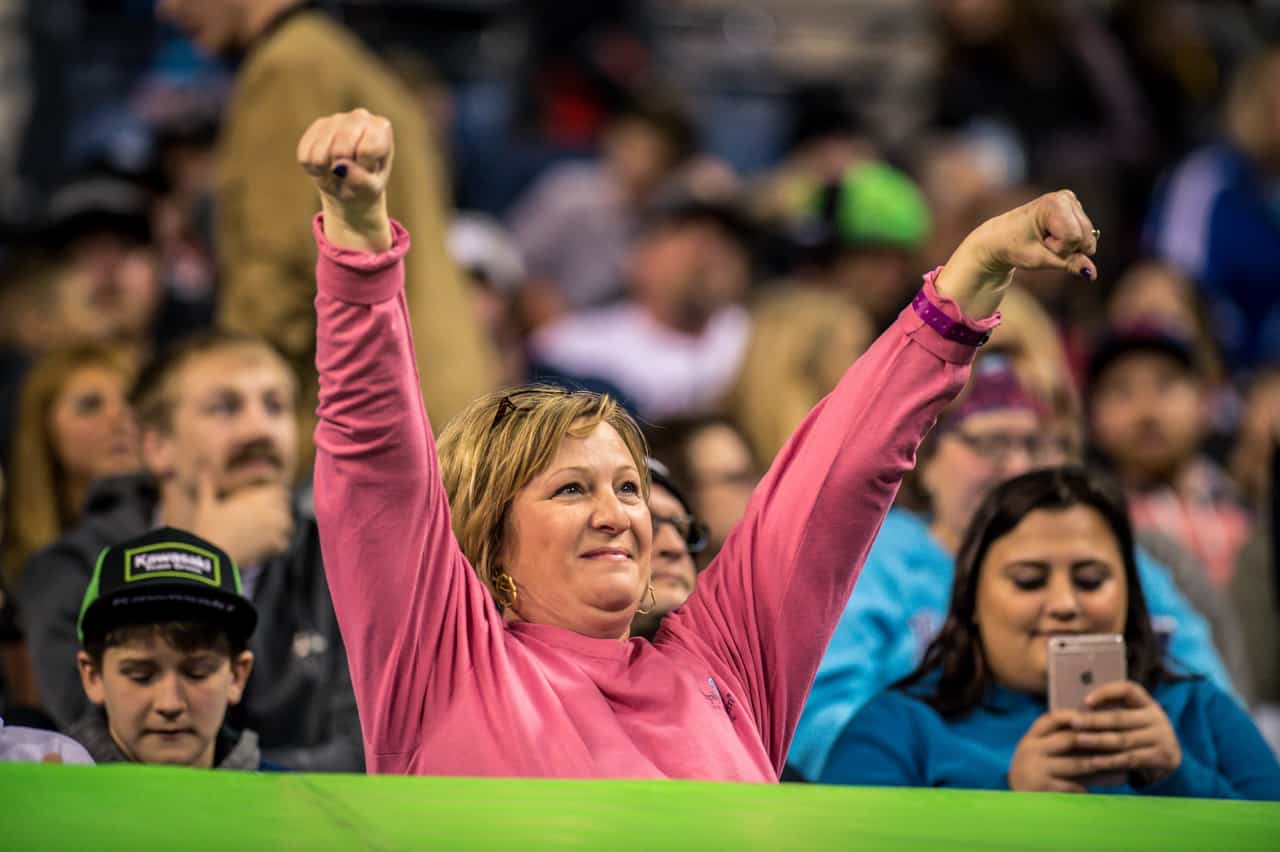 We can't figure this picture out. Is this woman hitting a triple? Is she fist pumping for her favorite rider? Could she possibly be riding a Harley Davinson with ape-hanger bars? Or maybe, she just wants a free tee shirt. We just don't know. Either way, we do know that moms love Supercross!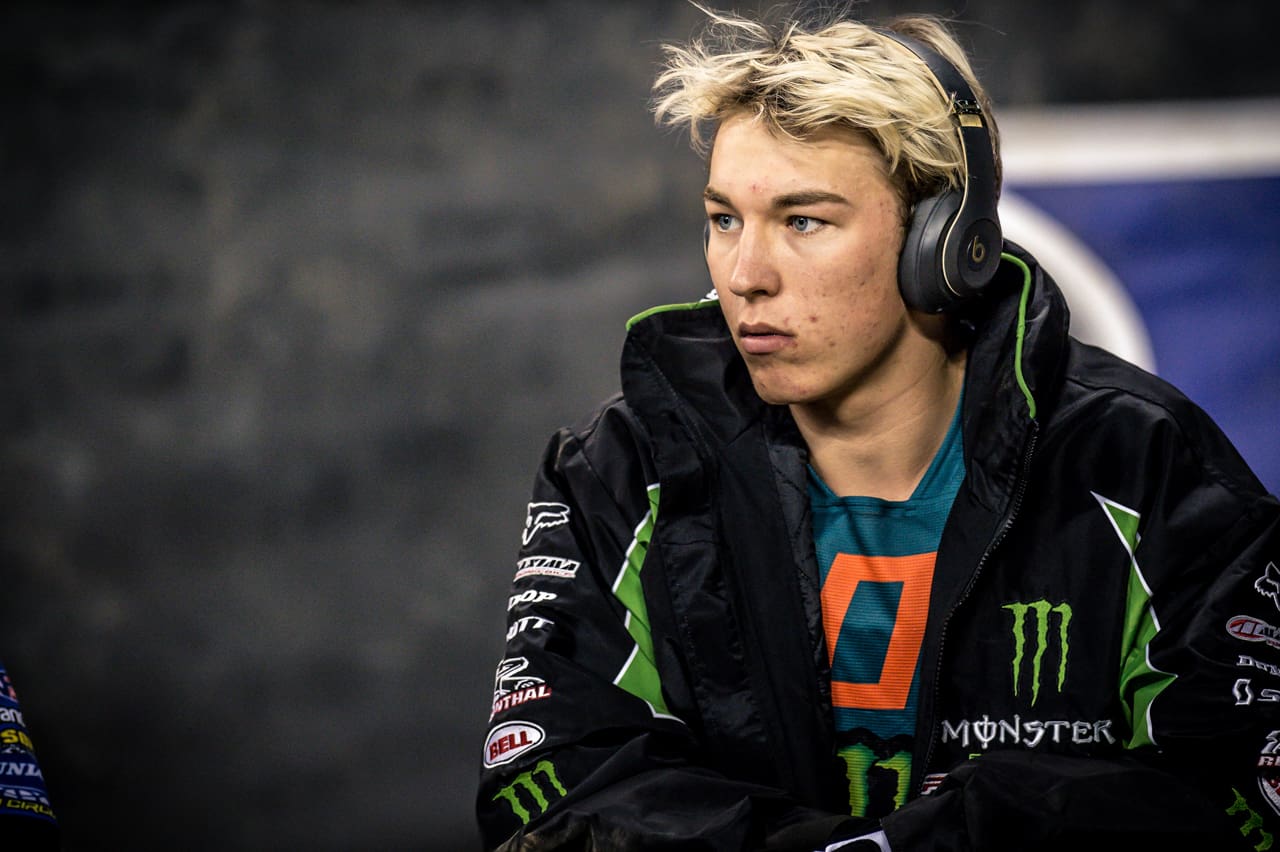 Meanwhile, Austin Forkner prepares for his last race of the night. The 250 East/West Shootout. 
The 250 East/West shootout wasn't an easy one for Aaron Plessinger. He, like many others got caught up in the first turn pileup and started the race dead last. He charged hard, and put together a true "championship worthy" ride. He finished fifth.
It was a tough night for Jordon Smith as well. He went down hard in practice. He was beaten up coming into the night show. He managed to keep smooth and ride his lines all night. He finished fourth.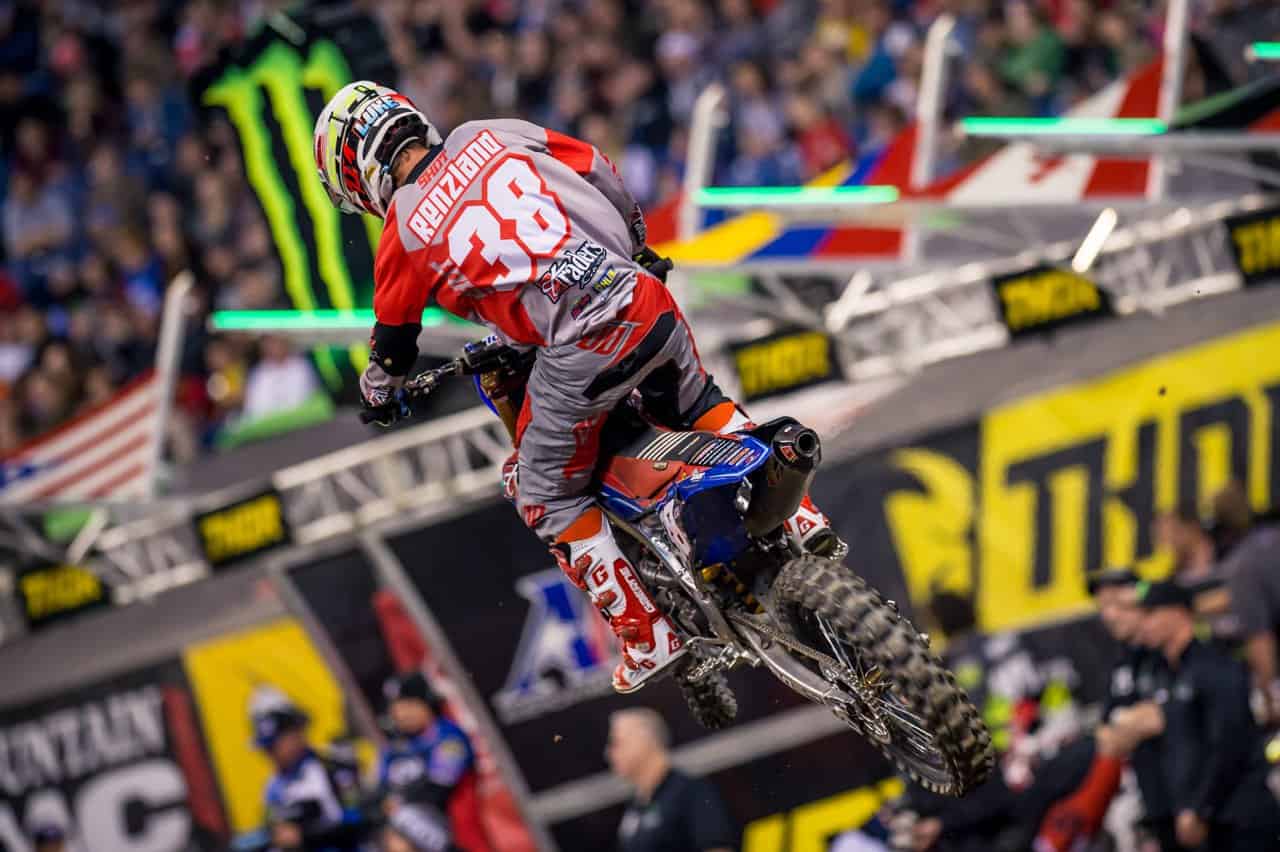 Say what you will, but Luke Renzland put together a great ride in Indianapolis. The first time podium finisher managed to keep the number 38 in second for the entire race. He kept calm, and was patiently waiting for the checkered flags. Until Adam Cianciarulo made a quick pass toward the end of the race, leaving Renzland to finish third. But he is in good spirits! This is his career best finish.
This was a performance we have never seen from Adam Cianciarulo. He also got caught up in the first turn mess and started in the back of the pack. The victory hungry 21 year old Florida native was determined to push hard. He managed to work his way up to second when the checkers waved.
We have not heard that loud of a celebration panic rev in years. Jeremy Martin was a man on a mission in the 250 East/West shootout. These races are always known for bringing out the best in all the coasts. But Jeremy Martin proved all day that he was the one that wanted to be on top. He pulled the holeshot, and checked out. Even after the red flag scandal, he is still your 250 East/West Shootout winner.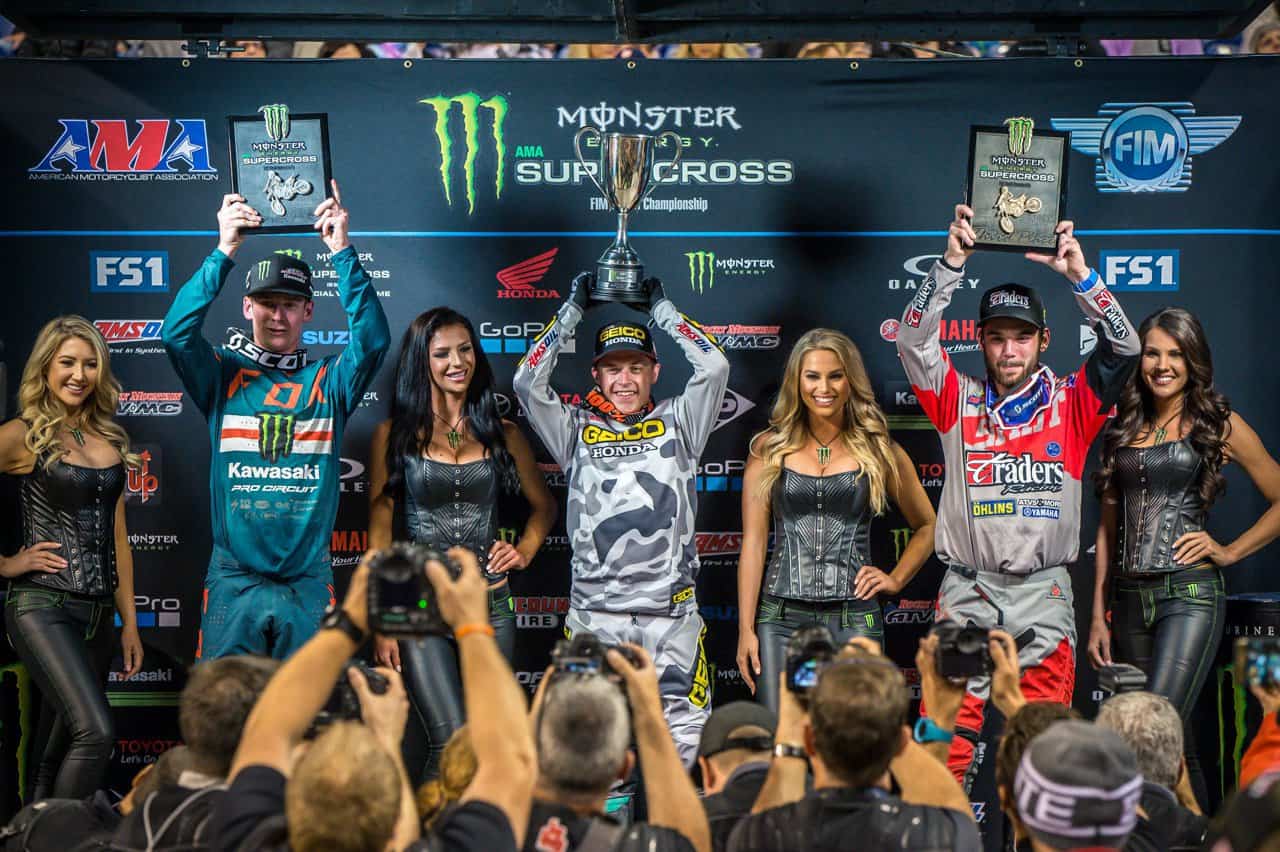 Official results: Jeremy Martin (1st), Adam Cianciarulo (2nd), Luke Renzland (3rd).
250 EAST POINTS (ROUND 6 OF 9)
Zach Osborne (Hus)–131
Austin Forkner (Kaw)–124
Jordon Smith (KTM)–121
Jeremy Martin (Hon)–119

(reduced to 112 due to red flag penalty)

Luke Renzland (Yam)–92
Kyle Peters (Suz)–85
Sean Cantrell (KTM)–59
Rj Hampshire (Hon)-57
Brandon Hartranft (Yam)–57
Colt Nichols (Yam)–54
250 WEST POINTS (ROUND 7 OF 10)
Aaron Plessinger (Yam)–151
Joey Savatgy (Kaw)–142
Adam Cianciarulo (Kaw)–139
Shane McElrath (KTM)–127
Chase Sexton (Hon)–109
Christin Craig (Hon)–106
Justin Hill (Suz)–105
Kyle Chisholm (Yam)–95
Mitchell Harrison (Hus)–84
Hayden Mellross (Yam)–68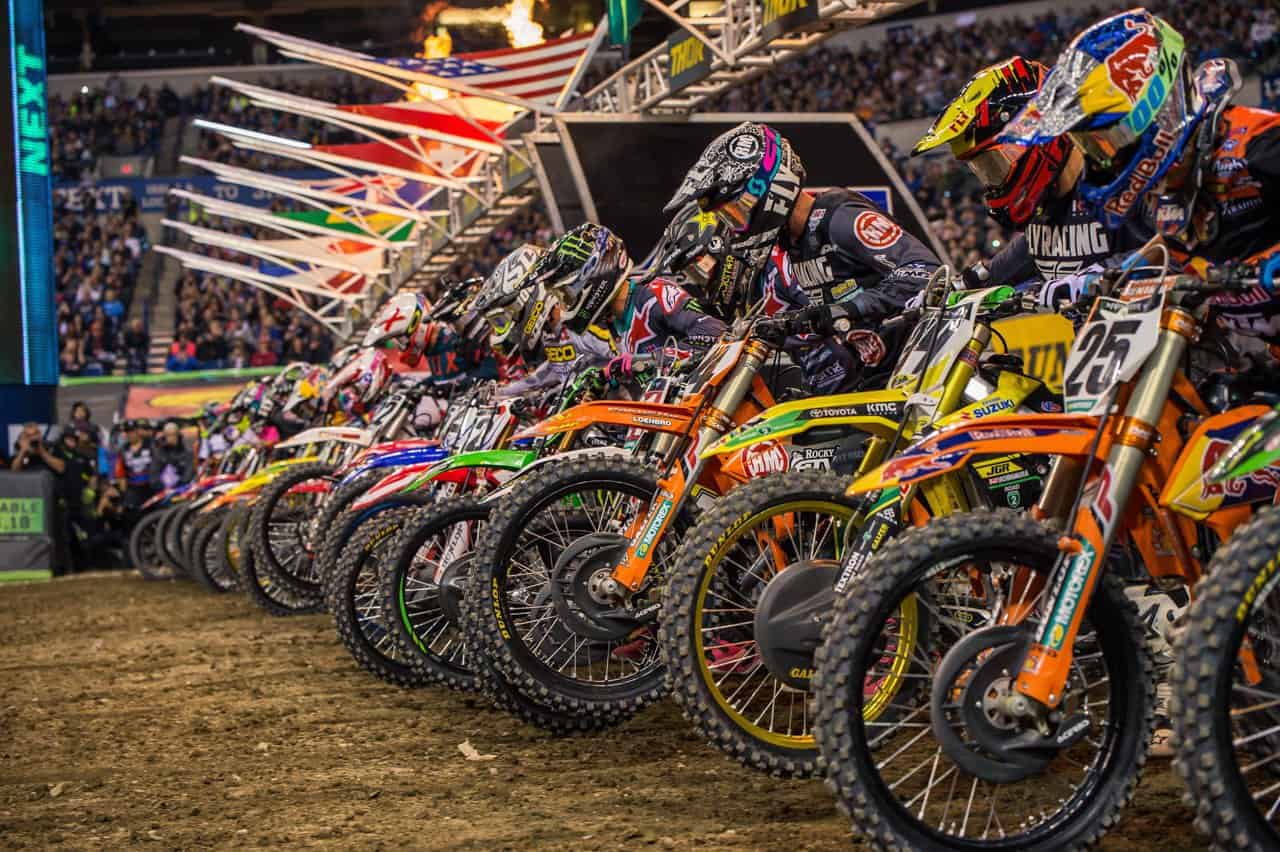 Now, its time for the final Main Event of the night. The 450 class.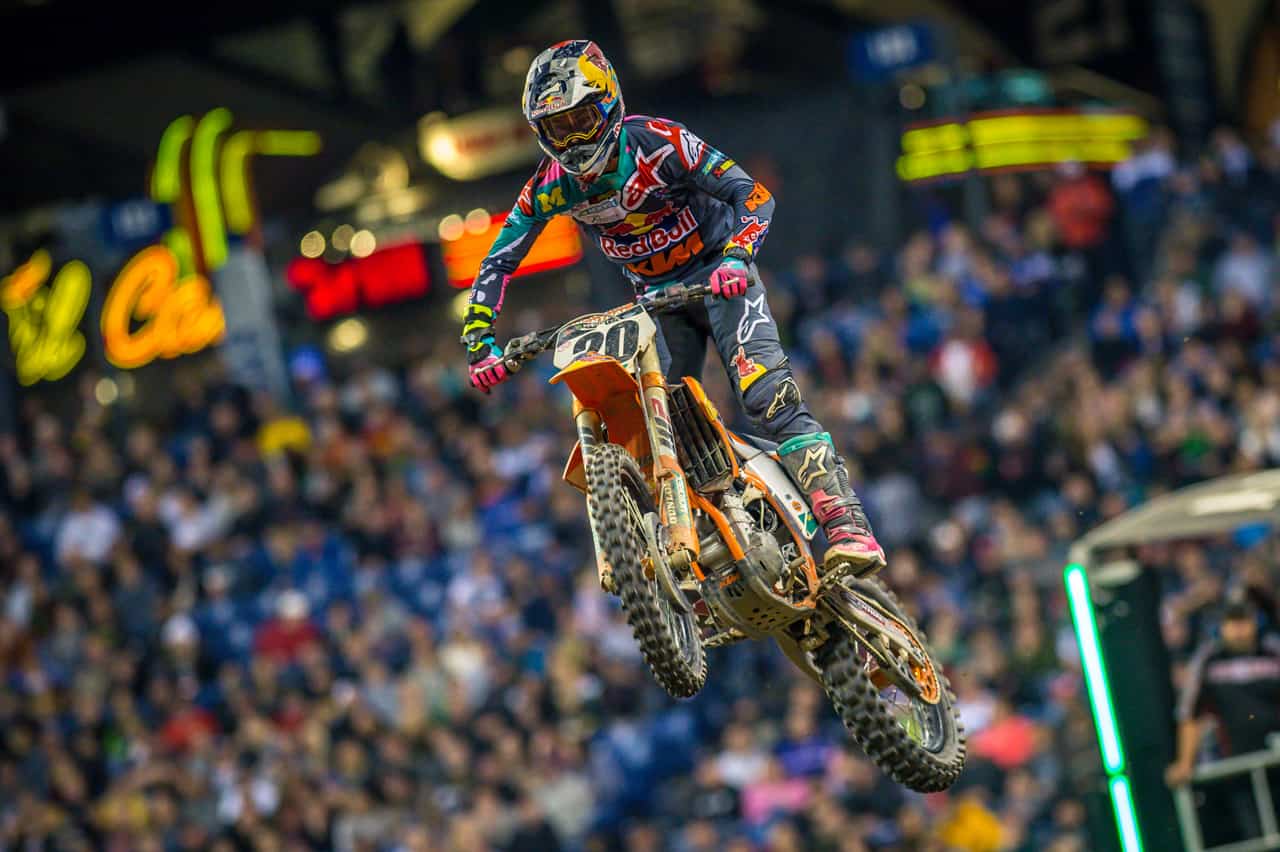 Broc Tickle was not happy with the events that transpired on this night. He moved his way to second by passing Dean Wilson around the 8-minute mark. He was on his way to scoring his best finish of the season. Until, Deano t-boned him straight to the ground for the second place spot. Broc came up short, and crossed the line in fifth.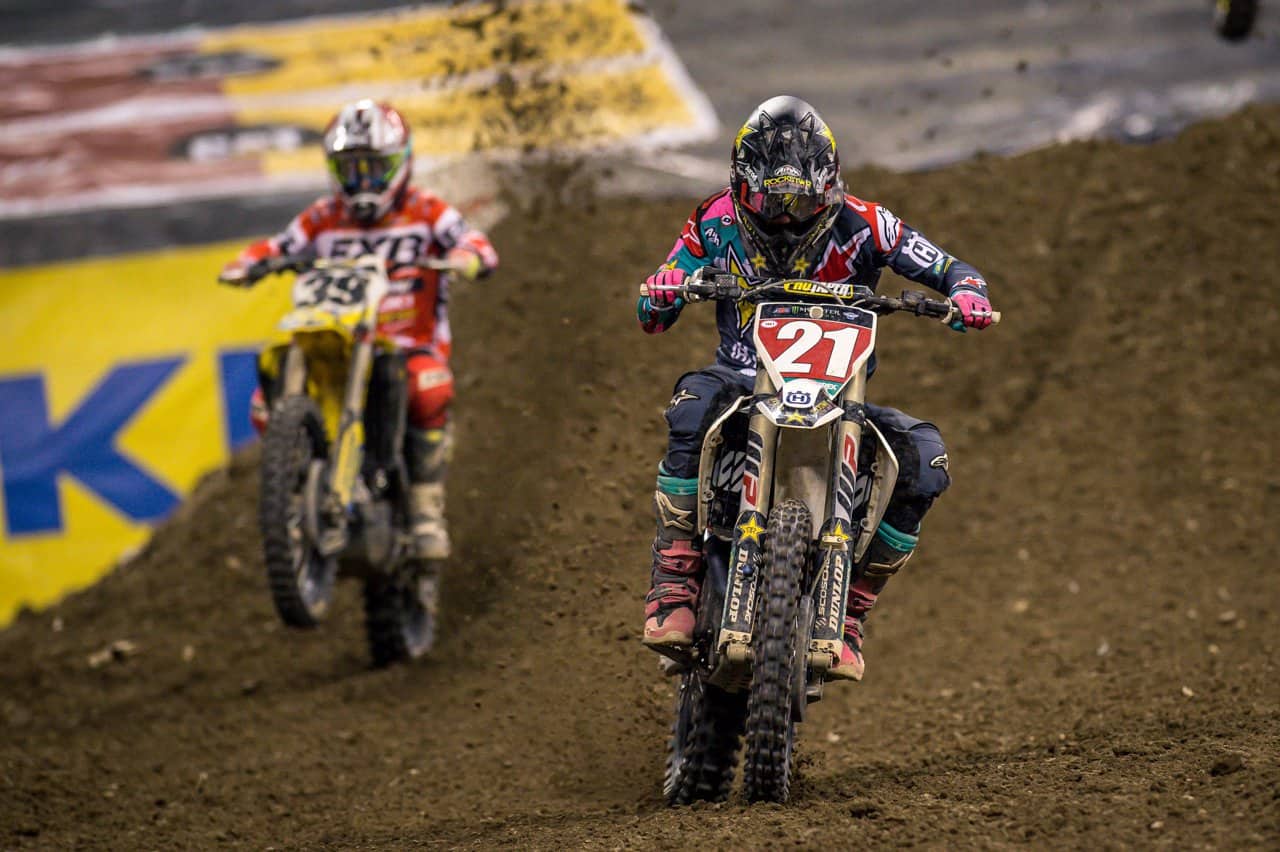 For your current points leader Jason Anderson, he had lots of work to do if he wanted to gain those valuable championship points. After getting off to a dead last start he put his head down and made his way up to fourth.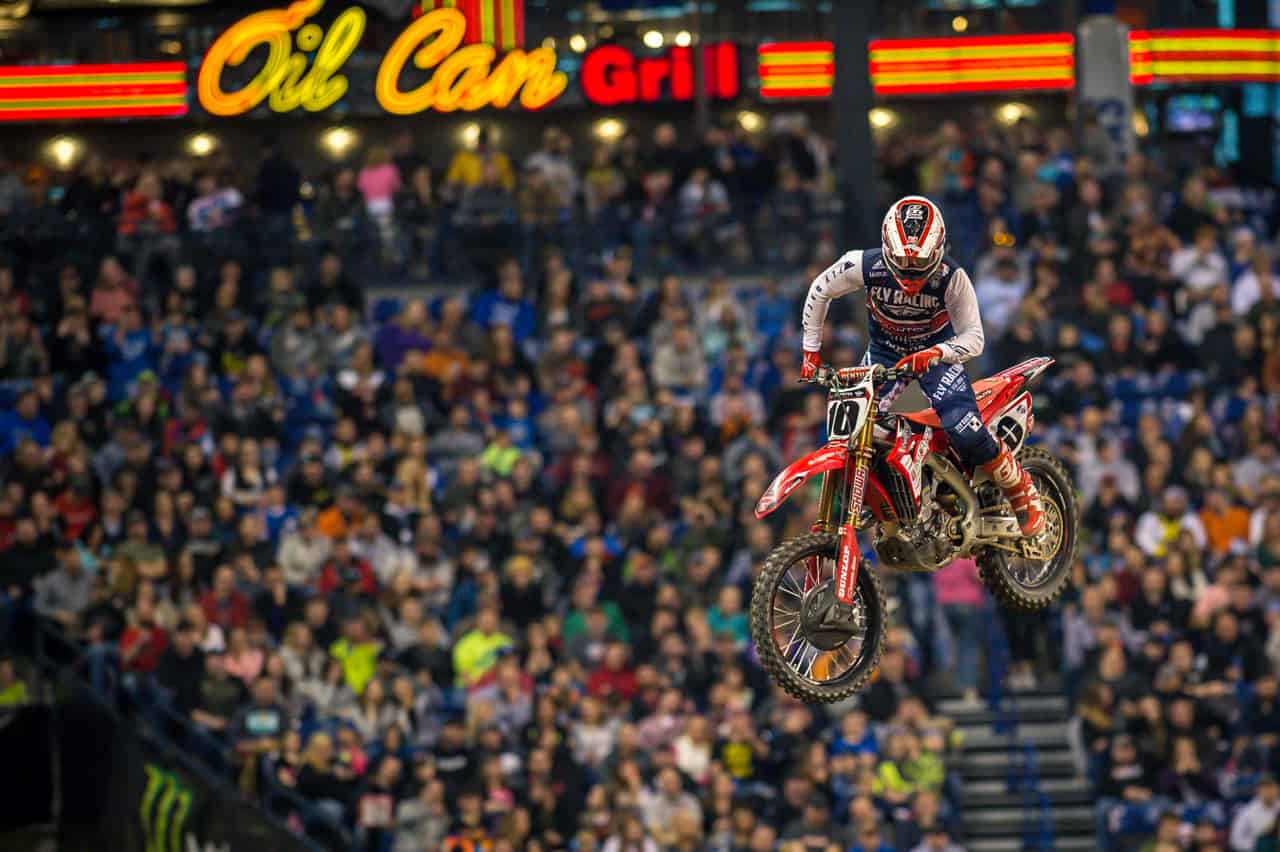 It looks like we will need to get use to seeing this guy on the podium. Justin Brayton managed to put himself in third, and stay there the entire main event. The 34 year old looks to be gaining more and more momentum every single weekend.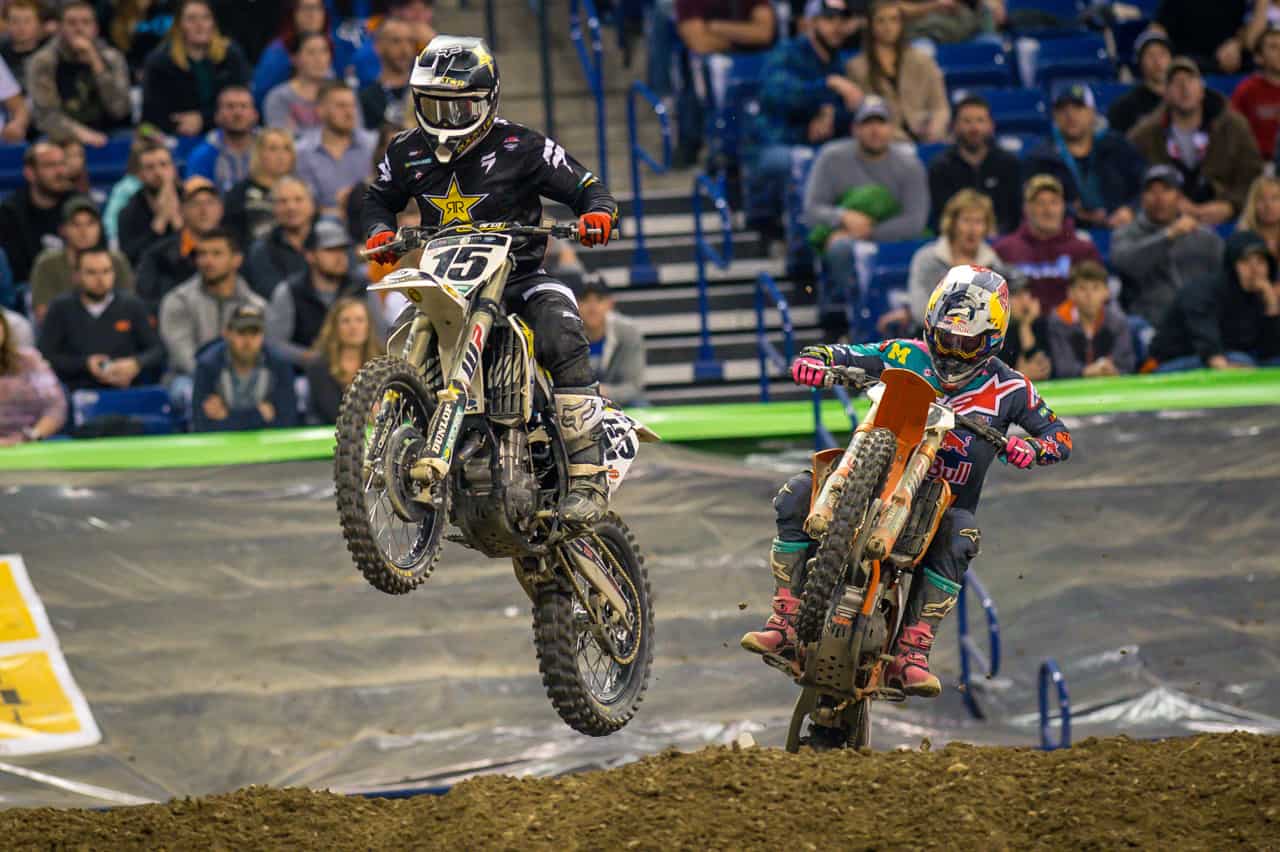 Dean Wilson scored his best finish of the season with a second in the main. Although, he got passed by Broc Tickle, he managed to make a hard move and took Tickle out for the position. Rubbing is racing.
On this night, we got the opportunity to see Marvin Musquin's classic heal-clicker once again. He pulled a great start, and managed to ride the rough Indianapolis track in pure Musquin style. It was a well deserved win for the number 25.
Official results: Marvin Musquin (1st), Dean Wilson (2nd), Justin Brayton (3rd).
450 SUPERCROSS POINTS STANDINGS
Jason Anderson–265
Marvin Musquin–230
Justin Brayton–210
Eli Tomac-194
Blake Baggett–194
Weston Peick–172
Broc Tickle–165
Cooper Webb-162
Dean Wilson–138
Cole Seely–124
_____________________________________
TOP NEWS AFTER INDIANAPOLIS:
Blake Wharton made his return to racing this past weekend. His last professional race was in 2014. He was the fastest in 250 overflow qualifying, killed it in his heat but he finished fourteenth due to a few tiny mistakes.
Blake commented: "It felt great to be at Indianapolis and have all the positive support to welcome me back. Couldn't of asked for a better race having had just one month of SX preparation with @racetracksupercross@twisteddevelopmentracing team. We learned a lot from the day and have a great foundation on which to build from going forward."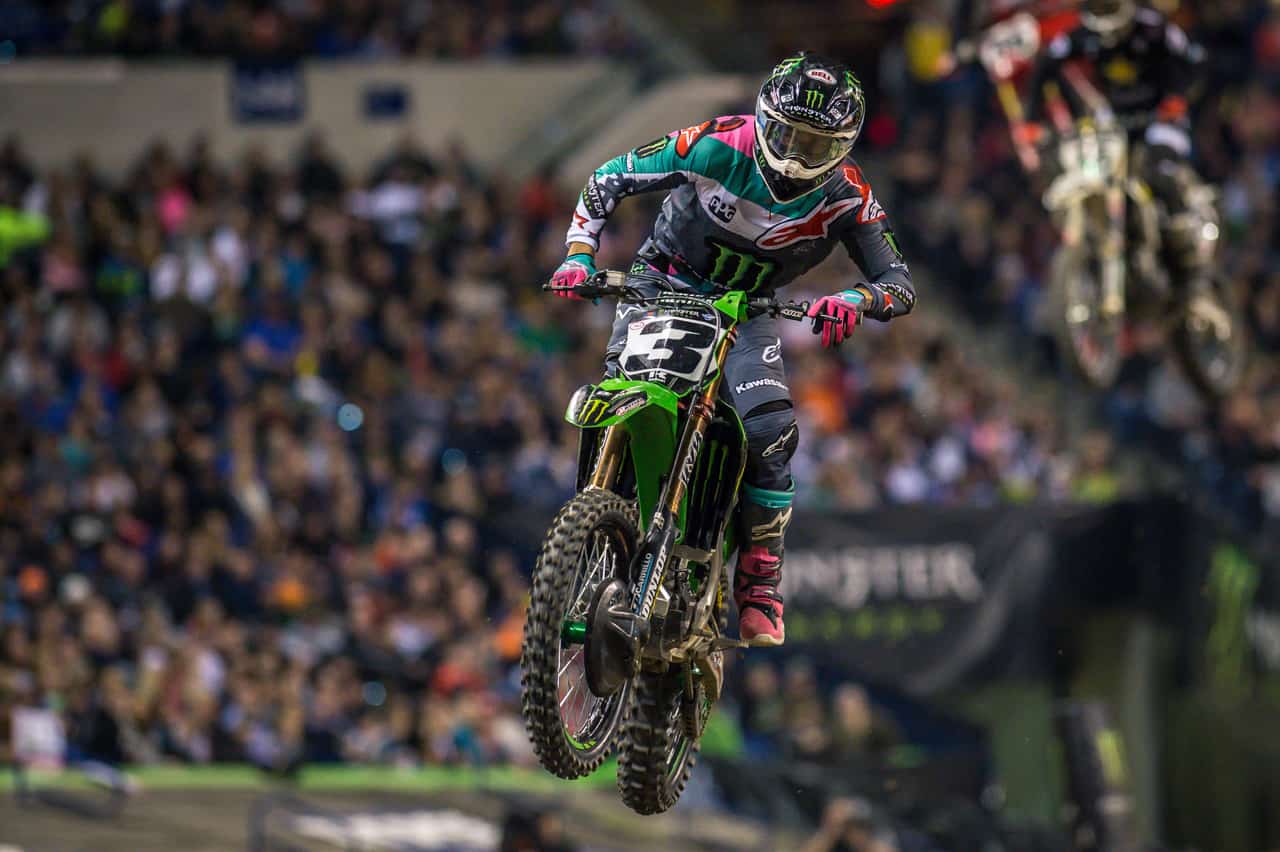 If you were watching this race live on FS1, you'd know that the track bit yet another rider on Saturday. Eli Tomac was running behind Marvin Musquin for a majority off the Main. There are no photos of the accident, but we found a video of his crash on Pete Fox's Instagram feed. He was in no hurry to get up and race after the crash. He did eventually get up and finish the race, but as of now there is no word on Eli's state.