2018 IRONMAN NATIONAL | 250 FASTEST QUALIFIERS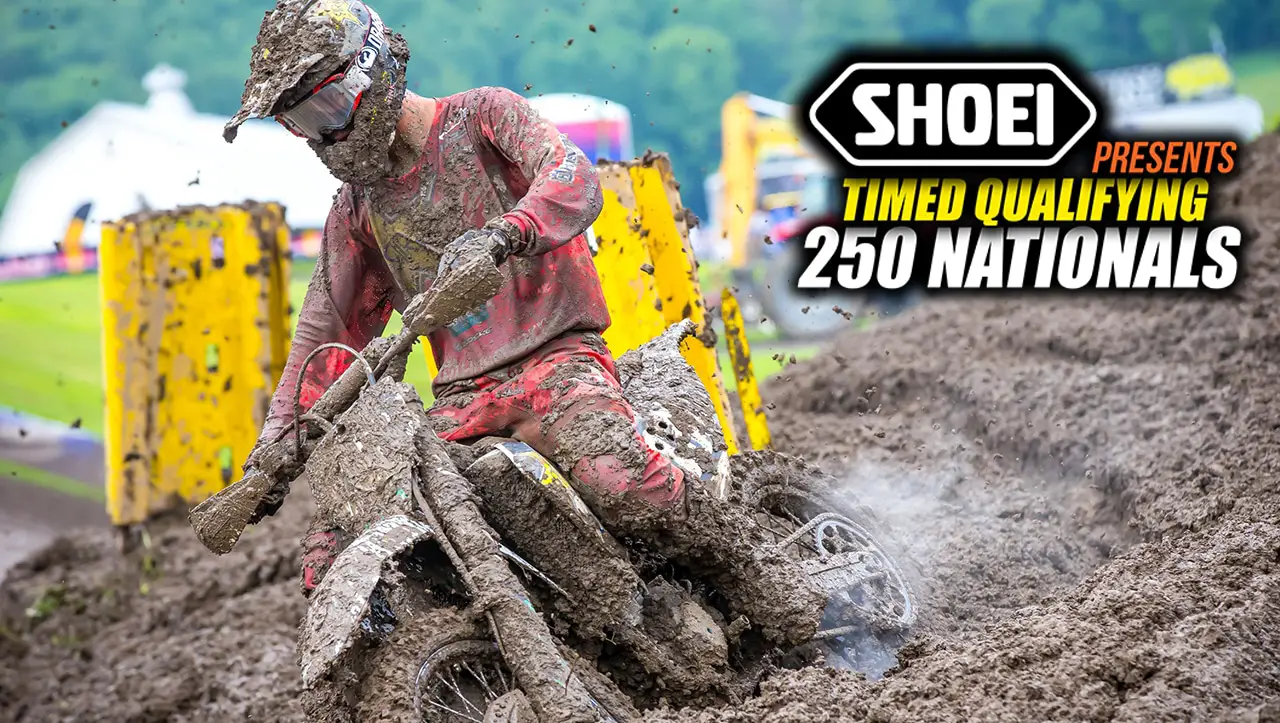 It is a muddy one today in Indiana. 
Due to the severe mud at the 12th round of the 2018 AMA Nationals in Indiana at the Ironman race track, officials only allowed one qualifying session per group. 250 group "B" was first on the track this morning giving them the advantage of a smooth race track. This put Hunter Sayles first in overall qualifying. The first "A" group rider was Joey Savatgy who was seven second off the pace due to the sloppy track conditions. This made for top name riders to place outside the top 40. However, the AMA rule stats that if a rider sits top ten in points they automatically transfer to the motos without having to be in the top 40 in qualifying. This still left out top riders like Enzo Lopes, Dakota Alix, Ryan Sipes, James DeCotis, Mitchell Harrison and Sean Cantrell out of the motos today.
250 OVERALL QUALIFYING | IRONMAN
| | | | |
| --- | --- | --- | --- |
| POS. | NAME | BIKE | BEST TIME |
| 1 | Hunter Sayles | KTM 250 SX-F | 2:31.149 |
| 2 | Cody Vanbuskirk | KTM 250 SX-F | 2:32.015 |
| 3 | Michael Hand | Yamaha YZ 250F | 2:32.296 |
| 4 | Maxwell Sanford | Yamaha YZ 250F | 2:33.804 |
| 5 | Jeffrey Walker | Honda CRF250R | 2:34.696 |
| 6 | Joshua Philbrick | Honda CRF250R | 2:35.422 |
| 7 | Tylor Skodras | KTM 250 SX-F | 2:36.531 |
| 8 | Austin Wagner | Honda CRF250R | 2:37.204 |
| 9 | Alexander Nagy | Honda CRF250R | 2:37.518 |
| 10 | Blake Taylor | KTM 250 SX-F | 2:37.635 |
| 11 | Joseph Savatgy | Kawasaki KX 250F | 2:38.609 |
| 12 | Mason Wharton | Kawasaki KX 250F | 2:38.923 |
| 13 | Justin Cooper | Yamaha YZ 250F | 2:39.270 |
| 14 | Drayke Sizemore | Kawasaki KX 250F | 2:39.923 |
| 15 | DJ Christie | KTM 250 SX-F | 2:40.796 |
| 16 | Lukas Cobian | Kawasaki KX 250F | 2:41.176 |
| 17 | Dylan Ferrandis | Yamaha YZ 250F | 2:41.585 |
| 18 | Ryan Blanford | Honda CRF250R | 2:42.072 |
| 19 | Aaron Plessinger | Yamaha YZ 250F | 2:42.619 |
| 20 | Chase Sexton | Honda CRF250R | 2:42.668 |
| 21 | Carter Stephenson | Kawasaki KX 250F | 2:42.744 |
| 22 | Kyle Hameister | Husqvarna FC250 | 2:43.299 |
| 23 | Chaz Braden | Kawasaki KX 250F | 2:43.333 |
| 24 | John Weaver | Yamaha YZ 250F | 2:43.335 |
| 25 | James Justice | KTM 250 SX-F | 2:43.407 |
| 26 | Dennis Ponton III | Honda CRF250R | 2:43.575 |
| 27 | Cameron Mcadoo | Honda CRF250R | 2:44.067 |
| 28 | Justin  Rodbell | Yamaha YZ 250F | 2:44.173 |
| 29 | Travis Hardcastle | Kawasaki KX 250F | 2:44.301 |
| 30 | Cole Zitterkopf | Yamaha YZ 250F | 2:44.582 |
| 31 | Colt Nichols | Yamaha YZ 250F | 2:44.642 |
| 32 | Alex Martin | KTM 250 SX-F FE | 2:44.652 |
| 33 | RJ Hampshire | Honda CRF250R | 2:44.672 |
| 34 | Zac Maley | Yamaha YZ 250F | 2:44.973 |
| 35 | Taylor Strauss | KTM 250 SX-F | 2:45.236 |
| 36 | Collin Fletchall | Yamaha YZ 250F | 2:45.617 |
| 37 | Cale Kuchnicki | KTM 250 SX-F | 2:45.719 |
| 38 | Michael Mosiman | Husqvarna FC250 | 2:45.746 |
| 39 | Jordan Bailey | Husqvarna FC250 | 2:46.324 |
| 40 | Mitchell Falk | KTM 250 SX-F FE | 2:46.581 |
TOP 40 QUALIFY (HOWEVER, TOP 10 IN POINTS AUTOMATICALLY TRANSFER INTO THE MOTOS)
| | | | |
| --- | --- | --- | --- |
| 41 | Shane McElrath | KTM 250 SX-F FE | 2:46.748 |
| 42 | Ryan Sipes | Husqvarna FC250 | 2:46.954 |
| 43 | Austin Forkner | Kawasaki KX 250F | 2:47.224 |
| 44 | Enzo Lopes | Suzuki RMZ 250 | 2:47.772 |
| 45 | Brady Neys | KTM 250 SX-F | 2:48.306 |
| 46 | Cody Williams | Yamaha YZ 250F | 2:48.520 |
| 47 | Aaron Leininger | Honda CRF250R | 2:49.238 |
| 48 | Luke Hempen | Yamaha YZ 250F | 2:49.582 |
| 49 | Coty Schock | Yamaha YZ 250F | 2:49.594 |
| 50 | Dakota Alix | KTM 250 SX-F FE | 2:49.783 |
| | | | |
| --- | --- | --- | --- |
| 51 | Mason Persha | KTM 250 SX-F FE | 2:50.027 |
| 52 | James DeCotis | Suzuki RMZ 250 | 2:50.134 |
| 53 | Ryder Floyd | Yamaha YZ 250F | 2:50.323 |
| 54 | Challen Tennant | Yamaha YZ 250F | 2:50.485 |
| 55 | Brandon Dickson | Honda CRF250R | 2:51.295 |
| 56 | Sean Cantrell | KTM 250 SX-F FE | 2:52.690 |
| 57 | Joshua Leininger | Honda CRF250R | 2:52.768 |
| 58 | Austin Root | Husqvarna FC250 | 2:52.888 |
| 59 | Hayden Mellross | Yamaha YZ 250F | 2:53.997 |
| 60 | James Weeks | Yamaha YZ 250F | 2:54.631 |
| 61 | Vann Martin | Honda CRF250R | 2:56.027 |
| 62 | Kaleb De Keyrel | Kawasaki KX 250F | 2:57.642 |
| 63 | Mitchell Harrison | Husqvarna FC250 | 2:58.790 |
| 64 | Kevin Moranz | Kawasaki KX 250F | 2:58.962 |
| 65 | Jordon Smith | KTM 250 SX-F FE | 3:03.661 |
| 66 | Jamison DuClos | Yamaha YZ 250F | 3:05.108 |
| 67 | Justin Thompson | Yamaha YZ 250F | 3:05.368 |
| 68 | Deegan Vonlossberg | Yamaha YZ 250F | 3:44.440 |
| 69 | Gage Schehr | KTM 250 SX-F | 6:28.465 |