ONE DAY UNTIL THE 2018 MTA WORLD TWO-STROKE CHAMPIONSHIP AT GLEN HELEN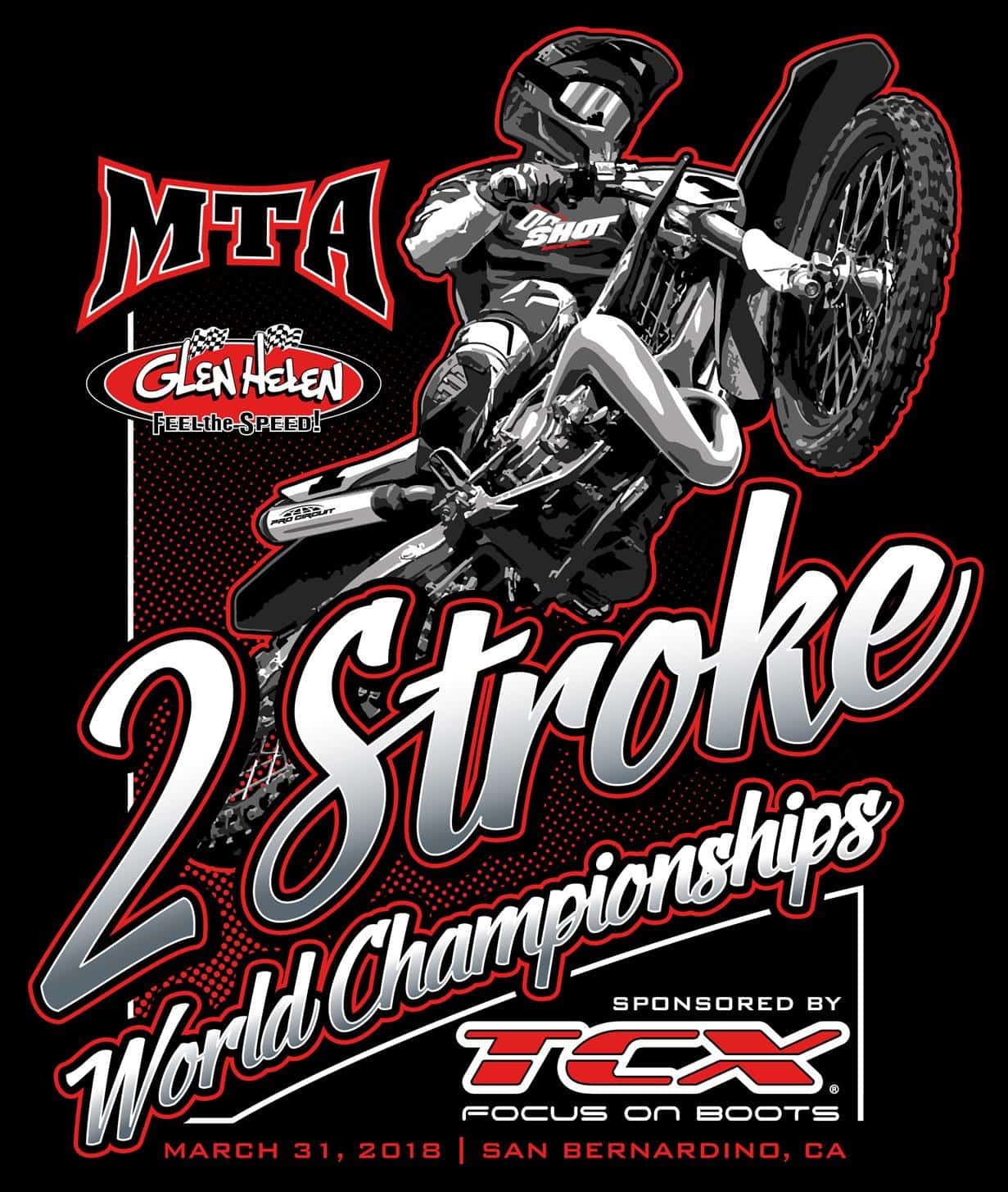 Just in case you need a little extra time to get your trusty, but rusty, two-stroke ready to race, you better get on the stick. It's this Saturday.

The World Two-Stroke Championship will be held at Glen Helen Raceway on Saturday, March 31, 2018. There is an $8000 purse for the 250/Open class and a smaller purse for the 125 Pro class. For more info go to www.glenhelen.com
MTA WORLD TWO-STROKE CHAMPIONSHIP SCHEDULE
(FRIDAY PRACTICE AND SATURDAY RACE)
Gates: Open Friday 7am
Friday Practice: 10:00 a.m. to 1:00 p.m.
Saturday: Gates open 6:00 a.m.
Saturday Practice: 8:00 a.m.
Racing begins: 9:30 a.m.
Race entry: $40.00/$50.00 Post
Classes: 125 Pro and Open Pro; +25. +30, +40, +50, +60 (Novice, Intermediate, Expert), 125 Beg, 250 Beg, Open Beg, 125,250, Open (Novice, Intermediate); Plus, 50cc, 65cc, 85cc, Supermini, Women, Vintage.
LAST YEAR'S WORLD TWO-STROKE WINNERS
A full gate of Open Pros await the start of the first moto in 2017. With classes for riders from Beginner or Pro, in every engine size, the 2017 MTA-sponsored World Two-Stroke Championship was the biggest ever. MTA has offered up an $8000 purse thanks to TCX boots for the 2018 Open Pro class and $1500 purse in the 125 Pro class.
2017 OPEN PRO RESULTS
1. Ryan Surratt (Hon)…4-1
2. Mike Sleeter (KTM)…3-2
3. Jon Ames (Yam)…2-4
4. Zach Bell (Hon)….1-6
5. Johnny Jelderda (TM)…7-5
6. Sean Lipanovich (KTM)…10-7
7. R.J. Wageman (Suz)…9-9
8. Jordyn Scalvini (Hon)…13-10
9. Travis Bell (Hon)…6-17
10. Sean Collier (TM)…16-8
125 Pro winner Robbie Wageman jumps into Glen Helen's resurrected sand section. There will be a 125 Pro class in 2018 with a purse—although not as much as the larger Open Pro class.
2017 125 PRO RESULTS
1. Robbie Wageman (Yam)…1-1
2. Carson Carr (Yam)…2-2
3. Robby Schott TM)…5-3
4. Jake Osborne (Yam)…4-4
5. Brian Medeiros (Yam)…3-8
Billy Jurevich came down from Northern California to win the Vet Pro class.
OVER-30 PRO
1. Billy Jurevich (KTM)…2-1
2. Charles Castloo (Hus)…3-2
3. Dustin Nowak (Yam)…4-3
4. Philip Suhr (Suz)…5-4
5. Justin Reese (Suz)…6-6
Dutch rider Ralf Schmidt finished 5th in the Over-40 Pro class last year. This year he plans to win.
OVER-40 PRO
1. Scott Mooney (Yam)…1-2
2. James Lavender (Suz)…4-1
3. Kevin Barda (Yam)…2-3
4. Troy Cardiel (Yam)…3-4
5. Ralf Schmidt (TM)…5-4
Rodney Smith and Andy Jefferson dueled in both Over-50 Expert motos last year. Rodney took the win on a Beta.
OVER-50 PRO
1. Rodney Smith (Bet)…1-1
2. Andy Jefferson (Hus)…2-2
3. Pete Murray (Yam)…3-3
4. Jon Ortner (Yam)…4-4
5. Steve Butler (Yam)…5-6
Val Tamietti raced to second overall last year in the Over-50 Pro class, but this year he's 60 years old and the favorite to take that crown in 2018.
OVER-60 PRO
1. Bob Casper (KTM)…1-1
2. Val Tamietti (Yam)…3-2
3. Joel Harriott (Yam)…2-3
4. Chris Cumbo (KTM)…4-4
5. Gary Jones (Yam)…6-5