2018 MXGP FRANCE | MXGP OVERALL RACE RESULTS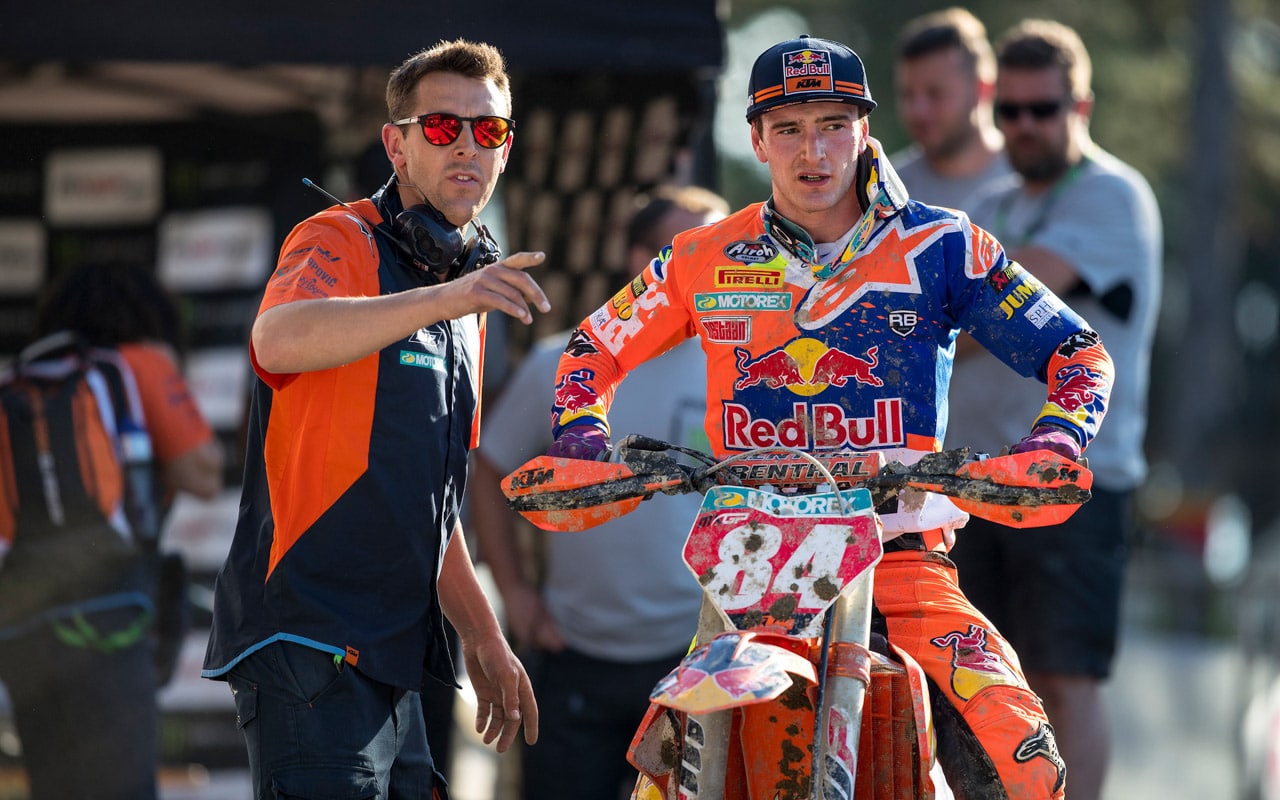 It was Jeffrey Herlings who dominated the field once again. 
The 2018 MXGP of France in the beautiful Saint Jean d'Angely circuit where Red Bull KTM Factory Racing's Jeffrey Herlings went 1-1 on the day. French fans filled the hillsides and watched the great MXGP racing. An overnight storm naturally watered the track for today and even if it was soft in the morning it later developed into prime conditions. Herling extends his points lead over Tony Cailoli.
MXGP OVERALL RACE RESULTS | FRANCE
Jeffrey Herlings (KTM)–1-1
Antonio Cairoli (KTM)–3-2
Tim Gajser (Hon)–4-3
Clement Desalle (Kaw)–2-6
Romain Febvre (Yam)–7-4
Glenn Coldenhoff (KTM)–5-7
Gautier Paulin (Hus)–8-5
Jeremy Seewer (Yam)–6-8
Evgeny Bobryshev (Suz)–9-9
Shaun Simpson (Yam)–11-13
Kevin Strijbos (KTM)–14-15
Alessandro Lupino (Kaw)–12-17
Valentin Guillod (KTM)–10-19
Tommy Searle (Kaw)–19-11
Jeremy Van Horebeek (Yam)–16-14
Ivo Monticelli (Yam)–DNS-10
Max Anstie (Hus)–17-16
Maxime Desprey (Kaw)–15-22
Tanel Leok (Hus)–21-18
Gregory Aranda (Kaw)–18-29
Jose Butron (KTM)–22-20
Petar Petrov (Hon)–20-30
Graeme Irwin (KTM)–23-21
Stefan Emerald (KTM)–24-23
Eddie Hjortmarker (Suz)–29-24
Jonathan Bengtsson (KTM)–26-25
Benoit Paturel (KTM)–30-26
Klemen Gercar (Hus)–25-27
Simone Zacchina (Yam)–31-28
Ander Valentin (Hus)–32-31
Nathan Renkens (Hon)–28-32
Nicolas Dercourt (Yam)–27-DNS
MXGP WORLD CHAMPIONSHIP CLASSIFICATION (ROUND 10 OF 20)
Jeffrey Herlings–486
Tony Cairoli–424
Clement Desalle–351
Romain Febvre–323
Gautier Paulin–296
Tim Gajser–295
Glenn Coldenhoff–267
Jeremy Seewer–226
Max Nagl–177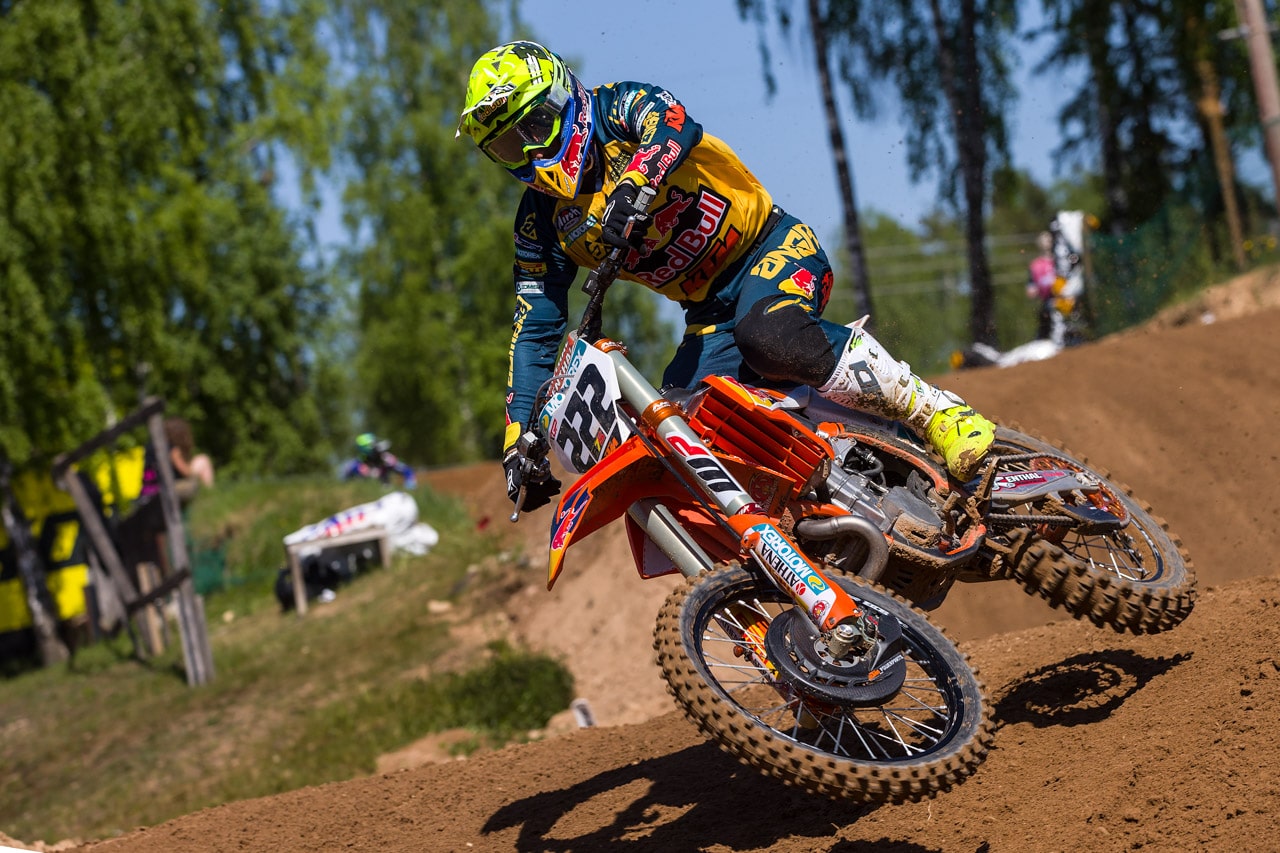 Tony Cairoli is losing sight of the championship as his teammate Herlings has a 62 point lead half way through the season. 
Tim Gasjer had a slow start to the season, but he is starting to pick up the pace and got on the podium again in France. 
RACE REPORT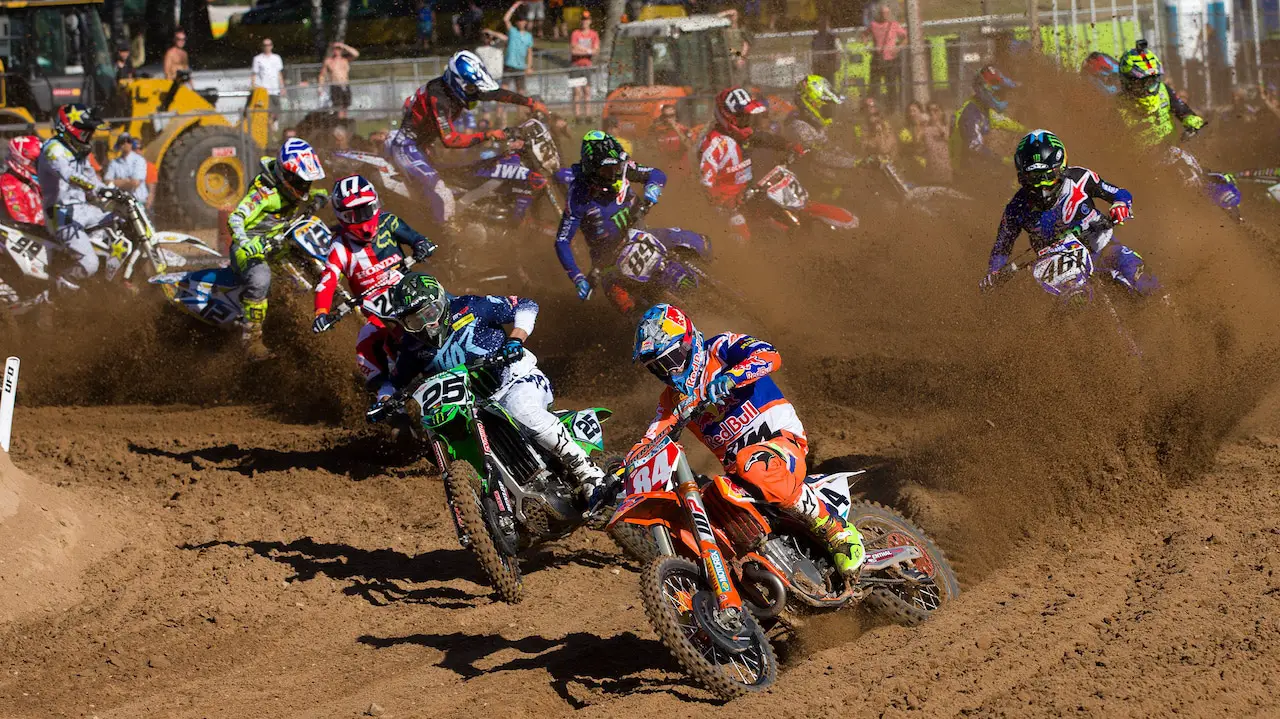 MXGP Race 1 was off to an interesting start when Red Bull KTM Factory Racing's Jeffrey Herlingsused his first gate pick to line up on the far outside. The gamble however payed off as the harder packed dirt gave him a head start and a massive Fox Holeshot. Herlings lead only grew as he put in fast lap after fast lap.
Crossing the line second in what was easily his best start of the season was Standing Construct KTM's Valentin Guillod who was followed by another Swiss rider, Wilvo Yamaha MXGP Official Team's Jeremy Seewer.
However by the end of the first lap Monster Energy Kawasaki Racing Team's Clement Desalle, along with Red Bull KTM Factory Racing's Glenn Coldenhoff and Antonio Cairoli, had made it around the Swiss duo.
Desalle then latched onto the speed of Herlings while Coldenhoff fought Cairoli to stay in the top 3. Cairoli was throwing everything at Coldenhoff from different rhythms to the inside of a corner on one lap and to the outside on the next. For 9 laps Cairoli tried to get past Coldenhoff before finally making into third. All the while Herlings pulled away from Desalle.
Slightly further back Seewer was 5th ahead of Monster Energy Yamaha Factory MXGP's Romain Febvre. On lap 13 of 17 total Febvre was passed by Team HRC's Tim Gajser who was on a late charge. Gajser was 8th on lap 2, but after his pass on Febvre he was in a rhythm and carried on to pass Seewer and Coldenhoff finishing 4th behind Herlings, Desalle, and Cairoli.
At the start of Race 2 Herlings tried for another Fox Holeshot but had no such luck and was outside the top 5 in the first corner while Cairoli led Seewer over the line. Gajser massed Seewer on the opening lap as Herlings made several quick passes to get into 4th.
By the end of lap 2 Herlings was third but Cairoli and Gajser had already started to pull away. The French fans were on their feet as Rockstar Energy Husqvarna Factory Racing's Gautier Paulin moved from 5th to 4th with a pass on Seewer.
3 laps later the home crowd was again yelling because Febvre was alongside Seewer. At the halfway point Herlings made a pass on Gajser stick for second and looked forward to Cairoli in the lead. At the same time the French favorites, Paulin and Febvre, where in a battle for 4th. Febvre tried taking the spot in the first turn just past pit lane and on his second attempt in 2 laps made it happen.
At the front Cairoli's lead was gone and Herlings made a pass at the top of the uphill with just over 4 laps to go. Cairoli was unable to counter and settled for 2nd with Gajser taking 3rd, Febvre 4th, and Paulin 5th. For the overall podium Herlings stood on the top step ahead of Cairoli, and Gajser.

Desalle missed the podium by just 1 point and was the lone Monster Energy Kawasaki rider in the race today since Julien Lieber opted not to start following his crash from Matterley Basin last week.
Jeffrey Herlings: "It was a really good weekend, I had pole position yesterday and I got a good FOX Holeshot in the first race and I managed to lead the whole race, do my own thing and get the win. In the second race I really had to work for it, I messed up the start and I had to work my way up from around tenth place. It was a good weekend and I'm looking forward to Ottobiano, it is one of my favorite tracks."
Antonio Cairoli: "I feel good but for sure this week was not one of the best. Jeffrey is very fast at the moment so you can not really rest and you always need to be on the pace. I took second which is ok but for sure we will work and want to be more competitive for the whole race and this is what we will try to do."
Tim Gajser: "I'm happy with the results and the whole day, yesterday I was struggling a little but today the track was more technical with many ruts so I liked it. I want to work hard, I will go home and work even harder, next week is Ottobiano and I will give my best there as well."
SATURDAY QUALIFYING
Jeffrey Herlings dominated the field here in France. 
For the 10th round of the 2018 MXGP World Championship series in  Saint Jean d'Angély, France on Saturday during the MXGP qualifying race it was the Factory KTM rider of Jeffrey Herlings who dominated the field. Herlings won by over 17 seconds and held the fastest lap time by almost two seocnd over Tony Cairoli. Husqvarna's Gautier Paulin on his FC450 finished second with the veteran Cairoli in third. With Herlings taking Cairoli out the last round in Great Britain we could imagine that nerves are high at the KTM pits.
MXGP QUALIFYING RESULTS | FRANCE
QUALIFYING RACE REPORT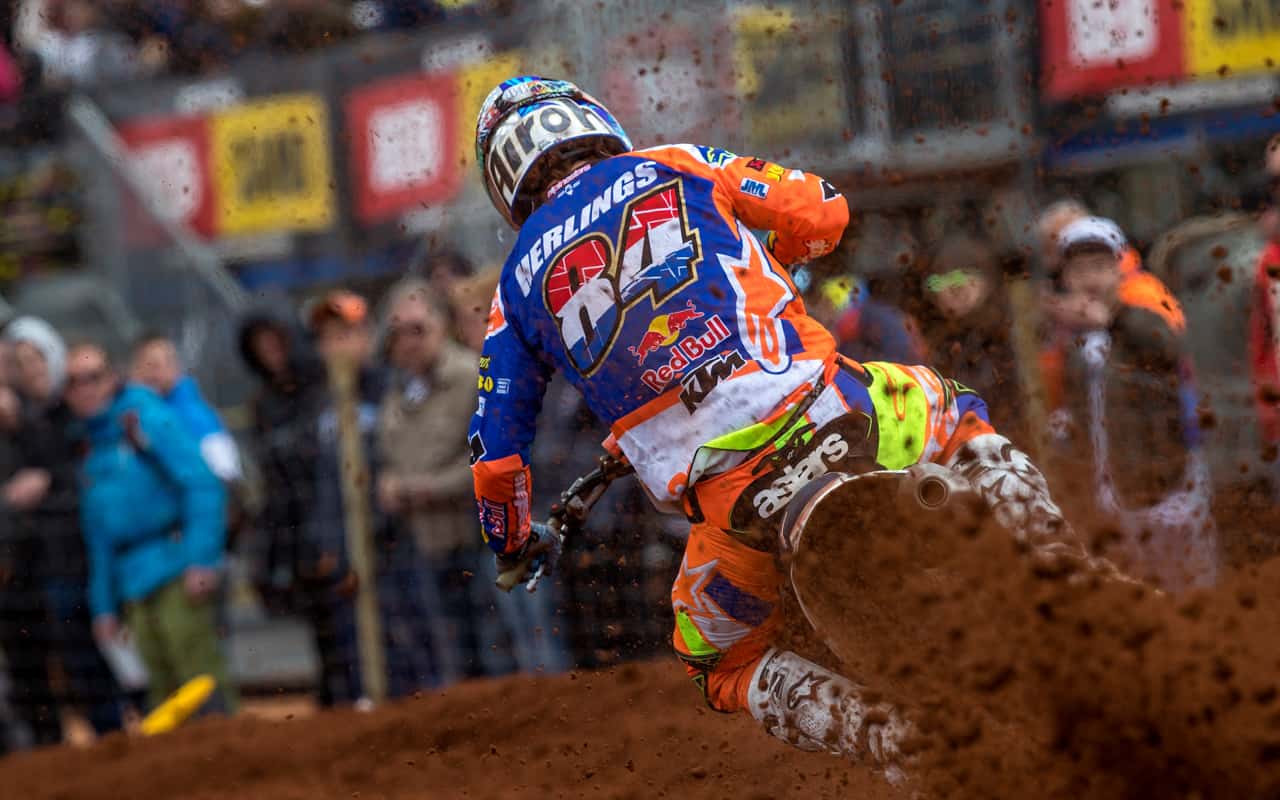 Half way through the series it looks like Jeffrey Herlings is in control of the 2018 MXGP series thus far. 
MXGP's Qualifying Race hosted another dominating performance from Red Bull KTM Factory Racing's Jeffrey Herlings. Choosing to line up on the furthest inside gate, after scoring the fastest lap time in both Free and Time Practice, Herlings took the holeshot and set sail. Herlings led every lap of the 13 recorded and won by 17.9 seconds.
Though Herlings was on his own the battle for 2nd was on between 4 of the best riders in the world championship. Leading the group of 4 was Rockstar Energy Husqvarna Factory Racing's Gautier Paulin. Paulin was massively improved after today compared to a week ago. With the roar of the French crowd behind him Paulin managed a small cushion between himself and those giving chase.
Factory Husqvarna's Gautier Paulin finished second in the qualifying race in France.
First of the riders in pursuit was Team HRC's Tim Gajser but just behind him was the former world champion and French fan favorite, Monster Energy Yamaha Factory MXGP's Romain Febvre. Febvre, with the added pressure of Red Bull KTM Factory Racing's Antonio Cairoli giving chase, pushed his way past Gajser on lap 9 after great battles.
Cairoli, who had a collision between himself and Monster Energy Kawasaki's Clement Desalle followed the moves of Febvre to take another position from Gajser on the following lap. Desalle eventually finished the MXGP Qualifying race in 19th.
Cairoli would however take third from Febvre on the final lap and close onto the back wheel of Paulin at the finish. Also having a strong Qualifying race was BOS GP's Evgeny Bobryshev with a 6th place.
Tony Cairoli wants to win this championship, but it is slowly fading away. Can Cairoli kick it into high gear in the second half of the series to challenge Herlings? We hope so. 
Jeffrey Herlings: "The main focus is the start for tomorrow and luckily we got it all dialed in today. Tomorrow we are going to go out, do our best, and like I said focus on the start and work from there."
Romain Febvre: "I had a good start, that was the main focus, after I made a mistake and stalled my bike losing 2 positions but I passed Tony and then I passed Gajser and  was third but then Tony passed me, at the end it was a good day."
French rider Marchetti Racing Team KTM's Benoit Paturel managed to finish qualifying in 15th position to which he said: "I feel ok this week, not perfect but I will do my best tomorrow. It is an amazing GP in front of the home crowd, it was a good memory for me in 2016 in MX2 where I finished second after Jeffrey. I am excited to ride tomorrow and I hope to get my best result."