2018 MXGP OF RUSSIA | MXGP OVERALL RACE RESULTS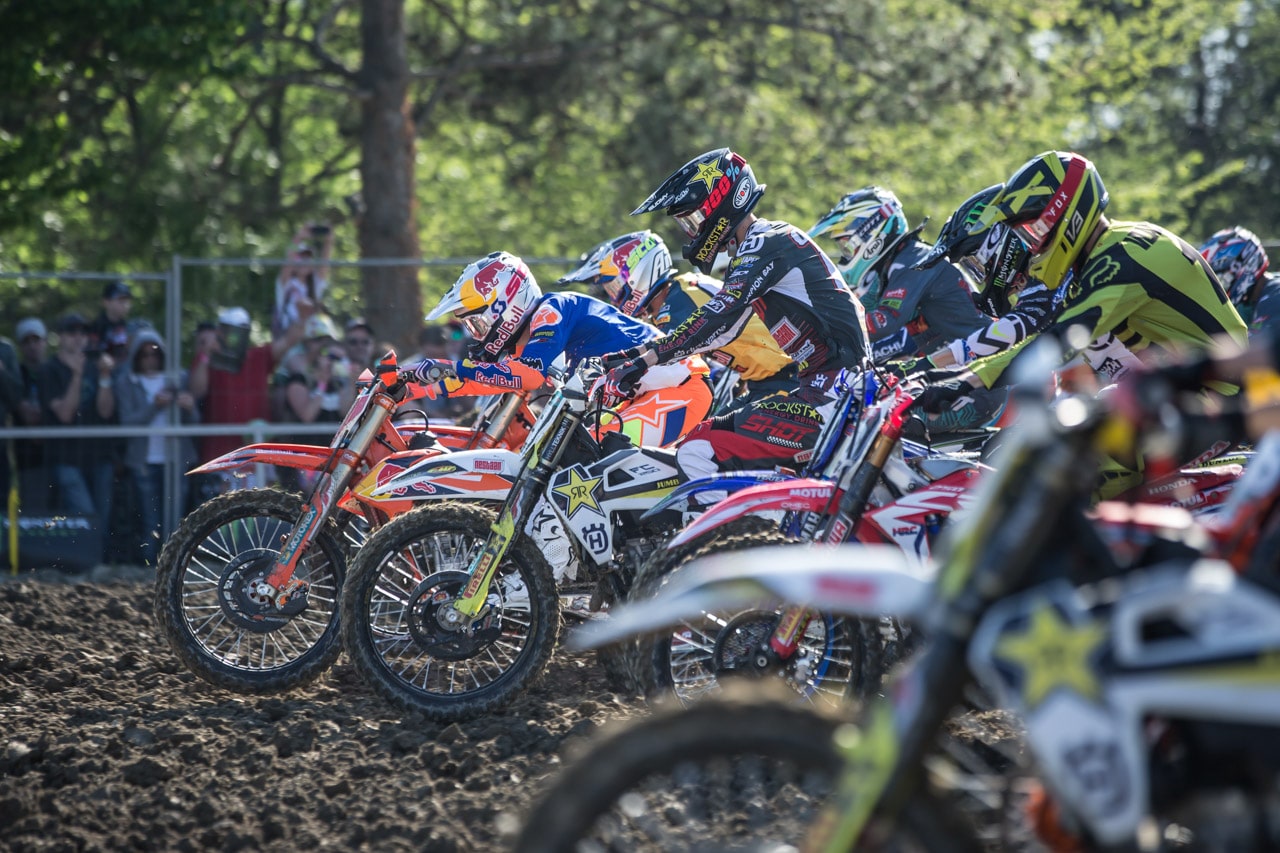 Round 6 here in Orlyonok, Russia for the MXGP is finished. We finally have another color winning other than orange for the first time this season. Kawasaki's Clement Desalle took advantage of the KTM riders the first moto by getting the win. However, Cairoli and Herlings were right on his tail. In the second MXGP moto Herlings got the win, but Desalle was not far off the pace finishing second. Tony Cairoli finished 5th the second moto pushing him back to third overall. 
MXGP OVERALL RACE RESULTS
Clement Desalle (Kaw)–1-2
Jeffrey Herlings (KTM)–3-1
Tony Cairoli (KTM)–2-5
Romain Febvre (Yam)–7-3
Tim Gajser (Hon)–5-4
Gautier Paulin (Hus)–4-6
Julien Lieber (Kaw)–8-7
Jeremy Seewer (Yam)–9-8
Alessandro Lupino (Kaw)–11-11
Arminas Jasikonis (Hon)–10-13
Benoit Paturel (KTM)–12-12
Jeremy Van Horebeek (Yam)–6-18
Max Nagl (TM)–16-10
Evgeny Bobryshev (Suz)–13-14
Glenn Coldenhoff (KTM)–21-9
Max Anstie (Hus)–15-17
Kevin Strijbos (KTM)–14-19
Jose Butron (KTM)–18-16
Ivo Monticelli (Yam)–20-15
Petar Petrov (Hon)–17-24
Graeme Irwin (KTM)–19-23
Maxime Desprey (Kaw)–22-20
Tanel Leok (Hus)–23-21
Erki Kahro (KTM)–24-22
Jonathan Begtsson (KTM)–25-25
Clement Desalle claims his first overall of the season. He sits third in points. 
Tony Cairoli and Desalle on the first lap. 
Gautier Paulin went 4-6 for sixth overall. 
MXGP POINTS STANDINGS (ROUND 6 OF 20)
Jeffrey Herlings–286
Tony Cairoli–263
Clement Desalle–212
Romain Febvre–203
Gautier Paulin–180
Glenn Coldenhoff–152
Jeremy Van Horebeek–150
Tim Gajser–147
Jeremy Seewer–135
Julien Lieber–113
MXGP QUALIFYING RACE RESULTS
Yamaha's Romain Febvre grabbed a huge holeshot in the MXGP qualifying race here in Russia. 
At the drop of the MXGP starting gate Team HRC's Tim Gajser looked like he would have a great start just behind Red Bull KTM Factory Racing's Jeffrey Herlings and Monster Energy Yamaha Factory MXGP's Romain Febvre. Gajser however ended up clipping the back of Herlings which sent the Slovenian to the dirt. Herlings was thrown off by the contact allowing Febvre to take the holeshot.
Febvre's Monster Energy Yamaha Factory MXGP teammate Jeremy Van Horebeek ran second and TM Factory Racing's Max Nagl ran 3rd before being passed by Herlings and later Monster Energy Kawasaki Racing Team's Clement Desalle.
Jeremy Van Horebeek lead part of the race until Jeffrey Herlings caught and past him. Jeremy finished second.
Meanwhile Desalle teammate, Monster Energy Kawasaki Factory Racing's Julien Lieber was back in 17th. In the next laps Red Bull KTM Factory Racing's Antonio Cairoli moved into fifth with a move on Nagl.
In the second half of the race Nagl battled with Wilvo Yamaha MXGP's Jeremy Seewer but then both were passed by a charging Julien Lieber. The early leader, Febvre fell twice during the race sending him back to 12th where he would only gain back one position.
Kawasaki's Julien Lieber had a great come from behind ride. He got around his teammate Desalle and Cairoli after a mistake putting him in third for a podium finish.  
Back at the front Herlings found his way past Van Horebeek for the lead and Cairoli passed Desalle for third. Cairoli made a mistake in front of Desalle causing the Kawasaki rider to miss his line and allow his teammate, Lieber, into fourth.
Jeffrey Herlings looks confident coming into tomorrows race. 
Only moments later Cairoli lost the front end whilst closing in on Van Horebeek. The mistake allowed Lieber into third while Herlings took the win. Van Horebeek finished second ahead of the career best MXGP qualifying result from Lieber that made impressive passes finishing in third.

2018 MXGP OF RUSSIA QUALIFYING RACE RESULTS 
Jeffrey Herlings (KTM)
Jeremy Van Horebeek (Yam)
Julien Lieber (Kaw)
Clement Desalle (Kaw)
Tony Cairoli (KTM)
Jeremy Seewer (Yam)
Max Nagl (TM)
Max Anstie (Hus)
Alessandro Lupino (Kaw)
Gautier Paulin (Hus)
Romain Febvre (Yam)
Glenn Coldenhoff (KTM)
Benoit Paturel (KTM)
Tim Gajser (Hon)
Evgeny Bobryshev (Suz)
Ivo Monticelli (Yam)
Jose Butron (KTM)
Petar Petrov (Hon)
Maxime Desprey (Kaw)
Kevin Strijbos (KTM)
Graeme Irwin (KTM)
Erki Kahro (Hon)
Tanel Leok (Hus)
Jonathan Bengtsson (KTM)
Arminas Jasikonis (Hon)
Shaun Simpson (Yam)