2018 MXGP VALKENWAARD | MXGP OVERALL RACE RESULTS
Jeffrey Herlings sweeps the field here in Valkenswaard. 
It is round 2 of the 2018 MXGP series here in Valkenswaard in The Netherlands. Jeffrey Herlings shook off the crash he had yesterday in qualifying and took the bull by the horns and sweep the field today in his home country in The Netherlands. He pulled almost a 20 second lead over Cairoli the first moto, but in the second moto Cairoli kept within four seconds of Herlings.
2018 VALKENWAARD MXGP OVERALL RACE RESULTS
Jeffrey Herlings (KTM)–1-1
Tony Cairoli (KTM)–2-2
Gautier Paulin (Hus)–7-3
Glenn Coldenhoff (KTM)–5-4
Roman Febvre (Yam)–6-5
Max Anstie (Hus)–4-9
Clement Desalle (Kaw)–8-7
Jeremy Seewer (Yam)–10-8
Tim Gajser (Hon)–9-13
Jeremy Van Horebeek (Yam)–3-36
Kevin Stijbos (KTM)–14-10
Arminas Jasikonis (Hon)–13-11
Maxime Desprey (Kaw)–12-12
Max Nagl (TM)–11-14
Shaun Simpson (Yam)–32-6
Tanel Leok (Hus)–16-15
Harri Kullas (Hus)–15-17
Petar Petrov (Hon)–18-16
Julien Lieber (Kaw)–17-32
Filip Bengtsson (Yam)–30-18
MXGP CHAMPIONSHIP CLASSIFICATION (2 OF 19 ROUNDS)
Jeffrey Herlings–97
Tony Cairoli–91
Clement Desalle–67
Roman Febvre–65
Gautier Paulin–64
Glenn Coldenhoff–55
Jeremy Van Horebeek–54
Max Anstie–45
Shaun Simpson–39
Jeremy Seewer–38
Tony Cairoli went 2-2 behind his teammate.
Gautier Paulin rounded out the podium. 
SATURDAY | MXGP QUALIFYING RACE RESULTS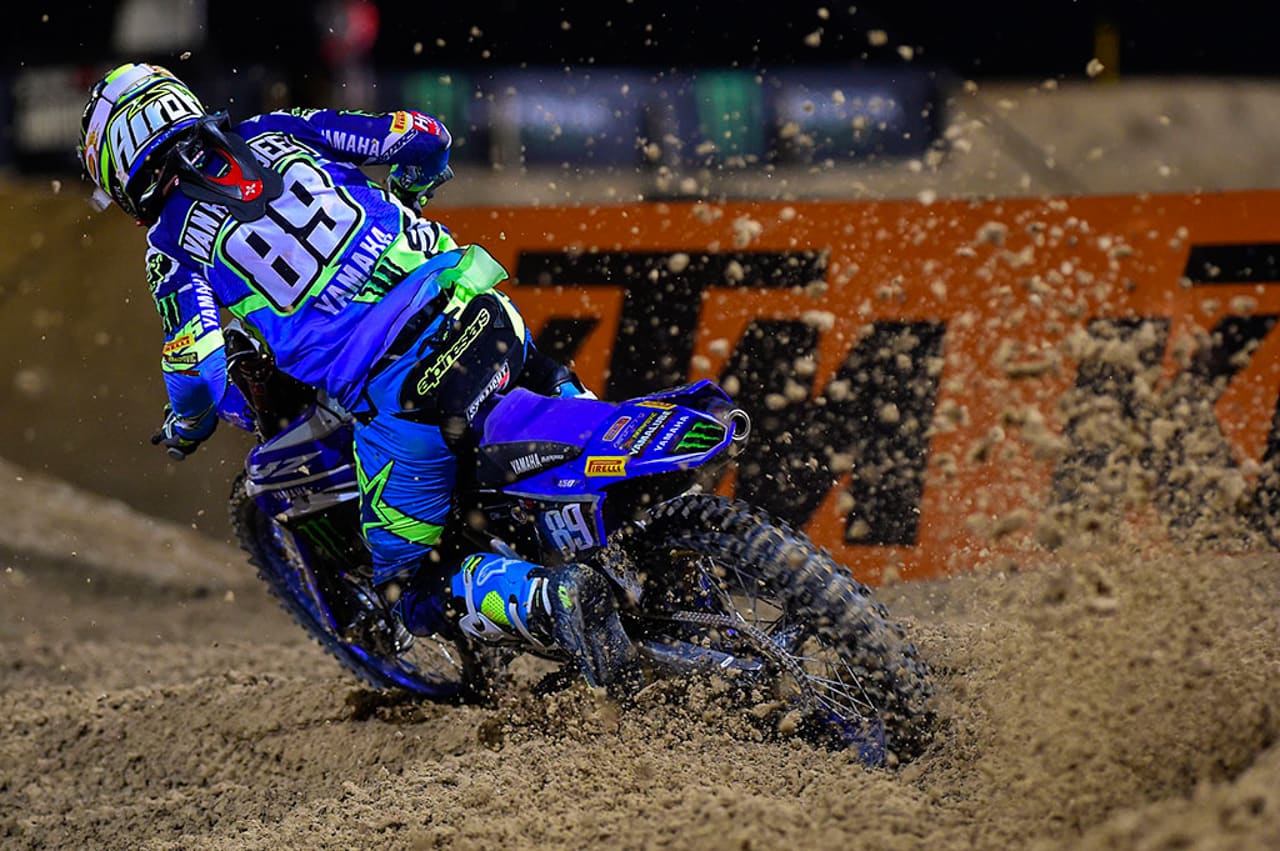 It is muddy here in Valkenswaard yesterday during the qualifying race. It was Jeremy Van Horebeek who got the race win over Gautier Paulin and Tim Gajser who rounded off the podium. Last weeks winner Tony Cairoli got 4th while Jeffrey Herlings was back in the pack in 19th due to a crash.
Jeremy Van Horebeek (Yam)
Gautier Paulin (Hus)
Tim Gajser (Hon)
Tony Cairoli (KTM)
Glenn Coldenhoff (KTM)
Jeremy Seewer (Yam)
Clement Desalle (Kaw)
Evgeny Bobryshev (Suz)
Tommy Searle (Kaw)
Max Nagl (TM)
Romain Febvre (Yam(
Kevin Strijbos (KTM)
Shaun Simpson (Yam)
Max Anstie (Hus)
Sven Van der Mierden (Yam)
Tanel Leok (Hus)
Ken de Dycker (KTM)
Petar Petrov (Hon)
Jeffrey Herlings (KTM)
Lars van Berkel (Hus)
Maxime Desprey (Kaw)
Jose Butron (KTM)
Fillip Bengtsson (Yam)
Graeme Irwin (KTM)
Harri Kullas (Hus)
Alessandro Lupino (Kaw)
Arminas Jasikonis (Hon)
Ander Valentin (Hus)
Jonathan Bengtsson (KTM)
Milko Potisek (Yam)
Klemen Gercar (Hus)
Ivo Monticelli (Yam)
Nathan Renkens (Hon)
Stefan Renkens (KTM)
Luka Crnkovic (Hon)
Julien Lieber (Kaw)
Simone Zecchina (Yam)
Johannes Klein (KTM)
Tomasz Wysocki (KTM)