2018 MXGP VALKENWAARD | MX2 OVERALL RACE RESULTS
Pauls Jonass sweet the field going 1-1.
Here at round 2 of the 2018 MXGP series here in Valkenswaard in The Netherlands. In round one it was KTM rider Pauls Jonass that sweep the field going 1-1 in Argentina. Pauls made another sweep here in The Netherlands making for a perfect season thus far. His teammate, Jorge Prado was second with Thomas Kjer Olsen rounding out the podium.
2018 MXGP VALKENWAARD MX2 OVERALL RESULTS (TOP 20)
Pauls Jonass (KTM)–1-1
Jorge Prado (KTM)–2-2
Thomas Kjer Olsen (Hus)–3-3
Conrad Mewse (KTM)–5-4
Thomas Covington (Hus)–7-5
Hunter Lawrence (Hon)–6-6
Jago Geerts (Yam)–4-13
Ben Watson (Yam)–10-7
Davy Pootjes (KTM)–9-9
Adam Sterry (Kaw)–16-8
Vsevolod Brylyakov (Yam)–12-12
Jed Beaton (Kaw)–8-17
Calvin Vlaanderen (Hon)–15-11
Maxime Renaux (Yam)–14-16
Darian Sanayei (Kaw)–35-10
Iker Larranaga Olano (Hus)–18-14
Ruben Fernandez (Kaw)–17-15
Brent Van doninck (Hus)–11-34
Henry Jacobi (Hus)–13-32
Marshal Weltin (Hon)–22-18
Thomas Kjer Olsen rounded out the podium with a 3-3 performance in the rain. 
SATURDAY | MX2 QUALIFYING 
The muddy track here in Valkenswaard for round 2 of the MXGP series.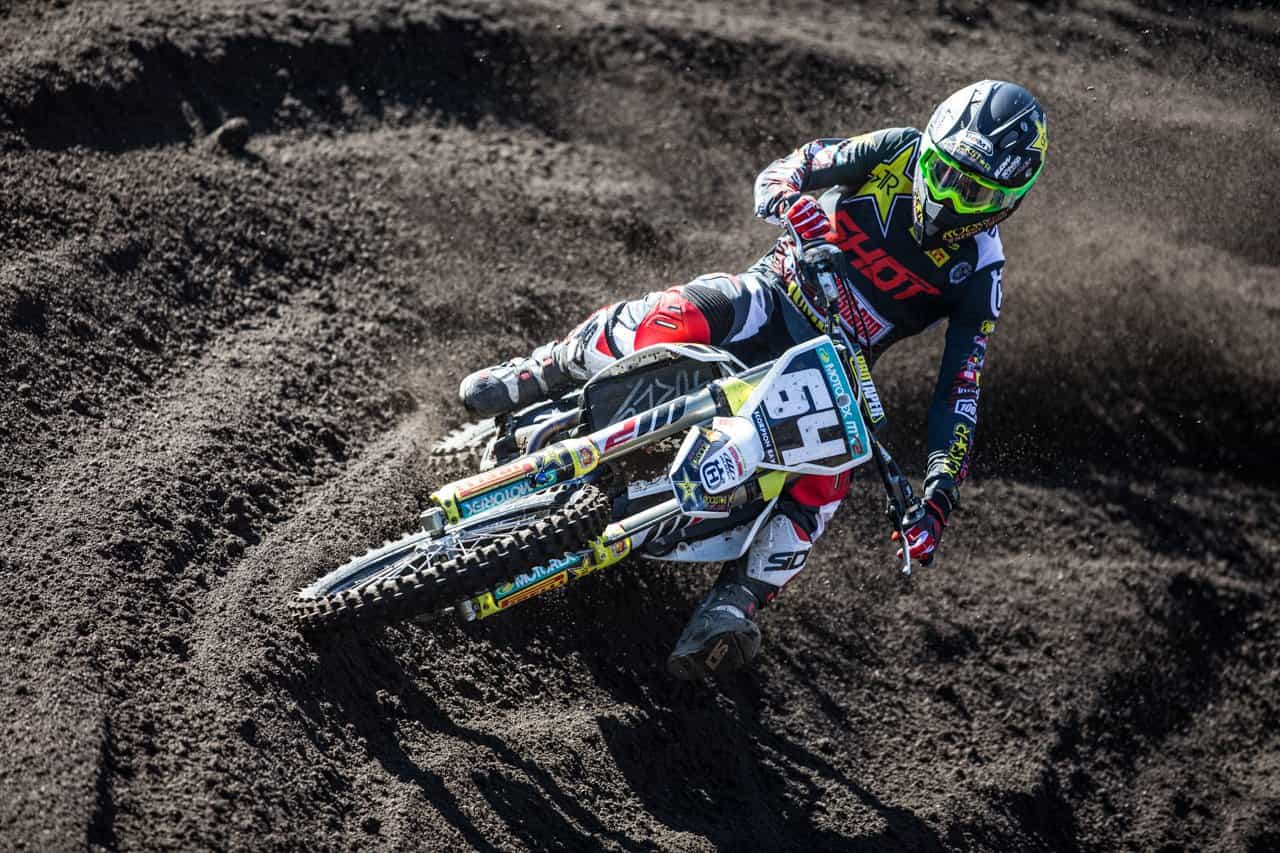 American rider Thomas Covington wins the qualifying race in Valkenswaard. 
The track was muddy today for the riders. Today in the qualifying race American rider Thomas Covington came out on top followed by Pauls Jonass and Jorge Prado.
MX2 QUALIFYING RACE RESULTS
Tomas Covington (Hus)
Pauls Jonass (KTM)
Jorge Prado (KTM)
Thomas Kjer Olsen (Hus)
Brent Van doninck (Hus)
Hunter Lawrence (Hon)
Davy Pootjes (KTM)
Adam Sterry (Kaw)
Alvin Östlund (Yam)
Bas Vaessen (Hon)
Calvin Vlaanderen (Hon)
Iker Larranaga Olano (Hus)
Jed Beaton (Kaw)
Ben Watson (Yam)
Vsevolod Brylyakov (Yam)
Darian Sanayei (Kas)
Morgan Lesiado (KTM)
Hardi Roosiorg (KTM)
Henry Jacobi (Hus)
Richard Sikyna (KTM)
David Herbreteau (KTM)
Jago Geerts (Yam)
Maxime Renaux (Yam)
Sander Agard-Michelsen (Yam)
Tom Koch (KTM)
Weltin Marshal (Hon)
Stephen Rubini (KTM)
Kim Savaste (Kaw)
Jorge Zaragoza (Yam)
Ruben Fernandez (Kaw)
Nicola Bertuzzi (Kaw)
Alexis Verhaeghe (KTM)
Enzo Toriani (Hus)
Rene De Jong (KTM)
Conrad Mewse (KTM)
Samuele Bernardini (TM)