2018 SAN DIEGO SUPERCROSS RECAP | CRASHES, BROKEN BONES & COOL BIKES
The aftermath after Ken Roczen got tangled up with Cooper Webb at the 2018 San Diego Supercross. 
After Kenny got surgery on his hand. 
THE CRASH THAT ENDED KEN ROCZEN'S YEAR
https://www.youtube.com/watch?v=0sAma0NCvWs
Cooper Webb rode Ken Roczen high in a corner, then Kenny came after him in the next corner and lost control taking them both out of the race. Kenny got his arm between the swingarm and wheel. Tough break for Roczen. 
Doesn't this sound familiar to what happened at the 2019 Anaheim 2 Supercross between the two riders–without the crashing. 
JUSTIN BOGLE BREAKS ARM THE SAME NIGHT
Justin being carted off by the Alpinestars medical crew. 
The official release from JRG on Justin Bogle's status after the race last year: Justin Bogle was looking to improve in his third race back, but a crash in his heat race knocked him out of action. The initial injury report is a broken upper arm; an updated status will be released when available.
JUSTIN HOEFT BROKE BOTH ANKLES 
Justin after his crash.
Justin Hoeft looked great in the LCQ during in the 2018  West Coast 250 series. He was leading and looking to win to secure a spot in the 250 main event until he hit a kicker that ejected him off the bike. Justin unfortunately broke both ankles in the crash resulting in surgery.
BIKES OF 2018 SAN DIEGO SUPERCROSS
San Diego is normally a Military Appreciation race. Some teams like Rocky Mountain ATVMC WPS KTM dedicated their bikes to the nation's troops.
If you look closely, the guys at Red Bull KTM added a little flare to their graphics.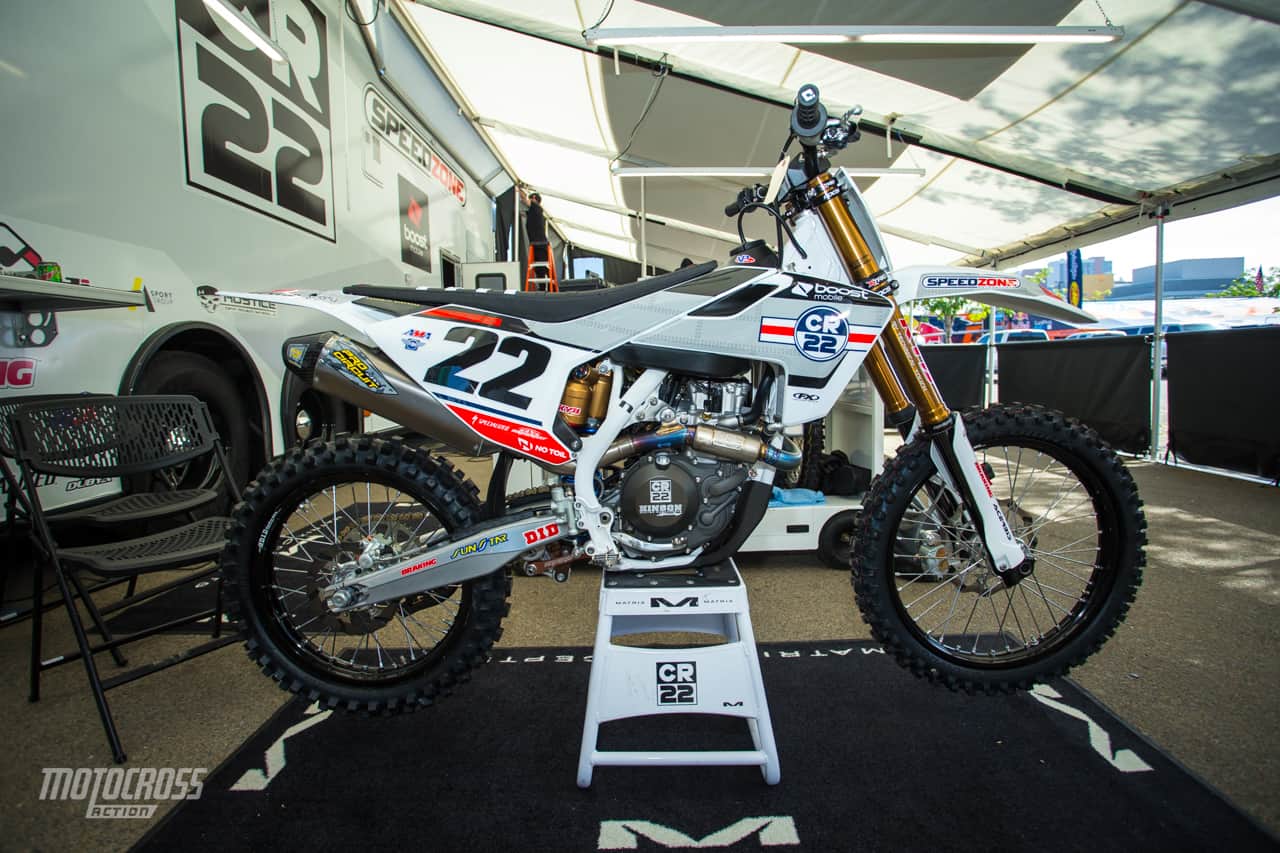 Chad Reed's FC450.
Pro Circuit added a nice camo touch to the Ti-6 Pro exhaust system.
The only rider that went all out with patriotism was Casey Brennan.
Christian Craig had some cool camo gear.