2018 SEATTLE SUPERCROSS | 450 MAIN EVENT RESULTS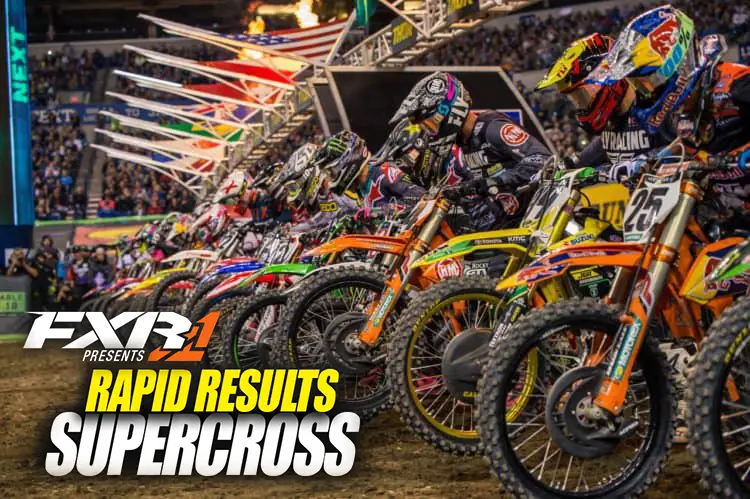 It was an eventful night here in Seattle, Washington for the 13th round of the Monster Energy Supercross Series. The weather was a big factor tonight, and it was anybodys game. With only one practice session this afternoon, the guys had to make the best of it.
450 MAIN EVENT RESULTS
Eli Tomac (Kaw)
Jason Anderson (Hus)
Marvin Musquin (KTM)
Broc Tickle (KTM)
Cooper Webb (Yam)
Tyler Bowers (Kaw)
Chad Reed (Hus)
Blake Baggett (KTM)
Dean Wilson (Hus)
Weston Peick (Suz)
Christian Craig (Hon)
Vince Friese (Hon)
Cedric Soubeyras (Suz)
Benny Bloss (KTM)
Ben Lamay (Hon)
Austin Politelli (Hon)
Malcolm Stewart (Suz)
Henry Miller (Suz)
Collin Jurin (Kaw)
Justin Brayton (Hon)
Joshua Hill (Yam)
Nick Schmidt (Suz)
Through the rain, mud and smoke of the bikes, Eli Tomac lands on the top step of the podium here in Seattle. He made minimal mistakes, and put together a solid performance.
It was a frustrating night for points leader Jason Anderson. He managed to grab a solid jump to the lead, but after awhile he ended up making a few small mistakes that cost him the lead. Overall, he kept it on two wheels.
Marvin Musquin always manages to find himself on the podium in rough circumstances. He pulled together a third place on the night.
450 SUPERCROSS POINTS STANDINGS
Jason Anderson–288
Marvin Musquin–251

Eli Tomac–220

Justin Brayton–213
Blake Baggett–209
Weston Peick–185
Broc Tickle–184
Cooper Webb-180
Dean Wilson–152
Malcolm Stewart–125
450 LCQ RESULTS (TOP 4 QUALIFY)
 Benny Bloss (KTM)
Christian Craig (Hon)
Nick Schmidt (Suz)
Collin Jurin (Kaw)
450 HEAT 2 RESULTS (TOP 9 QUALIFY)
Eli Tomac (Kaw)
Jason Anderson (Hus)
Chad Reed (Hus)
Dean Wilson (Hus)
Blake Baggett (KTM)
Weston Pieck (Suz)
Austin Polliteli (Hon)
Vince Friese (Hon)
Ben Lamay (Hon)
450 HEAT 1 RESULTS (TOP 9 QUALIFY)
Marvin Musquin (KTM)
Broc Tickle (KTM)
Tyler Bowers (Kaw)
Malcolm Stewart (Kaw)
Cooper Webb (Yam)
Joshua Hill (Yam)
Cedric Soubeyras (Suz)
Justin Brayton (Hon)
Henry Miller (Suz)