2018 SOUTHWICK NATIONAL | 250 OVERALL RACE RESULT
Round six of the twelve race 2018 AMA Pro Motocross Championship series was held at Southwick, Massachusetts. French rider, Dylan Ferrandis, who's first race back from an injury was at Highpoint, won his first overall of the season. Last weekend he was able to get a moto win, but it finally fell together in Southwick with a 4-1 finish. 
250 OVERALL RACE RESULTS | SOUTHWICK
Dylan Ferrandis (Yam)–4-1
Alex Martin (KTM)–2-4
Shane McElrath (KTM)–7-3
RJ Hampshire (Hon)–7-3
Aaron Plessinger (Yam)–3-7

Colt Nichols (Yam)–8-8

Austin Forkner (Kaw)–1-20
Chase Sexton (Hon)–5-14
Mitchell Harrison (Hus)–15-6

Michael Mosiman (Hus)–10-11

Cameron Mcadoo (Hon)–9-13

Jordan Bailey (Hus)–13-10

Jordon Smith (KTM)–12-12

Joseph Savatgy (Kaw)–32-5

Justin Cooper (Yam)–17-9

Sean Cantrell (KTM)–11-15

Hayden Mellross (Yam)–16-16

Dakota Alix (KTM)–14-19

James Weeks (Yam)–19-17

Challen Tennant (Yam)–18-18

James DeCotis (Suz)–20-35

Joshua Prior (Yam)–21-22

Vann Martin (Hon)–23-24

Matthew Hammer (KTM)–24-25

Gabe Gutierres (KTM)–33-21

Deegan Vonlossberg (Yam)–27-27

Walter White (KTM)–26-28

Brian Borghesani (KTM)–22-34

Jamal Porter (Yam)–34-23

Joshua Berchem (KTM)–28-30

Mason Wharton (Kaw)–31-29

Travis Delnicki (Yam)–29-32

Bradley Esper (Suz)–25-37

Jake Larsen (Yam)–30-40

Matthew Klann (Hon)–37-36

Gage Schehr (KTM)–36-38

Dakota Kessler (Hon)–35-39

McCoy Brough (Hon)–DNS-26

James Barry (Yam)–DNS-31

Anthony Roth (Yam)–DNS-33

Austin Root (Hus)–38-DNS

Ramyller Alves (Yam)–39-DNS

Benjamin Robinson (Suz)–40-DNS
250 POINT STANDINGS (6 OF 12 ROUNDS)
Aaron Plessinger–233
Alex Martin–210

Jeremy Martin–176

Justin Cooper–174

Shane McElrath–170

Austin Forkner–169
RJ Hampshire–154

Jordon Smith–151

Chase Sexton–141

Joseph Savatgy–128
Dylan Ferrandis is still fresh off the injury list. Southwick was only his third race back and he already got an overall win. 
Alex Martin finished second overall and gained championship points on points leader Aaron Plessinger. 
250 QUALIFYING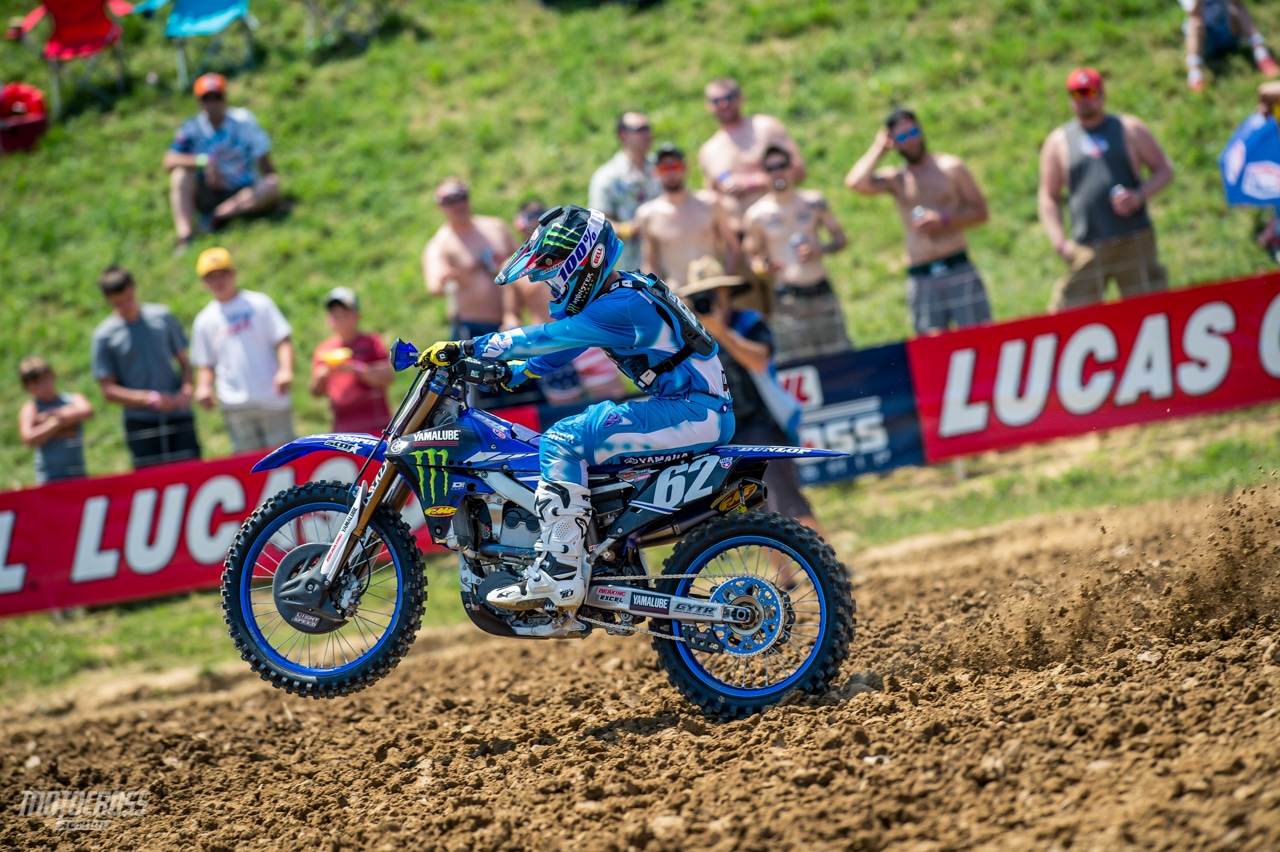 The Star Racing Yamaha rider of Justin Cooper topped practice in Southwick. 
250 FASTEST QUALIFYING | SOUTHWICK
Justin Cooper
Dylan Ferrandis
Austin Forkner
Chase Sexton
Alex Martin
Joseph Savatgy
Colt Nichols
Michael Mosiman
Jordon Smith
Cameron Mcadoo
Aaron Plessinger
RJ Hampshire
Shane McElrath
James DeCotis
Mitchell Harrison
Jordan Bailey
Sean Cantrell
Dakota Alix

Gage Schehr

Challen Tennant

Walter White

Luke Renzland

James Weeks

Hayden Mellross

Gabe Gutierres

Matthew Hammer

Benjamin Robinson

Austin Root 

Jamal Porter

Joshua Prior

Brian Borghesani

Vann Martin

Dakota Kessler

Ramyller Alves

Deegan Vonlossberg

J

ake Larsen
TOP 36 RIDERS QUALIFY

Corey Ridel

Daniel Netti

Benjamin Brouillard

Matthew Fisk

Matthew Klann

Shawn MacDonald

Brandon Dickson

Bradley Esper

Travis Delnicki

Joshua Berchem

Austin Brooks

Kyle Hopkins

Nicholas McDonnell

Anthony Roth 

McCoy Brough

James Doolittle

Mason Wharton

James Barry

Garret Ioppolo

James Henshaw

Zac Maley 

Cale Kuchnicki

Christopher Lauro

Chris Moore

Dominick Dreisbach

Ryan Lechien

Colton Karl