2018 ST. LOUIS SUPERCROSS | 450 MAIN EVENT RESULTS
What a night it was here in St .Louis for the Monster Energy Supercross . As the weeks begin to pass, we are starting to see who wants it, and who needs to catch up. Coming into to night, Eli Tomac was determined to get the win. Things didn't go as planned last weekend in Daytona. Jason Anderson tried to get more wins under his belt, and Justin Brayton looked to win again. Heres how the night panned out.
450 MAIN EVENT OVERALL RESULTS ST. LOUIS SUPERCROSS
Eli Tomac (Kaw)
Jason Anderson (Hus)
Marvin Musquin (KTM)
Justin Brayton (Hon)
Weston Peick (Suz)
Blake Baggett (KTM)
Broc Tickle (KTM)
Dean Wilson (Hus) 
Christian Craig (Hon)
Malcolm Stewart (Suz)
Benny Bloss (KTM)
Vince Friese (Hon)
Kyle Cunningham (Suz)
Tyler Bowers (Kaw)
Kyle Chisholm (Yam)
Cedric Soubreyas (Suz)
Ben Lamay (Hon)
Adam Enticknap (Hon)
Dylan Merriam (Yam)
Aj Catanzaro (Kaw)
Scott Champion (Yam)
Chad Reed (Hus)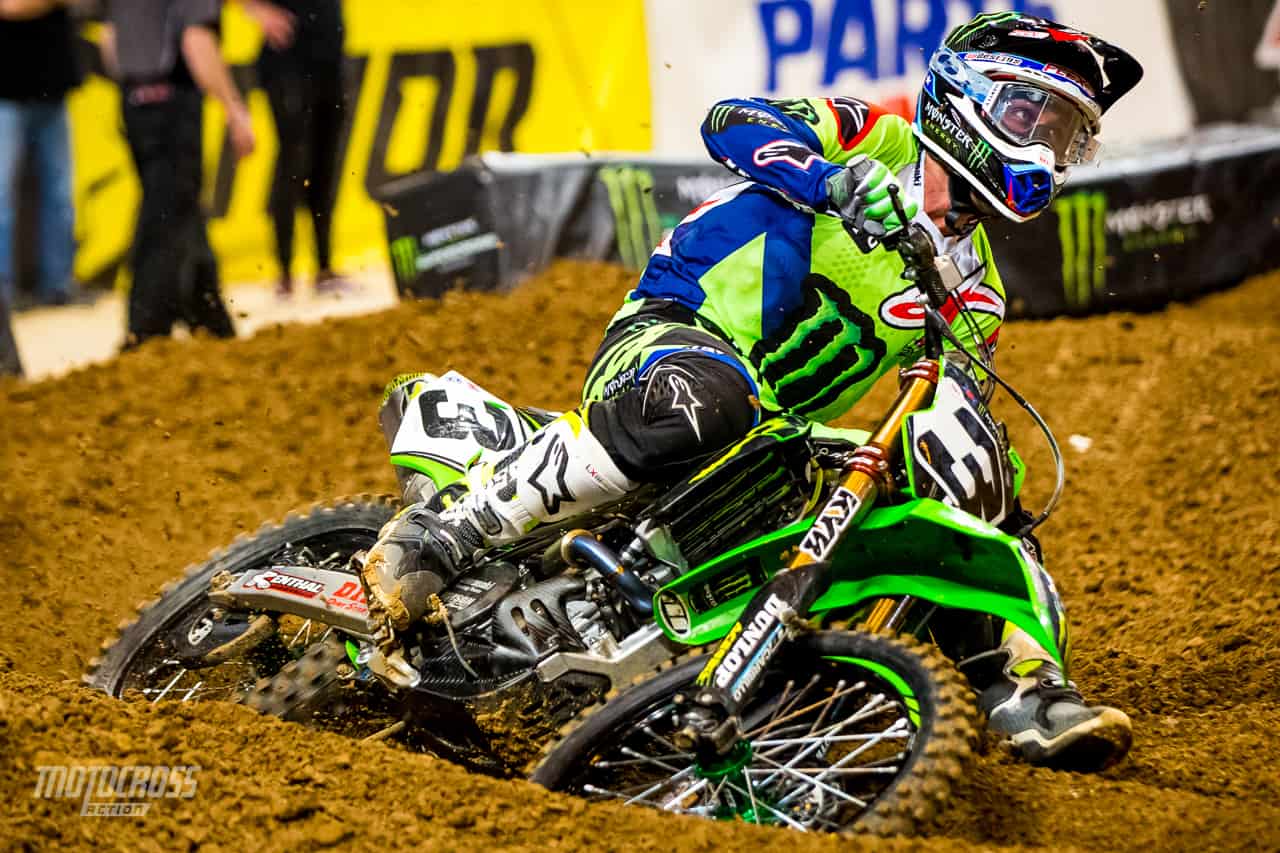 Eli Tomac took the 450 main in full control. He grabbed a solid start, and managed to cross the line in first with 19.2 seconds between him and Jason Anderson. If he keeps this up, could he still win the title from 60 points behind? 
 Jason Anderson hasn't been on top of the box lately, but he has a solid 42 point gap between him and the rest of the field. His consistency has been enough for him to rack up the points he needs. Jason crossed the line in second.
Marvin Musquin may not be winning, but he is certainly keeping himself in the running. Since Marvin's crash in Phoenix, we haven't exactly seen the same guy. But you can tell that with each passing race he is getting more and more comfortable. Marvin finishes third.
450 SUPERCROSS POINTS STANDING (ROUND 11 OF 17)
Jason Anderson–246
Marvin Musquin–204
Justin Brayton–189

Eli Tomac-186

Blake Baggett–181
Weston Peick–171

Broc Tickle–147

Cooper Webb-146
Cole Seely–124
Justin Barcia-113
450 SX HEAT 1 (TOP 9 QUALIFY)
Justin Brayton (Hon)
Dean Wilson (Hus)
Broc Tickle (KTM)
Christian Craig (Hon)
Tyler Bowers (Kaw)
Benny Bloss (KTM)
Ben Lamay (Hon)
Kyle Chisholm (Yam)
Adam Enticknap (Hon)
450 SX HEAT 2 (TOP 9 QUALIFY)
Jason Anderson (Hus)
Blake Baggett (KTM)
Eli Tomac (Kaw)
Marvin Musquin (KTM)
Weston Peick (Suz)
Vince Friese (Hon)
Chad Reed (Hus)
Kyle Cunningham (Suz)
Cedric Soubreyas (Suz)
450 SX LCQ (TOP 4 QUALIFY)
Malcolm Stewart (Suz)
Aj Catanzaro (Kaw)
Dylan Merriam (Yam)
Scott Champion (Yam)
OVERALL 450 QUALIFYING RESULTS
Eli Tomac (Kaw)–46.265
Justin Brayton (Hon)–46.890
Malcolm Stewart (Suz)–46.923
Dean Wilson (Hus)–46.977
Jason Anderson (Hus)–47.096
Tyler Bowers (Kaw)–47.392
Marvin Musqin (KTM)–47.403
Broc Tickle (KTM)–47.470
Blake Baggett (KTM)–47.750
Christian Craig (Hon)–48.005
Weston Peick (Suz)–48.177
Bradley Taft (Yam)–48.186
Vince Friese (Hon)–48.558
Benny Bloss (KTM)–48.698
Cedric Soubeyras (Suz)–48.847
Ben Lamay (Hon)–48.940
Kyle Cunningham (Suz)–49.051
Kyle Chisholm (Yam)–49.226
Chad Reed (Hus)–49.533
Adam Enticknap (Hon)–49.786
Justin Starling (Hus)–50.102
Aj Catanzaro (Kaw)–50.106