2018 TAMPA SUPERCROSS | THE AFTERMATH
Photos by Brian Converse
On Saturday February 24th, the Monster Energy Supercross Series returned to Raymond James Stadium in Tampa, Florida for the first time since 1999. Florida has known to be host to many of crazy, breathtaking races in the series back in the glory days. This past weekend was nothing different. Here's how things shook down for the 2018 Supercross series in Tampa:
To start off the day, Dylan Ferrandis was the fastest 250 qualifier and set the bar very high coming into the night show. In fact, Ferrandis had the fastest time of everyone in attendance (450's included).
In the 450 class, Eli Tomac set the fastest time to beat.
As practice came to a close and the fans entered the stadium to take their seats, it was time to let the festivities begin! On another note, when your in the stands, you can literally feel the heat off the flames.
For the fans, this is one of the most exciting moments of the night show. Cole Seely entered the opening ceremonies with his iPhone aboard his helmet. He was Instagram Live video recorded the entire thing.
Marvin Musquin sure does "light up the dark" with his custom Leatt Brace.
The fans love Weston Peick.
If you're a die hard fan, you know how it goes. But in case you're not, right after the opening ceremonies comes to a close its time for the first heat of the night. The 250 class was up first, and Colt Nichols jumped to the early lead. After awhile, defending 250 East Champion Zach Osborne made the pass and secured the heat win. Colt Nichols and Austin Forkner followed closely behind in second and third.
Next up was 250 heat two. Right off the bat, Geico Honda's Rj Hampshire jumped to the early lead. But a few corners later, the number 29 Monster Energy Pro Circuit Kawasaki rider Martin Davalos stole the lead, and took the 250 heat two win. Right behind him was the number 36 of Rj Hampshire in second, and the number 24 of Dylan Ferranids in third.
Now, onto the 450's. This race was one of best of the night. Defending 250 West Champion Justin Hill stepped up to the 450's this weekend. This was Justin's first race ever on a 450, and completely dominated his heat. He ended up with the win, followed by Marvin Musquin and Cooper Webb.
In 450 heat two, contenders like Jason Anderson, Eli Tomac, and Justin Brayton were in this one. Eli Tomac and current 450 points leader Jason Anderson battled it out for the lead. Not once did the battle get dirty, or unprofessional. It was good clean racing all the way to the checkers! It was Jason Anderson in first, Eli Tomac in second, and Malcolm Stewart in third.
This weekend, Arenacross star Chris Blose joined the 250 class. Unfortunately, he made a few mistakes in his heat that caused him to be in the LCQ. But that was no problem for Blose, as he clinched the win. The other three qualifying spots in order went to Jacob Williamson, John Short and Challen Tennant.
According to Feld this was a big night for the number 22 of Chad Reed. It was the night that he would take over the record for most main event starts of 227 over Mike LaRocco's 226 starts. Our records, however show that he won't beat it until next weekend. Anyhow, CR22 took the first qualifying spot, followed by Ben Lamay, Matthew Bisceglia and Brandon Scharer.
So, after all the qualifying was all said and done, it was time for the final races of the night. The main events. The 250 guys started off with their 15 minute plus two laps.
Although he won his heat race, Martin Davalos didn't have the performance he imagined in the 250 main. After making multiple small mistakes, he'd cross the line in fifth.
The holeshot and early lead went to the number 36 of Rj Hampshire. Unfortunately for the Geico Honda rider, he would only go on to lead about two and a half laps. He swapped in the Tampa beach sand section, jumped off the track and gave the lead to Austin Forkner. Rj would finish 4th in the 250 main.
Defending 250 East Champion Zach Osborne started off his main event performance in the top three. He was looking to power up, and make a run at the leader until he was smoothly passed by Dylan Ferrandis. Zach Osborne would finish in the third spot to end the night.
Dylan Ferrandis played the night very well (of course setting the fastest time of the day is a huge confidence booster). He hung back in third for most of the race, but eventually made the pass on Zach Osborne for second. Once he did, he started to follow the leader. There were a few moments where Dylan almost executed the pass perfectly, but Austin fought back hard. Dylan Ferrandis would have to settle for a second.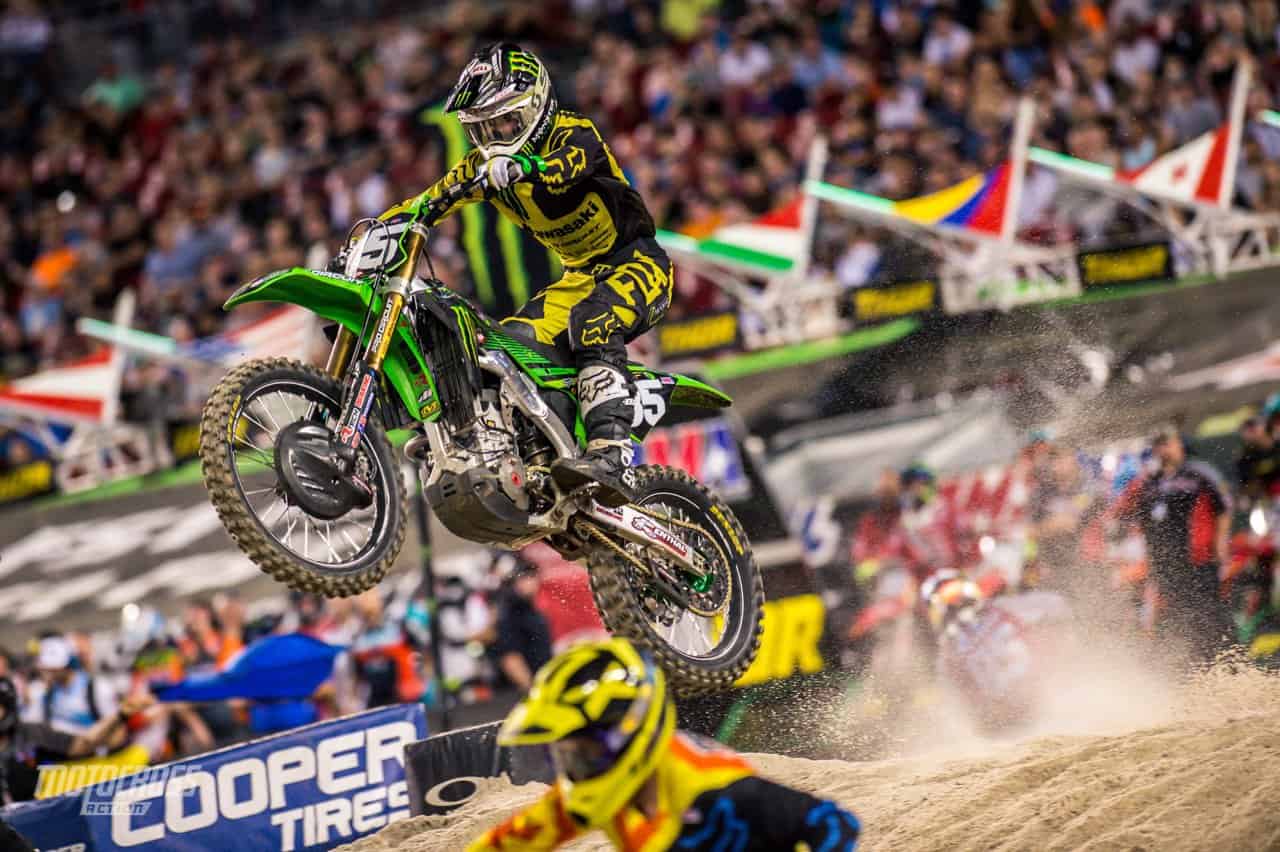 At the end of it all, Austin Forkner was the rider to come out victorious. Not only was this his first 250 main event win, but he was the first 250 main winner to win in Tampa since 1999. He rode very smooth, and stayed calm under fire from Ferrandis.
Official results: Austin Forkner (1st), Dylan Ferrandis (2nd), Zach Osborne (3rd).
250 EAST COAST SX POINT STANDINGS (ROUND 2 OF 9)
Zach Osborne (Hus) – 47
Austin Forkner (Kaw) – 42
Rj Hampshire (Hon) – 38
Colt Nichols (Yam) – 37
James Decotis (Suz) – 34
Jordon Smith (Hon) – 34
Luke Renzland (Yam) – 30
Jeremy Martin (Hon – 29
Dylan Ferrandis (Yam) – 28
Cameron McAdoo (Hon) – 25
John Short (Suz) – 21
Nick Gaines (Yam) – 20
Martin Davalos (Kaw) – 19
Kyle Peters (Suz) – 18
Sean Cantrell (KTM) – 17
Lorenzo Locurcio (Hon) – 15
Anthony Rodriguez (KTM) – 14
Challen Tennant (Yam) – 13

Cody Vanbuskirk (KTM) – 9
After the 250 guys popped their bottles and smiled for the cameras, it was time for the final race of the night. The 450 main event.
Broc Tickle is a rider that we haven't really talked much about here in The Aftermath. He rode very impressive, and far from how he's been riding this season. He grabbed a solid start, and managed to remain in the top five for most of the race. Broc finished fifth.
Cooper Webb has had a definite boost of confidence lately. He rode extra aggressive in his heat, and managed to walk away with a forth in the main event.
Things did not go as Jason Anderson had planned for the night. He had a bit of ground to work through, after making a few slight mistakes. By the time Jason caught up to the leaders, the checker flags had waved. Jason finished third and earned valuable points toward his championship hopes.
Marvin Musquin certainly did not go down without a fight. He made a few of what seemed to be definite passes on Eli Tomac, but after a little bit of time, they would find themselves mixing it up again. Marvin gave it heart all the way to a second place finish.
After awhile, Eli Tomac took complete charge of the lead after about 15 minutes or so in the main. It's unfortunate that he is so far down in the points, otherwise he could definitely be a championship contender this season. This is Eli's second win in a row this season.
Official results: Eli Tomac (1st), Marvin Musquin (2nd), and Jason Anderson (3rd).
450 SUPERCROSS POINTS STANDING (ROUND 8 OF 17)
Jason Anderson–181
Marvin Musquin–142
Blake Baggett–134
Justin Brayton–125
Weston Peick–125
Cole Seely–124
Eli Tomac-116
Broc Tickle–114
Justin Barcia-113
Cooper Webb-108
_____________________________________
TOP NEWS AFTER TAMPA:
Cole Seely had to undergo surgery over the weekend after his crash in his 450 heat. Seely sustained fractures to his sacrum and the left and right sides of his pelvis after coming up short in the rhythm section. The initial prognosis is for eight weeks non-weight bearing, with a follow-up appointment to take place in 10 to 14 days.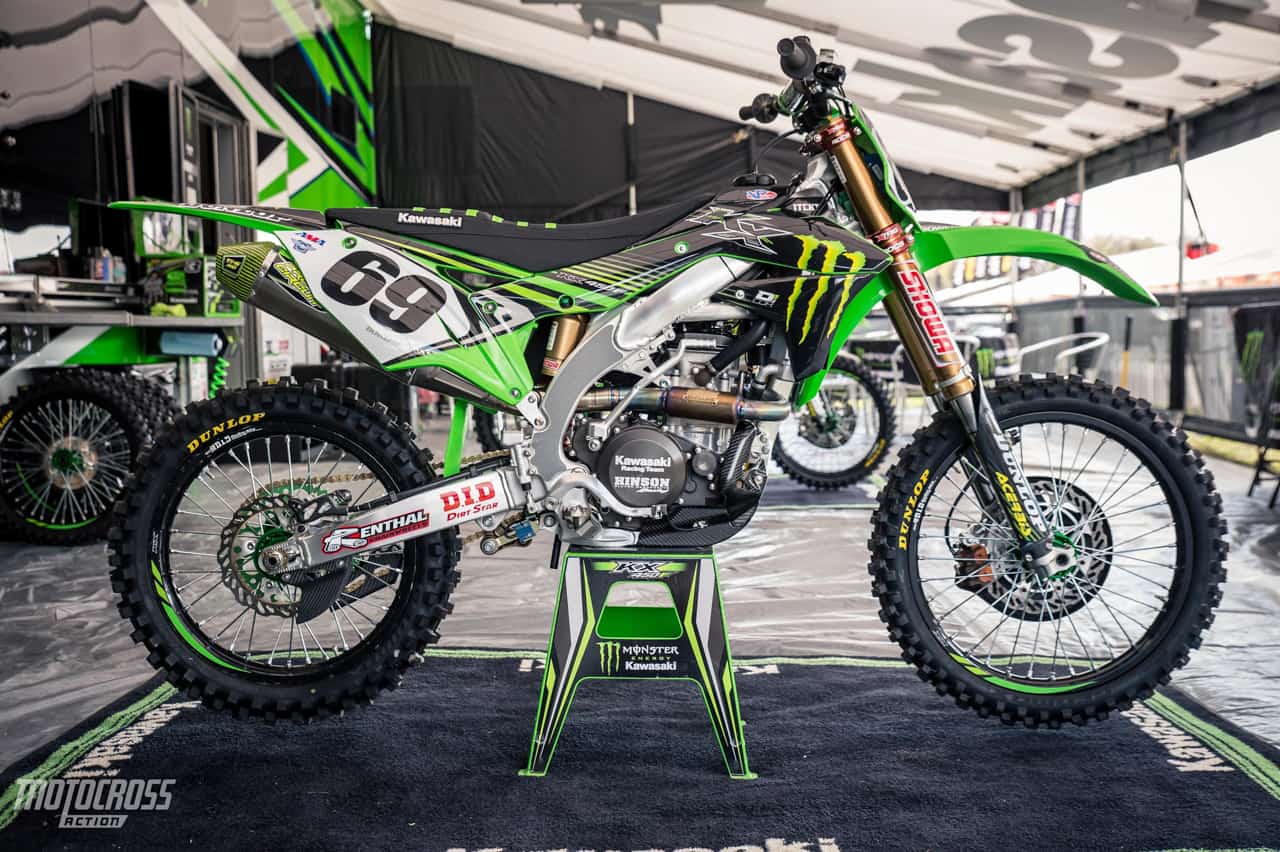 Factory Monster Energy Kawasaki's fill in rider Tyler Bowers had a tough time in Tampa. After only having one day on the bike the week leading up to round 8, he finished sixth in his heat, and fourteenth in the main.
Bowers commented: "Not gonna lie, I DID NOT dig the track this weekend. Just could not find that flow. Glad I made it out and I'm ready to get some more time on this @racekawasaki mean machine this week!"
250 Rookie Brandon Hantranft did not have an easy night in Tampa. In his debut in Arlington he shocked the field with a solid eighth place finish in his first main, and transferred with a direct spot from his heat. Fast forward to this weekend, he had a slight mistake in his heat and was forced to enter the infamous LCQ. In there, he had a transfer spot locked down until he went down.
Brandon Commented: "Speed was much better this weekend. Felt more comfortable all day just made two bad decisions during the night show and had to learn the hard way… Looking forward to Atlanta" 
Blake Baggett is healthy after his crash when he came up short in the rhythm section, and gave Feld Entertainments new "safety nets" a try (they most definitely served their purpose).
_____________________________________