2019 ANAHEIM 2 SUPERCROSS | BEST IN THE PITS
Are we seeing double? No. Well yes. Because of the new Triple Crown format and the short amount of time in between races, all of the riders are allowed to take two bikes through tech inspection. This way if anything happens to their race bike during the a main event, they can change to their spare bike and not miss the next race.

This is the Best in the Pits gallery from the third round of the 2019 Monster Energy Supercross series in Anaheim California inside the Angels Stadium. Because of the new Triple Crown format, most teams and some of the privateers brought a second bike to the races. Now if they have any issues with their first bike, they can switch it out and use their spare for the next race. This rule is only allowed for the Triple Crown races, next weekend we will be back to standard format and they will only be able to bring one bike again. For more on the triple crown format read below.
It is a sunny day here today in Anaheim.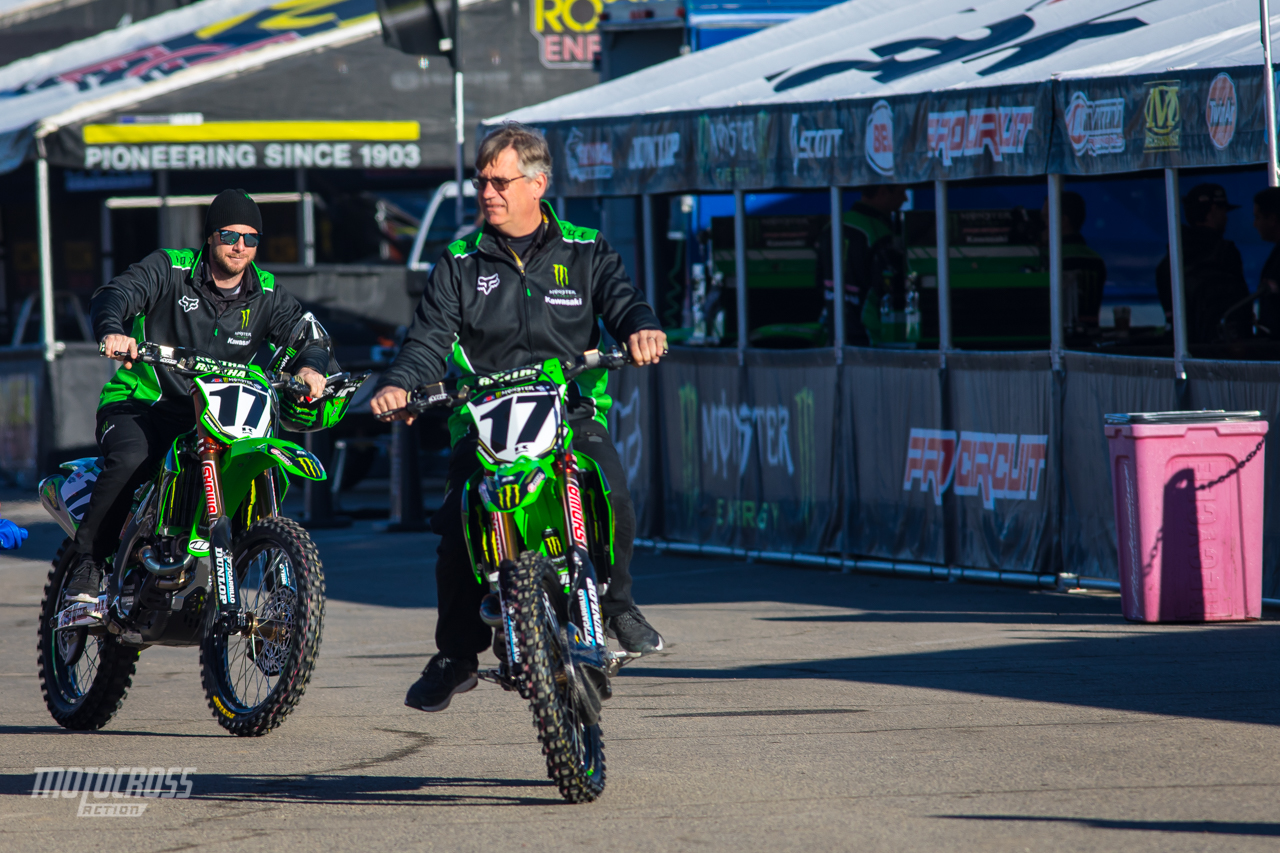 Most of the riders have two bikes this Saturday. Read below to learn about the triple crown format. 
Triple Crown format breakdown:
The top 18 from the overall fastest qualifying times during the day will advance straight to the main event. There will then be an LCQ that add four more riders for a total of 22 racers in the main event. During the night show, there won't be any heat races or LCQ's but each class will have three main events. The 250SX class will compete in three 10-minute main events, while the 450SX class will compete in three 12-minute main events. An Olympic-style scoring method will be used to determine an overall winner in each class from all three main events where the lowest combined score at the end will be awarded the overall win.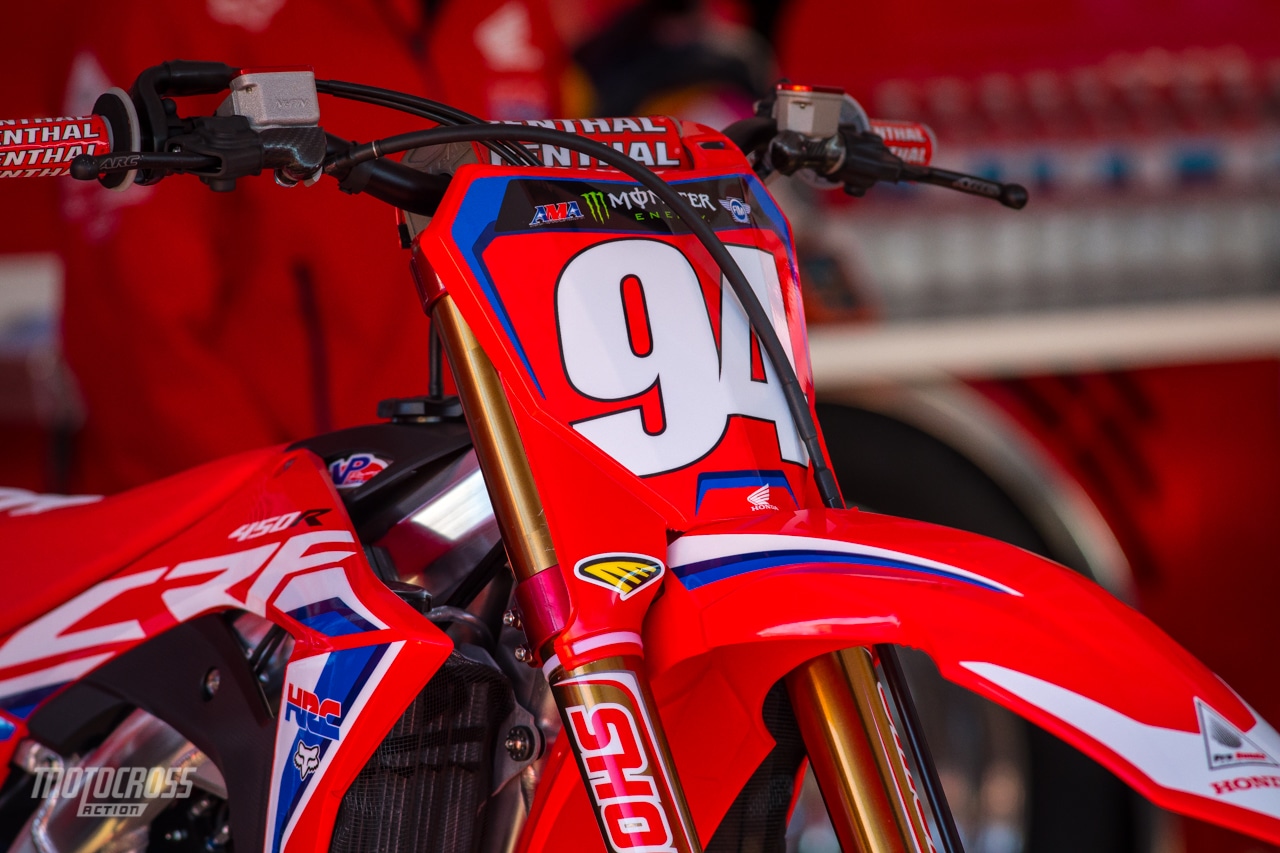 Ken Roczen's bike is looking very red for Anaheim 2. Ken now has the points lead by only 1 point.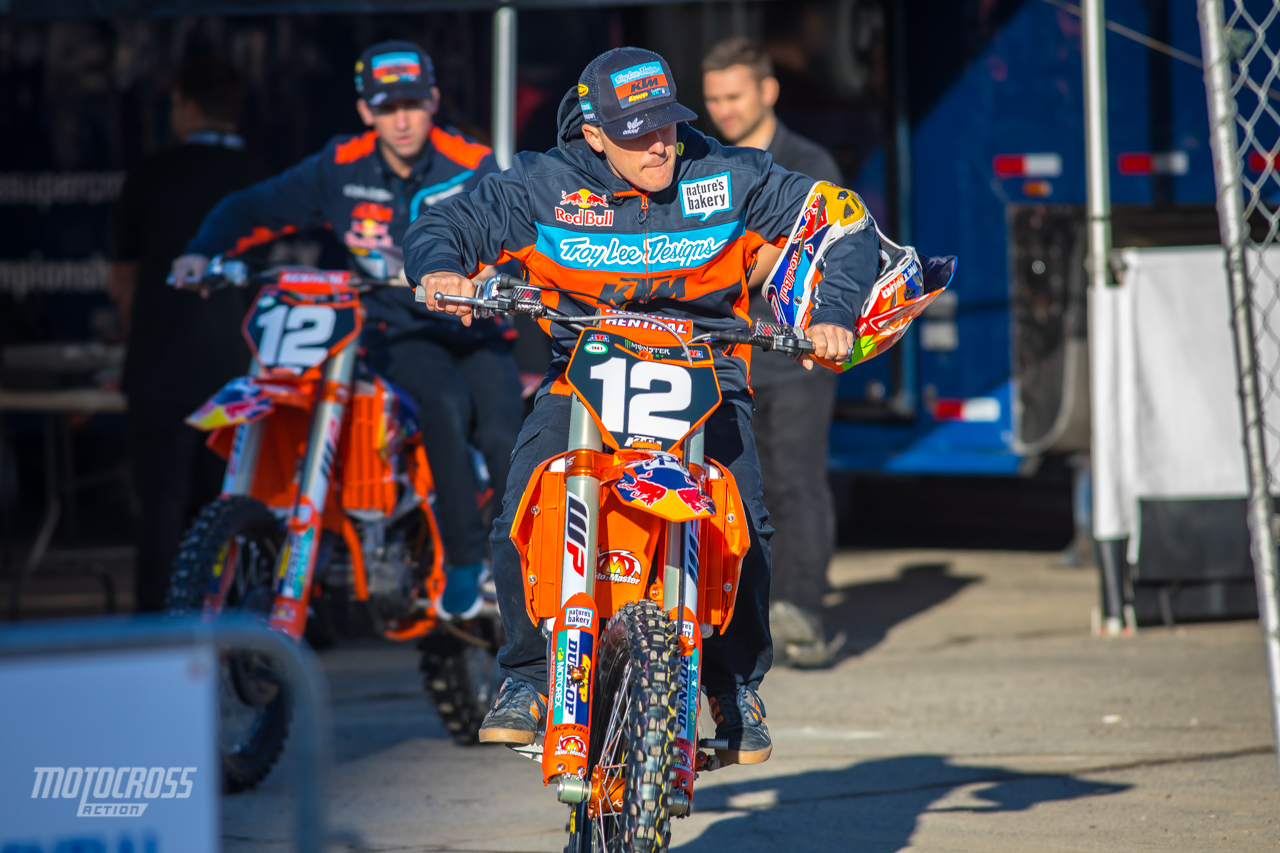 Shane McElrath's two KTM's are ready to go.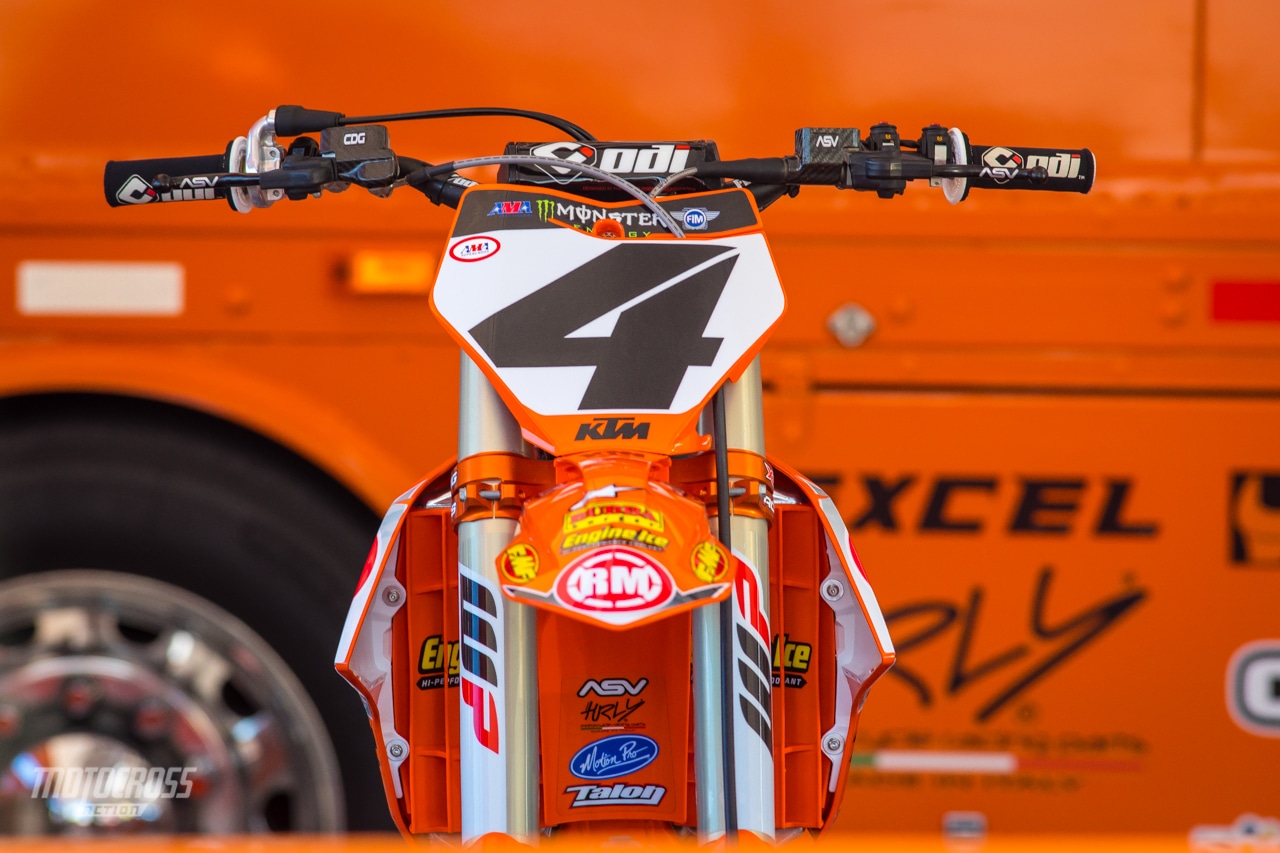 We're excited to see how Blake Baggett does after earning his first win last weekend in Glendale.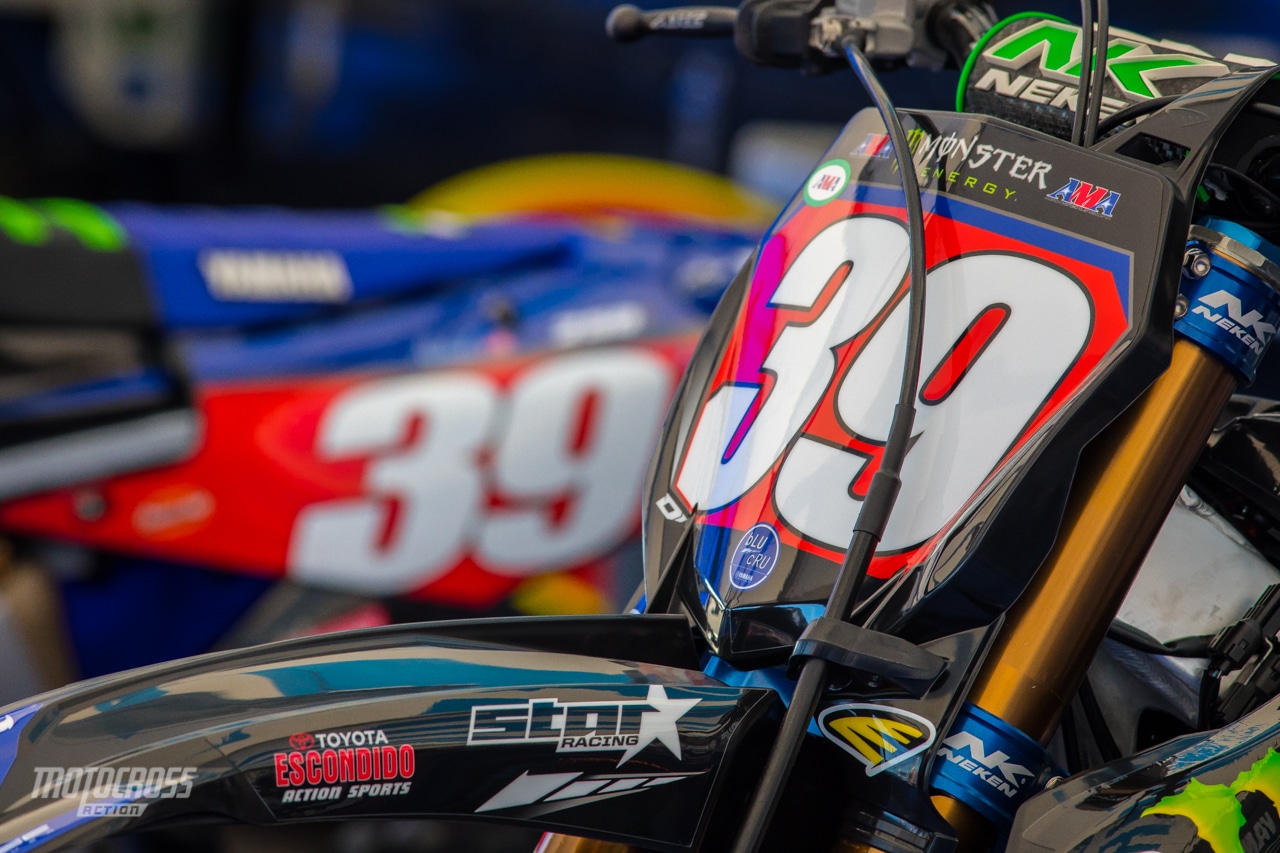 Colt Nichols holds a 5 point lead going into the third round.
Dean Wilson led for over 15-minutes of the main event at Anaheim 1. It will be interesting to see how he does tonight with the Triple Crown format and three shorter main events.
 Colt Nichols' Monster Energy Yamalube Star Racing Yamaha.
We love getting up close with the factory bikes before they hit the track. 
Have you ever had mud stick to your pegs? Here's one way to prevent it. The MXA wrecking crew has done this before. We remove the middle bars on the pegs to allow the mud to fall through and have less area to stick to. It looks like the peg will have less traction for your foot, but it doesn't. We were still able to keep our feet on the pegs as usual and we didn't have to worry about mud getting caught in our pegs quite as much.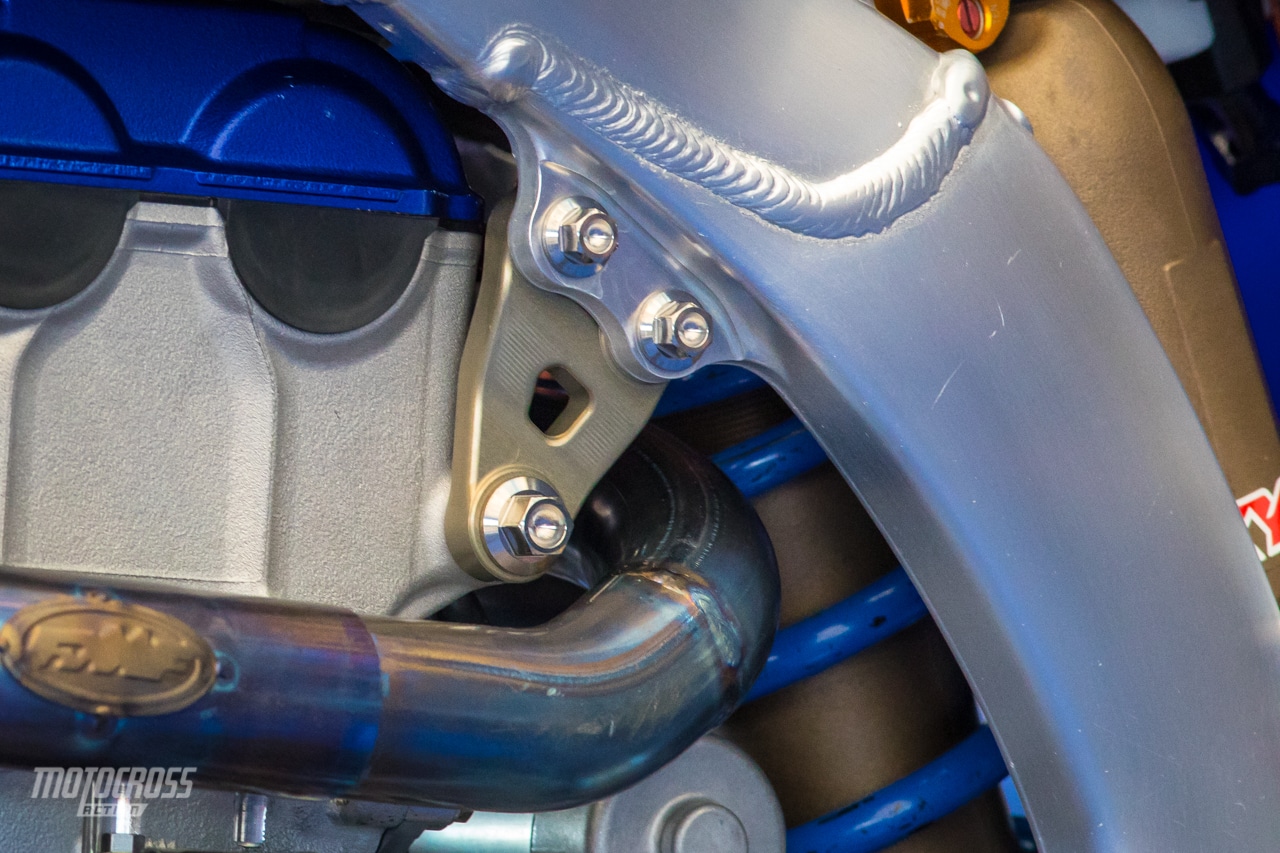 We also noticed some cool engine mounts on the Star Racing Yamaha bikes. FCP makes these and they are now for sale to the public.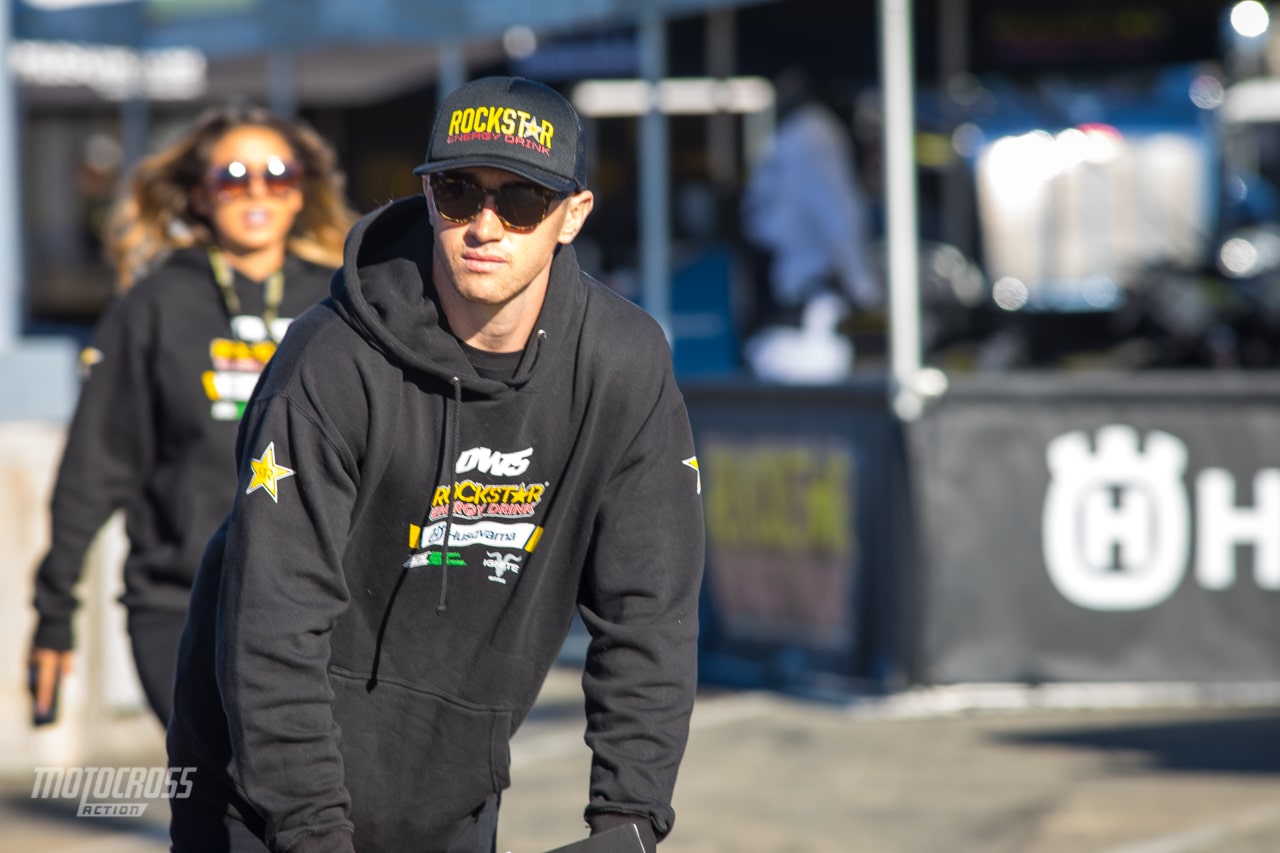 Dean Wilson cruising around the pits.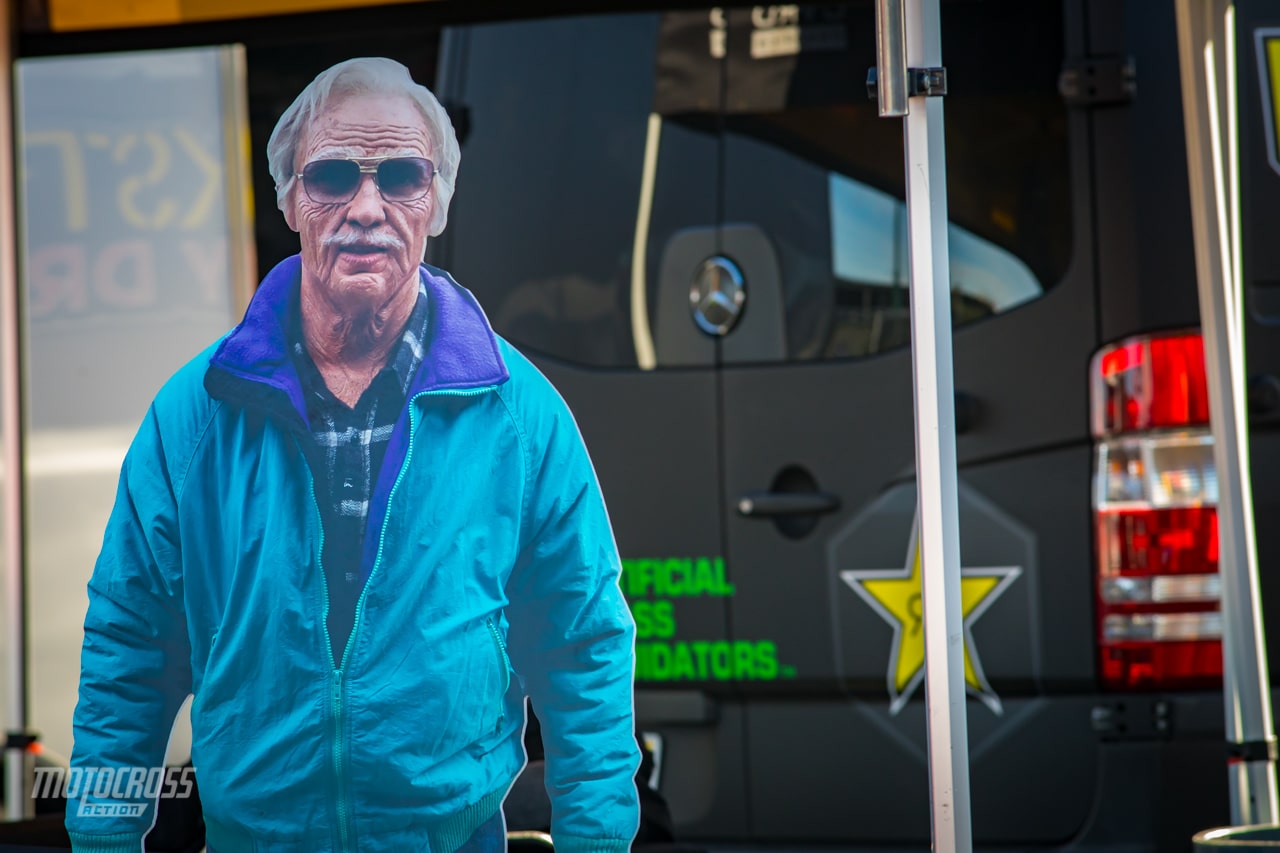 Dean Wilson has an awesome cardboard cut out of his character "Grandpa Earl" at his pit. Click here if you haven't watched the epic video yet.
Here's a cool rear shock holeshot device on Matt Bisceglia's Cycle Trader Rock River Yamaha. Matt will miss Round 3 due to a concussion, but he plans to return to the series at Round 4 in Oakland.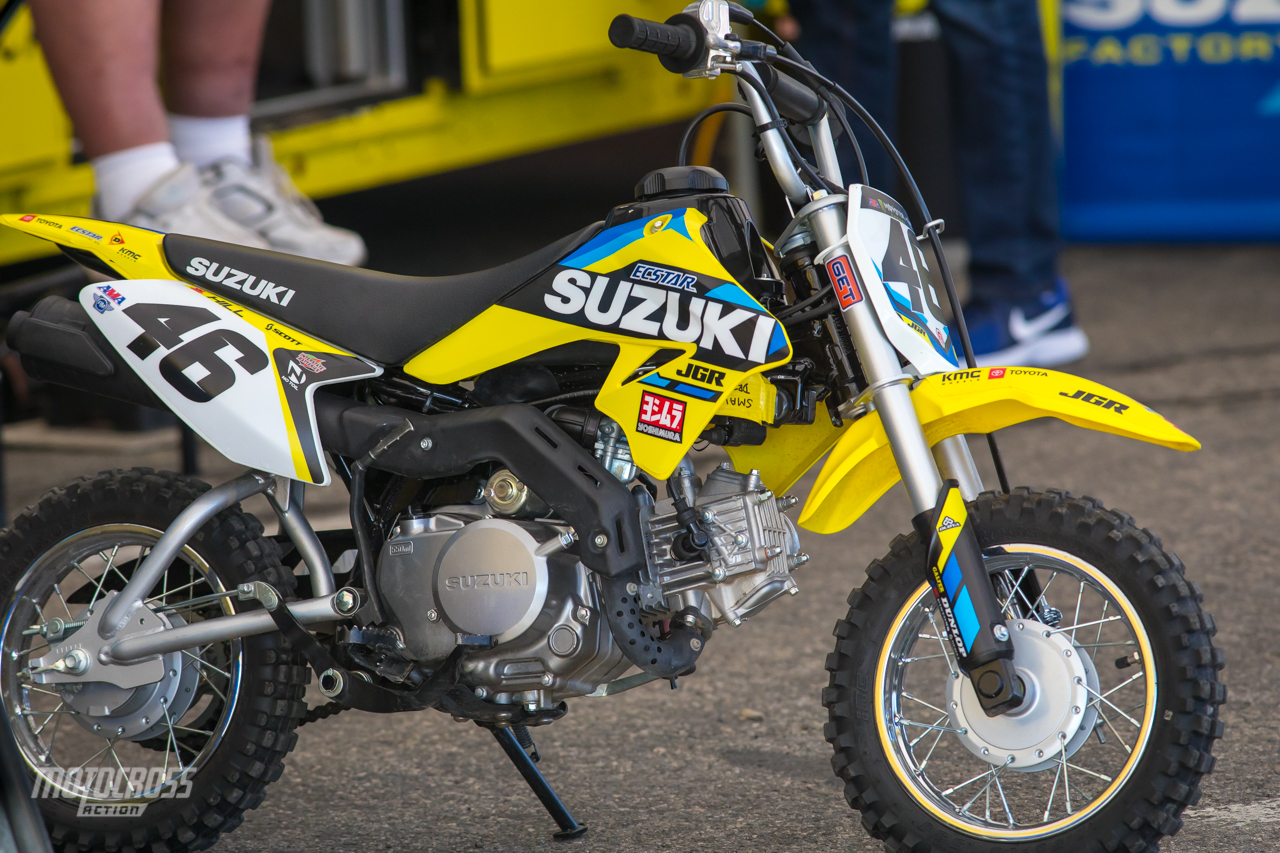 Justin Hill and the JGR Suzuki team jokingly brought this 50 out, pretending that this is Justin's spare bike.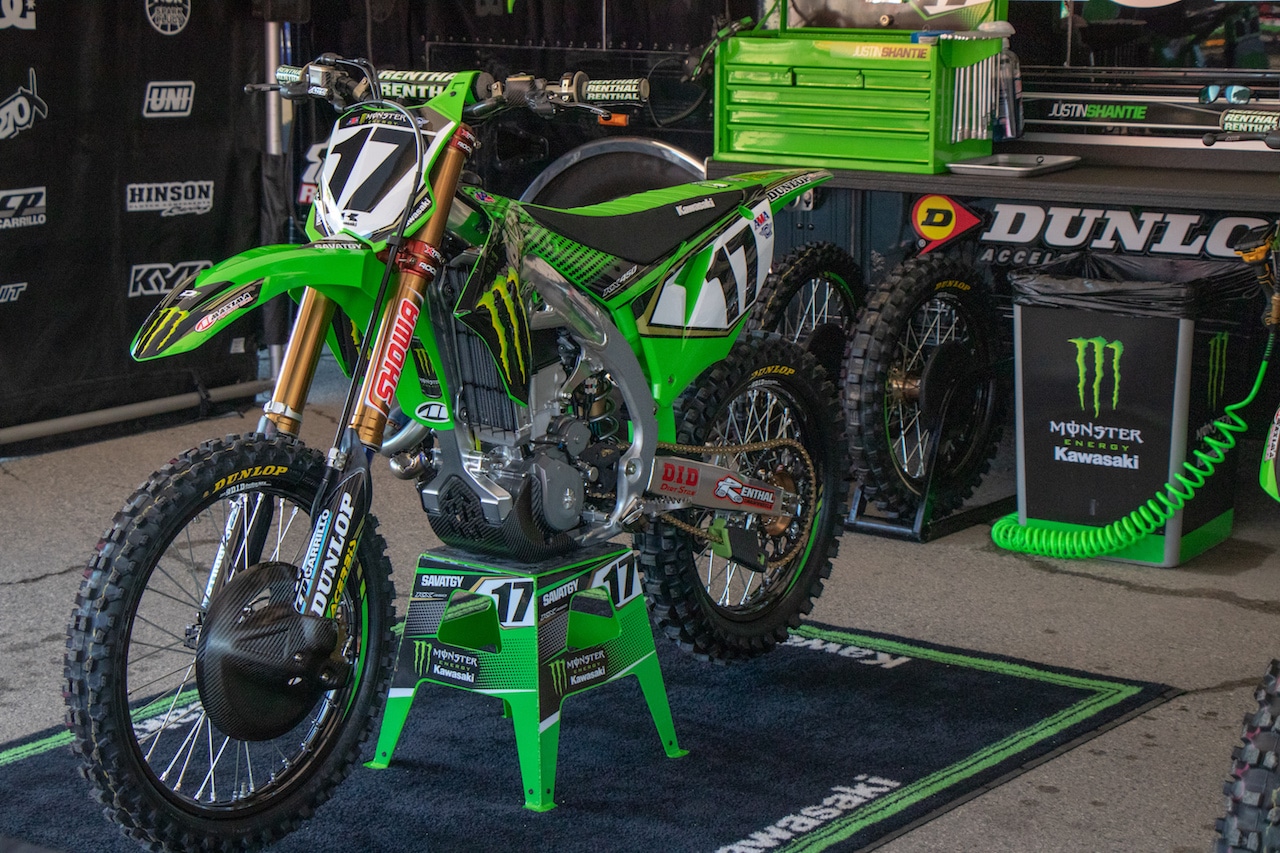 We are excited to have Joey Savagty racing this weekend after crashing in the heat race in Glendale and missing the LCQ and the main. 
Garrett Marchbanks and Ivan Tedesco (left) hanging in the pits waiting for practice to start.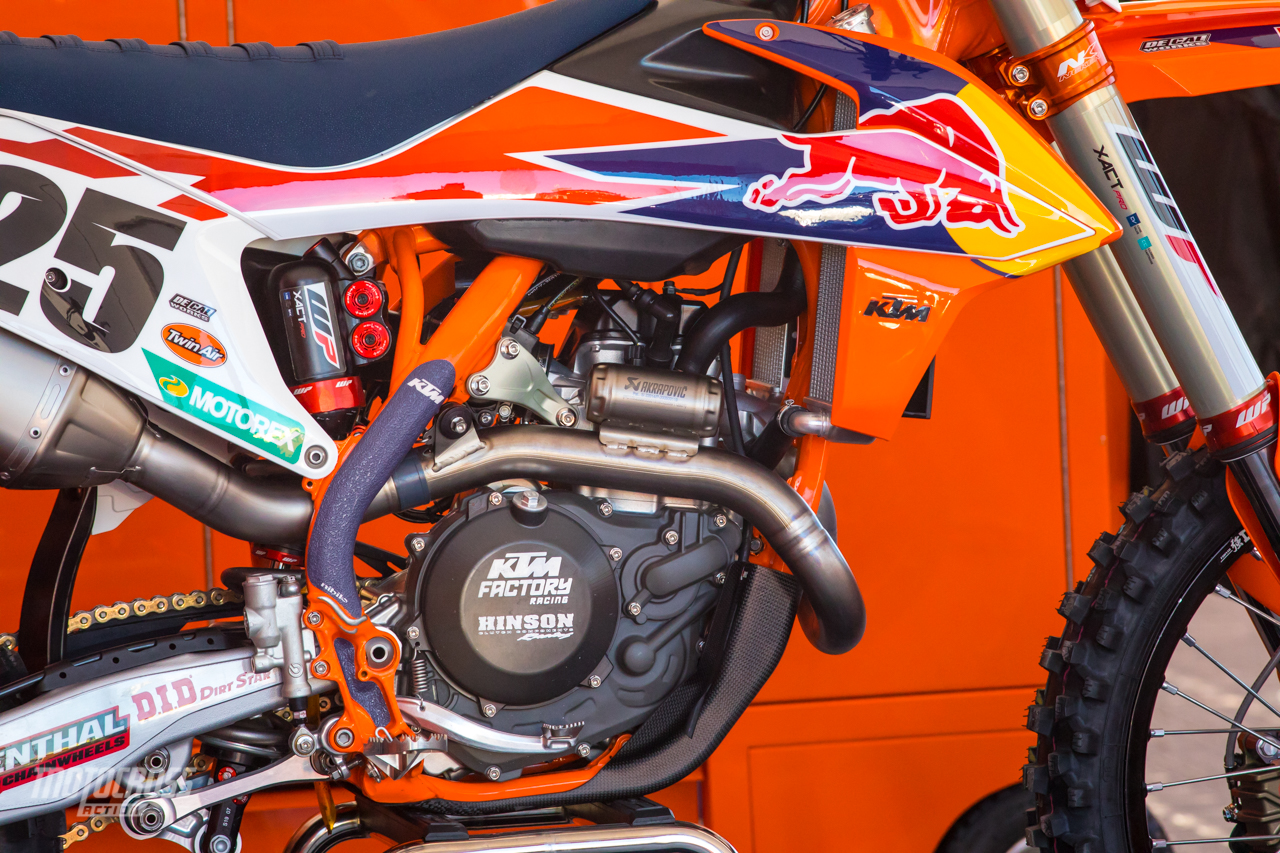 Marvin Musquin's bike is looking clean as usual.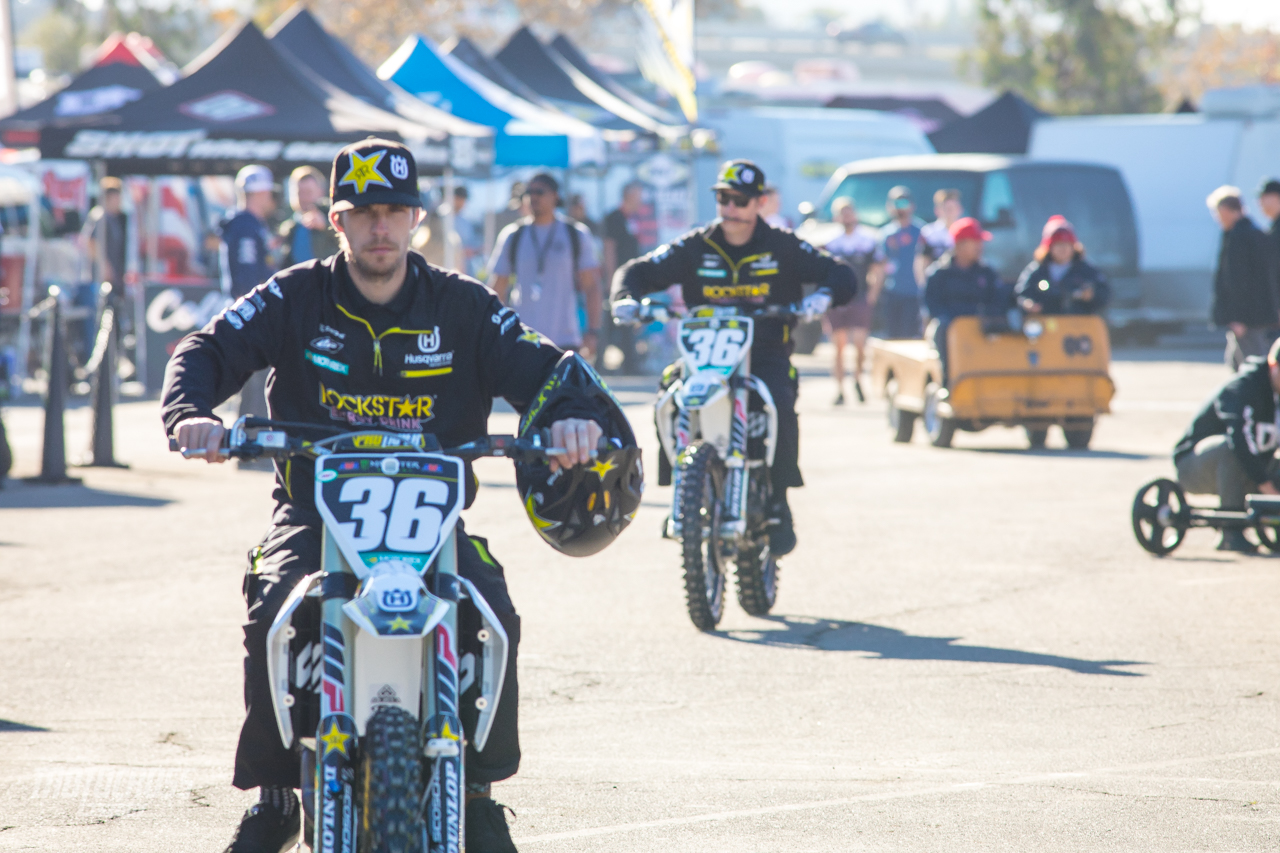 Daniel Castloo, Michael Mosiman's mechanic has his game face on.
Good to see a smoker in the pits. 
Dyno Dan Rambert dialing in the electronics on Aaron Plessinger's bike. 
Autograph time!
Justin Starling's AJE Gas Monkey Energy Husqvarna.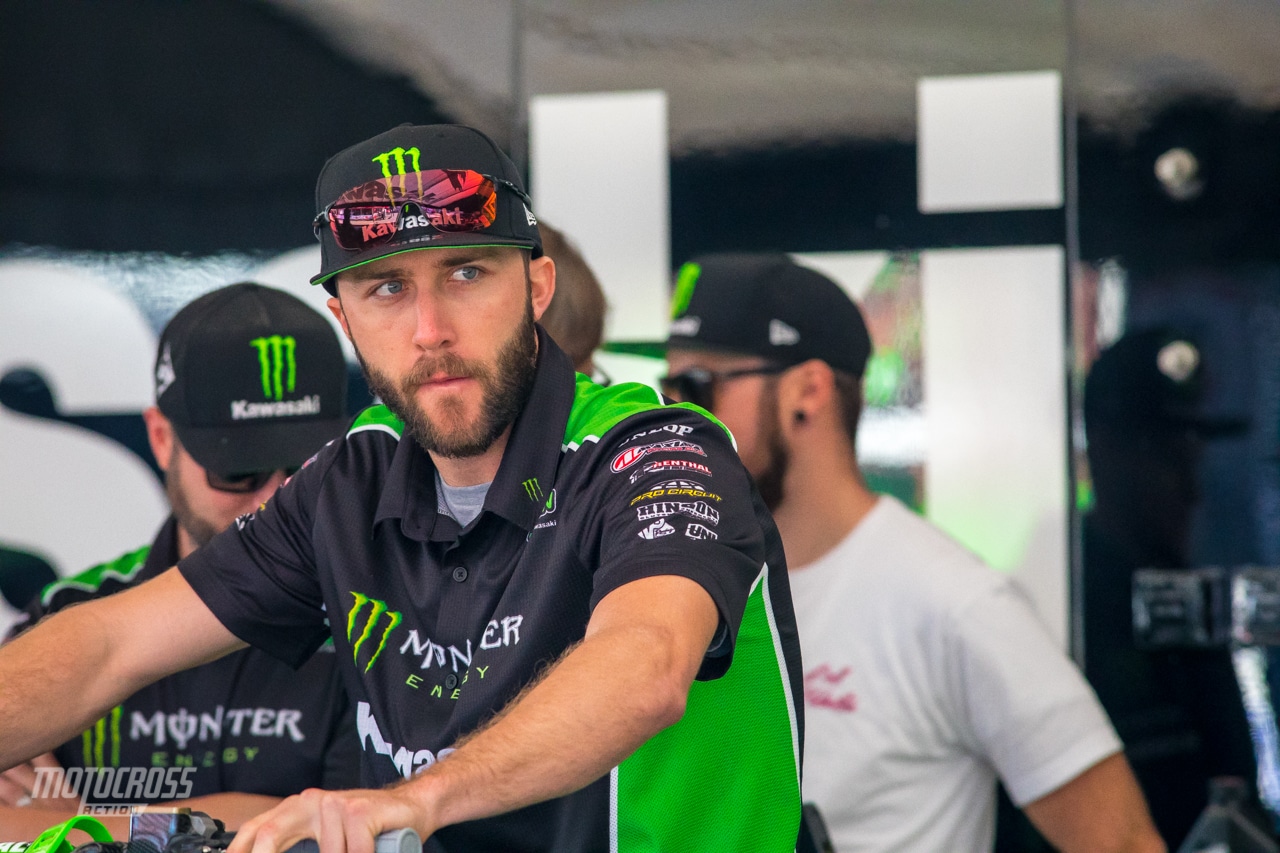 Eli Tomac is all business as usual.