2019 ARLINGTON SUPERCROSS | PRESS DAY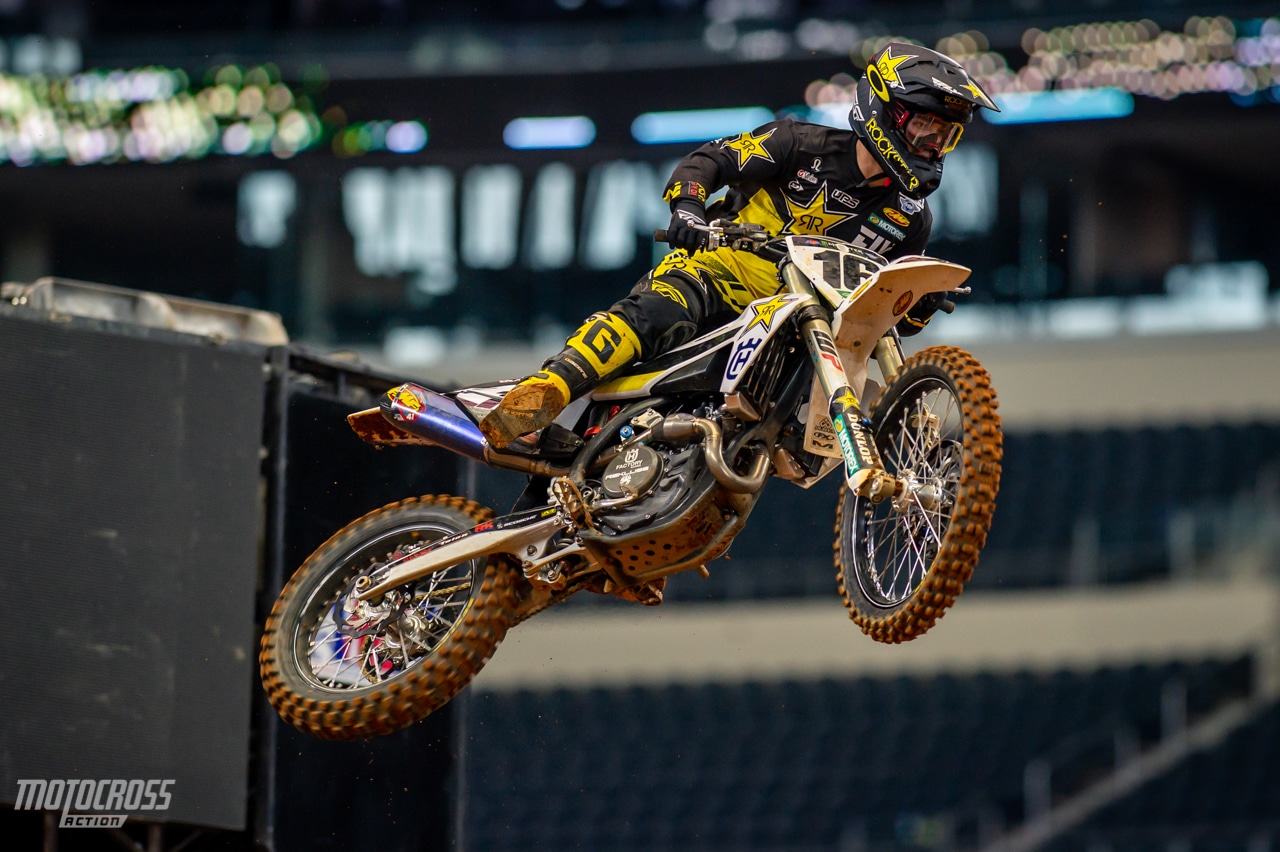 Zach Osborne has arrived! We think the #16 will make the 450 class even more interesting Saturday night during his American 450 Supercross debut. For an update on Zach's return click here.
The seventh round of the 2019 Monster Energy Supercross season will be held in Arlington, Texas at the Dallas Cowboys AT&T Stadium. We're excited to see what happens next, as this year as been full of great racing! Not only does it have more than 3,000 Sony LCD TV displays throughout the venue, the AT&T stadium also has a 14,000-plus ton retractable roof that opens or closes in 12 minutes. This means we don't have to worry about weather inside of the stadium! We're excited about that. Now we can focus on the fun stuff, Ken Roczen has the red plate again by just one point over Cooper Webb while Marvin Musquin and Eli Tomac are both tied for third, only one point behind Cooper. The top four are separated by only two points, you really can't ask for much more than that. As if we didn't have enough to watch this weekend, Zach Osborne is adding himself to the roster. He's set to make his return to Supercross and his 450 debut in Arlington. We've seen Zach ride the 450 in person at the Husqvarna test tracks and he's fast, we're excited to see how he does in Arlington. Keep checking in with MXA throughout the weekend for news, results and photos from round seven.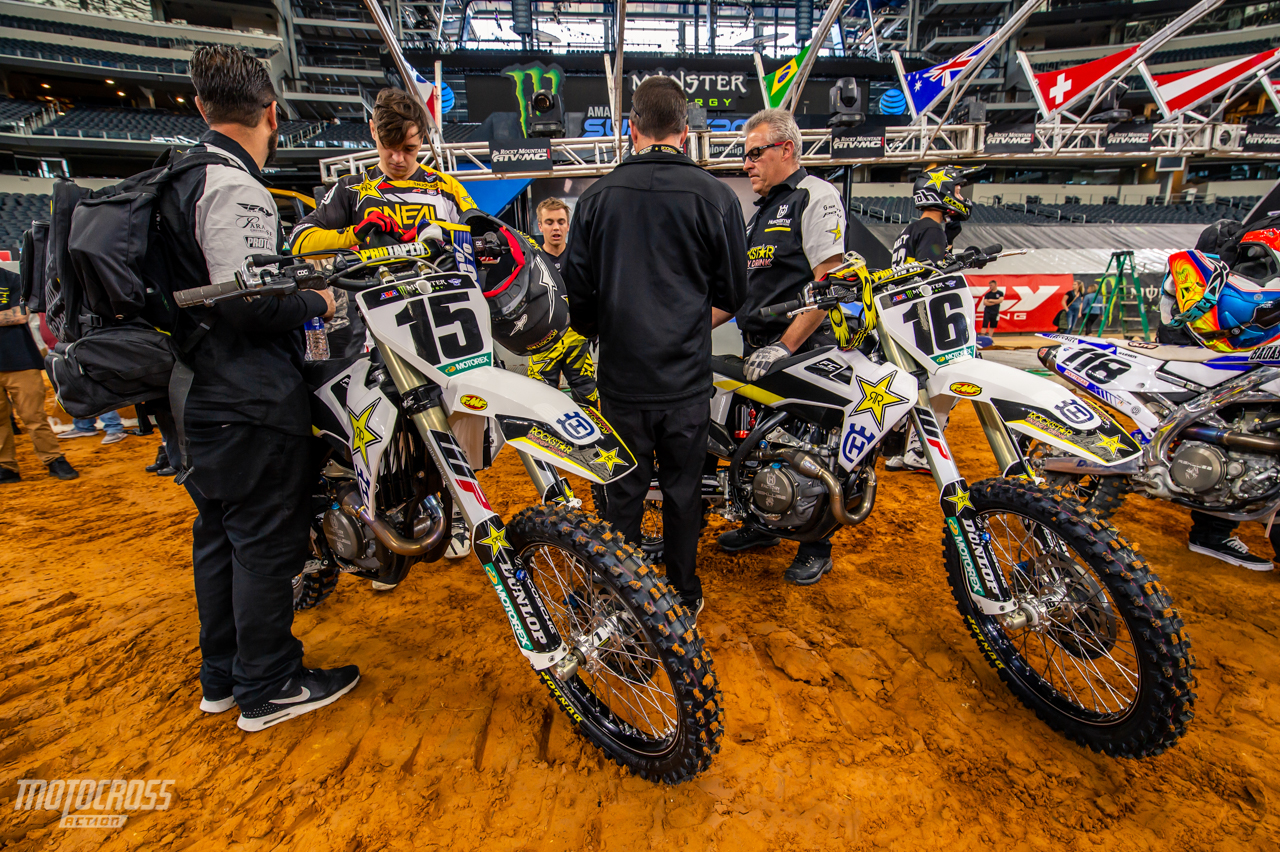 The Rockstar Husqvarna team was in attendance for Press day in Texas. With injuries plaguing the team, both of their 450 riders were down and they only had one 250 rider, Michael Mosiman pitting under the semi at the Oakland and San Diego races. Now, Zach Osborne is back from injury, Dean Wilson is filling in for the injured Jason Anderson and the two Supercross rookies, Thomas Covington and Jordan Bailey are both racing the 250 East division.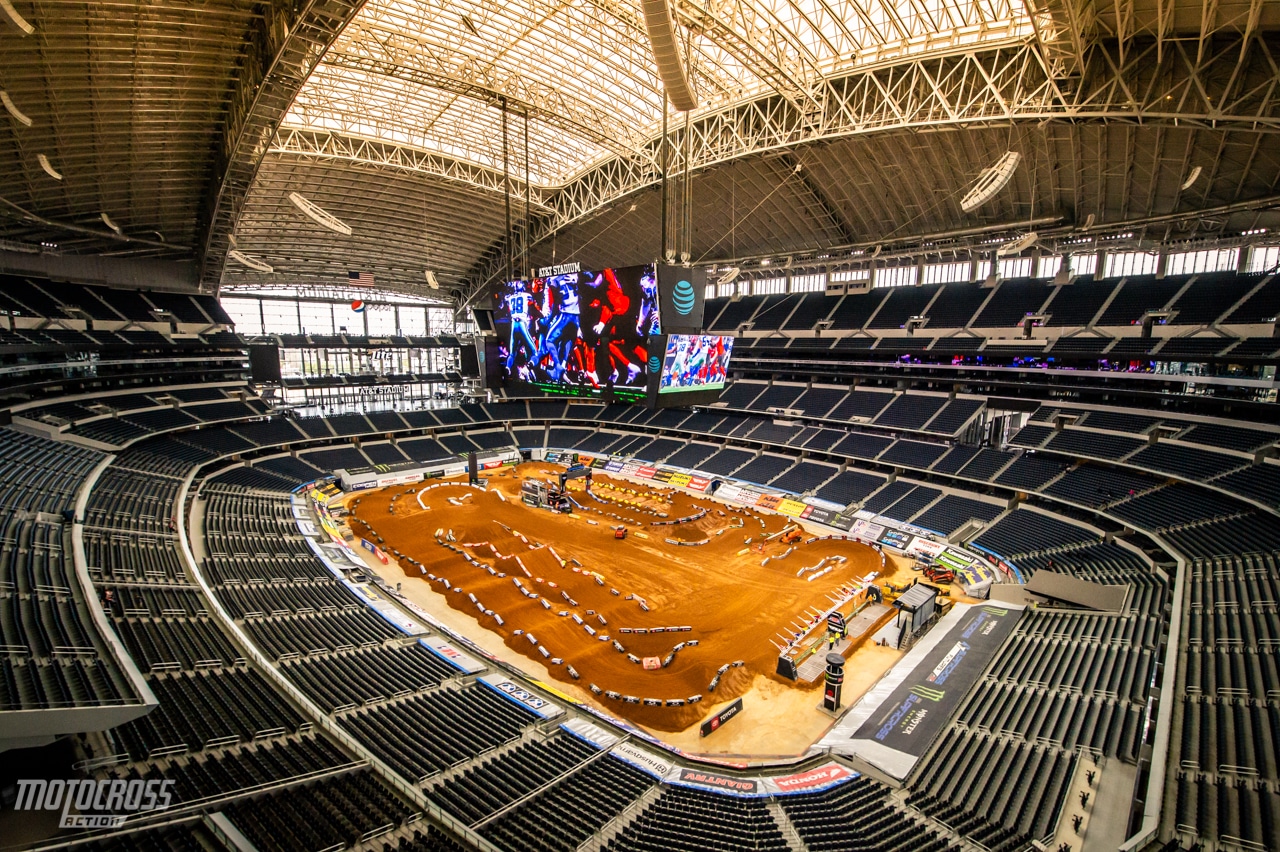 Fun facts about the Dallas Cowboys AT&T Stadium: at 3 million square feet, it's the world's largest domed sports structure. It's supported by steel arches that soar 292 feet above the field and it has one of the world's largest high-definition video screens.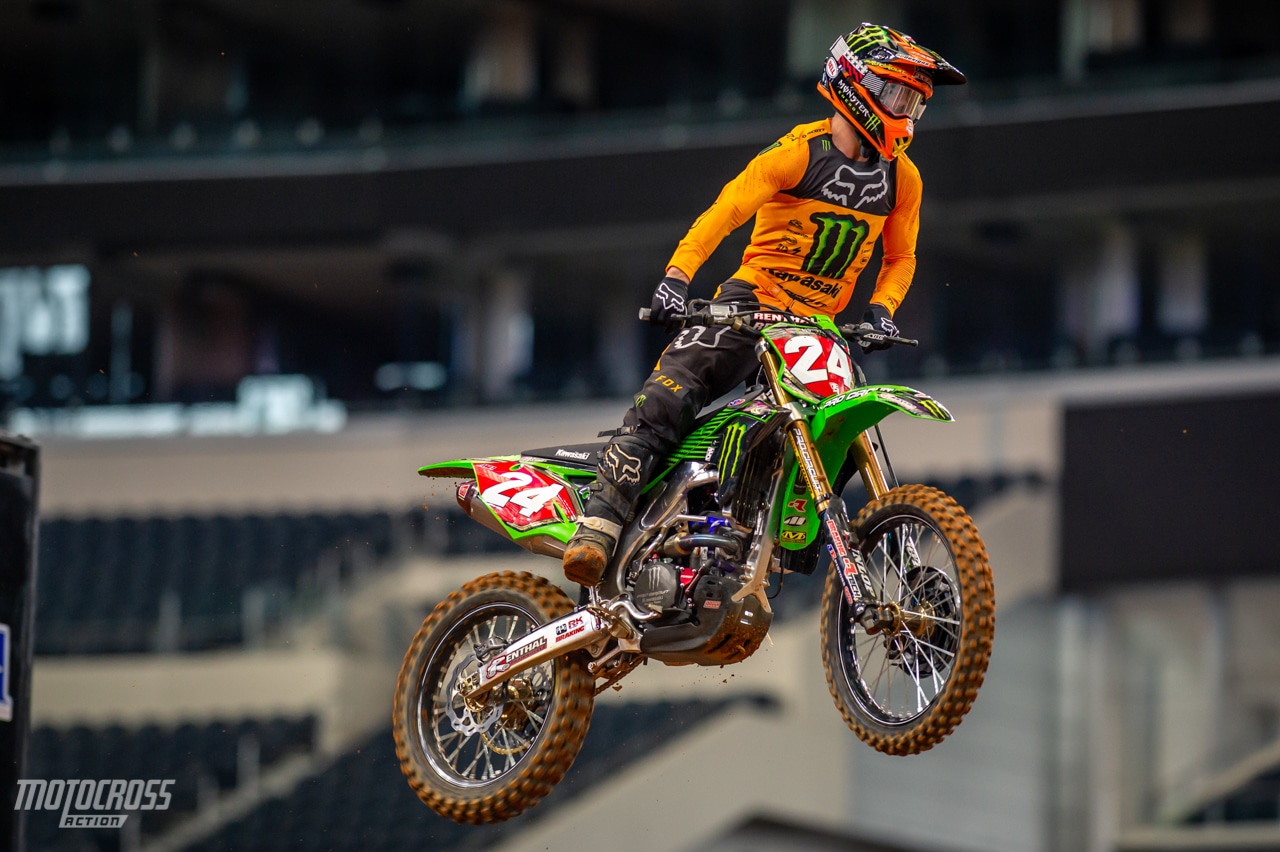 For the second time in his young career, Austin Forkner has the points lead and the red plate in the 250 class.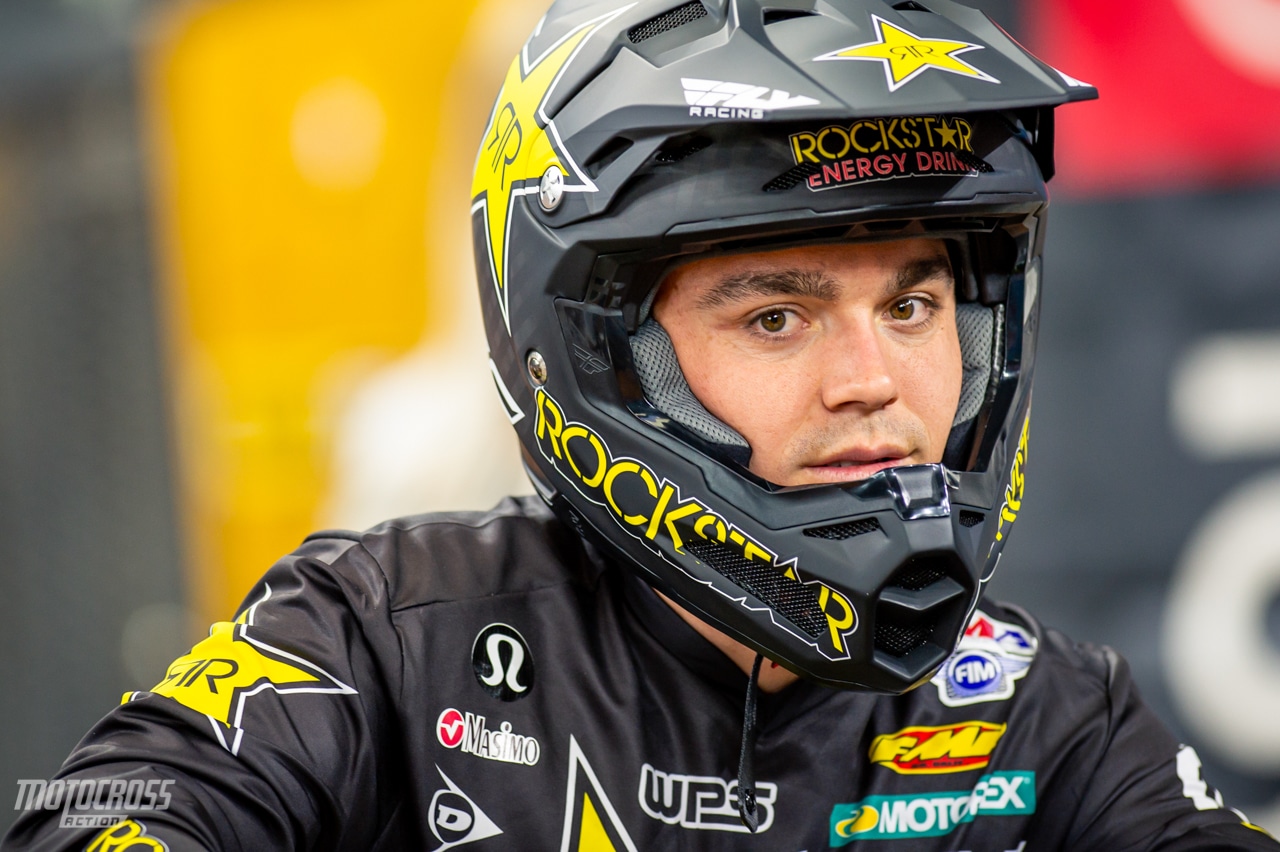 Up close on Zach Osborne and the all-new Fly Formula Carbon helmet.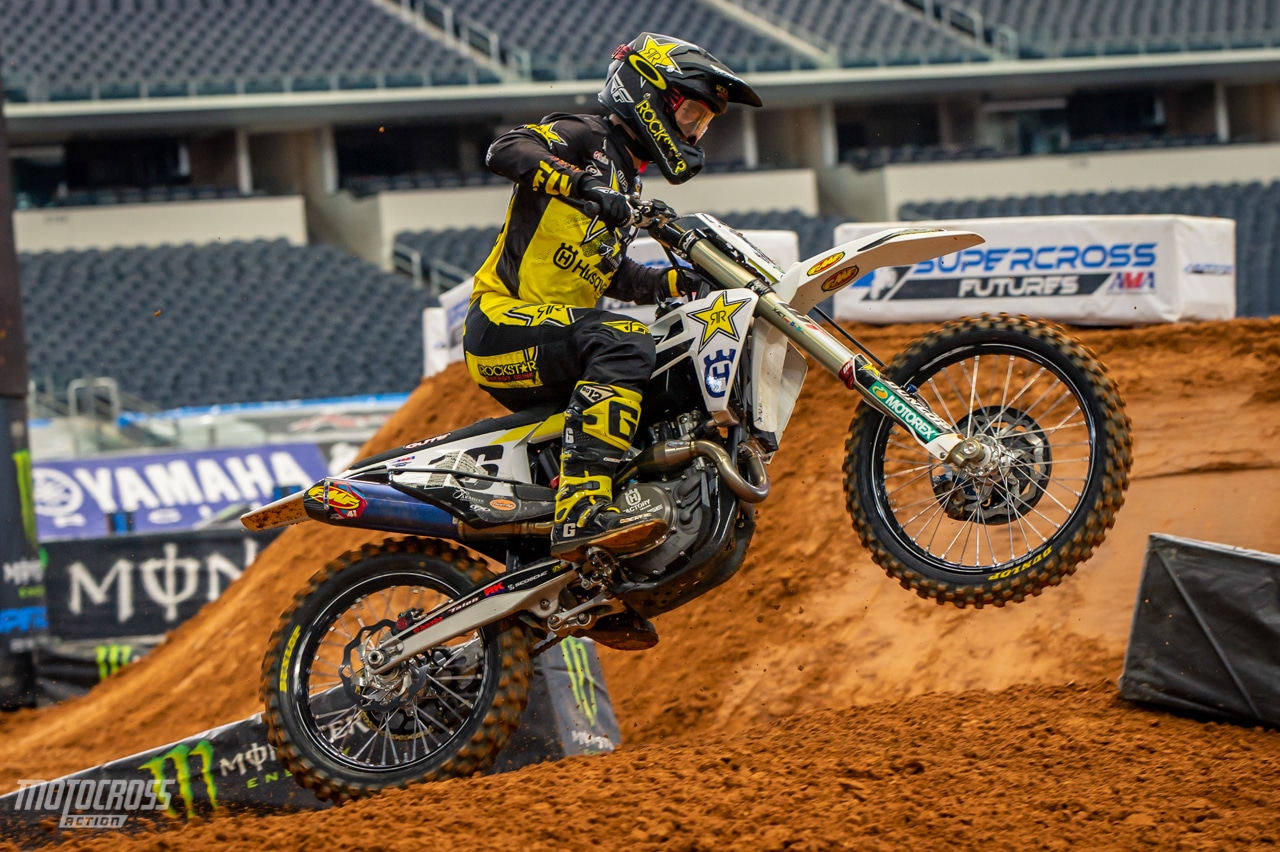 We like to call this weekend Zach Osborne's 'American 450 Supercross debut' because he has already raced the 450 in Supercross twice during the offseason last year. He raced in Geneva, Switzerland and Paris, France. 
Justin Cooper rode very impressive in Minneapolis. After being injured in 2018, Minneapolis was his second Supercross race ever and he finished third. 
After a crash in San Diego, Justin Hill missed Minneapolis, but we are happy to see that he's back for Arlington. 
Jordan Bailey is a funny guy when you get to know him. Here he's making the other guys laugh while he probably explains how he's going to hit the triple on the first lap. 
After starting the season as a privateer, Arlington will be Dean Wilson's second round as a Factory Rockstar Husqvarna rider in 2019. Dean finished eighth in Minneapolis and currently sits fifth in the 450 point standings.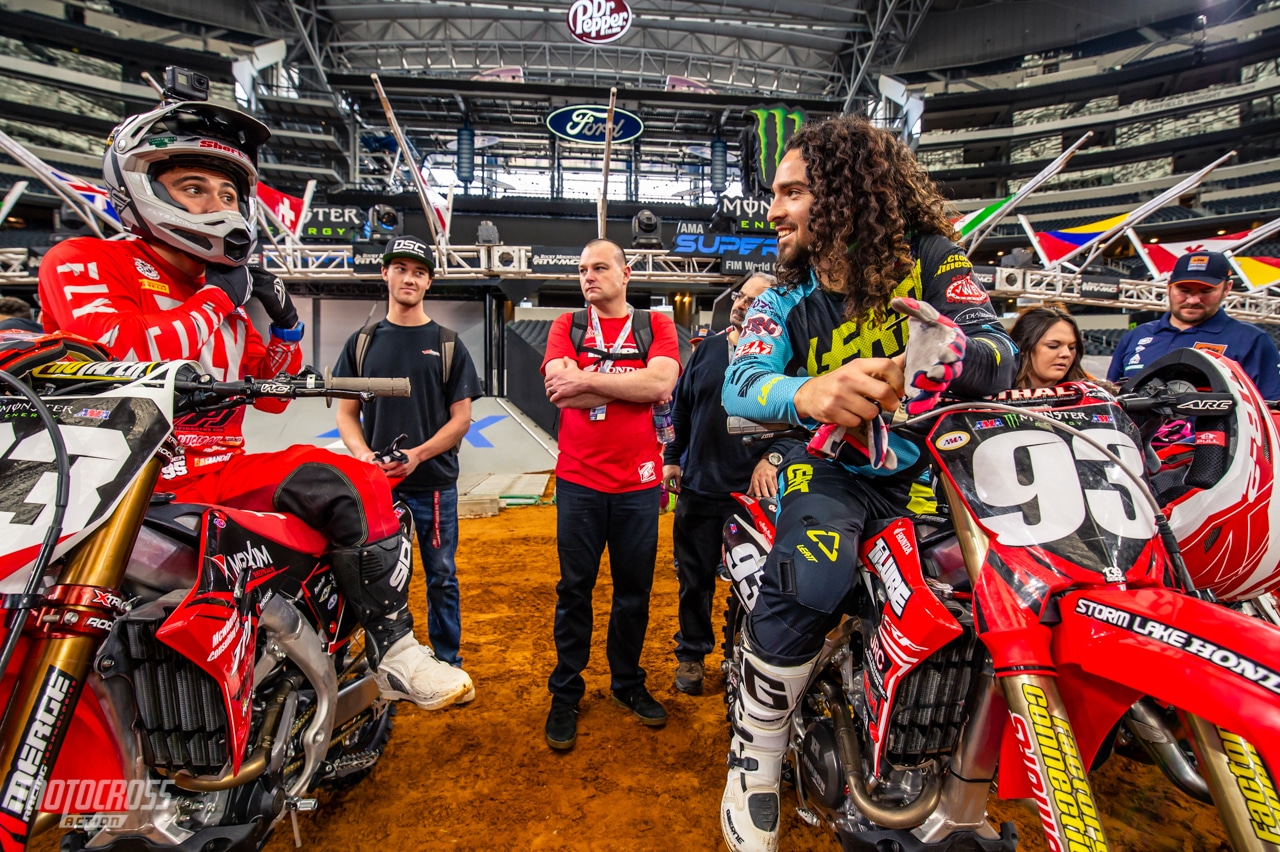 Blake Wharton #93 has some impressive hair and he had some impressive moments in Minneapolis. A crash in the main event set him back, but we expect Blake to be good in Arlington at his hometown race.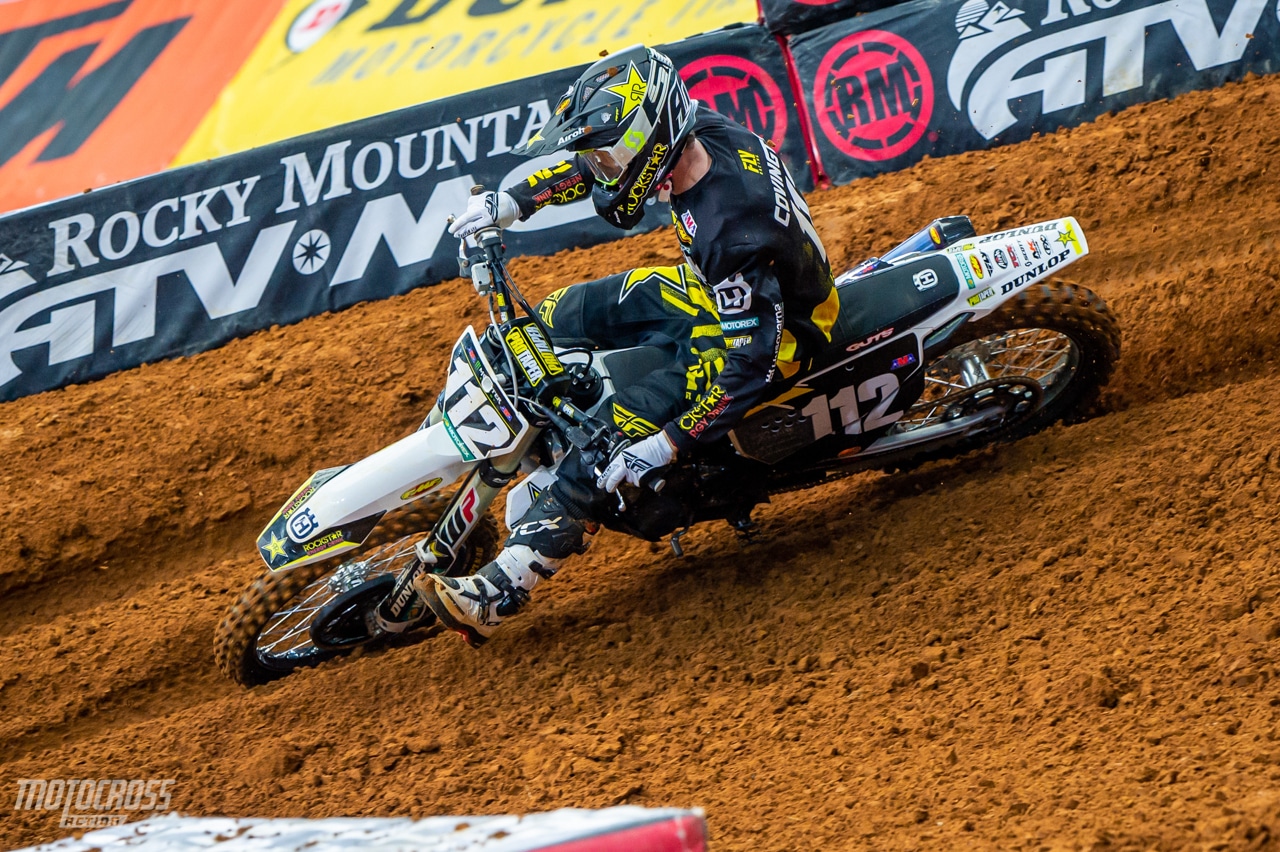 Thomas Covington finished eleventh at his first ever Supercross race last weekend. 
Mitchell Oldenburg grew up in Texas but now he lives in Southern California.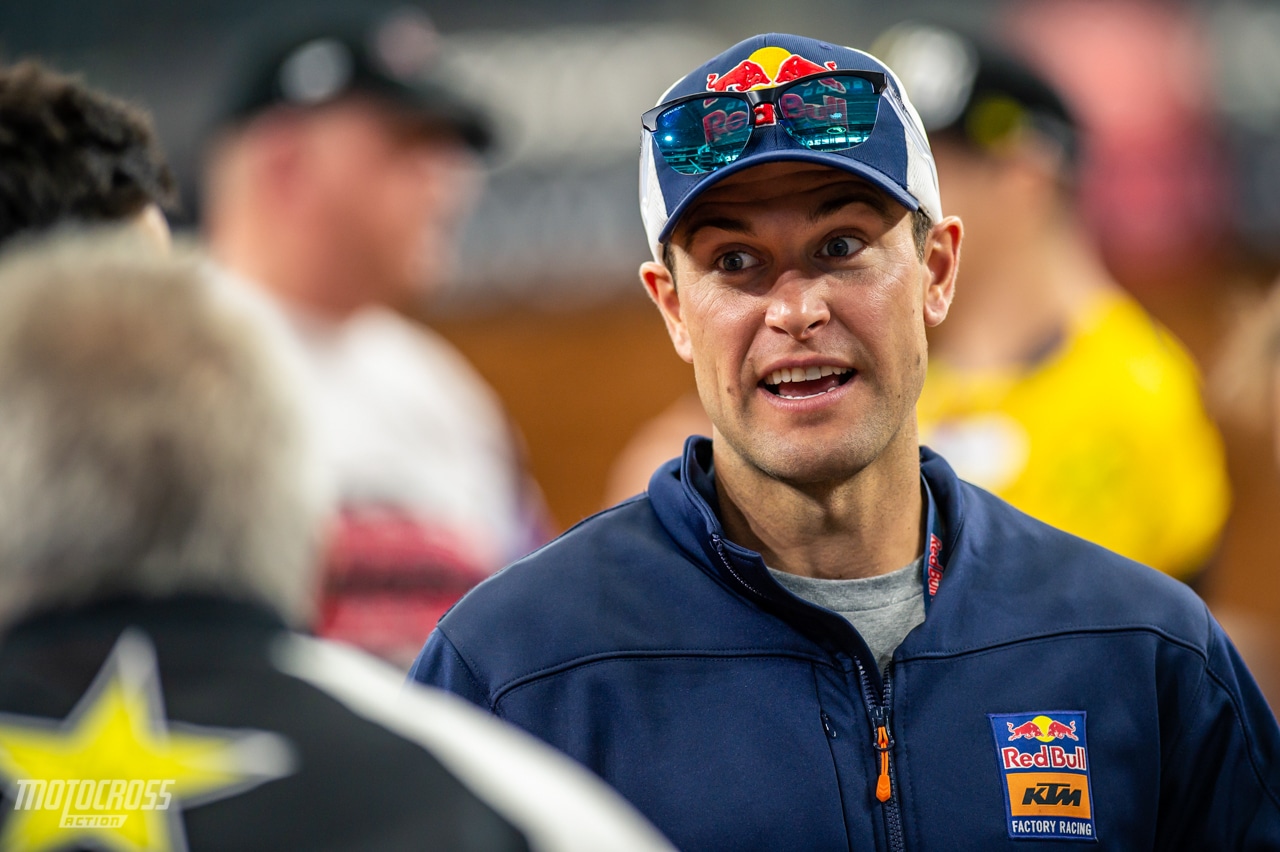 It has been cool to see Ryan Dungey at many of the races this season. 
John Short rode a Yamaha 250 in Minneapolis but he encountered mechanical issues which caused him to miss the night show. It must have been a big issue because now's racing on a Honda.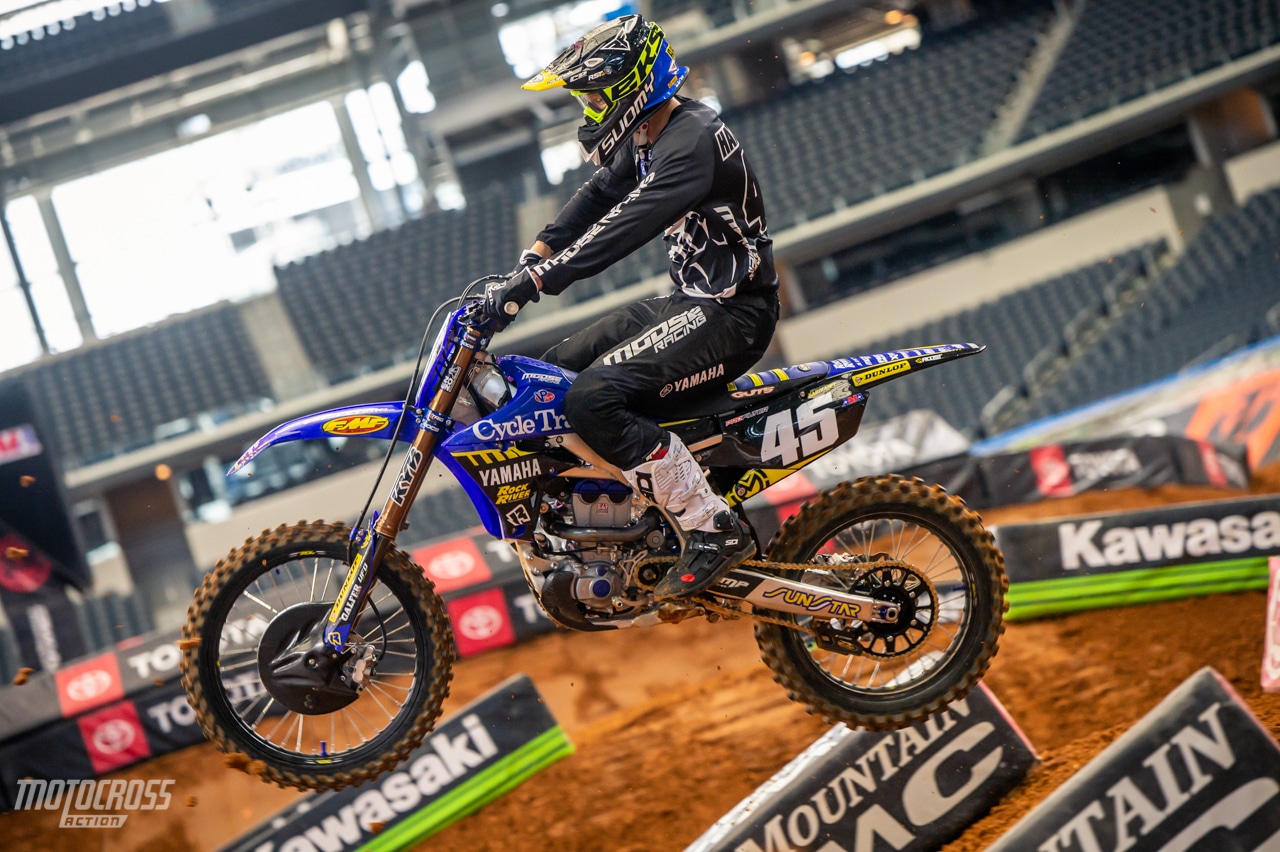 Brandon Hartranft will be one to watch in Arlington. We've heard a lot of good things about how he was riding during the preseason. He finished eighth in Minneapolis and we expect him to continue to improve. 
Jordan Bailey finished ninth in his first ever Supercross last weekend in Arlington.
Austin Forkner doing an interview with Jim Holley.

Dean Wilson throws a nice opposite whip or 'oppo' as the kids would call it. 
FELD's Sean Brennen giving a KJSC 50 rider some words of encouragement before he hits the track. 
Martin Davalos had a rough night in Minneapolis, he finished sixteenth after being taken out by Alex Martin and crashing again after that. 
Justin Cooper soaking up the small, over-under table top.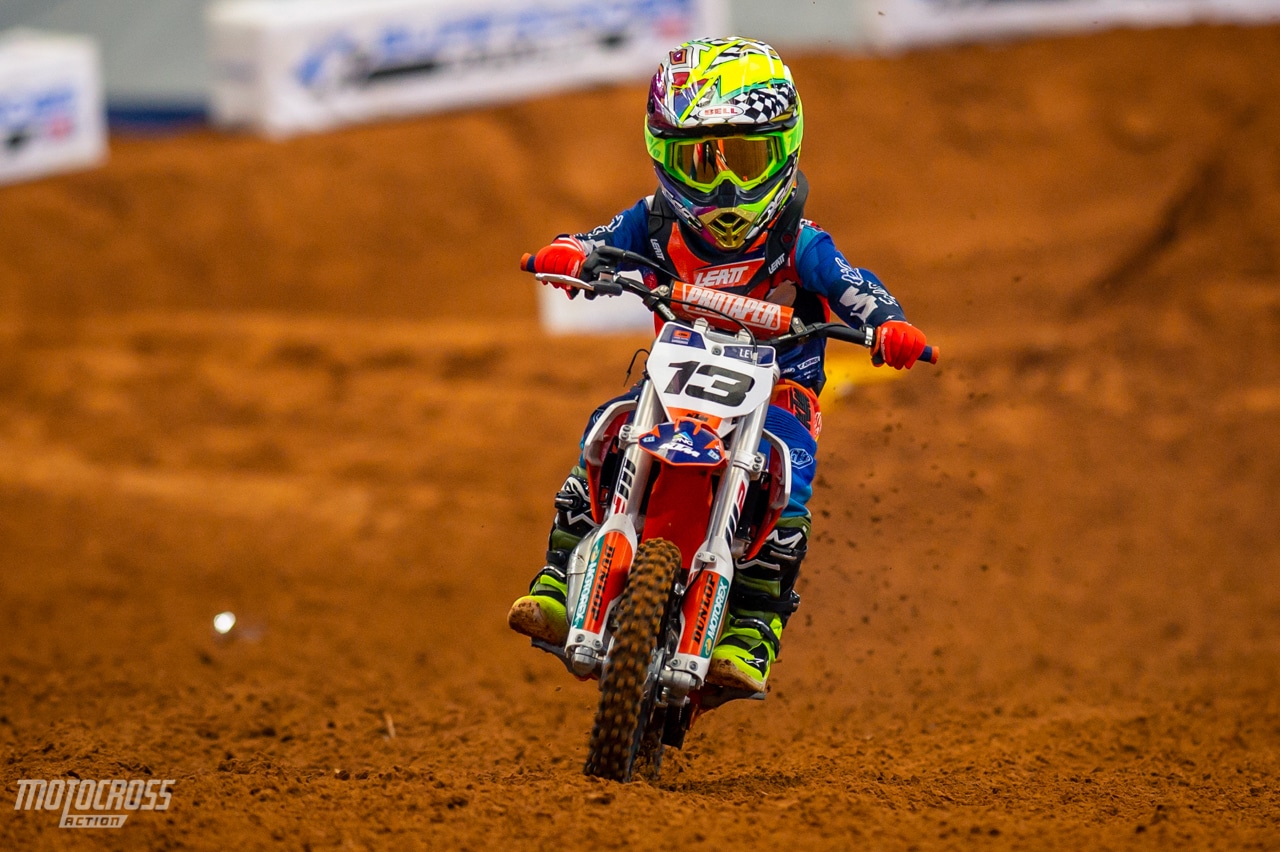 We're not really sure why they were riding during Media day, but KJSC kids were on the gas!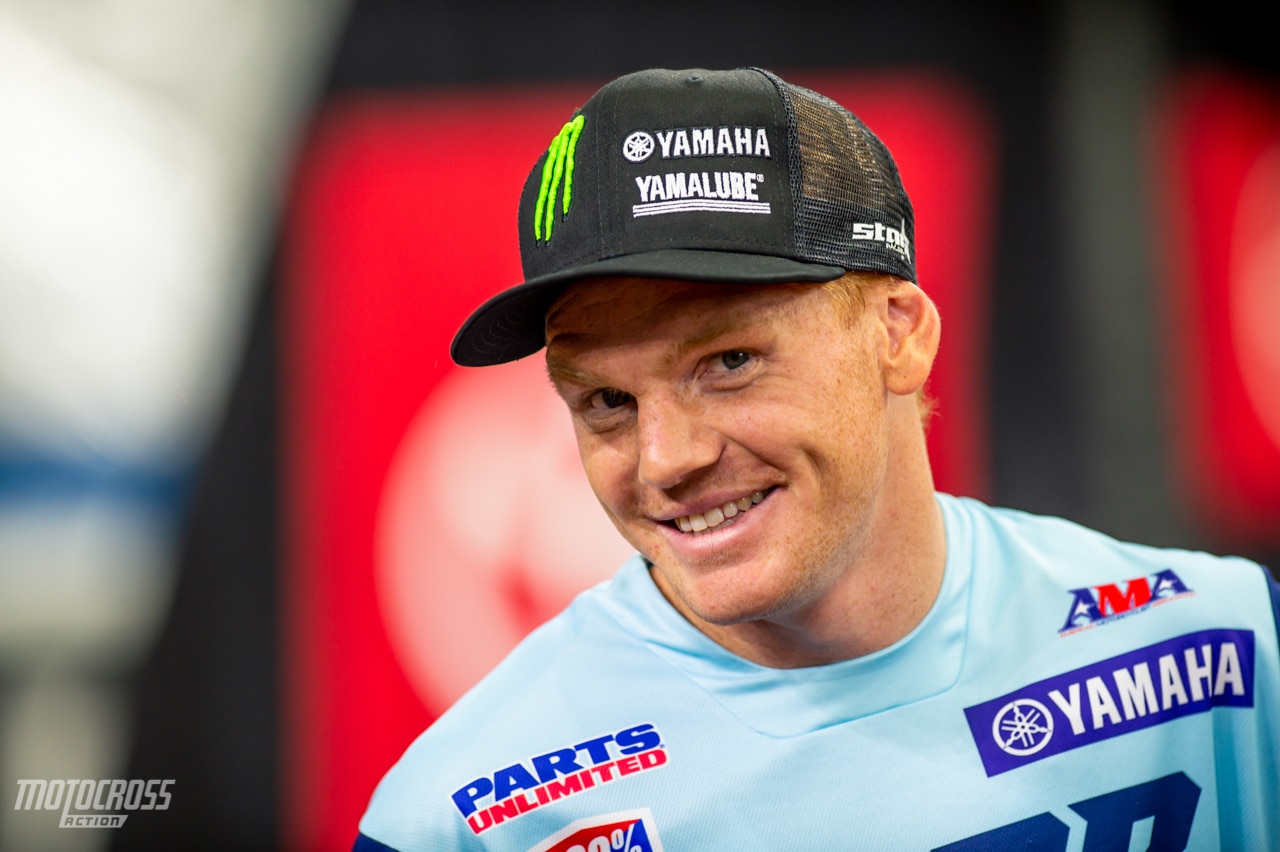 Mitchell Oldenburg is having fun in Arlington.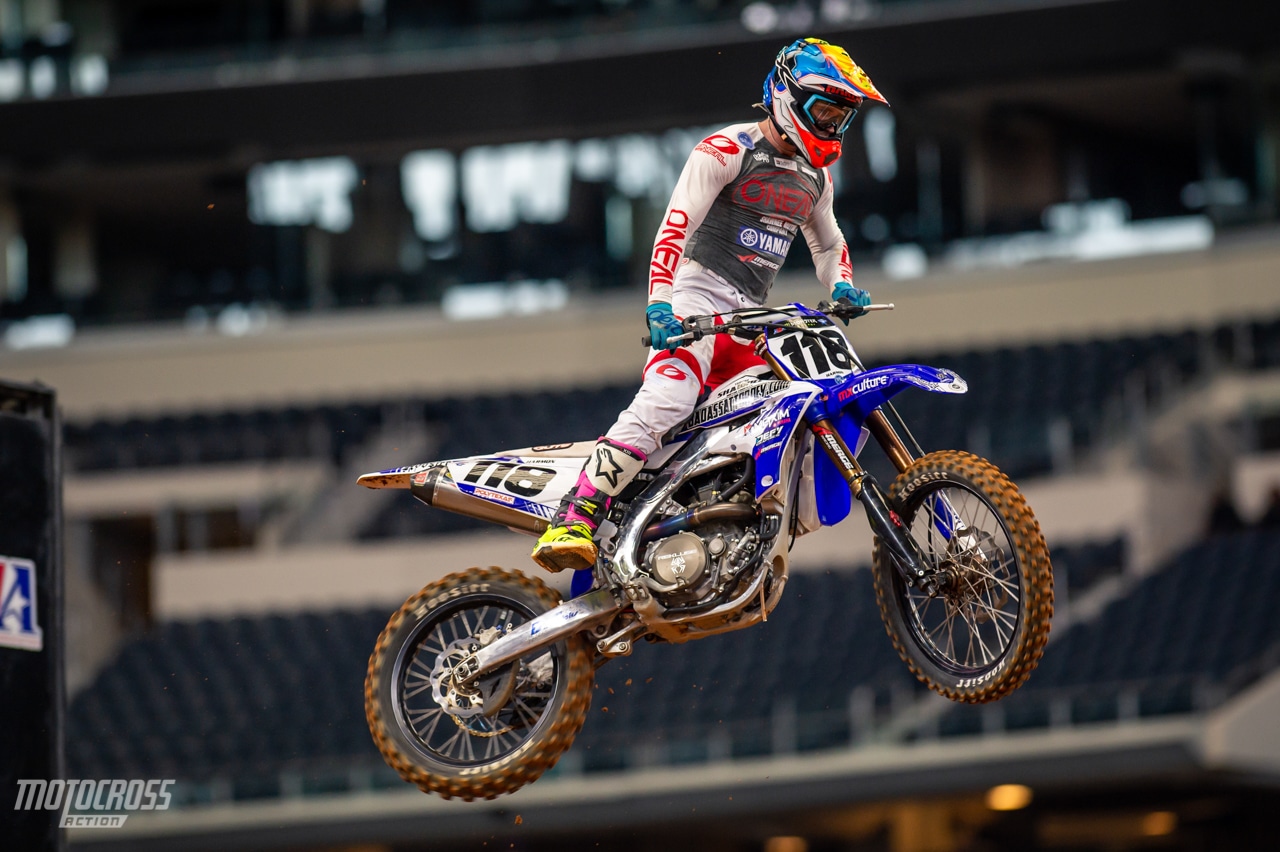 Cheyenne Harmon is looking to qualify for his fourth 450 main event of the season in Arlington.
Justin Hill brought his silky smooth style to Texas.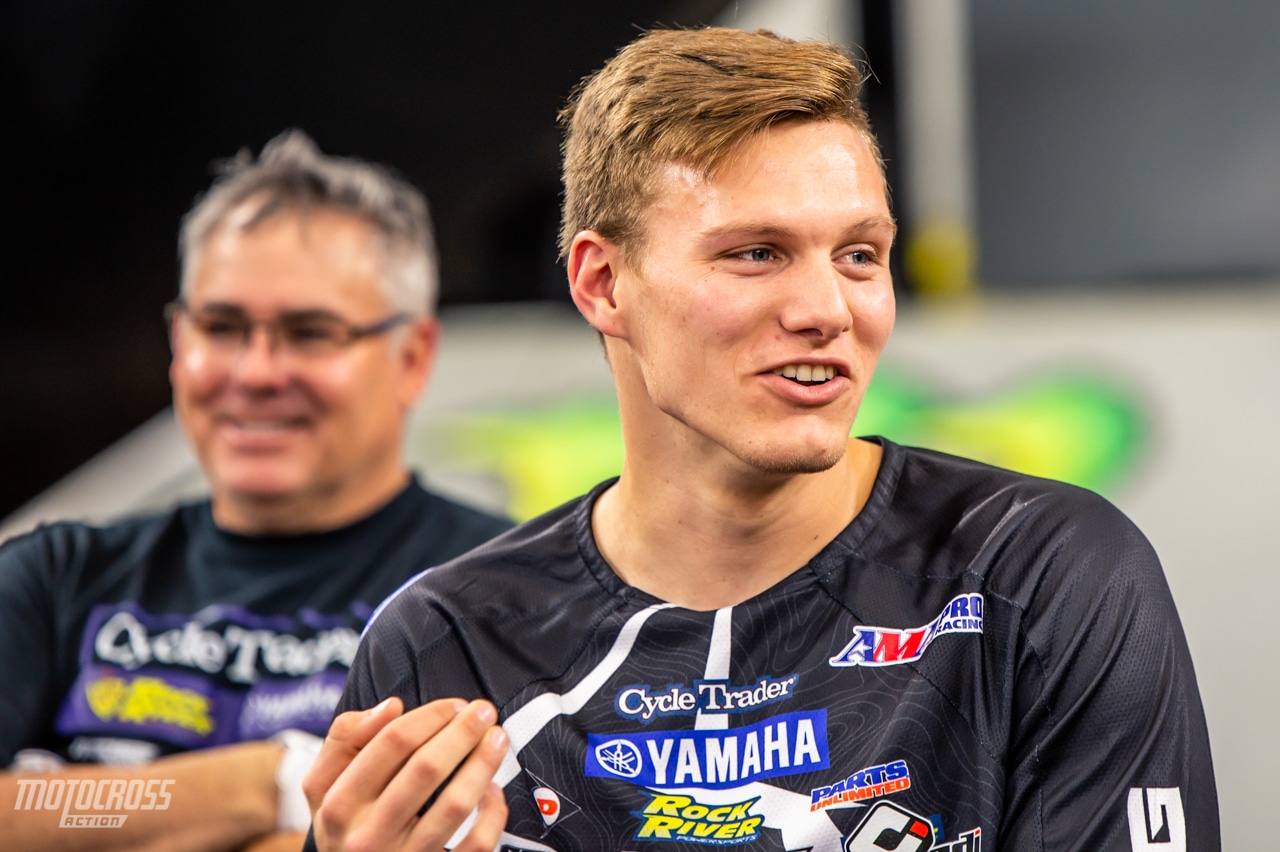 The young Rock River Cycle Trader Yamaha rider, Brandon Hartranft having a laugh with his fellow competitors.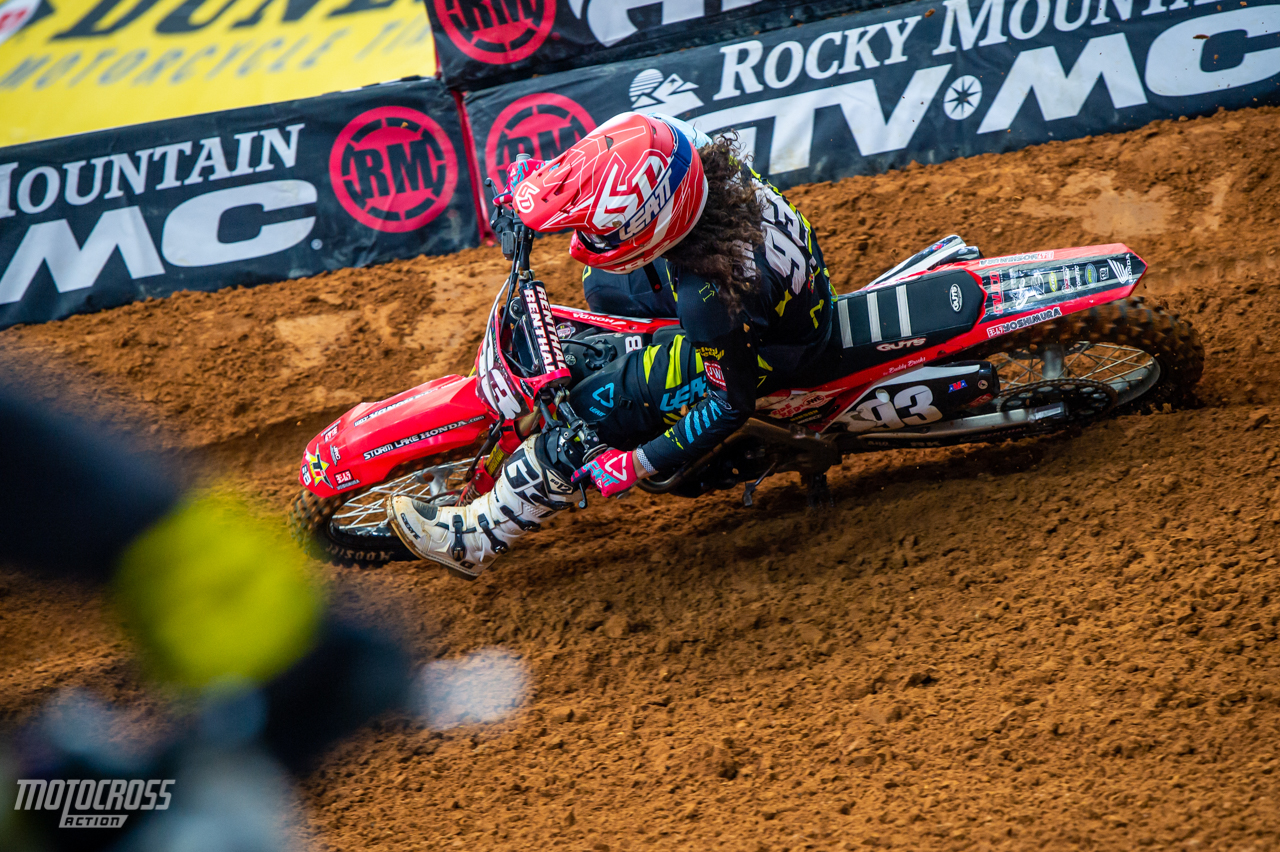 Blake Wharton gets low.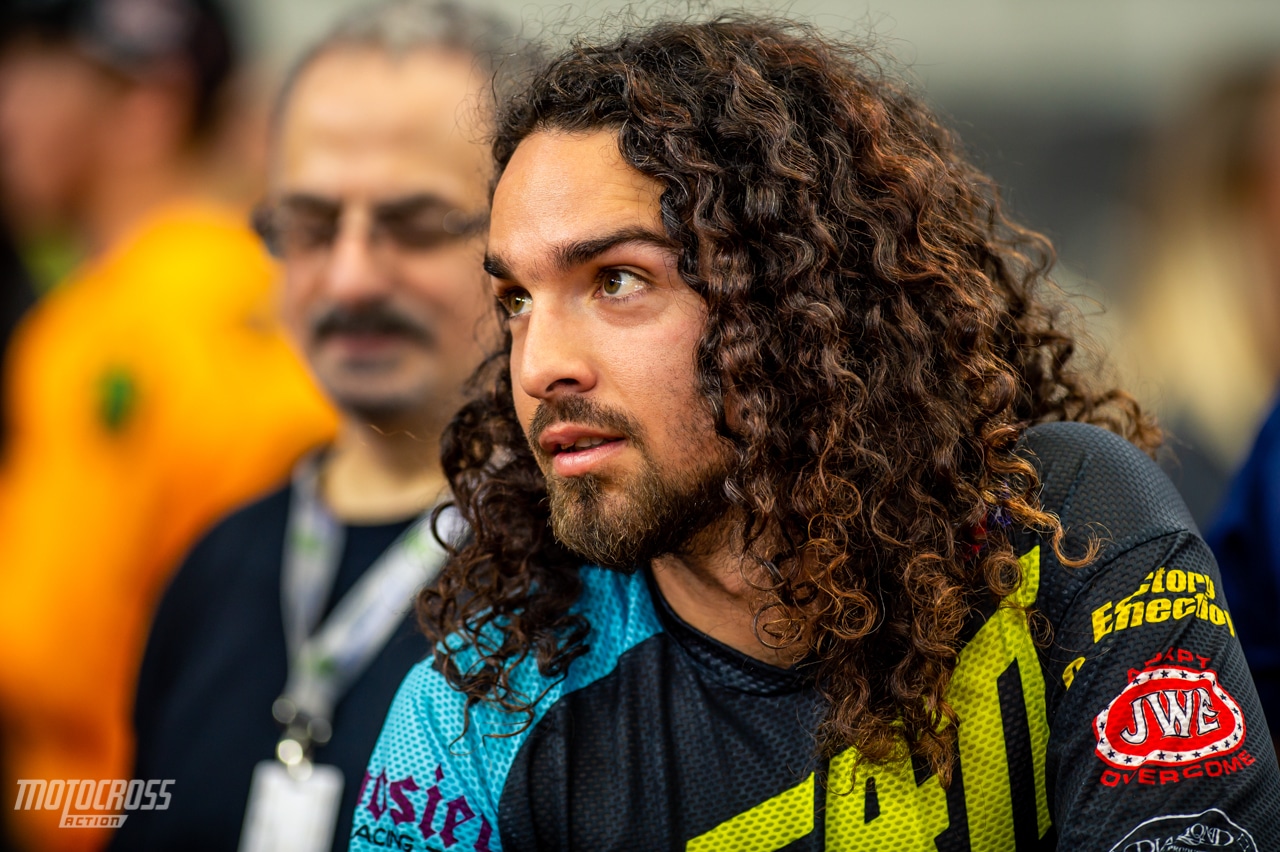 Blake Wharton's hair is awesome. It deserves two photos in this gallery.