FOX RACEWAY NATIONAL | 250 QUALIFYING RESULTS (UPDATED)
250 QUALIFYING RESULTS FROM THE FOX RACEWAY MOTOCROSS NATIONAL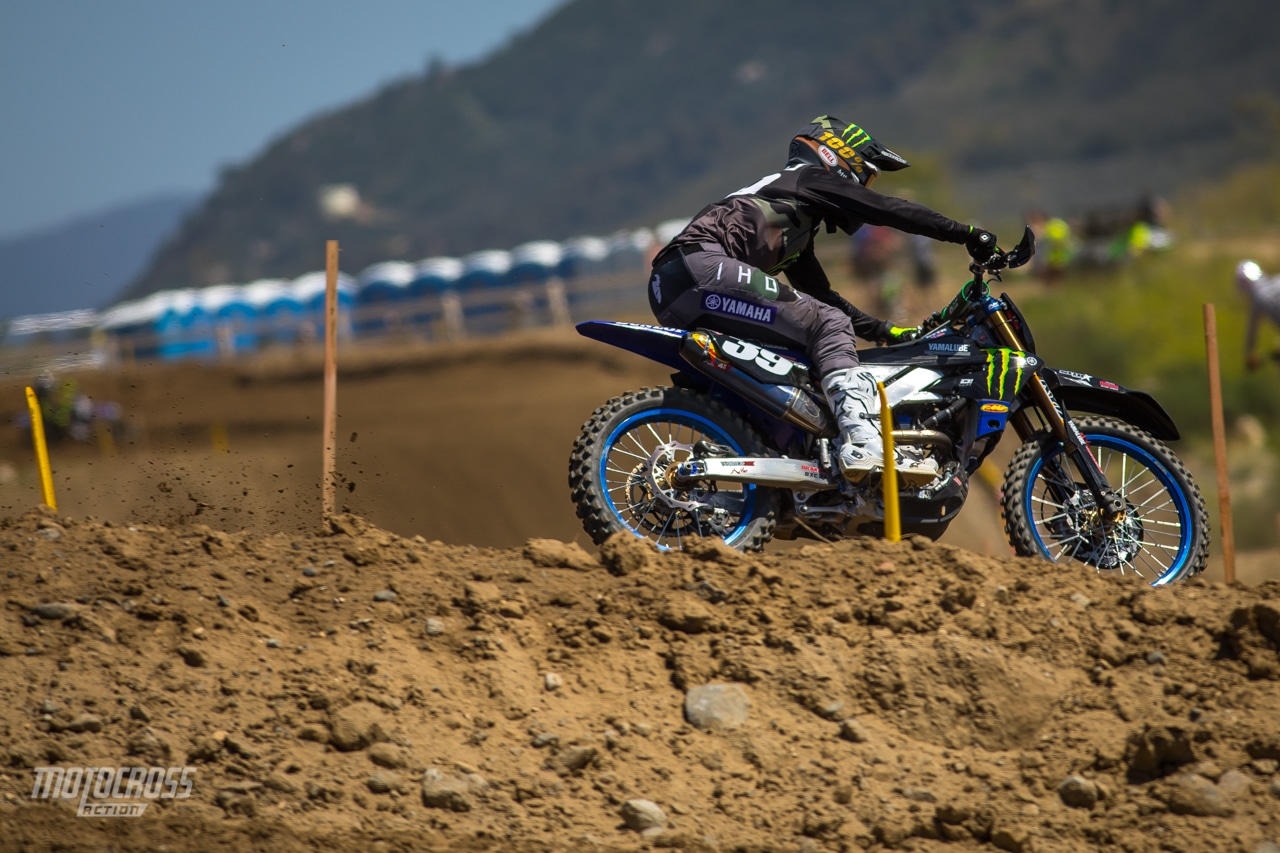 Colt Nichols sets the fastest time in session one 250 qualifying. 
Round two of the 2019 AMA outdoor National motocross series is on its way in Pala, California. The race is held at the newly founded Fox Raceway. Riders like Adam Cianciarulo, Alex Martin and Dylan Ferrandis will be battling for the top time in 250 qualifying before the motos start. In the first session of 250 qualifying Colt Nichols topped the board with a 2:08.600 lap time. Justin Cooper was blistering fast in session 2.
250 OVERALL QUALIFYING RESULTS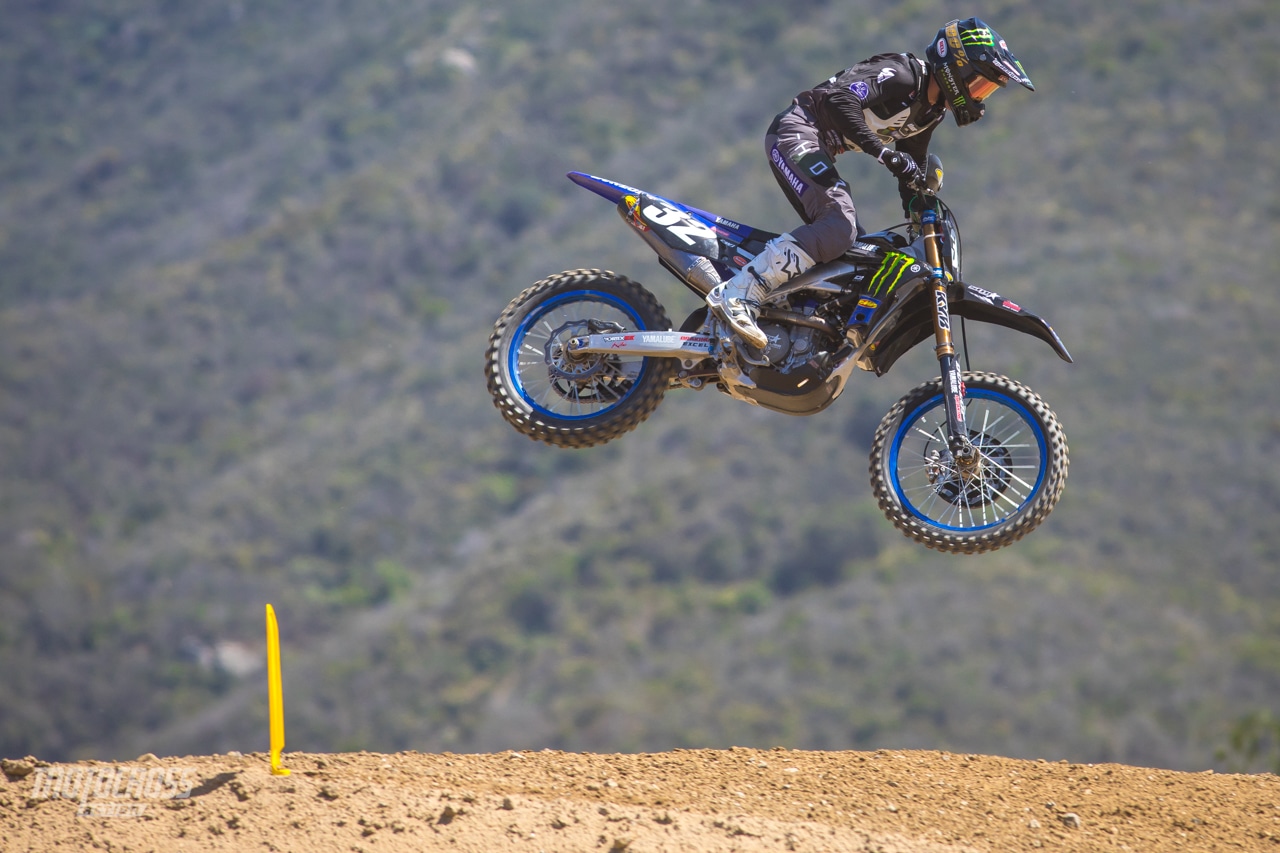 Justin Cooper was your fastest overall 250 qualifier. 
| | | | |
| --- | --- | --- | --- |
| POS. | # | NAME | BEST TIME |
| 1 | 32 | Justin Cooper | 2:06.917 |
| 2 | 92 | Adam Cianciarulo | 2:08.412 |
| 3 | 39 | Colt Nichols | 2:08.600 |
| 4 | 23 | Chase Sexton | 2:08.916 |
| 5 | 196 | Hunter Lawrence | 2:08.966 |
| 6 | 34 | Dylan Ferrandis | 2:09.352 |
| 7 | 31 | RJ Hampshire | 2:10.118 |
| 8 | 28 | Jordon Smith | 2:10.590 |
| 9 | 61 | Garrett Marchbanks | 2:10.817 |
| 10 | 36 | Michael Mosiman | 2:11.074 |
| 11 | 38 | Christian Craig | 2:11.104 |
| 12 | 156 | Jacob Hayes | 2:11.386 |
| 13 | 73 | Martin Davalos | 2:11.544 |
| 14 | 12 | Shane McElrath | 2:11.948 |
| 15 | 26 | Alex Martin | 2:11.967 |
| 16 | 936 | Ty Masterpool | 2:12.156 |
| 17 | 233 | Derek Drake | 2:12.246 |
| 18 | 205 | Wilson Todd | 2:12.692 |
| 19 | 45 | Brandon Hartranft | 2:12.947 |
| 20 | 194 | Jerry Robin | 2:13.040 |
| 21 | 52 | Jordan Bailey | 2:13.717 |
| 22 | 112 | Thomas Covington | 2:13.835 |
| 23 | 77 | Challen Tennant | 2:14.376 |
| 24 | 55 | Kyle Peters | 2:14.744 |
| 25 | 59 | Nick Gaines | 2:15.387 |
| 26 | 72 | Martin Castelo | 2:16.034 |
| 27 | 232 | Dylan Bolinger | 2:16.327 |
| 28 | 321 | Bradley Lionnet | 2:16.467 |
| 29 | 154 | Chase Felong | 2:16.517 |
| 30 | 291 | Zane Merrett | 2:16.712 |
| 31 | 83 | Killian Auberson | 2:17.217 |
| 32 | 110 | Yusuke Watanabe | 2:17.428 |
| 33 | 310 | Kai Aiello | 2:18.640 |
| 34 | 173 | Grant Wall | 2:19.082 |
| 35 | 726 | Gared Steinke | 2:19.454 |
| 36 | 153 | Carson Carr | 2:19.494 |
 TOP 36 QUALIFY INTO MOTOS
| | | | |
| --- | --- | --- | --- |
| 37 | 554 | WadeBrommel | 2:20.289 |
| 38 | 216 | DevinHarriman | 2:20.293 |
| 39 | 122 | Chris Howell | 2:20.601 |
| 40 | 162 | Maxwell Sanford | 2:21.028 |
| 41 | 906 | Adrian Galamba | 2:21.152 |
| 42 | 898 | Jack Fowler | 2:21.765 |
| 43 | 916 | Jorge Rubalcava | 2:21.838 |
| 44 | 286 | Brandon Sussman | 2:22.794 |
| 45 | 212 | Tyler McCoy | 2:22.938 |
| 46 | 356 | Daniel Lippman | 2:23.866 |
| 47 | 340 | Blake Taylor | 2:24.563 |
| 48 | 345 | Joshua Prior | 2:25.207 |
| 49 | 614 | Christopher Shenoy | 2:26.390 |
| 50 | 583 | Corey Ridel | 2:27.241 |
| 51 | 186 | Tyler Monks | 2:29.201 |
| 52 | 842 | Joseph Gerrior | 2:29.531 |
| 53 | 357 | Kameron Barboa | 2:29.766 |
| 54 | 240 | Andrew Barros | 2:30.930 |
| 55 | 168 | Cale Kuchnicki | 2:31.427 |
| 56 | 923 | Chris Moore | 2:31.566 |
| 57 | 964 | Mitchell Goheen | 2:35.160 |
250 CONSOLATION RACE (TOP 4 QUALIFY)
| | | | |
| --- | --- | --- | --- |
| POS. | # | RIDER | INTERVAL |
| 1 | 216 | Devin Harriman | 4 Laps |
| 2 | 898 | Jack Fowler | +05.194 |
| 3 | 340 | Blake Taylor | +14.134 |
| 4 | 212 | Tyler McCoy | +15.019 |
| 5 | 162 | Maxwell Sanford | +15.991 |
| 6 | 286 | Brandon Sussman | +19.748 |
| 7 | 906 | Adrian Galamba | +19.776 |
| 8 | 916 | Jorge Rubalcava | +21.186 |
| 9 | 554 | Wade Brommel | +23.415 |
| 10 | 345 | Joshua Prior | +28.817 |
| 11 | 583 | Corey Ridel | +29.617 |
| 12 | 356 | Daniel Lippman | +36.934 |
| 13 | 186 | Tyler Monks | +41.804 |
| 14 | 614 | Christopher Shenoy | +47.926 |
| 15 | 357 | Kameron Barboa | +50.600 |
| 16 | 240 | Andrew Barros | +52.308 |
| 17 | 923 | Chris Moore | +53.812 |
| 18 | 842 | Joseph Gerrior | +55.213 |
| 19 | 964 | Mitchell Goheen | +56.304 |
| 20 | 168 | Cale Kuchnicki | +58.606 |
| 21 | 122 | Chris Howell | +1:18.555 |
250 QUALIFYING RESULTS SESSION 1
| | | | |
| --- | --- | --- | --- |
| POS. | # | RIDER | BEST TIME |
| 1 | 39 | Colt Nichols | 2:08.600 |
| 2 | 32 | Justin Cooper | 2:08.827 |
| 3 | 196 | Hunter Lawrence | 2:09.282 |
| 4 | 34 | Dylan Ferrandis | 2:09.352 |
| 5 | 92 | Adam Cianciarulo | 2:09.522 |
| 6 | 23 | Chase Sexton | 2:10.527 |
| 7 | 31 | RJ Hampshire | 2:10.859 |
| 8 | 28 | Jordon Smith | 2:10.905 |
| 9 | 36 | Michael Mosiman | 2:11.327 |
| 10 | 38 | Christian Craig | 2:11.943 |
| 11 | 26 | Alex Martin | 2:12.340 |
| 12 | 73 | Martin Davalos | 2:12.365 |
| 13 | 936 | Ty Masterpool | 2:12.424 |
| 14 | 61 | Garrett Marchbanks | 2:12.546 |
| 15 | 233 | Derek Drake | 2:12.793 |
| 16 | 45 | Brandon Hartranft | 2:12.947 |
| 17 | 205 | Wilson Todd | 2:12.998 |
| 18 | 156 | Jacob Hayes | 2:13.125 |
| 19 | 52 | Jordan Bailey | 2:13.717 |
| 20 | 12 | Shane McElrath | 2:14.021 |
| 21 | 55 | Kyle Peters | 2:14.814 |
| 22 | 194 | Jerry Robin | 2:14.831 |
| 23 | 77 | Challen Tennant | 2:15.535 |
| 24 | 72 | Martin Castelo | 2:16.034 |
| 25 | 59 | Nick Gaines | 2:16.128 |
| 26 | 291 | Zane Merrett | 2:16.712 |
| 27 | 83 | Killian Auberson | 2:17.217 |
| 28 | 110 | Yusuke Watanabe | 2:17.955 |
| 29 | 112 | Thomas Covington | 2:18.581 |
| 30 | 232 | Dylan Bolinger | 2:18.746 |
| 31 | 310 | Kai Aiello | 2:20.083 |
| 32 | 122 | Chris Howell | 2:20.683 |
| 33 | 906 | Adrian Galamba | 2:21.675 |
| 34 | 554 | Wade Brommel | 2:27.083 |