MXA TEAM TESTED: 2019 KTM 350SXF POWERPARTS EXHAUST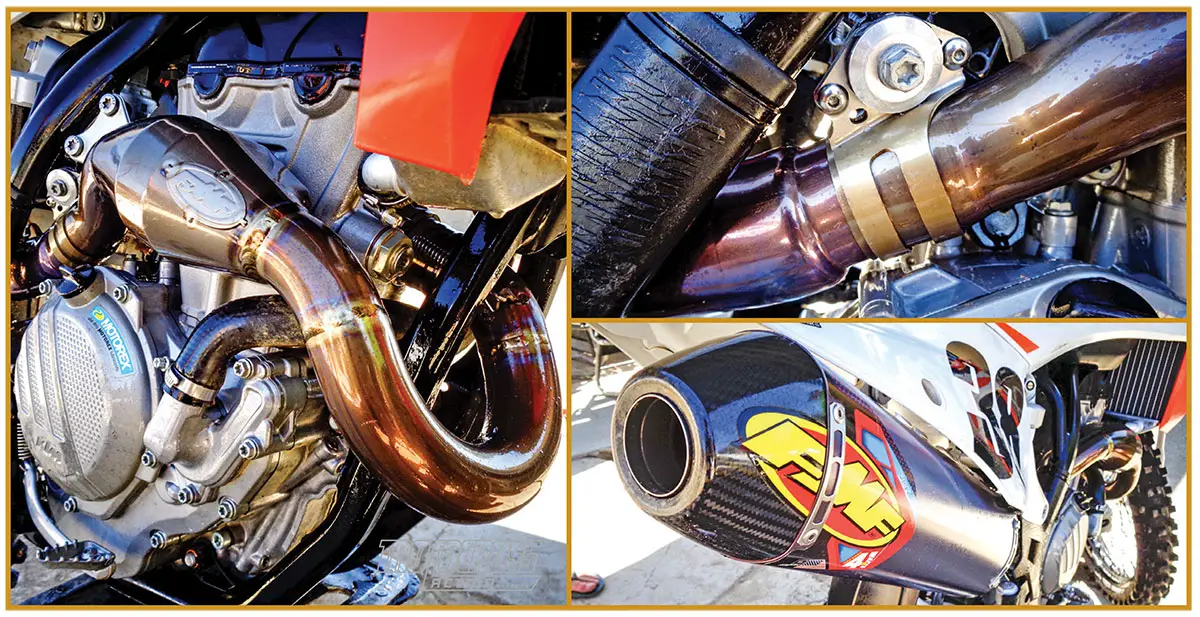 WHAT IS IT? Your friendly local KTM dealer carries the FMF 4.1 Resonance Chamber Technology (RCT) exhaust for the 2019 KTM 350SXF. It is available in full titanium with a blue-anodized canister and carbon end cap or as a full stainless system with an aluminum canister and carbon end cap. There are no dimensional differences between the two systems. The only differences other than the material are weight, color and price.
WHAT'S IT COST? $1049.99 (full titanium with carbon fiber exhaust tip), $849.99 (stainless steel/aluminum canister/carbon cap).
CONTACT? Your local KTM dealer.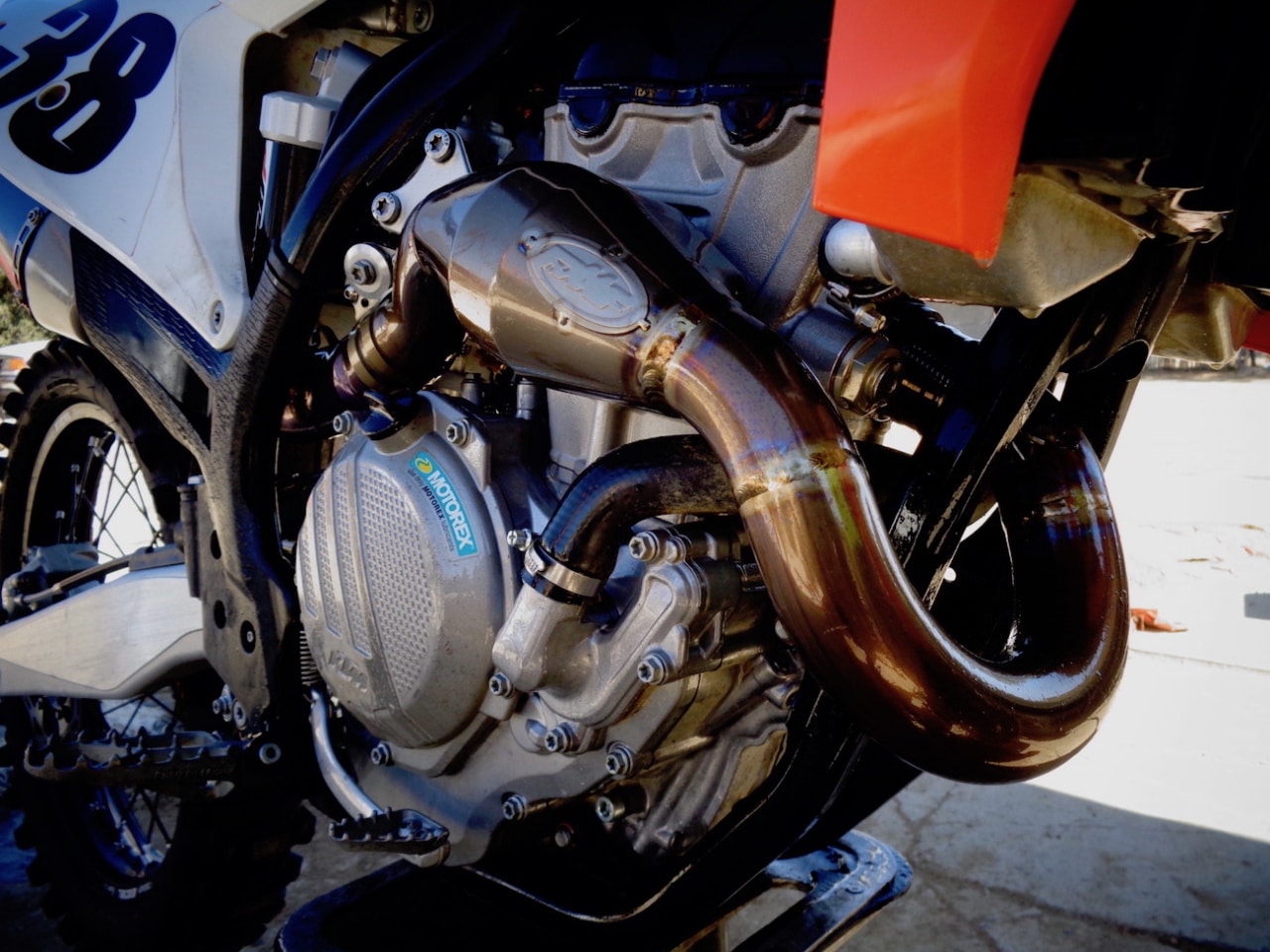 WHAT STANDS OUT? Here's a list of things that stand out with the PowerParts FMF 4.1 RCT Hex exhaust system for the 2019 KTM 350SXF.
(1) Stock power. The 2019 350SXF's powerband is a little weaker than the previous 2018 engine from low to mid, but after 8500 rpm, it matches last year's 350SXF output to a tee. Although most MXA test riders wouldn't turn down more power below 8500 rpm, the KTM 350SXF has always been tuned as a high-rpm, mid-and-up powerband with peak horsepower at 11,400 rpm and the rev limiter set at 13,400 rpm. In stock trim, the 2019 KTM 350SXF pumps out 53.13 horsepower, which is 4 horses less than the 2019 KTM 450SXF and 10 horses more than the 2019 KTM 250SXF. 
(2) FMF power. The FMF exhaust system didn't do a lot for peak horsepower. It pumped out 53.58 horses at 11,300 rpm to the stock pipe's 53.13 at 11,400 rpm, but that isn't where the magic was. The FMF exhaust was much better from 9000 rpm on up. Starting at 9000 rpm, the FMF pipe was a modest 1/2 horse better than stock. At 10,000 rpm, the FMF pipe was 1 horse stronger than stock. At 11,000 rpm, the FMF pipe was 1/2 horses better. And, from 12,000 rpm on, it was 2 horses better. These were good, solid dyno numbers (run on the same day within one hour of each other). But, the real test was on the racetrack.
(3) Track testing. MXA took three test riders of different skill levels, weights and riding styles, and sent them out on a perfectly prepped track to evaluate the difference between the two pipes. It was a slam dunk for the FMF 4.1 RCT's performance. It was unanimous. The added power turned the 350SXF engine into a real race engine. It pulled harder in the working part of the 350SXF's powerband. Although it didn't add low-to-mid, what it did for mid-and-up power was impressive. It allowed each gear to be used more effectively and every test rider liked what it added.
(4) Weight. The stock head pipe and muffler weighed 7.85 pounds. The full titanium FMF exhaust with a carbon fiber tip weighed 5.95 pounds. The 2-pound difference brings the total weight of the 350SXF to 219 pounds (just 1 pound more than the lightest 250 motocross bike).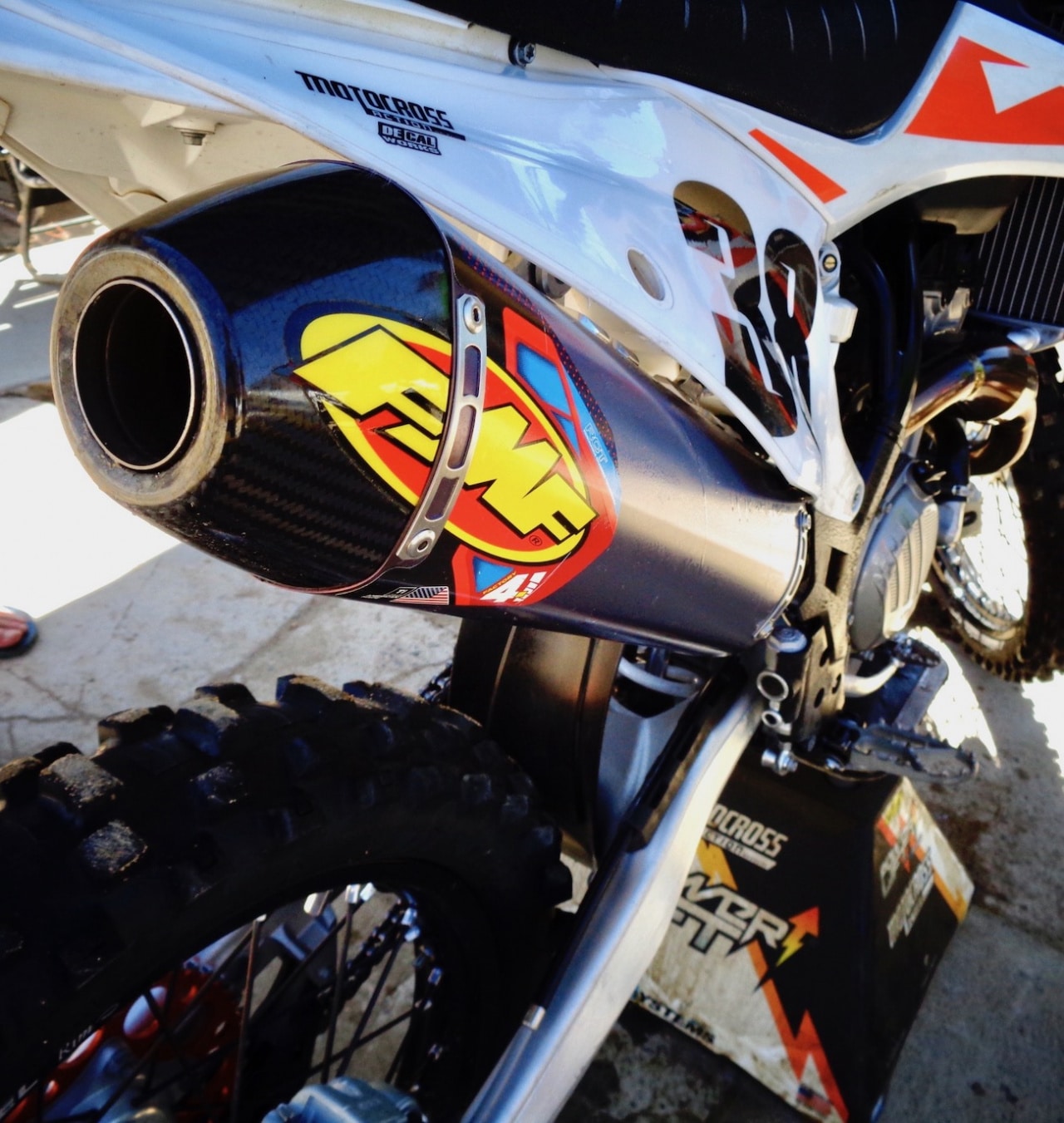 WHAT'S THE SQUAWK? No complaints. It offers super-clean workmanship, nice welds and, thanks to the flat-sided resonance chamber, it tucks in close to the engine. 
MXA RATING: It's no secret that the stock KTM exhaust systems are very good. In the inner sanctum of exhaust pipe circles, bettering a stock KTM exhaust could get you nominated as Grand Poobah. FMF's 2019 KTM 350SXF exhaust deserves kudos.