FIRST LOOK! 2019 SUZUKI RM-Z250, RM-Z450 & RM85
The 2019 Suzuki RM-Z250 is all-new. However, we won't have a list of details until September. 
2019 SUZUKI RM-Z250
For 2019 Suzuki brings to market what they call an all-new RM-Z250. Full details and specifications about the 2019 Suzuki RM-Z250 will not be released until September. You read that right. You have to wait almost another two months to learn what all Suzuki updated.
It is obvious from the pictures that the 2019 Suzuki RM-Z250 got the frame and bodywork of the 2018 Suzuki RM-Z450. Suzuki stated that the frame and swingarm are new for 2019. Suzuki also told us that it will come with coil spring forks and an updated shock and linkage. The kickstarter is a clue that it will not have electric starting.
Externally the engine looks the same as the 2018 RM-Z250. Hopefully internal changes were made.
Suzuki tells us that the engine will have more power and an improved throttle response, but doesn't give us any information on what they changed or how they produced more power. This leaves us on a cliff hanger! Since the bikes won't arrive in dealers until February 2019, maybe they are still figuring out the details?
Externally the 2019 RM-Z250 engine looks identical to the 2018 RM-Z250 engine. The header pipe is however different, although we are guessing they had to change the shape anyway to make it fit into the new frame.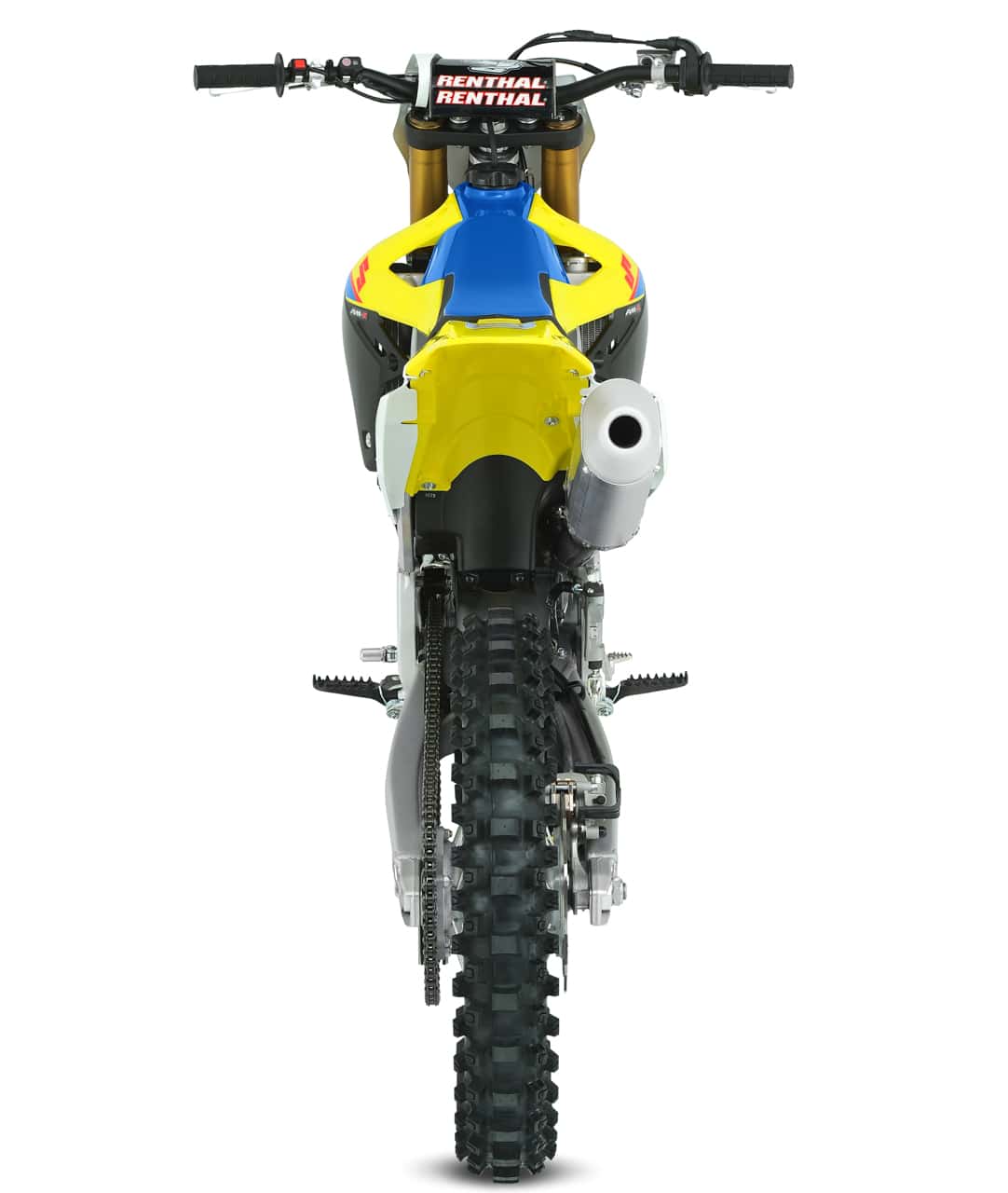 From the rear of the RM-Z250 you can see that Dunlop Geomax 3S tires come standard. 
The shock looks like an updated Kayaba unit which brings us to believe that the forks are Kayaba spring forks.

When September comes around we are hoping for significant changes to the engine as that is where it needs help the most. For 2018 it came in last in MXA's 250 Shootout. Not due to being a bad handling bike, because it isn't. It came in last due to it being severely underpowered against the competition.
Price: To be announced.
2019 SUZUKI RM-Z450
The 2019 Suzuki RM-Z450 receives much needed updates to the suspension settings. 
The Suzuki RM-Z450 was fully-revised in 2018. To further improve the RM-Z450, a new spring has been fitted to the Showa BFRC shock with new damping force settings while the coil-spring fork has new damping-force settings as well.
Price: $8949
2019 SUZUKI RM85
2019 the Suzuki RM85 remains unchanged, save for the updated graphics. 
Price: $4199