2019 TM 300MX, CALVIN VLAANDEREN, VERTEMATI MX500 & MORE | MXA'S MID-WEEK REPORT

#WHIPITWEDNESDAY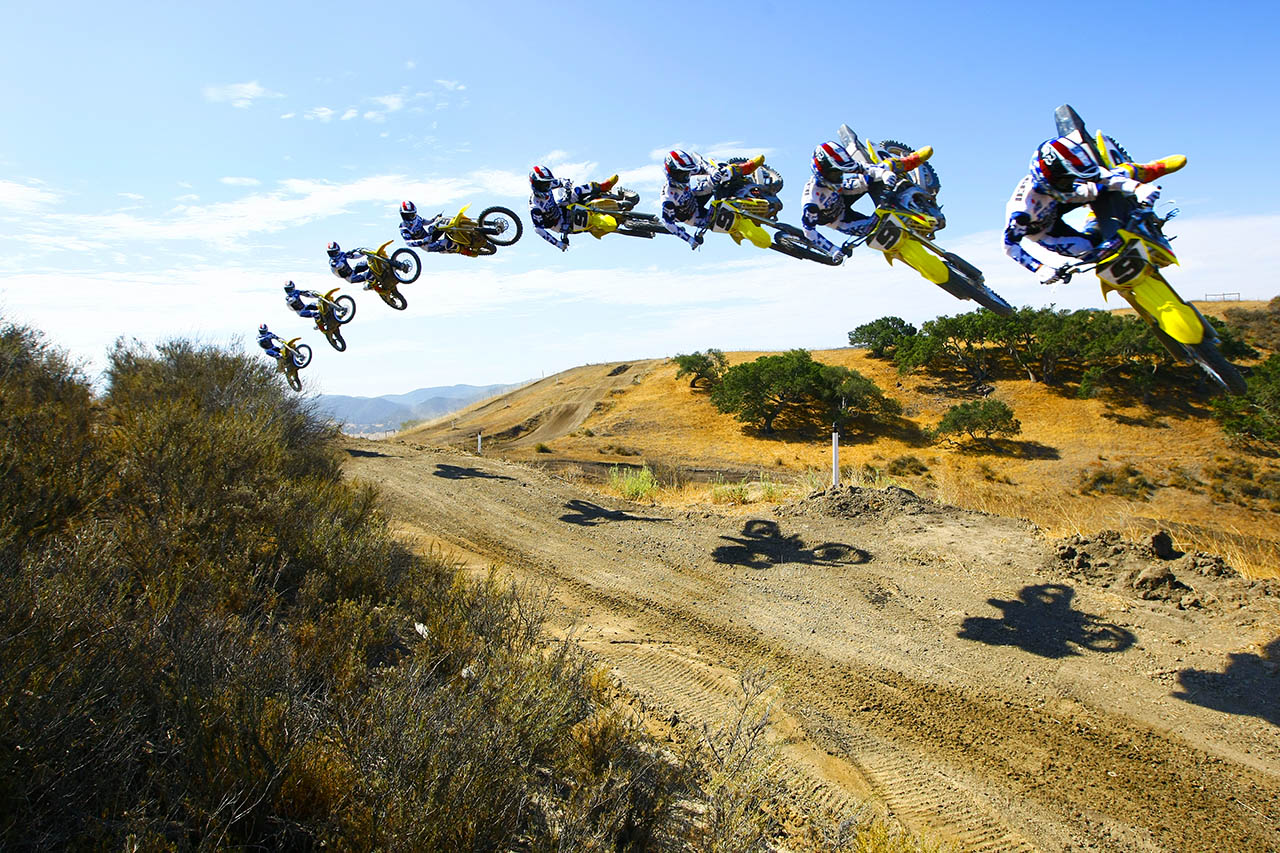 Rider: Ivan Tedesco
Location: Castillo Ranch
Focal length: 16mm
Exposure: 1/1000sec
F-stop: f/5
ISO: 250
Photographer: MXA Archives
TWO-STROKE SPOTLIGHT: MICHAEL KOLAR'S 2003 HONDA CR125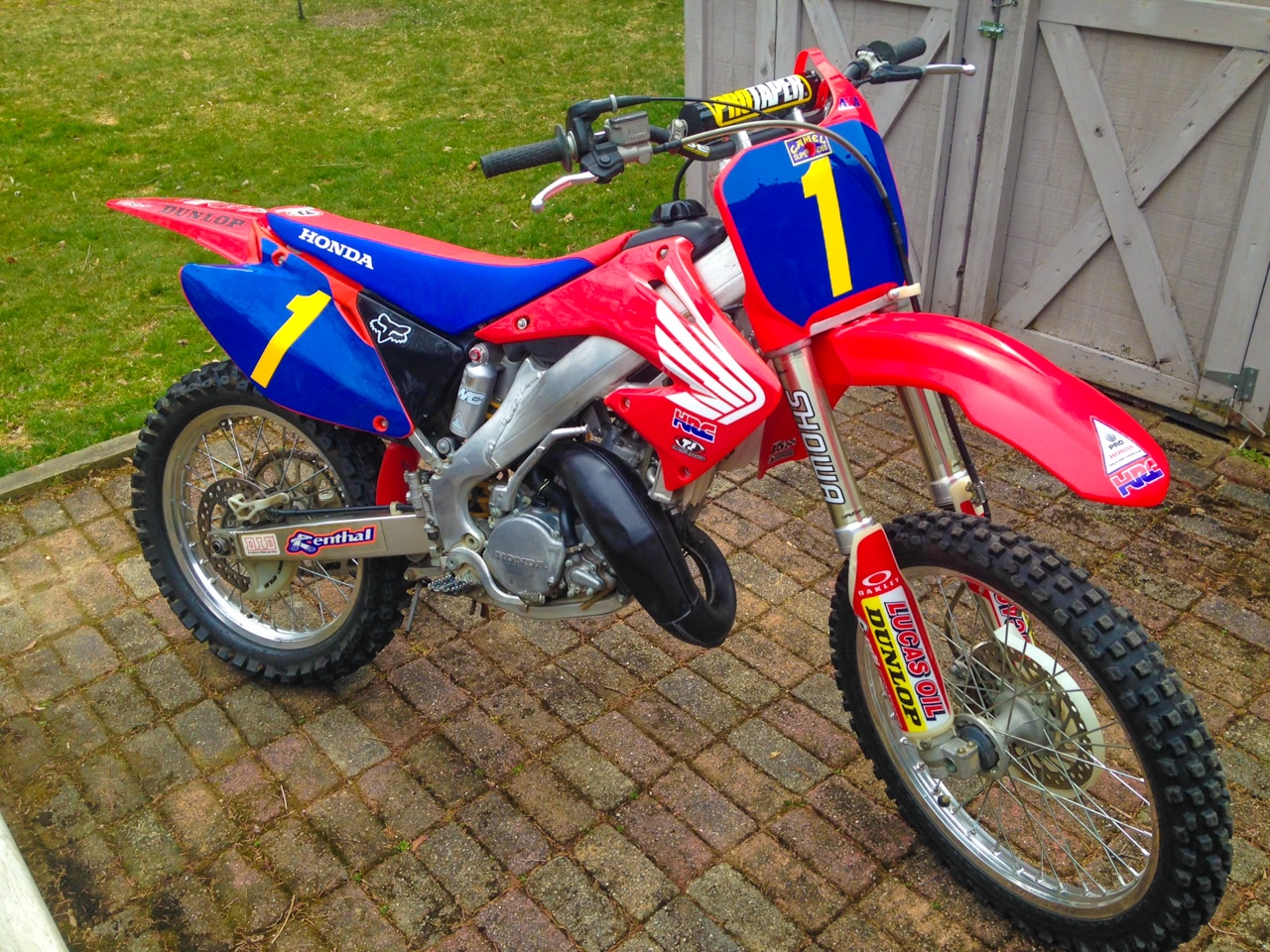 "It's a 2003 Honda CR125, but I am a big fan of the grand national Honda bikes of Bailey, Stanton, Bayle, and McGrath. It's a stock bike with the exception of the plastics, custom graphics and hand made number plate backgrounds." –Mike Kolar
EDITORS NOTE: Please keep those submissions coming. If you would like your bike to be featured in the "Two-Stroke Spotlight," please email me at [email protected]. All I ask is that you give a breakdown of your bike and a detailed description of the build. Please also send a few photos of your steed. By submitting your bike for the "Two-Stroke Spotlight," you agree to release all ownership rights to the images and copy to MXA. Please don't email me spam or try selling me Taylor Swift concert tickets or email me spam. I already celebrate T-Swizzle's entire collective, and there will be "bad blood" if you send me junk mail. See what I did there? Happy submitting your smoker.
MXA | MOTO | TRIVIA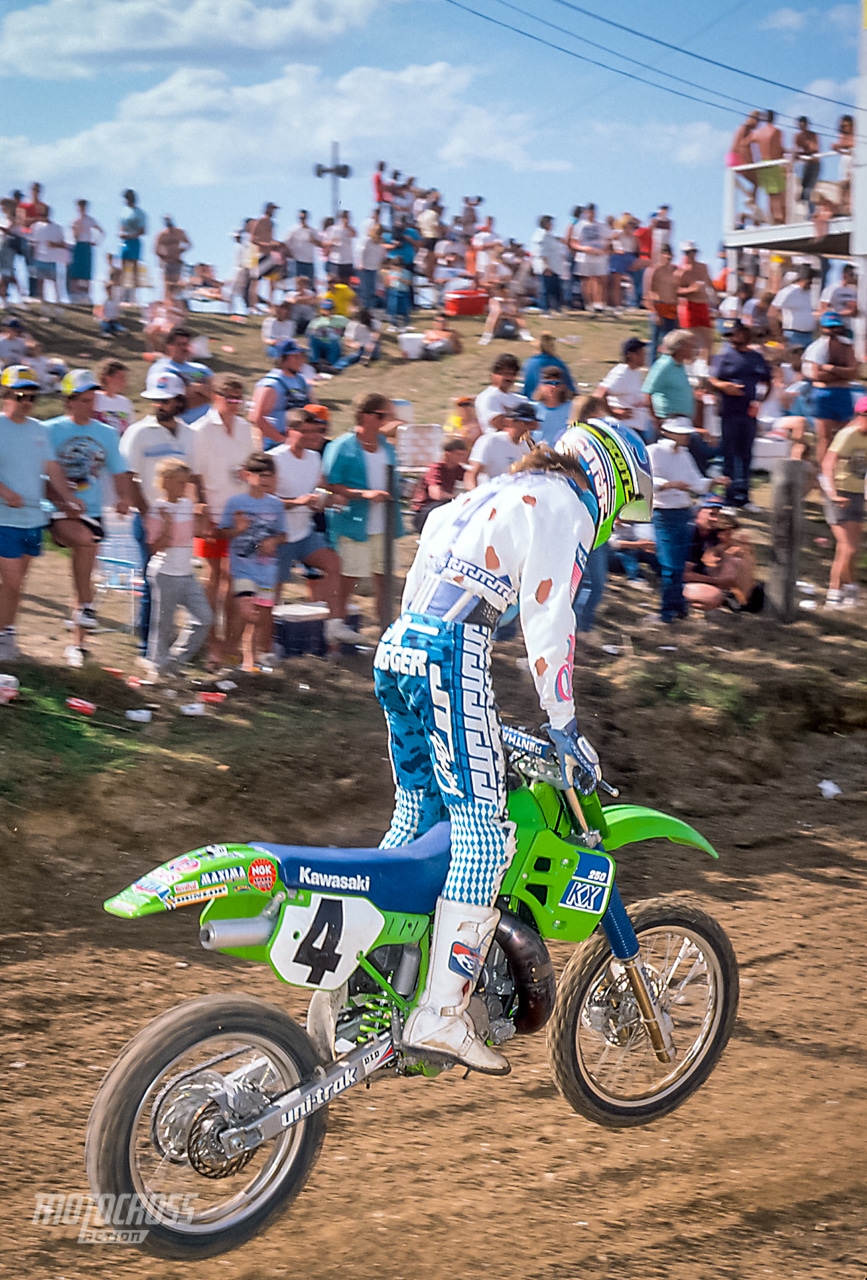 Who is the rider?
INSIDE CHAD REED'S FACTROY JGR SUZUKI RM-Z450
POLISPORT KTM SX/SX-F/XC/XC-F 2019 NEW REPLICA PLASTICS
Press Release: Polisport releases new replica plastics for KTM SX/SX-F/XC/XC-F 2019 models. The parts will be available in plastic kit and separately in OEM color, Black and White. All the parts are produced with Polisport's high standards, to match the quality, durability, and glossiness of the OEM parts from stock bikes. www.polisport.com
ALL-NEW 2019 TM 300MX TWO-STROKE
How do we know that the 2019 TM300MX is an all-new, because the Italian's told us. We don't expect to get anymore information than that.
The TM 300MX's muscle. 

MXA INTERVIEW | CALVIN VLAANDEREN OF THE NETHERLANDS

Calvin's eye after he got hit with a rock at the 2018 MXDN. 
Coming into the 2018 Motocross of Nations at red bud one of the stories were how strong the Netherlands team would be. Comprised of superstar Jeffrey Herrings, veteran Glenn Coldenhoff, and MXDN rookie Calvin Vlaanderen, certainly they would be on the podium. Unfortunately, Calvin took a rock to the eye, and was not allowed by the medical staff to return to the track. While the then two man Netherlands team would finish third, many were already talking about the trio racing the 2019 MXDN in Assen, Netherlands on their home turf. while Vlaanderen was sidelined, we were still able to catch up with the 21-year-old, who took his first ever MX2 overall win earlier this year in Indonesia, beating the powerhouse KTM, and Husqvarna teams. Vlaanderen would ultimately finish sixth overall in the 2018 MX2 Championships
BY JIM KIMBALL
CALVIN, IT WAS ALMOST ONE YEAR AGO WHEN WE TALKED AFTER THE 2017 RACE SEASON ENDED. YOU WERE WITH THE HSF LOGISTICS TEAM RIDING NON-FACTORY KTM'S. SHORTLY AFTER THAT HSF LOGISTICS JOINED UP WITH HRC HONDA, AND YOU WERE A FACTORY RIDER.
Yes, as you said, I had a contract with HSF Logistics. Then they actually signed the deal with Honda for 2018/2019, and they came to me. It was quite late in the season. I had quite a few offers from other teams and I said no, because actually I wanted to stay where I was, and where I was happy. They sat me down and said we have signed a deal with Honda. We have a contract for you go to Honda for two years, 2018 and 2019, but it is racing a 450. I was at first a bit shocked. I was excited and nervous – and had mixed emotions. When I found out, I was also disappointed with them that they told me so late, I was not mentally ready to go to 450 just yet. I still had another two years in the 250 class. I pushed for HSF and Honda to let me stay 250. I was a bit worried to be honest. I was happy with the KTM bike which was so strong, and I was used too. The Honda 250 has not been the greatest bike over the years, so I was a bit worried with going into that. But I managed to fix a deal to stay with the 250 for two years. I was happy and signed the contract. Coming into the team, I did not know what really to expect. Like you said, it was a factory team, completely different from the privateer team. But I felt really welcomed. The first week of testing, we made many improvements with the bike that made me feel quite comfortable. I soon started to build with the team and get more confidence with the bike, and I think that is important. As long as you feel at home within the team, and you feel at home when you sit on the bike it's good.
I think my results this year have shown that I am really happy within the factory deal. I would not say that the privateer bike was slower or worse or whatever like that, but I think the whole package with the whole HRC HSF Logistics team is so professional. In privateer team, if it is 90% it is okay, but on the factory team, it needs to be 100%. otherwise, 90% is not good enough, especially with the bike, and also with yourself with the training, eating and all that kind of thing.
THE STOCK HONDA HAS BEEN CONSIDERED SLOWER IN THE RECENT PAST, BUT IT DEFINITELY SEEMS THE BIKE THIS YEAR HAS WORKED WELL. Definitely that has been the situation. I think this year we have come out with a really good bike and, I have felt comfortable. That is the most important thing, not just the power, but the suspension, the chassis, and all that to make you feel good on the bike. Maybe we have a few horsepower less, but that is not really an issue. I think the most important thing is the power at the starting gate, and that is one thing that we are missing. But once we get this sorted out, I think we can fight for the title against KTM and Huskies.
THIS HAS BEEN A BIG YEAR FOR YOU, AND YOU TOOK YOUR FIRST OVERALL WIN, WHAT WAS THAT LIKE? That win came out of nothing actually. I was not expecting it. I never put pressure on myself. I did not go into the weekend thinking "oh I am going to win". I did not think about it before at all. I just thought that getting on the podium would be nice. But at that race, I got the holeshot, and I just never looked back. I won the race, and I won the overall. It was an unbelievable feeling when I crossed the finish line, and I can't explain it. Since then something has changed in my mind, and now I know that I can do it. Your confidence level is just so much higher, and it was such a big change since I won that first GP. The podiums after that have been good, but I think I was second overall and having a weekend off, I was not even happy, because I wanted to win. So that is crazy how it changes. In the beginning of the season, I was happy with the top 5 and now I am not even happy with 2nd place. I want to win all the time.


2019 IS GOING TO BE A GREAT YEAR IN THE MX2 CLASS ISN'T IT? Yes, next year is going to be interesting. We have five guys that could go for the title. Obviously, Prado is the favorite, but if you look at it, he had 25-holeshots this year. Give me 25-holeshots and I will also win the title I think. Obviously, I take nothing away from him. He is a very talented, fast rider. He is young and good, but I think the starts help so much. He said to me one day, "I had such a bad start" and he was like top 3, if I get a top 3 start, it is like a holeshot for me.
Every race, I have to come from 15th or 10th position. When you are in the front and you can ride your own race, it is completely different. There is about five to seven guys that can be on the podium each weekend and could be fighting for that title.

YOU ARE FROM SOUTH AFRICA WHERE IT HAS BEEN A WHILE SINCE WE HAVE SEEN A GP WINNER COME FROM. When I won the GP, it was the first South African GP win since 2008 with Tyla Rattray. It was quite special actually when I saw that. I have not been to a South African amateur race in five or six years as I am living in Holland now, and based there since 2012. There are one or two good riders there though, and I want to try to help them come overseas because I know their families do not have a lot of money. it is very expensive for them to come. With the two that have good talent, one of them won the European championship this year, and he came over and raced the World Championship. He has talent, and I think he could have a bright future. I just hope that the family is bringing him over early, because it provides so much experience. He was winning everything in South Africa, and it was the same for me. You don't really learn anything because you are winning all the time, so you need competition.
There are a few guys there, and it is nice to see Team South Africa also here racing The Motocross of Nations. I am good friends with all of them, so it is nice to see them. I have not seen them also in five or six years because I have not been back home, so it is good.
HOW IS IT THAT YOU RACED FOR HOLLAND AT THE MXON? In 2012, when I came over, I had a Dutch license. I was like seven years old when I came over. The Dutch federation coach brought me over and said, "You need to come to Holland and race some Dutch Championship races. I will help you out, and you can stay at my parent's house." He organized me a bike, and I raced. I had a Dutch license, a Dutch passport, and ever since then I had the Dutch flag next to my name. I have been half Dutch since I was born. I would not take it away that I was still born, and raised in South Africa, but I am half Dutch and half South African and that is why I have been given the opportunity to race for Holland now. We have a strong team and can do really well.
WAS THIS YOUR FIRST MOTOCROSS OF NATIONS? This is my first Motocross of Nations. I have never been to Motocross of Nations before. So, this is my first one riding and first one actually attending, so it will be quite special.
LET'S FINISH WITH THIS CALVIN, WHAT WILL BE THE KEY TO WINNING THE MX2 CHAMPIONSHIP IN 2019? To have a really solid, good off-season is very important. To get your hours in on the bike and get ready for the season is obviously important. But also, consistency is most important at each race. You have to be fighting top 5 podium every race. You need to be there every race and you cannot have one good race and one bad race. mentally you need to be strong. It is a long season and you have to be strong for the whole 19, or 20 rounds. Just be there every weekend and I hopefully at the end, we will be standing there.
APICO 2 STROKE FESTIVAL FIRES INTO LIFE!
Press Release: If you're a 2 stroke fan and live in the UK, and even if you don't, you should be in North East of England this weekend, because the 2018 Apico 2 stroke championship in association with DEP Pipes powers into action!
The three rounds series, which is the brainchild of 2 stroke guru Dave 'Ironman' Willet is all set for some great race action at the new Ironworks MX track near Middlesbrough this weekend 7/8th July. The Ironworks track is an fantastic venue for any motocross racing, but in particular 2 stroke action with nice flowing design, wide corners and good soil, and the track crew has been right on it with the watering in this hot weather. It's going to be a fantastic weekend of motocross action like 2 strokes always seem to deliver.
With classes for most level of riders, all on 2 strokes of course, it's the place to be if you're a 2 stroke fanatic like the series promoter and former 2 stroke British champion Willet. With round 2 scheduled for Sillindge, Kent on 4/5th August and the final round TBC after the postponed opening round that was scheduled for Marshfield, it's not too late to get entered and get racing.
There's also a new schedule for 2018 as the series goes from a one off event to a three round series. Qualifying and three blocks on Saturday and two blocks and prize giving on Sunday making sure that all riders get a full weekend of bike time! Although we ask you to enter as Fast or Faster the qualifying will confirm your group for the three round series.
If you want to get involved and race the series click here on this MCF link to sign up. And for regular updates just find the Apico 2 stroke Facebook page @Twostrokesforlife where you'll find plenty of photos and videos. Get on it people and kickstart your heart!
LOST BUT NOT FORGOTTEN | VERTEMATI MX500
PRO CIRCUIT 2018 YAMAHA YZ65 CLUTCH COVER
Press Release: Pro Circuit believes even the young riders of the sport deserve some trick parts that can be
added to their bikes, that's why they have recently released a clutch cover for the 2018-2019 YZ65 and the 2019 YZ85 models. The Pro Circuit Clutch Cover is CNC-machined from T-6 billet aircraft-grade aluminum to improve durability and heat dissipation, which improves performance. Here's a chance to add a product to your YZ mini that is stronger, lighter and will also add a works look that the OEM cover never could. www.procircuit.com

TLD TEST TRACK | photos by Josh Mosiman
Thomas Covington is officially in the states and training for his first Supercross season with the Husky Rockstar team for 2019. 
Michael Mosiman dropped down to number 36 for 2019. 
Shane McElrath tackling the whoop section. 
Jordan Bailey. 
Those are some blue-grooved whoops.
FMF'S THE DROP | SUBSCRIBE AND CONQUER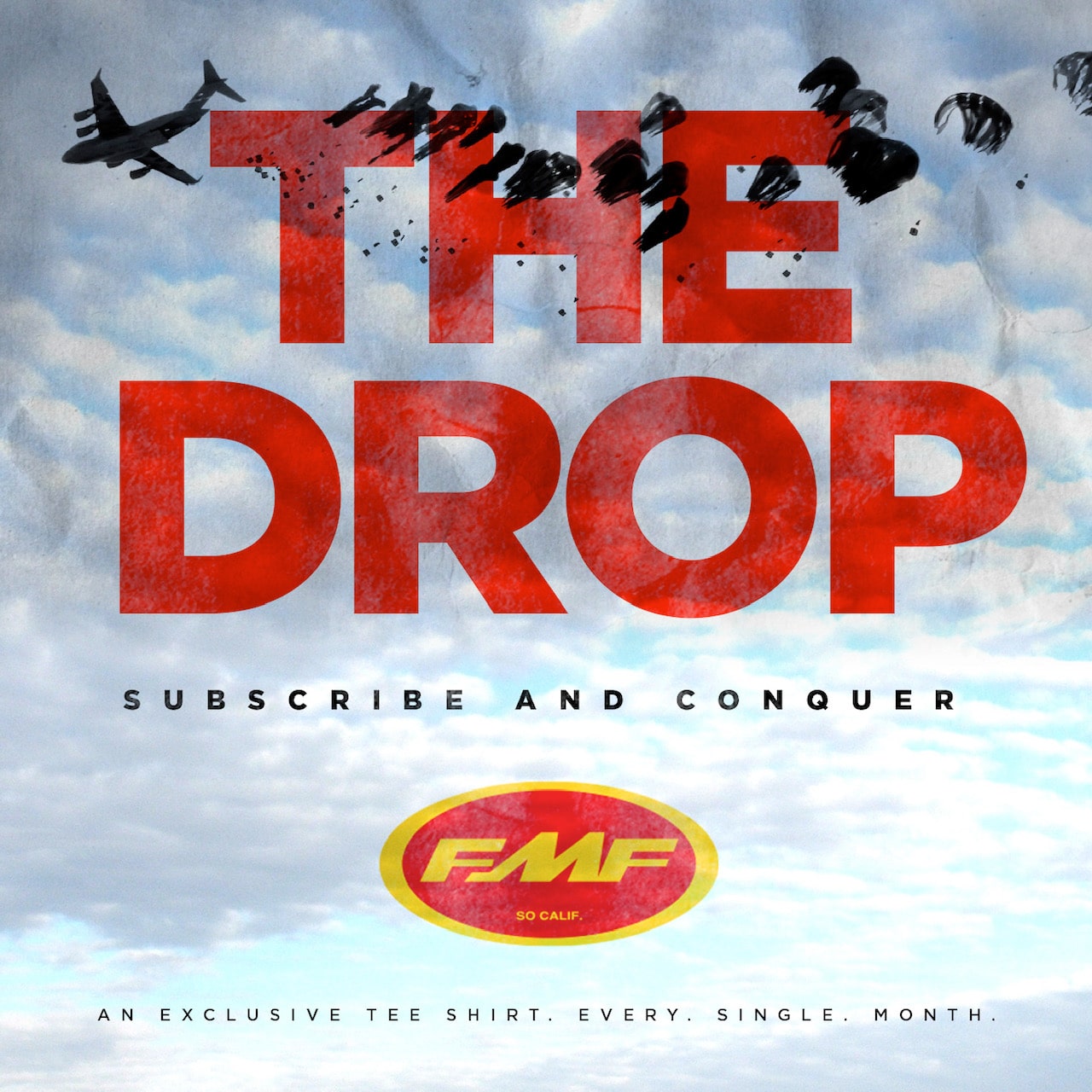 Press Release: FMF Introduces THE DROP- A first of its kind subscription service. An Exclusive Tee Shirt. Every. Single. Month. As part of the ultra – exclusive FMF DROP SUBSCRIPTION you will receive FMF Tee's that WILL NEVER be released to the general public, that's right, NEVER! Get stoked each month when FMF DROP's a special delivery at your doorstep and inside each month will be an additional surprise in every box. Limited Edition stickers, autographed memorabilia, or accessories.
How It Works
– Visit www.fmfracing.com and go to the apparel section and select FMF DROP TEE
– Choose your size or your custom made to order FMF Tee
– $29.99 (plus tax if applicable)
– Rock the exclusive shirts that are built just for you
– Early Roost special in the month of Oct will receive FREE SHIPPING for the life of your membership!
– It's super easy to cancel or skip a shipment with just a click of a button in your account page.
Please Note- We currently DO NOT accept any returns on The DROP subscription as each item is custom made to order.
TALK MOTO WITH MOTO MINDED PEOPLE. JOIN MXA'S FACEBOOK GROUP CHAT

We love everything moto and want to bring all moto junkies together into one place to share their two cents, ideas, photos, bike fixes, bike problems and much more. To check it out first you must need to or already have a Facebook account. If you don't, it isn't much work and you could even have an alias so nobody knows it is you. To join click HERE. After you request to join we will accept your request shortly after.
JOIN MXA'S SNAP CHAT FEED
If you are a Snap Chat user then add us to your stories. Get sneak peaks of everything moto. Our Snap Chat name is motocrossaction. Or just take a Snap of the picture above and it will add MXA automatically to your feed.
CLASSIC PHOTO

Chad Reed and his 2005 Yamaha YZ450F.
MXA QUESTION OF THE WEEK ANSWER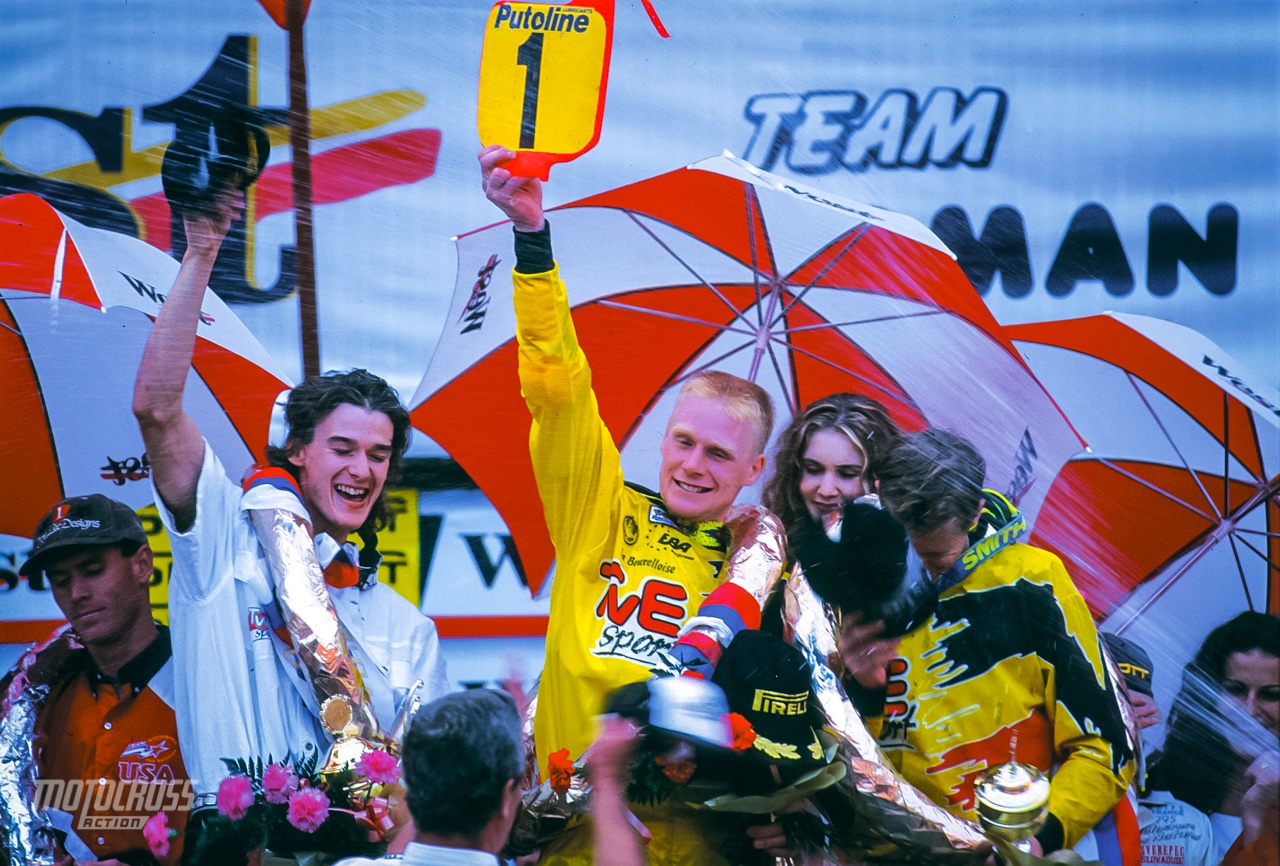 Who are these Motocross des Nations winners? Marnicq Bervoets / Stefan Everts / Joël Smets of the 1995 MXDN Belgium team. The winner of the FXR swag is Barry Hendricks. 

---
Moto Trivia answer: Ron Lechien.