UNADILLA NATIONAL MOTOCROSS | 450 QUALIFYING RESULTS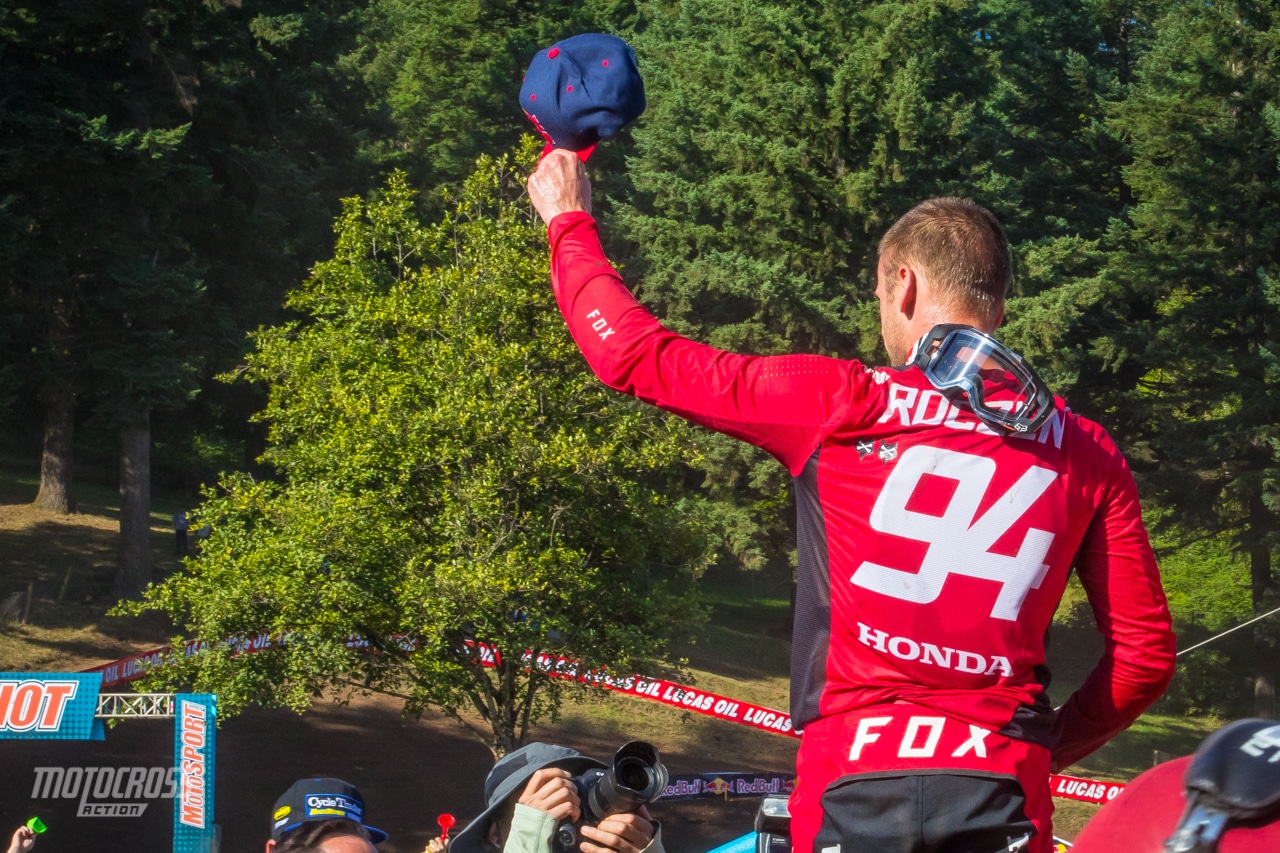 Ken Roczen dominates the competition in qualifying by over three seconds. Impressive to say the least. 
450 OVERALL QUALIFYING RESULTS | UNADILLA MOTOCROSS
The 10th round of the 2019 AMA National Pro motocross series is held in Unadilla, New York. The morning of the race day there was a light rain, however, the sun made its way out and the track looked great. In the 450 class  it is Eli Tomac's series to lose. Tomac has a 50 point lead with three rounds to go over Marvin Musquin. Ken Roczen is only seven points down from Musquin and Cooper Webb is nine down from Roczen. There is still some exciting racing left even though Tomac has checked out. In qualifying Ken Roczen was untouchable. He was over three seconds faster than the second fastest qualifier Cooper Webb.
| | | | |
| --- | --- | --- | --- |
| POS. | # | NAME | BEST TIME |
| 1 | 94 | Ken Roczen | 2:11.482 |
| 2 | 2 | Cooper Webb | 2:14.628 |
| 3 | 21 | Jason Anderson | 2:14.702 |
| 4 | 16 | Zachary Osborne | 2:15.382 |
| 5 | 25 | Marvin Musquin | 2:15.826 |
| 6 | 1 | Eli Tomac | 2:15.839 |
| 7 | 51 | Justin Barcia | 2:16.111 |
| 8 | 101 | Fredrik Noren | 2:16.118 |
| 9 | 17 | Joseph Savatgy | 2:16.135 |
| 10 | 29 | Benny Bloss | 2:16.254 |
| 11 | 332 | Dustin Winter | 2:17.675 |
| 12 | 19 | Justin Bogle | 2:17.759 |
| 13 | 15 | Dean Wilson | 2:18.714 |
| 14 | 7 | Aaron Plessinger | 2:19.037 |
| 15 | 37 | Kyle Cunningham | 2:19.191 |
| 16 | 49 | Henry Miller | 2:19.855 |
| 17 | 56 | Lorenzo Locurcio | 2:20.102 |
| 18 | 41 | Ben Lamay | 2:20.695 |
| 19 | 309 | Jeremy Smith | 2:20.721 |
| 20 | 319 | Coty Schock | 2:20.884 |
| 21 | 90 | Jeremy Hand | 2:20.992 |
| 22 | 700 | James Weeks | 2:21.770 |
| 23 | 80 | Heath Harrison | 2:21.884 |
| 24 | 43 | Tyler Bowers | 2:22.289 |
| 25 | 270 | Jacob Runkles | 2:22.700 |
| 26 | 63 | John Short | 2:22.830 |
| 27 | 718 | Toshiki Tomita | 2:22.861 |
| 28 | 119 | Isaac Teasdale | 2:23.433 |
| 29 | 647 | Matthew Hubert | 2:23.546 |
| 30 | 144 | Nicolas Rolando | 2:23.722 |
| 31 | 444 | Caleb Tennant | 2:23.878 |
| 32 | 265 | Nick Fratz-Orr | 2:24.211 |
| 33 | 637 | Robert Piazza | 2:24.576 |
| 34 | 813 | Aaron Lampi | 2:24.667 |
| 35 | 577 | Felix Lopez | 2:24.811 |
| 36 | 280 | Cade Clason | 2:24.932 |
TOP 36 RIDERS QUALIFY STRAIGHT TO MOTOS
| | | | |
| --- | --- | --- | --- |
| 37 | 881 | Jerry Lorenz III | 2:26.041 |
| 38 | 354 | Matthew Toth | 2:26.276 |
| 39 | 351 | Eric Grondahl | 2:26.309 |
| 40 | 314 | Tyler Stepek | 2:27.413 |
| 41 | 281 | Cory Carsten | 2:27.450 |
| 42 | 279 | Timothy Crosby | 2:27.514 |
| 43 | 489 | Ricci Randanella | 2:27.965 |
| 44 | 834 | Kristopher Corey | 2:28.888 |
| 45 | 716 | Ryan Dowd | 2:28.935 |
| 46 | 724 | Jason McConnell | 2:29.134 |
| 47 | 208 | Logan Leitzel | 2:29.721 |
| 48 | 607 | Kyle Endriss | 2:29.862 |
| 49 | 295 | Jack Pagano | 2:30.905 |
| 50 | 283 | Kyle Bushee | 2:31.513 |
| 51 | 880 | Conor Sheridan | 2:31.758 |
| 52 | 429 | Derrick Barnaby | 2:31.935 |
| 53 | 887 | Thomas Coluzzi | 2:31.975 |
| 54 | 451 | Klay Prager | 2:32.629 |
| 55 | 696 | Nick Kraeger | 2:32.805 |
| 56 | 447 | Deven Raper | 2:33.170 |
| 57 | 844 | Yanick Boucher | 2:33.211 |
| 58 | 129 | Ryan Diezic | 2:33.493 |
| 59 | 248 | Travis Delnicki | 2:34.306 |
| 60 | 217 | Cory Gilliam | 2:34.994 |
| 61 | 600 | Connor Olson | 2:35.592 |
| 62 | 479 | James Coen | 2:35.914 |
| 63 | 788 | Josh Heintz | 2:35.972 |
| 64 | 661 | Noah Chambers | 2:36.054 |
| 65 | 763 | James Henshaw | 2:36.073 |
| 66 | 553 | Brent Rouse | 2:36.307 |
| 67 | 317 | Richard Tolman-Moschetti | 2:37.058 |
| 68 | 802 | Marshall Macintyre | 2:37.577 |
| 69 | 499 | Dawson Chesnut | 2:37.919 |
| 70 | 776 | Seamus Sullivan | 2:38.730 |
| 71 | 645 | Jacob Pogodzienski | 2:39.024 |
| 72 | 945 | Arie Reachard | 2:39.045 |
| 73 | 524 | Frank Peneno | 2:39.234 |
| 74 | 833 | Tyler Hayes | 2:39.916 |
| 75 | 207 | Ronnie Demorest | 2:40.619 |
| 76 | 237 | David Costa | 2:41.910 |
| 77 | 312 | Chris Makuta | 2:41.957 |
| 78 | 511 | Charles Wernig | 2:42.093 |
| 79 | 475 | Timothy Scouten | 2:42.747 |
| 80 | 513 | Aerian Weaver | 2:43.247 |
| 81 | 755 | Kyle Ianuale | 2:44.628 |
| 82 | 729 | Philip Bugbee | 2:46.061 |
| 83 | 878 | Eric Mckay | 2:46.206 |
| 84 | 915 | Ryan Quinn | 2:46.484 |
| 85 | 997 | James Hebert | 2:47.612 |
| 86 | 254 | Cody Briner | 2:53.211 |
| 87 | 688 | Gabe Woodrow | 2:55.115 |
| 88 | 771 | William Clark | 3:07.537 |