UNADILLA NATIONAL PRE-RACE REPORT
2019 UNADILLA NATIONAL PRE-RACE REPORT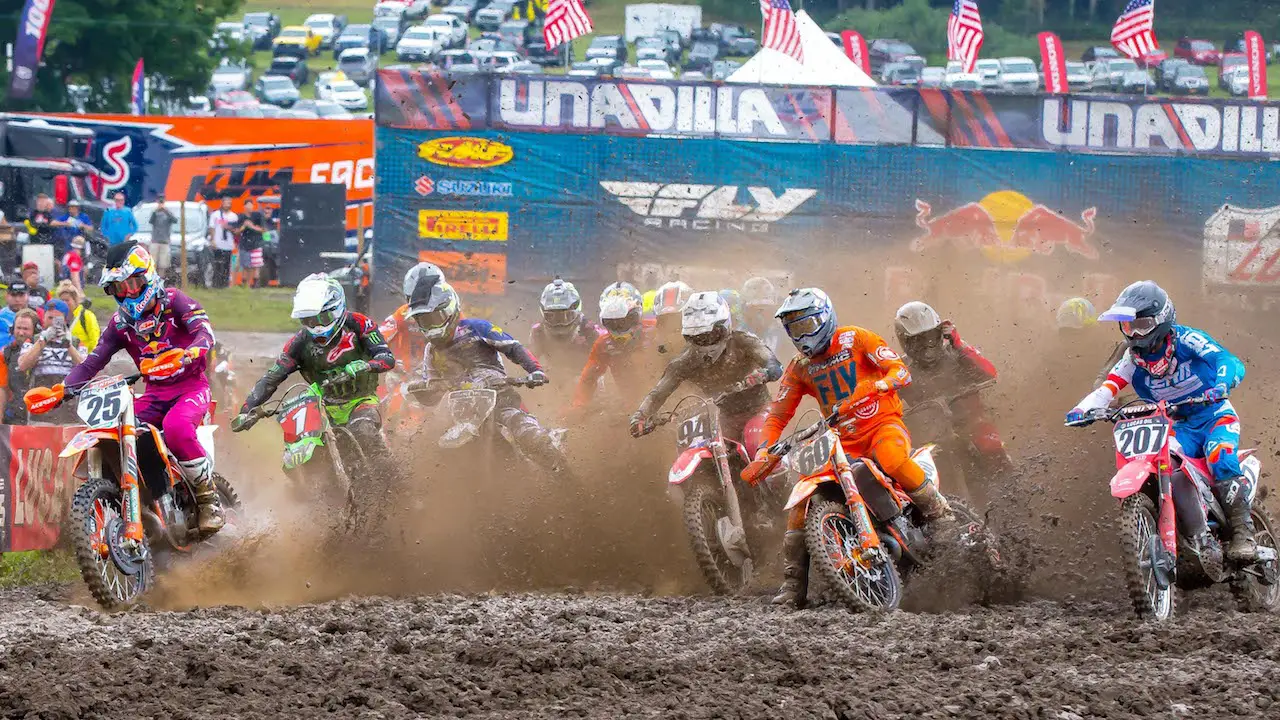 The Unadilla National has been ended up being a mudfest the last two years in a row.
The 2019 AMA Pro Nationals are getting into the final stretch of the season as the series heads to round ten in New Berlin, New York at the Unadilla National track. As seen in the photo above, Unadilla has been a mud race for the last two years in a row. In 2017, the rain didn't started pouring down until the first motos were already underway, but in 2018 it was a muddy mess from the get go. Marvin Musquin and Eli Tomac traded the first and second positions in both motos but it was the crafty Frenchman who held on to win the overall in the mud with 2-1 Moto scores over Eli Tomac's 1-2 scores. New York native, Phil Nicoletti also earned his first career AMA podium after placing third and fifth in the mud. Luckily this year the weather is forecasted to be partly cloudy with a high of 69 degrees and 61% humidity in New Berlin, New York.
2019 UNADILLA NATIONAL TV SCHEDULE

Unfortunately only 75 percent of the racing while be shown LIVE on TV. If you want to watch all of the racing, including 250 Moto 2 and even the qualifiers LIVE, then you'll need to have the NBC Sports Gold Pass. Although, we do recommend that you just record the racing go the track to get some laps in yourself. If you haven't bought the NBC Gold pass yet, you're a little late join the bandwagon, but it's still available for $34.99 and you can sign up here to watch the final three rounds LIVE and also catch up with replays from all of the best racing from this season.
2018 HIGHLIGHTS FROM A MUDDY UNADILLA NATIONAL
DOUBLE THE NEWS FROM KAWASAKI
Eli Tomac will not compete for Team USA at the Motocross of Nations. 
Adam Cianciarulo also will not compete at the Motocross of Nations. 
Team USA's Motocross of Nations squad is usually announced at the Unadilla National and with that thought in mind, Kawasaki decided to make two big announcements this week. First, it was made official that Adam Cianciarulo would be riding for the factory Kawasaki team starting at the Monster Cup on a KX450, then it was released that the Kawasaki team and riders would not be considered as options to race for their country at the Motocross of Nations at Assen in The Netherlands on September 28th and 29th. Although it is a bummer for American motocross fans that our current points leaders in the 250 and 450 classes won't be able to compete for Team USA, it is understandable. With the final round of the AMA outdoor nationals being on August 24th, the riders competing at the MXON will have to continue training for an extra five weeks leading up to the race, while the rest of the American competitors are recovering from a long year of racing and setting their sights on the 2020 Supercross season. Kawasaki's primary goal for Eli Tomac and Adam Cianciarulo is to be ready for the 2020 season in America and their recovering and preparations for 2020 will be significantly altered if they were to compete in the one-off race.
WHO WILL RACE FOR TEAM USA?
Zach Osborne could be a good option for Team USA because he has spent time racing the MXGPs and we know he can ride well in the sand. 
With Eli Tomac and Adam Cianciarulo off the table for 2019 Motocross of Nations choices, who will step up to the plate? As mentioned in the paragraph above, committing to race the MXON is a huge task and it will greatly impact the rider and team's off-season and pre-season for 2020. Who could we send? Second and third in the 450 National point standings are Marvin Musquin and Ken Roczen. Although they live and race in America, they are both European natives and they wouldn't be eligible to race for Team USA. Next to consider would be Cooper Webb, Jason Anderson or Zach Osborne for the two 450 riders. In the 250 class, it's fairly obvious that our best choice would be for Justin Cooper to go. So who will make up our three-man team? Tradition is that the team is announced on Saturday before the Motos get underway at the Unadilla National.
KEN ROCZEN IS BACK ON THE PODIUM
Ken Roczen is back on the podium after a mid-season slump.
Ken Roczen mentioned of physical struggles that have caused him to get excessively tired during races. With the unknown health issue going on in the middle of the grueling AMA Outdoor National series, Ken hasn't been able to ride and train as much as usual in between races. Ken and team Honda have also eluded to some issues with arm pump as well. The Washougal National marked Ken's first trip to the overall podium since round four at High Point when he finished second. Ken Roczen posted on Instagram saying: "2nd and 3rd for 2nd overall last weekend in Washougal. I was pretty happy with that weekend considering how my finishes have been lately. Every weekend is just a straight suffer fest for me but I look at it as getting mentally BULLETPROOF for next year already. I have never had to suffer this much before on a weekly basis. Does it suck getting miserably tired every single weekend early in the race !? Yeah it does, but I embrace that stuff instead of letting my self get down on it. It will be nice to race being 100% healthy."
THE CHAMPIONSHIP IS NOT OVER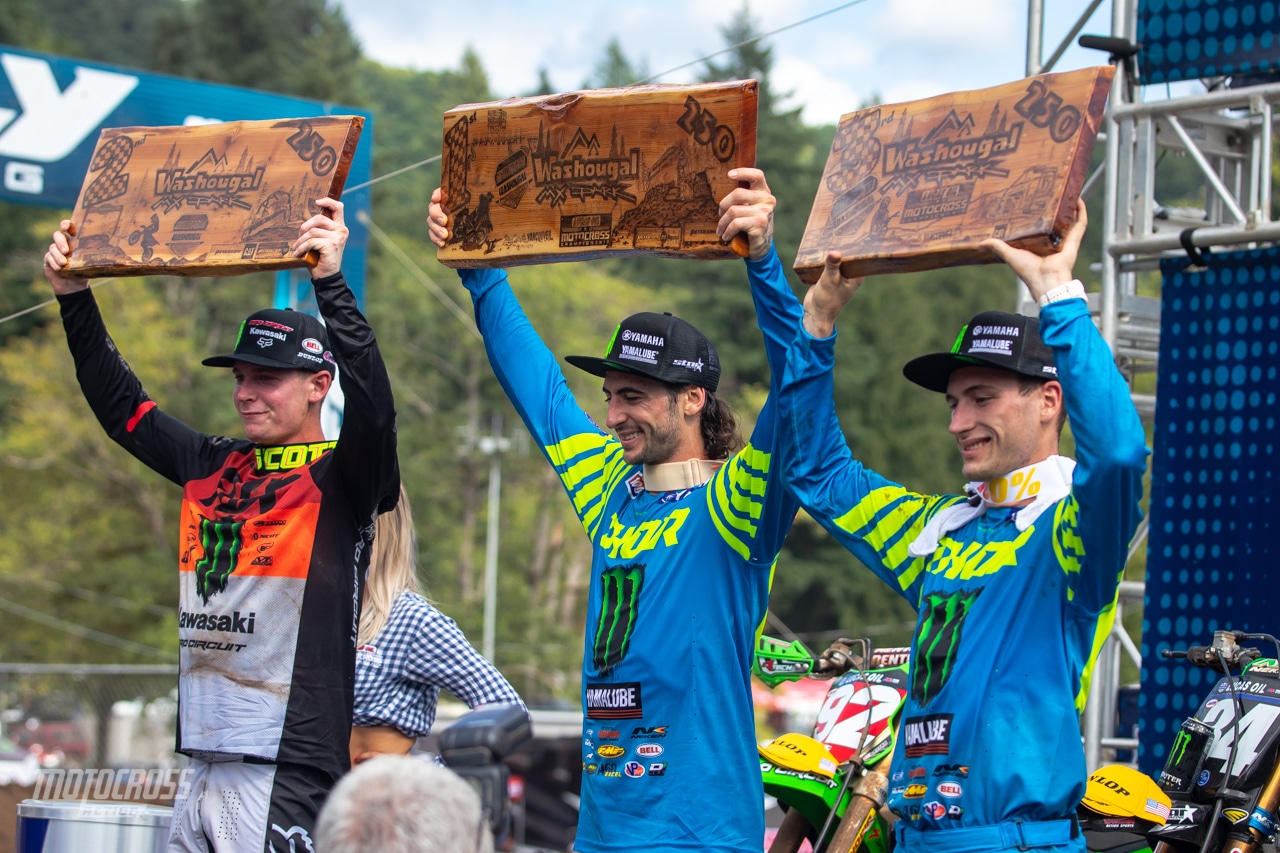 The Championship is not over in either class, but the battle is definitely closer in the 250 division.
Adam Cianciarulo currently holds a 28-point lead over Dylan Ferrandis heading into the final three rounds. This is a fairly comfortable lead for the Pro Circuit Kawasaki rider, but as we all know after watching the Las Vegas Supercross, it's not over until the checkered flag flies. With that being said, Adam has proved that consistency is the name of his game this Outdoor season as he has finished on the overall podium at every single round. With three rounds of racing, six more Motos to go and 25-points being awarded to the winner of each Moto, anything could happen.
NEW KIDS ON THE BLOCK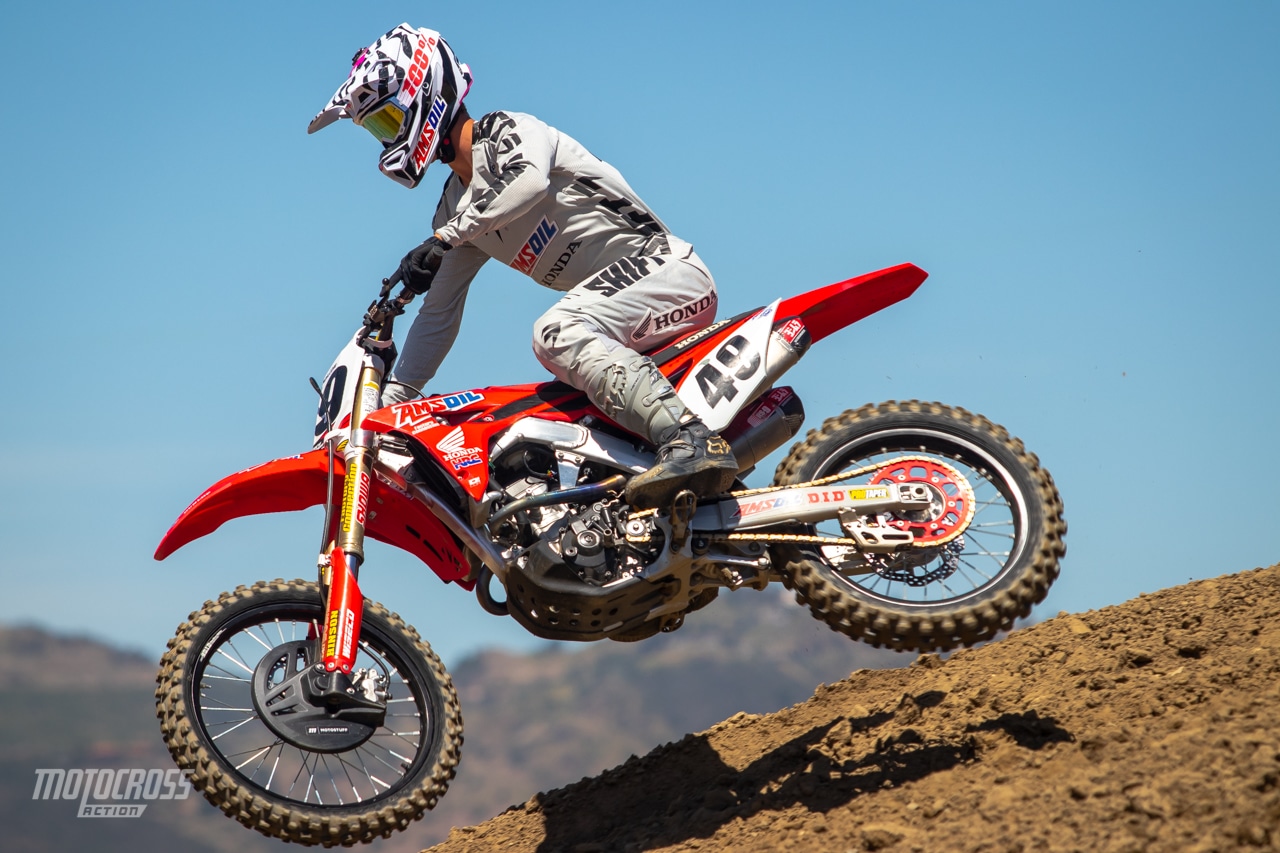 Jett Lawrence, Jo Shimoda and Jalek Swoll are all making their Professional racing debut this Saturday at the Unadilla National.
Jett Lawrence pictured above as #49 is the younger brother of Hunter Lawrence and he also rides for the Geico Honda team. Jo Shimoda was born in Japan, but he has lived in California since he was young with the dreams of earning a factory ride and racing in AMA Supercross and motocross. Both Lawrence and Shimoda will make their Pro debuts this Saturday under the Geico Honda tent. Another rookie making his debut this weekend is Rockstar Husqvarna's Jalek Swoll. All three of these riders have been factory riders during their final years in the amateur ranks. The teams have been training them for this very occasion and now it's their time to shine against the big dogs. Jett Lawrence will run the #496, Jo Shimoda will run #374 and Jalek Swoll #352.
FILL-IN FREDDIE RACING FOR A RIDE
Freddie Noren scored eighth overall at the Washougal National.
With 8-8 Moto scores at Washougal, JGR MX fill-in rider Freddie Noren scored an eighth overall. Freddie Noren is currently filling in on the JGR MX team for Justin Hill, but he does not have a ride secured for the 2020 season. Freddie is putting it all out on the line to earn a factory ride for next year. Check out our latest interview with Freddie by clicking here.
MICHAEL MOSIMAN IS HEATING UP
Michael Mosiman found himself on the podium again at the Washougal National after finishing third place in 250 Moto two.
Although he didn't score an overall podium, Michael Mosiman put on a great charge in the first half of 250 Moto 2 at Washougal when he pressured Adam Cianciarulo for the second spot. Michael's third place in the Moto was rewarded by a trip to the podium and a few interviews. His seventh place in the first race did keep him off the overall podium though and it earned him fourth overall on the day. Michael's first ever Pro Motocross overall podium came at the Thunder Valley National and shortly after he tied for the overall podium and ended up fourth at the Florida National. Unfortunately for Mosiman, he crashed during a routine training session after the Florida National that set him back a little bit and kept him from racing at Southwick. Now it seems that he's back on track and after recently signing a two-year contract with the Rockstar Husqvarna team, Mosiman is looking to make the team proud at the final rounds.